This post is sponsored by Reynolds Kitchens®. All opinions are my own.
These fun and unique movie night cookies are loaded with all our theater favorites; popcorn, Reese's Pieces, and Raisinets! You can load them up with whatever your family always gets at the concession stand before watching your favorite films, making movie night at home even more fun.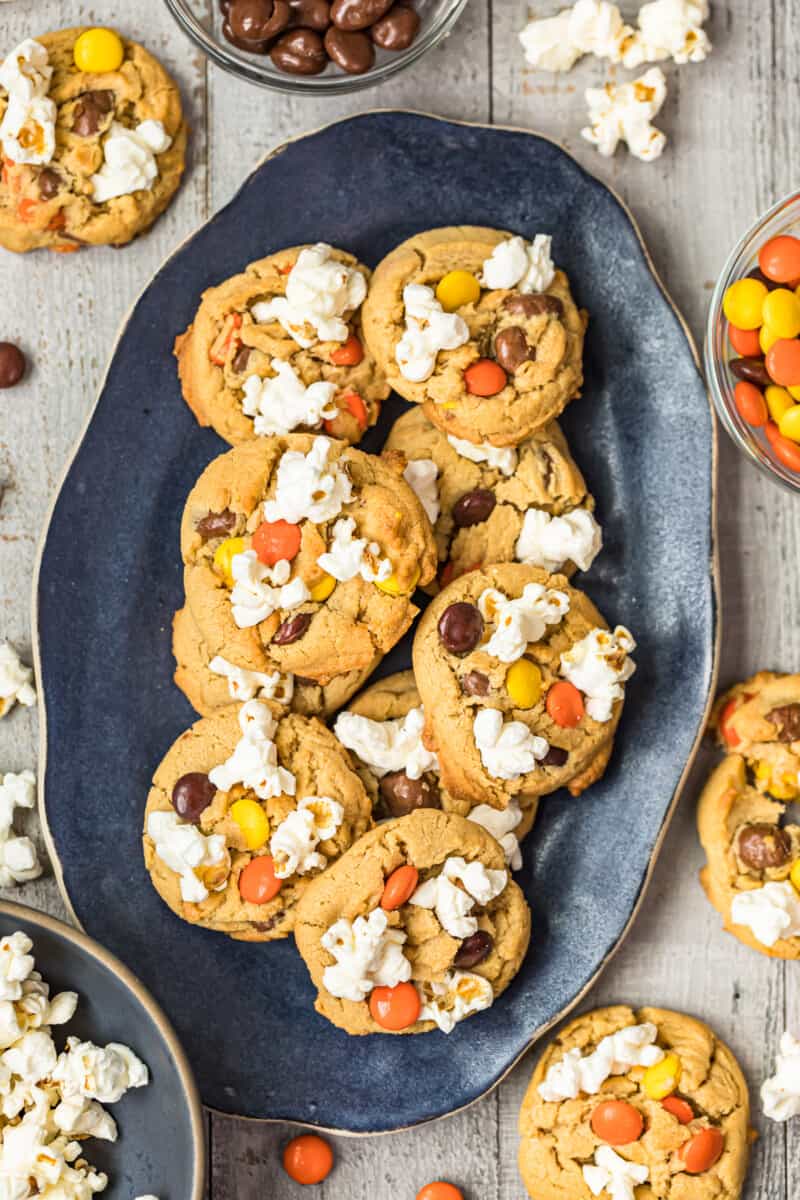 Loaded Movie Theater Cookies
We love coming up with creative cookie recipes. There's just something fun and amazing about homemade cookies.
These Movie Night Cookies make watching a movie with your family at home all the more fun and delicious. You can get the kids involved in making them and load them up with all of your favorite concession toppings.
Why you'll love Movie Night Cookies:
Easy: This fool-proof base cookie recipe is sure to please and can be mastered by even a novice baker.
Unique: You won't find cookies like these anywhere else!
Versatile: We have used our favorite movie theater treats, but feel free to load yours up with whatever your family likes best!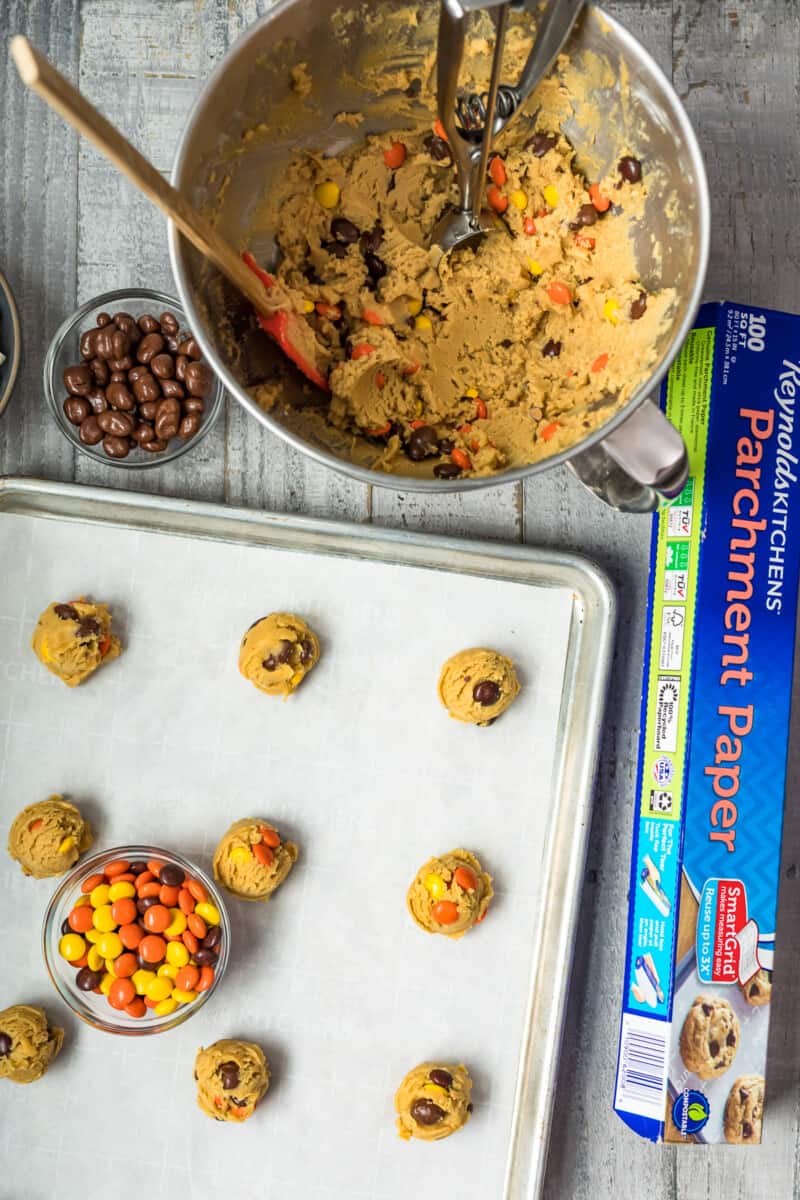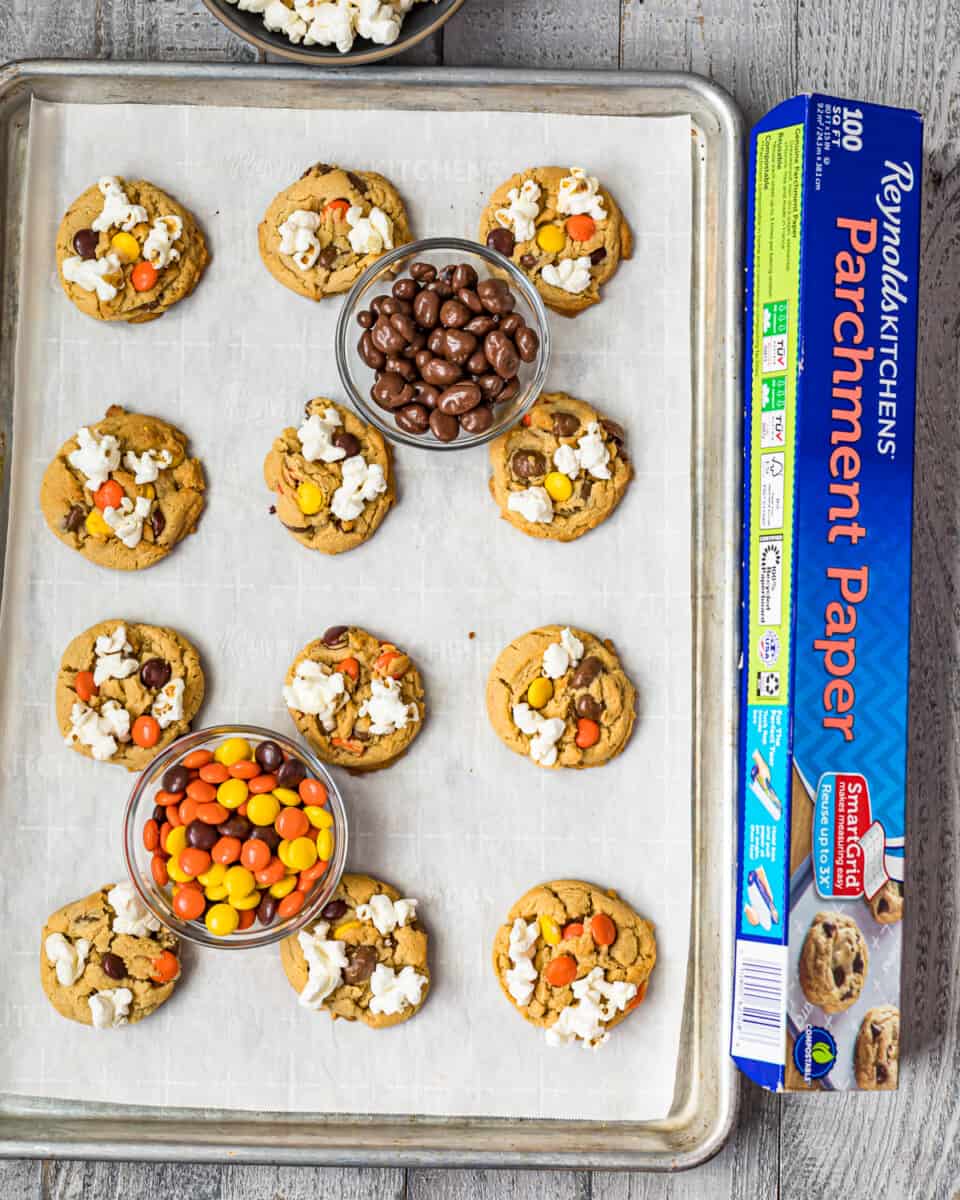 Reynolds Kitchens Cookie Countdown
This holiday season I'm so excited to be making these Movie Theater Cookies as part of Reynolds Kitchens Cookie Countdown 2020!
Each day a new influencer will be sharing a unique and fun cookie recipe to end the year on a sweet note. I cannot wait to try them all! I'm sharing these Movie Night Cookies as Day 5, and I couldn't be more honored. Bake along with us !
Parchment Paper with SmartGrid®
Good news for all the people baking Christmas cookies this year, Reynolds Kitchens is making things easy with their Parchment Paper with SmartGrid.
Reynolds Kitchens® Parchment Paper with SmartGrid® is so user friendly! It's such a great product that is essential for all your baking needs. Some of the features I LOVE include:
Easily cut along the lines to fit any pan
Nonstick! (Perfect cookies every time)
Space out your cookies exactly right with the built-in grid lines
REUSABLE! This is a time when it's great to conserve where we can, and Reynolds Kitchens makes it easy. Reuse these sheets up to 3 times to get the most out of them.
Oven safe up to 425F (Cookies of all kinds don't stand a chance)
Great for baking, but also measuring, rolling, pastry bags, and more!
I love any product that makes baking easier and more consistent. I just love the Parchment Paper with SmartGrid. If making these Movie Night Cookies, it's a must have.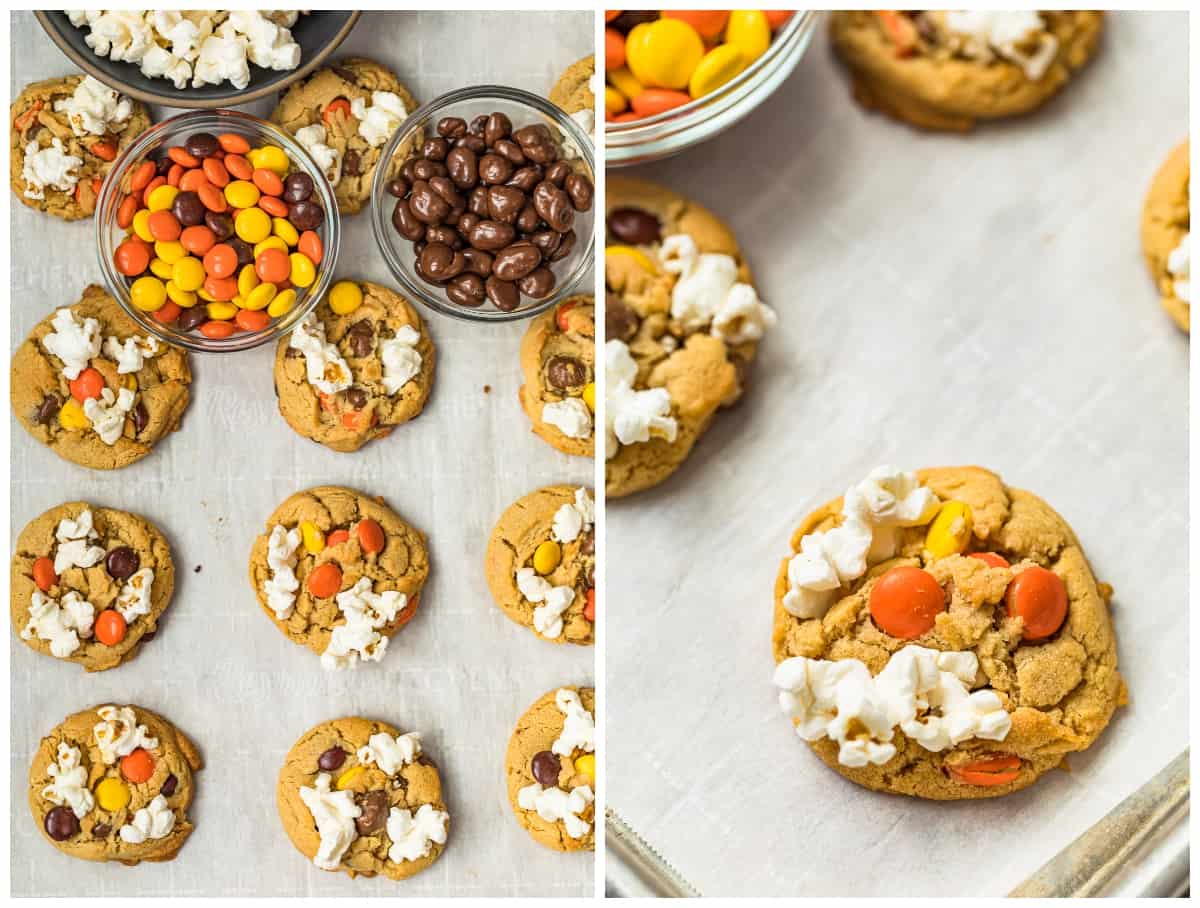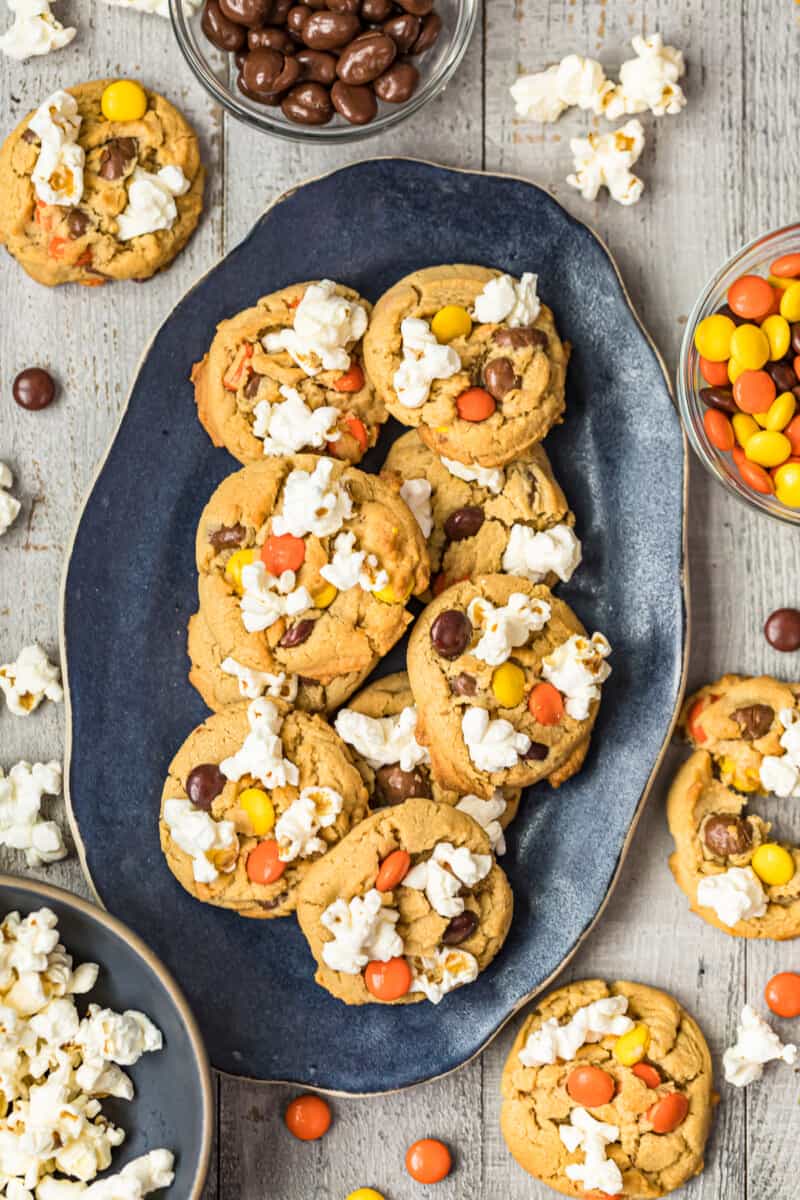 How to make Movie Night Cookies
You can jump to the recipe card for full ingredients & instructions!
Beat together wet ingredients and stir together dry ingredients. Slowly incorporate until fluffy.
Stir in the candies.
Drop a tablespoon of the mixture onto a baking sheet lined with Reynolds Kitchens® Parchment Paper with SmartGrid®.
Bake 10 to 12 minutes until lightly browned.
Add popcorn pieces to each cookie.
Allow to cool and then enjoy!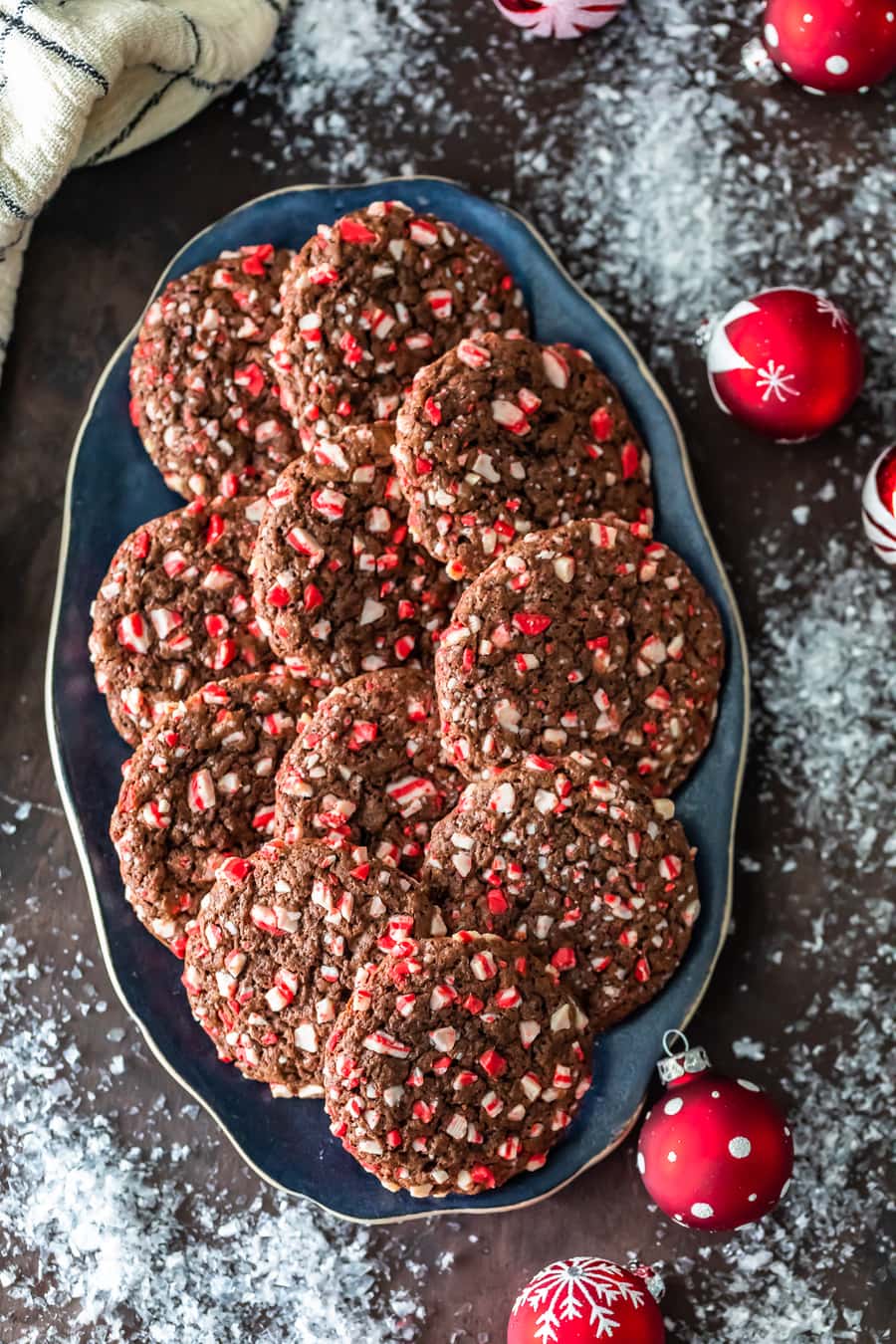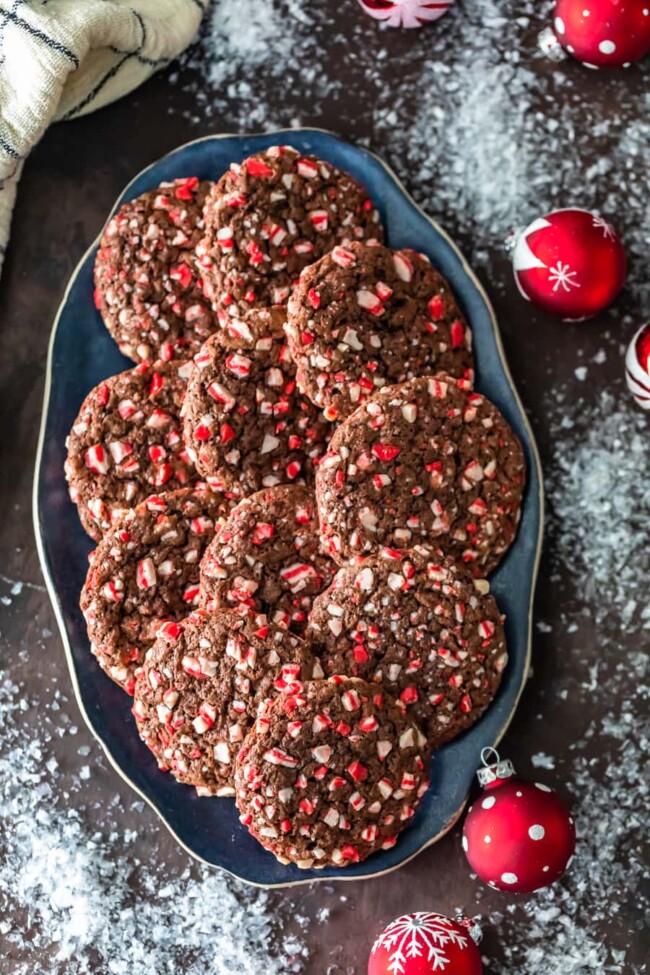 All the Holiday Cookies
25+ Favorite Christmas Cookies
Baking and Christmas go hand in hand. See our guide for our fave recipes + tips and tricks for perfect cookies.
See Guide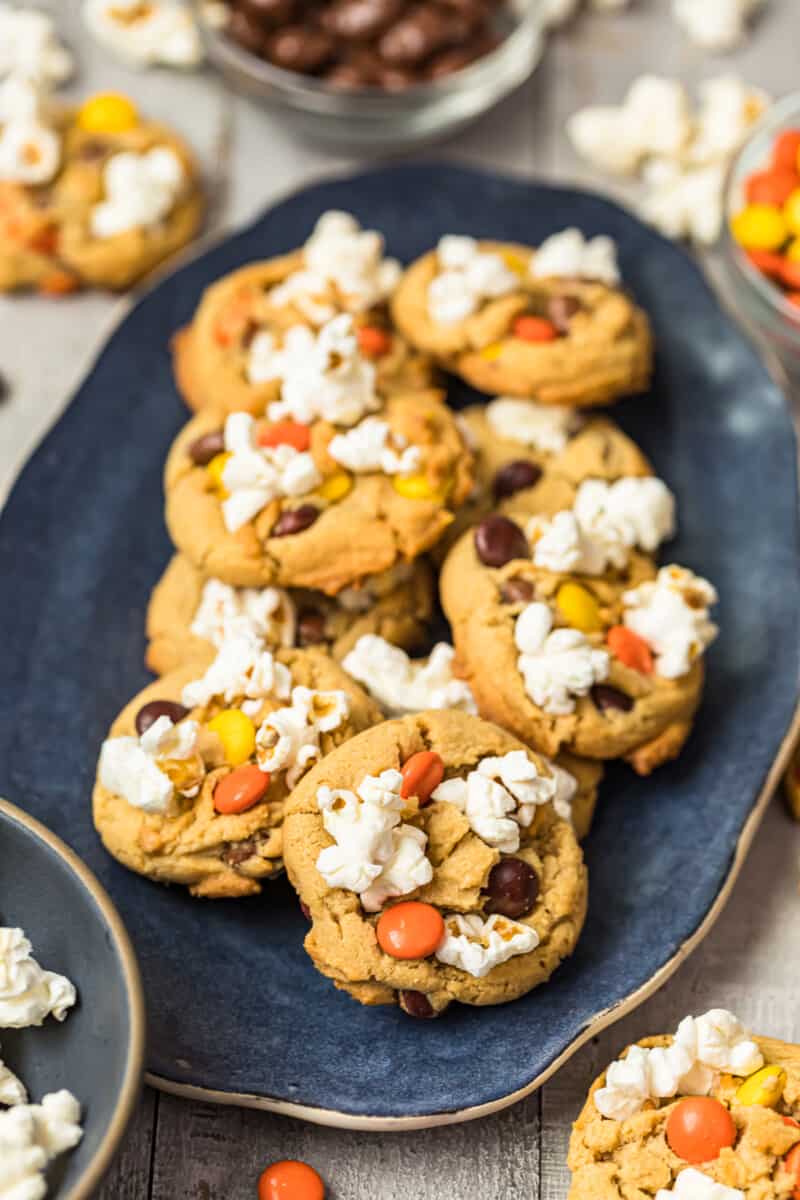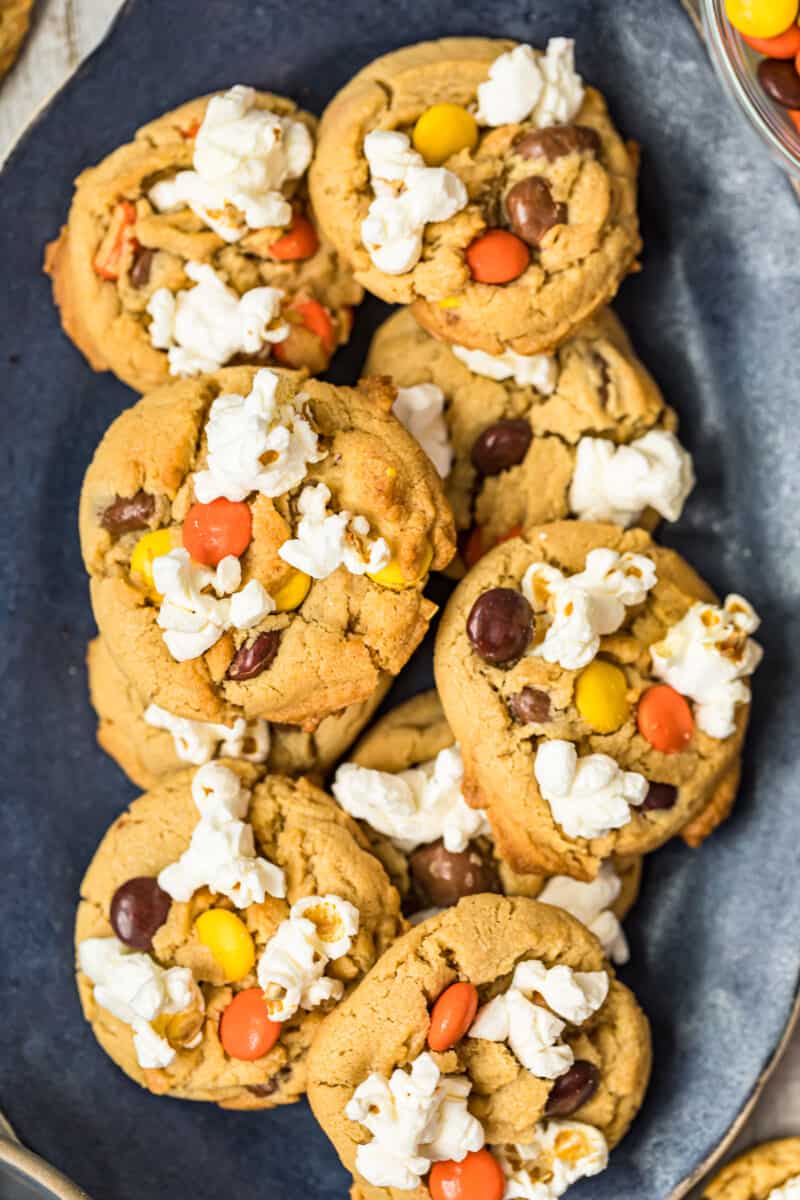 How long do they keep?
Movie Theater Cookies will keep for about 1 week if stored in an airtight container. We never have an issue with them lasting that long, they're usually all eaten during whatever movie we are watching!
How do you make sure they don't burn?
We love using Reynolds Kitchens Parchment Paper with Smartgrid anytime we are baking cookies. They help the cookies not to burn or stick, and also help us space them out evenly every time. Plus it's reusable up to three times!
Variations and Topping Ideas
We used Reese's Pieces, Raisinets, and Popcorn to fill our Movie Night Cookies, but the possibilities are really endless for what you could add. Here are some other ideas that we can't wait to try next time:
Pretzel sticks
Buncha Crunch
Gummy Bears
M&Ms
Chocolate Chips
Andes Mint pieces
Rolos
Junior Mints
Whatever your family always buys at the movie theater concession counter! Feel free to get creative!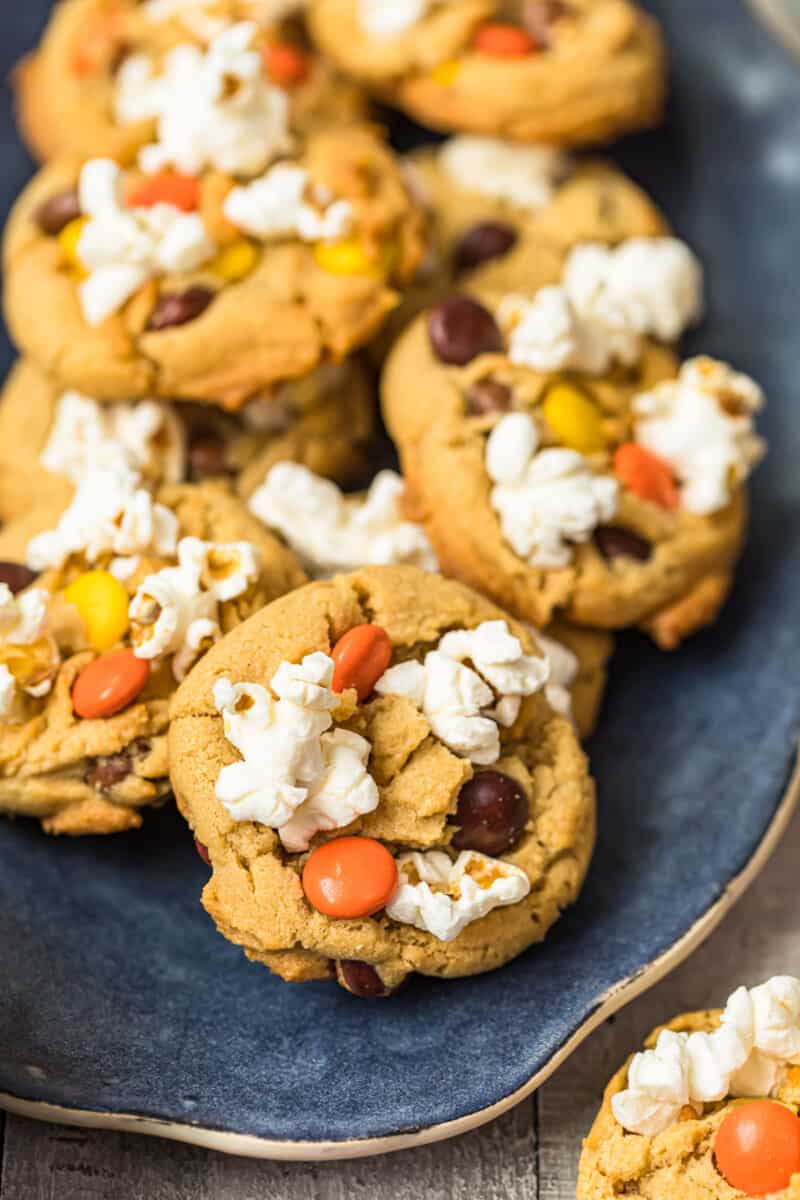 More Unique Cookies to Try
These Movie Night Cookies are just one of our favorite ways to bake something fun for the family. Be sure to try all our go-to recipes.
See All
Don't forget about Reynolds Kitchens Cookie Countdown 2020! Follow @ReynoldsBrands on Facebook to see all the amazing creations and bake along with us! I can't wait to have an even tastier end of the year while making all the unique recipes that Reynolds Kitchens has in store.
If you make this recipe be sure to upload a photo in the comment section below or leave a rating. Enjoy! You can also jump to recipe.