These fun Avalanche Cookies are made with four simple ingredients: rice Krispie cereal, melted white chocolate, milk chocolate, and peanut butter! They are the perfect no bake treat!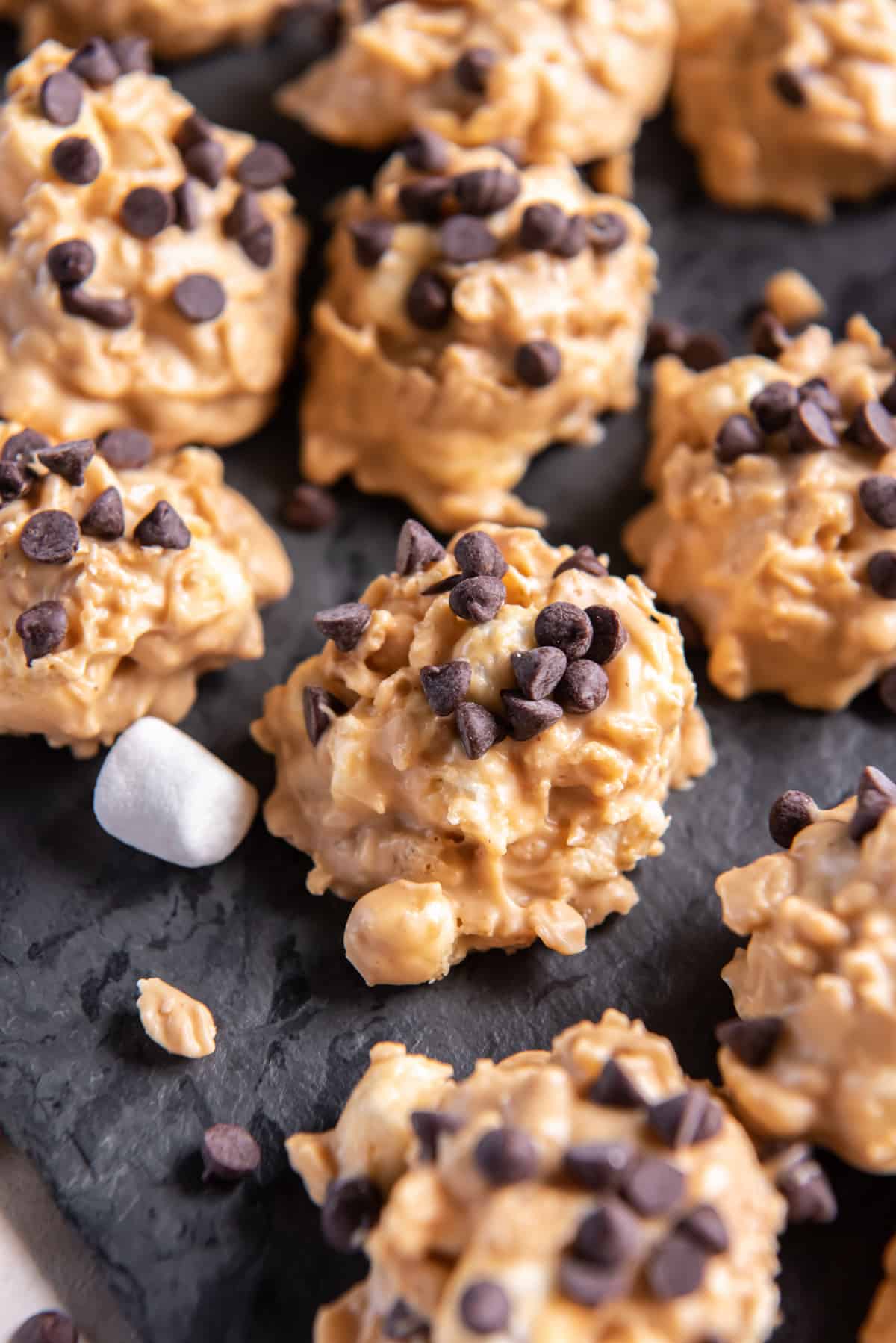 No Bake Avalanche Cookies
This is the best avalanche cookies recipe because they are full of rich chocolate and peanut butter flavor. And the texture provides a nice and satisfying crunch from the added rice cereal. It's the ultimate treat if you are looking for no bake desserts to whip up in no time.
Why You'll Love this Avalanche Cookies Recipe:
Easy Cookies: The hardest part about making these white chocolate peanut clusters with rice Krispies is resisting eating the entire batch!
Holiday Favorite: These no bake avalanche cookies are perfect for making around Christmas time because they are super easy, don't require baking and can be made before any big event at least three hours in advance!
Trademark Note: In the spirit of transparency, I want to note that Rice Krispies are a trademarked product. Kellogg's is a proprietary brand that I want to acknowledge and give credit to.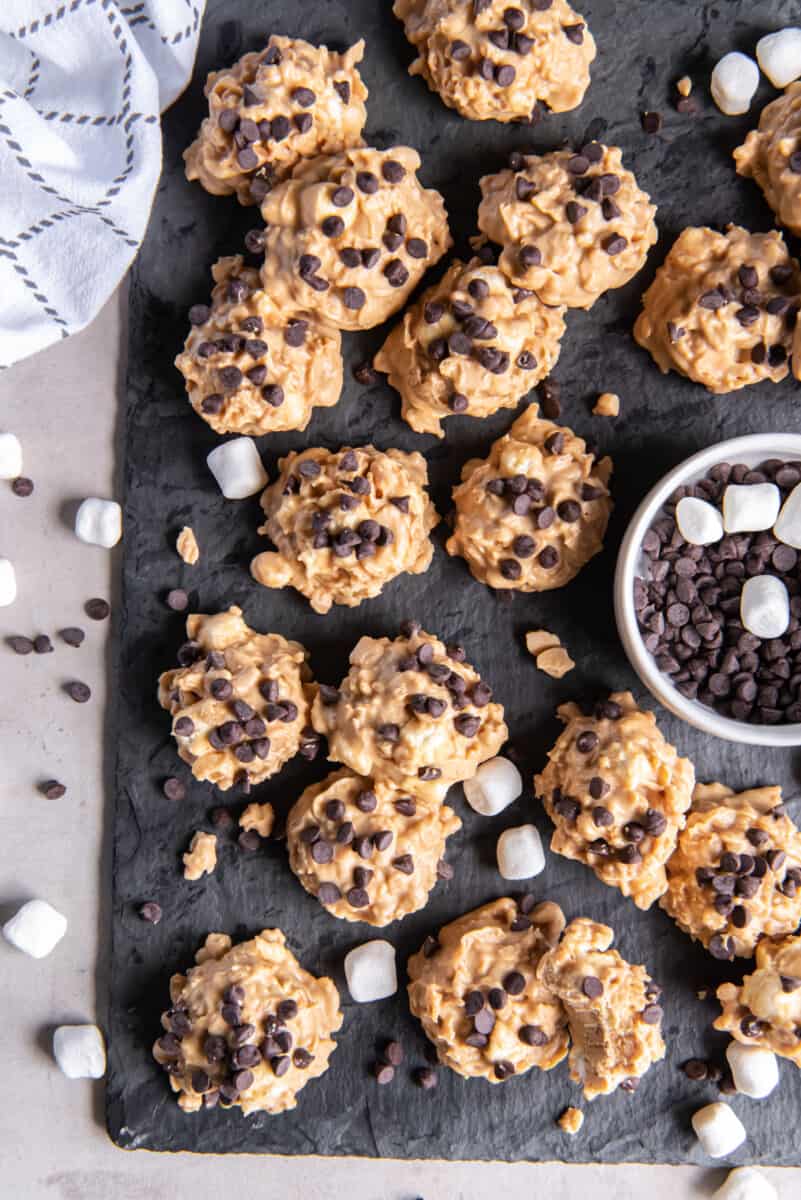 How to Make Avalanche Cookies
You can jump to the recipe card for full ingredients & instructions!
Prepare a baking sheet with parchment paper.
Then, in a double boiler, melt white chocolate chips. Mix in peanut butter and remove the white chocolate mixture from the heat.
In a large mixing bowl, combine and mix cereal and marshmallows.
Pour the melting chocolate and peanut butter mixture over the ingredients in the large bowl. Combine and mix well.
Use a cookie scoop to transfer the mixture to the prepared baking sheet. Sprinkle mini chocolate chips on top of each cookie.
Allow cookies to set for at least 2 hours or until hardened. Then you can serve and enjoy your delicious cookies!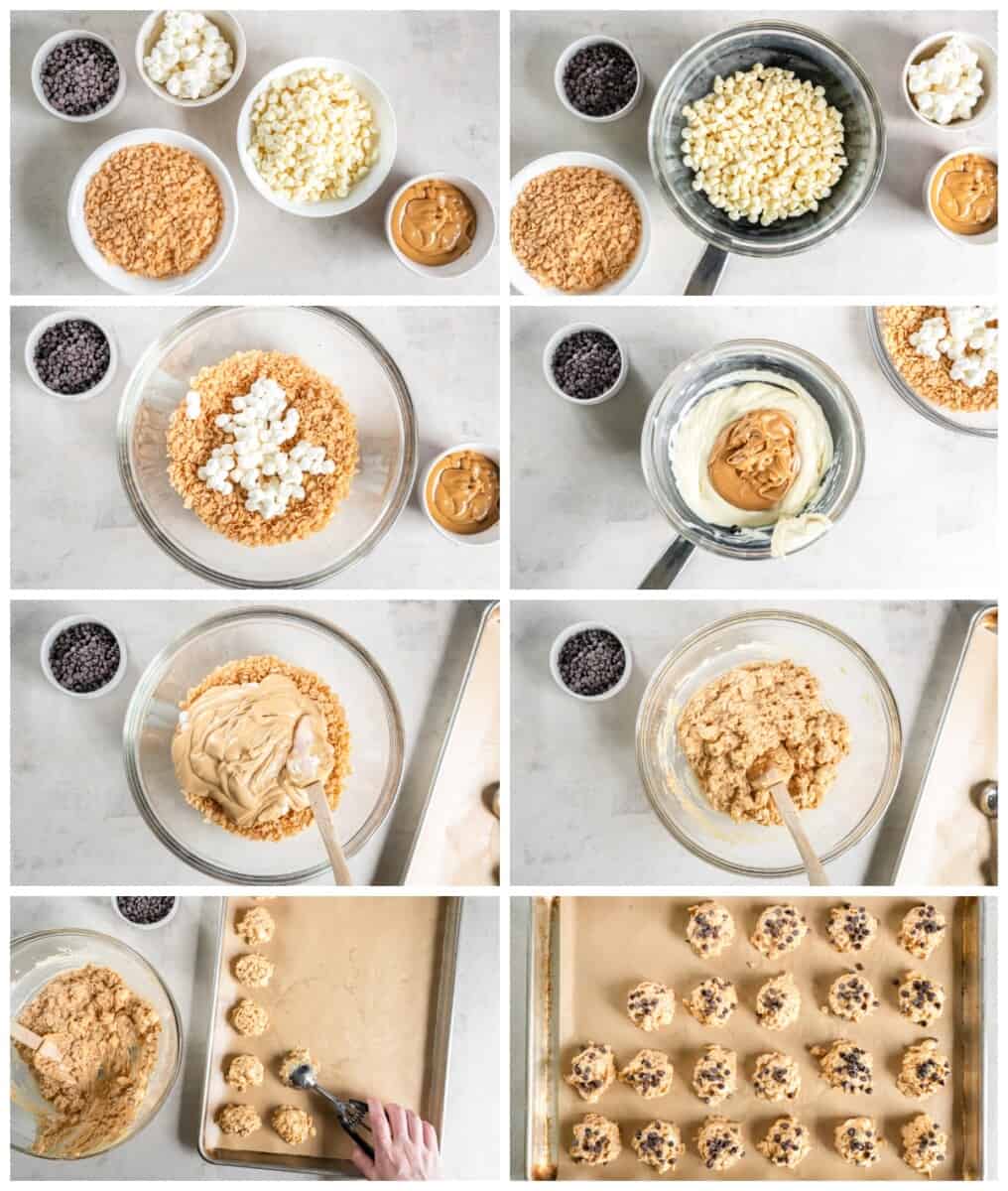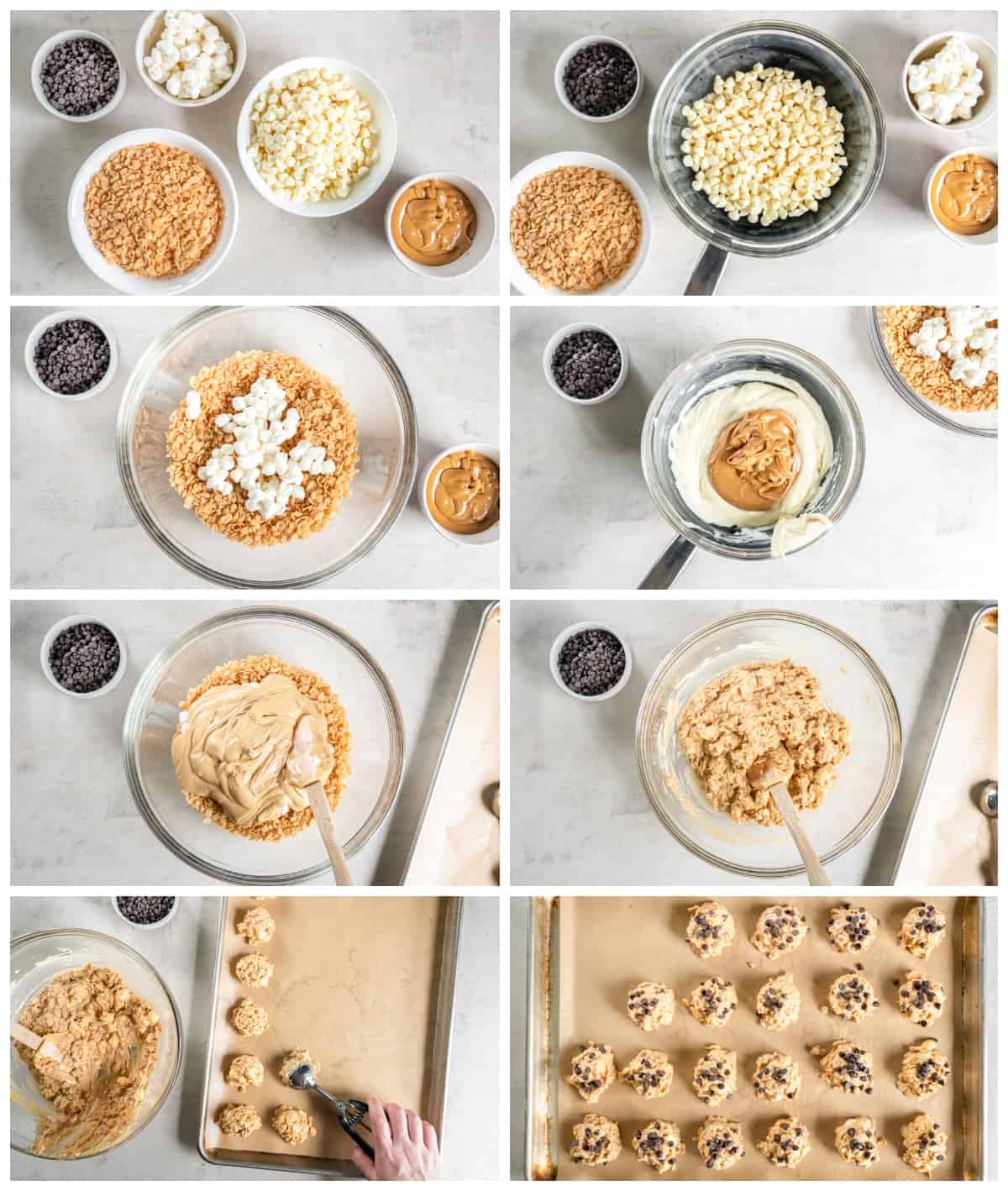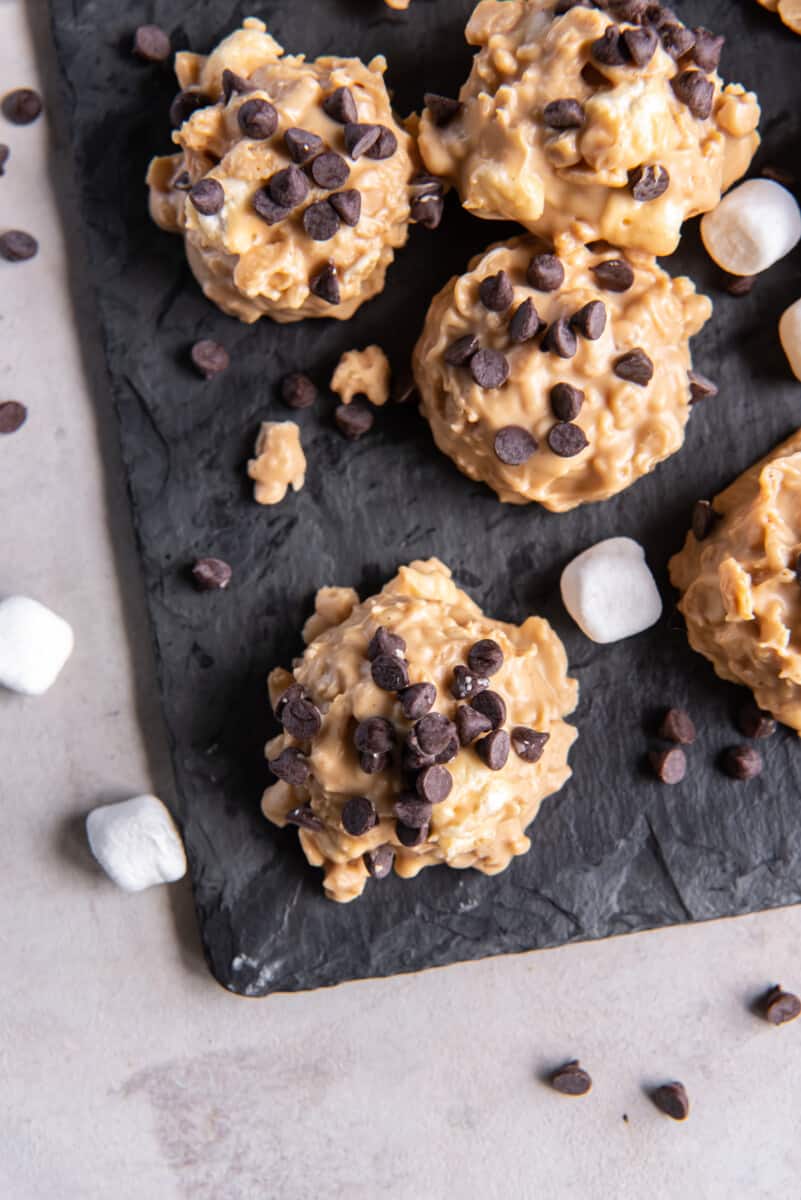 What are avalanche cookies?
Avalanche cookies are chewy no-bake cookies made from white chocolate mixed with peanut butter, Rice Krispies cereal, mini marshmallows, and chocolate chips.
Why are they called avalanche cookies?
These cookies get their name because they look like snow-covered boulders and rocks.
Are avalanche cookies gluten-free?
No, these cookies are not naturally gluten free. Rice Krispies are not gluten-free due to the inclusion of malt. To make these cookies gluten-free, use a gluten-free certified crisp rice cereal!
How can I make avalanche cookies peanut free?
To make these cookies peanut free, opt for a different kind of butter, such as Biscoff, almond butter, or sunflower seed butter.
Can I melt the white chocolate for avalanche cookies without using the stove?
Yes! Instead of using the stove, you can place the chocolate in a microwave-safe bowl and microwave it in 30-second increments, stirring often, until melted.
No Bake Holiday Cookies
Some consider these the perfect Christmas cookies because they can easily be whipped up with at least three hours notice. This makes these no bake cookies the ultimate treat to serve during the holidays because you don't have to spend too much time on them. However, you can make this delicious treat any time of year!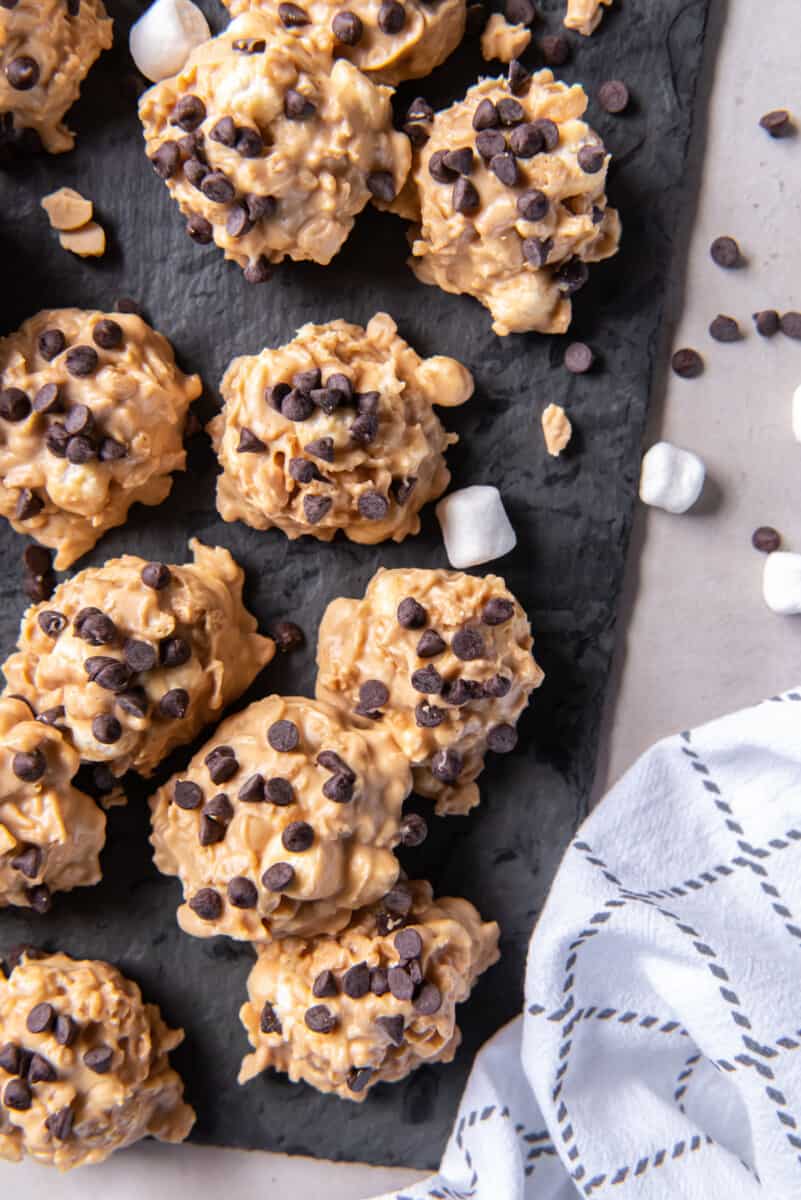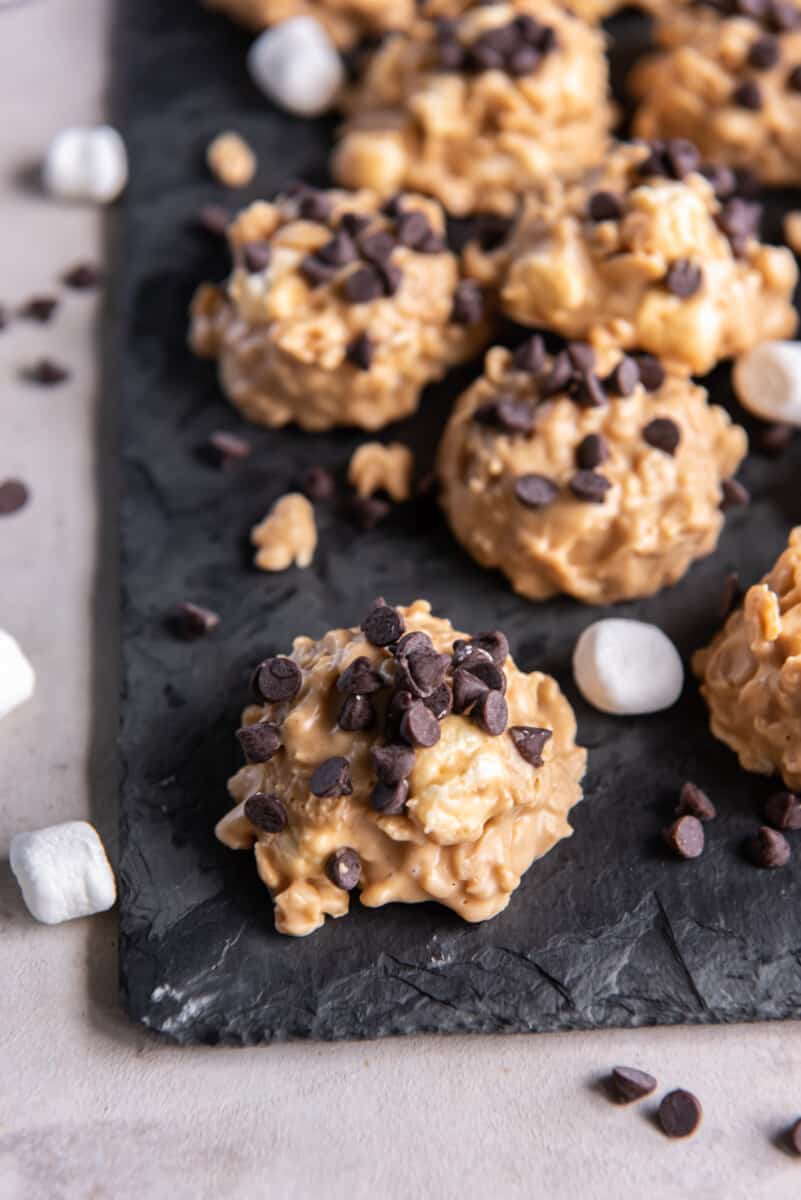 Make Ahead Instructions
Avalanche cookies can be made up to 5 days in advance of when you plan to serve them. Store them in an airtight container at room temperature or in the refrigerator until ready to serve.
Storage Instructions
Store leftover avalanche cookies in an airtight container at room temperature or in the refrigerator for up to 1 week. Enjoy at room temperature.
Freezing Instructions
Freeze avalanche cookies in an airtight container or Ziplock bag for up to 3 months. Let thaw at room temperature before enjoying.
Substitutions
In place of the white chocolate chips, you could use milk, semisweet, or dark chocolate chips for a chocolatey cookie!
In place of the peanut butter, feel free to use a different butter, such as almond butter, Biscoff, or sunflower seed butter.
For gluten-free avalanche cookies, use a certified gluten-free crisp rice cereal.
If you can't find mini marshmallows, you can use regular-sized marshmallows cut into quarters.
The chocolate chips are optional, and you can swap them out for white chocolate chips or flavored baking chips, if you prefer!
Try adding chopped nuts, such as peanuts or almonds!
Tips for the Best Avalanche Cookies
Be sure to line the baking sheet with parchment paper to prevent sticking.
Use fresh marshmallows! Stale ones won't do the trick.
For a domed shape, use a cookie scoop to scoop the cookies. For flatter cookies, use a drinking glass or the palm of your hand to gently press the cookies down.
If your house is particularly warm, be sure to store these cookies in the refrigerator to keep them from melting.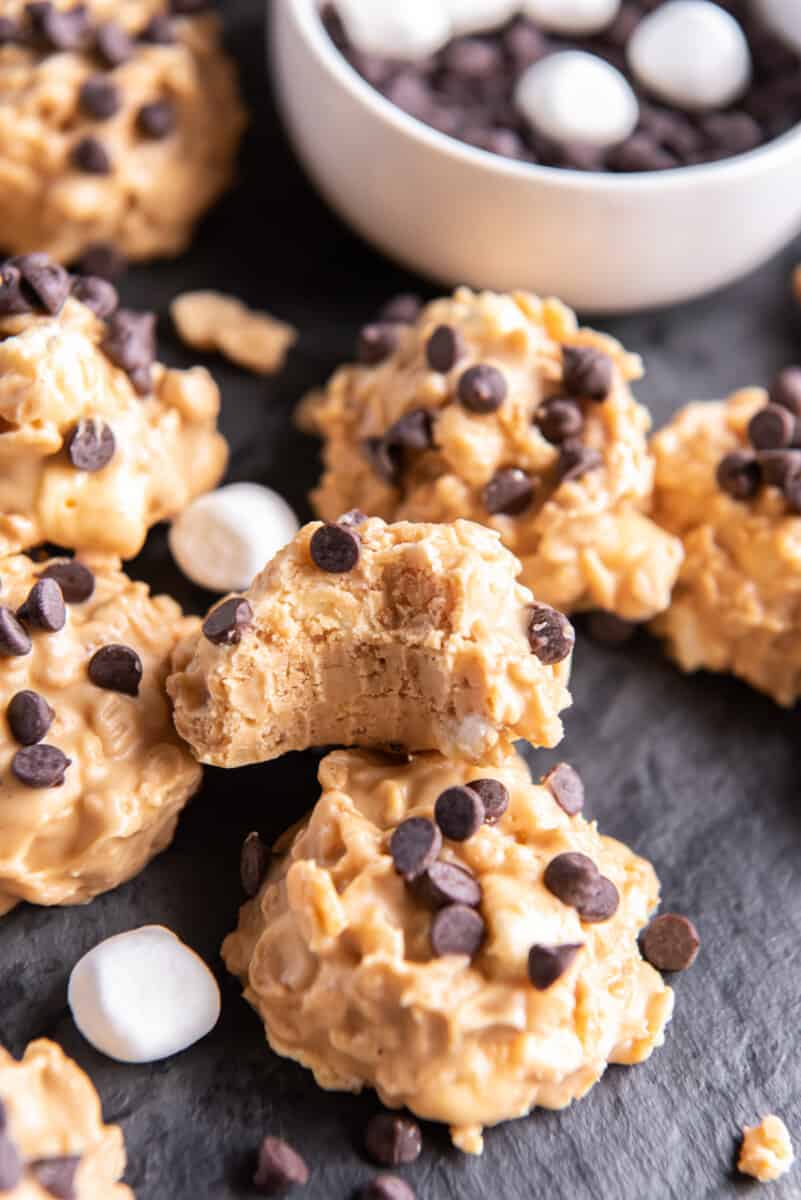 I hope you love this recipe for avalanche cookies. Have you ever made white chocolate peanut butter cookies before? Let me know how they turned out in the comments below!
If you make this recipe be sure to upload a photo in the comment section below or leave a rating. Enjoy! You can also jump to recipe.