Lemon Meringue Cheesecake combines the irresistible flavors of classic cheesecake, zesty lemon curd, and the airy sweetness of a fluffy meringue topping. A true showstopper, this light but decadent dessert is perfect for special occasions like Easter Sunday or just when you're craving a slice of heaven.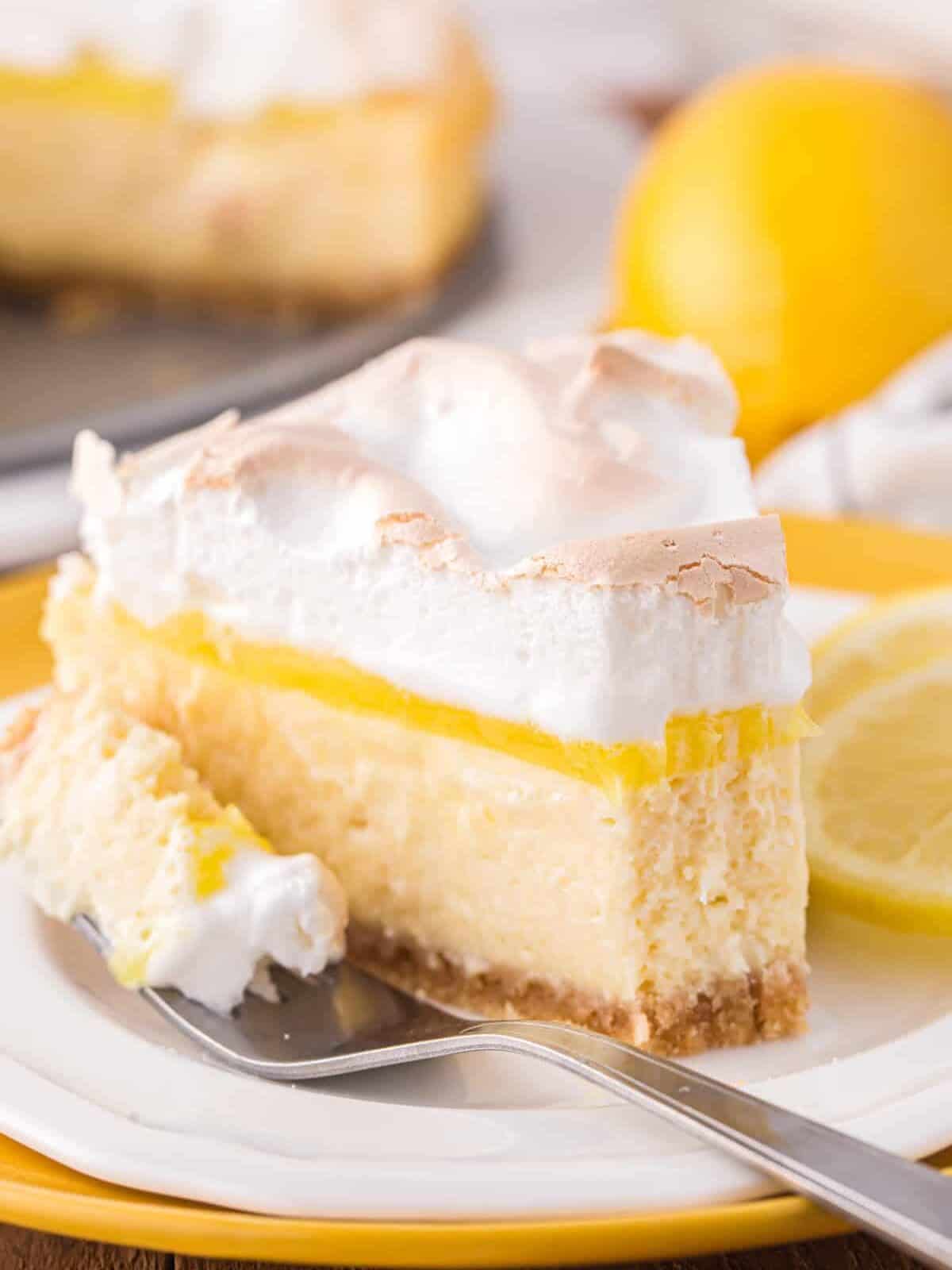 What's in Lemon Curd Cheesecake?
From the vanilla wafer crust to the creamy lemon cheesecake filling and perfectly golden meringue topping, this tasty dessert has it all. Get ready to impress your friends and family with a truly delicious and refreshing lemon pie.
Wafer Cookies: I like using vanilla wafer cookies for their neutral taste. You can also make this recipe with golden Oreos or a graham cracker crust.
Butter: I used salted butter in the crust to bring out the flavor of the cookies. You can use unsalted butter instead.
Sugar: Granulated sugar sweetens the cheesecake, while powdered sugar sweetens the meringue.
Lemon: Lemon zest and juice give this cheesecake its bright flavor. You'll need two whole lemons.
Cream Cheese: Full-fat, brick-style cream cheese forms the base of this cheesecake. Let it soften before using.
Greek Yogurt: Honey vanilla Greek yogurt adds a subtle flavor as well as a rich tanginess to cut the sweetness of the cheesecake. You can use plain or vanilla Greek yogurt instead.
Lemon Extract: Helps enhance the lemony flavor of the cheesecake without making it too sour.
Eggs: Whole eggs give the cheesecake structure, while egg whites give the meringue structure.
Lemon Curd: Adds an extra layer of fresh citrus flavor. You can make it a few days in advance or use store-bought to save time.
Variations on Lemon Cheesecake
For a different spin on this classic lemon meringue cheesecake, try switching up the crust or the type of citrus. You could swap out the wafer cookies for golden Oreos, Biscoff cookies, or a graham cracker crust. For the filling, you could use limes, grapefruits, or blood oranges instead of lemons. If you switch up the citrus flavor, you'll want to make your own curd, substituting the citrus of your choice in for the lemon.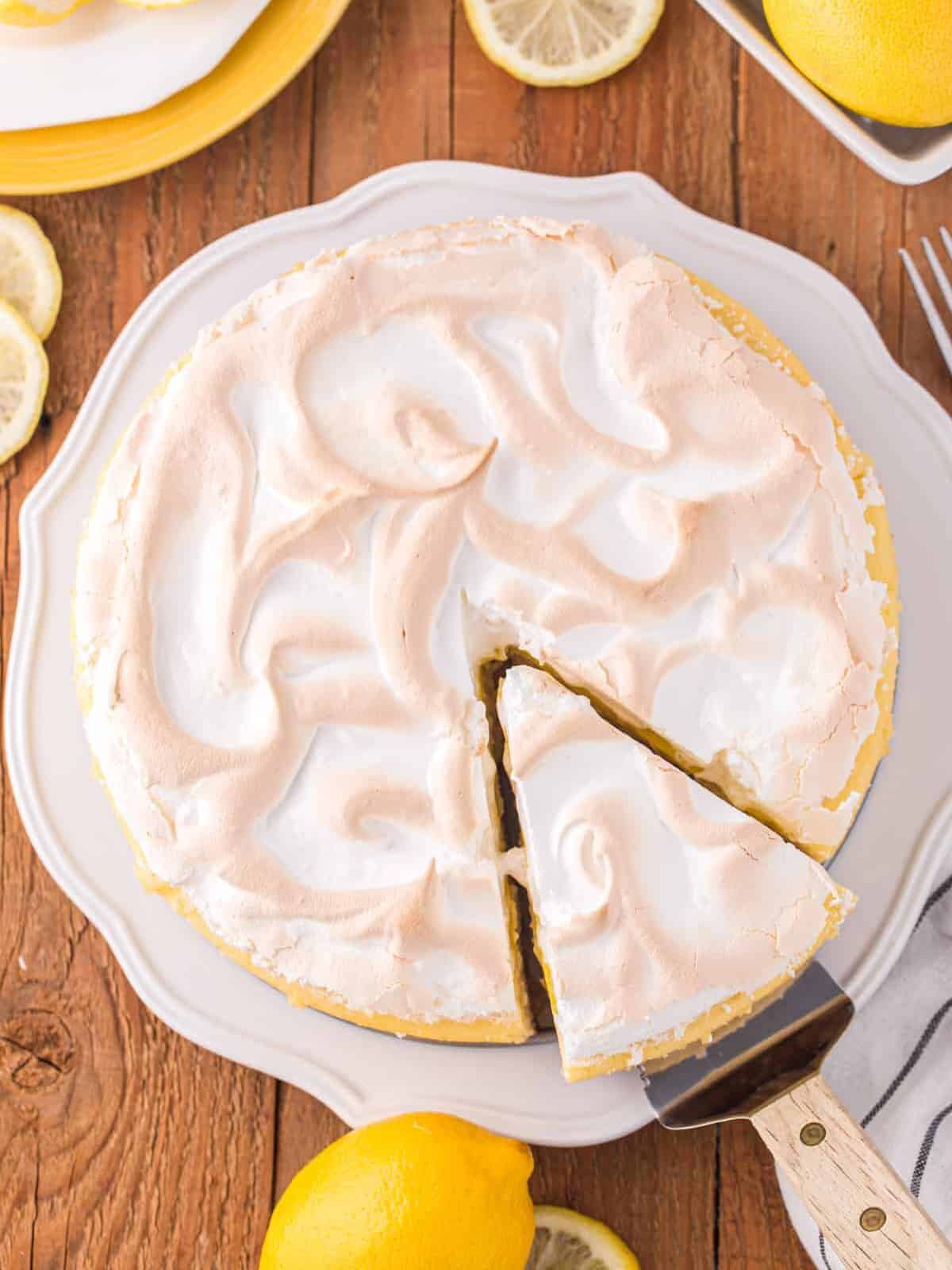 What kind of pan do I need to make cheesecake?
Cheesecakes require the use of a springform pan. This type of pan allows for even baking, easy release, and less mess. If you don't have one, you should be able to pick one up at most stores in the aisle with other baking pans.
Can I make lemon meringue cheesecake with fat-free cream cheese?
I do not recommend using fat-free ingredients to make this cheesecake, as it just won't taste as rich and delicious. However, you can use light cream cheese or Neufchatel for a lower-fat alternative. This will change the flavor slightly.
Do I have to bake lemon meringue cheesecake?
Yes! This is a baked cheesecake recipe, and it will not turn out correctly unless it is baked in the oven. If you're looking for a no-bake cheesecake recipe, try this no-bake lemon cheesecake.
How do I prevent my cheesecake from cracking?
If you want to keep the cheesecake from cracking, turn the oven off, and let it cool with the door closed for a minimum of 1 hour and a maximum of 3 hours.
Why is my lemon meringue cheesecake gooey in the middle?
Cheesecake should come out of the oven with a slightly jiggly center. It will take a few hours to cool and set properly, so don't worry! If after baking, you press gently in the center of the cheesecake and runny batter comes off on your finger, it needs a bit longer to bake.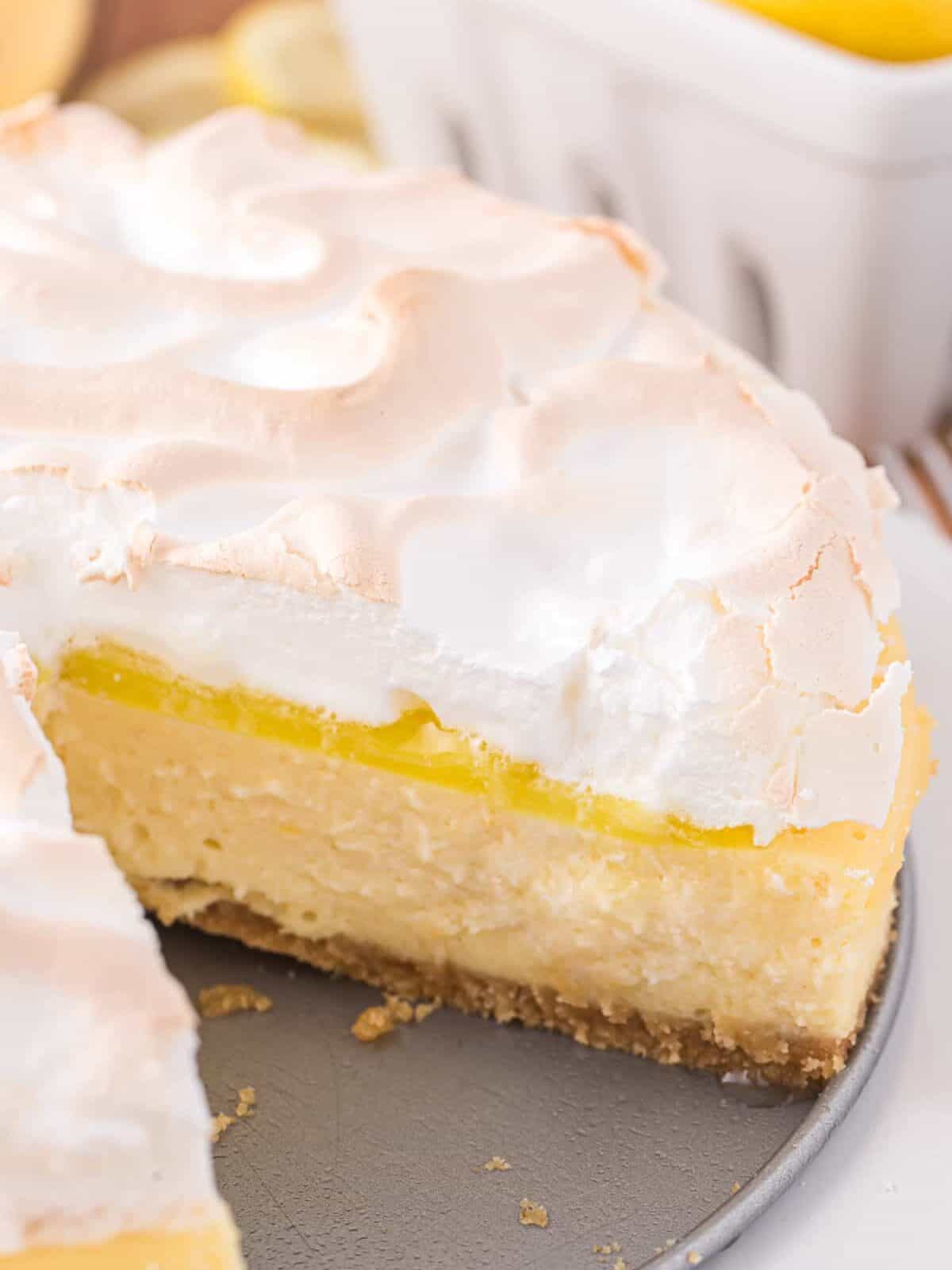 How to Make Ahead and Store Lemon Curd Cheesecake
The lemon curd can be made up to 1 week in advance and stored in an airtight container in the refrigerator. The cheesecake base can be made up to 2 days in advance and stored, tightly wrapped, in the refrigerator. I do not recommend making the meringue ahead of time.
While this lemon meringue cheesecake is best enjoyed fully assembled on the day it is made, it will keep for up to 3 days in an airtight container in the refrigerator. Serve cold.
How to Freeze Baked Meringue Cheesecake
I do not recommend freezing this cheesecake fully assembled, as neither the curd nor the meringue will freeze well. To freeze the cheesecake, tightly wrap it in 2 layers of plastic wrap and 1 layer of aluminum foil and freeze for up to 1 month. Allow it to thaw overnight in the refrigerator before topping with the curd and meringue.
What to Serve with Lemon Meringue Cheesecake
When it comes to serving Lemon Meringue Cheesecake Pie, simplicity is best to let the tangy and creamy flavors of the dessert shine. However, if you're looking to elevate the presentation and flavor of your dessert, serve with a dollop of whipped cream with lemon zest grated over the top and a sprig of mint.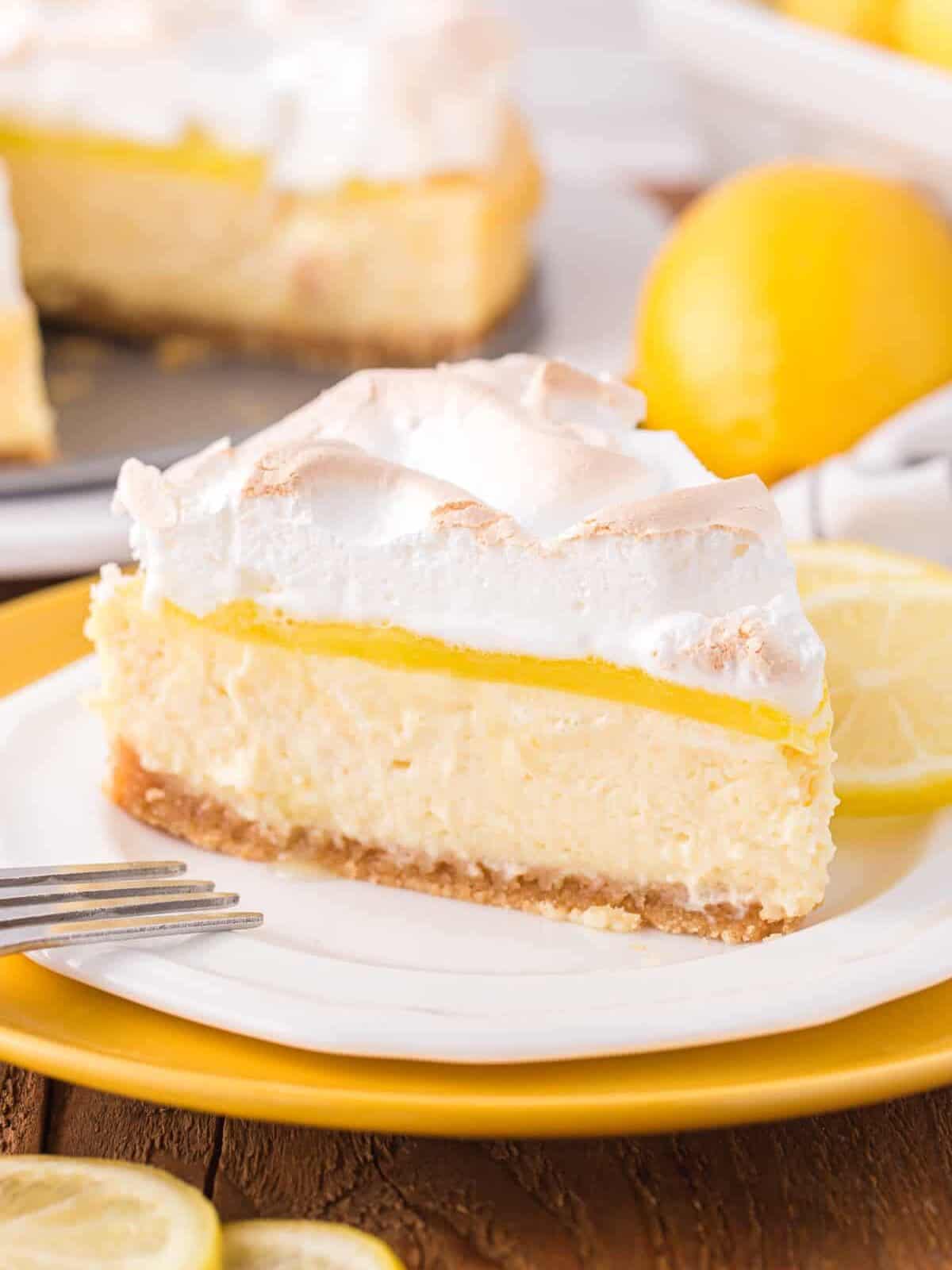 More Lemon Meringue Recipes We Love