White Chicken Chili with cream cheese is the ultimate creamy comfort food! This recipe is loaded with everything good and so comforting on a cool night. We top our Creamy White Chicken Chili off with avocado, jalapenos, sour cream, and more.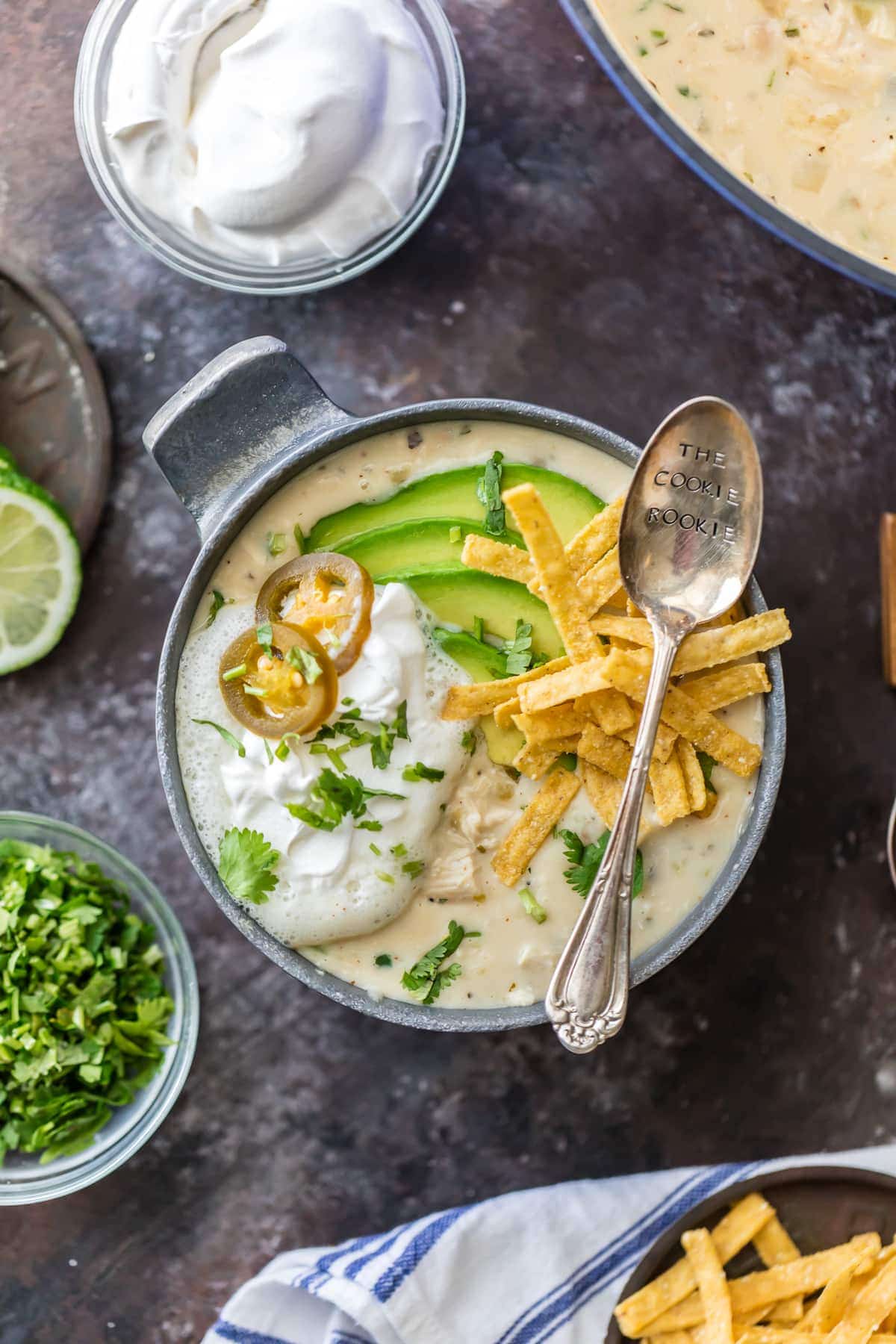 White Chicken Chili Recipe with Cream Cheese
This is the only white chili recipe you'll ever need. It's so good, you'll want to make it every night!
Since I cook so much these days, it takes a lot for me to get really really really excited about a new recipe. Well let me tell you, I am EXCITED about this comfort food recipe!
This soup is SO easy to throw together (just how I like my recipes) and made in minutes. You can have the ultimate comfort food on your table in about 30 minutes. And it's great for freezing and eating later too. You won't be disappointed, trust me!
You can make this easy chicken chili with cream cheese (the secret to making it super creamy), on the stove or in a Crockpot. Two easy ways to make one delicious chili! The creaminess makes it unique, and an instant favorite.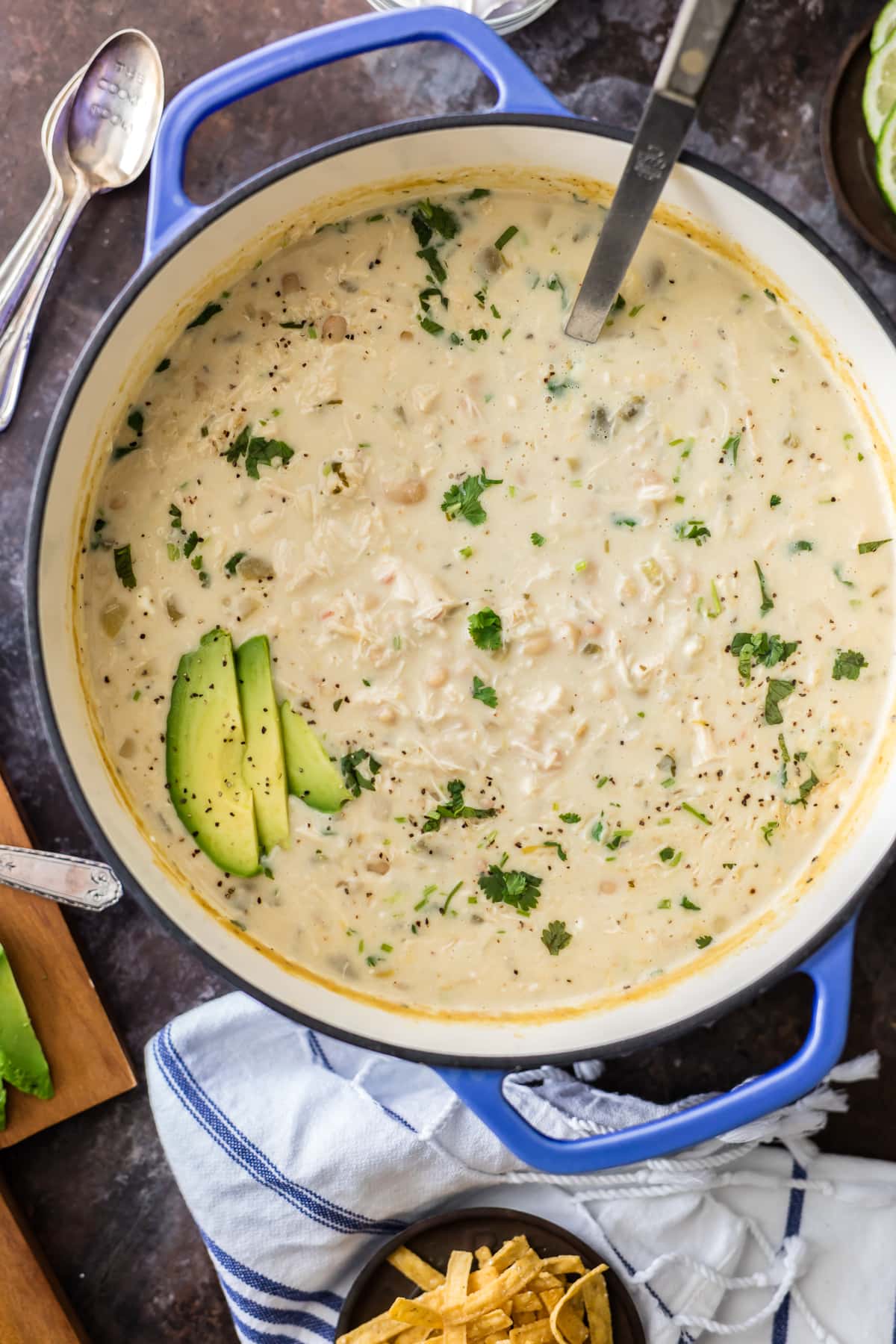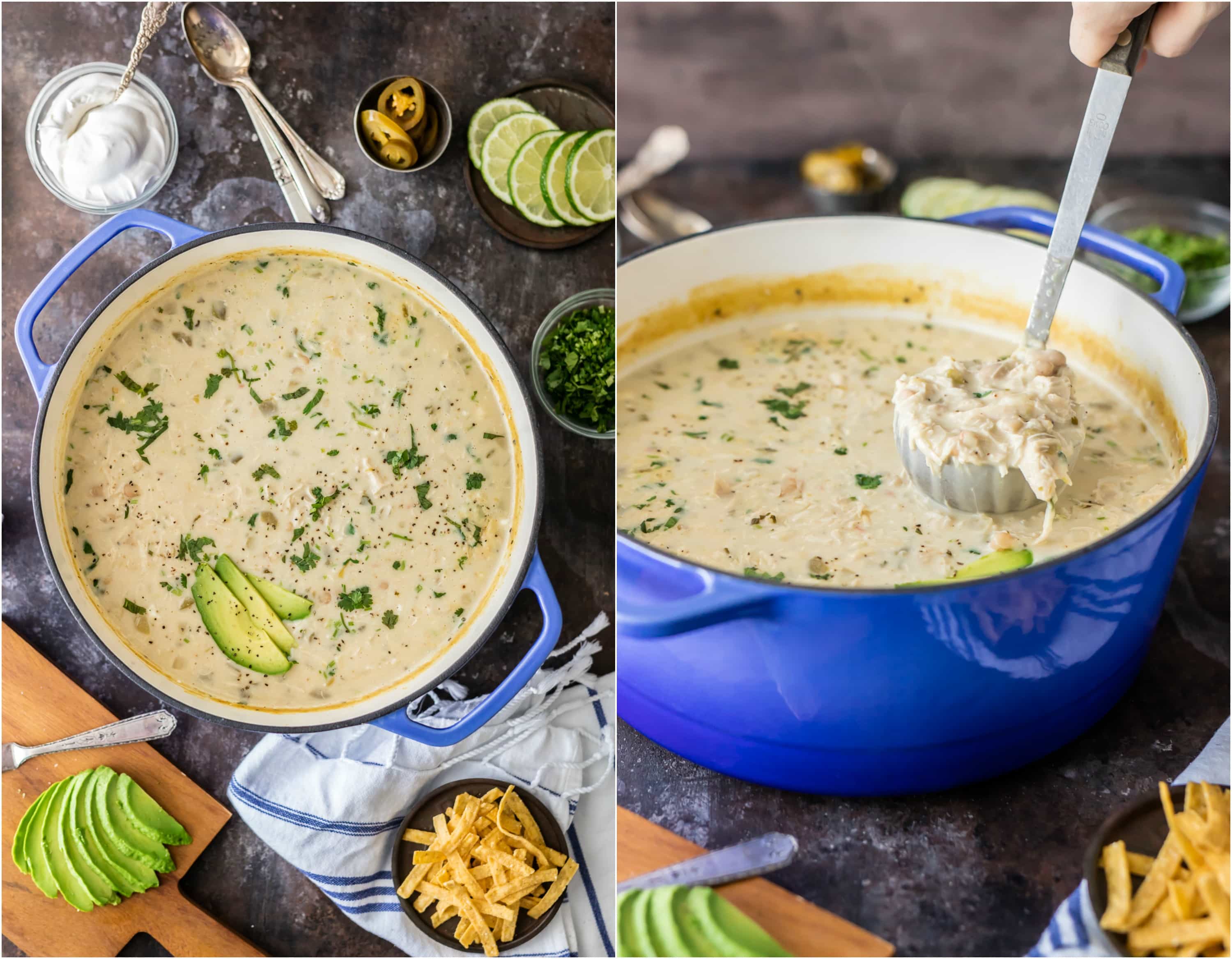 Tips for the Best Creamy White Chicken Chili
This recipe is not a healthy low-cal kind of recipe, but I want it in bulk anyways! It's so cold right now, I've got to be shivering off a few calories, right? It's just the ultimate comfort food plus it's SO easy!
This White Chicken Chili Recipe is loaded with:
chunky chicken
lots of spices
white beans
fresh cilantro
green chiles
creamy cream cheese
…and lots more!
YUM! Then to kick things up a notch, I added heavy cream and cream cheese to make it really creamy. TO DIE FOR!
It was good on its own, but it was REALLY GREAT with the added creaminess. This recipe is meant for a crowd (up to 14 servings), but I'm a little selfish with this one.
Instead of sharing it with anyone, I ate a nice big bowl and then froze the rest for later. I'm already looking forward to eating it all season long!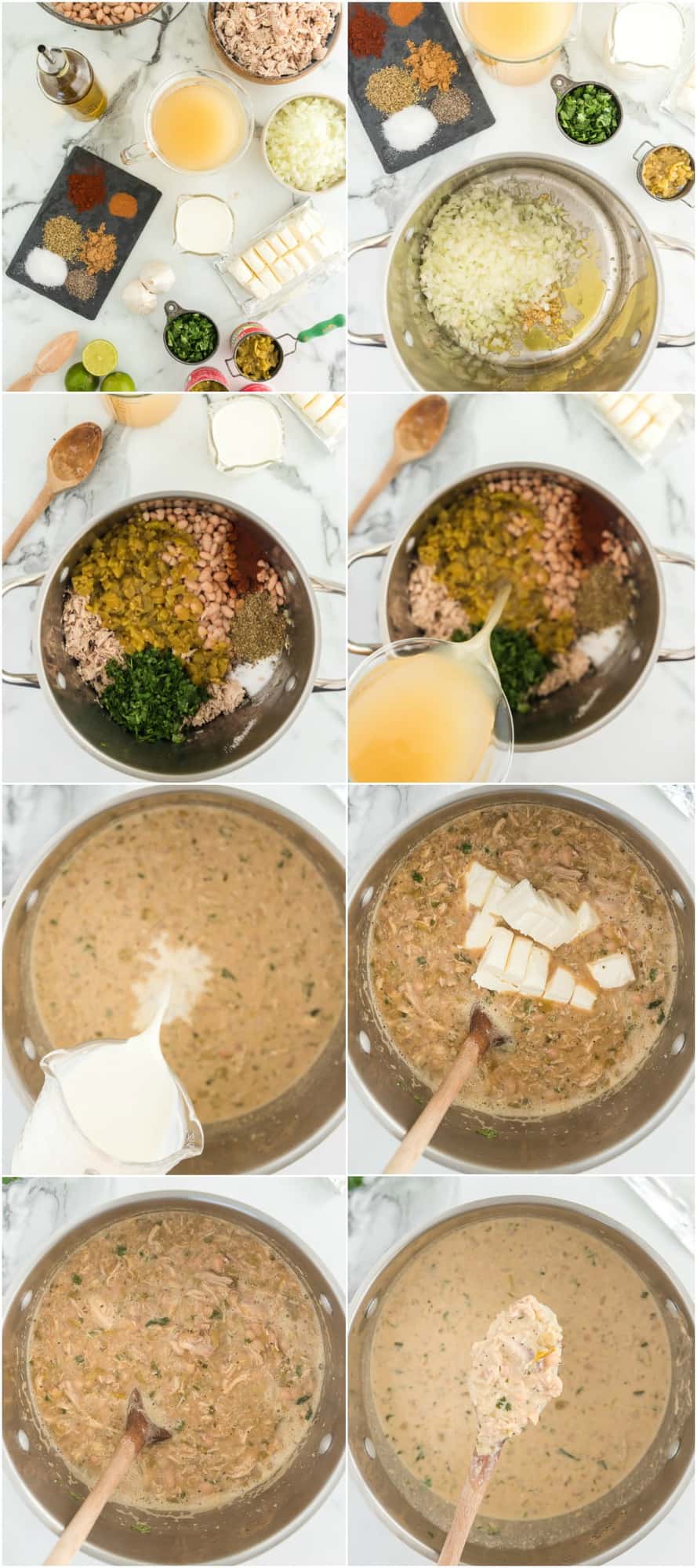 Award Winning White Chicken Chili Recipe
I'm so excited that many readers have written in to tell me that this Creamy White Chicken Chili has won them first prize at their local chili cook offs. I couldn't be more proud! Let me know if you try it!
Want to make this Blue Ribbon White Chicken Chili at home? It's so easy!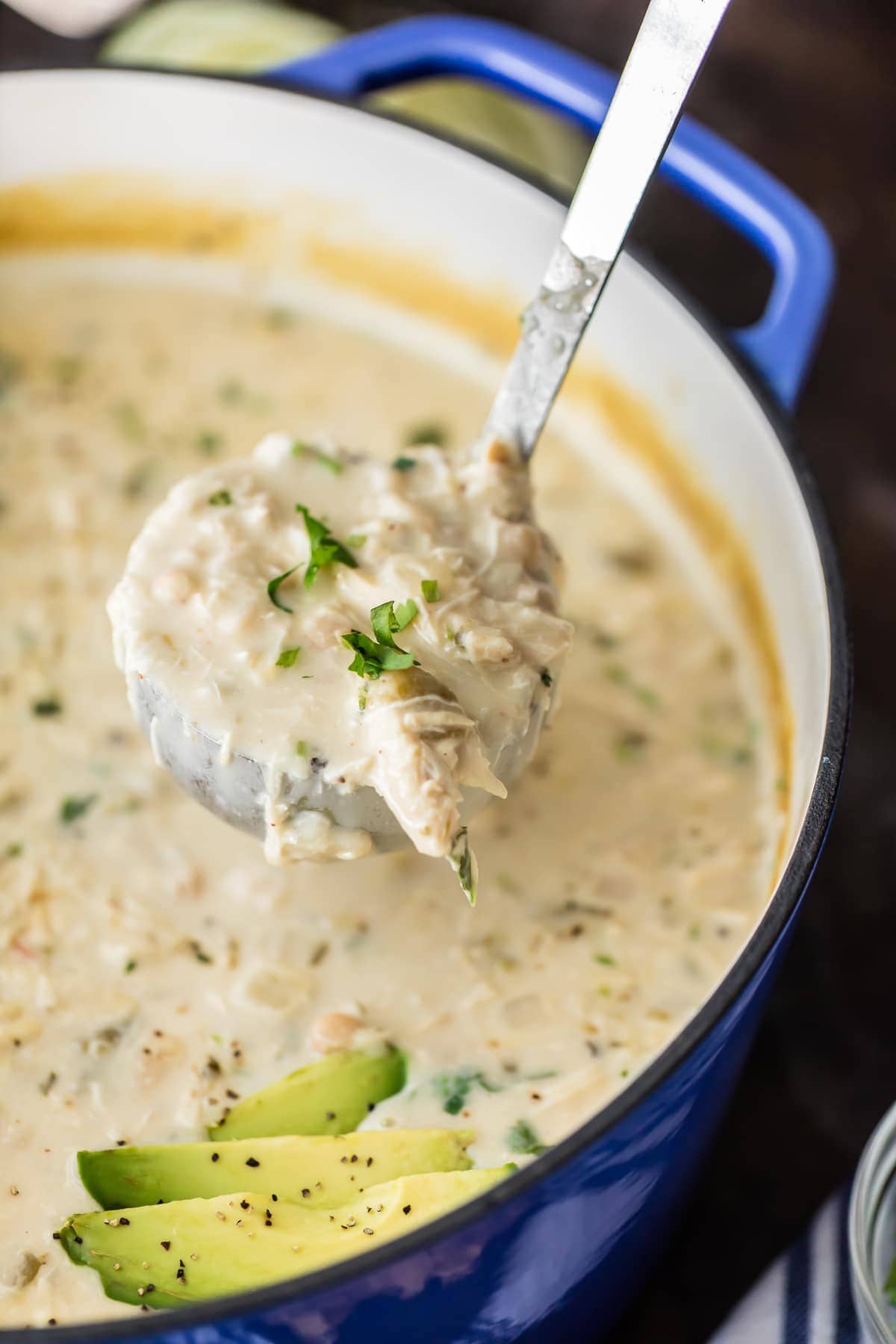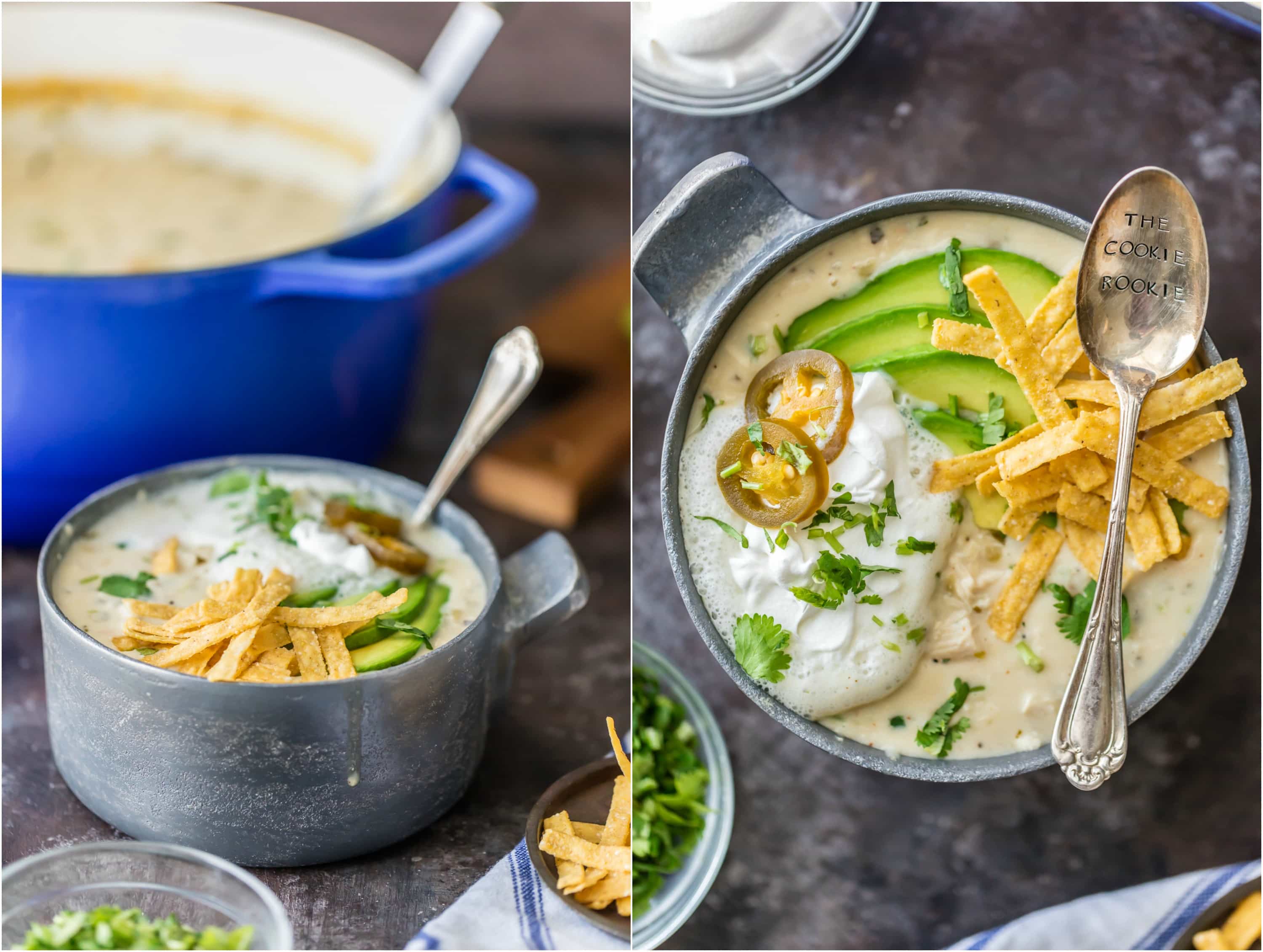 A good chili recipe can't be beat. This recipe is even better! It's such an important recipe to have in your arsenal for cold winters, or any time you need a comforting meal.
I like to think this Creamy White Chicken Chili is one of the best soup recipes out there, and for me it definitely is! I hope you try it and let me know what you think. We have been making this for years now and it's a hit every single time!
Creamy Chili Toppings
If you make this, please don't forget to add ALL THE TOPPINGS! Go as crazy as possible with your favorites. Here's what we like throw on top:
Topping Ideas:
tortilla strips
sour cream
cilantro
avocado
jalapeños
shredded cheese
You can't go wrong, unless you skip them all together. Make this dish a feast, because you deserve it! You just spent all that time in the kitchen cooking (well, less than an hour), so make sure you eat as much as possible!
Can this be prepared in a Slow Cooker?
We have shown you how to make white chicken chili on the stove. It's a super easy way to make it in 30-45 minutes if you just need to get dinner ready to go. But you can also adapt this recipe to make it in a crock pot!
To make in a slow cooker, you just need to make a couple of changes.
Cook the onions, garlic, olive oil, and lime juice on the stove (as in step 1).
Add all of the ingredients (except the cream cheese and heavy cream) into a large slow cooker.
Cook on the low setting for 6-8 hours for a nice slow simmer, or on high for 2-4 hours to speed it up a bit.
Once it gets to your preferred thickness, stir in the cream cheese until fully melted, and then stir in the heavy cream.
Now it's ready to serve with all your fave toppings. Whether you make it on the stove or in a crockpot, it's sure to please.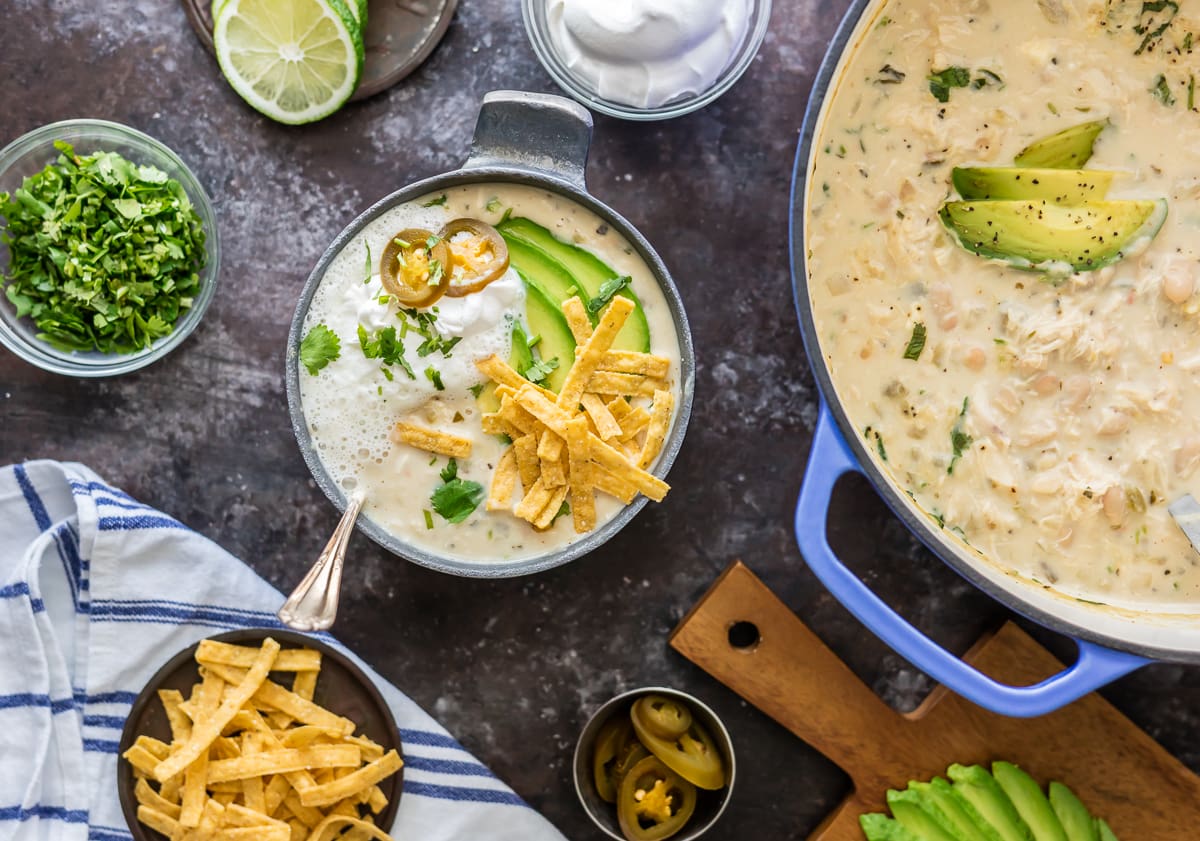 I make it no secret that my Mom's chili is the Best Chili Recipe Ever…but this Creamy White Chicken Chili is a close second. Definitely the best as far as white chili recipes go.
I go back and forth on which one to take to chili cook-offs. This recipe has won a few awards for readers and nothing makes me happier!
I hope this makes all of your comfort food dreams come true. I know it did mine! Speaking of…it's calling my name.
More Soups & Chili
If you love this White Chicken Chili Recipe below, be sure to see these other soups and chilis we love on a cold night.
See All
If you make this recipe be sure to upload a photo in the comment section below or leave a rating. Enjoy!