CREAMY WHITE CHICKEN CHILI made with CREAM CHEESE is the ultimate comfort food! The best White Chicken Chili recipe out there!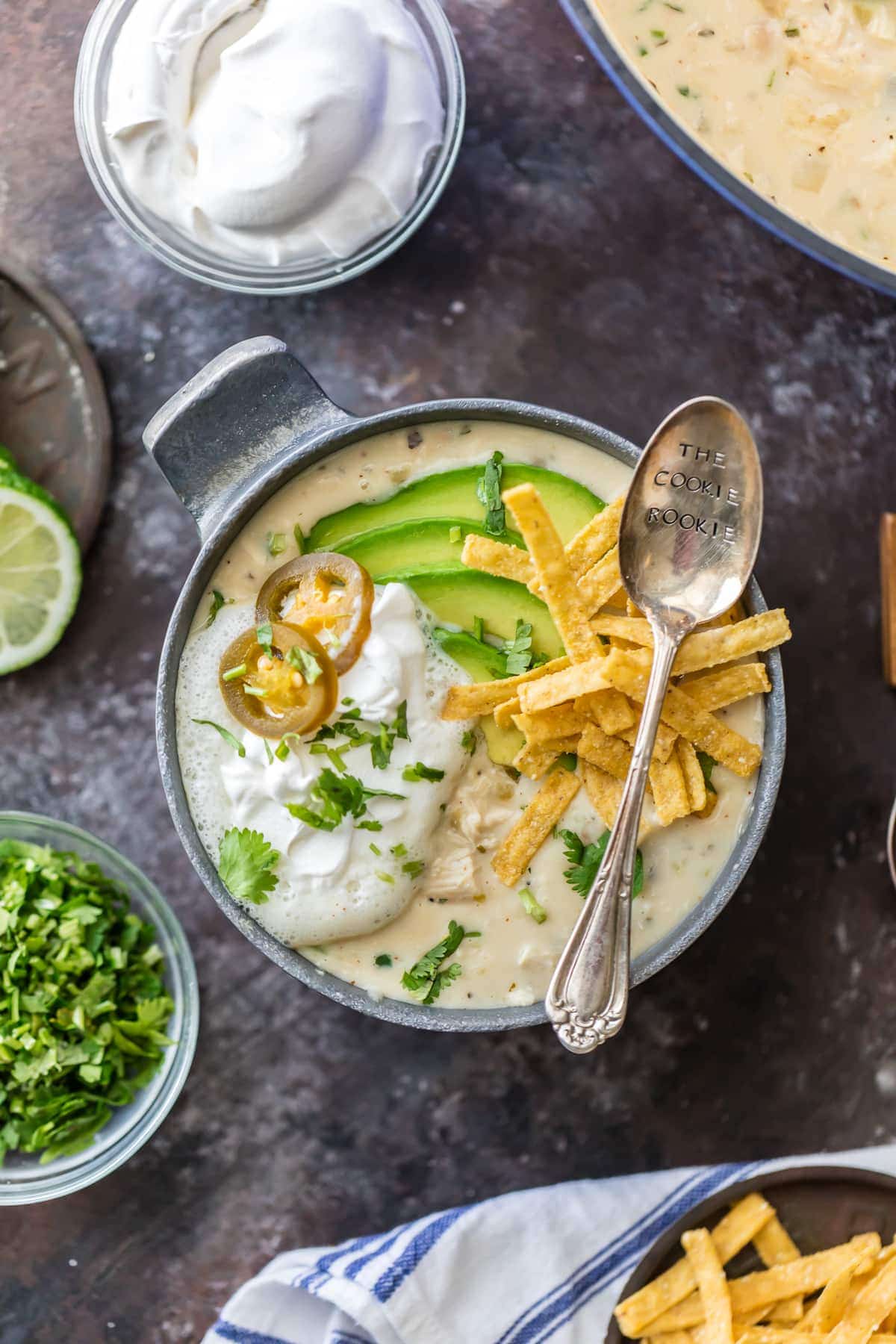 THIS RECIPE!!! Since I cook so much, it takes a lot for me to get really really really excited about a new recipe.
This Creamy White Chicken Chili with Cream Cheese blew my dang socks off!
It's SO easy (just how I like my recipes) and made in minutes. You can have the ultimate comfort food on your table (and in your freezer for later feasting) in about 30 minutes! You won't be disappointed, trust me!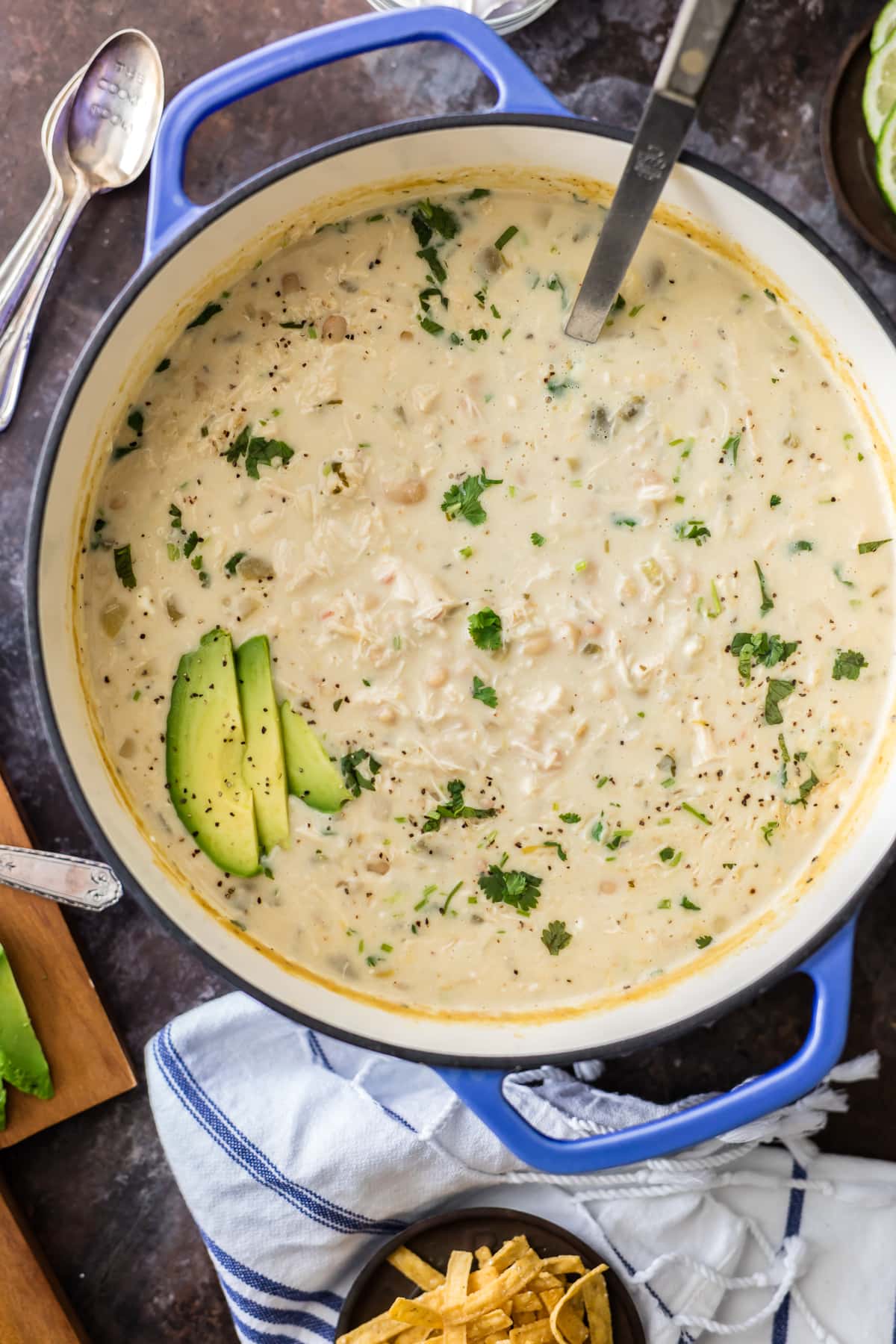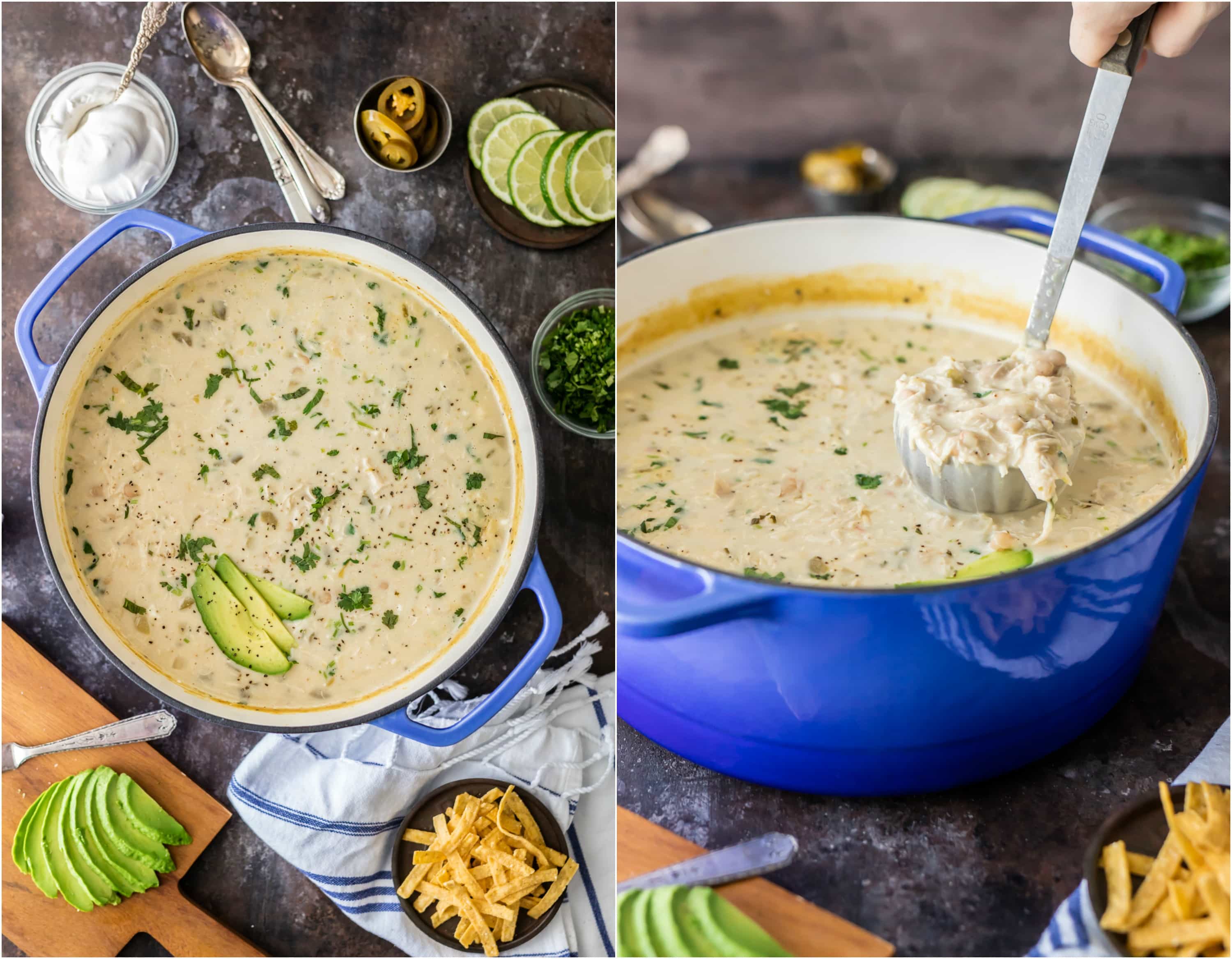 This Creamy White Chicken Chili with Cream Cheese is loaded with everything that makes White Chicken Chili a favorite; chunky chicken, lots of spices, beans, fresh cilantro, and green chiles. YUM! Then to kick things up a big notch, I added heavy cream and cream cheese. TO DIE FOR!
It was good on its own, but it was REALLY GREAT with all the creaminess. This recipe is meant for a crowd (up to 14!), but I'm selfish. I didn't share it with anyone and instead froze a bunch for later. I'm already looking forward to eating it all Fall, the best! The best Creamy White Chicken Chili EVER! (and the easiest…win win!)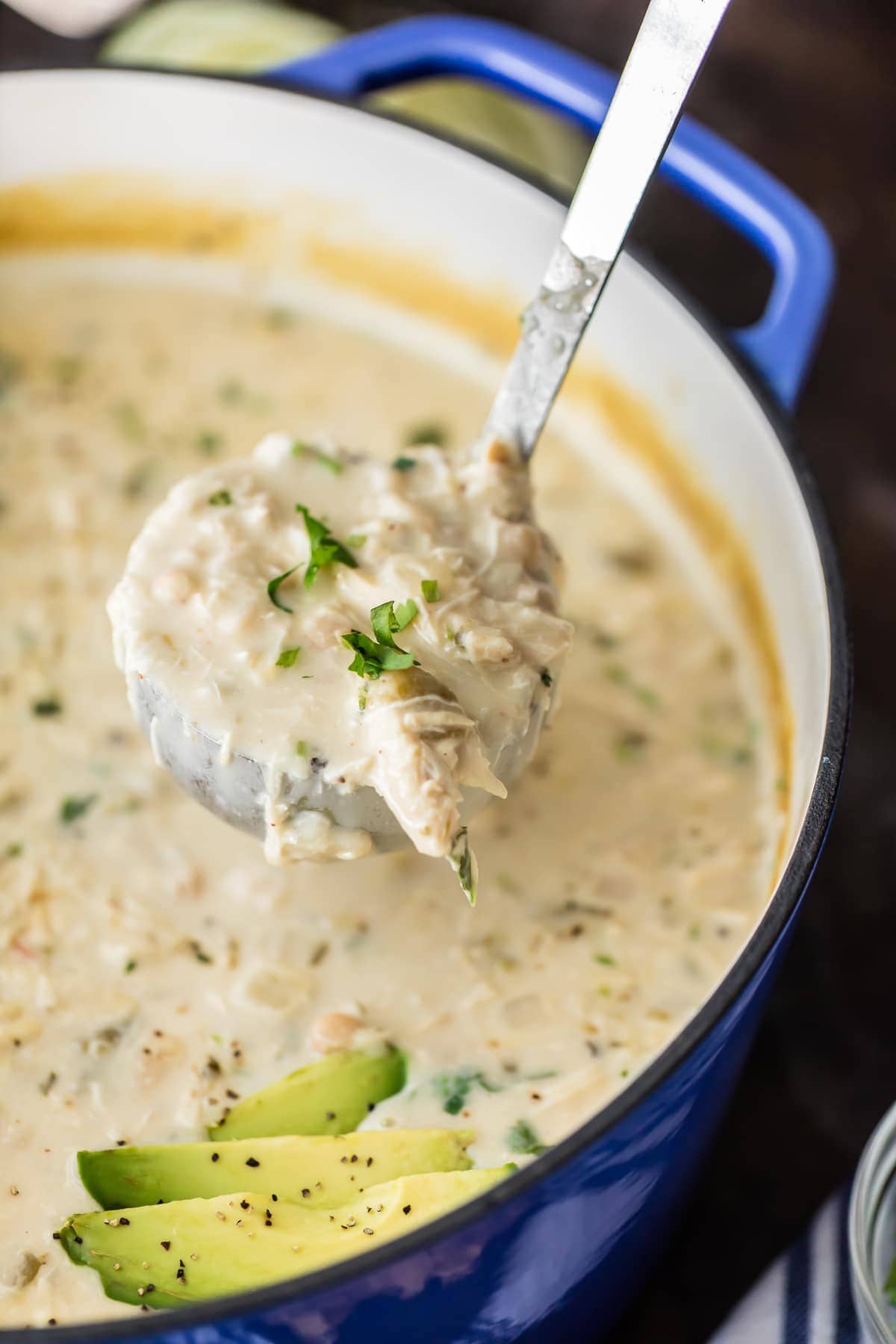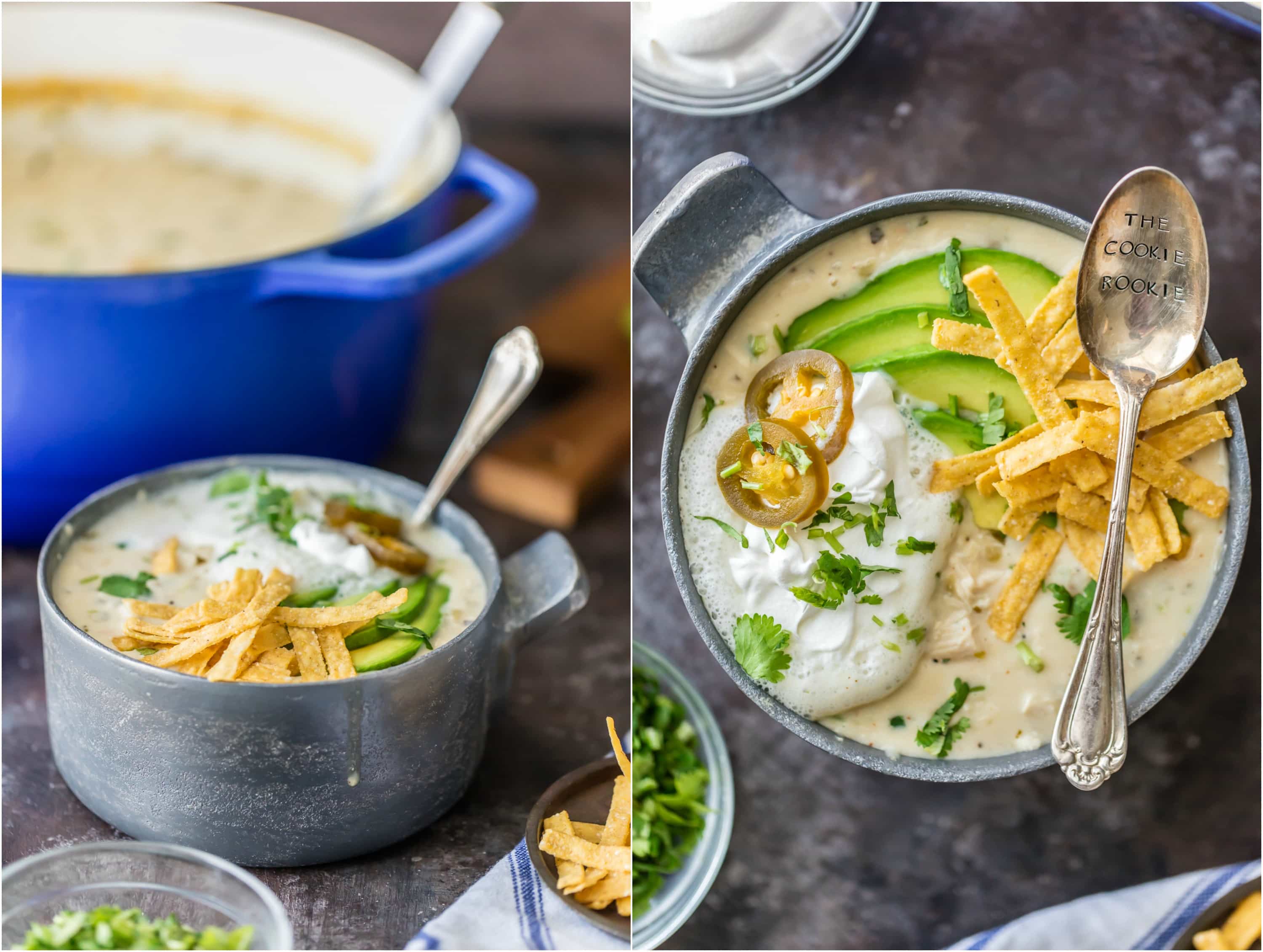 If you make this Creamy White Chicken Chili with Cream Cheese…please don't let me down by forgetting ALL THE TOPPINGS! Go as crazy as possible…tortilla strips, sour cream, cilantro, avocado, jalapeños, or shredded cheese!
You can't go wrong…unless you skip them all together! Make this a feast…you deserve it! You just slaved away in the kitchen for around 30 minutes…whew! :)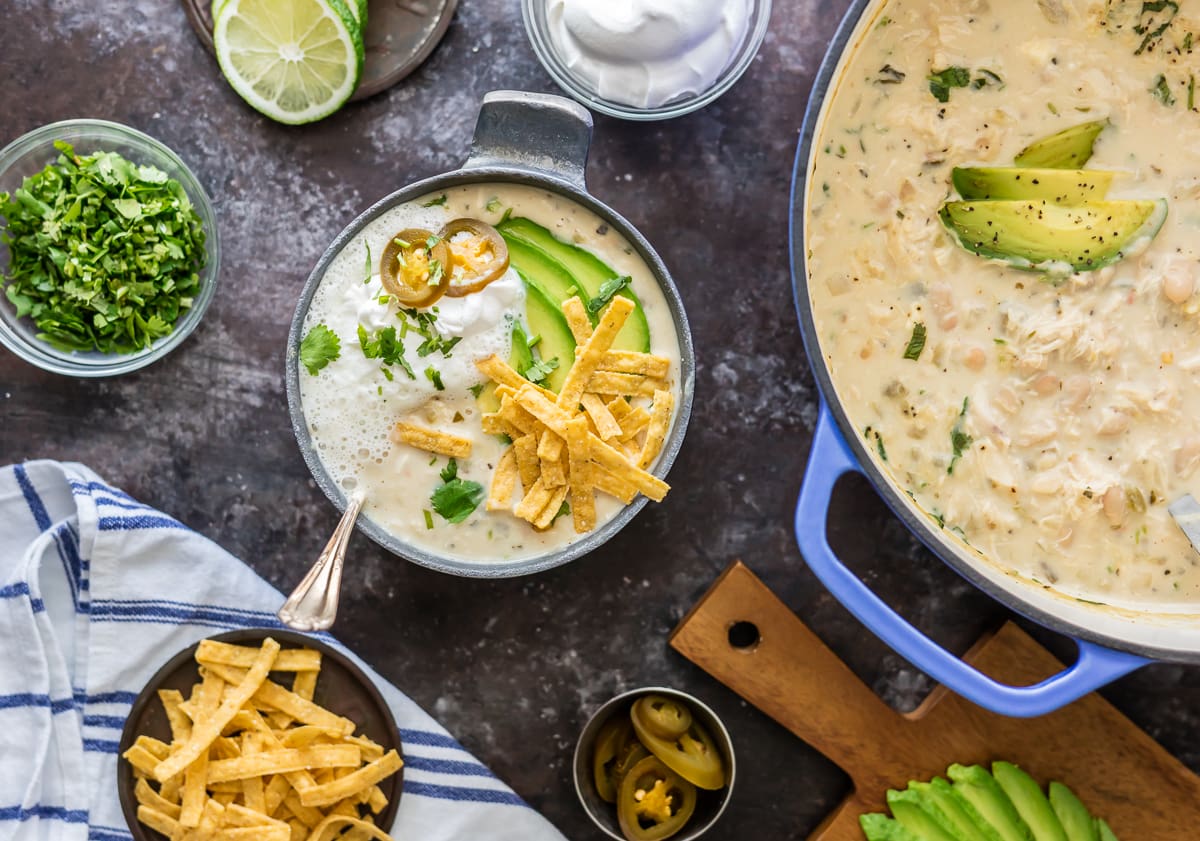 I hope this Creamy White Chicken Chili with Cream Cheese makes all of your comfort food dreams come true. I know it did mine! Speaking of…it's calling my name. Enjoy!
Are you looking for something to pair with this chili? Try my Cheesy Garlic Cornbread Drop Biscuits
Creamy White Chicken Chili with Cream Cheese
15 minPrep Time
30 minCook Time
45 minTotal Time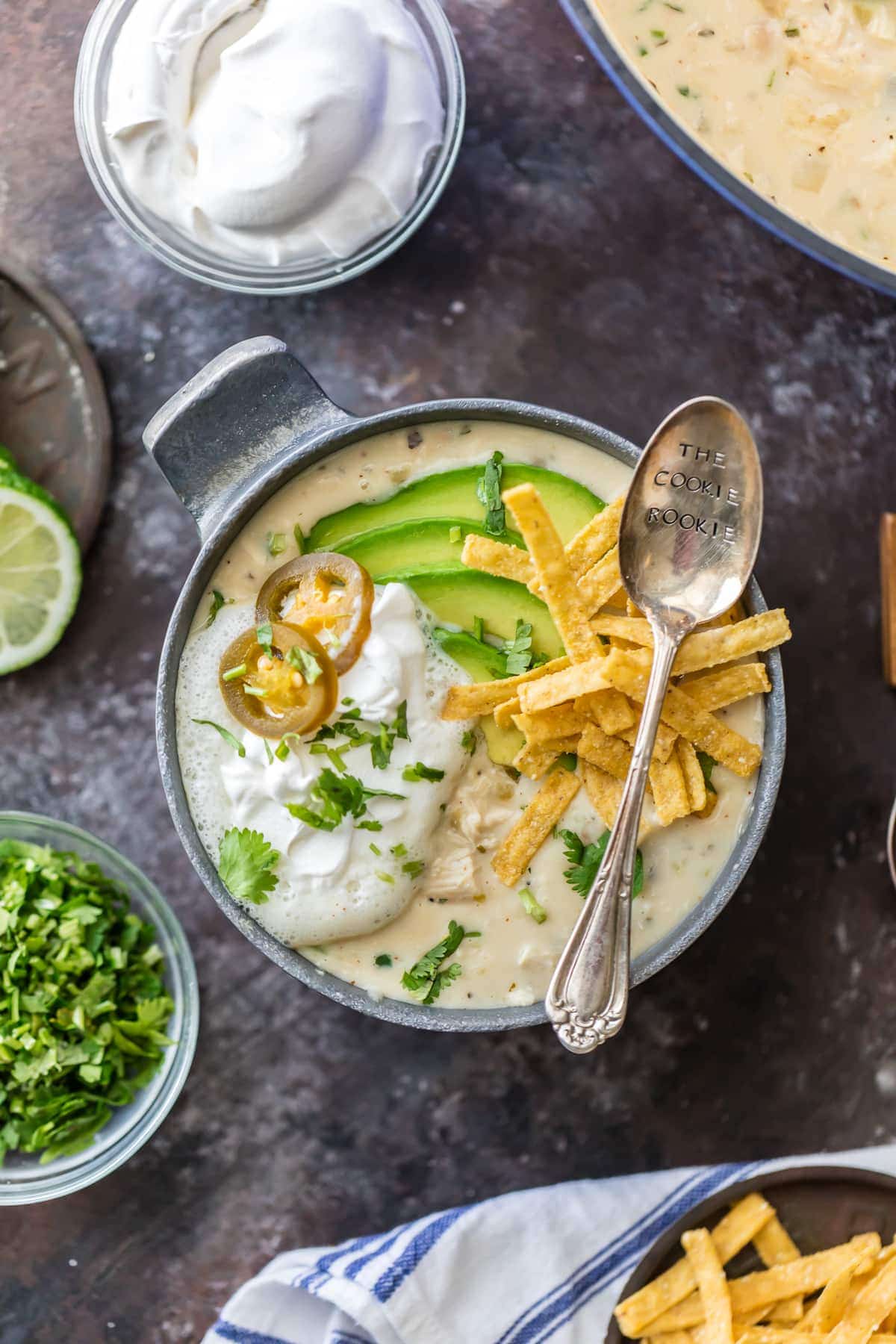 4.6 based on 5 review(s)
Ingredients
2 medium onions, diced
1 tablespoon minced garlic
2 tablespoons freshly squeezed lime juice
1 tablespoon olive oil
2 pounds COOKED chicken, cubed (or 2 lbs cooked shredded rotisserie chicken)
32 ounces low sodium chicken broth
4 cans (15.5 ounces) great northern white beans, fully drained and rinsed
3 cans (4 ounces) diced green chiles
2 teaspoons salt
1 teaspoon pepper
2 teaspoons ground cumin
2 teaspoons dried oregano
1/2 teaspoon cayenne pepper
1 teaspoon chili powder
1/2 cup freshly chopped cilantro
8 ounces low fat cream cheese, cubed
1 cup heavy cream

optional toppings

Tortilla chips or strips
sliced jalapeños
chopped cilantro
shredded Mexican blend cheese
sour cream
sliced avocado
lime juice
Instructions
In a 6 qt dutch oven or stock pot, saute the onions and garlic in the olive oil and lime juice over medium high heat. Cook until the onions are fragrant and translucent.
Add in the cooked chicken, chicken broth, beans, chiles, and seasoning. Bring to a boil, stirring often, and then reduce heat to simmer. Simmer uncovered for 30-45 minutes, or until it's the thickness you desire. Stir occasionally. I let mine simmer for a full hour to let all the flavors blend fully and to get a nice thickness. It would have been ready to go after 30 minutes, so just do what you like best! *** (See below for Slow Cooker Instructions)
Turn off the heat and stir in the cubed cream cheese. Stir constantly until the cream cheese melts and incorporates completely. Stir in the heavy cream.
Top with as many or as few optional toppings as you desire. I used them all! The more the merrier.
Enjoy!
*** You can also make this in a slow cooker! Complete step 1 above and then add all the ingredients to a large slow cooker. Cook on low for 6-8 hours or high for 2-4. Once hot and thickened to your liking, continue with step 3. Enjoy!
7.6.7
2302
https://www.thecookierookie.com/creamy-white-chicken-chili-cream-cheese/
Want to try something a little different? Try these White Chicken Enchiladas from Genius Kitchen.