Creamy White Chicken Chili is made with cream cheese, chicken, white beans, and green chiles for the creamiest chili recipe you'll ever taste. This recipe is so easy, so flavorful, and so comforting! Cook up a batch for family dinners, game day, or to store up for winter.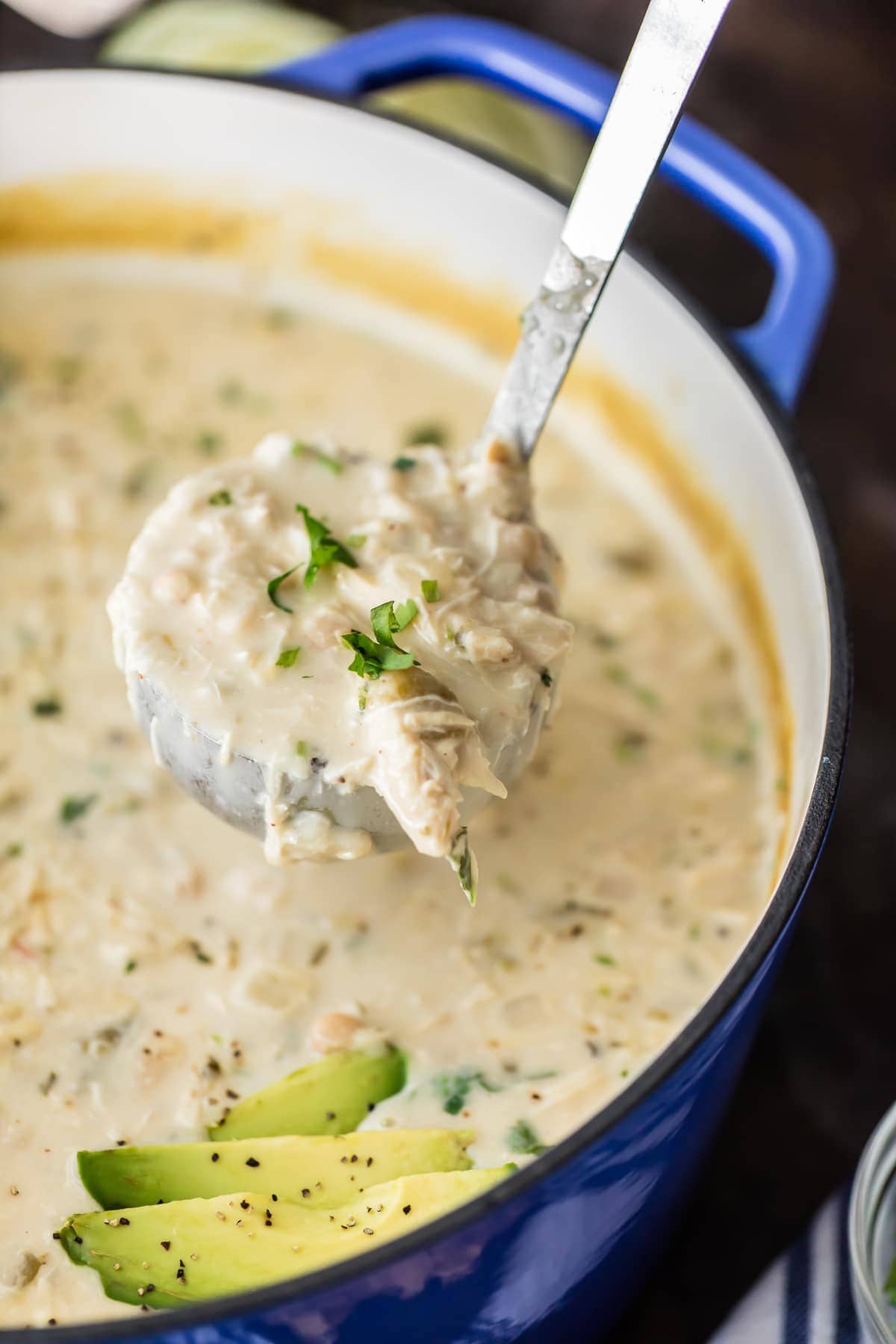 What's in Creamy White Chicken Chili
Chicken: Use fully cooked chicken in this chili recipe. You can cut it into cubes, or use shredded chicken. Grab a rotisserie chicken from the grocery store for the easiest option.
White Beans: Great Northern white beans are best, but you can also use cannellini beans or white kidney beans.
Cream Cheese: This makes the chili sooo creamy and smooth. You can use low fat or full fat.
Heavy Cream: This also helps to create that signature creamy chili texture.
Green Chiles: These add that delicious spicy heat you'd expect from Tex-Mex and southwest cuisines.
Seasonings: You'll find a mix of herbs and spices in this recipe, including chili powder, cayenne pepper, oregano, cumin, salt and pepper. I also use cilantro, but you can skip it if you don't like it.
If you want to cook your own chicken for this recipe, I recommend using this Instant Pot shredded chicken. But you can cook it with your favorite method up to 2 days ahead of time, and keep it in the fridge until you make the chili.
Best Chicken Chili Toppings
Tortilla chips or strips
Jalapeños
Cilantro or parsley
Shredded cheese
Sour cream
Avocado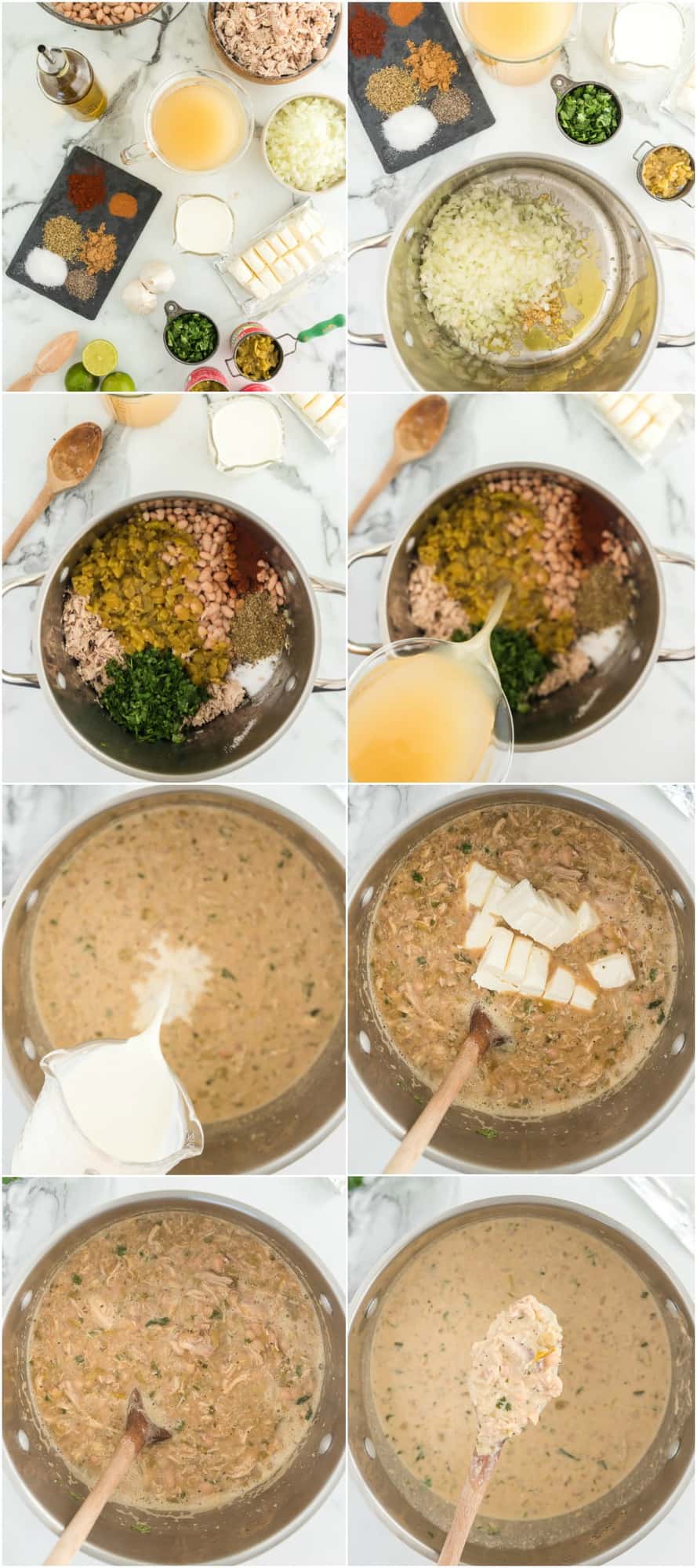 What kind of chicken should I use for white chicken chili?
Use cooked chicken in this chili. A rotisserie chicken works great for an easy option, or make a simple chicken breast ahead of time.
How do I thicken white chicken chili?
Let the chili simmer a little longer if you want to make it thicker. You can mix in a bit of flour or cornstarch if it's still too thin or watery.
Is this recipe better on the stove or in a crockpot?
It tastes amazing either way! If you want to let this simmer all day, use the slow cooker. If you need it ready asap, make it on the stove.
What's the difference between white chili and regular chili?
White chili is made with white beans, and usually has chicken instead of beef. Regular (red) chili also uses tomatoes, whereas white chili does not.
Can I use turkey instead of chicken?
Yes, you could swap out turkey in place of chicken if you prefer. I also recommend trying this Turkey White Bean Chili.
What are white beans for chili?
This recipe calls for Great Northern Beans. You can also use cannellini beans.
How do you make white chicken chili creamy?
I added cream cheese and heavy cream to make this chili super creamy and smooth.
Is this white chili spicy?
The green chiles, as well as the cayenne pepper and chili powder, do add some heat. But overall, it's mildly spicy.
How long should you let chili simmer?
This recipe is meant to be quick and easy, so it will be ready to go after just 30 minutes on the stove. However, simmering longer will make it thicker and more flavorful.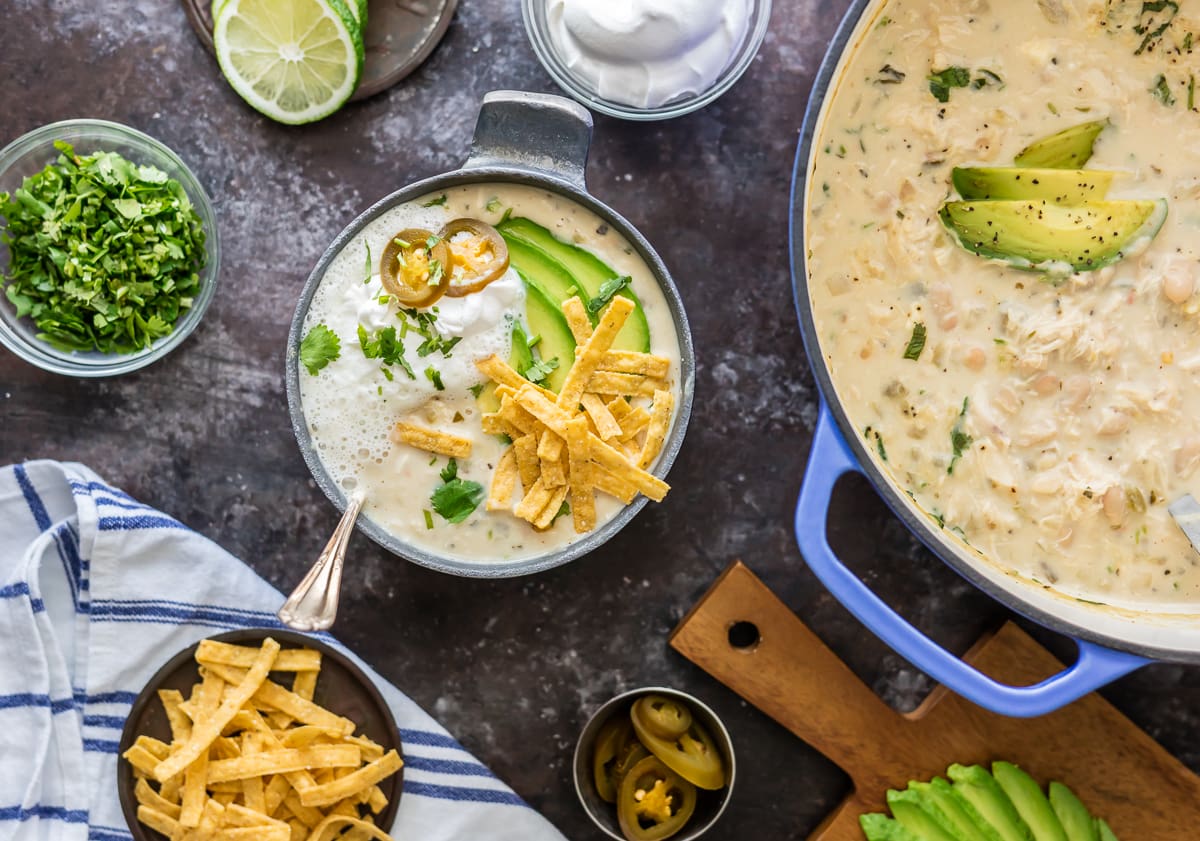 How to Store and Reheat
Store leftovers in airtight containers, and keep in the refrigerator up to 4 days. To reheat, gently warm on the stovetop, stirring regularly. You can mix in a bit more cream to help get that creamy texture back.
Can I Freeze White Chili?
Yes, you can store leftovers in the freezer up to 3 months. Let the chili cool, then pour into freezer-safe containers. I recommend separating the chili into smaller portions so you can take one container out to reheat at a time.
If you want to store it in freezer bags, pour it into a bag with a bit of space left at the top (don't overfill it). Then lay the bag(s) flat on a baking tray, and place in the freezer until fully frozen. Then you can rearrange the bags as needed for longer storage.
To reheat, thaw the chili in the fridge overnight, then you can reheat on the stove.
What to Serve with White Chicken Chili
A bowl of this white bean chicken chili (loaded up with lots of toppings) is plenty filling on its own. But you can also add some bread, like this easy skillet bread or classic cornbread.
If you want to add some veggies to dinner, make this crispy Air Fryer broccoli, roasted mushrooms, or corn on the cob.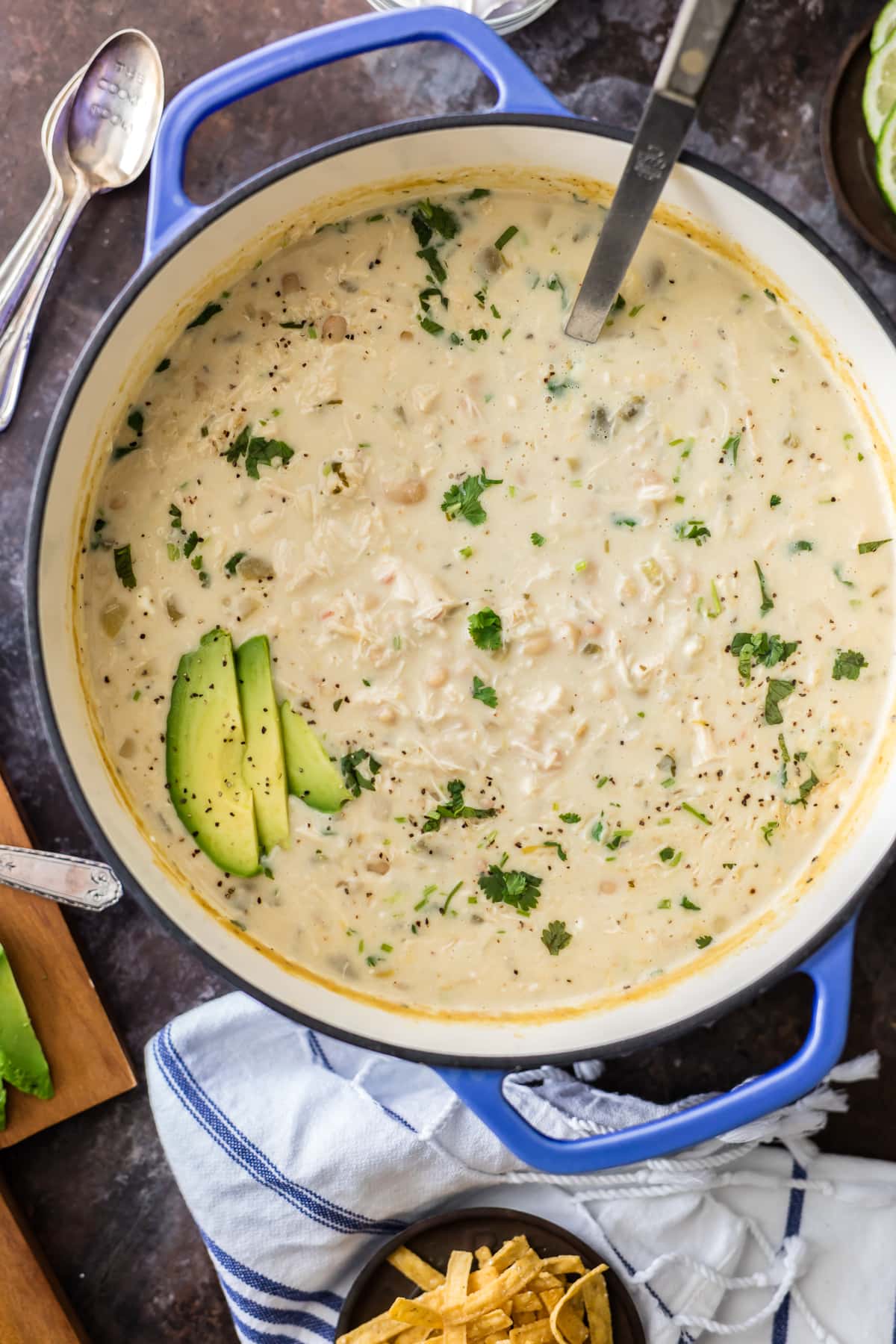 This has been a family favorite for dinner, game day food, and even Cinco de Mayo. It's always a crowd pleaser!
Want to make this recipe in a pressure cooker? Follow this Instant Pot White Chicken Chili. Want something extra spicy? Try this Spicy White Bean Chili.
If you make this recipe be sure to upload a photo in the comment section below or leave a rating. Enjoy! You can also jump to recipe.