This Homemade Graham Cracker Crust recipe adds such a fun flavor and texture to cheesecakes and pies. This graham cracker pie crust is so easy to make and doesn't require any baking. It's perfect for no-bake desserts and makes for a special holiday treat!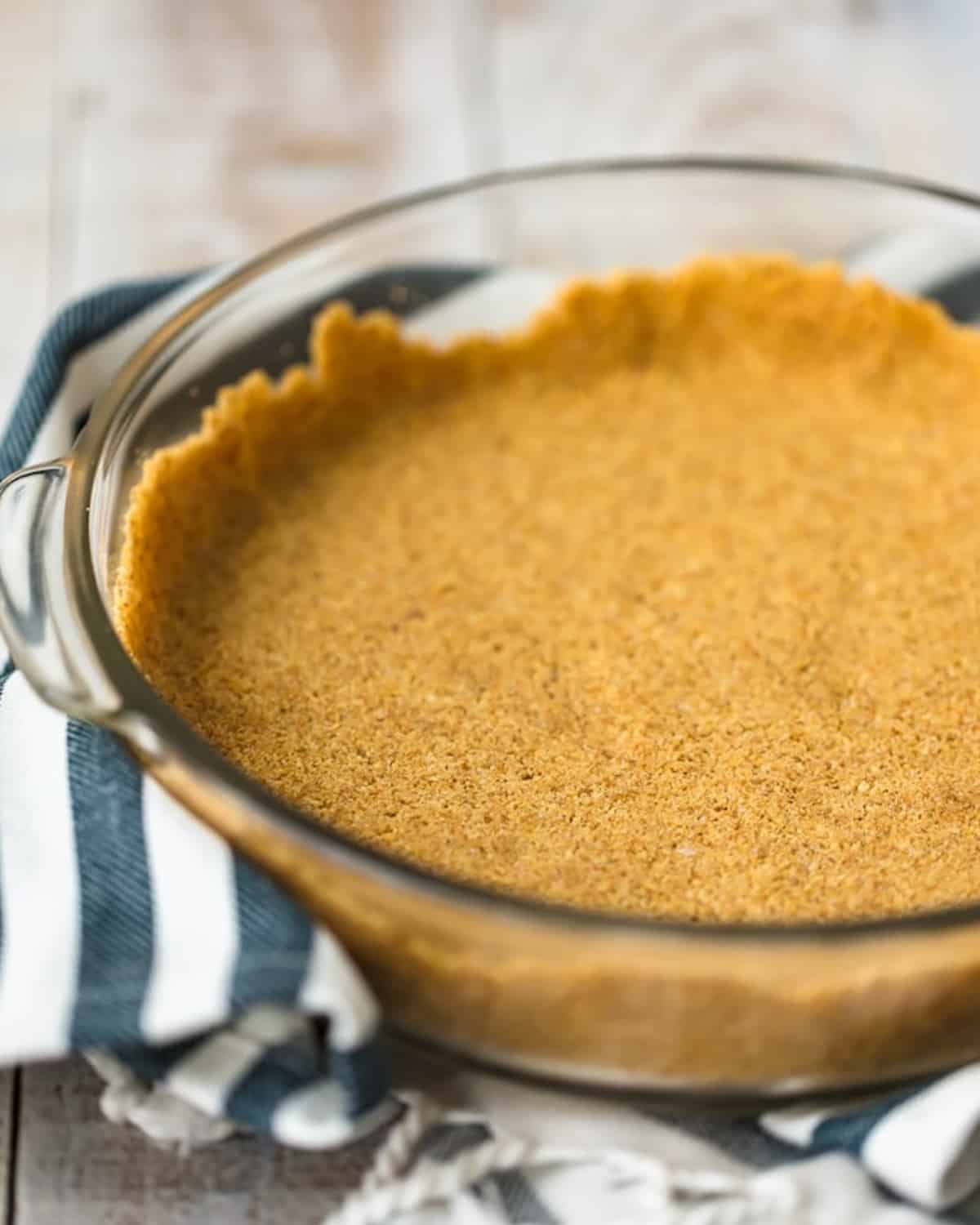 What's in this Graham Cracker Crust Recipe?
This pie crust recipe doesn't require any baking. Talk about easy! That makes it perfect for no-bake dessert recipes. Just make the crust mixture, mold it into a pan, and then cover and refrigerate it to set it in place.
Graham Cracker Crumbs: You can buy the crumbs or make your own from whole graham cracker sheets.
Sugar: A mixture of granulated and brown sugar sweetens the crust and enhances the overall flavor.
Kosher Salt: Balances the sweetness of the crust.
Unsalted Butter: Binds the crust together so it doesn't crumble apart.
Pro Tip: If you are using this for a dessert recipe that does require baking, no problem! That works too, and no need to pre-bake it before filling it.
Variations on Graham Cracker Pie Crust
You can change up the flavor of this crust by using different flavored graham crackers, like honey, cinnamon, or chocolate. You could also crush up Biscoff cookies, pretzels, ginger snaps, Oreo cookies, or vanilla wafers.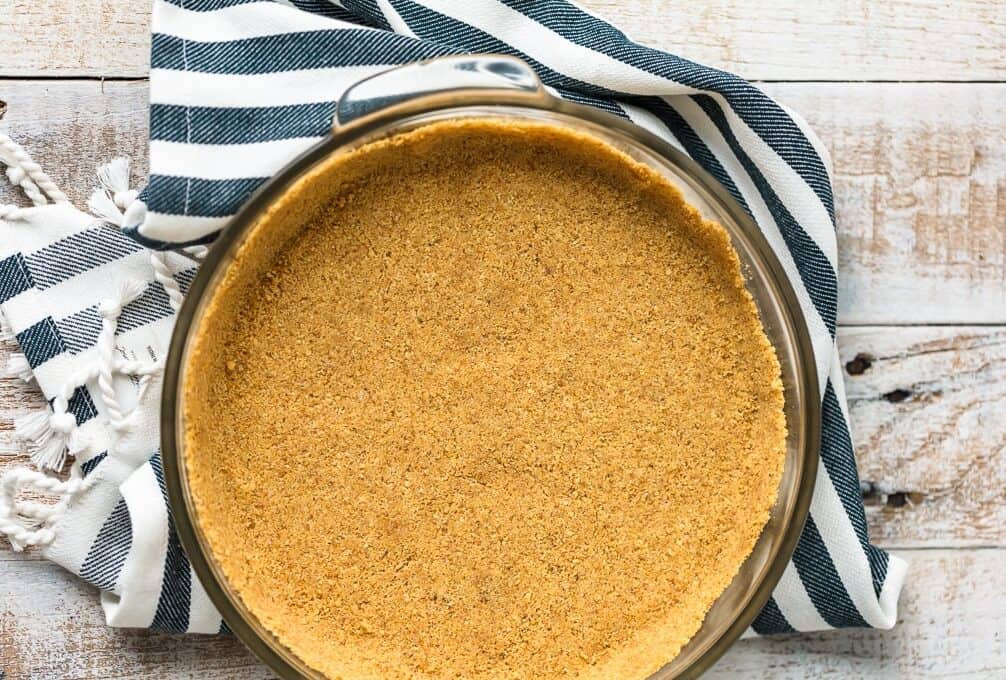 How many graham crackers do you need to make a pie crust?
To make a crust for a standard 9-inch pie plate or springform pan, you'll need about 16 graham cracker sheets crushed into crumbs.
Is it better to bake or not bake a graham cracker crust?
This is specifically a no-bake recipe, so you do not need to bake the crust beforehand, even if you're filling it with a filling that needs to be baked.
Do you use pie weights with graham cracker crust?
There is no need to use pie weights because we are not pre-baking this crust before filling it.
Why won't my graham cracker crust set?
If your graham cracker crumbs aren't fully moistened, they will crumble apart like sand and the crust will not set. So make sure you're using enough butter!
What happens if you add too much butter to a graham cracker crust?
If you add too much butter, your crust may turn out greasy at room temperature and extremely hard when chilled.
Why is my graham cracker pie crust so hard?
If your crust is hard, you may have added too much butter, or you may have pressed too firmly when shaping the crust.
Why did my graham cracker crust get soggy?
Your crust may turn soggy if you refrigerate it before filling it due to condensation. It could also turn soggy from steam from a hot filling poured into the crust. I recommend ensuring your crust is at room temperature before filling and only filling it with cooled or room temperature ingredients.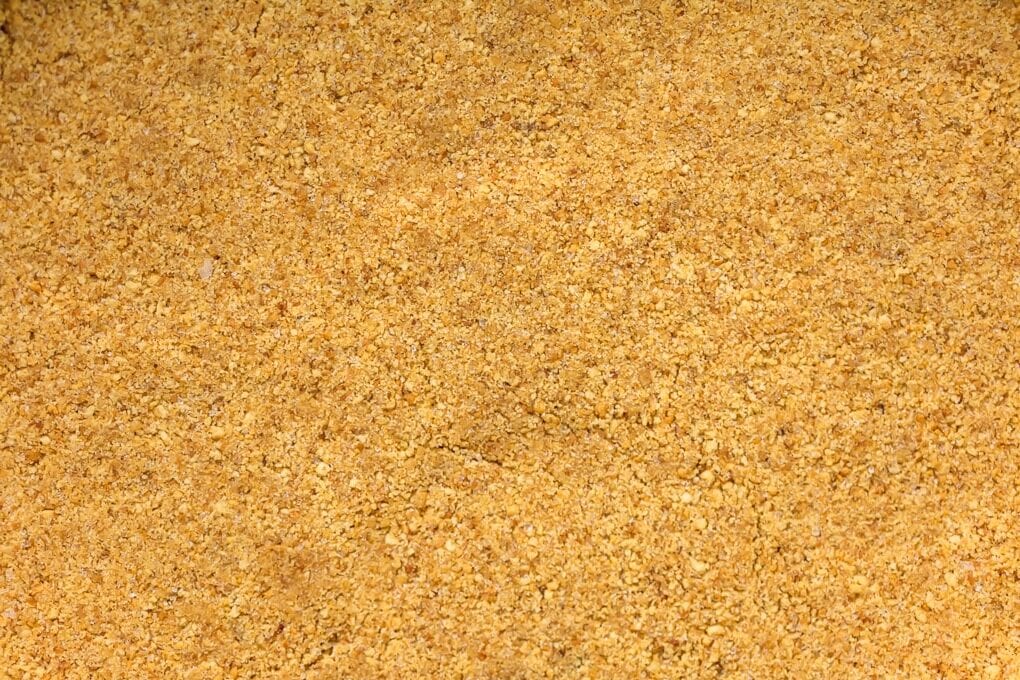 How to Store
This homemade pie crust only needs a few hours to really set, but you can store it in the refrigerator for up to 3 days before using it to make your dessert.
How to Freeze
You can freeze this graham cracker crust if you don't plan to use it right away. Just store it in a freezer-safe pie pan, and it will keep for up to 3 months. Then you've got a cheesecake or pie crust all ready to go when you need it!
Serving Suggestions
We made this homemade pie crust for cheesecake– specifically, a No Bake Pumpkin Pie Cheesecake! Every part of the cheesecake is made from scratch, starting with this crust and topped off with Pumpkin Spice Whipped Cream. It's soooo good and you guys should definitely check it out for your next fall dessert.
Even though we made this recipe for cheesecake, you can use this same no bake crust recipe for other desserts too. Make another kind of cheesecake, baked or unbaked. Or use it to make the most amazing pumpkin pie or key lime pie!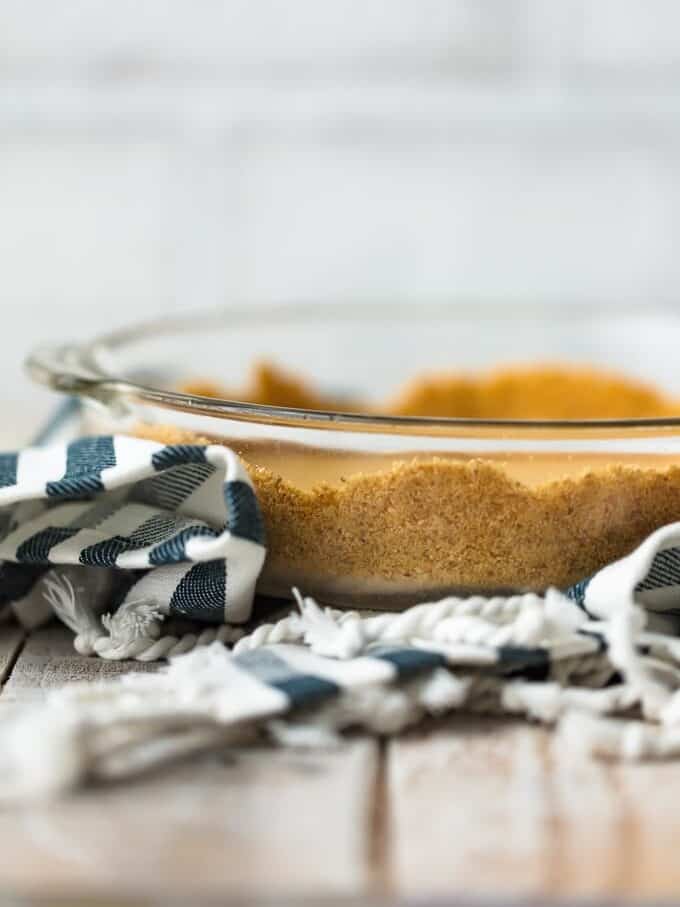 More Graham Cracker Recipes We Love