Graham Cracker Crusts add such a fun flavor and texture to cheesecakes and pies. This homemade graham cracker crust recipe is so easy to make, and doesn't require any baking. It's perfect for no bake desserts and makes for a special holiday treat!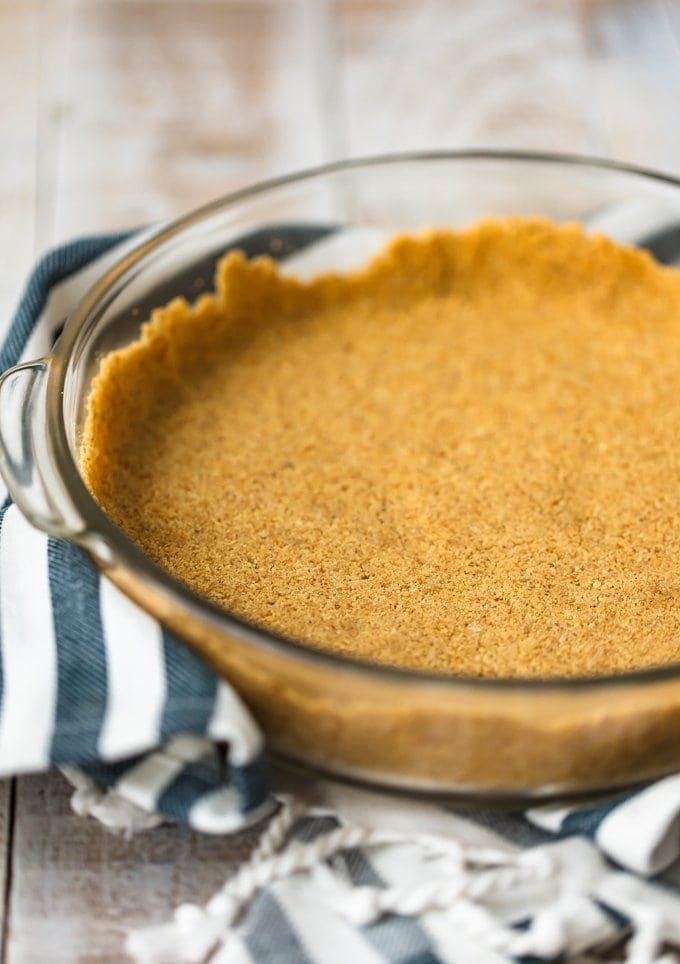 Homemade Graham Cracker Crust
This Homemade Graham Cracker Crust recipe is so crazy easy to make! Use this no bake graham cracker crust for cheesecakes, pies, tarts, and more.
Every holiday dessert needs something special. I made this homemade graham cracker crust for cheesecake because it is the perfect no bake dessert crust!
Graham crackers are so sweet and flavorful, so adding that taste into our Pumpkin Pie Cheesecake was a no brainer. Just crush up some graham crackers into crumbs, and turn it into an easy pie crust! There's not much to this recipe, which is what makes it so awesome. EASY is a word I love, especially when it comes to holiday desserts!
Learn how to make graham cracker crust for all of your favorite cheesecake and pie recipes!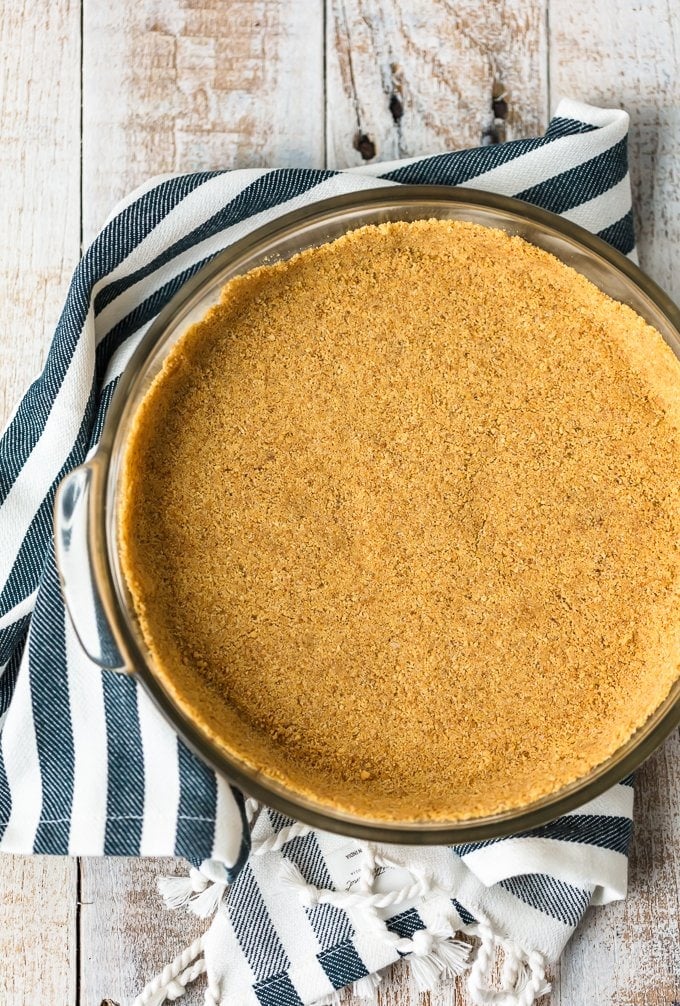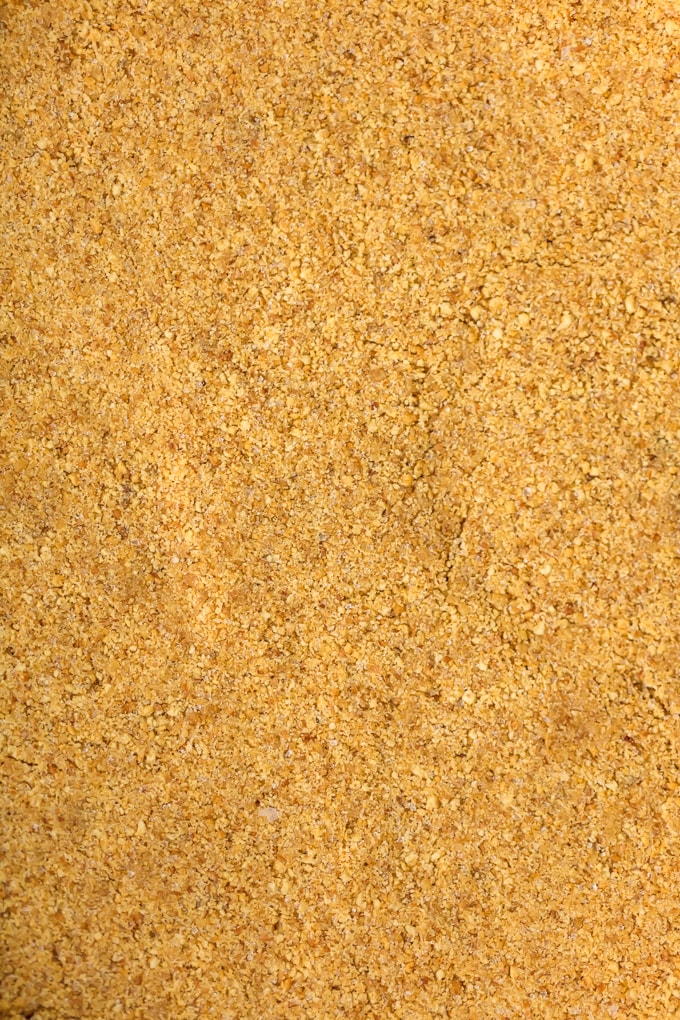 No Bake Graham Cracker Crust Recipe
This homemade graham cracker crust recipe doesn't require any baking. Talk about easy! That makes it perfect for no bake dessert recipes. Just make the crust mixture, mold it into a pan, and then cover and refrigerate it to set it in place.
If you are using this for a dessert recipe that does require baking, no problem! That works to, and no need to pre-bake it before filling it.
Graham Cracker Crust for Cheesecake
We made this homemade graham cracker crust for cheesecake. Specifically, a no bake Pumpkin Pie Cheesecake! Every part of the cheesecake is made from scratch, starting with this crust and topped off with Pumpkin Spice Whipped Cream. It's soooo good and you guys should definitely check it out for your next fall dessert.
Even though we made this recipe for cheesecake, you can use this same no bake graham cracker crust recipe for other desserts too. Make another kind of cheesecake, baked or unbaked. Or use it to make the most amazing pumpkin pie!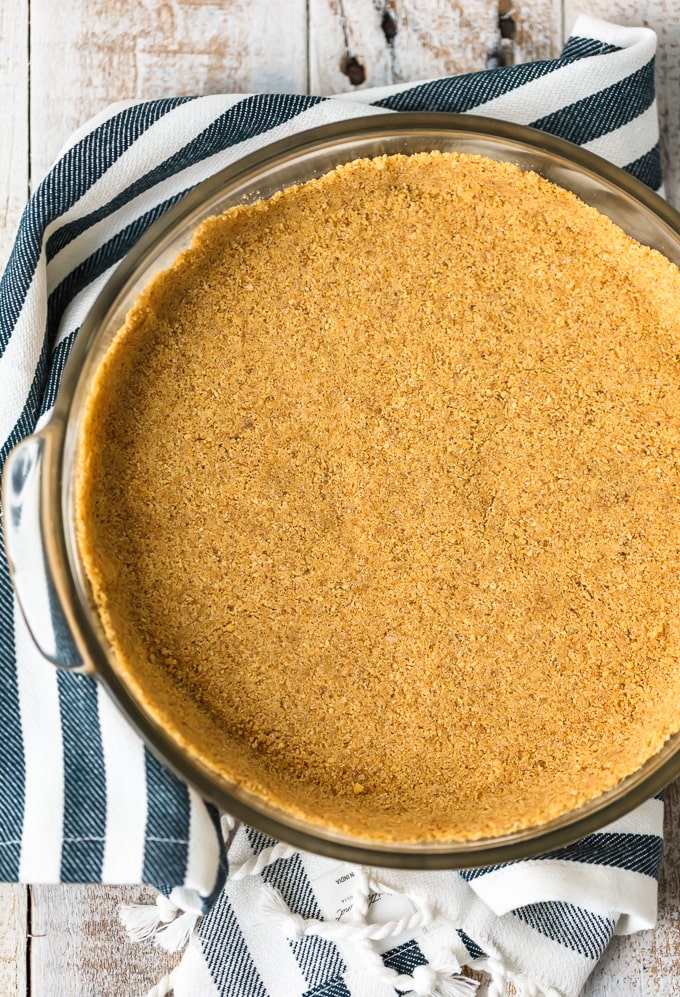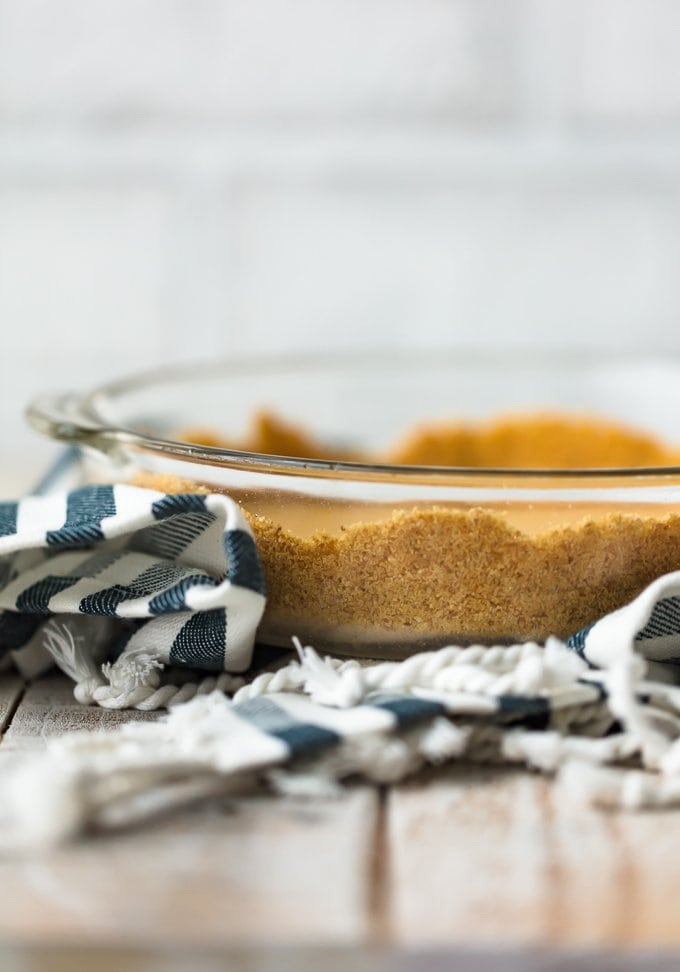 How to Make Graham Cracker Crust
This crust is going to be the easiest part of your dessert, and possibly the easiest part of all of your holiday baking! Or, holiday no-baking, I guess…It won't take you more than 10 minutes to get this ready to refrigerate, and then you just have to let it set before filling it. So the refrigerator basically does all the work for you. Win!
Here's a quick rundown:
Crush up all of your graham crackers into fine crumbs.
Mix the crumbs with brown sugar, granulated sugar, and salt.
Drizzle melted butter over the crumb mixture, and mix to make sure it the crumbs are all coated.
Pour the mixture into the pan, and use a flat bottom measuring cup to press the crust into a smooth, even layer.
Cover the crust and refrigerate to set it in place.
It only needs a few hours to really set, but you can leave it in the refrigerator for up to 3 days before using it to make your dessert.
Can you freeze graham cracker crust?
Yes, you can freeze this homemade crust if you don't plan to use it right away. Just store it in a freezer-safe pie plate and it will keep for up to 3 months. Then you've got a cheesecake or pie crust all ready to go when you need it!
How many graham crackers do you need to make a pie crust?
To make a crust for a standard 9 inch pie plate or springform pan, you'll need about 1 3/4 to 2 cups of graham cracker crumbs. It should take about 10-12 graham crackers to make this much.
To make the graham cracker crumbs, you can just use a rolling pin to crush them while they're still in their original packets (or another plastic bag). You can also put graham cracker pieces in your blender or food processor and crush them up by pulsing in short bursts.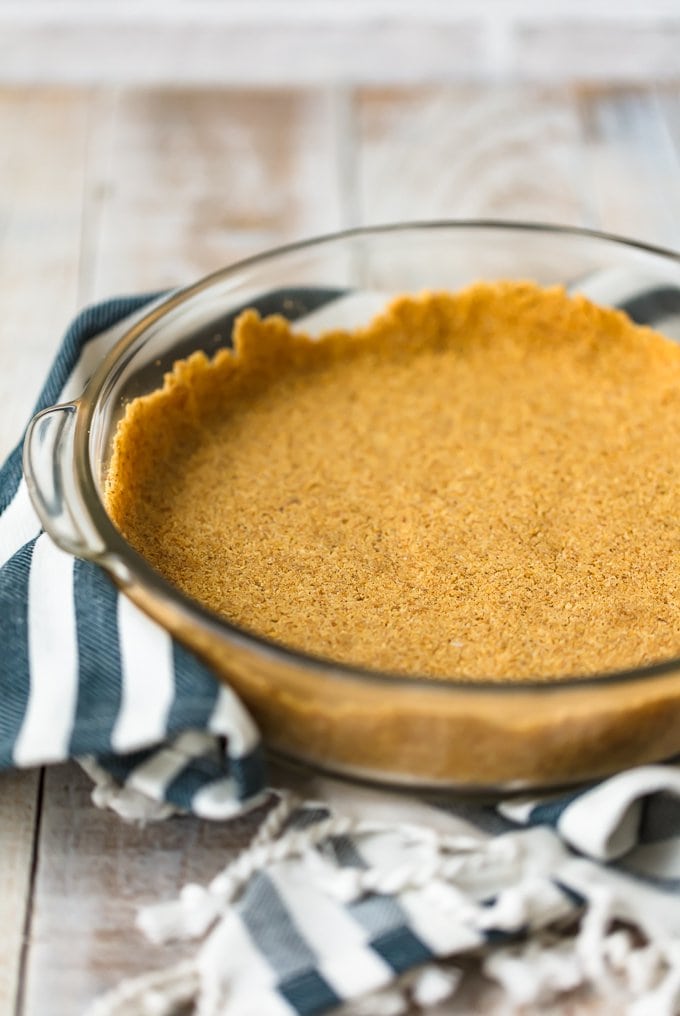 Whatever you use this homemade graham cracker crust for, you're going to love it! I highly recommend using it for this amazing No Bake Pumpkin Cheesecake, but there are so many things you can use it for.
See the recipe card below for details on how to make graham cracker crust. Enjoy!
If you like this recipe, try these other easy pie recipes: