Stabilized Whipped Cream comes in handy when making desserts, and it's actually really easy to make! Use this Homemade Cool Whip as replacement for the store-bought whipped topping. Read on to learn how to stabilize whipped cream!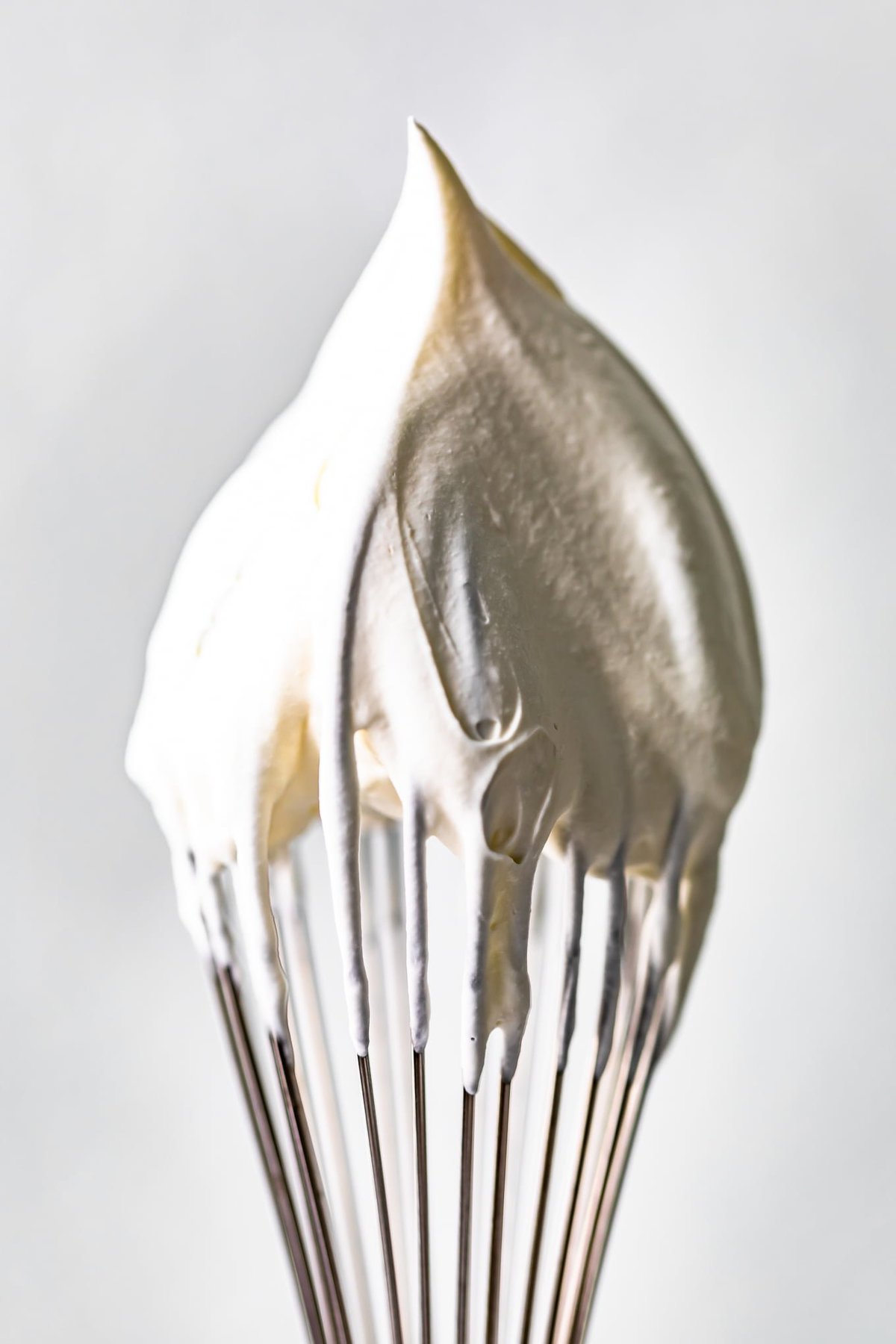 Stabilized Whipped Cream Recipe
What's the one thing that makes just about every dessert a little bit better? Whipped cream! It's the perfect topping and a nice final touch for basically any dessert you make.
Homemade whipped cream is great, but you might run into an issue if you make it ahead of time: it tends to deflate and get watery pretty quickly. But this stabilized whipped cream recipe solves that problem! It will stay fluffy and beautiful and delicious, so you can make it in advance and have it ready for your desserts. This also make a nice Homemade Cool Whip, for the perfect fluffy topping!
Pies, dessert bars, cakes…everything could use a little bit (or a lot) of this stuff! So don't be stingy with it, just throw that whipped topping on everything!
Learn how to stabilize whipped cream and make this easy whipped topping for all your desserts!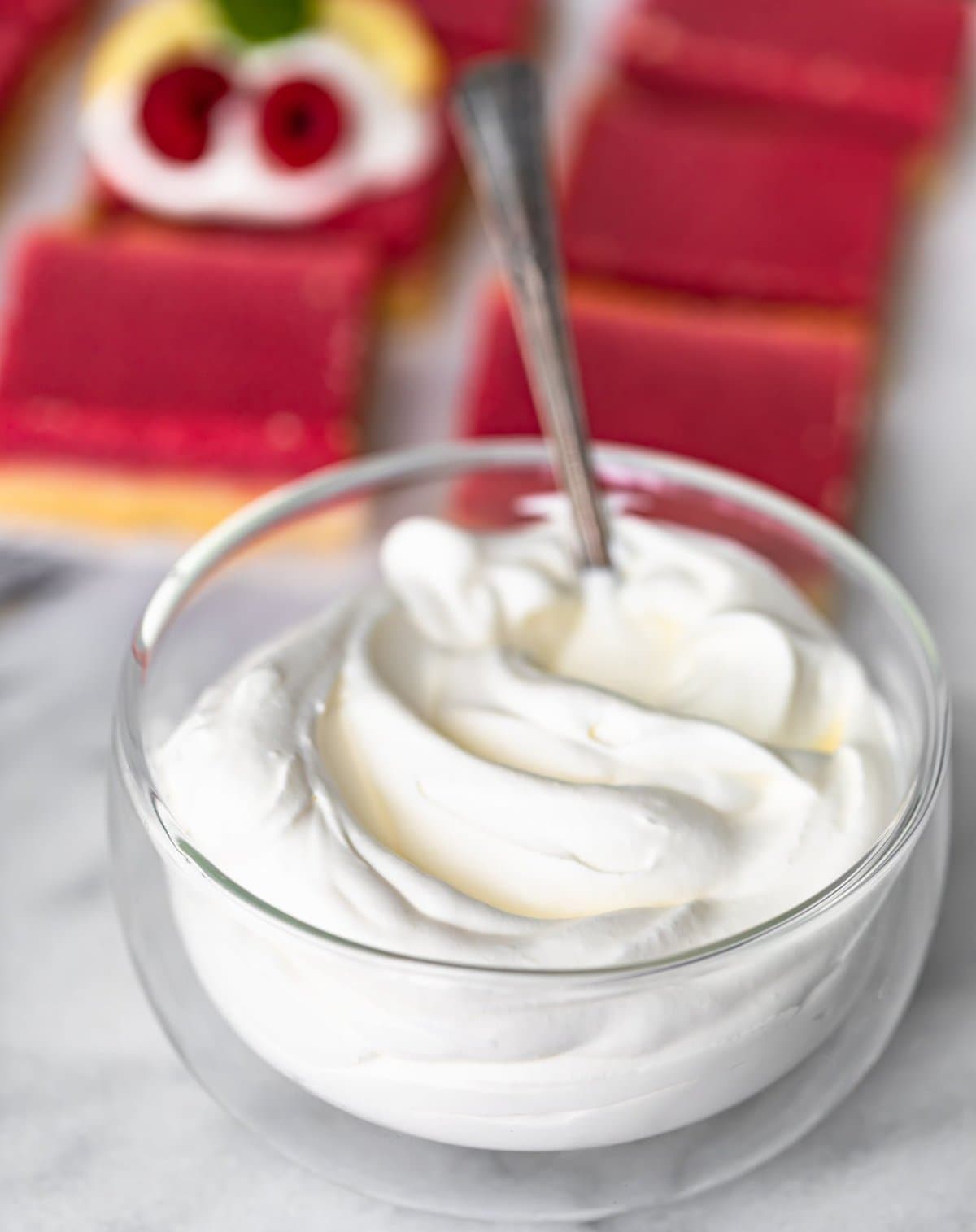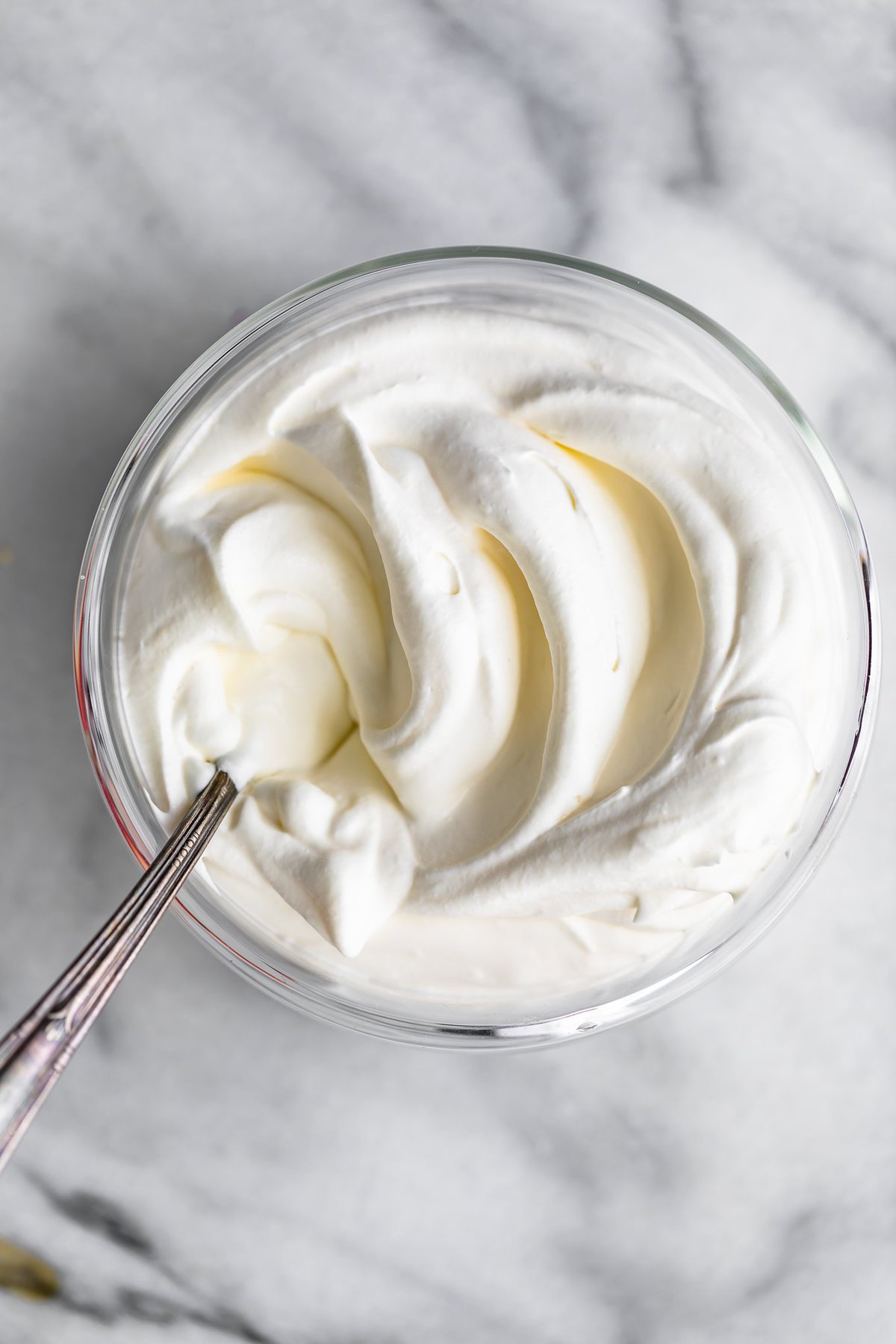 Homemade Cool Whip
This easy stabilized whipped cream recipe makes the perfect Cool Whip replacement! Instead of buying a tub of it at the store, just use this Homemade Cool Whip recipe. There's a lot of extra ingredients in the store-bought stuff that you probably don't want, which is why homemade is always better!
Why Use Stabilized Whipped Cream?
You might be wondering why you should even be using stabilized whipped cream. Well, if you're planning to make whipped cream ahead of time to use on desserts, then this is a must!
Unfortunately, regular whipped cream doesn't hold up very well. You've probably noticed how it starts to basically fall apart after just a few hours. Everything separates, leaving you with flat, watery cream. Definitely not what you want to be using on your desserts!
This stabilized whipped cream will stay fluffy and hold up well for up to 24 hours, so you can prepare it before you start baking or making your desserts!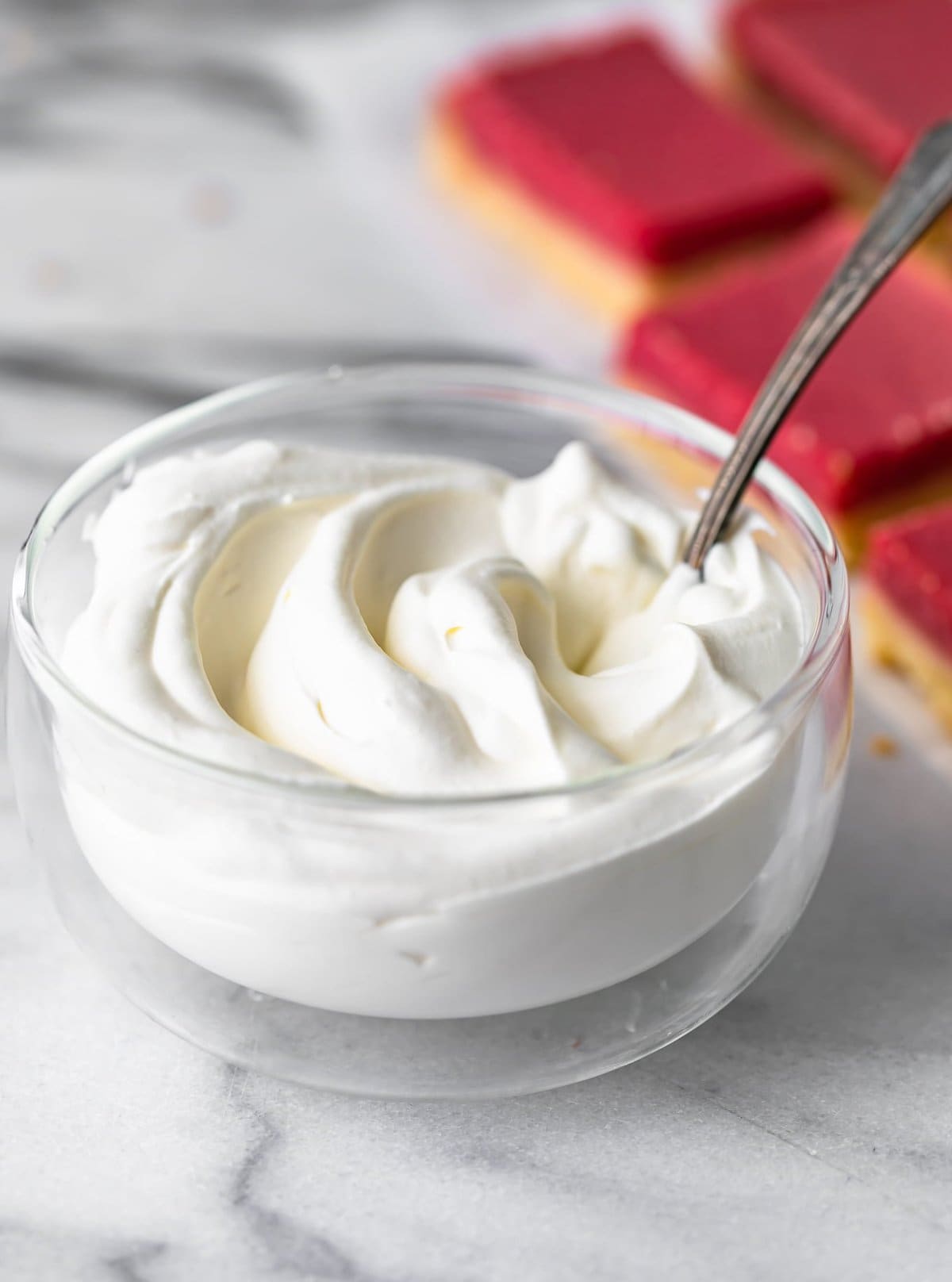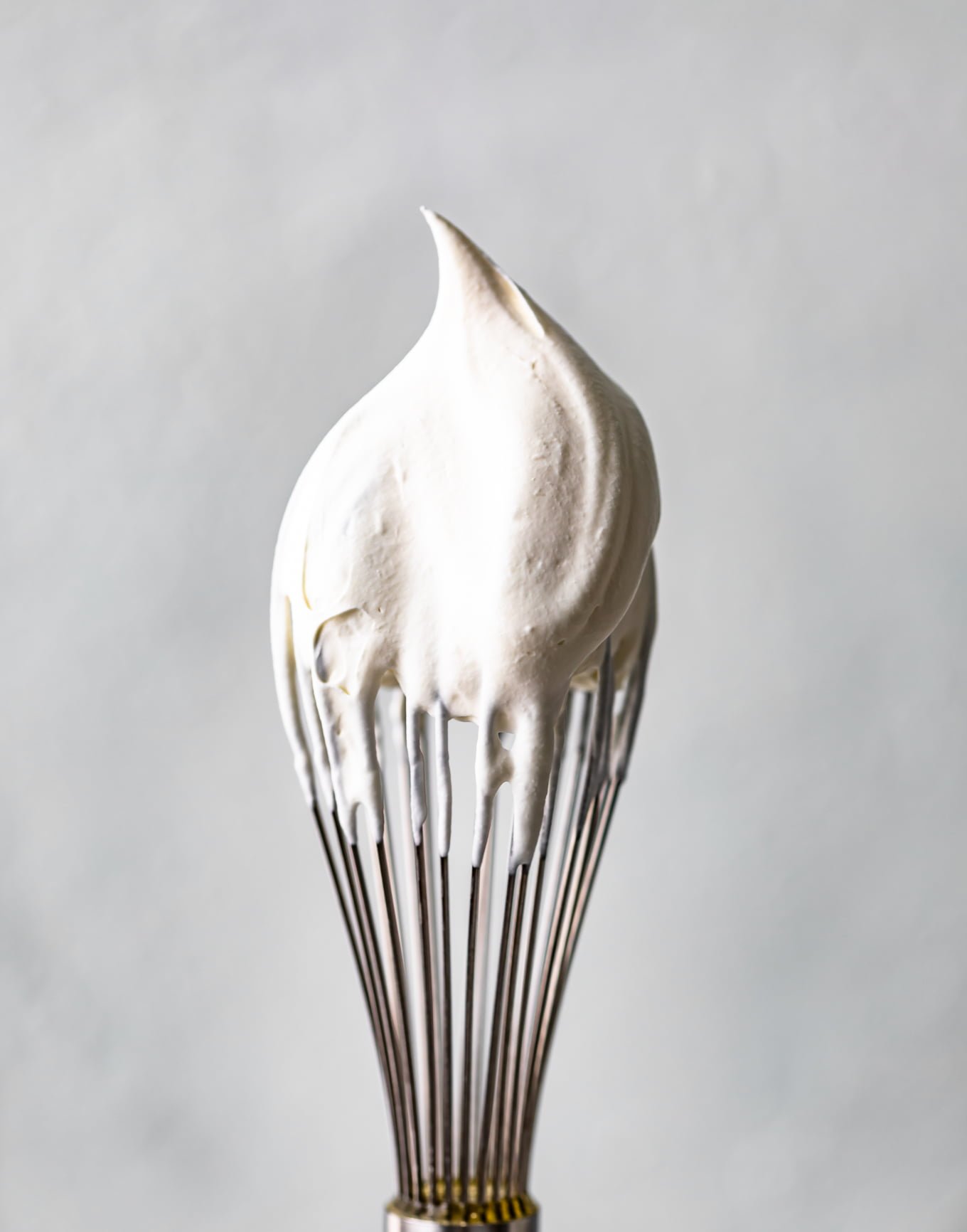 How to Stabilize Whipped Cream (How to Make Cool Whip)
This is SUCH an easy recipe, and won't take you more than a few minutes to make. So anytime you make desserts, you can quickly and easily make some whipped cream to top it off!
Pour 1 1/2 teaspoons into a microwave-safe bowl and then sprinkle a 1/2 teaspoons of gelatin in. Stir it together and let it sit for 3 minutes.
After letting it sit, give it a quick stir and then microwave on high for 5 seconds. Then stir and microwave another 5 seconds. You want the gelatin to dissolve and liquefy, so microwave another 3-5 seconds if it hasn't yet. Once it does, set it aside to cool.
Add heavy cream, powdered sugar, and vanilla extract to a mixing bowl. Using an electric mixer with a whisk attachment, whip on low speed until small bubbles appear.
Increase the speed to medium and mix until it begins to thicken, then add in the gelatin water. Increase speed to high and mix until peaks form.
Just refrigerate it until you're ready to use it, and top all of your favorite desserts!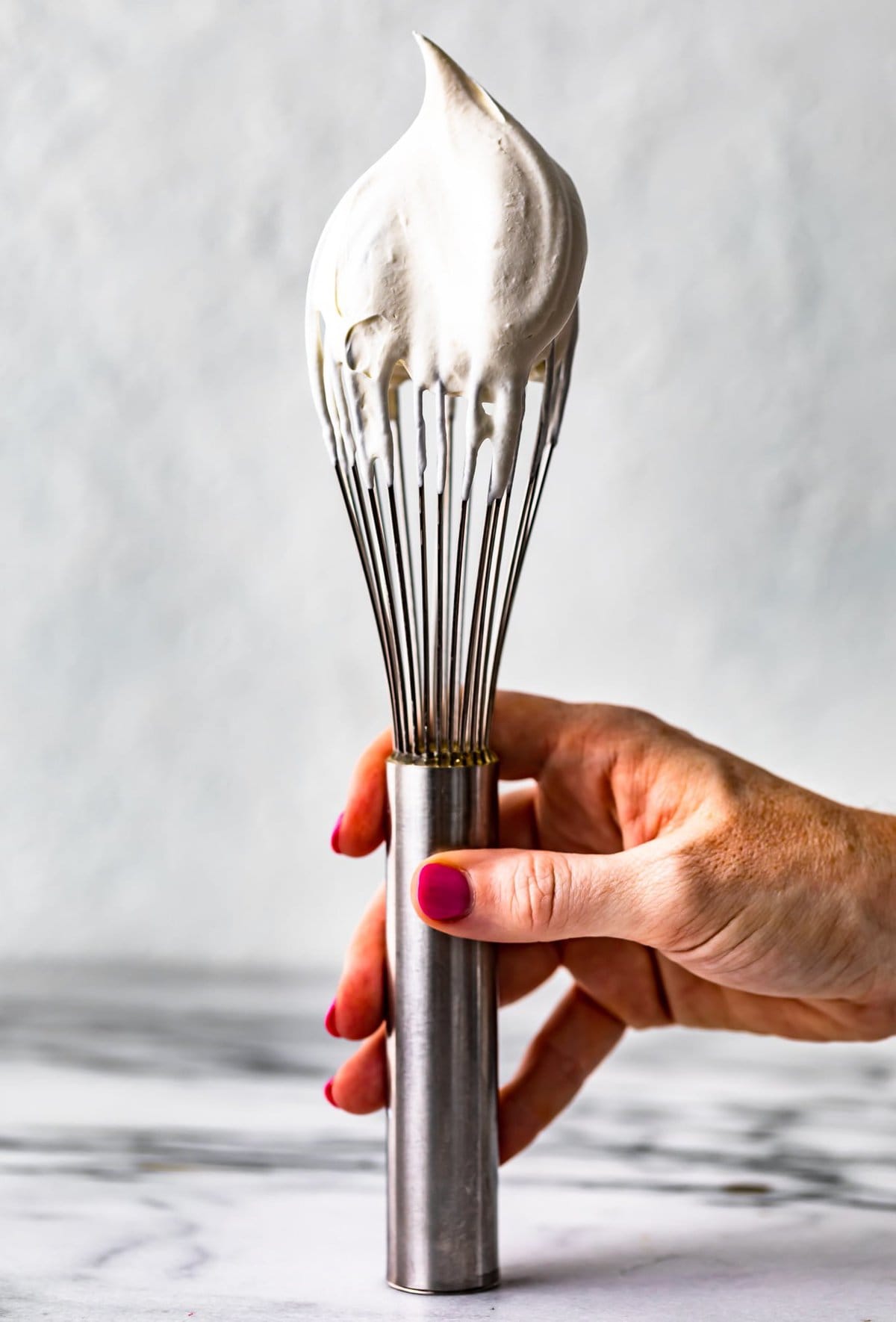 How to Store Stabilized Whipped Cream
The stabilized whipped cream should be stored in an airtight container, in the refrigerator. It will keep (stay stable) for up to 24 hours.
Easy Desserts to Top With Whipped Cream
I'll be the first to admit that eating whipped topping with a spoon is a pretty tasty treat, but if you're making this recipe, you're probably hoping to use it as a topping for other delicious desserts. Here are a few ideas for what you can use this stabilized whipped cream on! It really goes hand in hand with homemade pies, but you can use it on all kinds of recipes.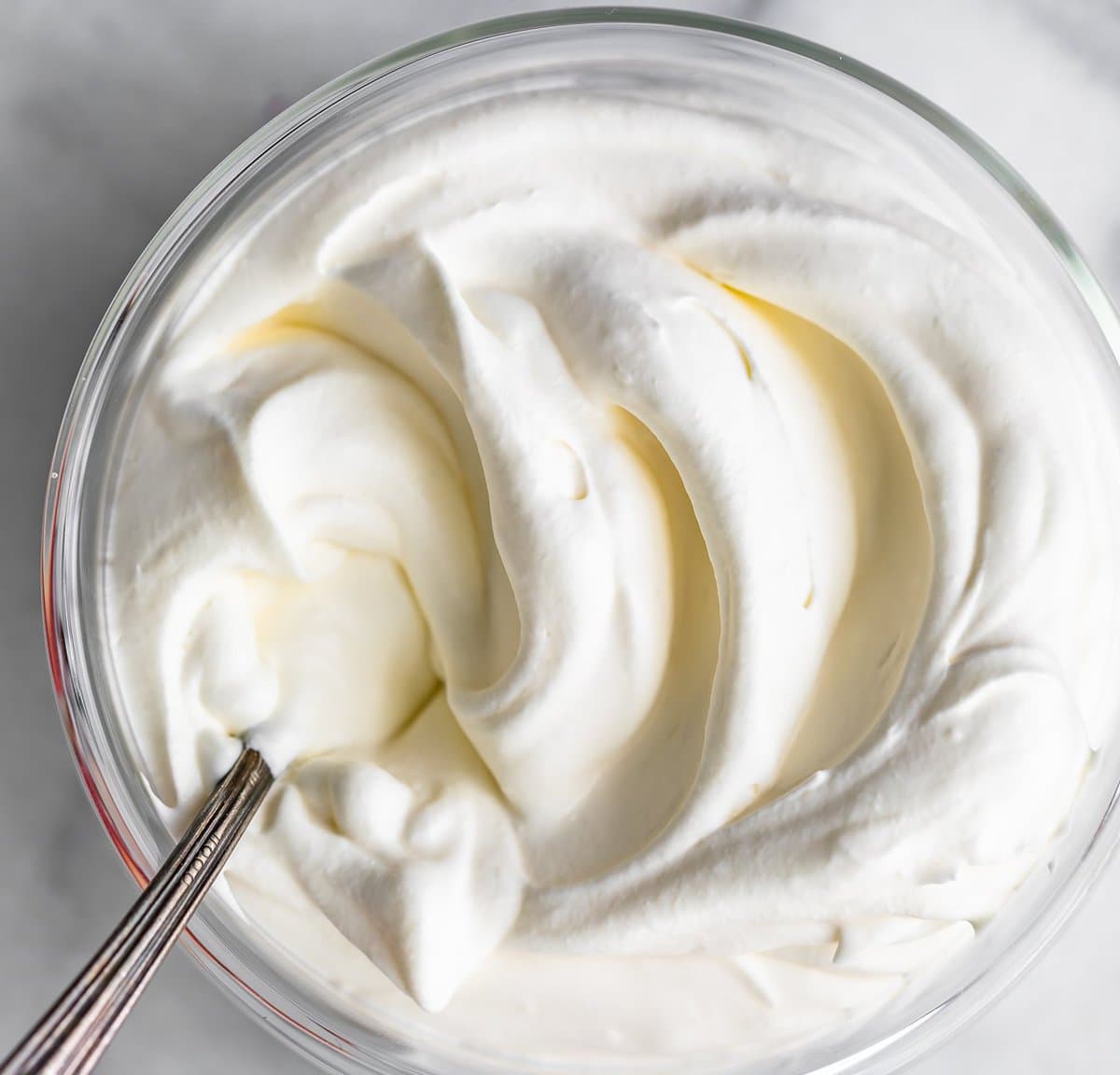 This is going to add that perfect final touch to all of your favorite desserts and baked goods!
See the recipe card for details on how to make Stabilized Whipped Cream. Enjoy!
More how-to recipes: