Slow Cooker Mac and Cheese is a super easy crock pot recipe, perfect for any occasion! Crock Pot Mac n cheese is virtually fool proof and comes out creamy and extra cheesy every time. Crock Pot Macaroni and Cheese is one of the best cheesy comfort foods around!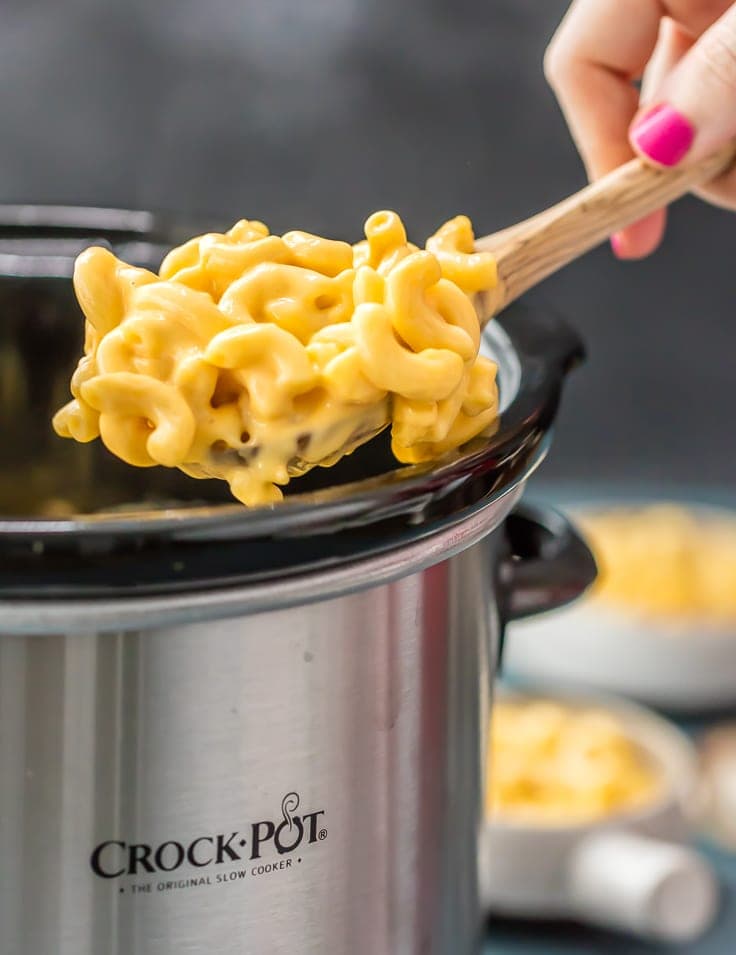 Slow Cooker Mac and Cheese is the cheesy easy weeknight meal you've been waiting for!
Easy Crock Pot Mac and Cheese is the type of recipe I could fall in love with. You guys already know this, but I'm OBSESSED with super easy recipes, and especially easy slow cooker recipes. Oh, and also with cheese. I remember growing up there was this episode of PeeWee Herman (don't judge) where he loved some item of food so much that he actually got married to it. If I wasn't already married, I would marry cheese. It's just so comforting and always there for you, am I right? I mean sure sometimes it causes a stomach ache, but all true love does.
ANYWAY, end of stupid story, and beginning of delicious recipe. SUPER EASY SLOW COOKER MACARONI AND CHEESE is my jam and everyone needs this recipe up their sleeve!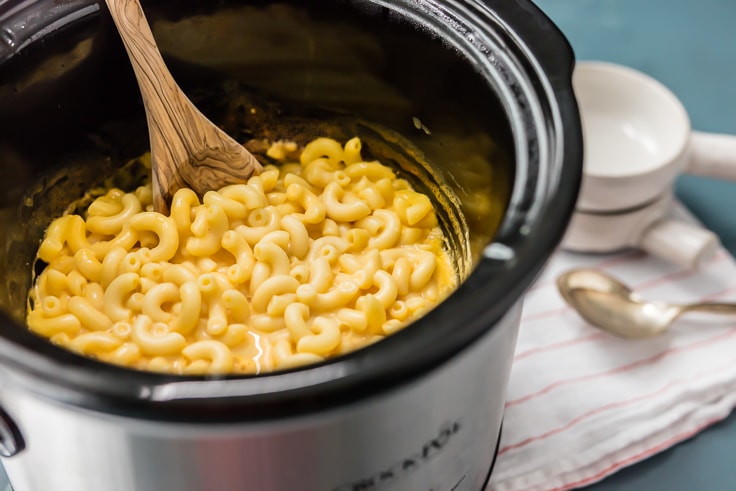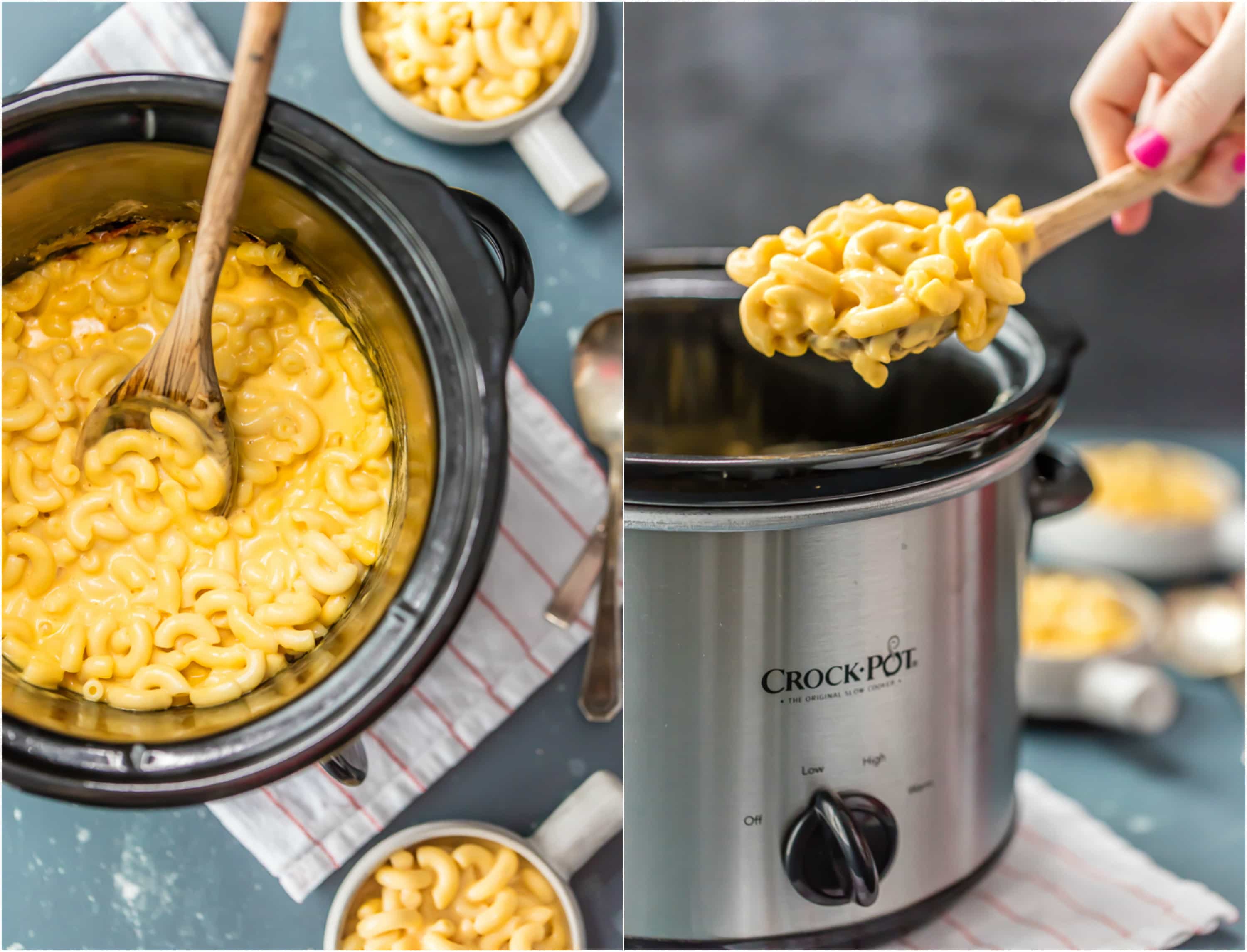 This Crock Pot Mac and Cheese Recipe takes a classic and gives us an easy slow cooker version. Winning!
I have always loved my crockpot. Even in the days I didn't know how to cook, at all, there were some recipes that I felt confident throwing in the slow cooker and letting them do their magic. Recipes like French Dip Sandwiches…a crock pot can make you feel like a chef in your own home. If you're not keen on making stove top Macaroni and cheese, this Slow Cooker Mac and Cheese might just be for you. SO EASY!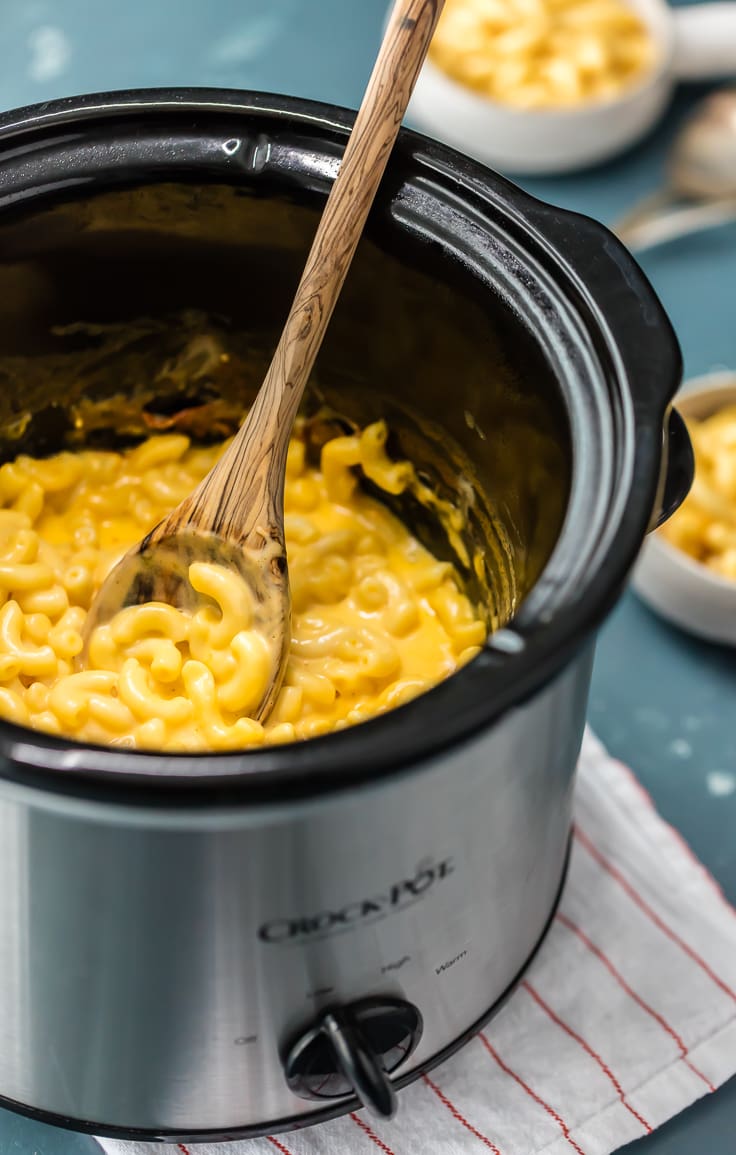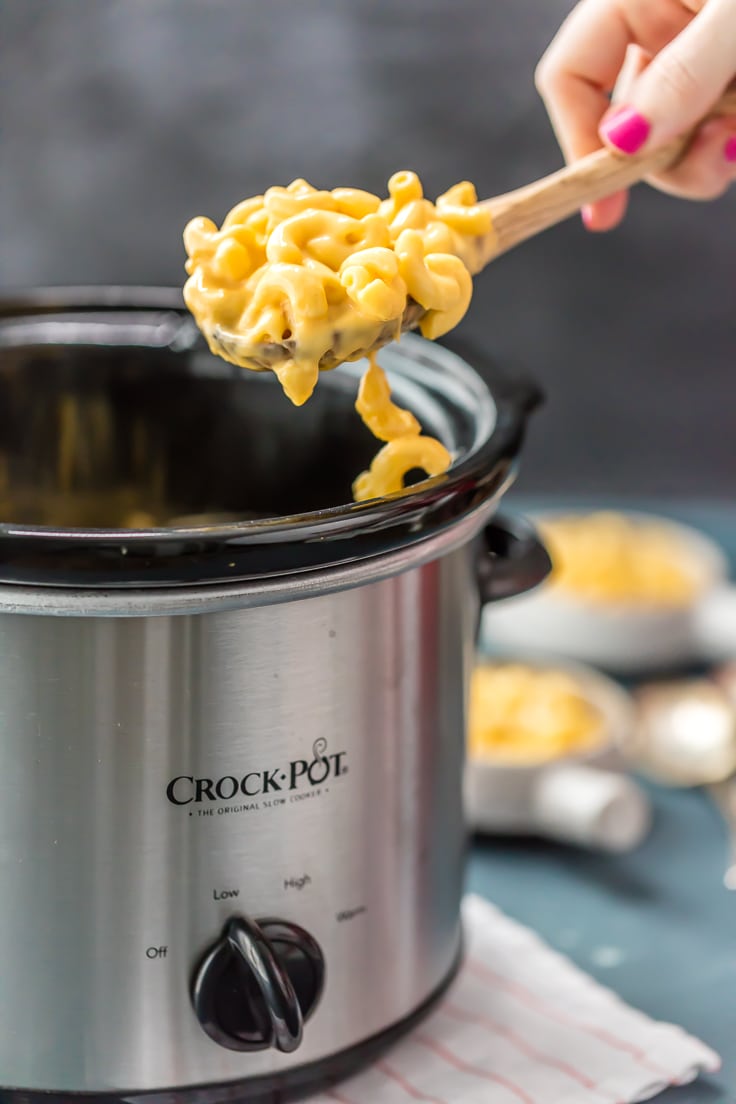 There's nothing better than combining two true loves, the slow cooker and macaroni and cheese. Crock Pot Mac and Cheese might just be my new favorite easy recipe! We love to serve this Macaroni and Cheese as a side dish to recipes like Buttermilk Fried Chicken, Chicken Burgers, Easy Chicken Cordon Bleu, and Parmesan Pork Chops, or by itself as an easy main course.
You're gonna love this slow cooker macaroni and cheese recipe!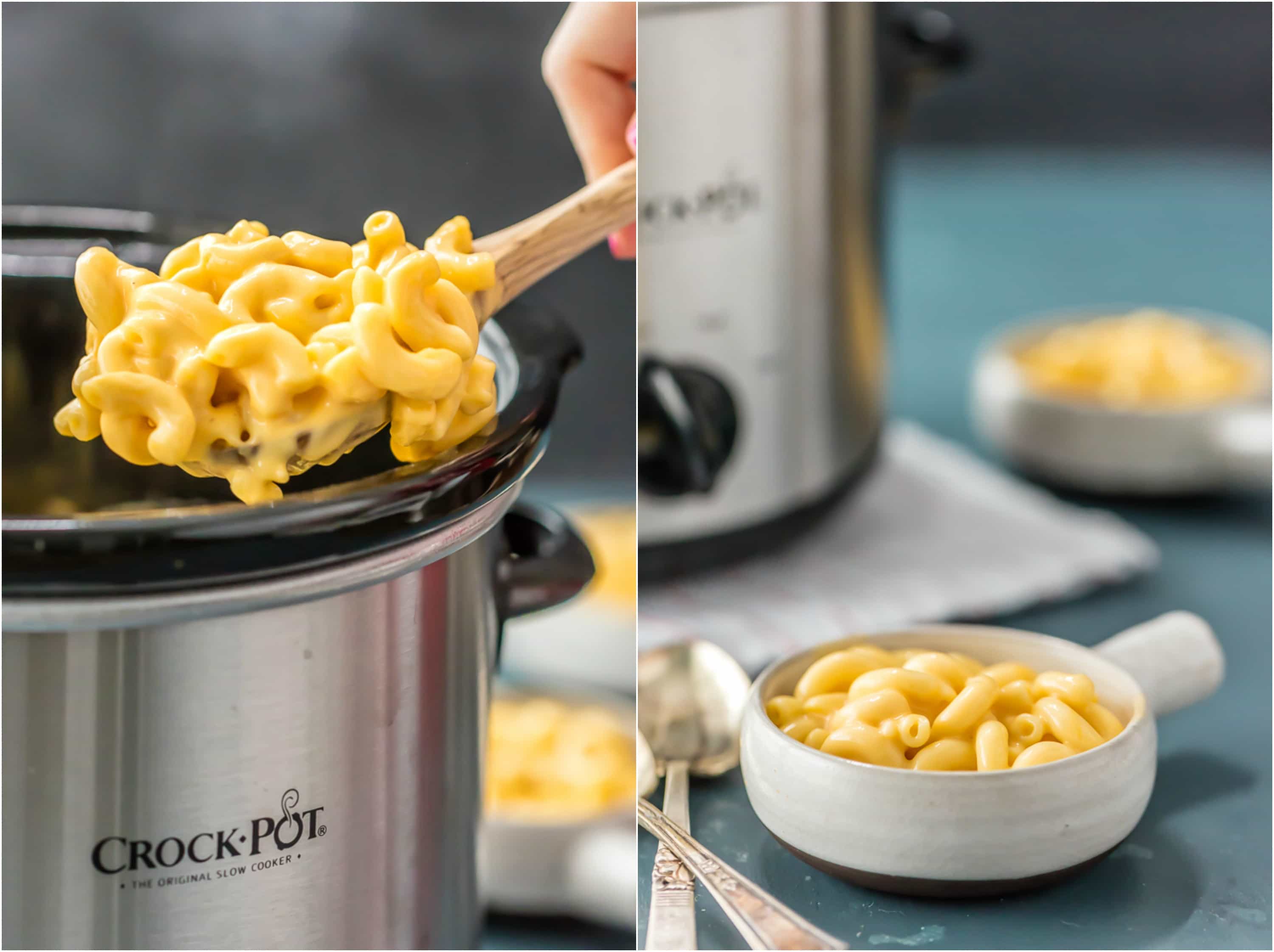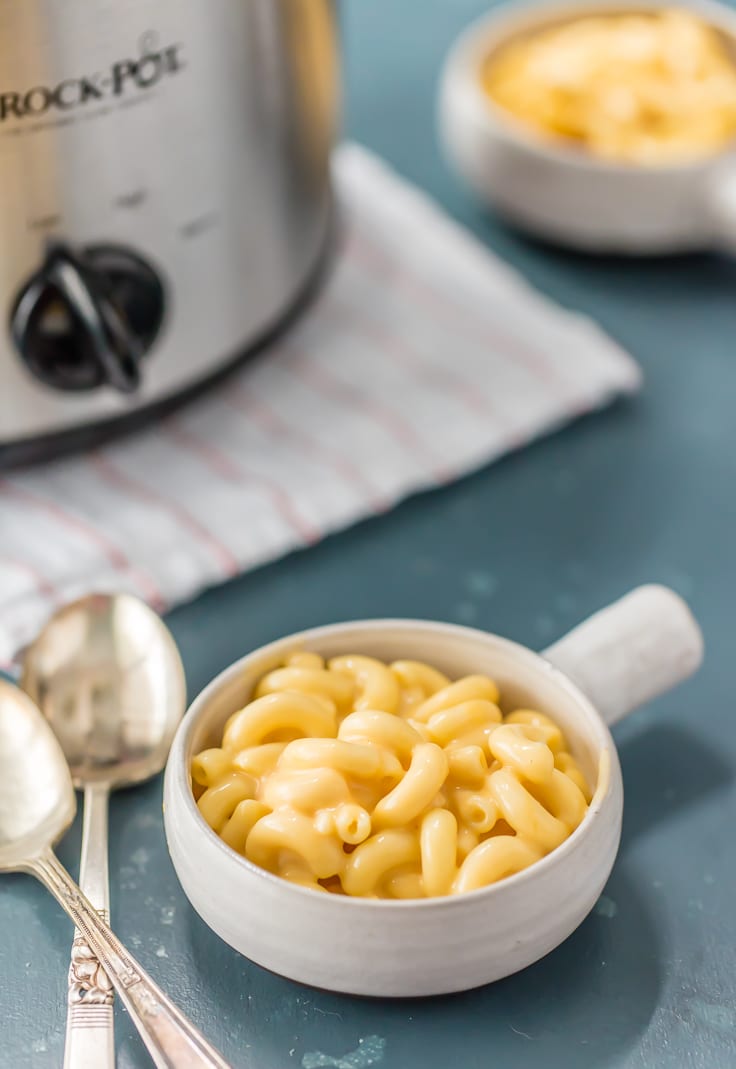 See the recipe card below to find out how to make Slow Cooker Mac and Cheese. Enjoy!
AROUND THE WEB: looking for more outrageously cheesy recipes? Here are some of our favorites: Baked Mexican Mac and Cheese, Cheesy BBQ Beef Biscuit Casserole, Slow Cooker Hawaiian Pizza Mac and Cheese, and Crispy Cheddar Chicken.