Crockpot Mac and Cheese is a super simple recipe! It makes the perfect side dish or weeknight dinner for the whole family. This slow cooker mac and cheese is virtually foolproof, and it comes out extra creamy and extra cheesy every time. Crockpot mac n cheese is always one of the best cheesy comfort foods around!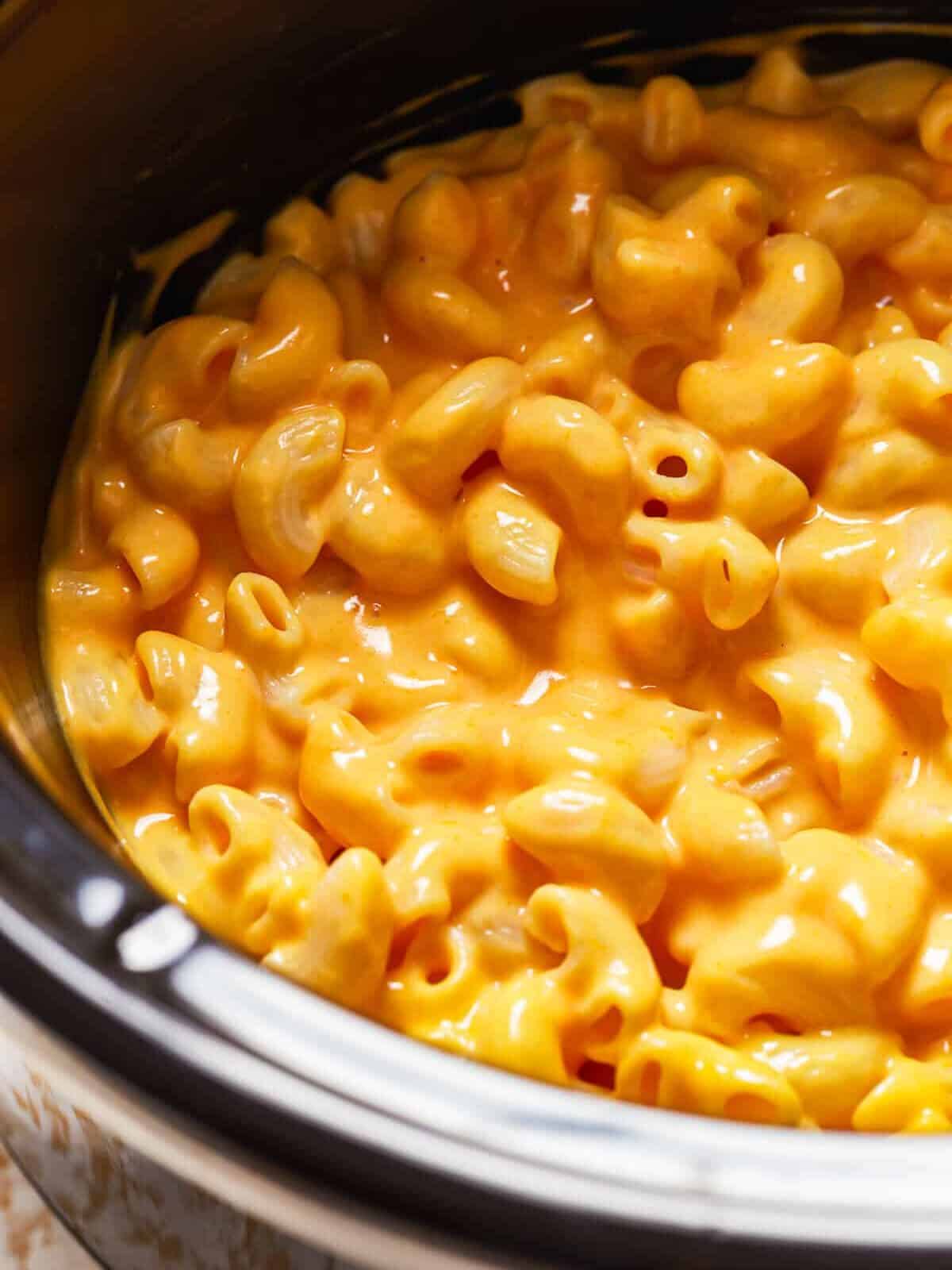 What's in Crockpot Mac n Cheese?
This creamy crockpot mac and cheese is the best set-it-and-forget-it recipe for dinners or side dishes. I just love the mix of cheese, heavy cream, and sour cream to create that super creamy texture and cheesy flavor!
Pasta: The classic elbow macaroni noodle is ideal, but you can actually use other short pasta shapes too.
Butter: Use salted butter, and cut it into cubes to help it melt evenly.
Cheddar Cheese: Gives this dish that classic cheesy flavor.
Eggs: Add richness, making the dish smooth and creamy.
Sour Cream: I like to use light sour cream, or you could substitute plain Greek yogurt.
Condensed Cheddar Cheese Soup: This is the secret to the cheesiest mac and cheese you'll ever taste!
Heavy Cream: This helps create a nice creamy texture.
Milk: Whole milk is great for this dish, but other milk types are fine.
Dry Mustard Powder: Enhances the savory and umami flavor of the dish.
Salt + Pepper: Enhance the cheesiness!
Pro Tip: Freshly shred the cheddar cheese for the best results. Pre-shredded cheese will not melt as well!
Variations on Slow Cooker Mac and Cheese
There are so many ways you can get creative with this crockpot macaroni and cheese recipe. Add some crumbled cooked bacon and caramelized onions, pesto, Buffalo sauce, or taco meat for a different flavor. Or try adding some garlic powder, and swap out the cheddar for a mix of Parmesan and mozzarella to create garlic Parmesan mac and cheese.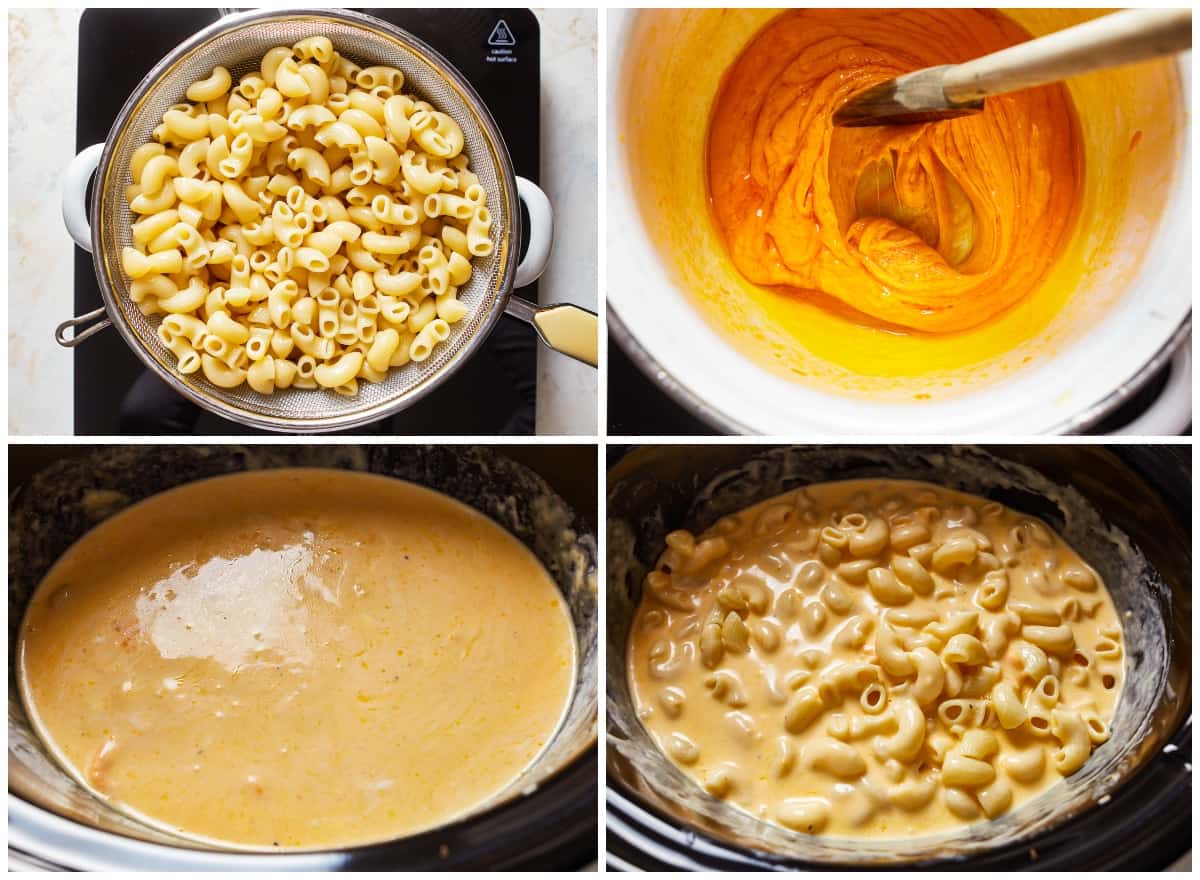 What melting cheeses are best for mac and cheese?
Classic cheddar cheese is perfect for this recipe, but you can add other types of cheese if you prefer. Pepper jack adds some spice, or you can use a white cheddar.
Is it better to use evaporated milk or regular milk in mac and cheese?
I prefer a mixture of regular milk and heavy cream. Evaporated milk can turn your mac and cheese gooey or sticky.
Why put mustard in mac and cheese?
Mustard is slightly acidic and spicy, which enhances the overall umami flavor of the mac and cheese. I promise, you won't taste it!
Is a roux necessary for mac and cheese?
Not in this case! Slow cooking helps to thicken the cheese sauce over time.
Is it better to cook mac and cheese in milk or water?
I prefer to cook my mac and cheese in a mixture of milk, heavy cream, and condensed cheddar soup. It helps the pasta absorb even more flavor.
Should macaroni and cheese be cooked covered or uncovered?
Cook this dish covered in the crockpot for the best results. Otherwise, it may dry out.
Why is my cheese not sticking to my macaroni?
If you used pre-shredded bagged cheese, it may not stick well to the pasta because of the starches added to prevent the cheese from clumping in the bag. I always recommend shredding your own cheese for this recipe!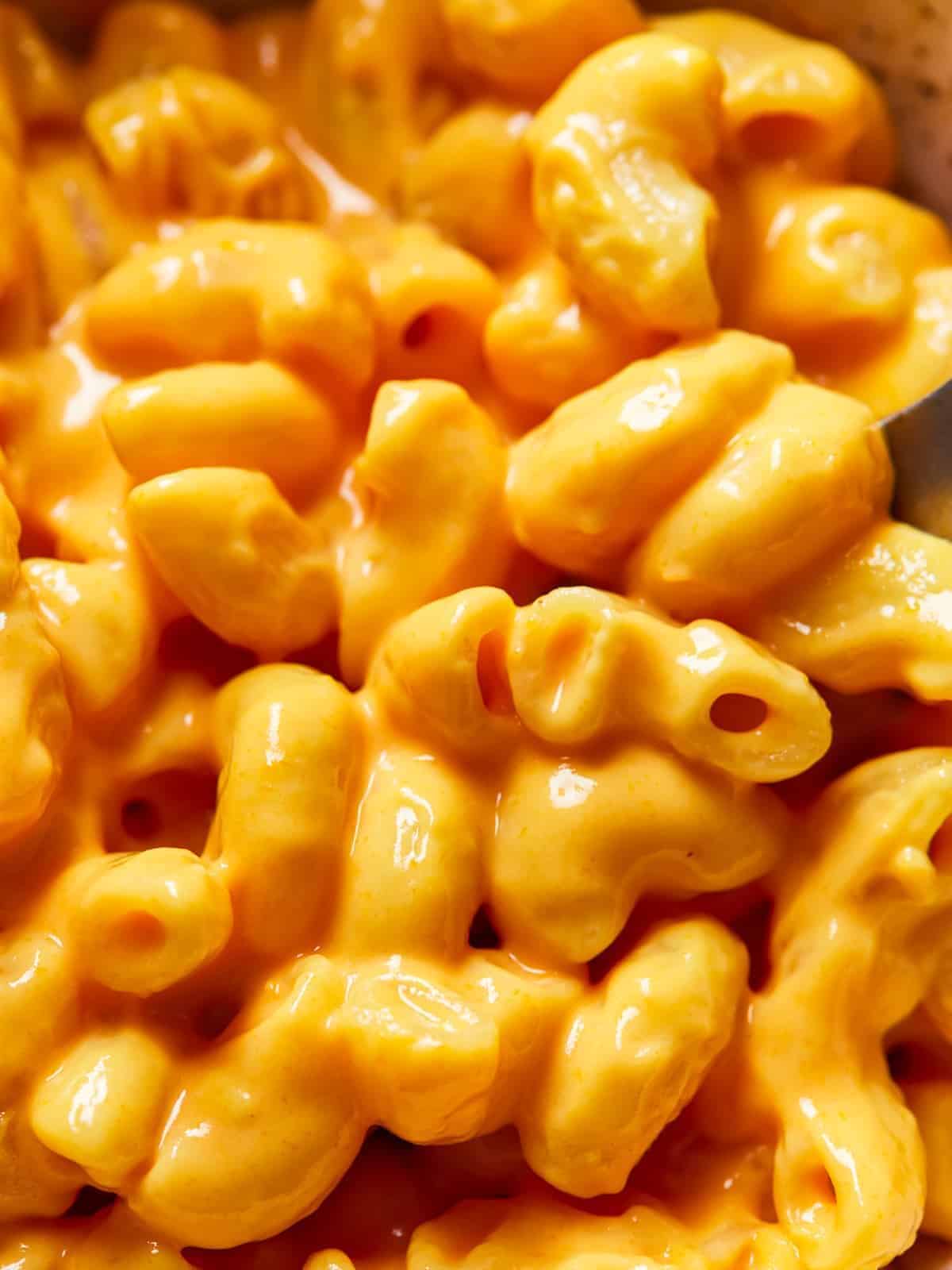 How to Store and Reheat
Store leftover crockpot mac and cheese in an airtight container in the refrigerator up to 4 days. If you want to reheat this mac n cheese after storing it in the refrigerator, you can use a microwave, the stove, or place it back in the slow cooker. Add a small amount of liquid (milk ideally) to help rehydrate it.
How to Freeze
You can freeze this slow cooker mac and cheese to reheat and serve later. Let it cool completely after cooking, then place it in a freezer-safe container and freeze for up to 1 month. Let thaw overnight in the refrigerator before reheating.
Serving Suggestions
This crockpot mac and cheese is the perfect weeknight dinner for the whole family (talk about a kid-friendly dinner!). But it makes a great side dish too, to serve up with any main dish, as a BBQ side, or on any holiday.
Some of my personal favorites are Breaded Baked Pork Chops, Air Fryer Fish Sticks, Chicken Tenders, and Buttermilk Fried Chicken.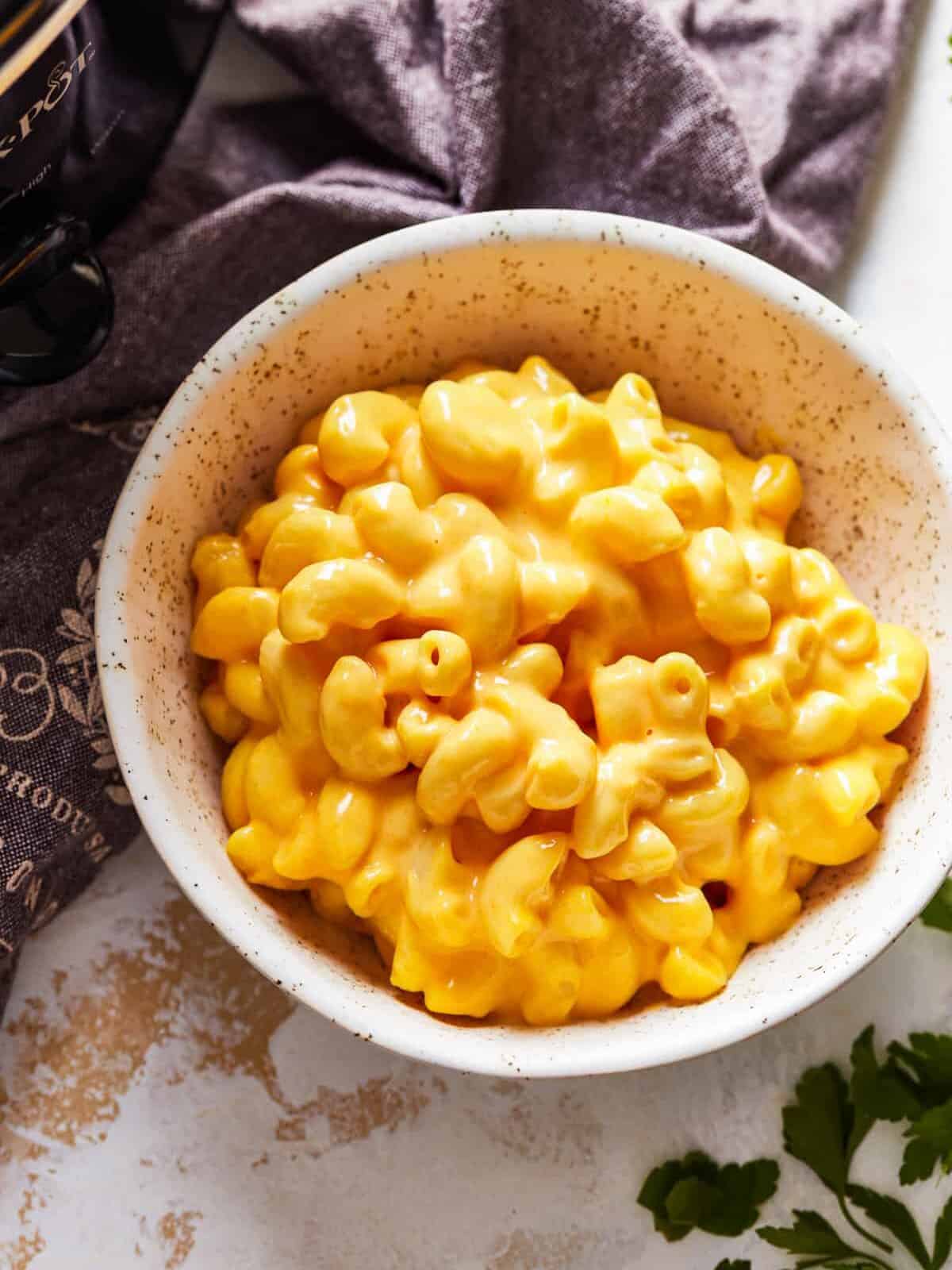 5-Star Review
"A great recipe for potlucks. I never bring any home. It is very good." – Jan Coldren
More Mac and Cheese Recipes We Love