This Crock Pot Mac and Cheese is a super simple recipe! It makes the perfect side dish or weeknight dinner. This slow cooker mac and cheese is virtually fool proof and comes out extra creamy and extra cheesy every time. Mac n cheese is always one of the best cheesy comfort foods around!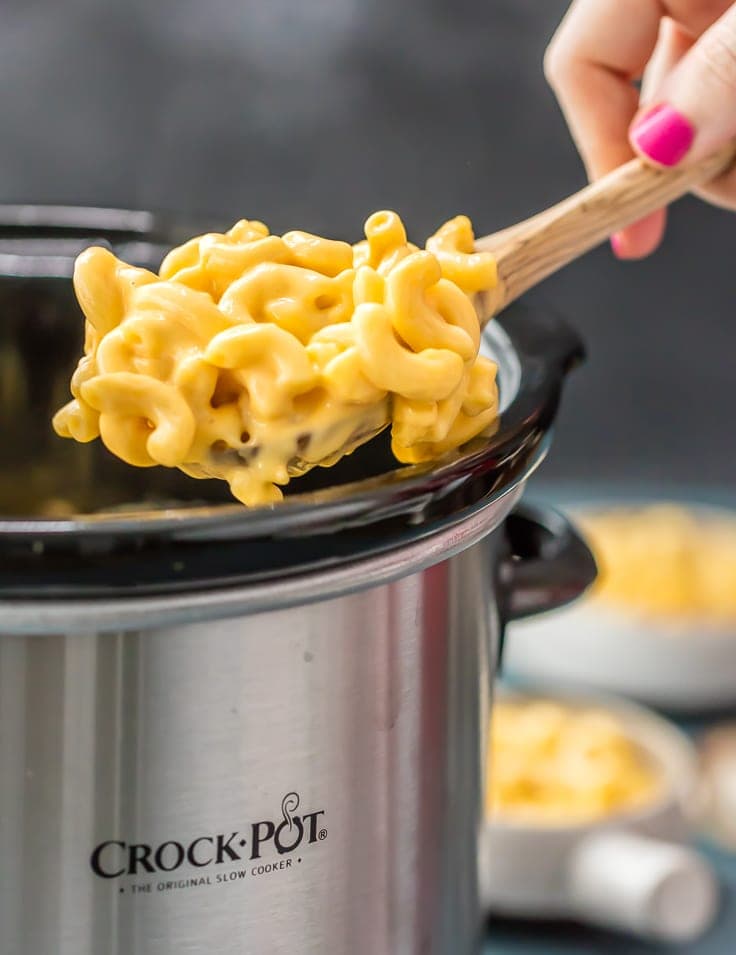 Simple Crock Pot Mac and Cheese
Slow Cooker Mac and Cheese is the cheesy easy weeknight meal you've been waiting for!
This is the type of recipe I could fall in love with. You guys already know this, but I'm OBSESSED with super simple recipes, especially easy slow cooker recipes. Oh, and if there's cheese involved, all the better!
Good ole' mac n cheese is just so comforting, and it's always there for you, am I right? So being able to make it in the easiest way possible is an absolute dream!
Making macaroni and cheese in a crock pot is extra easy, extra creamy and EXTRA CHEESY, just the way I like it. So prepare to make the perfect holiday side dish or comforting weeknight dinner.
Doesn't matter when you eat it or why, it's will definitely be delicious!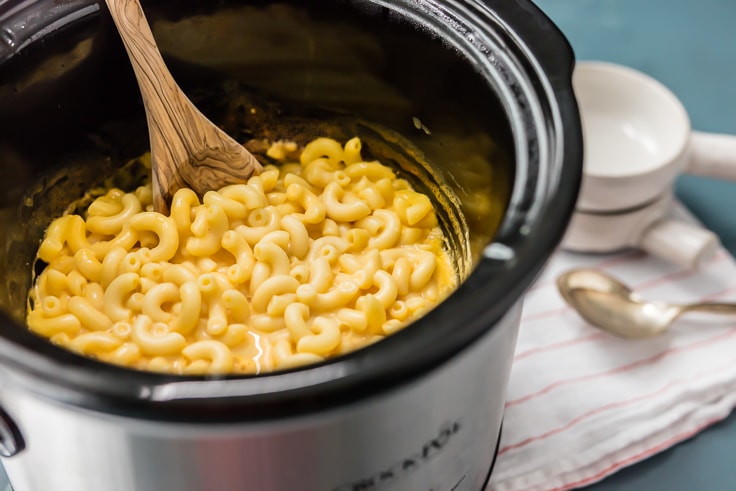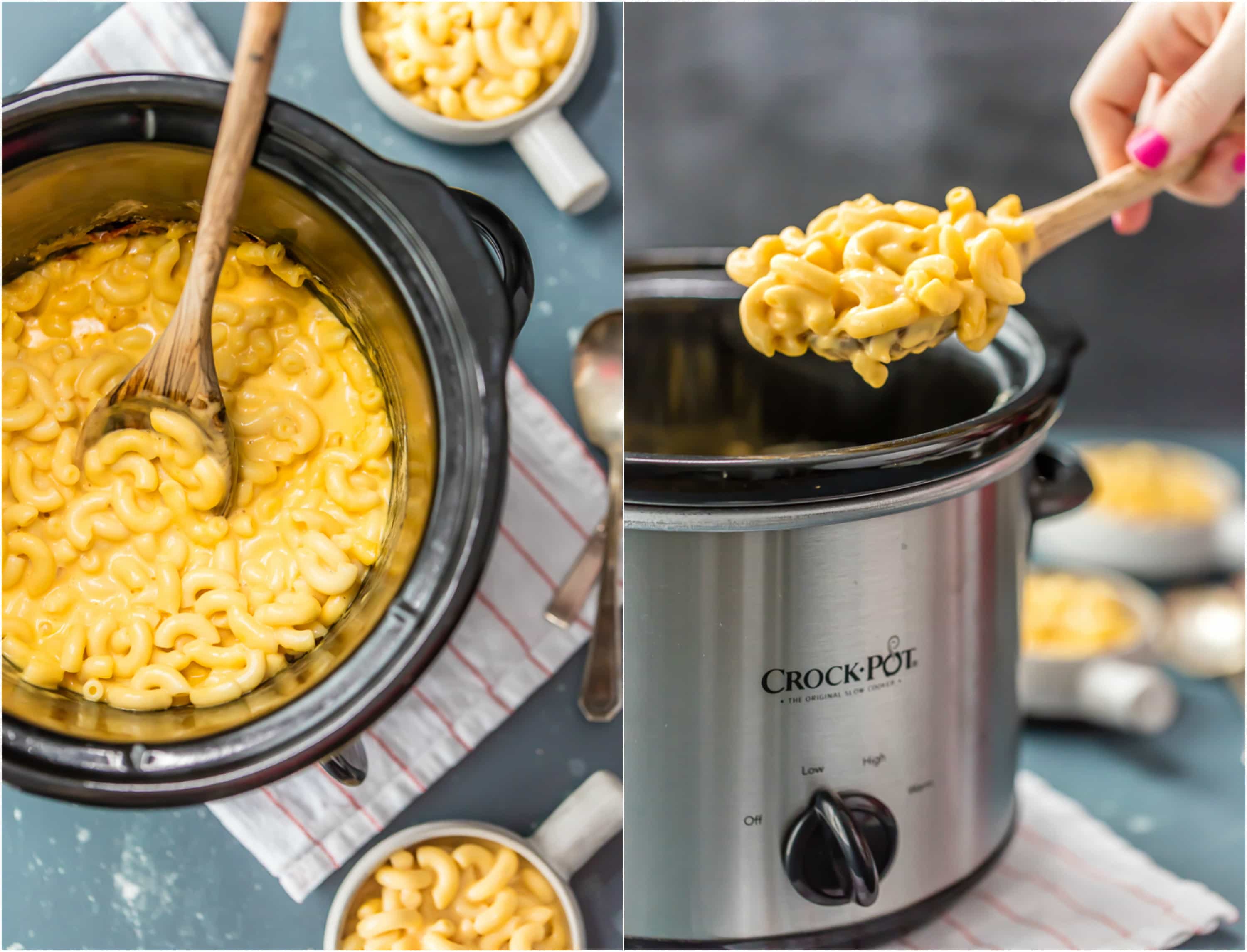 Everything's Easier in a Slow Cooker
This Crock Pot Macaroni and Cheese recipe takes a classic and gives us an easy slow cooker version. Winning!
I have always loved my crock pot. Even back in the days when I didn't know how to cook at all, there were some recipes that I felt confident throwing in the slow cooker and letting them do their magic.
With recipes like French Dip Sandwiches, Slow Cooker Pot Roast, and Crockpot Chili, a crock pot can make you feel like a chef in your own home. If you're not keen on making stove top Mac n cheese or the boxed kind, this slow cooker version might just be for you. SO SIMPLE!
How to Make Mac and Cheese in a Crock Pot
This creamy mac and cheese is the best set it and forget it recipe for dinners or side dishes. I just love the mix of cheese, heavy cream, and sour cream to create that super creamy texture and cheesy flavor!
Ingredients:
Elbow Macaroni
Salted Butter
Shredded Cheddar Cheese
Eggs
Sour Cream
Condensed Cheddar Cheese Soup
Heavy Cream
Milk
Dry Mustard
Salt & Pepper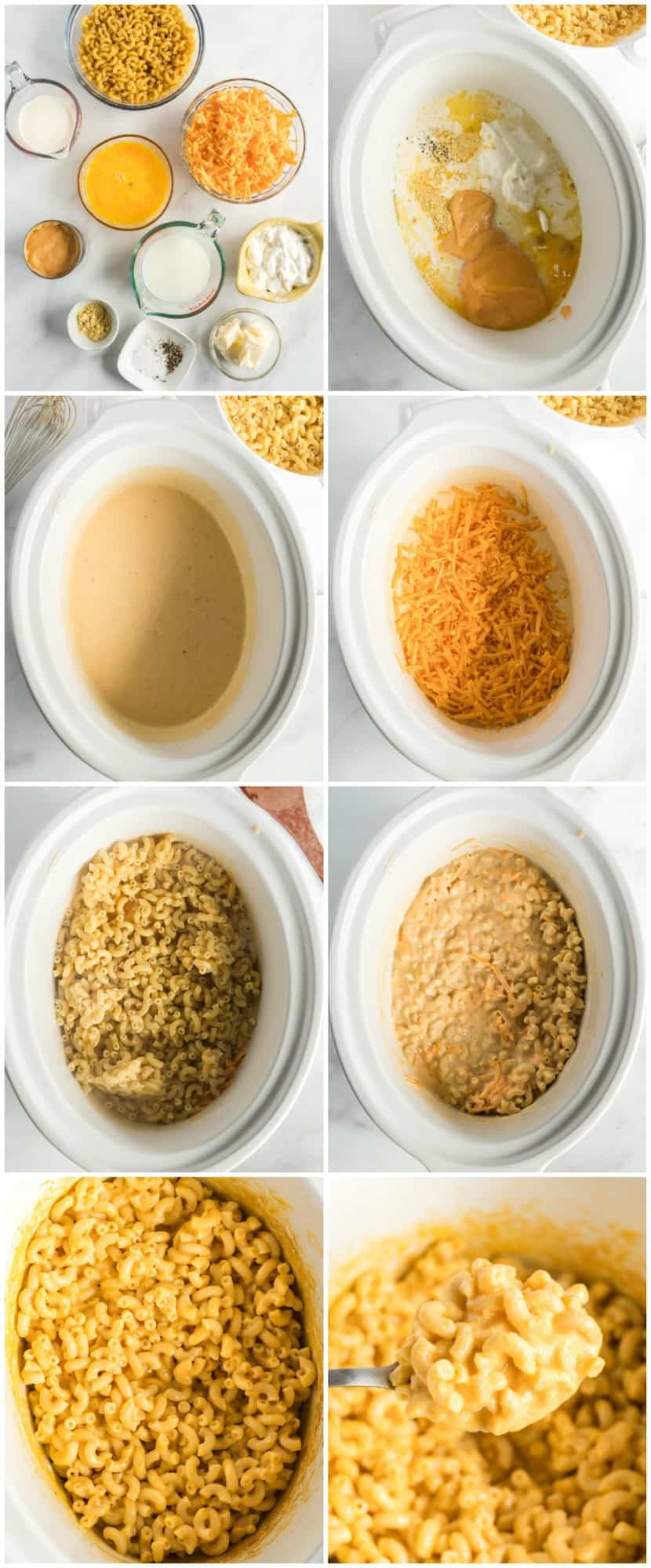 Slow Cooker Mac and Cheese Step by Step Recipe:
Boil 2 quarts of water on the stove, then cook the pasta until tender, drain, and set aside.
Melt butter and shredded cheese together in the saucepan.
Next, combine everything (melted cheese & butter, eggs, sour cream, heavy cream, cheese soup, milk, dry mustard, salt & pepper) into the crock pot. Then stir in the cooked pasta to fully coat in mixture.
Cook on LOW setting for 1 1/2 to 2 hours.
Be sure to watch the video to see the step by step process!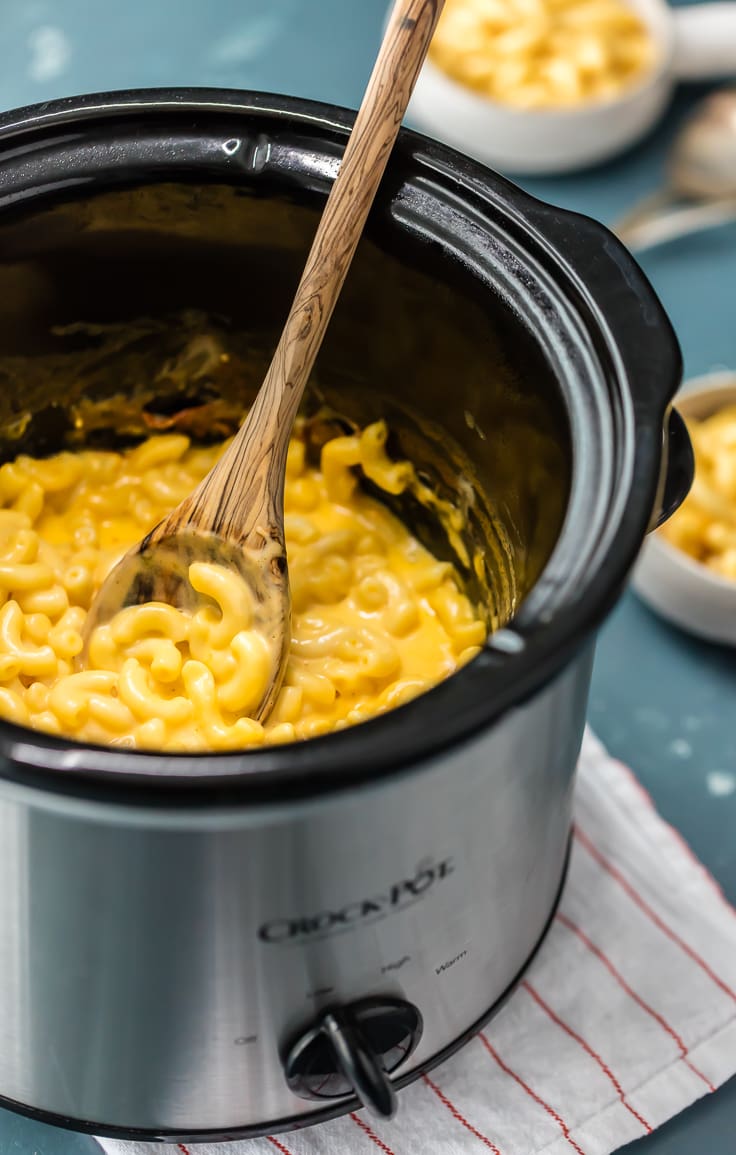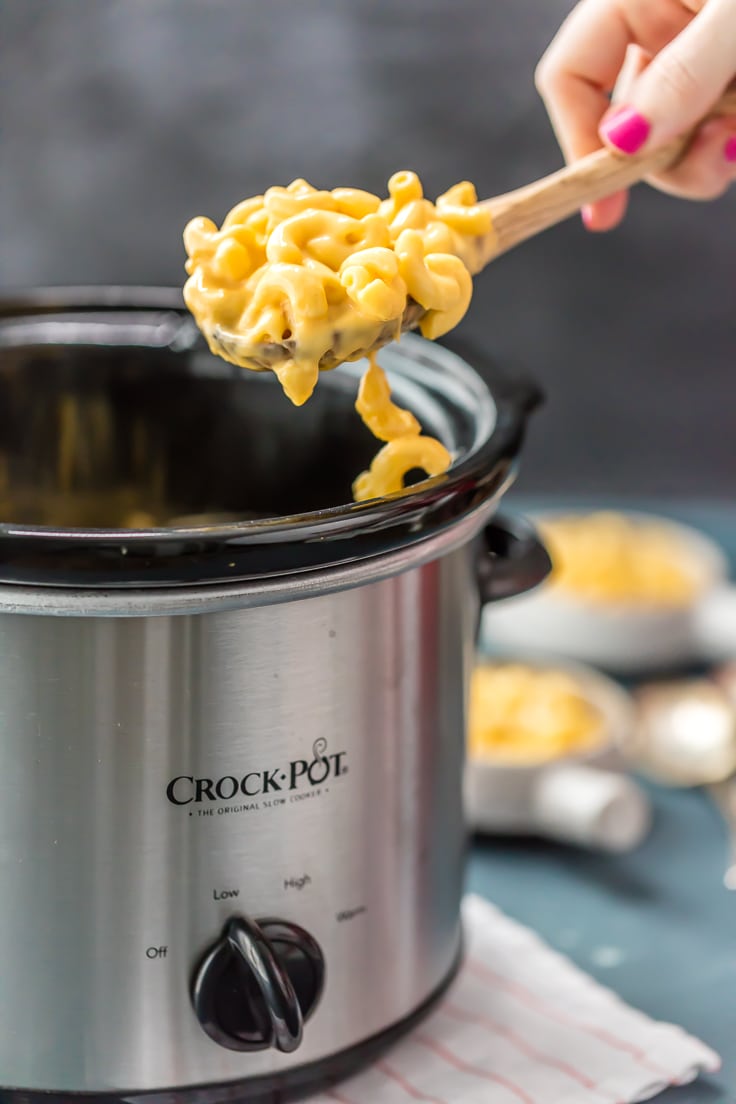 Top Tips for this Mac and Cheese Recipe
Keep it Warm: It's already in the crock pot, so just keep it on a low setting, with the lid on, to keep it warm throughout dinner.
Store It: Place leftovers in an airtight container and store it in the refrigerator up to 4 days. Or freeze it for up to 1 month.
Reheat It: If you want to reheat this mac n cheese after storing it in the refrigerator, you can use a microwave, the stove, or place it back in the slow cooker. Add a small amount of liquid (milk ideally) to help rehydrate it.
Best Cheese: Classic cheddar cheese is perfect for this recipe, but you could add in other types of cheese if you prefer.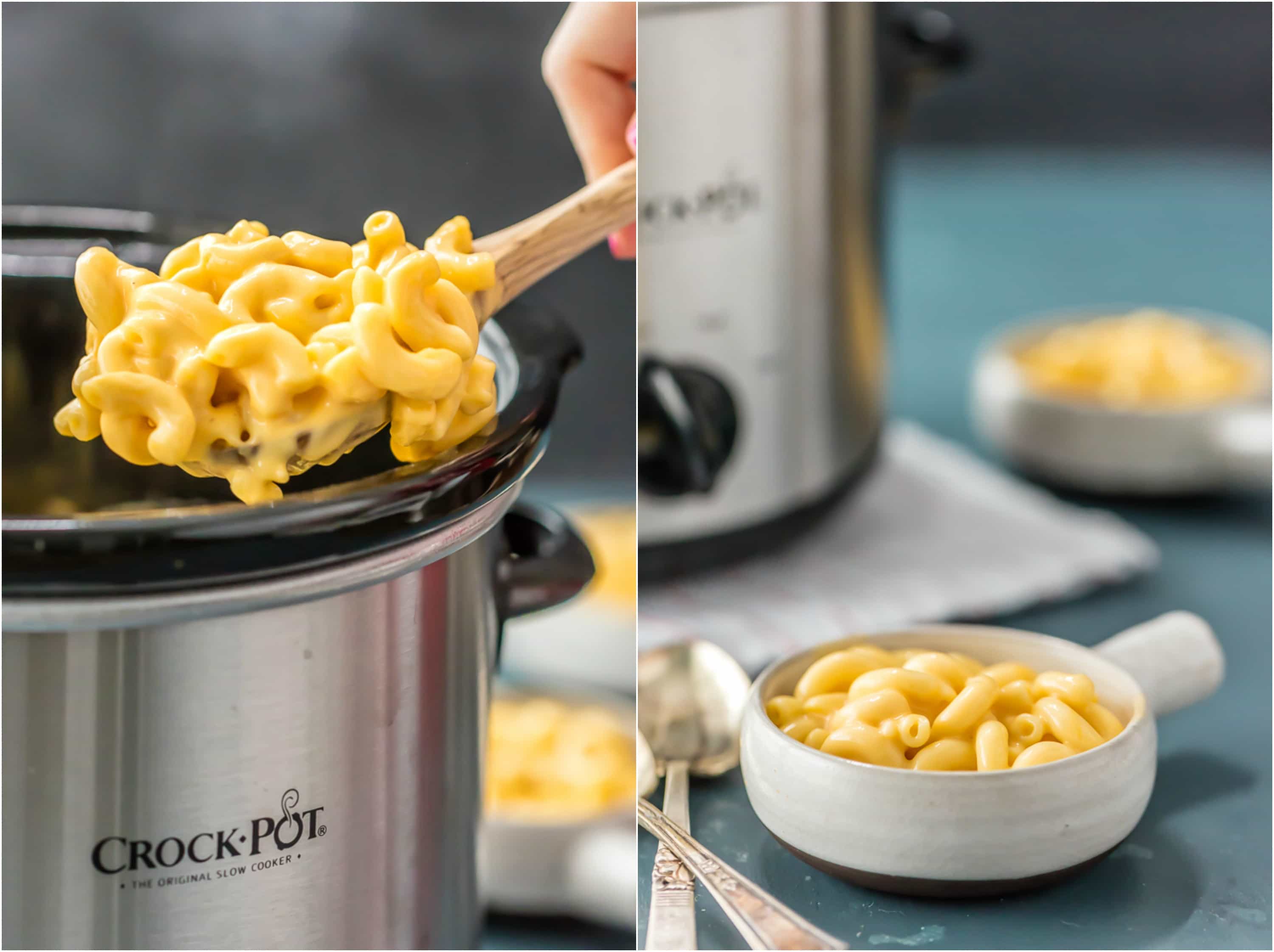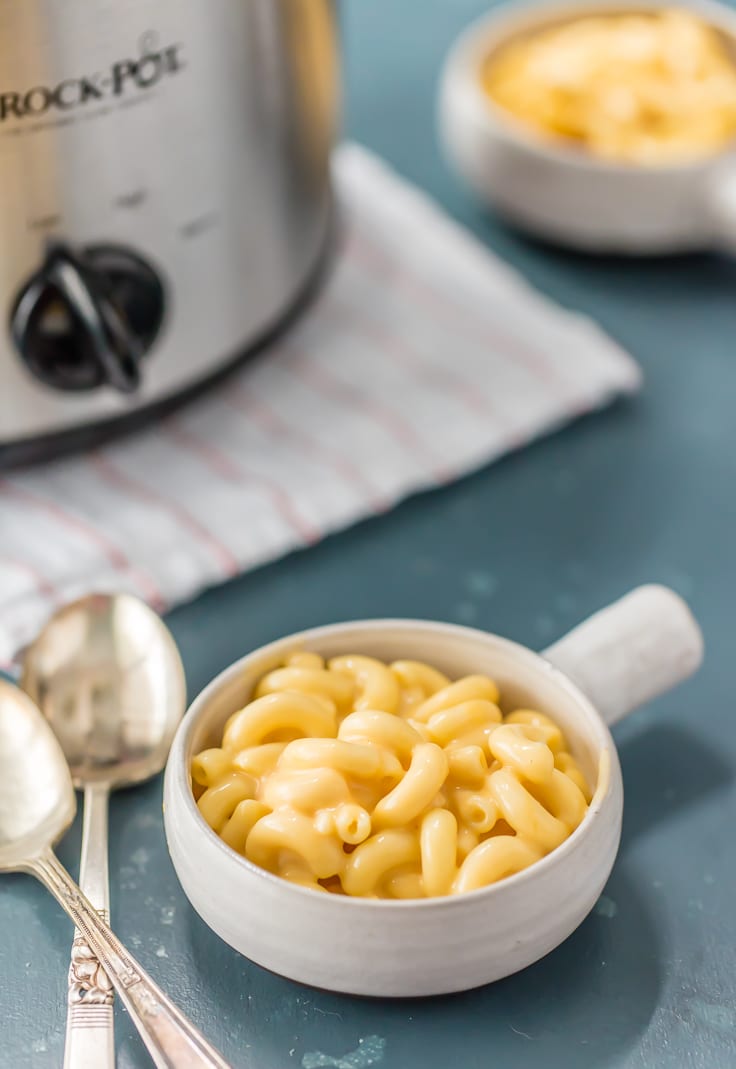 There's nothing better than combining two true loves: the slow cooker and macaroni and cheese. This just might be my new favorite easy recipe!
We love to serve this easy Mac and Cheese as a side dish to recipes like Buttermilk Fried Chicken, Chicken Burgers, Easy Chicken Cordon Bleu, and Parmesan Pork Chops, or by itself as an easy main course.
Watch the Video and See the recipe card for details on how to make Crock Pot Mac and Cheese. Enjoy!
Don't have a crockpot? Don't worry, I've got plenty more mac n cheese recipes to share: