This Crockpot Broccoli Cheese Soup recipe is the perfect fall soup! It's easy, it's cheesy, and it's so delicious. I love this slow cooker broccoli cheese soup any time of the year.

Slow Cooker Broccoli Cheese Soup
Crockpot Broccoli Cheese Soup is the most delicious soup for the fall and winter season. Broccoli cheddar soup is a classic, and making it in a slow cooker means it's super easy too!
This cooler weather is practically begging for me to make comfort food! All I want to do is put on my comfiest and warmest outfit and eat soup for days! Better yet, crockpot soups!
I never knew creating a delicious, filling, and comforting meal could be this easy. Throw your ingredients in a slow cooker while you watch reality TV for hours (or go to work, or clean, or whatever…I prefer TV), then add a TON of cheese at the end, and enjoy! Dreams do come true!
You really can't go wrong with this Crockpot Broccoli Cheese Soup recipe. It's super cheesy and creamy, and totally fool-proof. It would be perfect to make in bulk for friends or a potluck, and it can easily be frozen to eat later. It's just the perfect soup recipe!
Make this easy Crockpot Broccoli Cheese Soup recipe. It's simple, it's delicious, and it will warm up those chilly winter nights!


What's in Broccoli Cheese Soup?
This crockpot broccoli cheese soup is just so delicious! Here's a quick look at the ingredients list:
Chicken Broth
Butter
Broccoli
Shredded Sharp Cheddar Cheese
Shredded Monterrey Jack Cheese
Diced Onions
Diced Celery
Diced Garlic
Evaporated Milk
Flour
Heavy Cream
Salt & Pepper
I like to garnish this soup with sour cream, cilantro, and more cheese, so make sure you have some of that on hand too.
What goes well with Broccoli Cheddar Soup?
I could eat a huge bowl of this soup for dinner and not need anything else, although a bit of hearty bread for dipping is a must!
Crockpot broccoli cheese soup goes with so many other things though, so it works as an appetizer or side dish too. I love doing the classic soup and salad or soup and sandwich combo when I make this stuff.
Here are some of my favorite recipes to pair with this soup:
How do you thicken Broccoli Cheddar Soup?
Adding a bit of flour or cornstarch helps to thicken up soups. In this crockpot broccoli cheese soup recipe, we add in the flour with the butter, milk, onions, celery, and garlic to make the "sauce" before adding it in with the rest of the soup.
I used whole wheat flour for this recipe, but you can use other types of flour too. This is what helps to give the soup its thick and creamy consistency.
Can you freeze Broccoli Cheese Soup?
Yes, you can easily freeze any leftover soup to save for later. Let the soup cool and then store it in airtight containers. You can then freeze the soup for up to 2 months.
I recommend storing it in individual portion sizes so that you can thaw and reheat just as much as you need each time, rather than having to thaw the whole batch when you only need a couple of portions.
To reheat broccoli cheddar soup: let it thaw in the refrigerator, and then heat it on the stove top over low-medium heat. Stir consistently to so it heats up evenly. You could also reheat it in the slow cooker on low heat.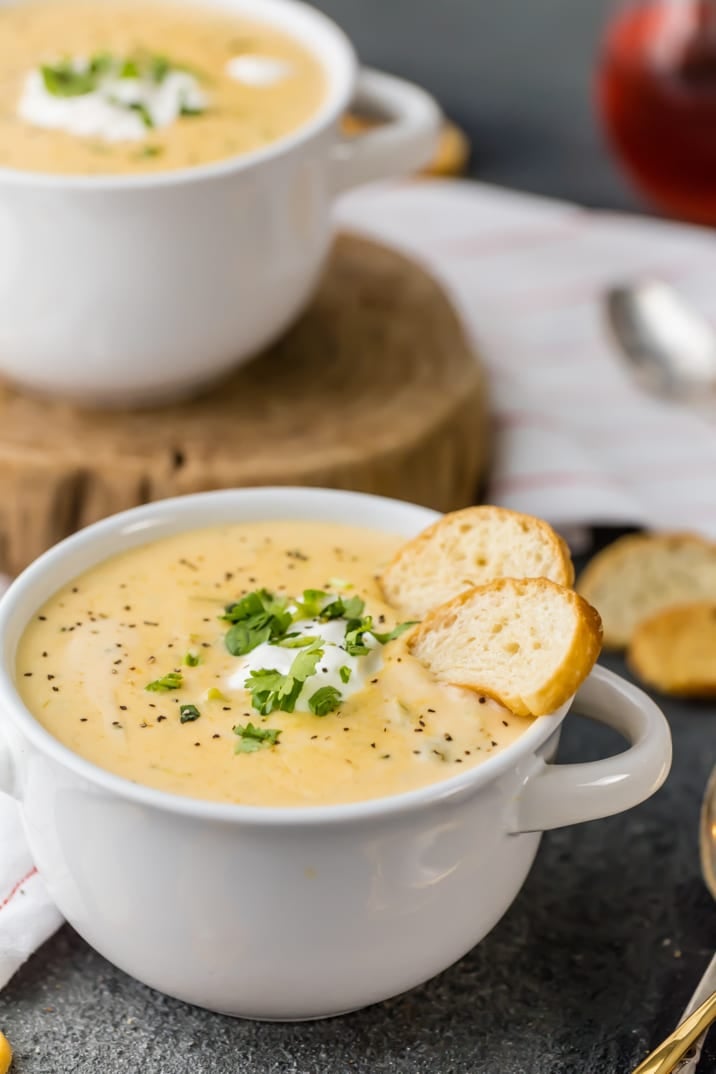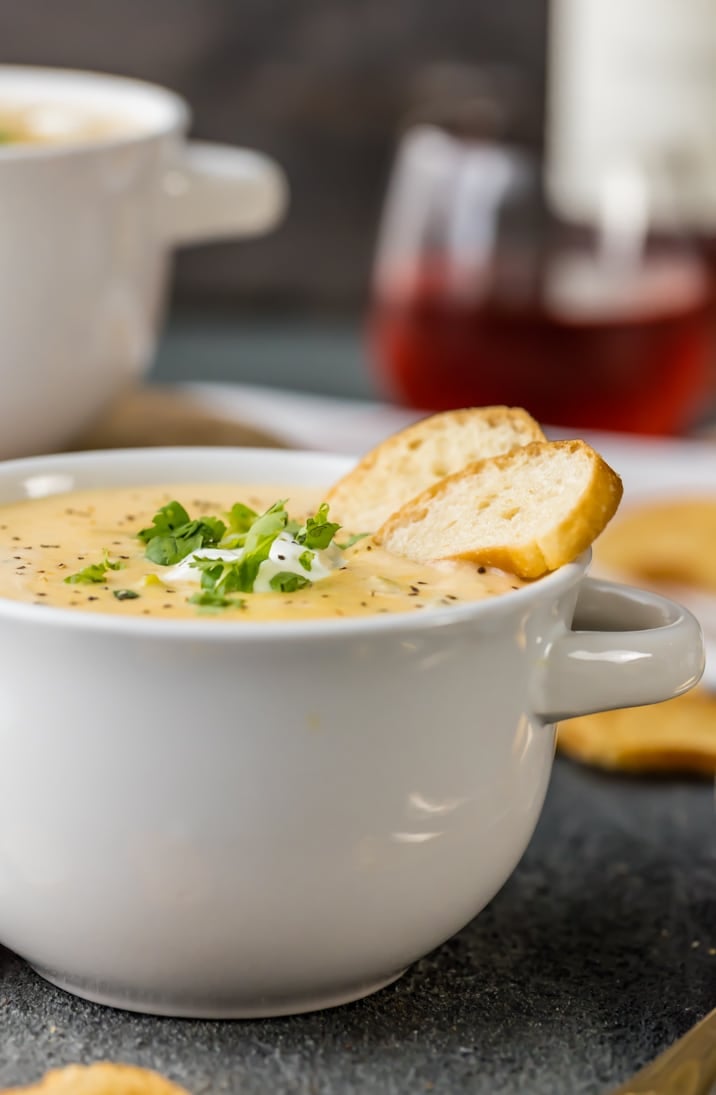 How to Make Broccoli Cheese Soup in a Crockpot
This crockpot broccoli cheese soup recipe couldn't be easier! Start by combining butter, onions, celery, garlic, milk, and flour in a skillet.
Then add that mixture into the slow cooker along with chicken broth and broccoli, and let it cook on high for 3 hours (or on low for 6 hours). At the end, stir in the cream and cheese.
Try some of our other favorite easy soup recipes:
If you make this recipe be sure to upload a photo in the comment section below or leave a rating. Enjoy! You can also jump to recipe.