MEXICAN MAC AND CHEESE can't be beat! No need to fool with a tricky cheese sauce when you have this secret ingredient making things extra creamy and delicious. Spicy sausage and green chiles make this baked macaroni and cheese recipe soooo tasty!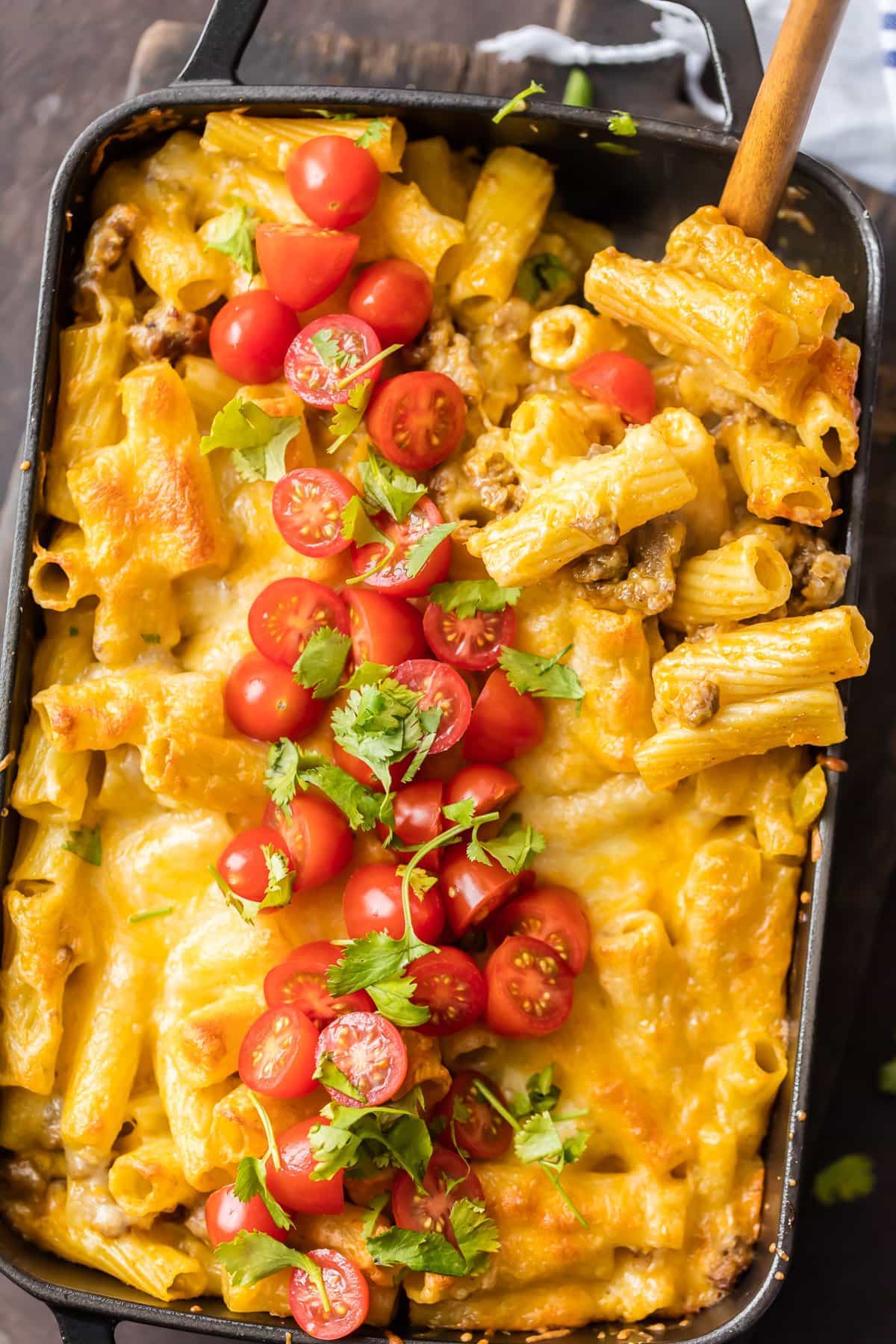 Mexican Mac and Cheese Recipe
Mexican Mac and Cheese is the ultimate easy comfort food. You guys know I love a good easy recipe, and this delicious baked macaroni and cheese is one of my favorites. I LOVE Mexican dishes, so bringing all those flavors into an easy mac and cheese bake makes the perfect weeknight meal!
Mac and cheese is one of those dishes I could eat any time, but I love changing it up from the classic recipe and adding in different flavors to make it even better. I've made King Ranch Chicken Mac and Cheese, Pumpkin Mac and Cheese, Slow Cooker Macaroni and Cheese…the list goes on! This tasty Mexican Mac and Cheese is a welcome addition to the family.
This baked macaroni and cheese is sure to please the entire family. It's full of flavor with none of the fuss! You don't even have to make a cheese sauce or a roux…so it's a total win win. It comes out of the oven so creamy, cheesy, and delicious, you'll be surprised you didn't slave away in the kitchen all day!
This Mexican Mac and Cheese is one of the best baked macaroni and cheese recipes ever! Filled with cheese, sausage, green chiles and more, you'll LOVE the flavor of this dish.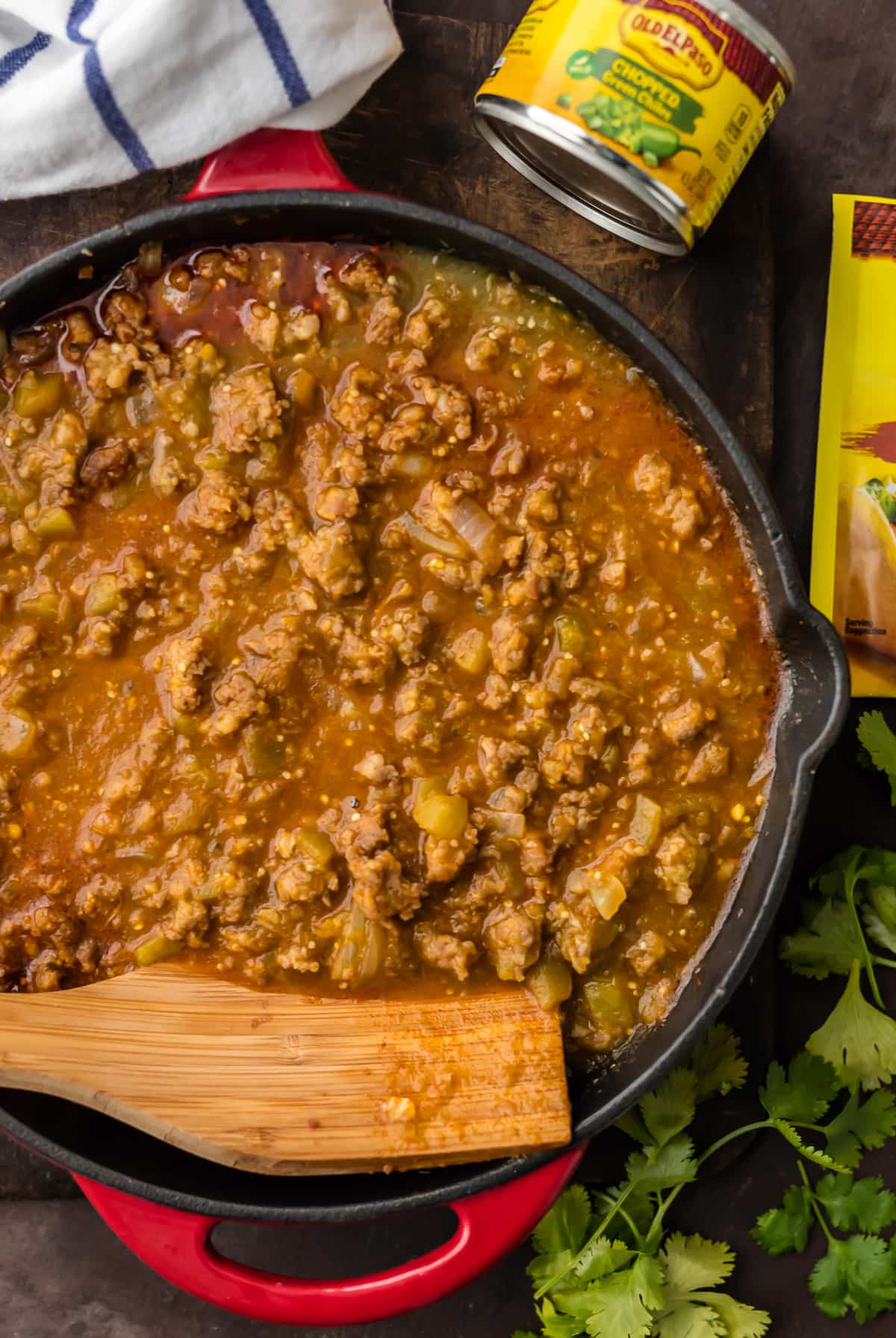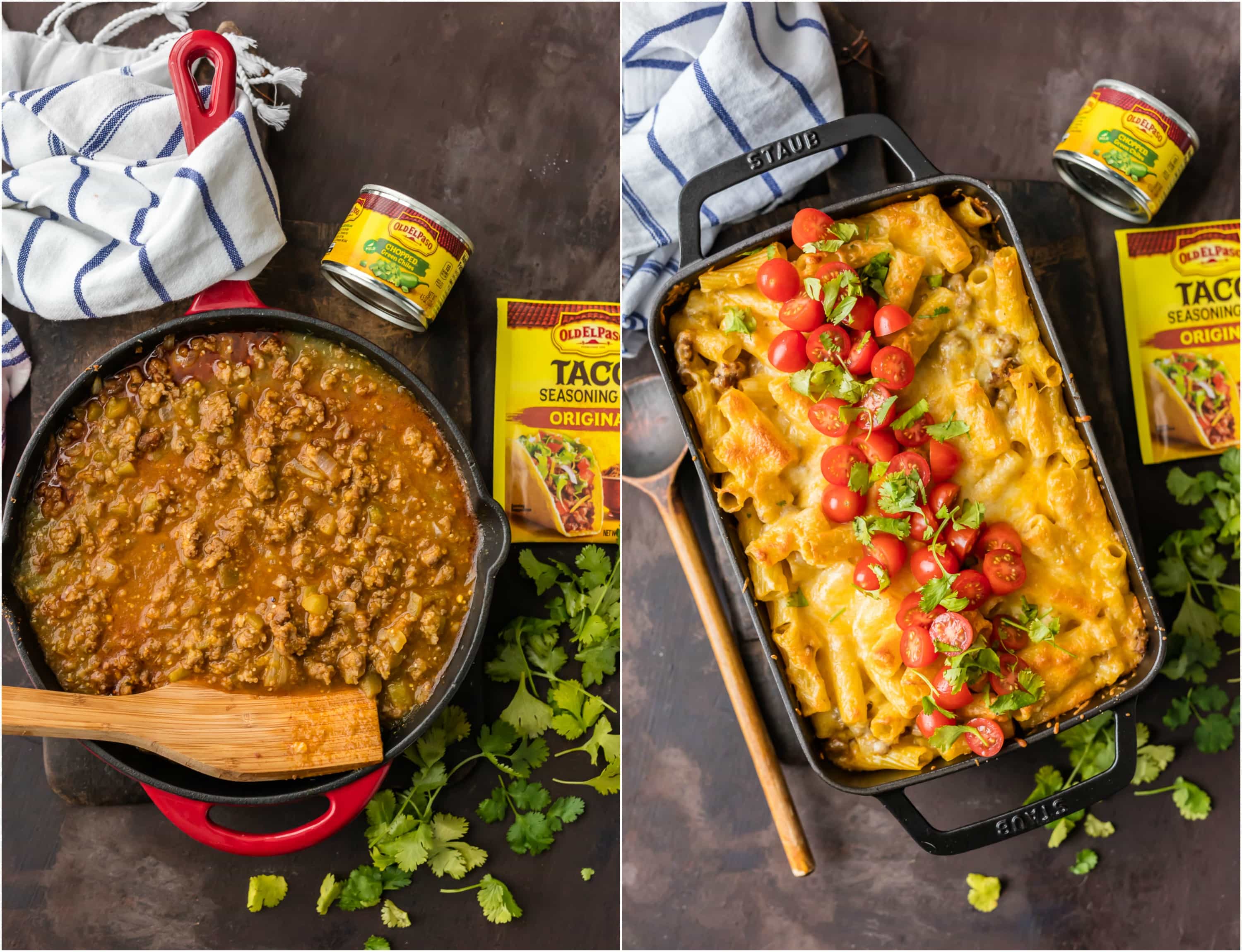 Baked Mexican Mac and Cheese Ingredients
This Baked Macaroni and Cheese recipe wouldn't have nearly as much flare without Taco Seasoning and Chopped Green Chiles that I use in so many recipes and they never disappoint.
They make cooking at home flavorful and delicious every time. I can feel like a chef with very little effort. My type of recipe!
Mexican Mac and Cheese Ingredients:
Rigatoni pasta
Pork sausage
Green chiles
Onions
Salsa verde
Tomatoes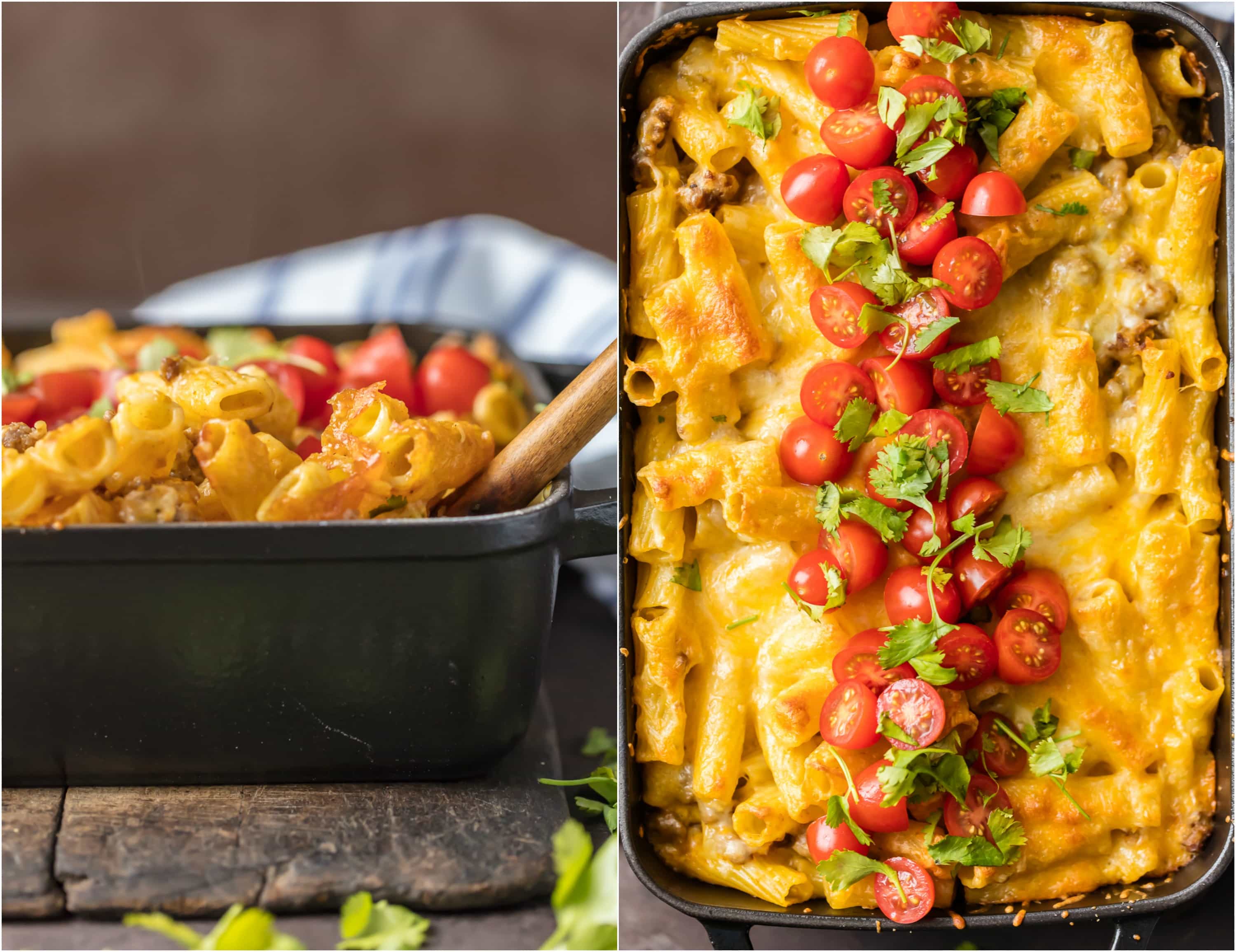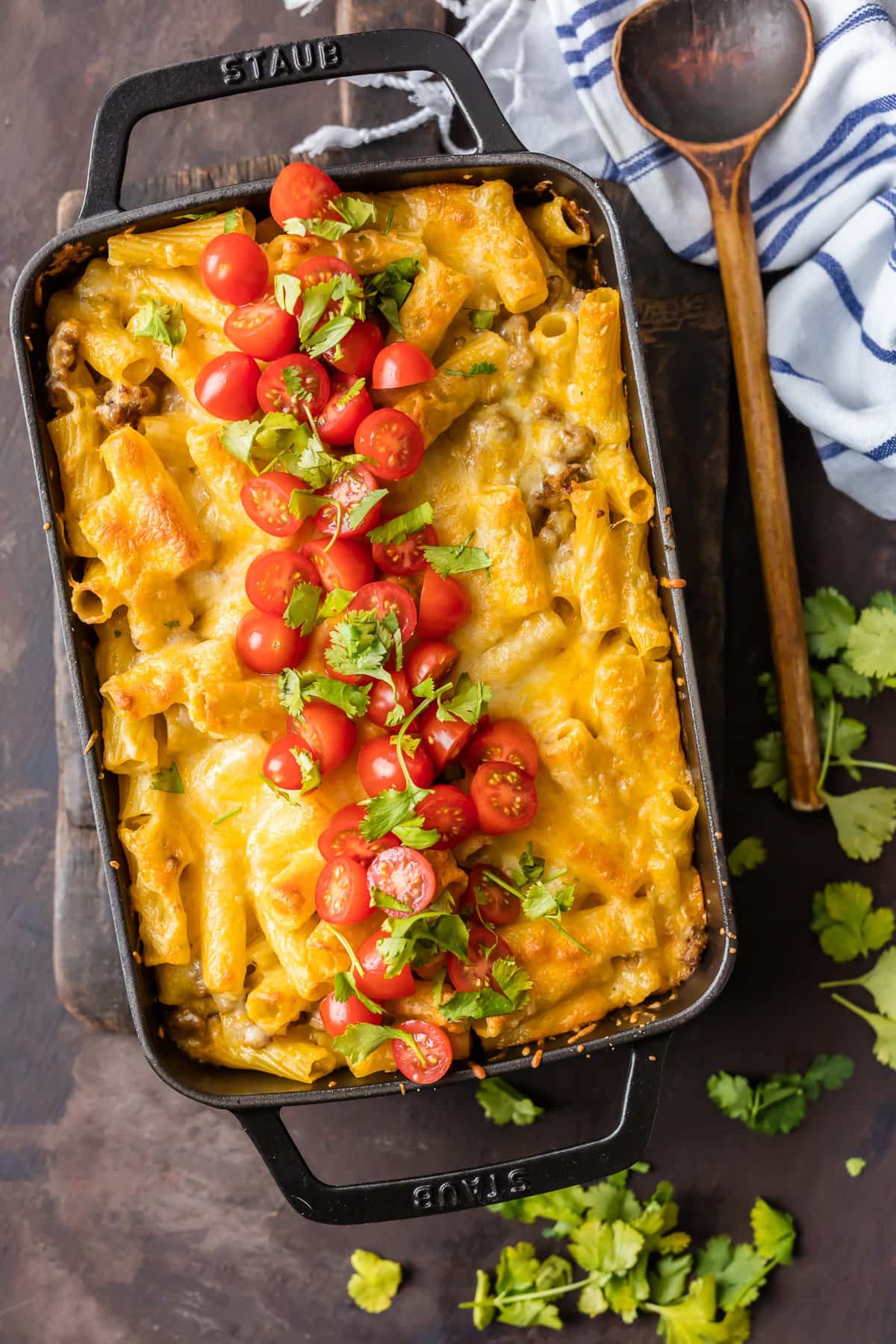 Baked Macaroni and Cheese
This Baked Mexican Mac and Cheese is layered with spicy sausage, green chiles, salsa verde, and cheese…LOTS OF CHEESE. You know I wouldn't have it any other way! This recipe is utterly delicious and oh so simple.
Don't you want to just dive right in to that cheesy goodness? This easy mac and cheese bake is the perfect simple meal to make for new parents, any get together, or easy dinners at home. Kids and adults will both be going back for seconds…thirds and fourths! Trust me. Pat and I could pretty much eat this all ourselves. Not good for the waistlines…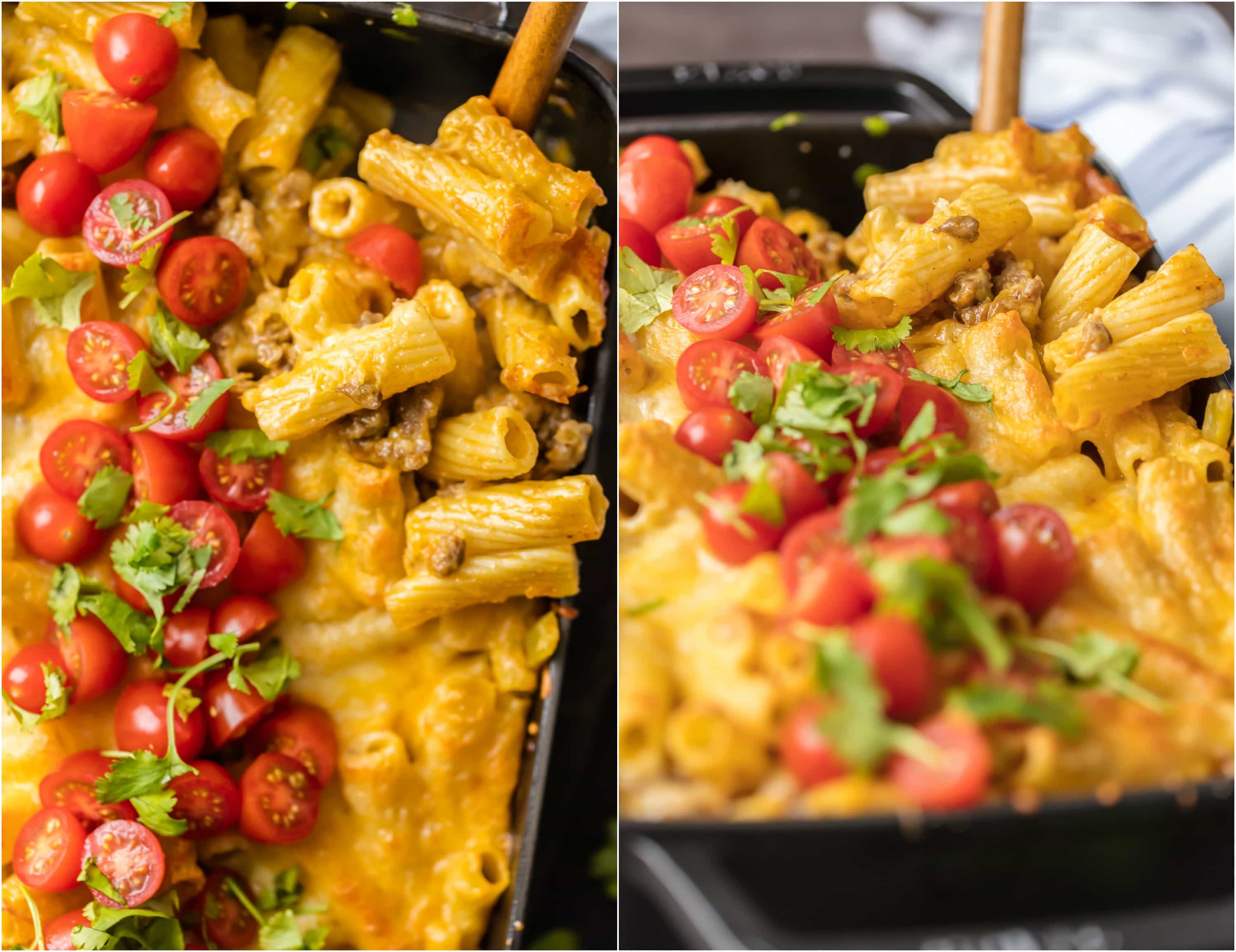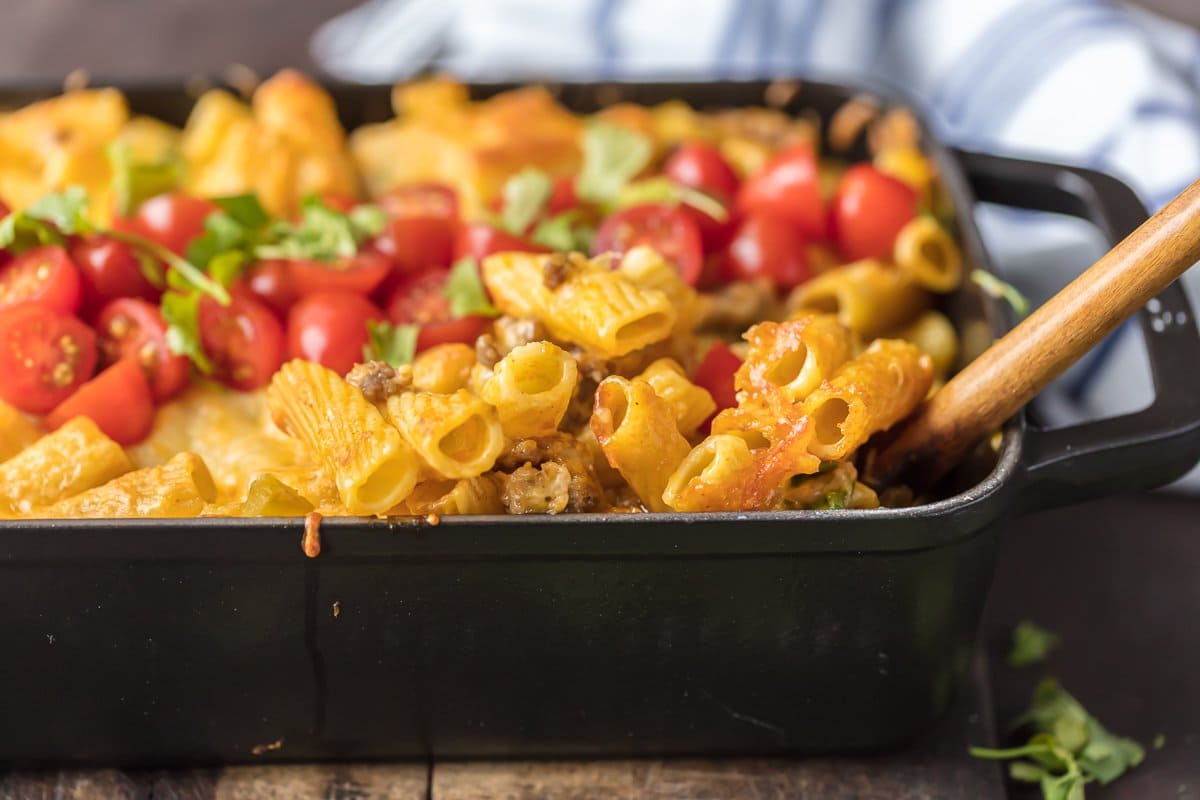 How to Make Mexican Mac and Cheese
This easy Mexican Mac and Cheese bake is super simple to make. You cook most the ingredients separately, and then combine them in a casserole dish and bake it all together. I love the way the cheese melts into everything and brings all together into one melty dish!
Cook the pasta according to package instructions
Cook the sausage, onion, and green chiles in a skillet then stir in the salsa verde
Drain the pasta & return to the pot, then stir in the sausage mixture
Layer the pasta & sausage mix into the baking dish, then shredded cheese, another layer of pasta/sausage, & top with more cheese
Bake 30-35 minutes at 350°F
When it's done cooking, top with a layer of tomatoes and cilantro
If you prefer a spicier version of this baked macaroni and cheese recipe, you could always use hot sausage, stir in some jalapeños, or use pepper jack cheese instead of Mexican blend. The possibilities are endless! See the recipe card below for full instructions.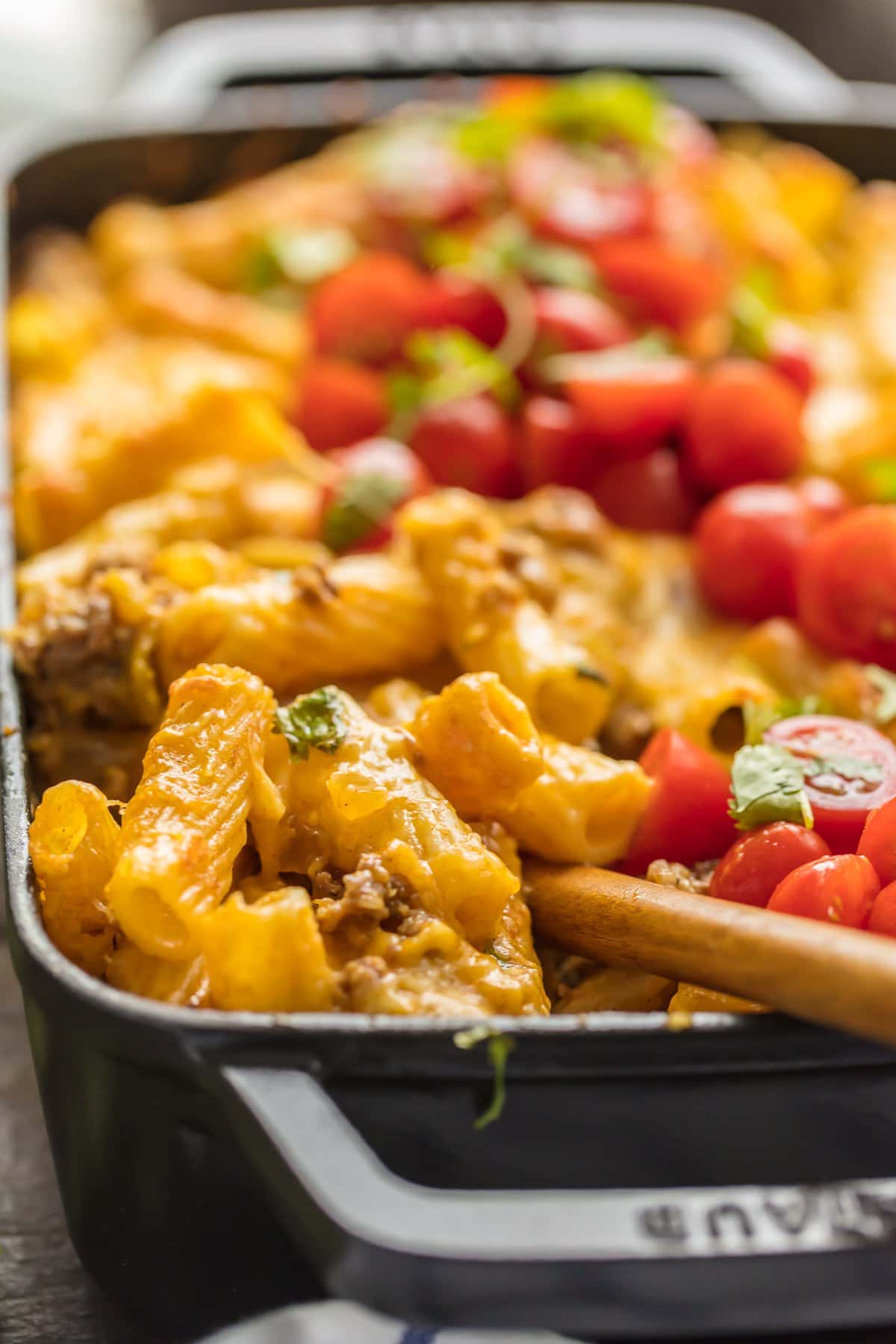 This easy mac and cheese bake is SO simple and SO tasty. I love the flavor of this Mexican Mac and Cheese and just can't get enough it. I know you'll love this baked macaroni and cheese recipe just as much as we do. So cheesy and delicious!
If you like this baked macaroni and cheese recipe, you'll love these other mac and cheese recipes too:
If you make this recipe be sure to upload a photo in the comment section below or leave a rating. Enjoy! You can also jump to recipe.