Make Ahead Breakfast Burritos are perfect for busy mornings! With this freezer breakfast burritos recipe, you can make your own at home. Store them in the freezer, then grab and go! They're easy to make, filled with delicious ingredients, and great for meal prep.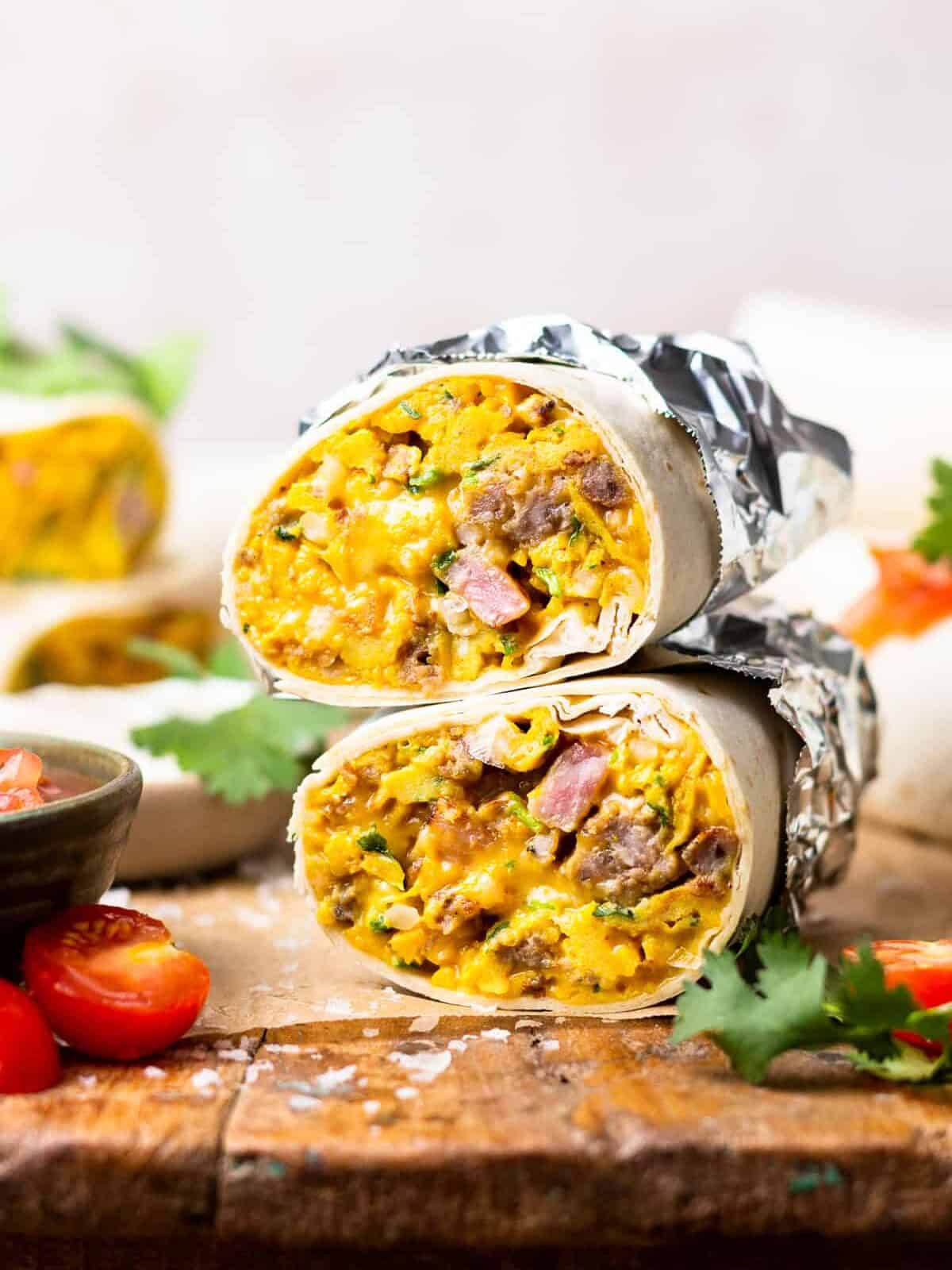 What's in Breakfast Burritos?
Inspired by our favorite Mexican flavors, these are packed with eggs, ham, sausage, hashbrowns, and cheese, then seasoned with taco seasoning. Every bite is delicious, and they are plenty filling.
Olive Oil: Helps the hashbrowns cook without burning. You can use canola, vegetable, or avocado oil instead.
Hashbrowns: Frozen hashbrowns are an easy hack for quick burritos.
Diced Ham: Adds salty, rich flavor and protein.
Crumbled Sausage: Adds fat and flavor. Feel free to swap this out for any ground meat.
Eggs: Form the base of this burrito.
Cilantro: Add fresh flavor. You can swap it for parsley if you're not a fan.
Taco Seasoning: Cheesy taco seasoning pumps up the cheesy flavor. You can use regular taco seasoning if you prefer.
Mexican Blend Cheese: Adds classic Mexican flair. You can use Monterey jack, pepper jack, or mozzarella instead.
Tortillas: I like flour tortillas, but wheat, corn, or cassava also work.
These are the perfect freezer-friendly breakfast. I always have a few on hand!
Variations on Frozen Breakfast Burritos
There are so many ways to change up these burritos. You can swap out the meat option (or leave it out completely), add your favorite seasonings and herbs, or add some veggies (like diced bell pepper). Feel free to swap whole eggs for egg whites or flour tortillas for wheat or cassava tortillas.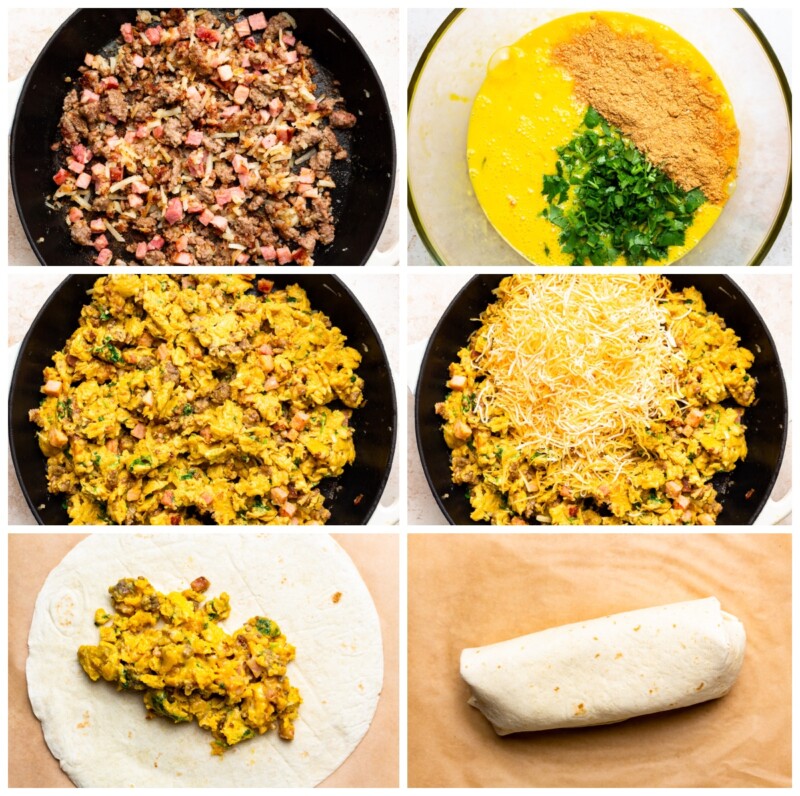 Are breakfast burritos healthy?
It's easy to change up the ingredients, so they can be as healthy as you want them to be. Use egg whites only, add veggies, leave out the potatoes, use ground turkey… there are plenty of options to make changes for your dietary preferences.
How long do these keep?
Unfrozen, the make ahead breakfast burritos will keep for a day or two in the fridge. Or you can freeze them for up to 2 weeks. They will last a little bit longer than that, but they're best within 2 weeks.
How do you fold burritos?
Place the bulk of the filling in the center of the tortillas in a long/rectangular shape. Fold in the two "short" ends over the filling. Holding those down, grab one of the remaining sides and roll it over the filling. Finish rolling, and everything should be tucked in and neat.
How to Store Freezer Breakfast Burritos
Store leftover make ahead breakfast burritos in an airtight container in the refrigerator for up to 2 days.
How to Freeze and Reheat Meal Prep Breakfast Burritos
Once you have made the breakfast burritos, let them cool slightly and wrap each one tightly in aluminum foil (a double layer is ideal). Then place them in a freezer-safe bag to keep them all together, and freeze for up to 2 weeks That's it!
When ready to serve, you can heat up the burritos straight from frozen. You can cook them on a grill pan until heated through, or microwave for a super quick meal.
If microwaving, heat on 30% for 1 minute and 30 seconds, and then on high for 1 minute 30 seconds. Microwaves vary so check after minute if you think necessary.
What to Serve with Mexican Breakfast Burritos
These make ahead breakfast burritos are filled with so many amazing ingredients (eggs, potatoes, sausage, cheese), so they are plenty filling on their own. They're truly a grab-and-go meal! For a little extra, try serving them with pancake mix muffins, banana muffins, granola, or a yogurt parfait.
They're also delicious with some fresh seasonal fruit or a refreshing breakfast drink, like a pineapple matcha, pink drink, orange ginger shot, or apple crisp macchiato.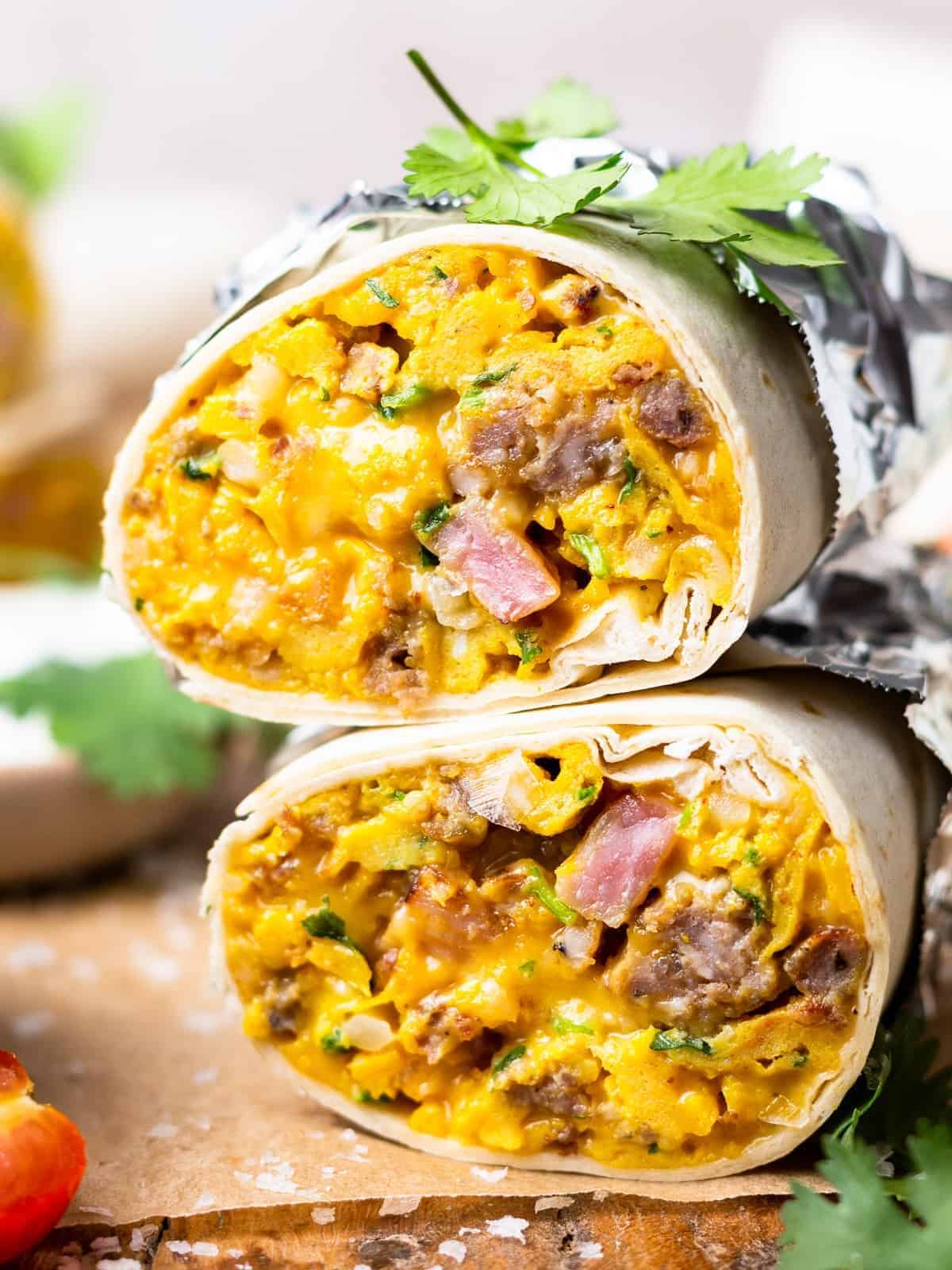 More Breakfast Sandwich Recipes We Love