Southwest Make Ahead Breakfast Burritos are a great way to make breakfast delicious and easy. These easy make ahead breakfast burritos are the perfect meal to take camping or freeze for busy mornings before school!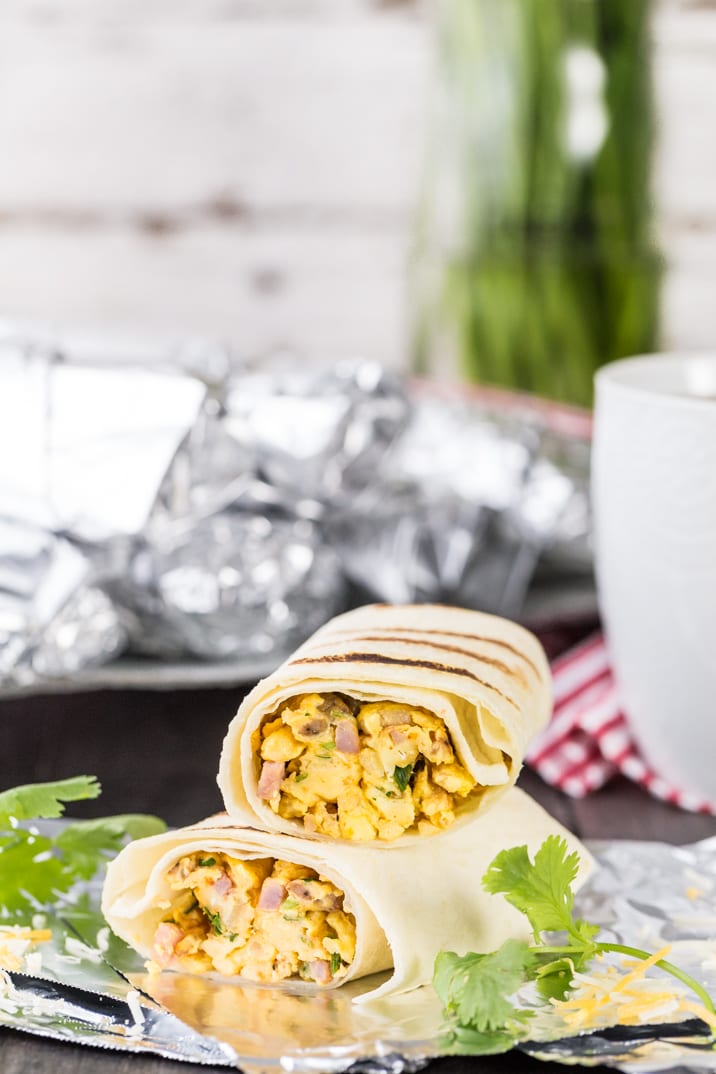 Southwest Breakfast Burritos
I have a confession to make. Pat and I spend SO MUCH MONEY on frozen breakfast sandwiches. I know, I know…please don't all judge me at once. Neither of us are morning people, and sometimes the quick and easy is the way forward!
I was inspired to create this recipe from one of my very very favorite blogs, Taste and Tell. Her original post shows how easy Breakfast Burritos like this are to take camping with kids! Click HERE to see Deb's original recipe for Campfire Style Breakfast Burritos…so fun!
These make ahead breakfast burritos have been a total game changer. Make up a big batch of them and enjoy them throughout the week right from frozen.
Packed with eggs, ham, sausage and hashbrowns and seasoned with taco seasoning, every bite is delicious!
Be sure to try my Skillet Breakfast Casserole and Ham and Cheese Breakfast Casserole too!
Why you will love this recipe!
Make ahead: The clue is in the name! Whilst these can be enjoyed as soon as you've made them, they are perfect for a quick grab and go breakfast and can be reheated in minutes from frozen.
Quick and easy: It takes no more than 30 minutes to make a batch of these burritos so you have no excuses!
So flavorful: There's nothing dull about these Southwest burritos. Every bite is bursting with flavor!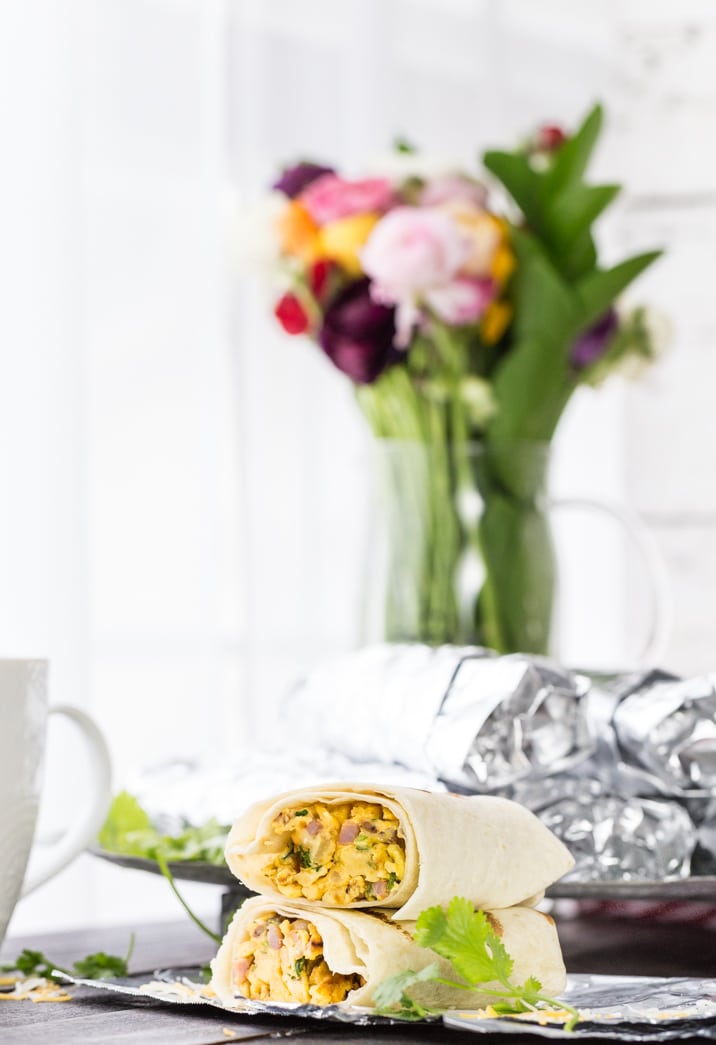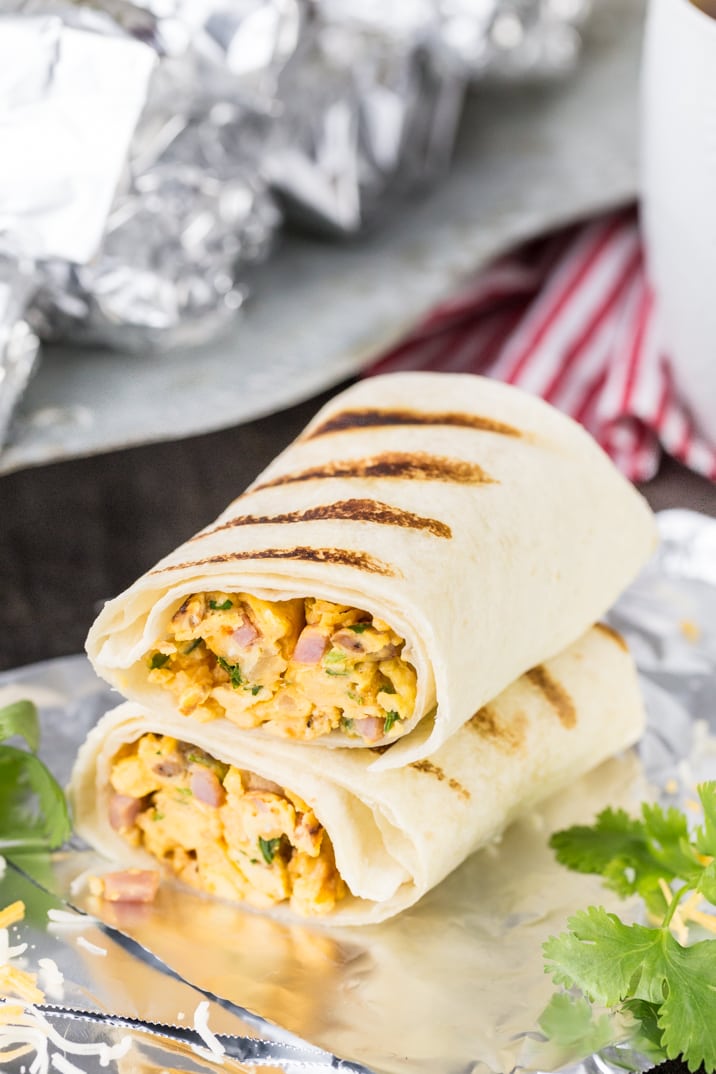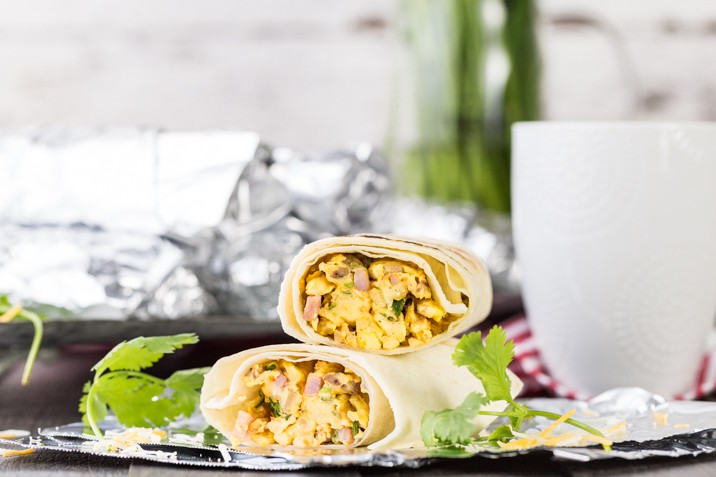 How to make Southwest Breakfast Burritos
Be sure to scroll down for the full recipe!
Cook and brown the hashbrowns, ham and sausage in a skillet.
Whisk together the eggs and season.
Pour the eggs into the skillet and stir and cook.
Stir in the cheese once the eggs are cooked through.
Spread the egg mixture onto the tortillas, fold and freeze.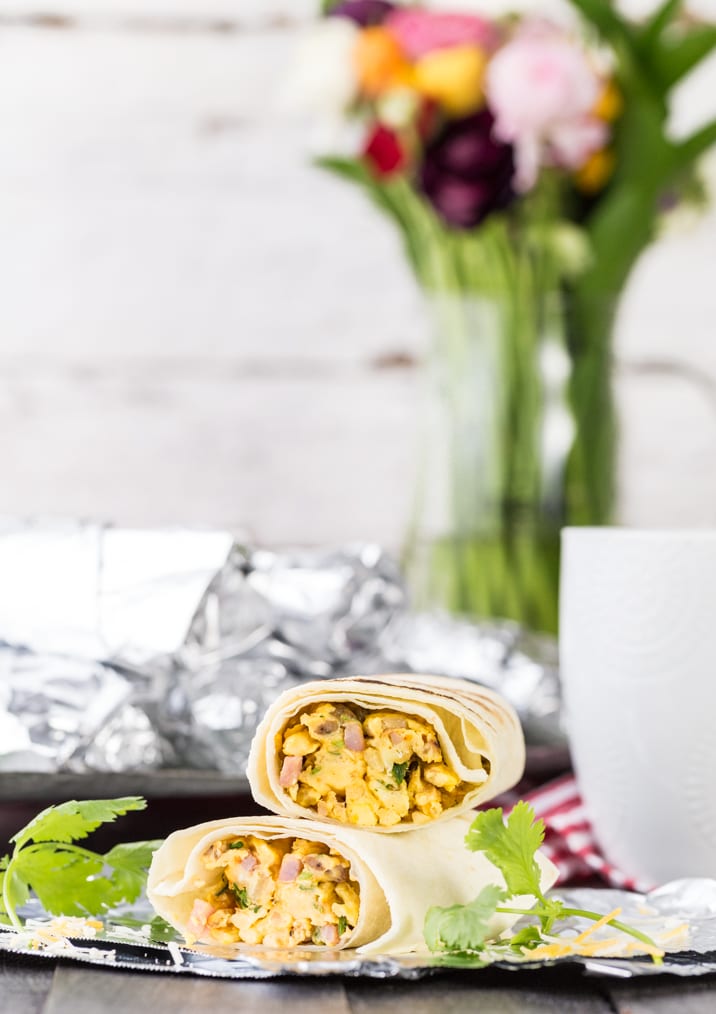 How long do they keep?
Unfrozen, the make ahead breakfast burritos will keep for a day or two in the fridge, but you can freeze them for up to 2 weeks.
Once you have made the burittos wrap them tightly in foil and then place in a freezer safe bag. Then just grab them for a super quick breakfast.
How to heat
When ready to serve, you can heat up the burritos straight from frozen. You can cook them on a grill pan until heated through, or microwave, which is a super effortless option.
If microwaving, heat on 30% for 1 minute and 30 seconds, and then on high for 1 minute 30 seconds. Microwaves vary so check after minute if you think necessary.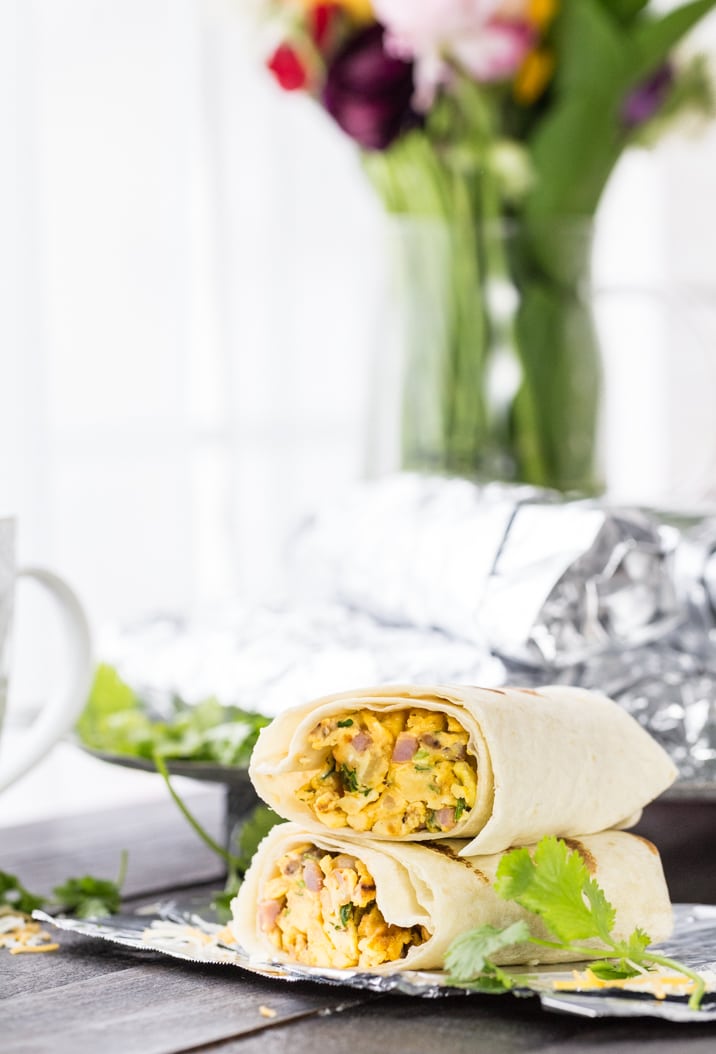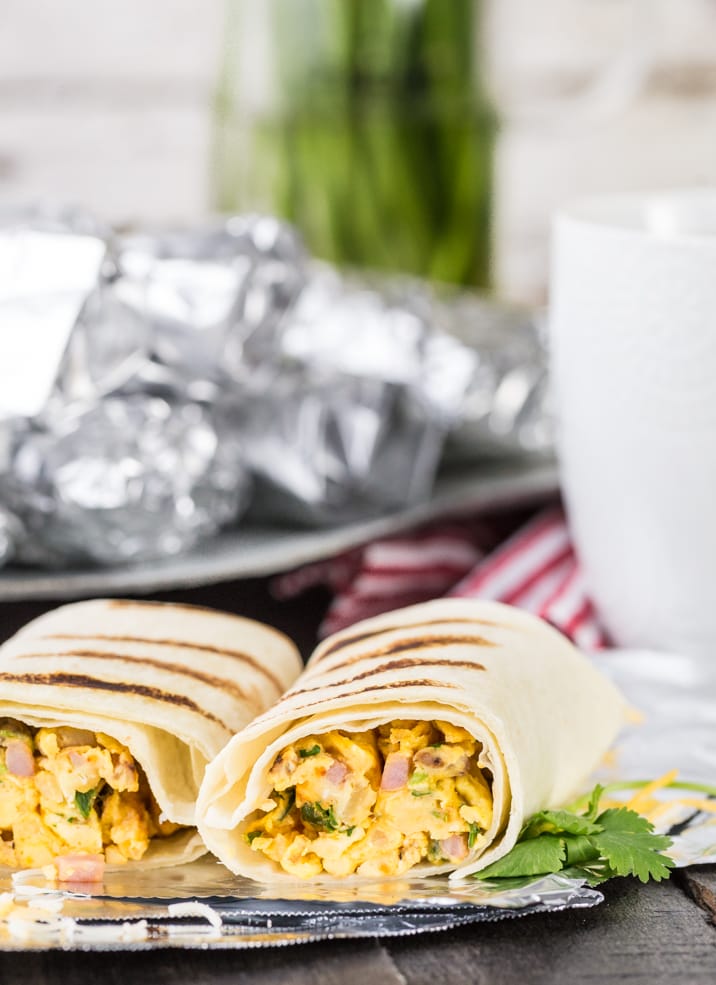 Recipe Notes and Tips
Wrap the burritos tightly in foil before placing in a freezer bag. This will help to protect them when freezing and they'll be easy to grab one at a time.
There's no need to thaw the burritos before heating.
Have fun experimenting with different fillings!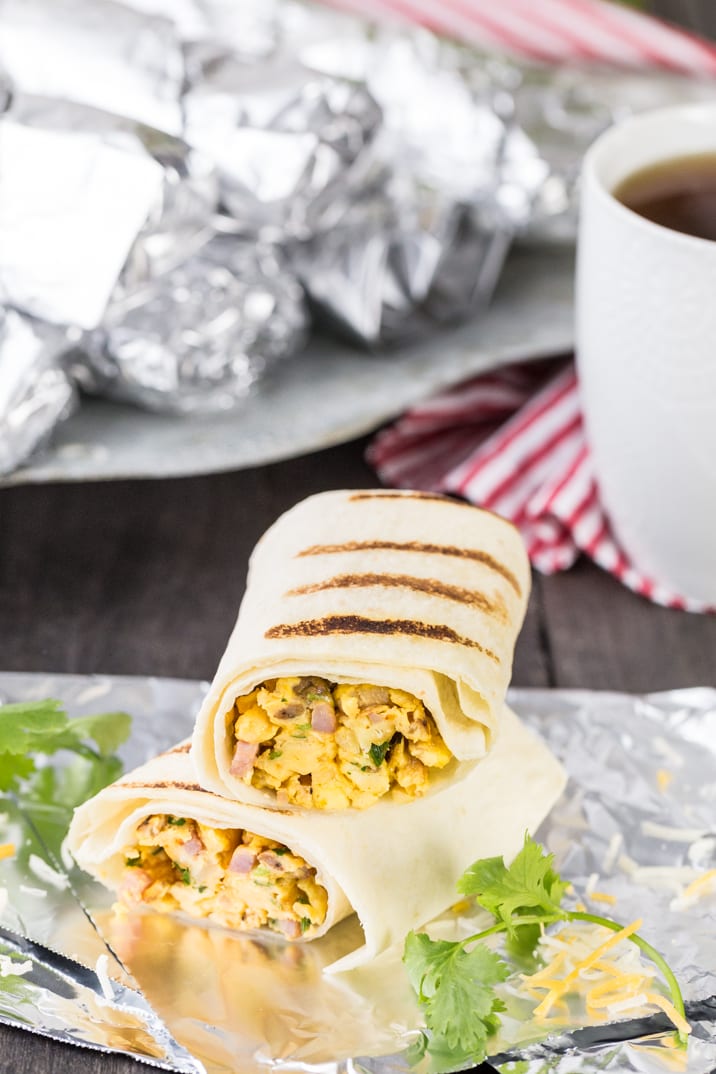 The possibilities for filling are endless, and you can make them super healthy too! I think our morning routine has just changed.
I hope this recipe makes your mornings more delicious and of course, EASIER. My mantra. Enjoy!
More Breakfast Recipes