BREAKFAST SLIDERS are so easy and perfect for feeding a crowd! These cheesy baked breakfast sandwiches are baked together in the oven for a tasty, melty mixture of flavors. Egg, ham and cheese sliders with brown sugar Dijon butter sauce on Hawaiian Rolls…the perfect breakfast recipe for tailgating, or any morning when you've got a hungry family.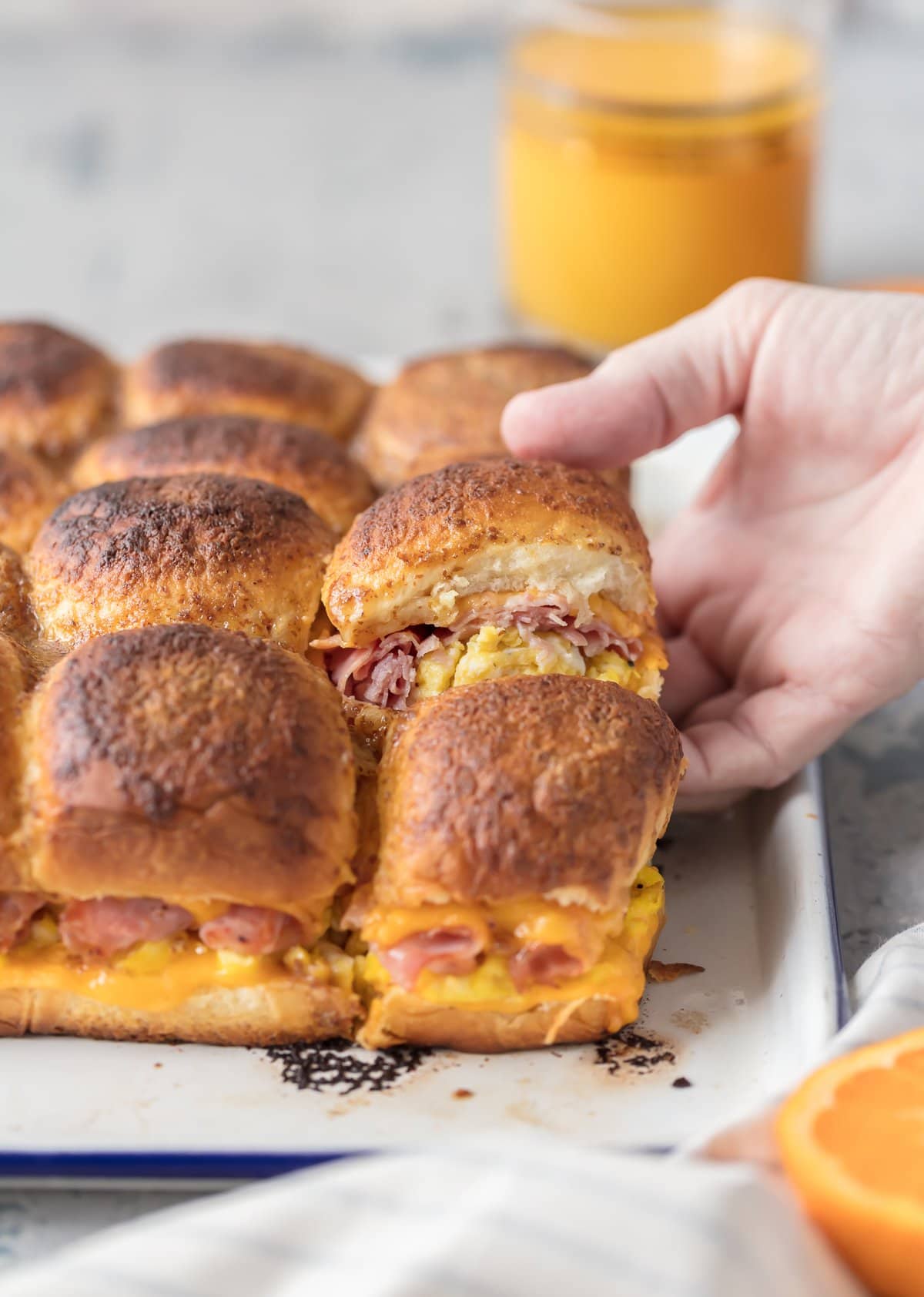 Breakfast Sliders with Ham Egg & Cheese
Breakfast Sliders are the ultimate breakfast recipe for hungry families. You can make a lot of these ham, egg, & cheese Hawaiian sliders on one tray, easy to make and easy to eat!
This Mother's Day is a special one, because it's the first one that I get to experience as a MOM. I can't believe our small fry has been on this Earth for over 2 months, and that I get to be his Mom.
He is just the sweetest thing. As exciting as that is, I've always liked Mother's Day even before I was a Mom, because I have the absolute BEST Mom.
Even just yesterday she came over for the sole purpose of being my hand model for this post. Well that and playing with Henry, but the point is she is always ready and willing to help me anytime. I am so lucky.
All of us should take time this weekend to celebrate MOM, and there is no better way than making her breakfast in bed! That being said…let's make this easy. We aren't all chefs (me included), and Mother's Day is not a time to take on something too crazy.
These Cheesy Baked Breakfast Sliders are the perfect DELICIOUS breakfast to make for Mom; easy and delicious! Kids can even jump in and help assemble these bad boys. C'mon Dads…you can do it!
These egg, ham and cheese sliders with brown sugar dijon butter sauce are beyond delicious. So cheesy, so easy, and so crave-worthy. It's such a fun breakfast recipe to make for the family.
Make these Ham, Egg, & Cheese Breakfast Sliders for the family, or make them for an early day of tailgating!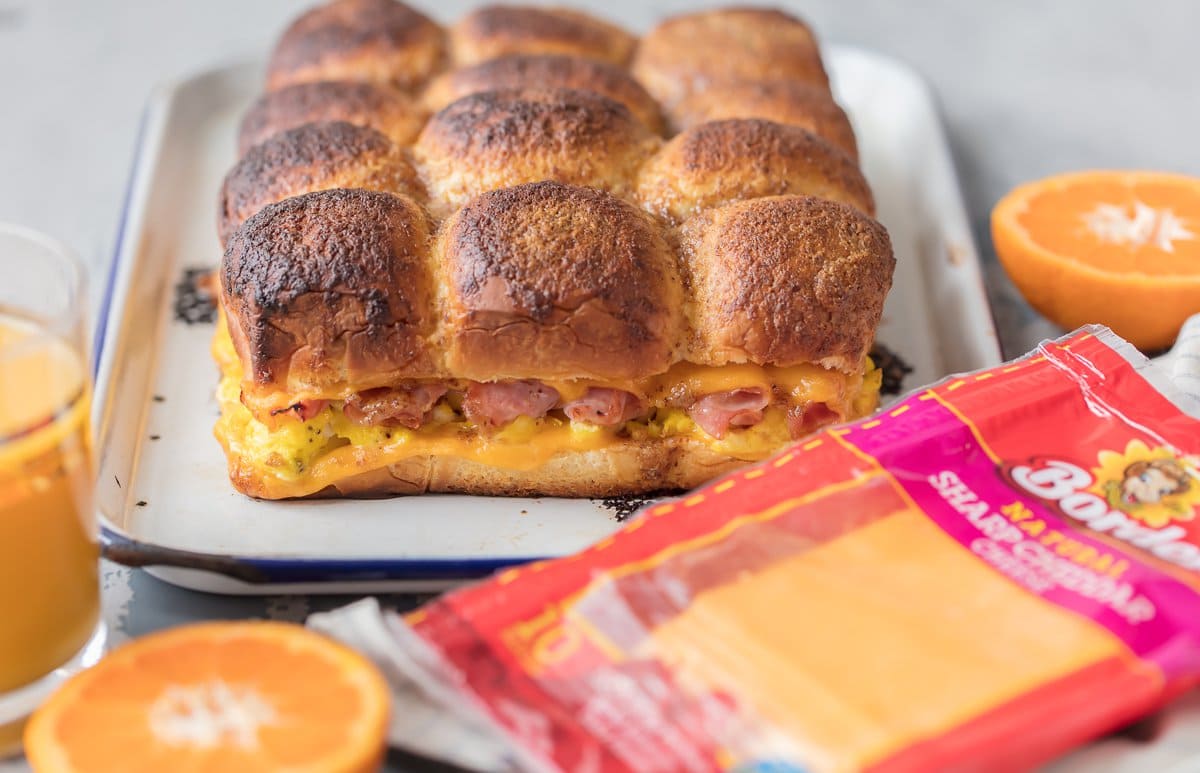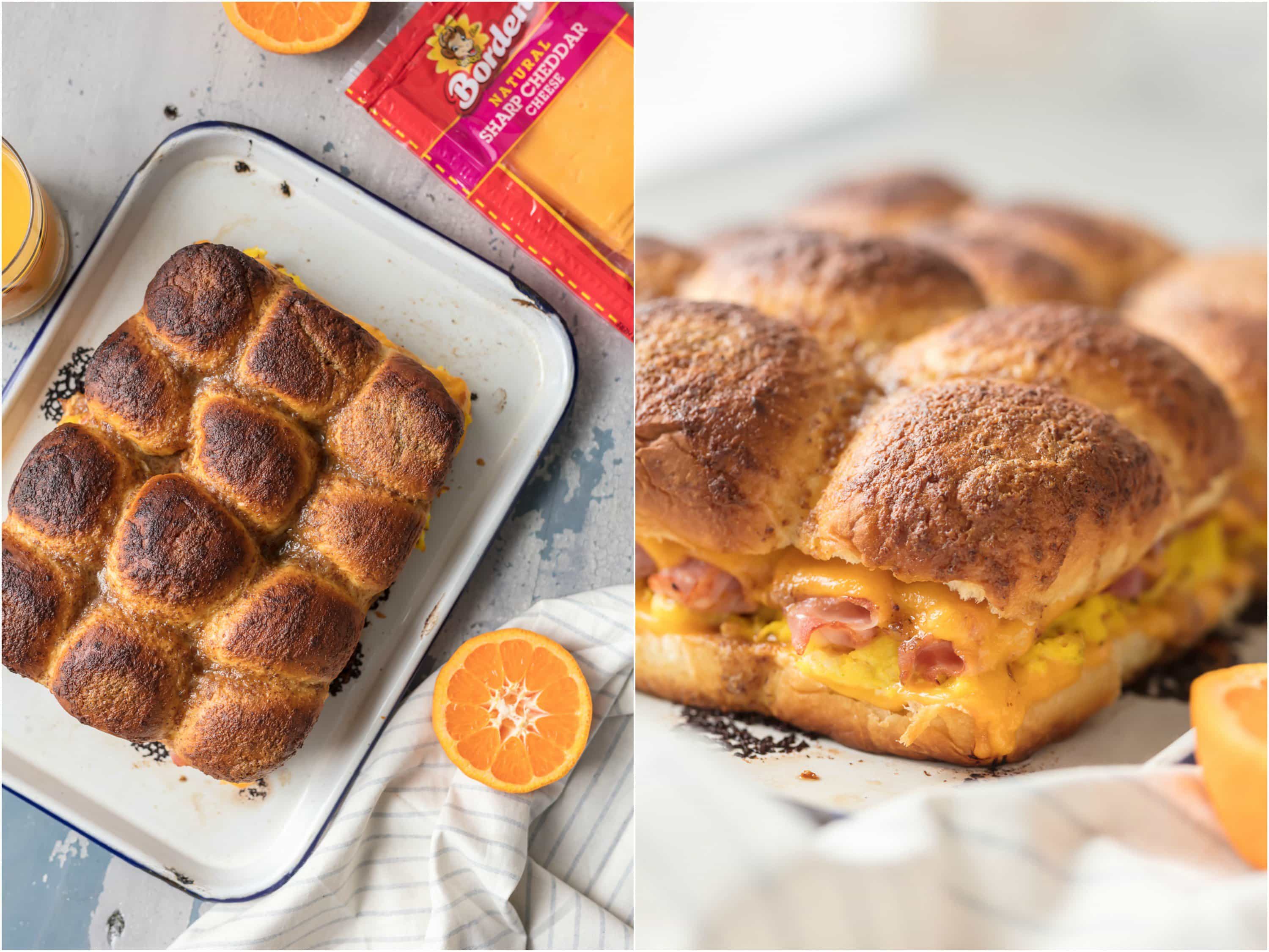 Egg, Ham and Cheese Sliders with Brown Sugar Dijon Sauce
Great ingredients like eggs, ham, and cheese bring families together in the kitchen and around the table, and Summer is the perfect time for togetherness.
Mother's Day kicks off Summer for me, so these Cheesy Baked Breakfast Sliders will be a favorite all Summer long.
Sweet rolls, sharp cheddar, scrambled eggs, honey ham, and more cheese, all topped with a brown sugar dijon butter sauce. I mean, WOW. I can't wait for you to make this tasty breakfast recipe for your families and especially your moms! Sharp Cheddar Slices make this easy recipe a memorable one right from the start!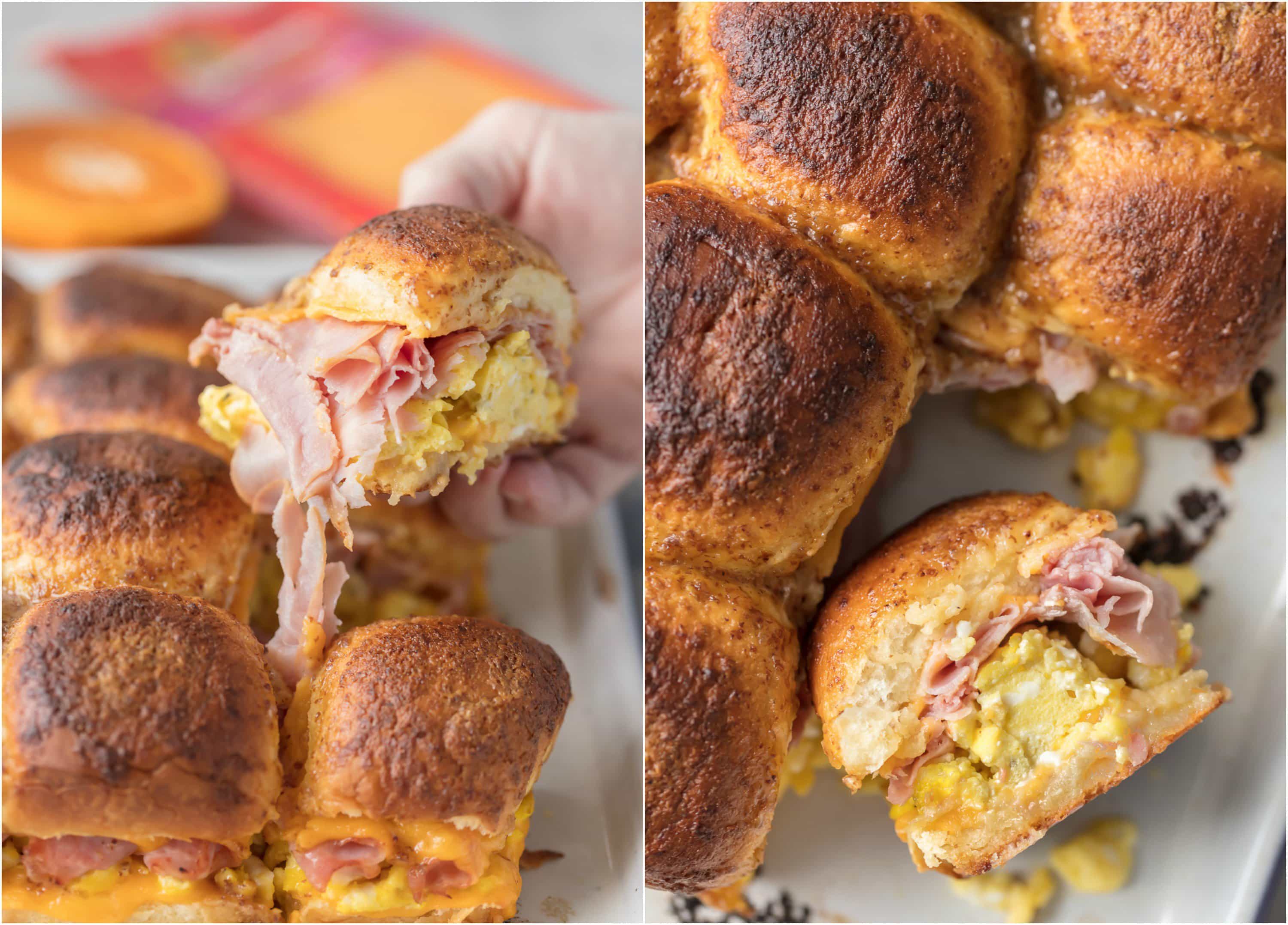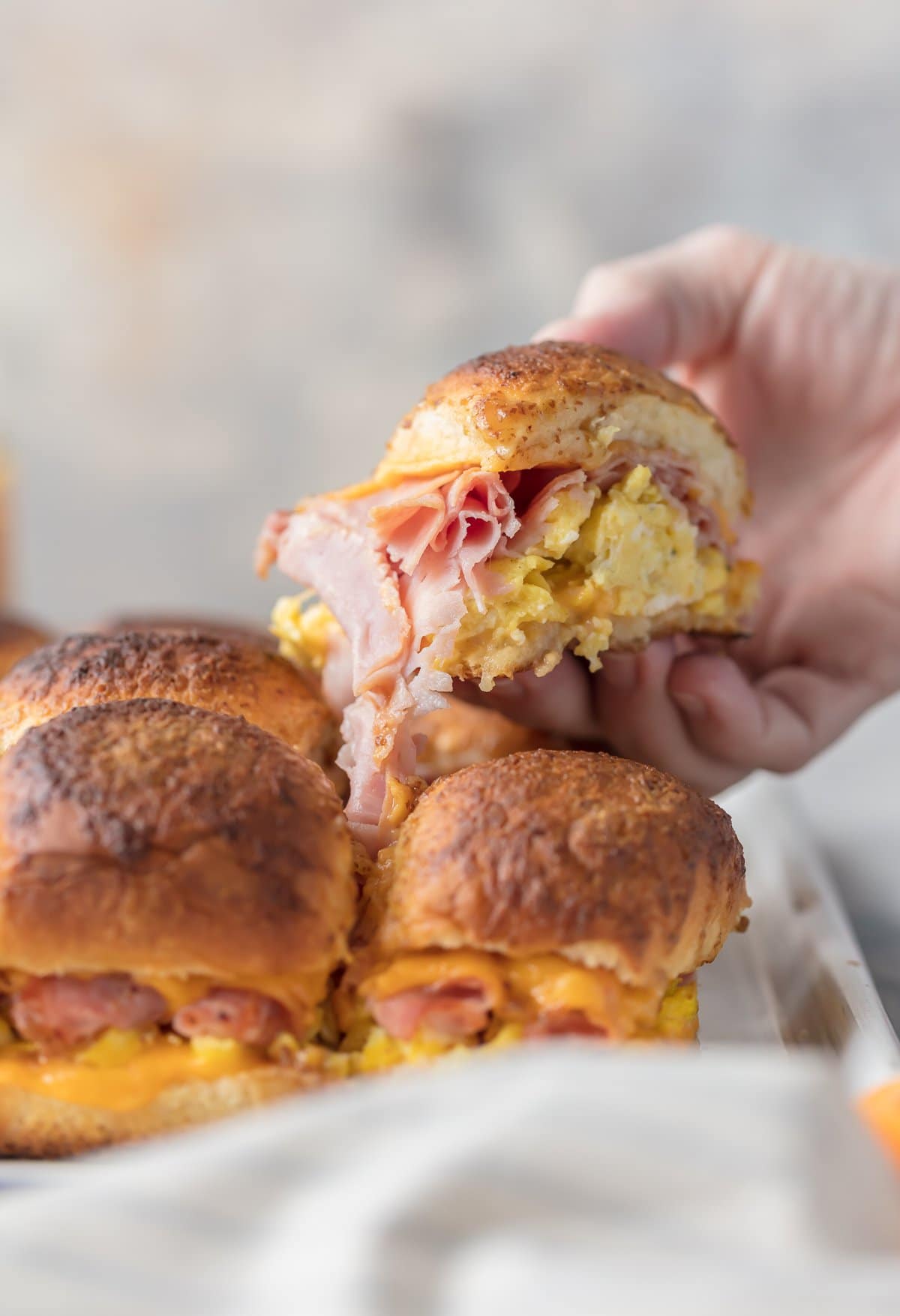 Hawaiian Sliders Breakfast Recipe for a Crowd
I've made Ham & Cheese Hawaiian Sliders before (and they are SO GOOD), but those are more of a lunch recipe. I just had to turn these into a breakfast recipe, because I can't get over how good they are. I added eggs, more cheese, and an amazing brown sugar dijon butter sauce to give them a little but more sweetness.
These cheesy baked breakfast sliders are the perfect recipe for a crowd, because you can make a lot on one baking tray. I love how they bake together, and then you can pull them apart one by one…kind of like cinnamon rolls! They just taste better when everything is baked in one big clump of cheese, egg, ham, and sauce.
So if you have a lot of people to feed–whether it's a big family, friends visiting from out of town, or an early morning tailgating party–this easy breakfast sliders recipe is perfect!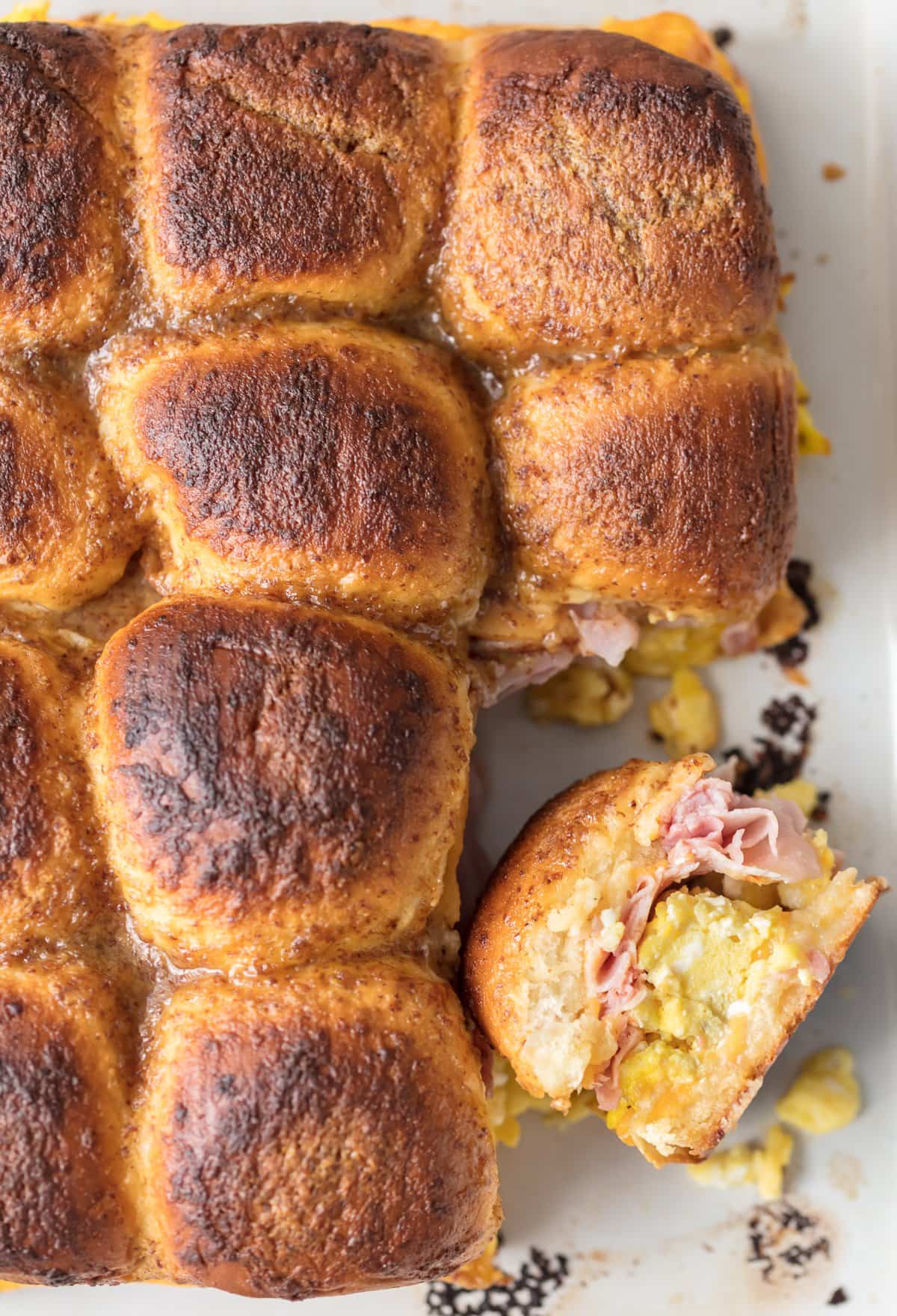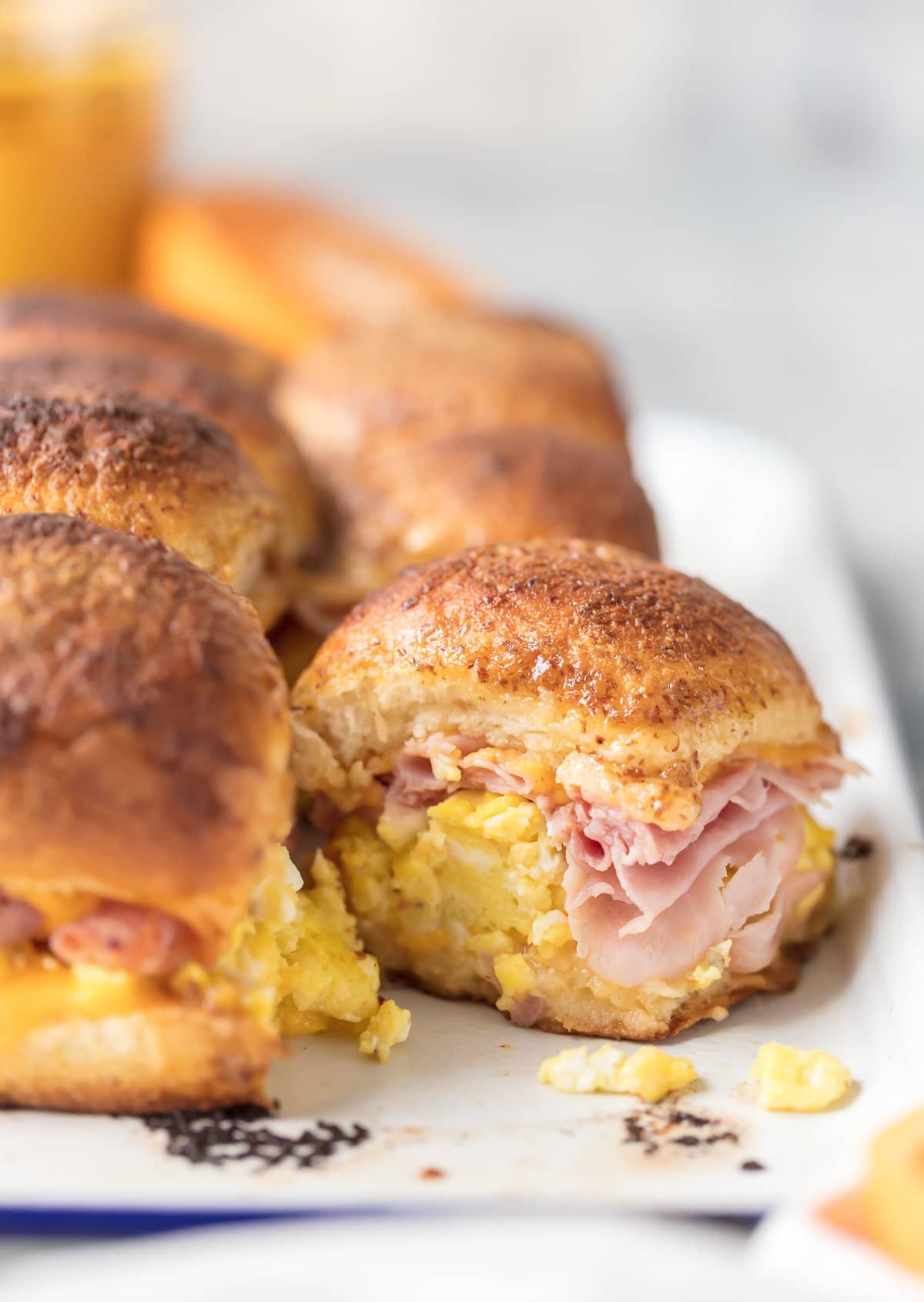 How to Make Ham, Egg & Cheese Breakfast Sliders
This ham and cheese sliders breakfast recipe is super easy. I love that you can make this up for a bunch of people without too much hassle.
How to Make Breakfast Sliders:
Start by scrambling the eggs, then set aside
Place the bottom half of the rolls on a lined sheet pan (do not separate the rolls; leave them connected)
Cover the rolls with 6 slices of cheese, be sure to cover the entire layer of rolls
Add the scrambled eggs next
Now layer on the ham
Then add more cheese
Place the other half of the rolls on top
Mix melted butter, Dijon, and brown sugar together to create the sauce & pour over the sliders
Bake for 20 minutes at 350°F
Note: treat the rolls as one when assembling them. Make sure you cover the entire length of the rolls as you add on the cheese, eggs, and ham. See below for full instructions.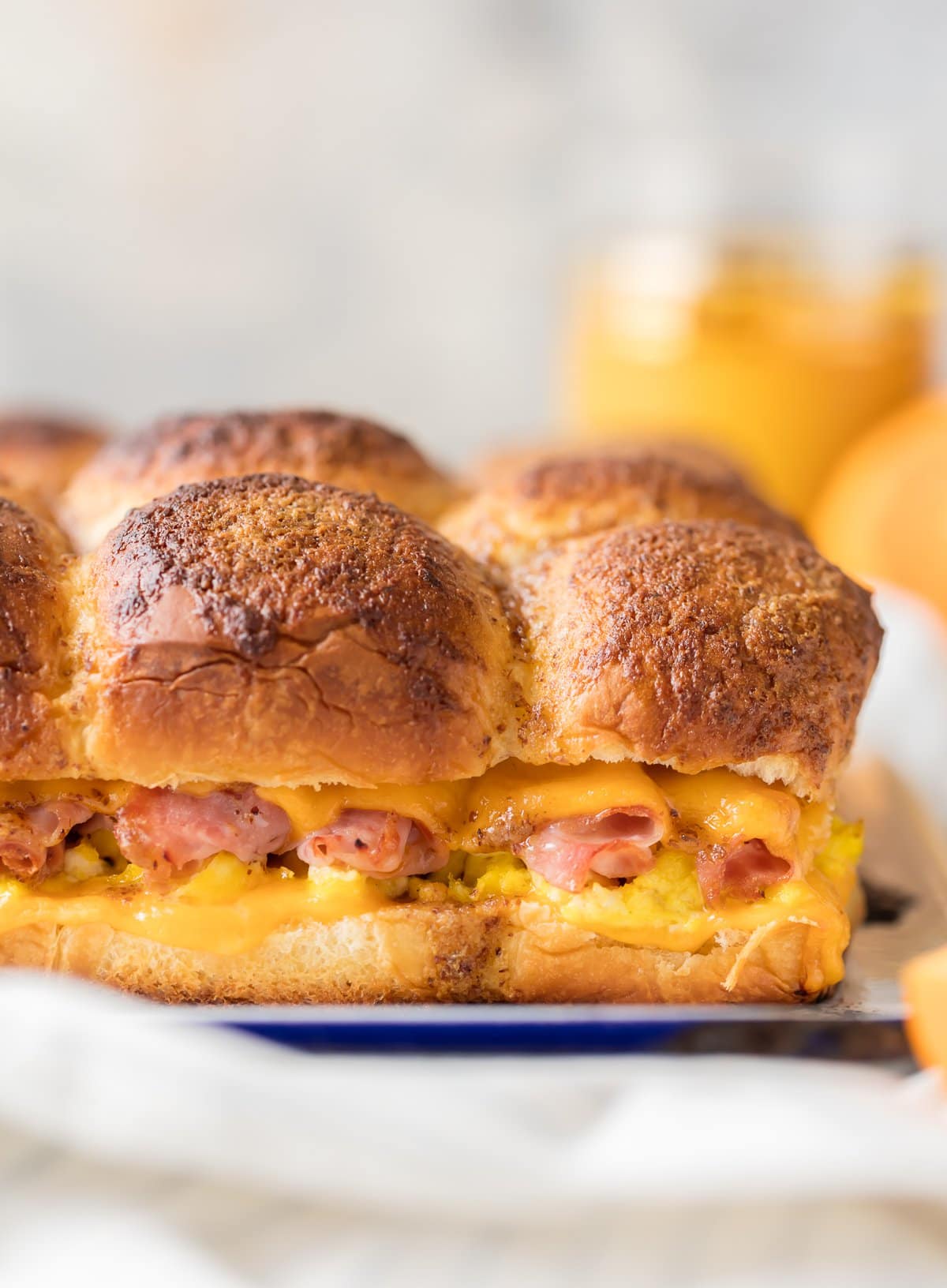 These cheesy baked breakfast sliders are just perfect for Mother's Day, but they would also be perfect for early morning tailgates, breakfast for guests, and so many occasions in between. I'm obsessed! Happy Mother's Day to all those great moms out there. Spoil them with cheese and lots of it!
Watch the Video & See the recipe card for details on how to make these Cheesy Baked Breakfast Sliders. Enjoy!
If you like these breakfast sliders, try these other breakfast recipes too: