Cold Brew Coffee is so easy to make, and even more delicious than what you can buy at Starbucks! If you've ever wondered how to make iced coffee at home, you've come to the right place. Having a glass of homemade iced coffee is the best way to start your day.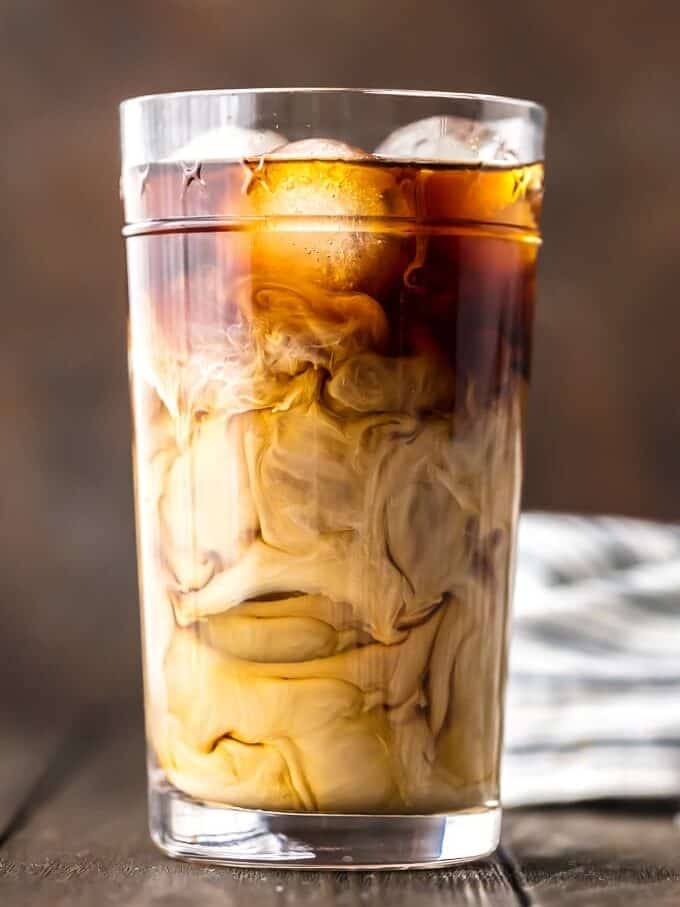 What's in Cold Brew?
This Cold Brew Coffee Recipe is as simple as letting your favorite coffee grounds soak in water overnight, straining in the morning, and then mixing with our favorite perfect homemade creamer.
Water: Filtered water will give you the best taste, but tap water works just fine.
Coffee Grounds: I like dark roast, but it's your coffee, so use your favorite grounds.
Heavy Cream: Adds richness and creaminess to this iced coffee.
Sweetened Condensed Milk: Adds even more richness and sweetness to this iced coffee.
Pro Tip: Freeze some coffee in an ice cube tray to make coffee ice cubes. You'll never drink watered-down iced coffee again!
Variations on Cold Brew Coffee
It's so easy to make this iced coffee recipe your own by changing up the flavoring. You could use different flavored coffees and/or syrups, or try: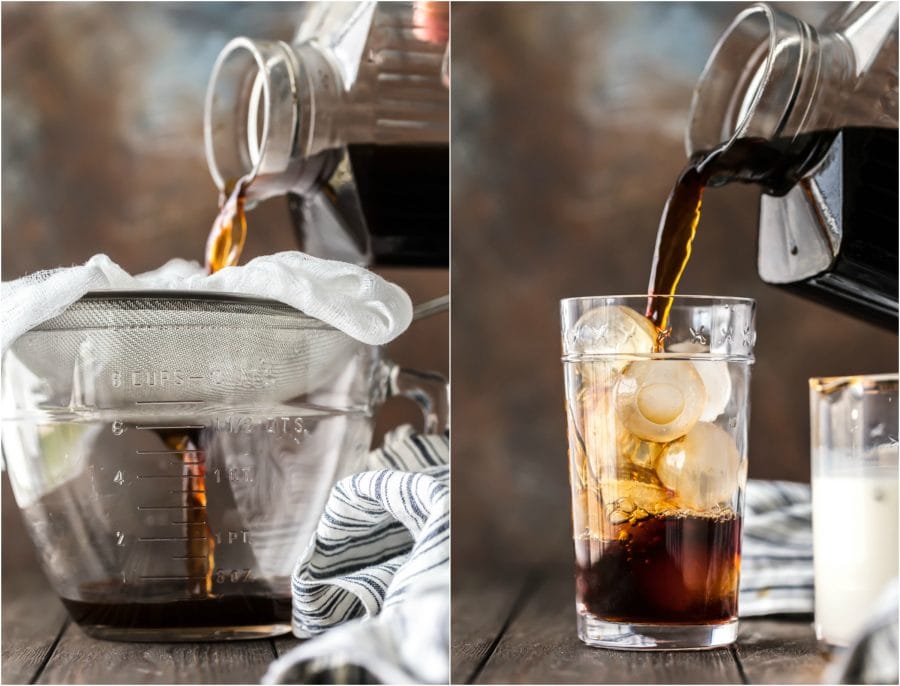 What is cold brew coffee?
Cold brew coffee, also called cold water extraction or cold pressing, is the process of steeping coffee grounds in water at cool temperatures for an extended period.
Does cold brew have more caffeine?
I've designed this recipe to be pretty close to the same caffeine levels as traditional coffee, so no need to worry about overdoing it!
Is cold brew less acidic?
Yes! Cold-brewing coffee makes it mellower, smoother, and more flavorful. It'll also stay fresh tasting for much longer!
What's the best kind of coffee for cold brew?
The best kind of coffee is your favorite coffee! Use a brand you already love, or experiment with something new.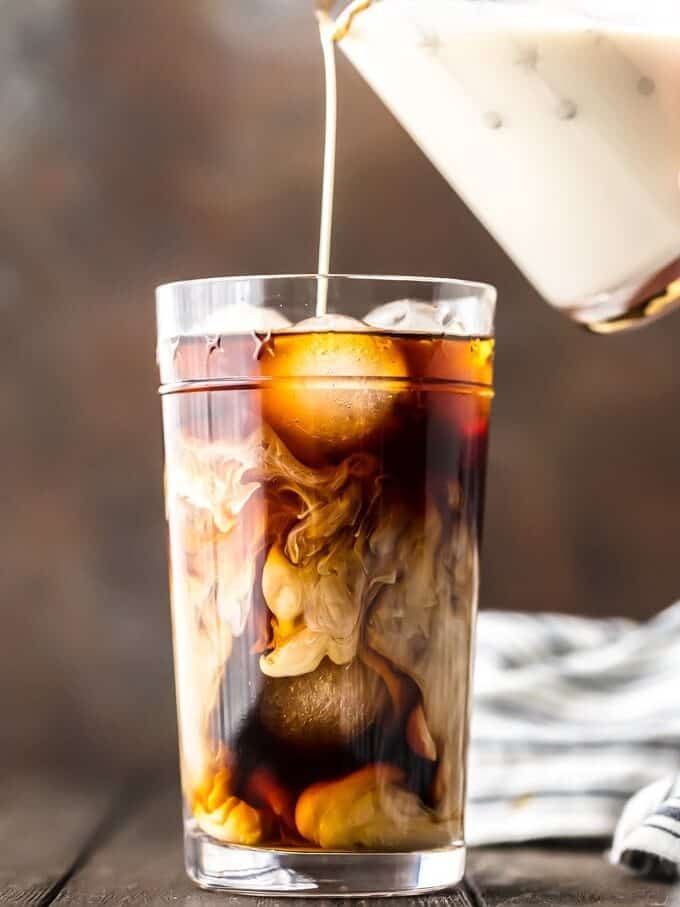 How to Store
Store leftover cold brew in an airtight container in the refrigerator for up to 4 days.
Serving Suggestions
A great cup of coffee is the perfect way to start any and every day. Some mornings I just simply don't want hot coffee… I want it cold! If you want to love mornings even more, be sure to check out some of our favorite breakfast recipes, like Ham and Cheese Breakfast Casserole or Baked Breakfast Sliders. If a smoothie is more your speed, take a stab at our Glowing Skin Smoothie or Simple Mango Smoothie!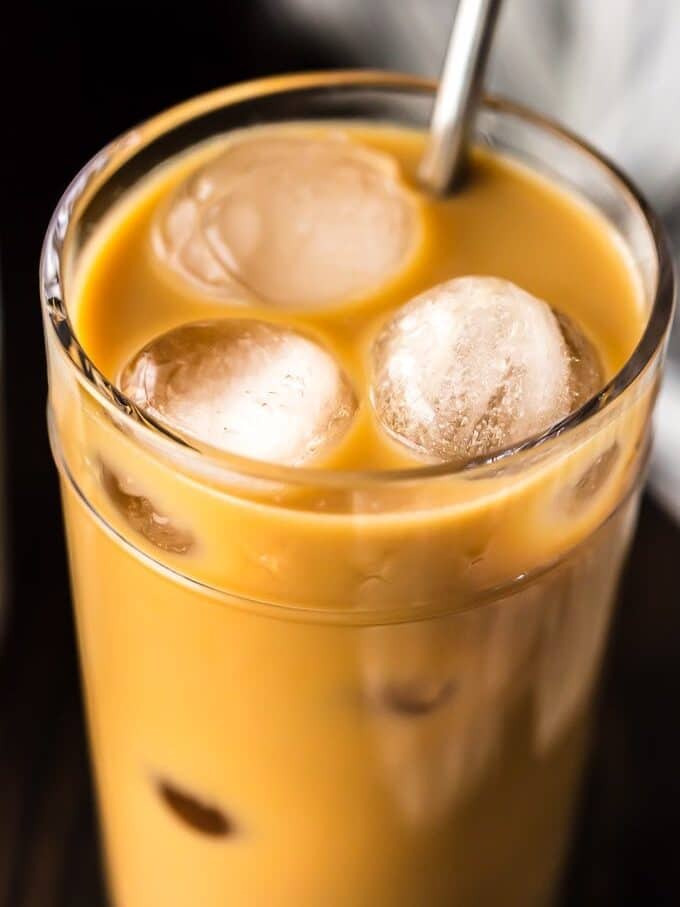 More Iced Coffee Recipes We Love