Iced Coffee is so easy to make, and even more delicious than what you can buy at Starbucks! If you've ever wondered how to make iced coffee at home, you've come to the right place. This Cold Brew Coffee recipe is EASY, delicious, perfectly sweet, and so addicting. Having a glass of this Homemade Iced Coffee Recipe is the best way to start your day.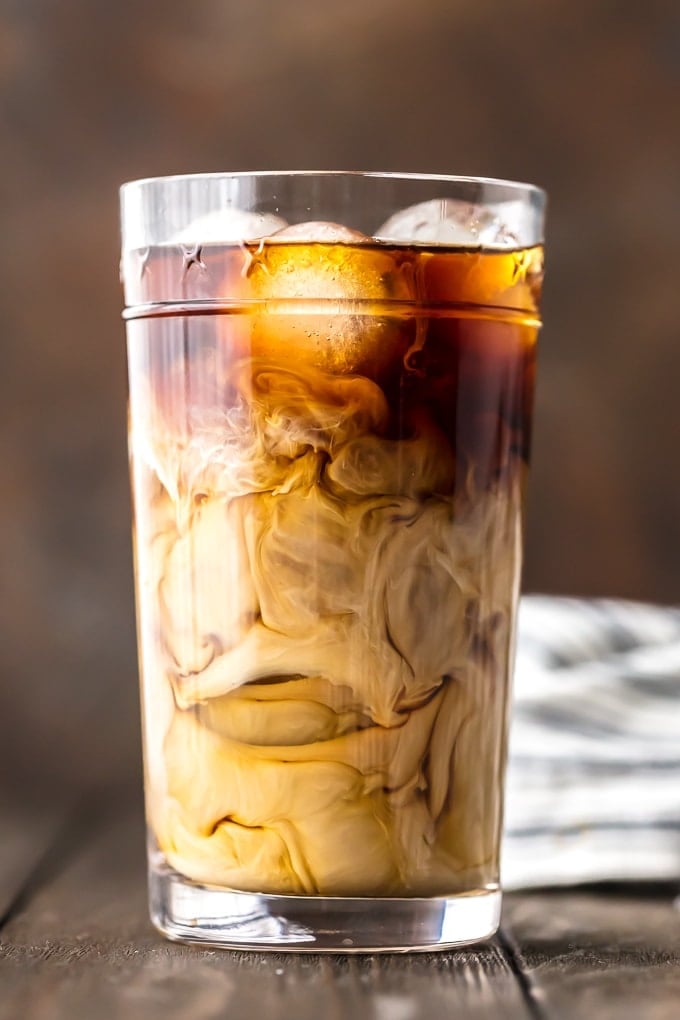 How to Make Iced Coffee at Home
Making Homemade Iced Coffee is so much easier than you think. There are lots of recipes for how to make Iced Coffee on the internet, but I happen to think ours is the BEST ICED COFFEE RECIPE you'll ever try.
We have a few little secret tips and tricks that will take you from pretty good to AMAZING and start your day with just the right amount of sweetness and caffeine first thing in the morning.
This Iced Coffee Recipe is my go-to Coffee Recipe and also my favorite thing to make in bulk for new moms!!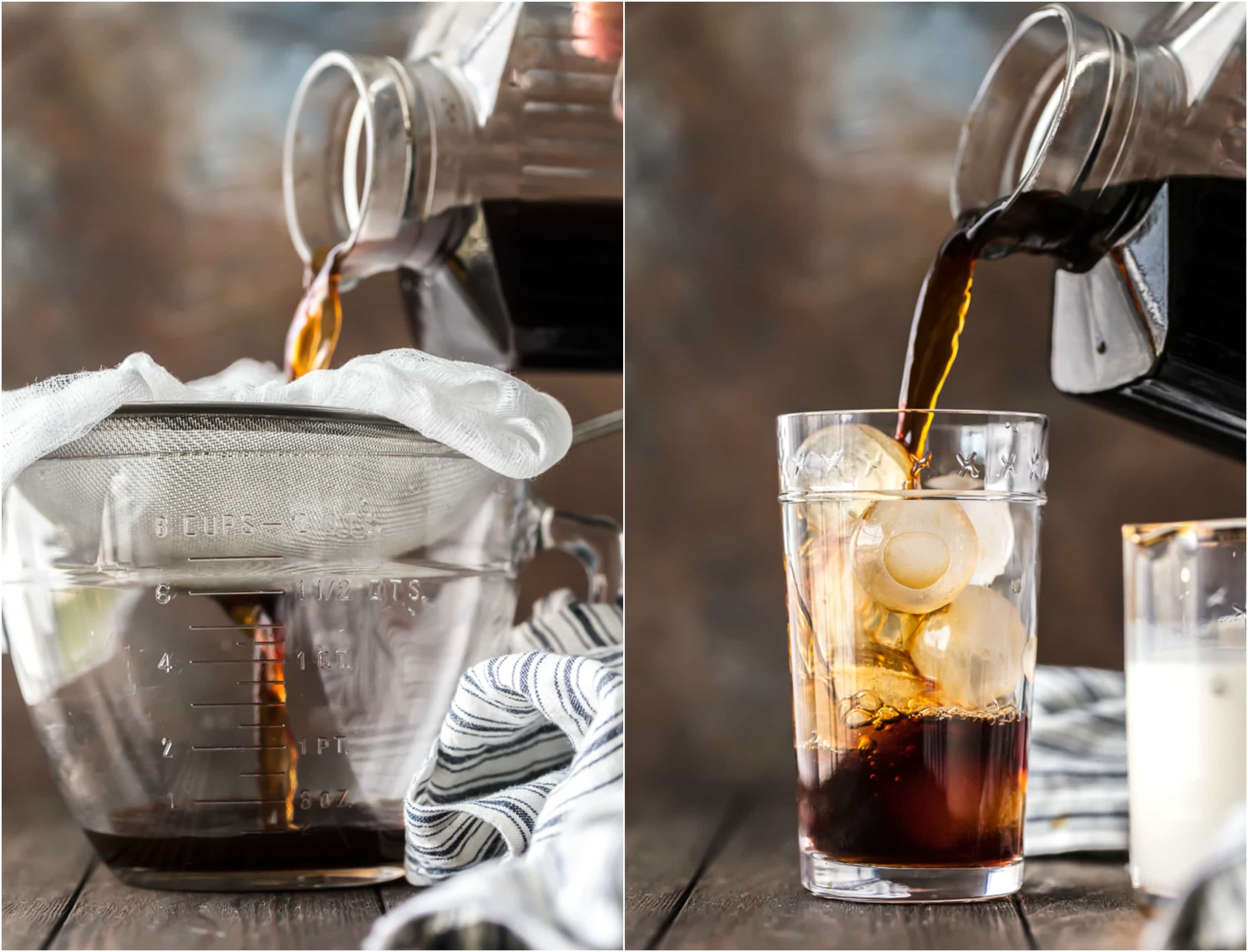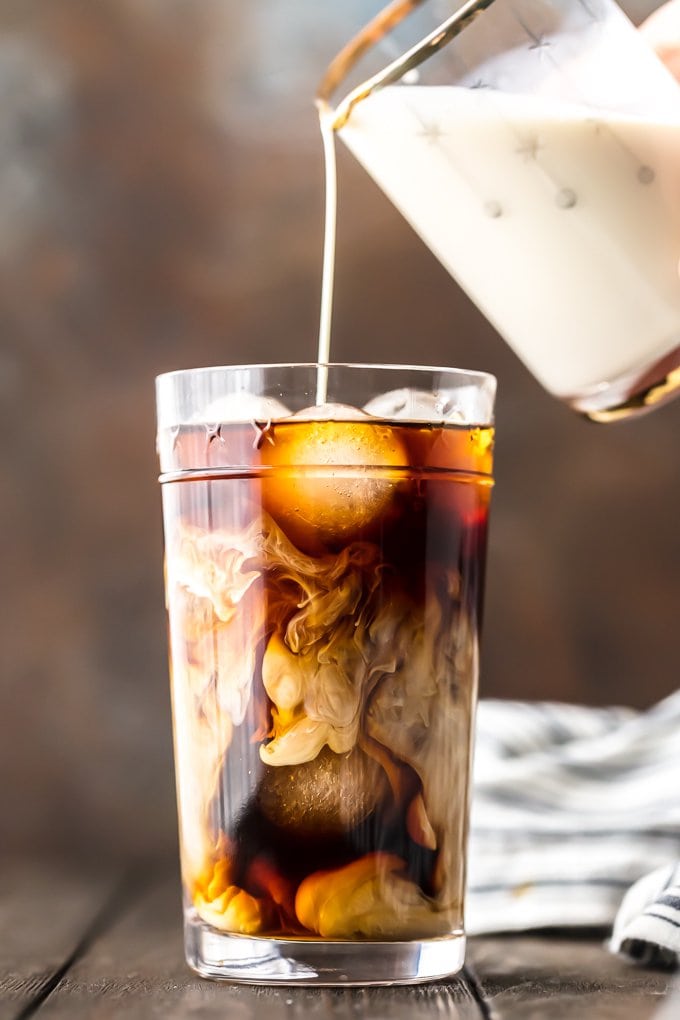 Homemade Iced Coffee
I'm not going to try to make you do anything complicated with this Iced Coffee Recipe. I want things to be EASY and SIMPLE, especially in the morning. I am NOT a morning person, and coffee is something I need right away to even be pleasant to those around me.
Even though we aren't going to be doing anything super stressful, I'm also not going to let you use chilled brewed coffee. We are better than that, come on!
Cold Brew Coffee Recipe
This Cold Brew Coffee Recipe is as simple as letting your favorite coffee grounds soak in water overnight, straining in the morning, and then mixing with our favorite perfect homemade creamer. You can use as little or as much as you want, to make this Iced Coffee exactly how you like it. You can keep the creamer and cold brew separate in the fridge and enjoy every morning. Sounds awesome, right?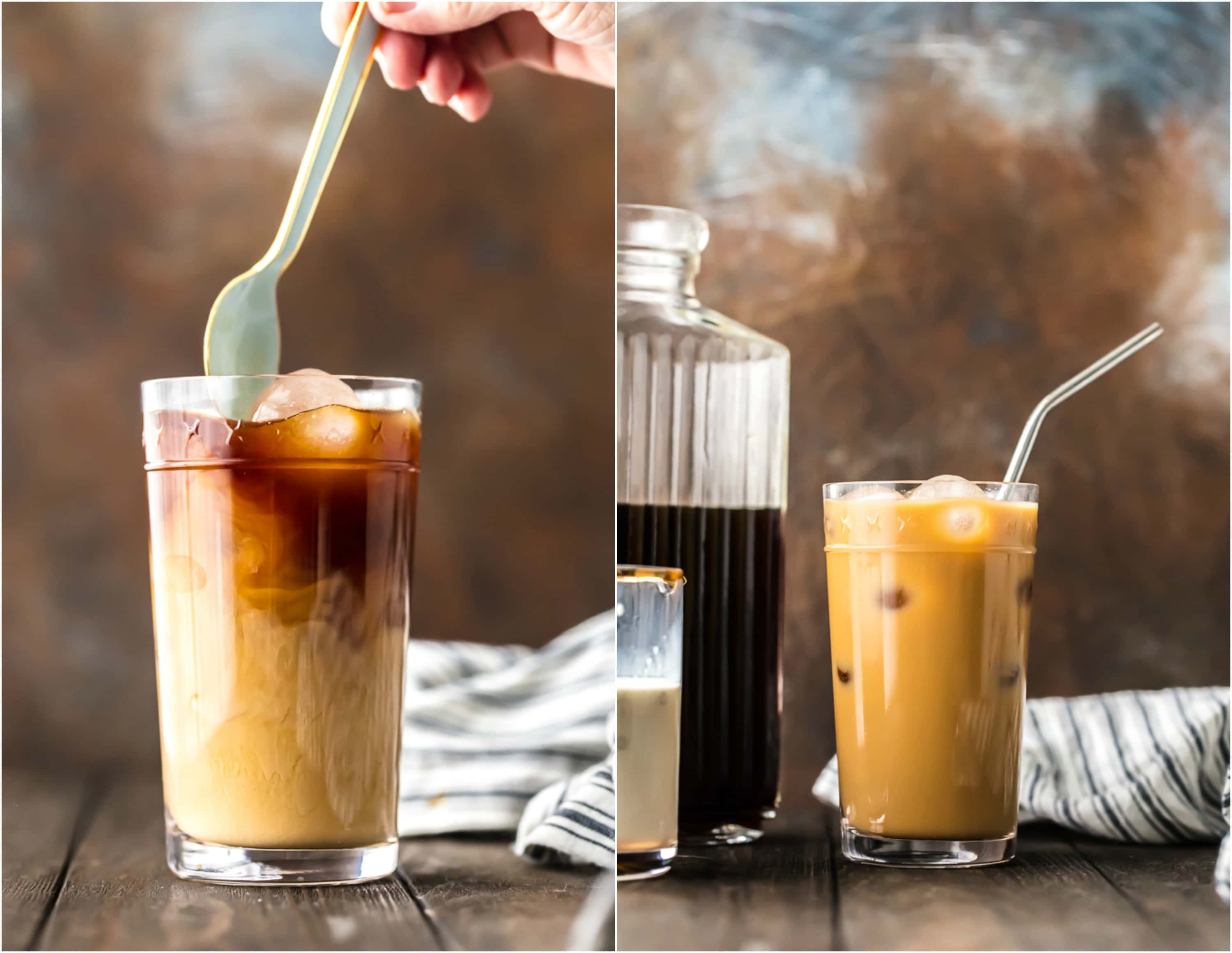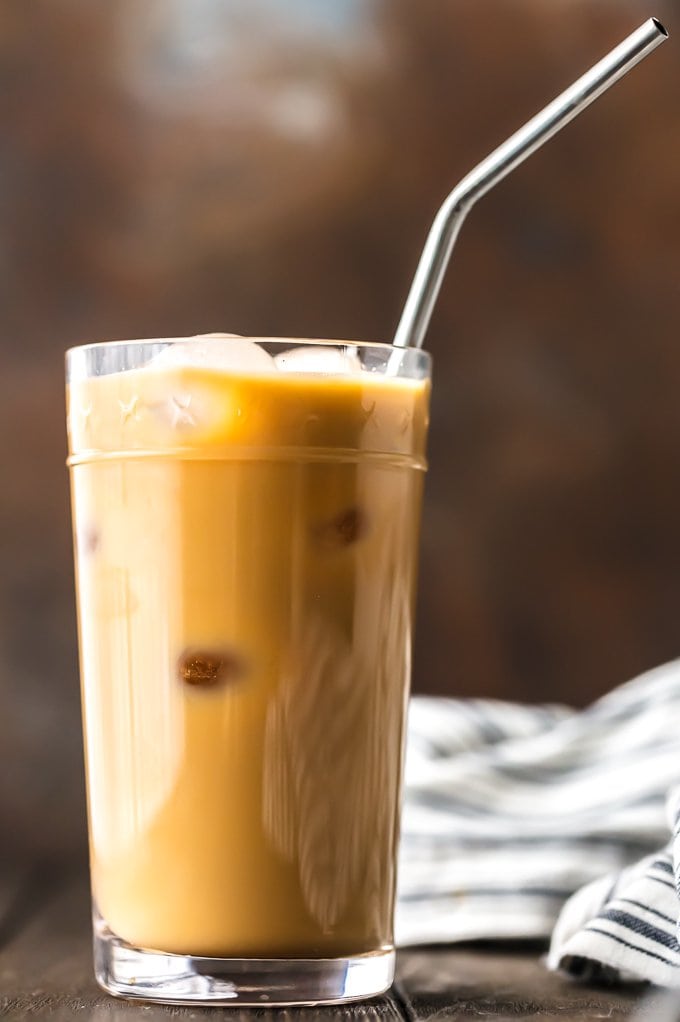 Easy Iced Coffee Recipe
You can pour over ice or make coffee ice cubes (just freeze brewed coffee in cute ice cube trays and you're in business!) and you're ready to rock any day. Our creamer is an amazing mixture of half and half (milk and cream) and sweetened condensed milk. SHHHHHH! Don't tell anyone. It can be our little secret.
It's SO GOOD, creamy, and just the right touch of sweetness. Apart from the sweetened creamer, we aren't going to add any extra sugar or sweetener to this coffee. Awesome, right?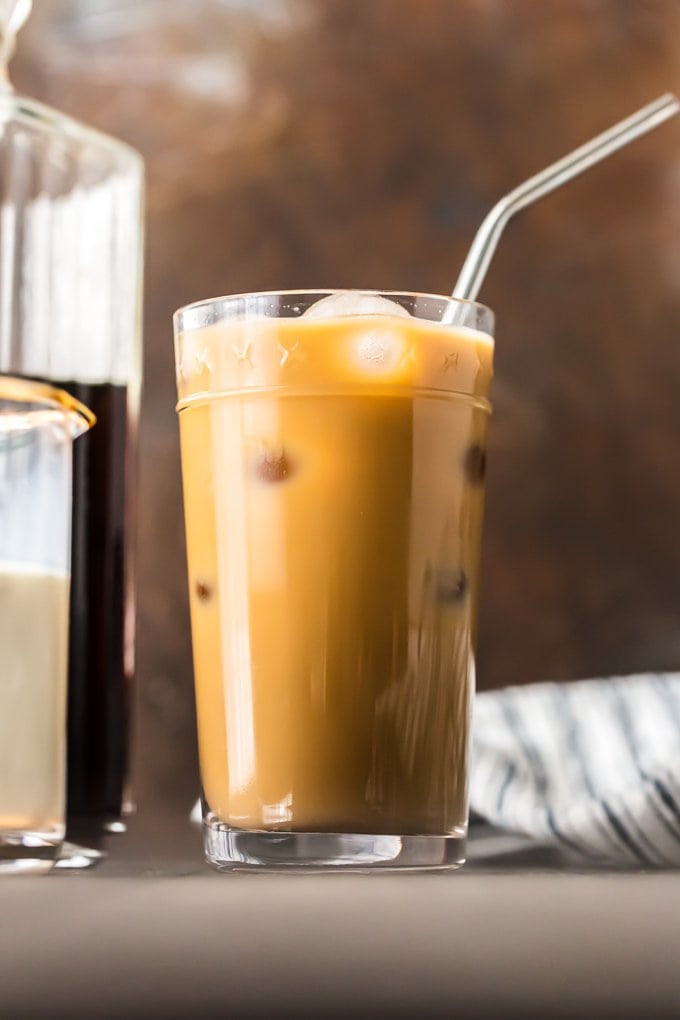 The Best Iced Coffee at Home
A great cup of coffee is the perfect way to start any and every day. Some mornings I just simply don't want hot coffee…I want it cold! Summer will be here before we know it, and we all need the ultimate easy Iced Coffee Recipe to keep ourselves perky, alert, and productive. I'm so glad you've found this one!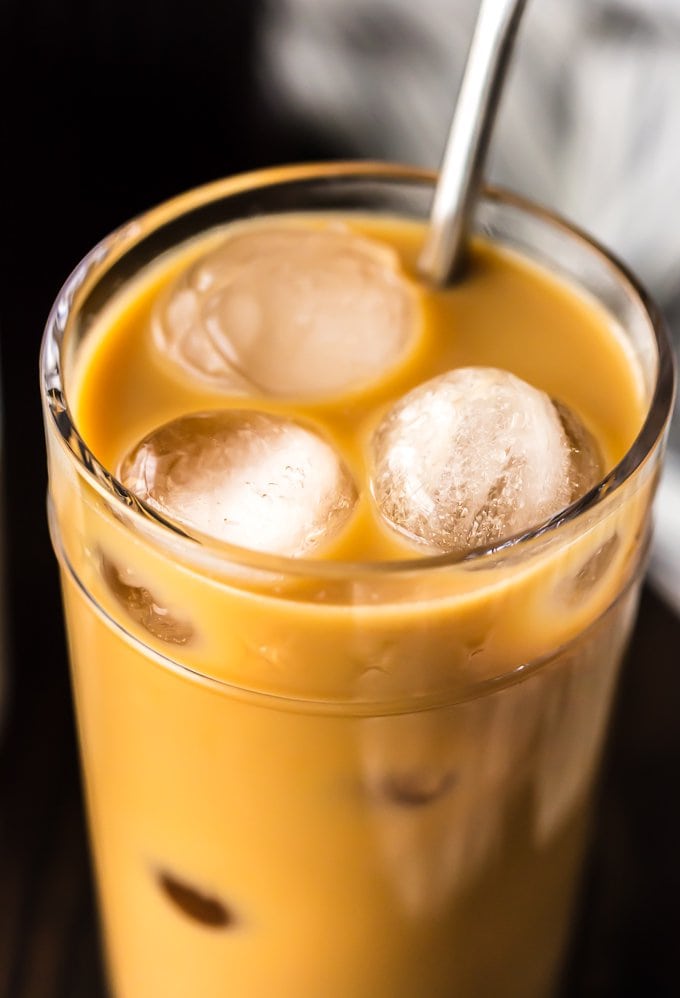 If you want to love mornings even more, be sure to check out some of our favorite breakfast recipes, like Ham and Cheese Breakfast Casserole or Baked Breakfast Sliders. If a smoothie is more your speed, take a stab at our Glowing Skin Smoothie or Simple Mango Smoothie!
We LOVE Iced Coffee first thing in the morning! Check out some other variations like Caramel Frappuccino and Thai Iced Coffee.
Be sure to watch the video on How to Make Iced Coffee at home! The BEST Iced Coffee is just a few steps away.
Try these other fun coffee recipes: