This maple syrup granola recipe is easy to make and is perfect for a make ahead breakfast and tasty snacking. Made with oats, nuts, seeds and dried fruit, this healthy breakfast is the perfect way to start the day. Vegan and gluten-free.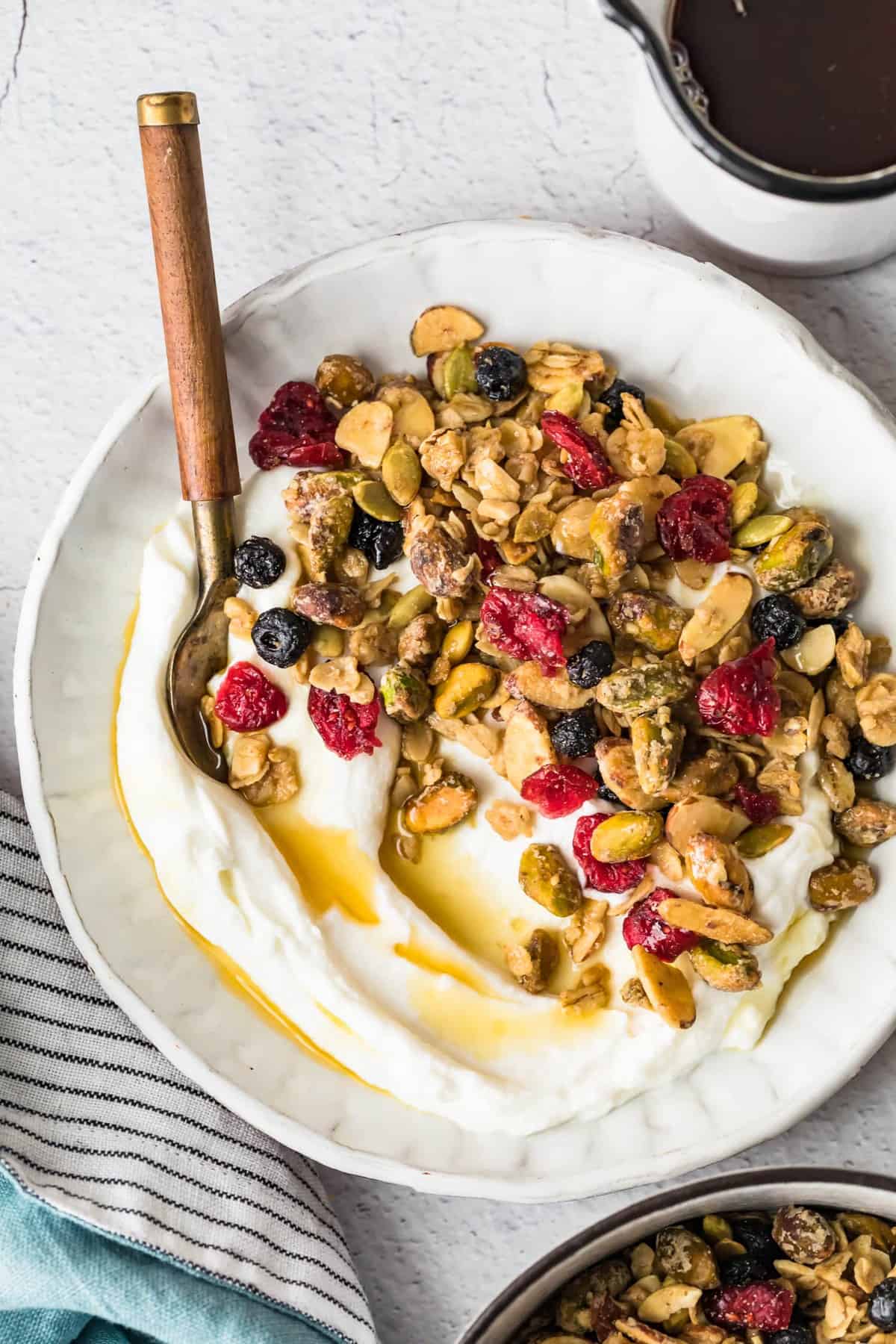 I always have a stash of granola in my pantry, it's great to reach for a healthy breakfast on a busy morning. Serve it with Greek yogurt and a drizzle of maple syrup, or with a plant based milk. It's also great for mid afternoon snacking!
How to Make Maple Syrup Granola
Heat oven to 300°F and line a large baking sheet with aluminum foil. Spray the foil with nonstick cooking spray.

In a large mixing bowl, mix together all granola ingredients except the blueberries and cranberries.

Spread the granola ingredients evenly onto the prepared baking sheet. Bake at 350°F for 40 minutes. Stir after 20 minutes and bake another 20 minutes or until golden brown and crunchy.

Remove from the oven and stir in the dried blueberries and cranberries. *see note.

Cool completely and store in an airtight container.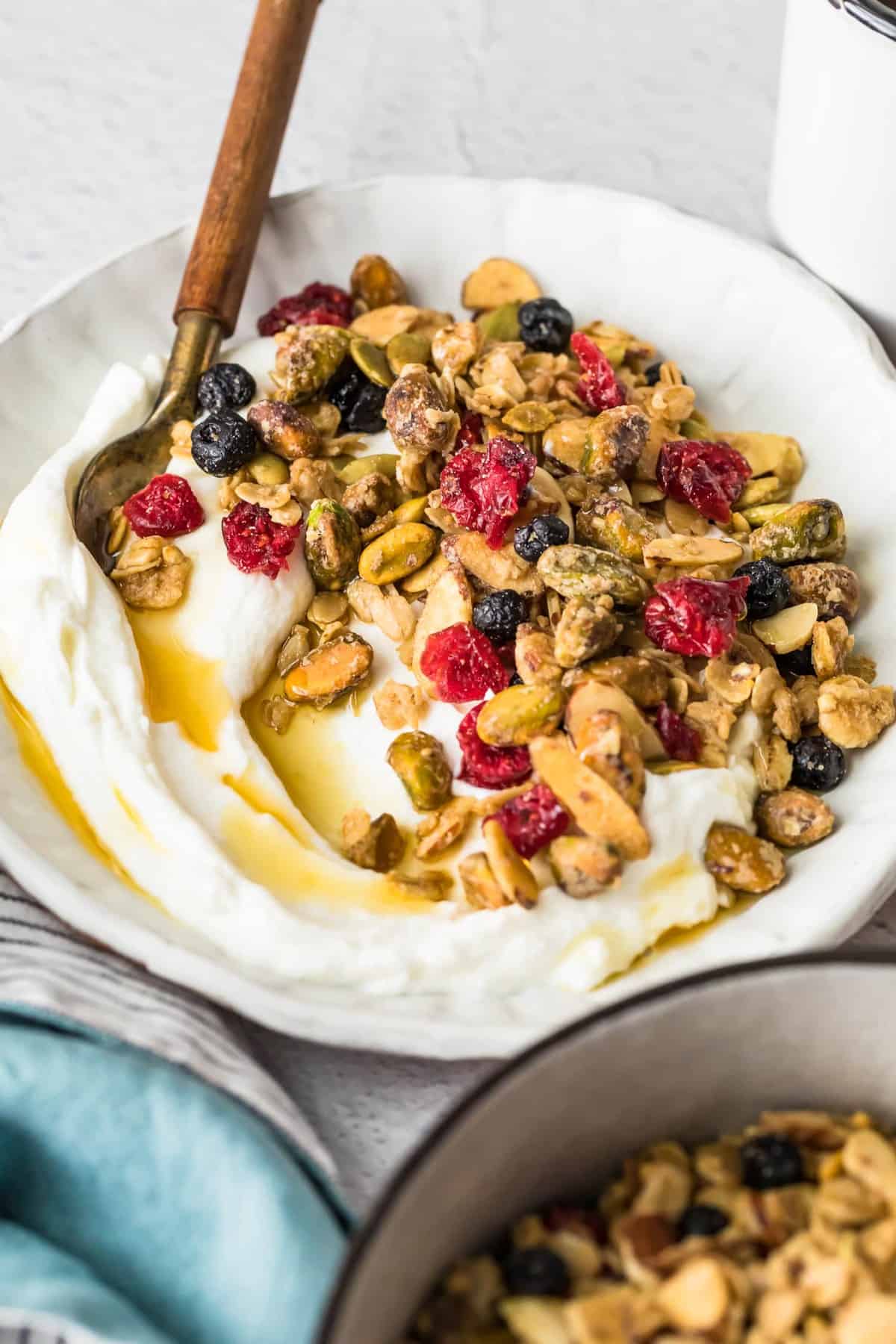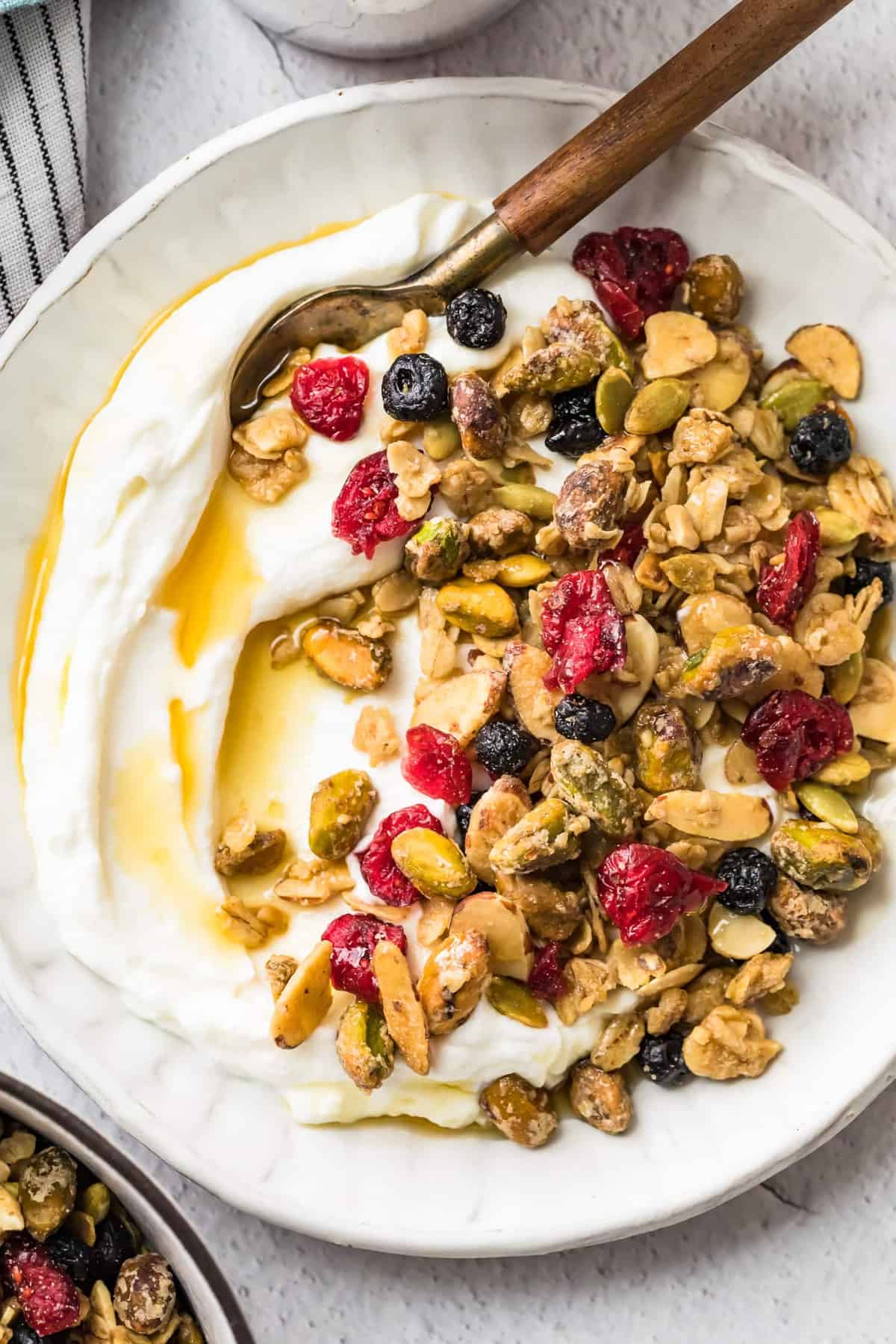 How long does maple syrup granola keep?
Once the baked granola has cooled, yo can store it in an airtight container, at room temperature, and it will be good for a month. You can also freeze it for up to 4 months in a ziplock bag. When ready to use, thaw and add the dried fruits, if desired. The granola is delicious even without the dried fruit!
I love making granola as a good meal prep breakfast item. Once it's made, you can just grab as much as you need and go.
Is granola healthy?
This granola is full of healthy ingredients like oats, seeds and nuts which are great foods to eat and breakfast. They help to keep you energized and full until lunch, thanks to the fiber and protein they contain.
Is it cheaper to make your own granola?
Making your own maple syrup granola is not only super easy, but it's a much cheaper option too! You can make a huge batch for a lot less money than the ready made store bought varieties, plus you know everything that's going in there!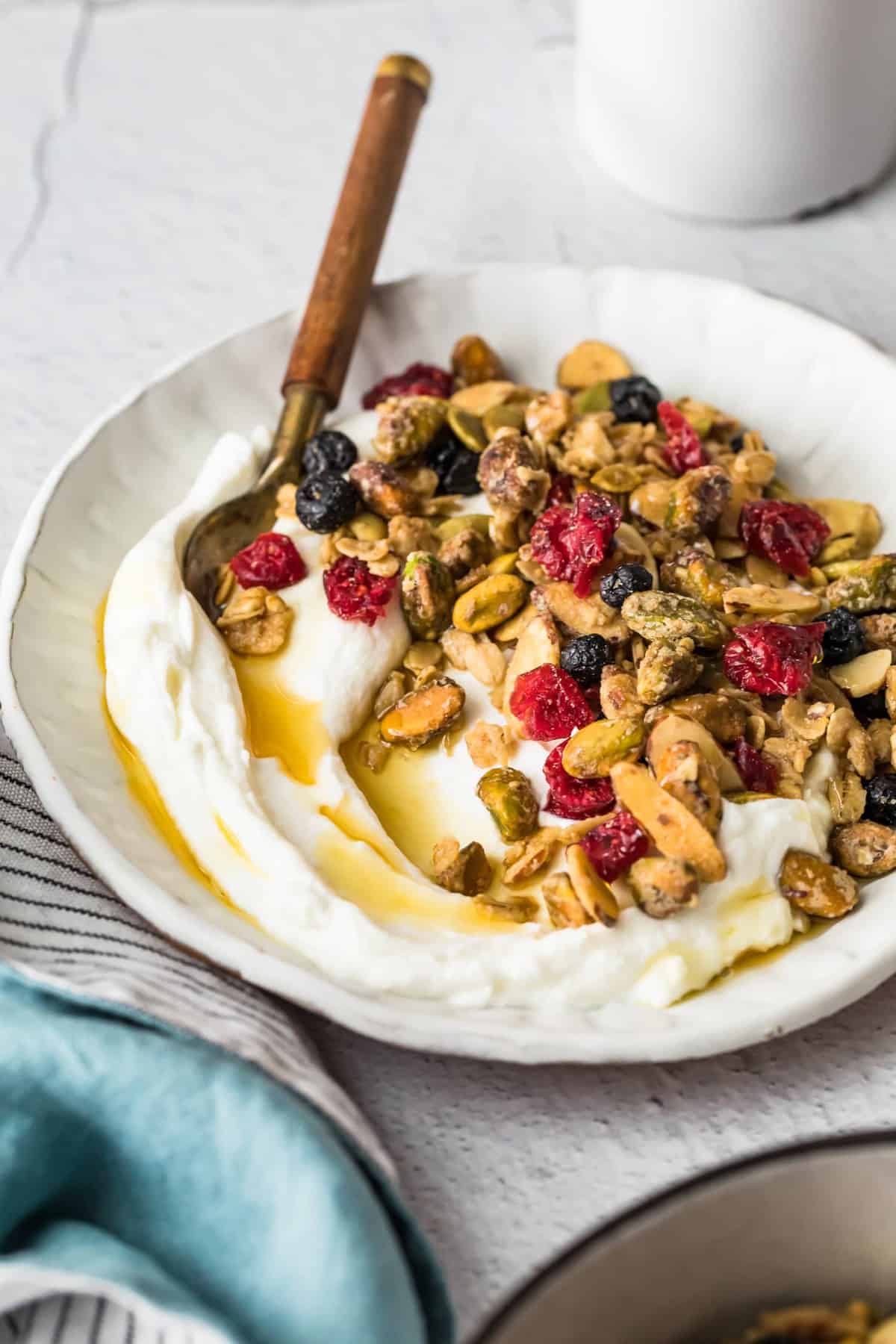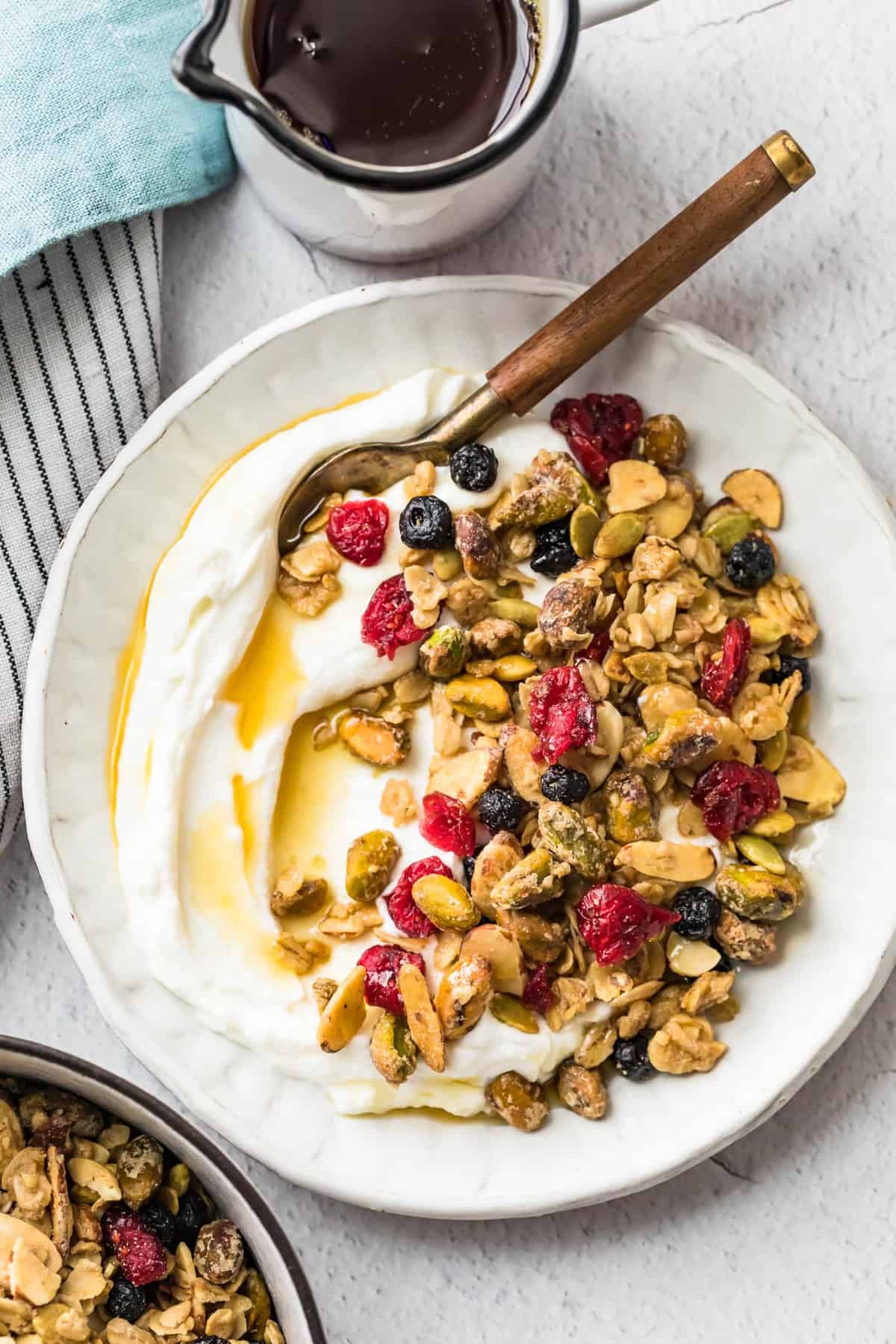 Vegan Granola Recipe
This recipe is naturally vegan, as well as gluten-free as maple syrup is used as a natural sweetener. I love the taste of maple syrup, but if you wish, you can swap it for honey.
Top Tips to Make This Maple Syrup Granola Recipe
Bake the granola in a pre-heated oven for the best results.
Add the dried fruit once the granola has been baked.
Let the granola cool completely before storing it.
Serve with Greek yogurt for a quick and healthy breakfast.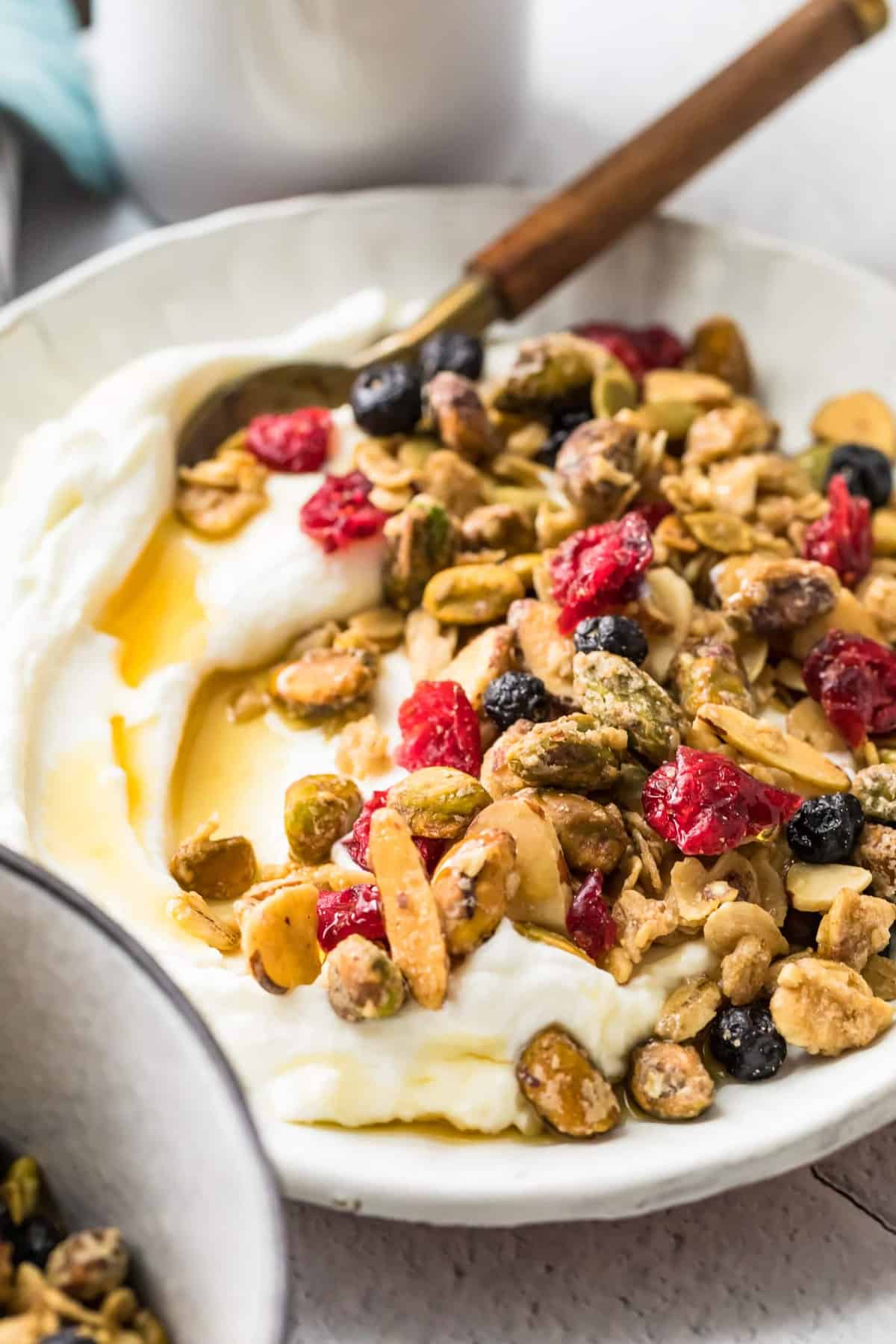 Be sure to check out these other delicious and healthy breakfast recipes!