Strawberry Oatmeal Bars packed with juicy strawberries and topped with a lusciously buttery crumble. These dreamy bars are great for breakfast, as a snack or for dessert.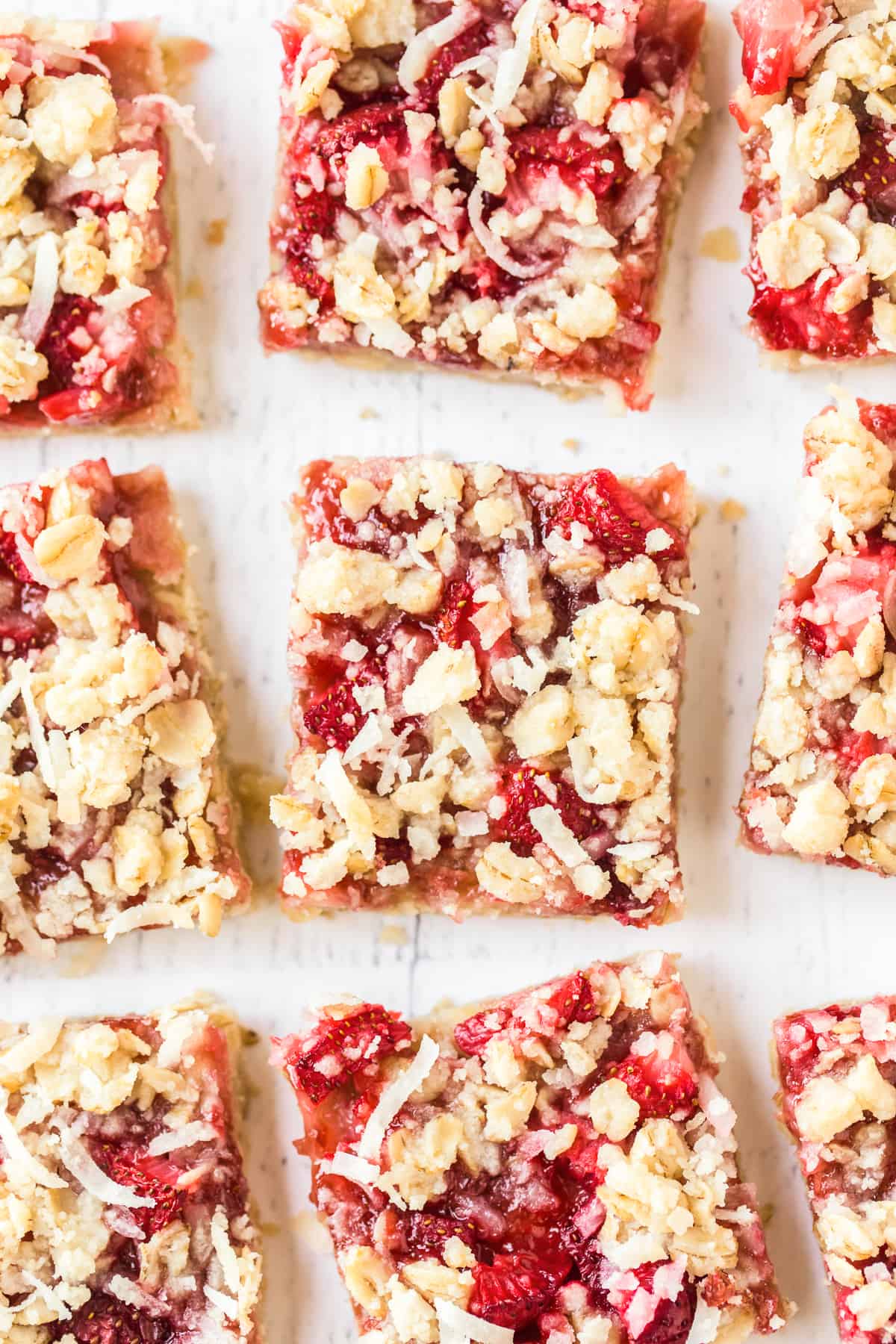 Strawberry Oatmeal Bar Recipe
These Strawberry Oatmeal Bars will become a delicious household favorite! A great summer dessert packed with strawberries, jam, coconut and yummy crumble.
One of the best strawberry desserts but equally yummy any time of the day!
Why you'll love these Strawberry Oatmeal Bars
The perfect summer treat. These oatmeal bars are the perfect vehicle for freshly picked, juicy and sweet strawberries!
Easy. Minimal prep makes a big ol batch of these delicious strawberry bars. Plus you'll have most of the ingredients to hand already.
Delicious! These bars are a mouthwatering cross between soft cookie bars and a crumbly, buttery strawberry crisp- so good!
How to make these Strawberry Oatmeal Bars
You can jump to the recipe card for full ingredients & instructions!
Make the crumble mix. Mix your crumble ingredients, add melted butter and vanilla. Set some aside for the topping.
Bake the base. Spread the base mix into a greased pan and bake for 15 mins.
Layer on the topping. Take out the base and layer on the jam, diced strawberries and crumble mix.
Bake. Place in the oven for 25-30 mins or until the coconut is lightly browned.
Cool, serve and enjoy!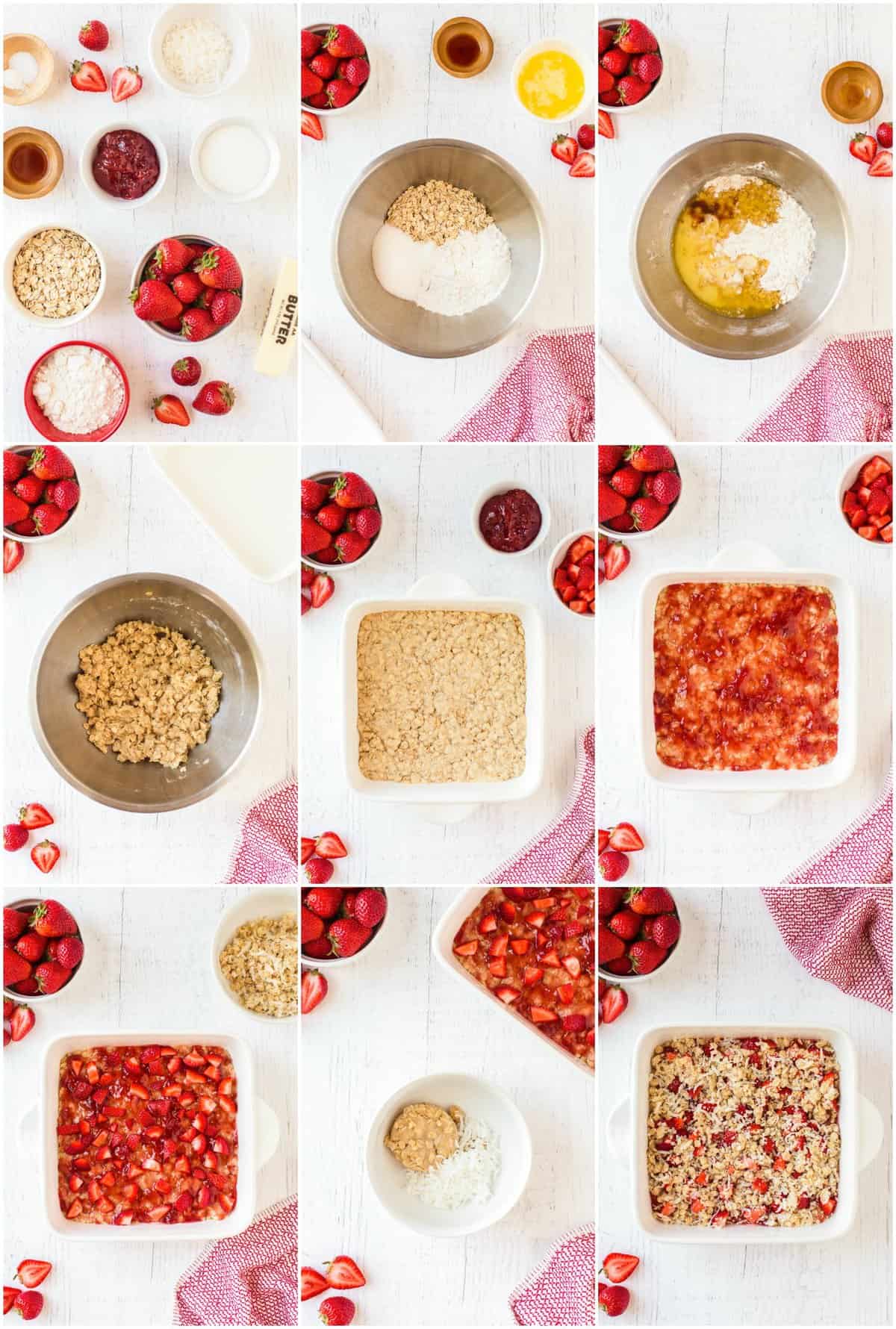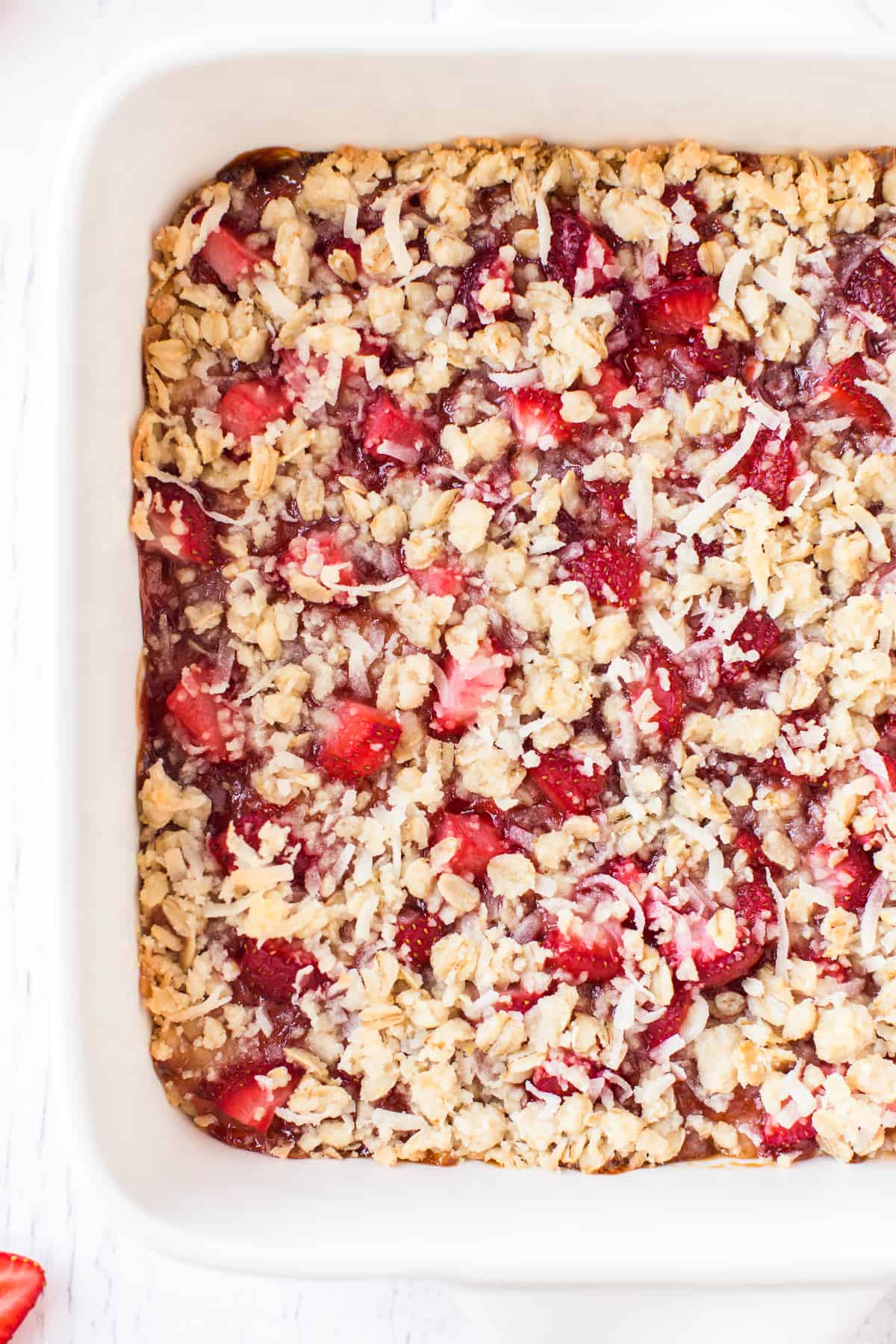 What are the best oats to use?
I have only made this recipe with old-fashioned oats. Because it is a more delicate crust, I wouldn't recommend using instant oats. The old-fashioned oats will help give the crust more of a bite, and a more stable structure.
But if you decide to use instant oats, feel free to comment and let me know how it turns out for you.
How ripe should my strawberries be?
These strawberry bars are made to be a sweet treat. If your strawberries are very ripe and sweet, you may want to reduce the amount of sugar used in your topping and crust, or reduce the amount of strawberry jam used with the strawberries.
These Strawberry Oatmeal Bars were tested with ripe strawberries that were not naturally overly sweet.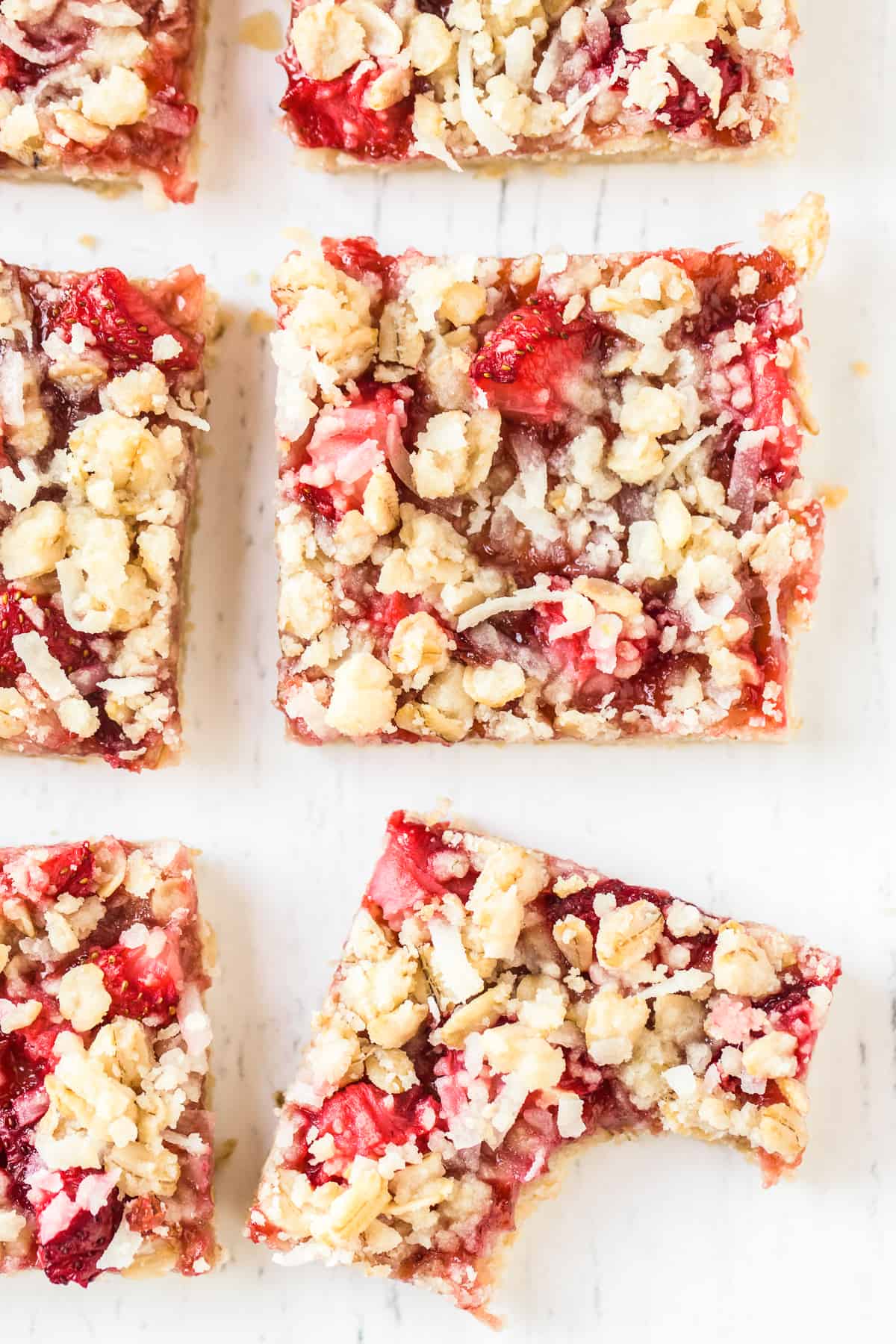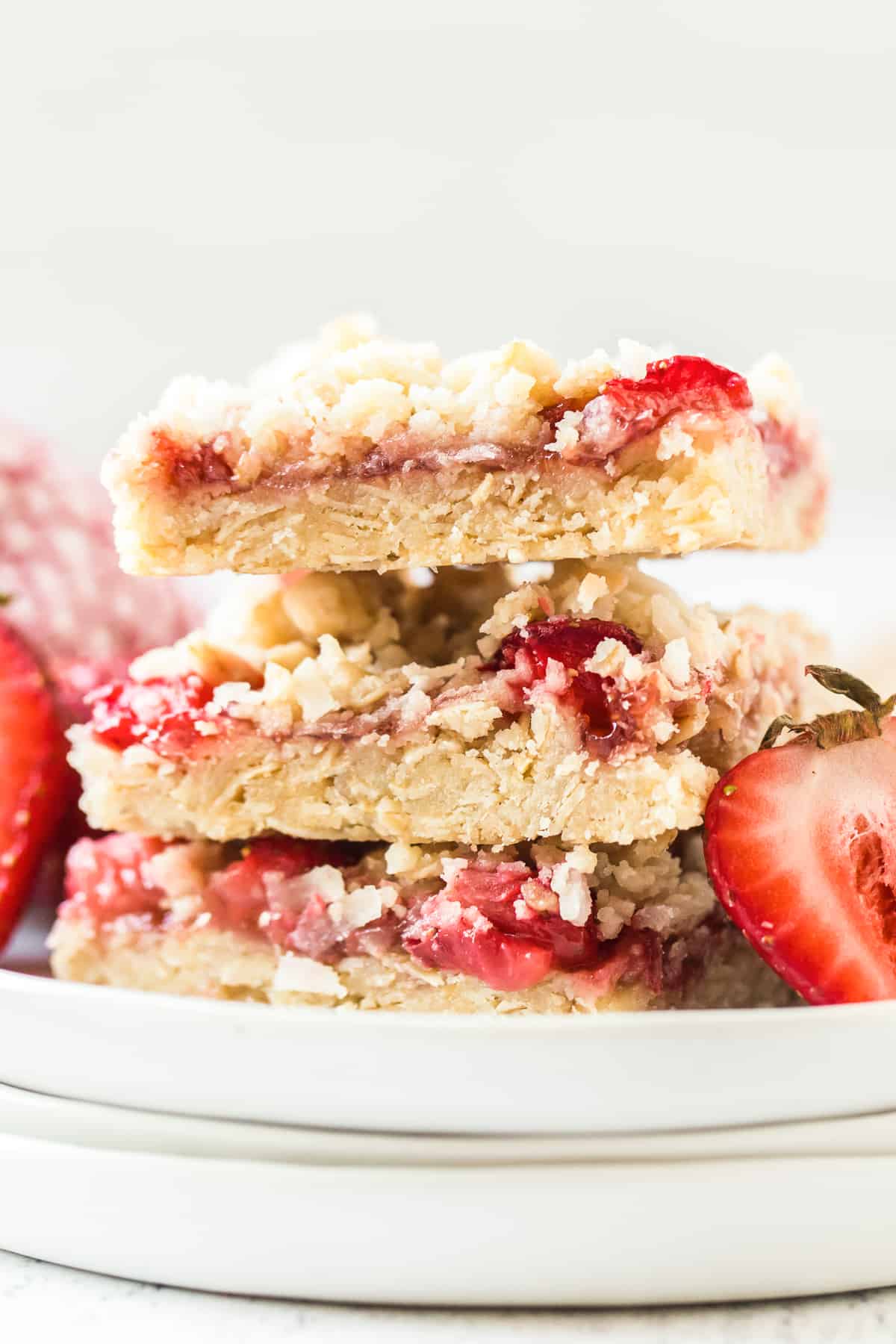 How to store these Strawberry Oatmeal Bars?
Although it may not be entirely necessary, I prefer to store my strawberry bars in the refrigerator for up to 5 to 7 days. You should be able to store your bars at room temperature, but I found that the strawberries became watery when left out overnight.
You should also be able to freeze your bars without any issues. They can be frozen for up to six months for best quality.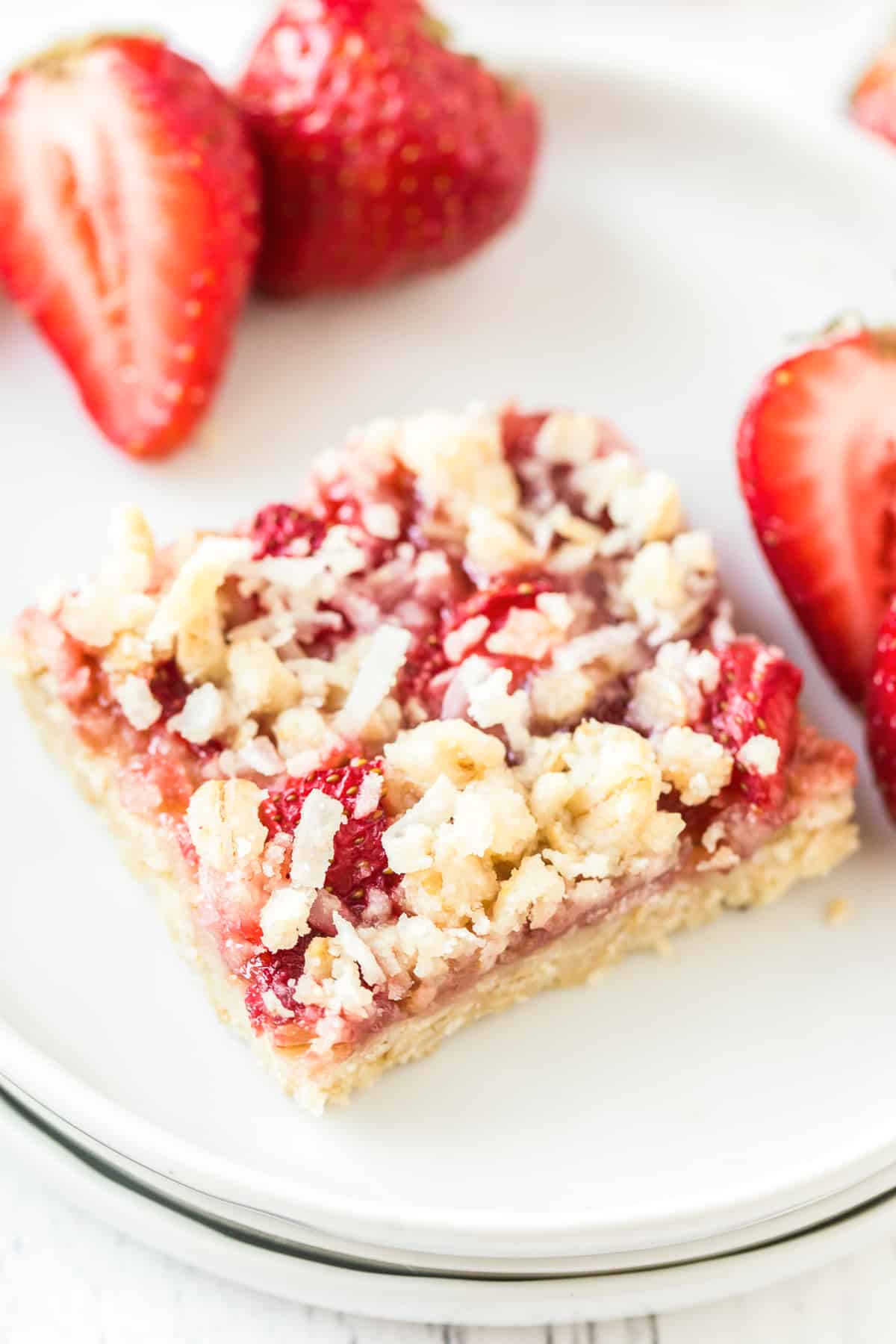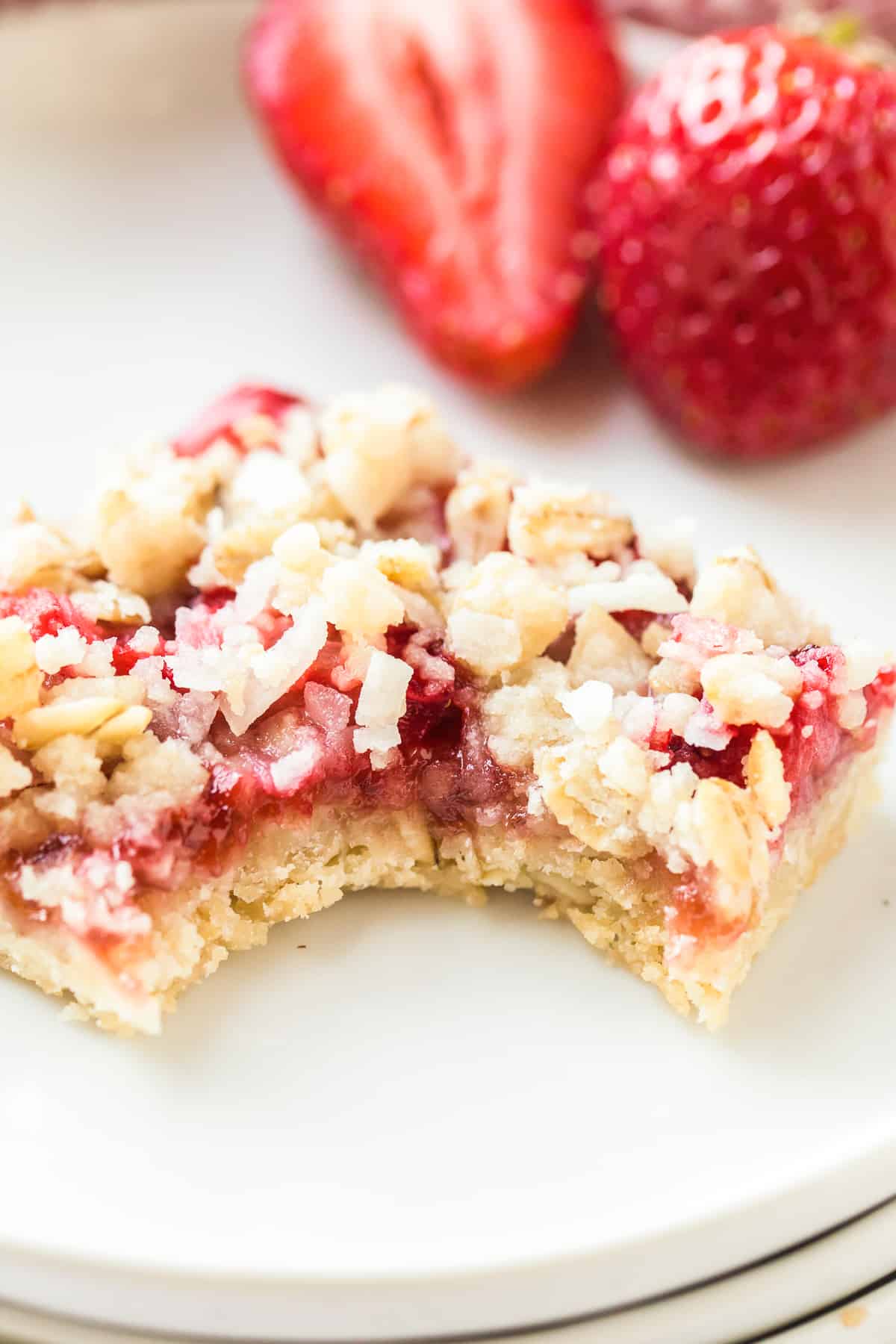 Tips!
I used salted butter in this recipe. If you choose to use unsalted butter, you may want to consider adding an additional pinch of salt to your crust.
Feel free to use any type of strawberry spread or jam. Homemade jam would taste delicious in this recipe!
This recipe will also work with either fresh strawberries or jam used separately. The addition of jam does sweeten the strawberry bars. I didn't find them to be overly sweet, but I did not use overly sweet strawberries.
I like using fresh strawberries in the summer. But if you want to use frozen strawberries, let them completely thaw and pat them dry before making the recipe.
These oatmeal bars are perfect for sweet breakfasts, weekend snacks, Valentine's Day, or any holiday!
Other delicious dessert
Have you tried these Strawberry Oatmeal Bars? Feel free to leave a star rating and I'd love to hear from you in the comments below!