Blender Salsa Recipe is the absolute best EASY Homemade Salsa Recipe you'll ever make. Chips and Salsa are a must for Cinco de Mayo and this is our favorite Easy Salsa Recipe. This Homemade Salsa has SO much flavor and has just the perfect amount of heat. Perfect for tailgating!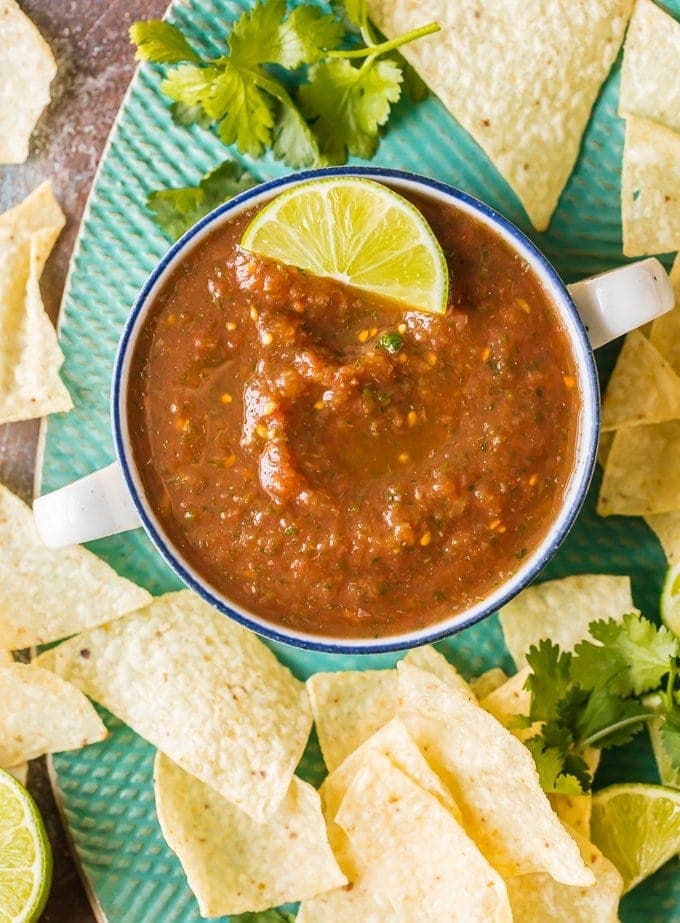 Blender Salsa Recipe is the best and easiest Homemade Salsa you'll ever make!
This Blender Salsa Recipe is the type of Easy Homemade Salsa I've been waiting for my entire life. I'm a HUGE Mexican Food fan. I can never get enough chips, salsa, queso, and tacos. With Cinco de Mayo rapidly approaching (my FAVORITE food holiday), I'm feverishly finding all the best recipes for celebrating.
In the past couple weeks I've made everything from Homemade Tortilla Chips to Mexican Grilled Corn. There's so much goodness to go around, but it would be nothing without this Easy Homemade Salsa Recipe!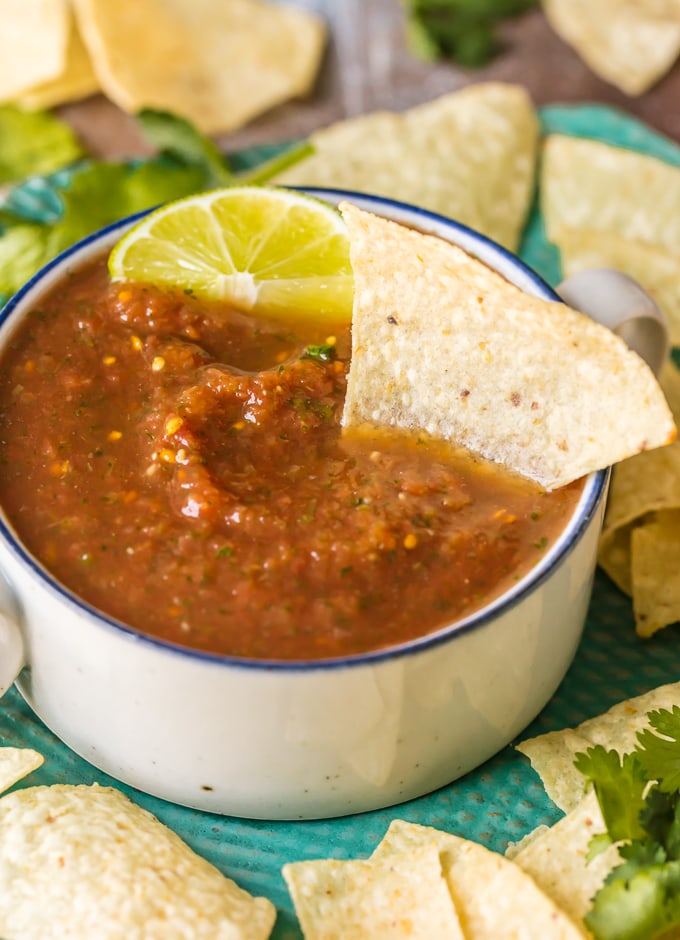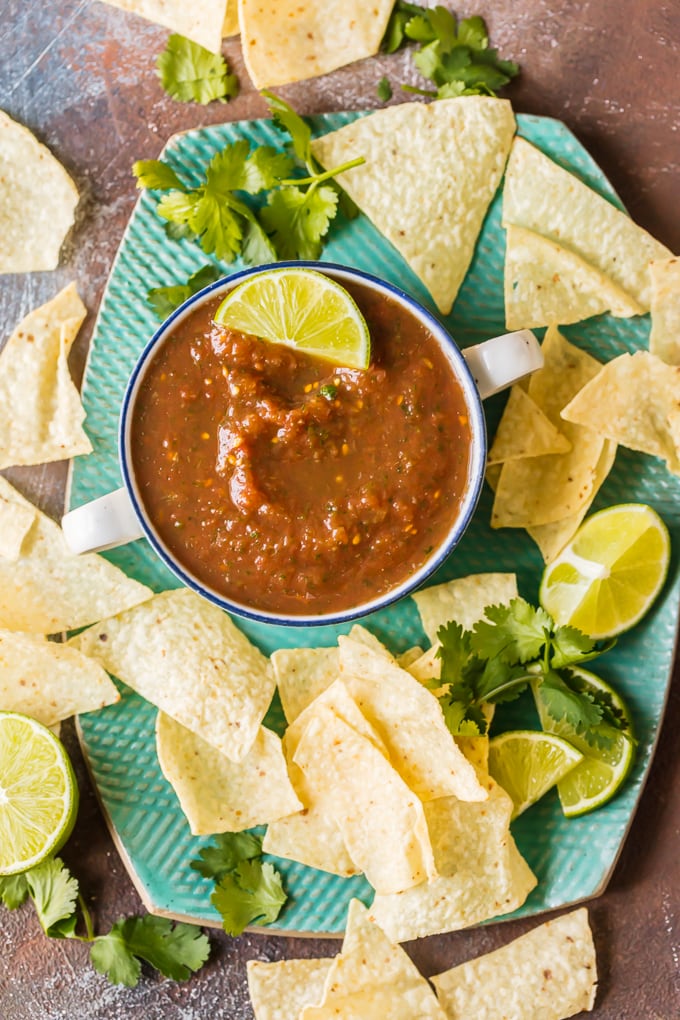 Tips for making Homemade Salsa in a blender:
You'll be shocked at how simple it is to make this EASY salsa recipe. Here are the steps in case you don't believe me.
Put all ingredients in a blender.
Turn on the blender.
EAT, eat, and EAT until you're no longer hungry. (Spoiler alert: You'll eat it all!)
So yeah…it's that easy to make Blender Salsa. Bonus is it tastes AMAZING and you'll never buy store-bought or restaurant salsa again. Tomatoes, garlic, cilantro…all the best flavors. It's SOOOO good! I can't wait to eat it with chips but also to use it to make shredded chicken, serve it with fajitas, spoon it over baked potatoes, pile it on our favorite chicken nachos, and use it in our morning eggs. The possibilities are ENDLESS!
Every Taco Tuesday dinner needs this homemade salsa recipe! Check out our Guide to Taco Night for more tips, ideas, and recipes.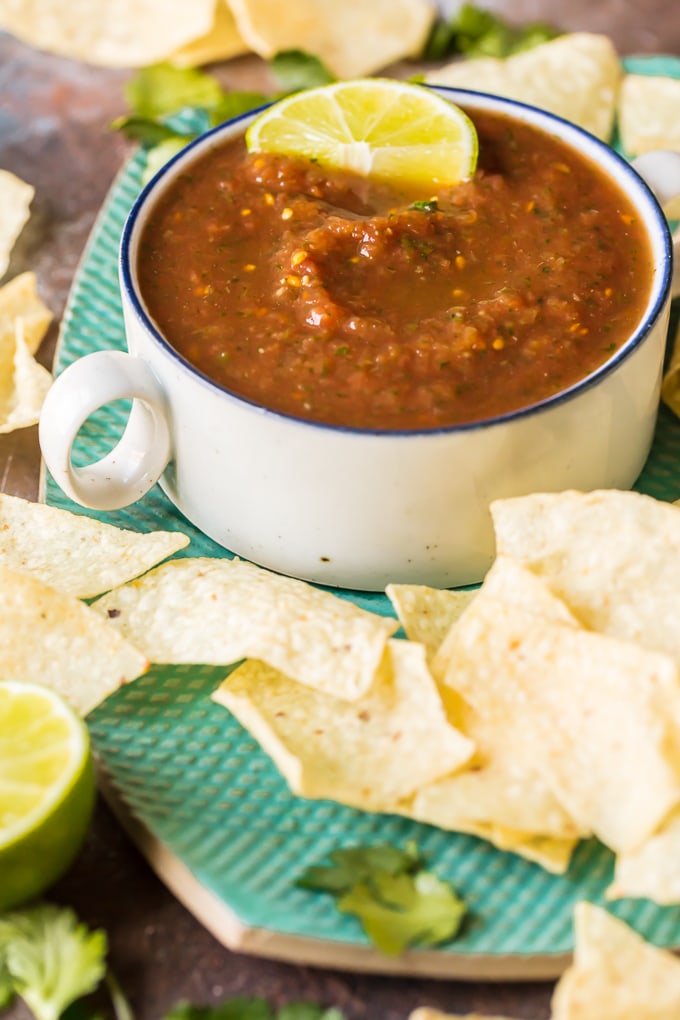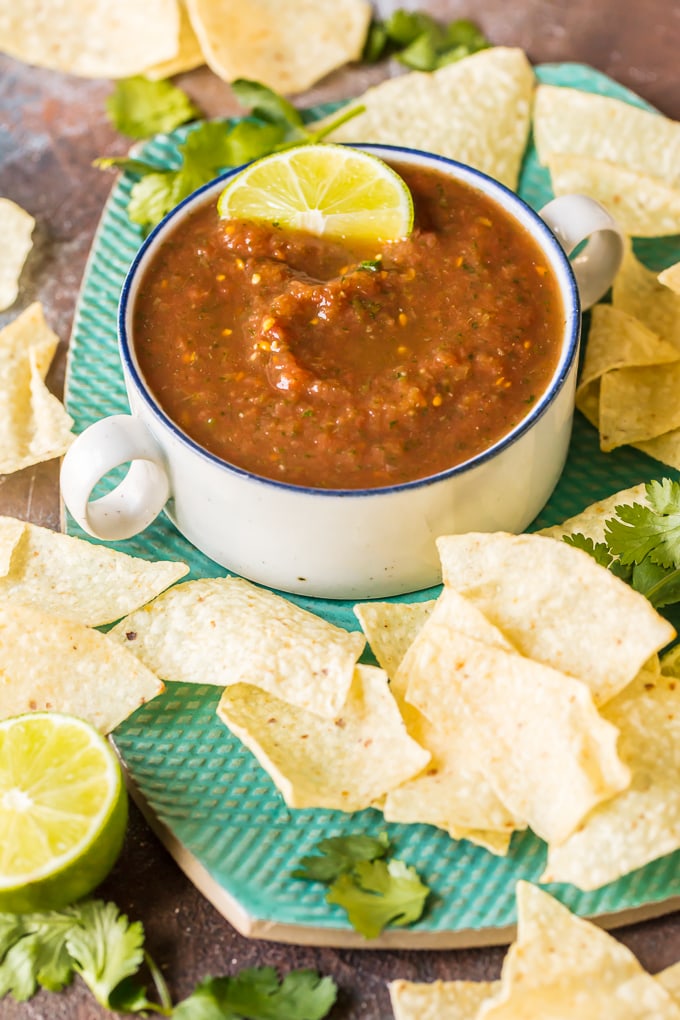 Can you freeze salsa made with fresh tomatoes?
You can! Freezing salsa is a great alternative to canning, and it can be kept good in the freezer for up to 6 months which is awesome! SO much longer in the fridge and much easier than canning. Freezer Salsa doesn't look as perky as fresh salsa, and it may be a bit watery (you can remove some of the extra water after thawing), but it's a great option.
How long does Homemade Salsa last in the fridge?
Fresh Homemade Salsa properly sealed will last about 7 days in the fridge. Read below on how to tell if salsa has gone bad. Canning or freezing are great options for making this recipe in bulk and keeping for a long time.
How long is canned salsa good for?
Properly canned salsa can last 12-18 months! It's a bit of a complicated process but if done properly, you'll continue reaping the benefits. This would be a great option if you want to make a lot of this Blender salsa and store for enjoying throughout the year! It will only get better with age.
Can you get food poisoning from bad salsa?
Studies show that 1 in 25 foodborne illnesses are due to bad salsa or guacamole. I'm guessing most of those problems originate from restaurants where you're not sure how ingredients have been handled, etc. This isn't to scare you, it's just important to be careful and watch for signs that your salsa is still good. It should last up to 7 days in the fridge, but if you notice a change in smell, texture, or see any mold, it's DEFINITELY time to toss it (and make a new batch!).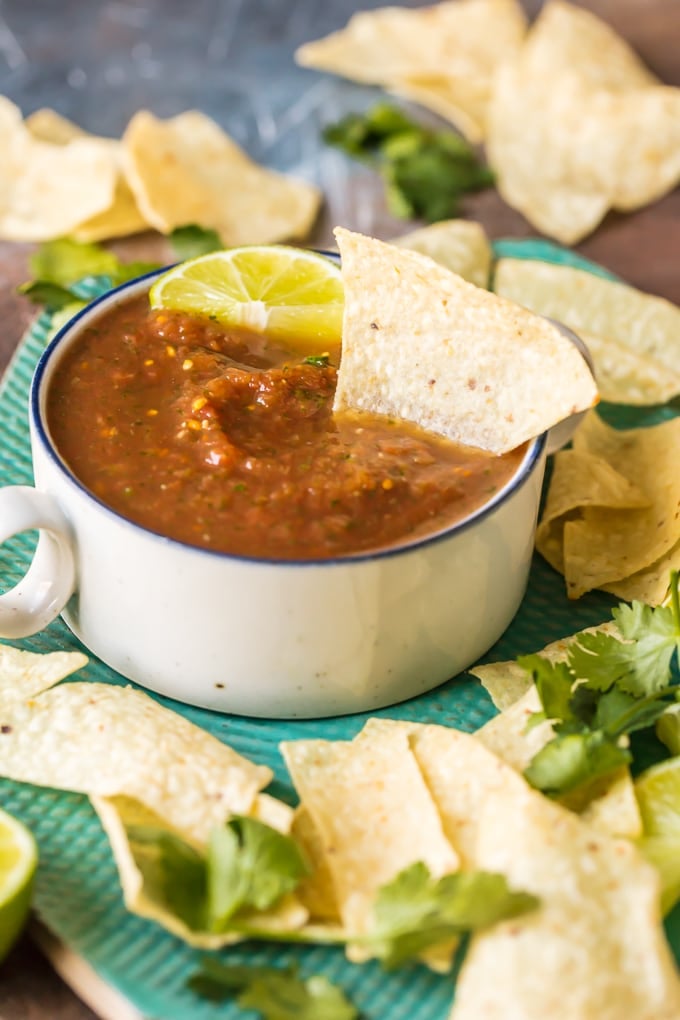 What drinks to pair with Homemade Salsa
There's nothing better to pair with this Easy Salsa Recipe than an amazing Margarita! We have compiled all our favorite Margarita Recipes in the ULTIMATE MARGARITA GUIDE. From classic to unique to flavored to frozen, we have you covered! Be sure to check it out today.
We LOVE dips around here, so if this easy salsa recipe isn't quite your thing, be sure to check out some of our go-to favorites like Cowboy Dip Queso, Hot Street Corn Dip, Green Chile Chicken Enchilada Dip, and Layered Bean Dip!
If you're looking for the perfect cocktail to wash down all this Cinco de Mayo goodness, you KNOW you need a Skinny Margarita or some Strawberry Margarita Punch. I cannot wait for May 5th! This Easy Salsa Recipe goes great with Tacos and Tequila…what can I say?!
There's no need to head to your local Mexican Restaurant this Cinco de Mayo because this Blender Salsa is better than any restaurant salsa you'll ever eat! You're going to love it as much as we do, I just know it. I hope it makes it to your celebration this year but is also enjoyed year round! I know we will be having it again and again. I might even have to learn how to can because of this recipe!
Watch the video or see the recipe card below for how to make Homemade Salsa in a Blender.
Looking for more fun party dips? Don't forget these recipes: