Everyone loves chips and salsa, and this Homemade Salsa is my favorite blender salsa recipe because it's so quick and easy! You only need a handful of simple ingredients from your pantry, a blender or food processor, and 5 minutes tops. It's better than your favorite restaurant salsa! Make it as spicy or mild as you like, and serve it up with tacos and margaritas for Cinco de Mayo or Taco Tuesday.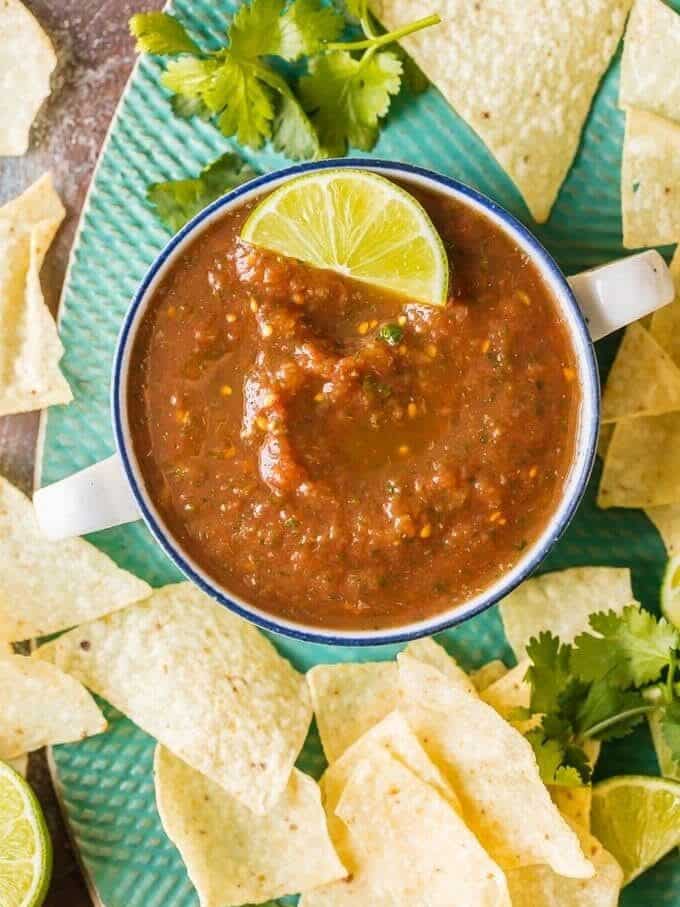 What's in this 5-Minute Blender Salsa recipe?
This quick and easy homemade salsa is a lot like the table salsas from your favorite Mexican restaurant. Simple ingredients (canned tomatoes, peppers, onion), just a little bit of heat, and a great consistency for endless dipping. Don't forget the fresh tortilla chips!
Tomatoes: I recommend using a can of whole, peeled tomatoes for the best results, and be sure to fully drain them. But the beauty of this recipe is you can use any canned or fresh tomatoes you like!
Jalapeno Peppers: These add some heat, so adjust to your spice preference.
Onion: Roughly-chopped white onion adds texture and a light flavor. You can use red onion instead if you want that spicy bite.
Garlic: This adds a bit of savoriness. Add more cloves if you love garlic!
Cumin: Ground cumin is a popular spice in Mexican dishes, and it adds just a bit of earthiness here.
Sugar: A small amount of granulated sugar perfects the flavor of this blender salsa.
Lime Juice: Fresh-squeezed lime juice will be best here. This adds some acidity and brightness.
Cilantro: Fresh cilantro is great for flavor. But skip it if you don't like cilantro, or use parsley instead.
Salt: Just a tiny bit to balance out all the flavors.
Pro Tip: This easy salsa is really versatile, so feel free to swap in ingredients to your liking. Use different types of peppers and spices as you please.
Can I make this restaurant style salsa spicy?
This homemade blender salsa can be made as mild or as spicy as you like! I recommend removing the seeds and membrane from the jalapeno peppers in order to keep it close to a medium heat level, but that's up to you. Make it spicier by leaving the membranes and seeds in. Make it less spicy by leaving the jalapenos out completely.
Feel free to swap in different peppers for different spice levels too. Try green chiles, serrano peppers, poblano peppers, or even bell peppers if you want something sweet without heat.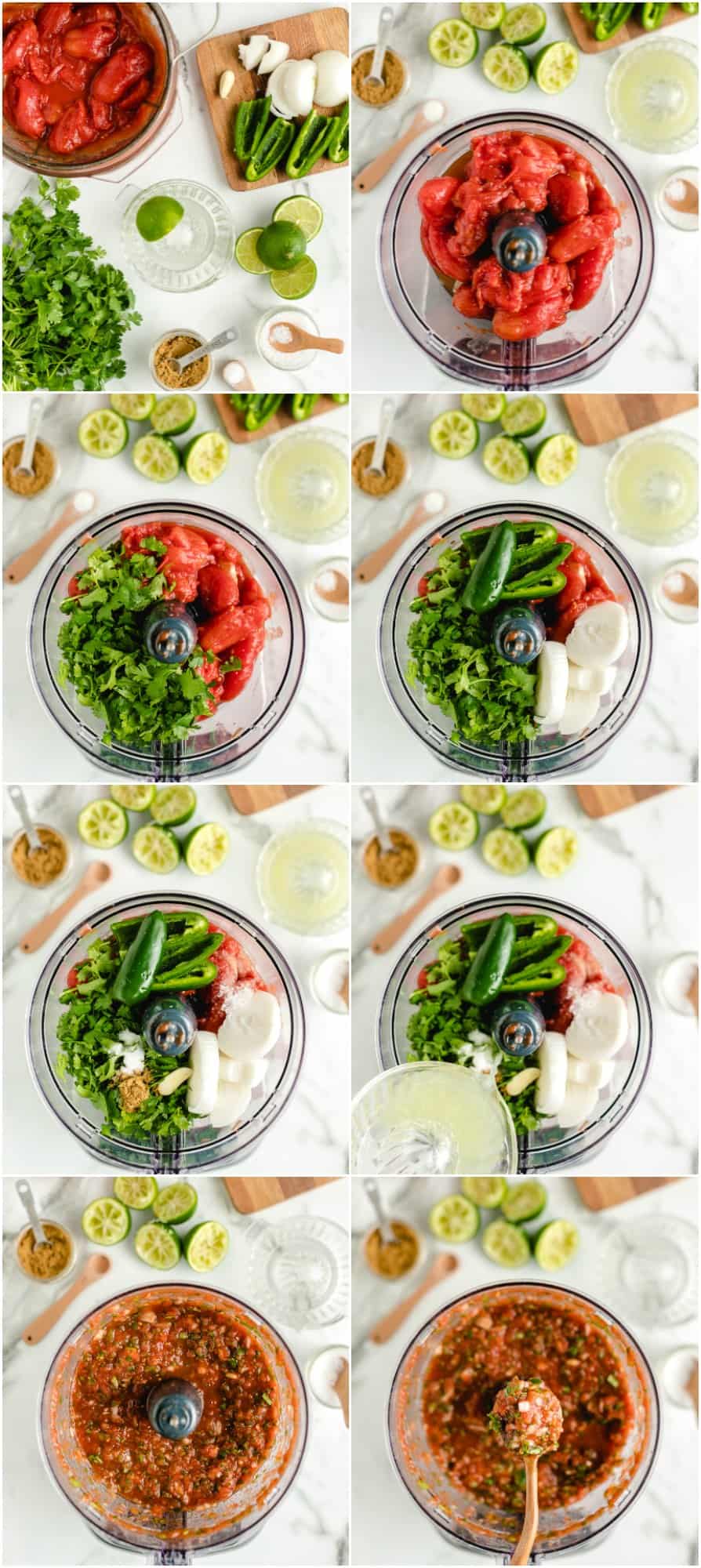 Can I use a food processor instead of a blender?
Yes, you can use a food processor or high-powered blender to make this salsa recipe.
Why is my homemade salsa watery?
Too much liquid is the culprit here. Be sure to fully drain the canned tomatoes before making salsa to prevent it from getting watery.
How do you thicken blended salsa?
If needed, add a tiny amount of cornstarch to soak up excess moisture and thicken the consistency.
Should I peel tomatoes to make salsa?
I use a can of peeled tomatoes when making blender salsa, but peeled tomatoes are not necessary.
Should I use fresh or canned tomatoes of this recipe?
Canned tomatoes are easy and convenient, but you can use fresh tomatoes if you like! Roughly dice fresh tomatoes, and try to get rid of excess water before adding them to the blender.
How can I make a chunky salsa?
This is a restaurant-style table salsa, so the consistency is meant to be relatively thin. But you can pulse ingredients in the blender until it reaches your desired consistency–so less pulses equals a chunkier texture.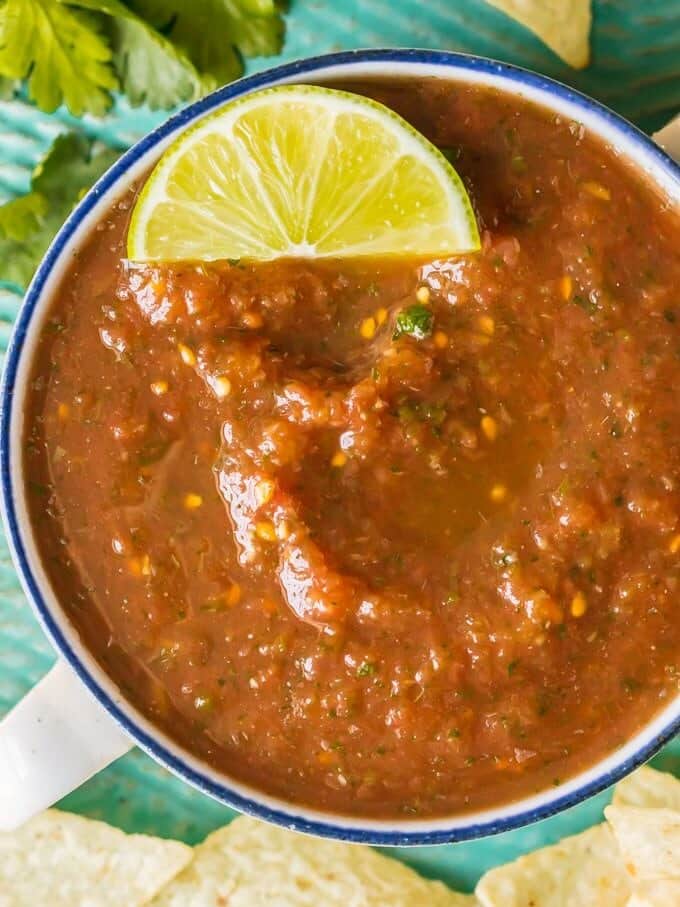 How to Make Ahead and Store
This quick and easy salsa only takes 5 minutes to make, but I like to make it a little bit ahead of time for the best flavor and consistency. Giving it an hour in the fridge before serving (or even a full day) really helps the ingredients meld together.
To store, keep it in an airtight container or jar, and store it in the refrigerator up to a full week.
Can I Freeze Homemade Salsa?
Homemade salsa is great for freezing and long-term storage! Store it in an airtight, freezer-safe container, and freeze up to 6 months. Let it thaw in the fridge before serving.
What to Serve with Salsa
This homemade blender salsa recipe is my go-to for everything! Of course it's perfect to pair with tortilla chips, but it's my favorite salsa for tacos too, so I always make it for taco night and Cinco de Mayo food.
I also use it for topping or serving with my favorite Mexican dishes, like chicken enchiladas, Crockpot chicken burritos, beef taquitos, chicken tacos, burrito bowls, chicken nachos, or a homemade Crunchwrap Supreme. It also pairs well with appetizers like carne asada fries, enchilada cups, or chilaquiles.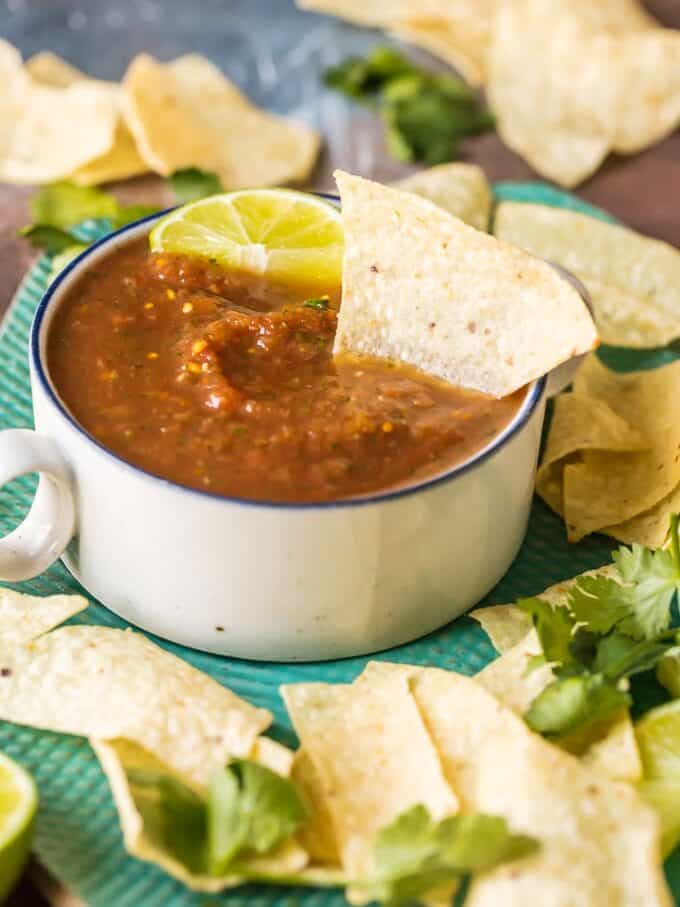 If you make this recipe be sure to upload a photo in the comment section below or leave a rating. Enjoy! You can also jump to recipe.
More Homemade Salsa Recipes We Love