Stuffed Pepperoni Pizza Rolls are a must and just so easy to make at home! Tailgating just got EASY with these! GIMME!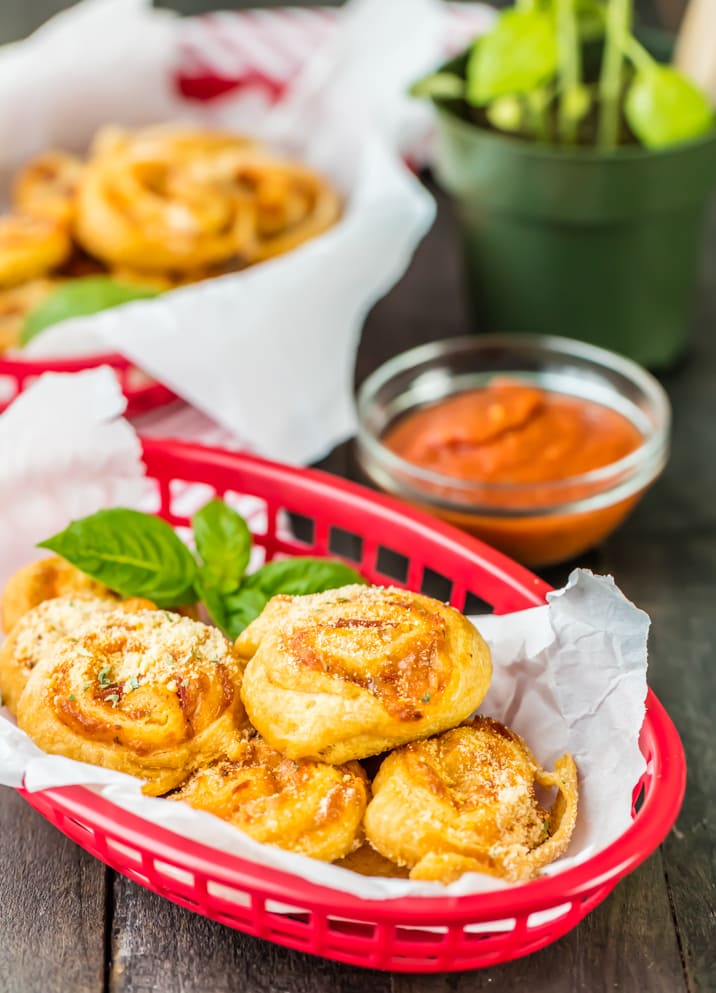 Okay, let's talk about tailgating. Isn't it the best? Pat and I pretty much fell in love while tailgating at the Mizzou/Oklahoma football game in the Fall of 2010. If you're an avid Mizzou fan (I see you Karen and Melanie!!), you know what game I'm talking about. We had tickets on the hill (you can see us top right under the video screen…:), and it was my one shot in life to rush the field after beating a #1 ranked team. Pat held me back, saying we might get arrested. We were 28, about the oldest you can be while still getting away with rushing the field after a huge win. The college kid sitting next to us was scared, and I pressured him to go. I'm pretty sure he got arrested. BUT…I still wish we would have done it. Best win ever, best date ever. I still remember my phone dying while texting my brother how it was the most exciting game of my life.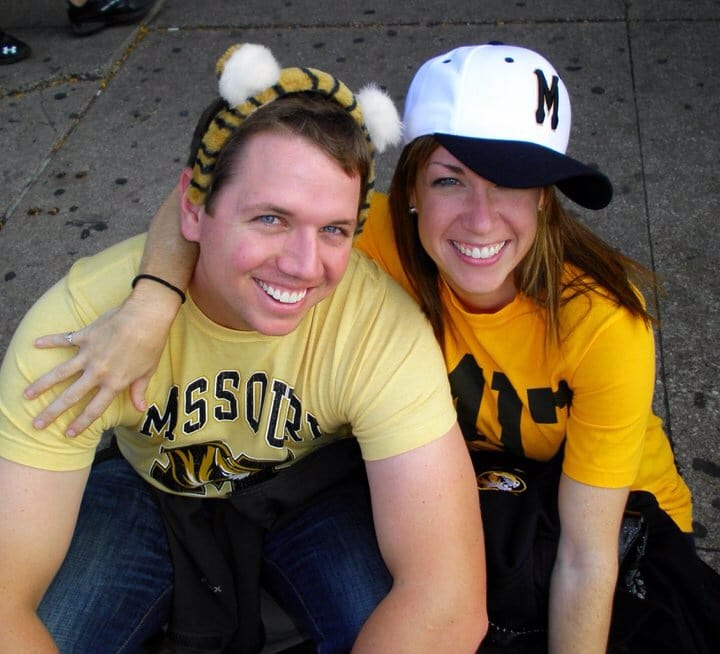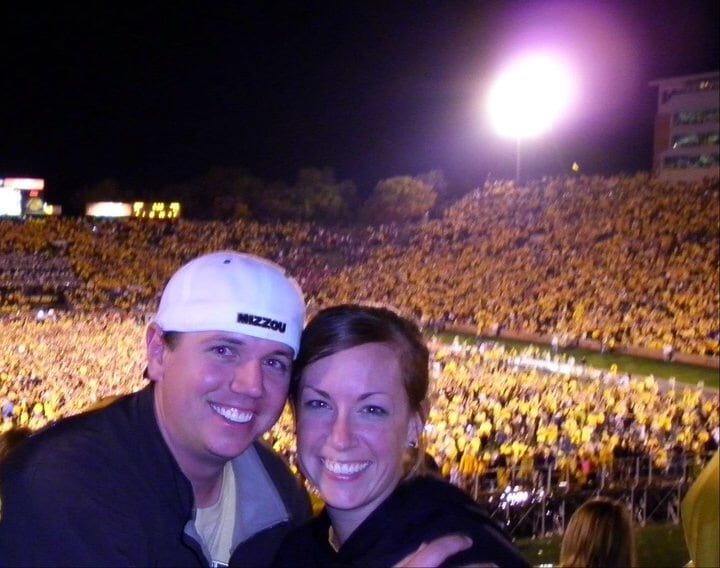 The only thing that could have made that day better would be these Stuffed Pepperoni Pizza Rolls!
They could have calmed my nerves while I stood through that game. Calmed my nerves while I tried to not show my full crazy to my then-new boyfriend. M-I-Z!!!
The great thing about these Stuffed Pepperoni Pizza Rolls is that they're EASY!!!
They taste great straight out of the oven and also great cold, straight out of the fridge. Just like cold pizza…one of my other loves.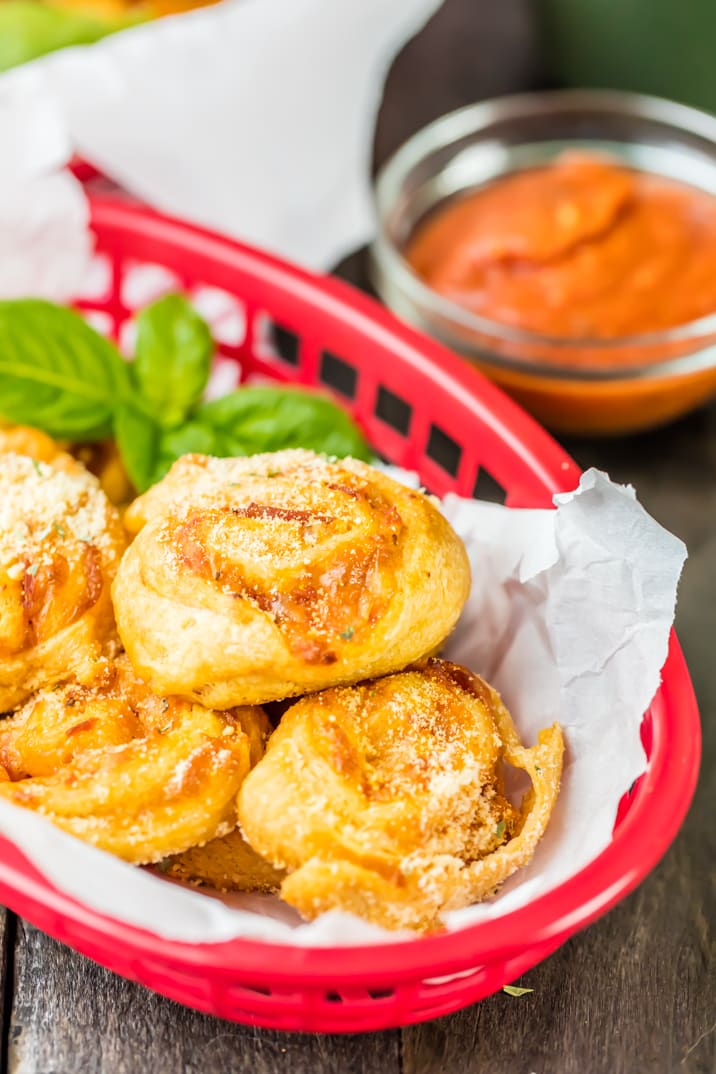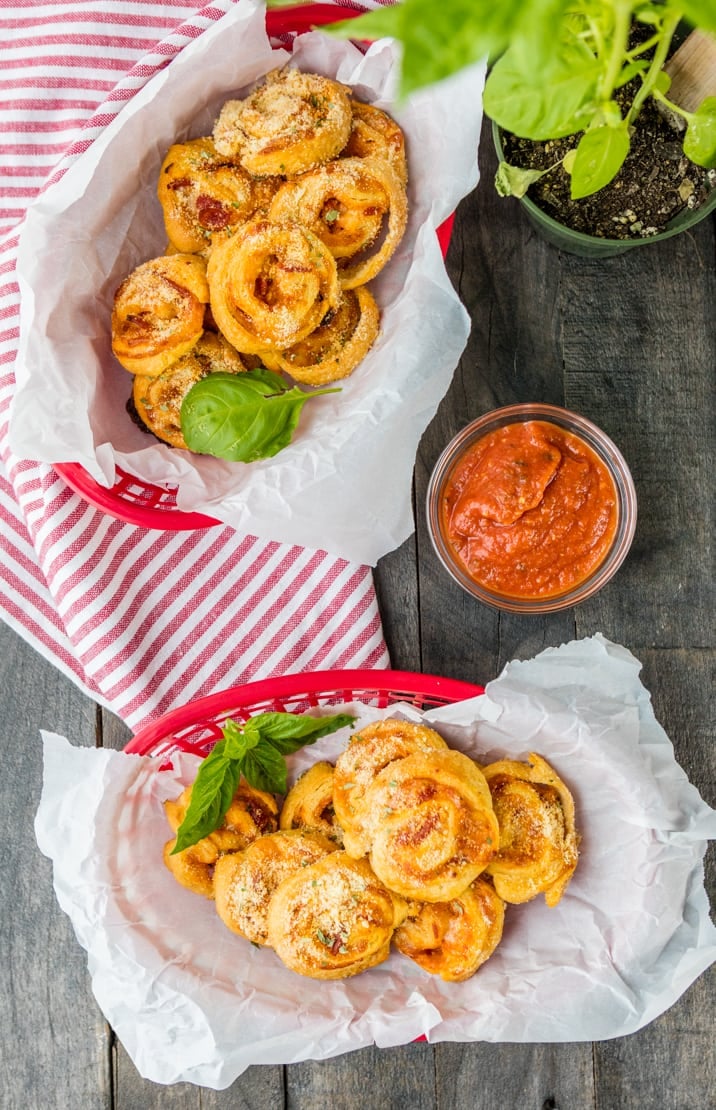 There are two things I love in life (besides dogs and cats…)…CHEESE, and University of Missouri Sports. Oh and the Royals…oh and chocolate…..okay I digress. ANYWAY…tailgating and cheese…and this recipe checks both boxes! Perfect for tailgating and full of cheese.  GIMME!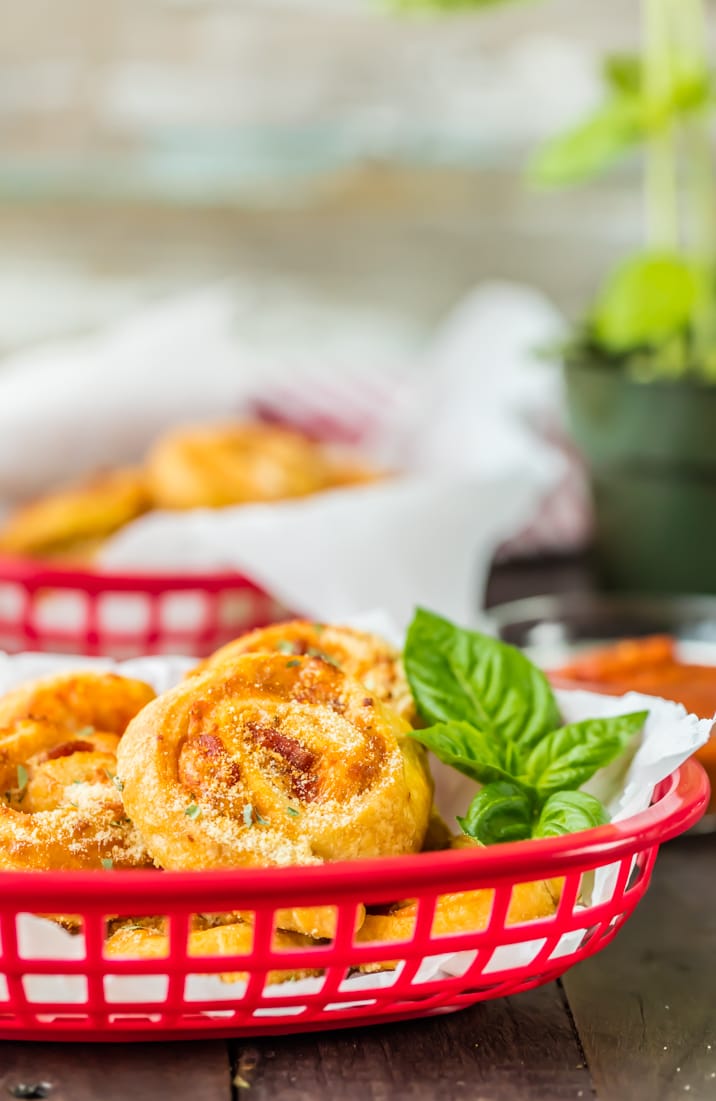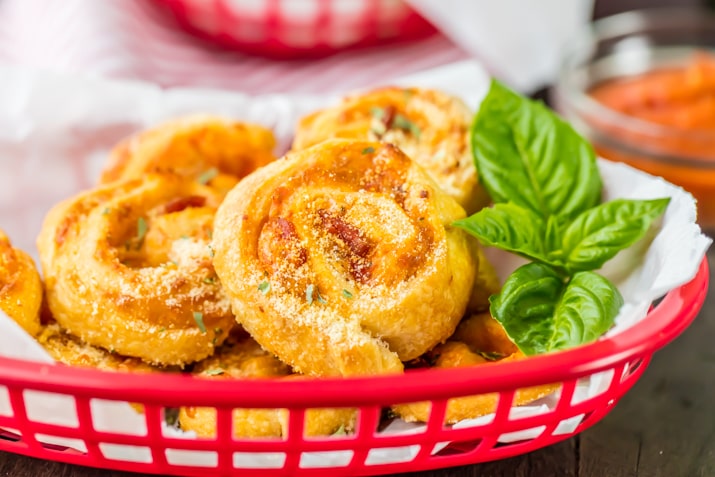 These are also awesome because you can stuff them with any and all of your favorite toppings! The sky is the limit!!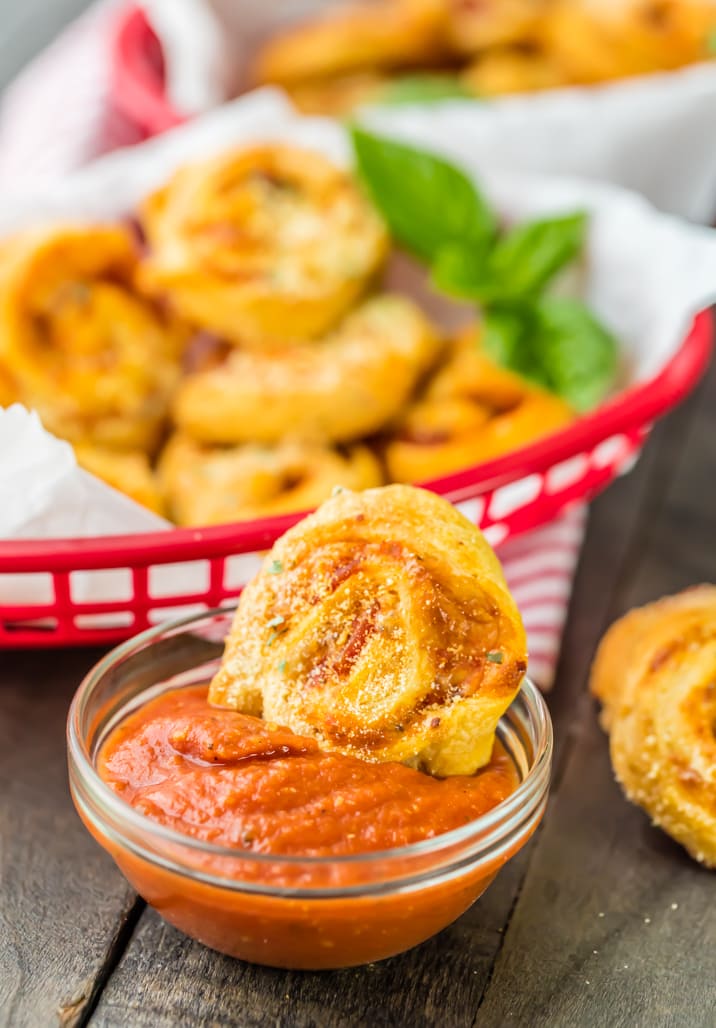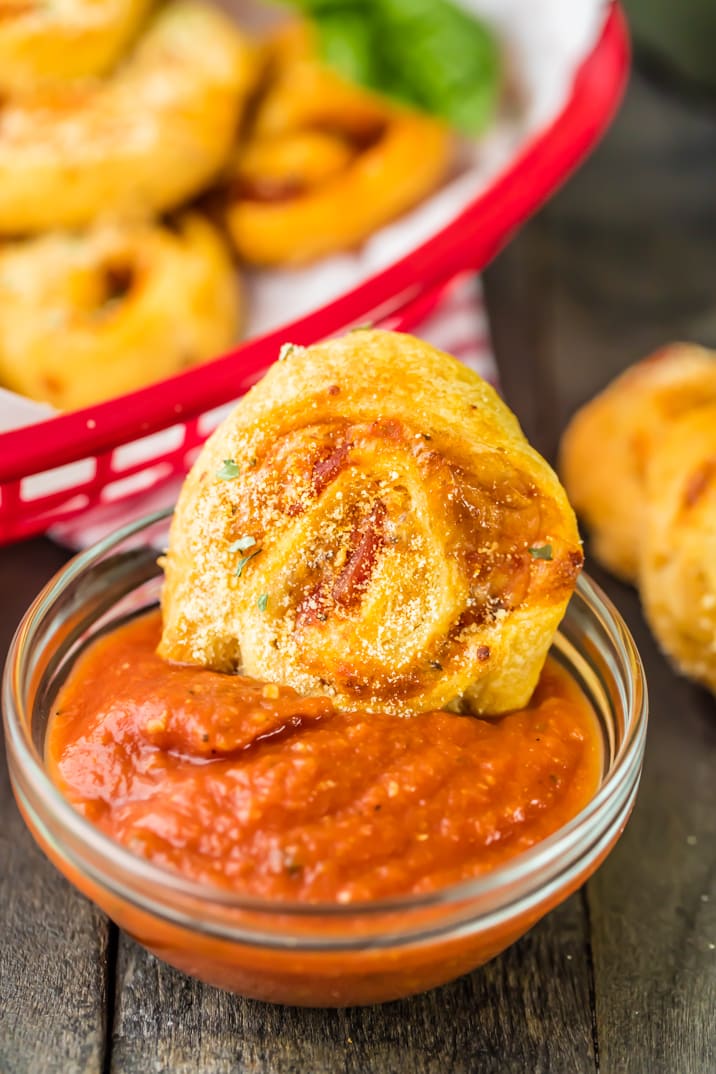 Okay I'm off to watch the clips from that Mizzou/OK game. Don't mind me if I cry thinking about the good times. Enjoy the Pepperoni Pizza Rolls!!
I adapted this recipe from the amazing site, I Heart Nap Time! That's a MUST-READ site for any food lover!! Hop over there now and check it out!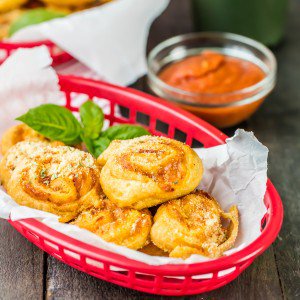 Stuffed Pepperoni Pizza Rolls
Ingredients
1

roll puff pastry dough

thawed

1 1/2

cups

shredded mozzarella cheese

1/4

cup

marinara sauce

1/4

cup

mini pepperonis

or regular size

grated parmesan cheese and chopped basil for garnish
Instructions
Preheat oven to 350F

Roll out dough on a piece of foil.

Pinch together any seams of the dough that are coming apart. You want one sheet of dough. (This is a drawback to using puff pastry dough. I tried this recipe with pizza dough and it did not work nearly as well, the rolls grew apart. I recommend using the puff pastry dough and just pinching together any seams that are open)

Spread marinara sauce over the dough, leaving about 1/2 inch on each side.

Cover marinara with cheese and pepperonis. Donâ??t feel like you need to over-do the toppings. Less is more once you roll the dough.

Roll the dough length-wise (the long edge), creating one long roll. Fold the foil around the tube of dough and place in freezer for 20-40 minutes. This is optional but will help the roll keep its shape as you cut it later.

Take the dough out of the freezer and cut into 3/4 inch rolls. I used a bread knife and that worked well.

Place cut rolls onto a cookie sheet sprayed with non-stick spray.

Bake for 20 minutes until bubbly and golden brown.

Sprinkle with parmesan cheese and basil if desired.

Enjoy!