Pepperoni Pizza Rolls are made with pastry dough, then filled with marinara, mozzarella, and pepperoni. This homemade pizza rolls recipe is so tasty, and it makes a great game day appetizer. Just roll them up, bake them in the oven, and serve!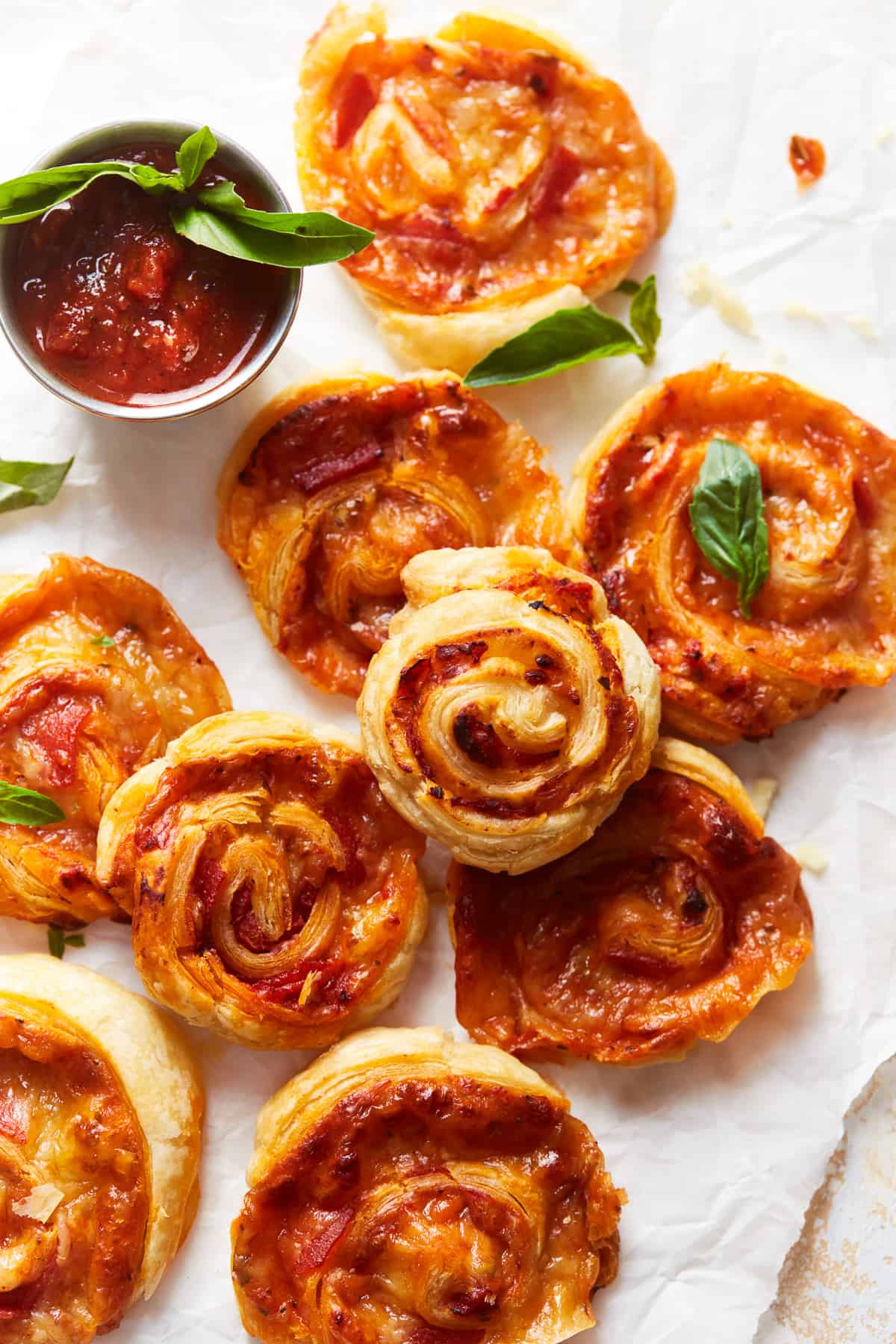 What's in Pizza Pinwheels?
These pizza pinwheels are made with puff pastry dough and baked to perfection. This homemade pizza rolls recipe is so tasty, and it makes a great game day appetizer.
Pastry Dough: We use pre-made puff pastry dough (like crescent roll dough) for our pizza rolls recipe. I prefer it over regular pizza dough, and it gives these pinwheels a delicious texture.
Marinara: You can use this homemade marinara sauce recipe, or any marinara sauce you like (homemade or store-bought).
Pepperoni: I recommend using mini pepperonis so that they're easy to stuff in, but you could also chop up regular-size pepperonis.
Cheese: Use shredded mozzarella for the filling.
Pro Tip: Sprinkle the fresh-from-the-oven rolls with Parmesan cheese and fresh basil!
Variations on this Pizza Pinwheels Recipe
One thing I love about these pizza pinwheels is how easy it is to change them up with different ingredients and flavors. You can stuff them with any and all of your favorite pizza toppings, and get as creative as you like.
Try leaving out the pepperonis to make plain cheese. You could also add another type of cheese to spice things up. Use sausage instead of pepperoni. Italian sausage or chorizo would be delicious! Make veggie-filled pizza rolls, by adding diced vegetables to the filling. Try bell peppers, olives, or red onion. Or, mix in your favorite herbs, like oregano, rosemary, or red pepper flakes.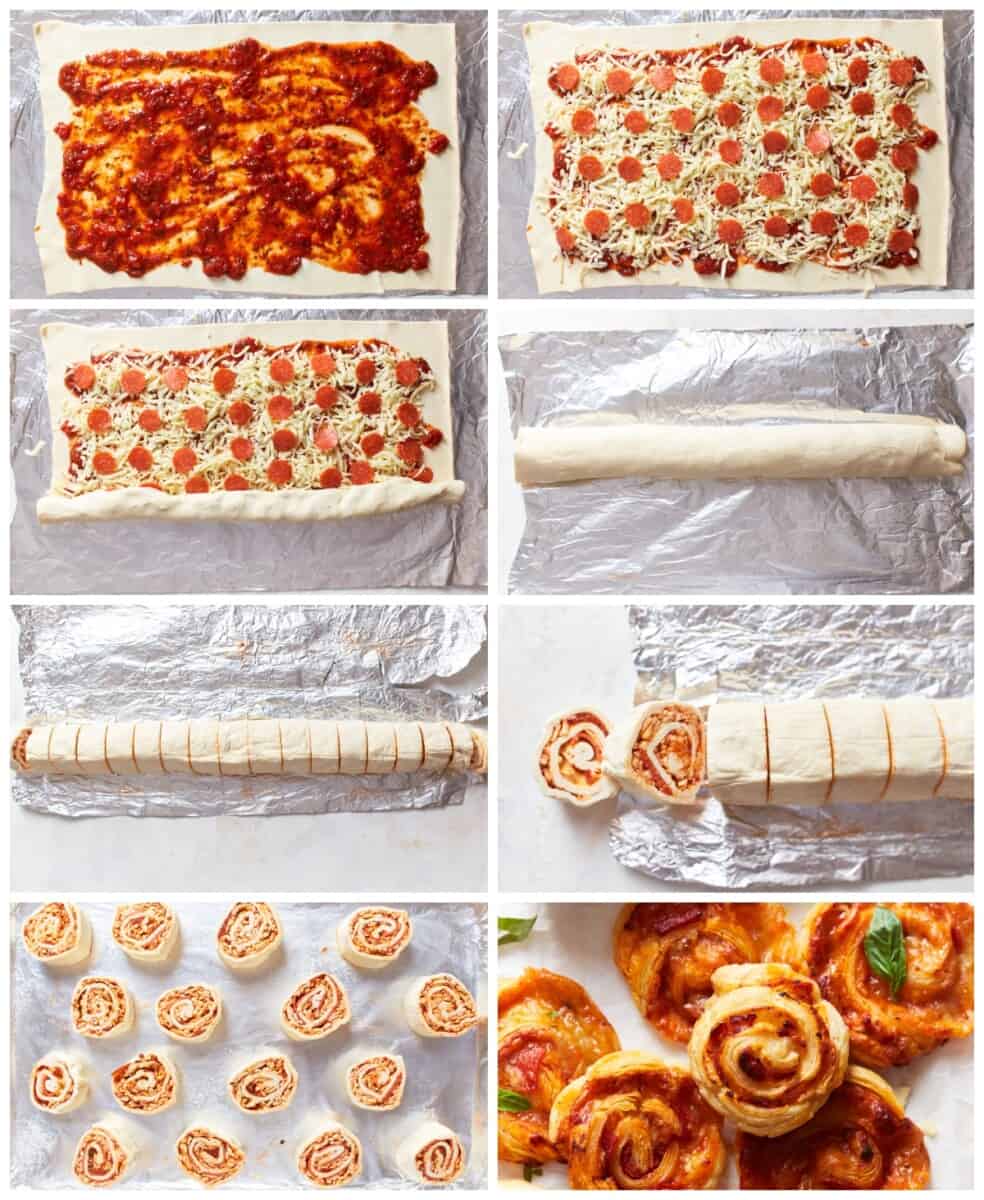 How long do pizza rolls keep in the fridge?
Once baked and cooled, store them in an airtight container or resealable storage bag. They'll keep in the fridge for 3-4 days.
Can you eat pizza pinwheels cold?
Yes, these are pretty tasty cold too! However, you should bake them first in order to cook the dough. But then you can eat them straight out of the fridge as you please.
Can you make these in the microwave?
These are best if baked fully in the oven. But you can reheat them in the microwave before eating.
How long does it take to cook pizza rolls in the oven?
These will take about 20 minutes to bake at 350°F.
Can I make pizza pinwheels ahead of time?
These are best baked and served right away, but you can definitely make them ahead of time if needed. You can prep the pepperoni pizza rolls by filling the dough with ingredients and rolling it up. Wrap it in foil and keep it in the refrigerator for up to 24 hours before baking. You can also bake the pizza pinwheels as instructed, then keep them in the refrigerator and just reheat to serve.
Can you freeze homemade pizza rolls?
Absolutely! After baking, let them cool to room temperature. Then, freeze for one hour on a parchment-lined baking sheet so that they don't stick together as they freeze. Move them to an airtight container or Ziplock bag to store for up to 3 months.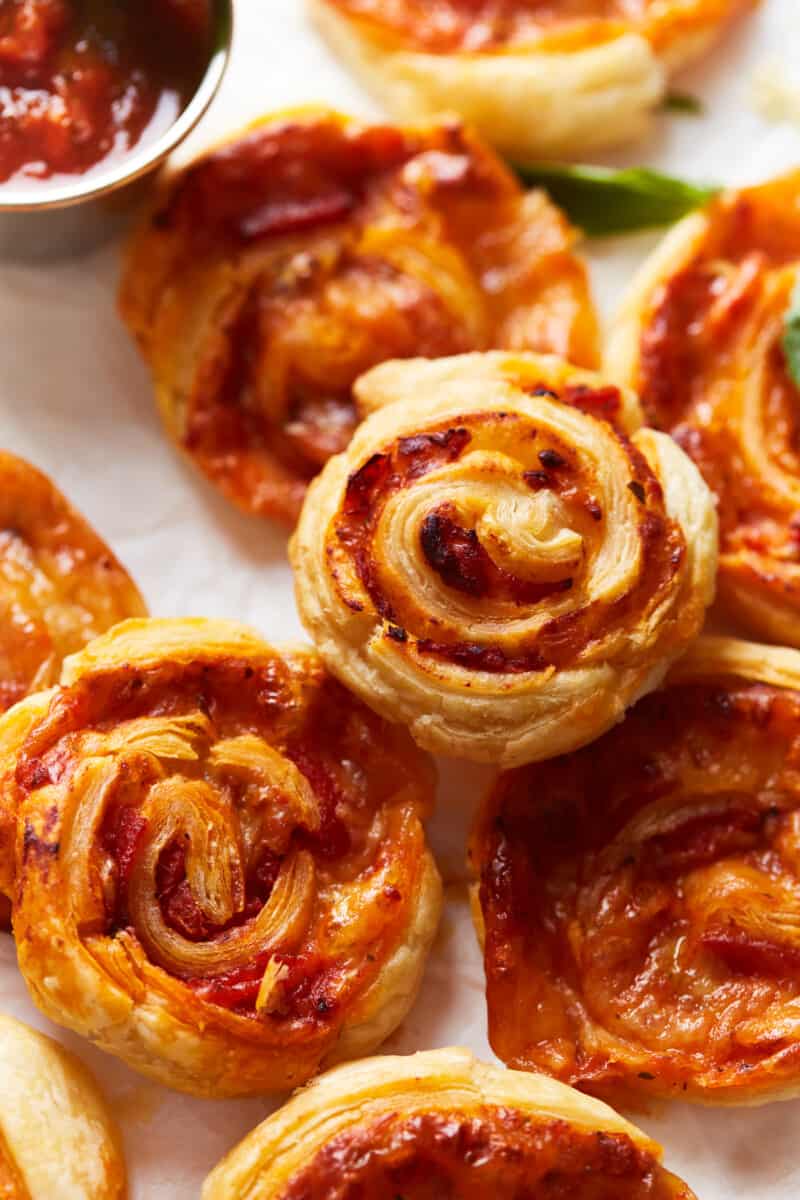 How to Store and Reheat Pepperoni Pizza Crescent Rolls
Store leftover pepperoni pizza rolls in an airtight container in the refrigerator for up to 4 days. Reheat in a 350°F oven for 5-7 minutes, until warmed through.
How to Freeze Crescent Roll Pizza Pinwheels
One of the great things about pizza rolls is the convenience of being able to pull them out of the freezer for a quick meal or snack. And you can freeze this homemade version too! Make a double batch so you have plenty on hand.
After baking the pinwheels, let them cool to room temperature. Once cooled, spread them out evenly on a parchment-lined baking sheet for 1-2 hours, until solid. This will keep them from sticking together as they freeze. Once frozen, transfer them to an airtight container or Ziplock bag to store for up to 3 months. Reheat directly from frozen, adding 2-3 minutes to the final bake time.
What to Serve with Pepperoni Pizza Roll Ups
These pepperoni pizza rolls are such a fun appetizer, snack, or quick lunch. I keep things simple when I serve these. Just sprinkle them with a little Parmesan and fresh basil, then serve with some dipping sauce. Use marinara, ranch, garlic butter, or any favorite dip.
These make a great kid-friendly lunch too, and pair well with homemade pizza bagels. They'll be asking for these every week!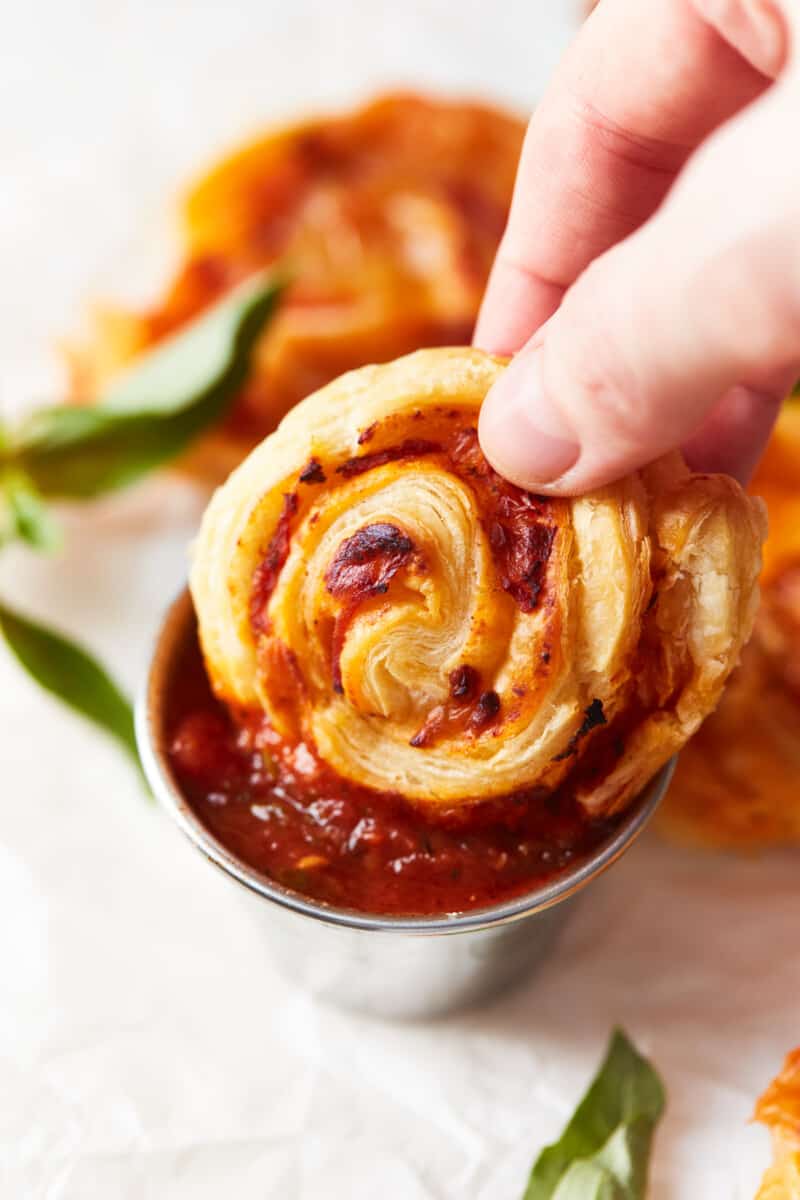 More Rolled Up Appetizers We Love