Jalapeno Cream Cheese Tortilla Roll Ups are just perfect for The Super Bowl! This EASY and quick Jalapeno Popper appetizer recipe is so addicting and gone in minutes from any party. Nothing beats cream cheese tortilla jalapeno roll ups for tailgating!
Jalapeno Cream Cheese Roll Ups
Jalapeno Cream Cheese Tortilla roll ups make the perfect easy appetizer for game day, New Year's, or any party.
Don't you just love it when you find an easy and delicious and FUN party food recipe? I recently made Ham and Cheese Roll Ups and I knew that I wanted to try a Jalapeno Poppers inspired flavor combination. Pinwheels, tortilla roll ups, WHATEVER you call them…they're simple, loved by all, and just perfect for game day or New Year's Eve.
With the Super Bowl coming up fast, I'm in a mad dash to find the best Super Bowl appetizers that anyone can make and everyone will love. If you bring these Jalapeno Cream Cheese Tortilla Roll ups to your next tailgate party, you're sure to be the MVP. Just sayin.
Try this Jalapeno Popper Roll ups recipe! Tortilla Roll ups with Cream Cheese and Jalapeno makes the perfect flavor combo.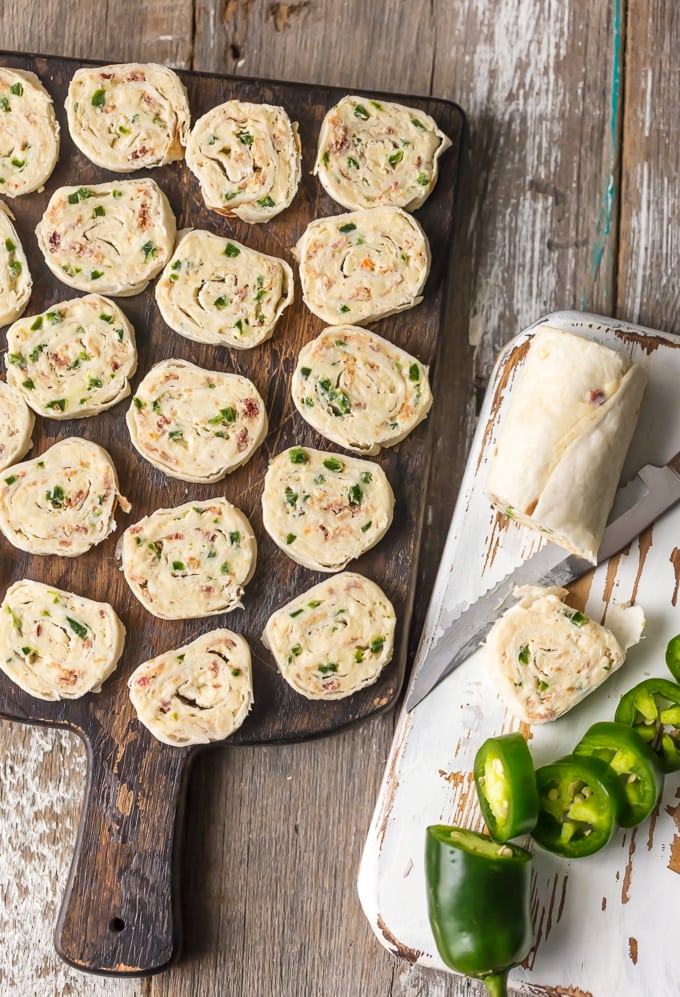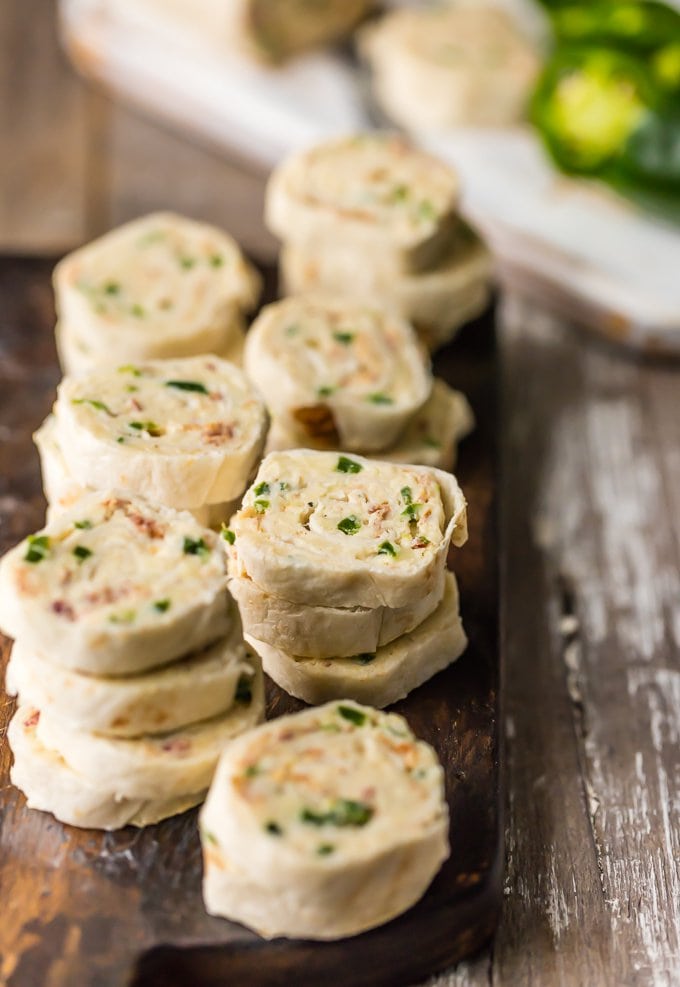 Jalapeno Popper Roll ups
I love that these Jalapeno Popper Roll ups are just the right amount of spicy, but they are still mild enough for everyone at the party. These jalapeno tortilla roll ups are bite sized, full of flavor (hello…BACON), and are made with minimal ingredients.
These tortilla roll ups with cream cheese and jalapeno are the perfect mix of ingredients, creating amazing flavor. They have just a little crunch from the jalapenos, and a little bit of a creamy texture from the cream cheese. I'm a BIG FAN. This is why I love sports…the eating!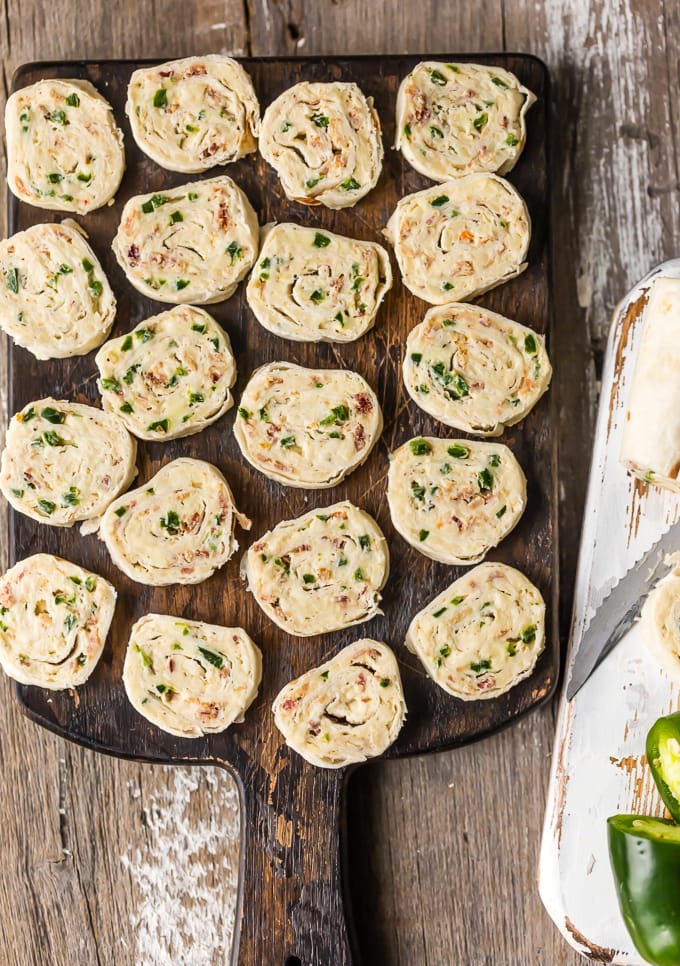 How to Make Jalapeno Popper Roll ups
Want to learn how to make jalapeno cream cheese tortilla roll ups? It's easy and quick!
These Jalapeno Poppers Pinwheels are pretty simple. They're just tortilla roll ups with cream cheese and jalapeno, plus some bacon and cheese for extra deliciousness. Sometimes minimal ingredients make for the best recipes.
To make these Jalapeno Popper Roll ups:
Mix ingredients together (cream cheese, jalapeno, bacon, cheese, etc)
Spoon cream cheese and jalapeno mixture evenly onto tortillas
Roll up the tortillas, let them chill in the fridge, then cut them into 1/2 inch slices
And now you have fun Jalapeno Poppers Pinwheels! How easy it that? Check the recipe card for full instructions.
How to Make Cream Cheese Tortilla Roll ups
If the Jalapeno Poppers Pinwheels aren't your thing, you can pretty much make these cream cheese tortilla roll ups in any flavor you can imagine.
Just follow the instructions below, but use the ingredients you love instead (in place of the jalapenos, bacon, and extra spices). It's that easy! I know you will be making these cream cheese pinwheels again and again. The perfect appetizer for work potlucks, tailgating parties, after school snack…there's a tortilla roll up recipe for every occasion!
This Ham and Cheese Tortilla Roll up is a great recipe to try! And these Mexican Pinwheels are a party favorite!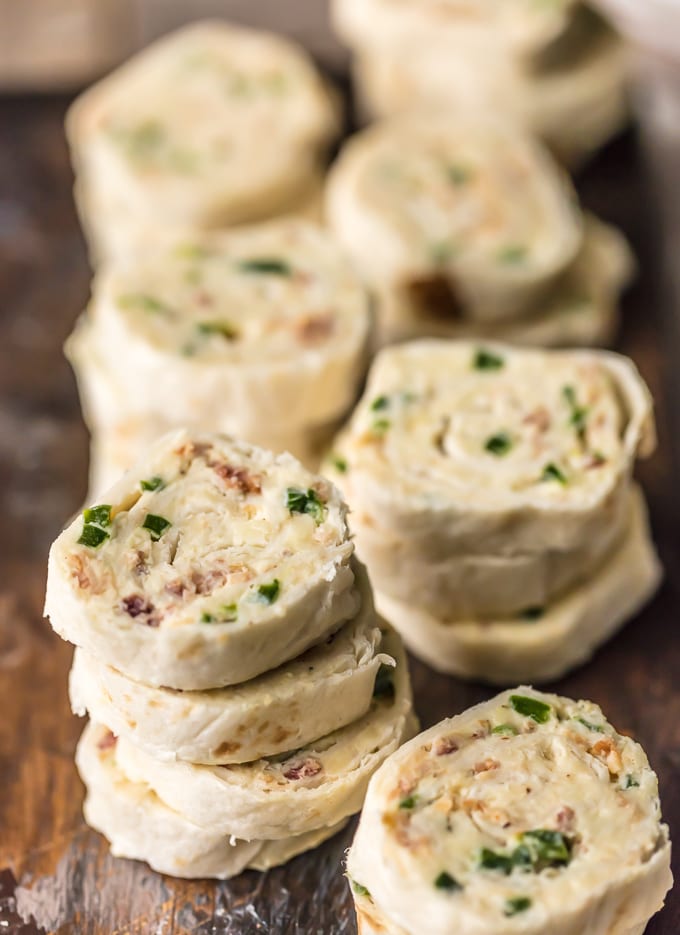 These tortilla roll ups with cream cheese and jalapeno are so easy to pack up and bring to a party because they are served cold (so convenient) and they don't take up much space. So make a double or triple batch and watch them fly off the counter when your friends arrive.
This Jalapeno Poppers Pinwheel recipe can be dipped in ranch, or you can eat them plain. Either way, they're just so darn yummy. Is this the perfect party food? I think it just might be!
If you love these jalapeno popper roll ups, try these other appetizer recipes: