An iconic grocery store treat, homemade Oatmeal Cream Pies feature soft and chewy oatmeal cookies with a sweet vanilla filling. Just as delicious as the original, this from scratch version is made without artificial flavors or preservatives for a treat you can feel great about making and eating!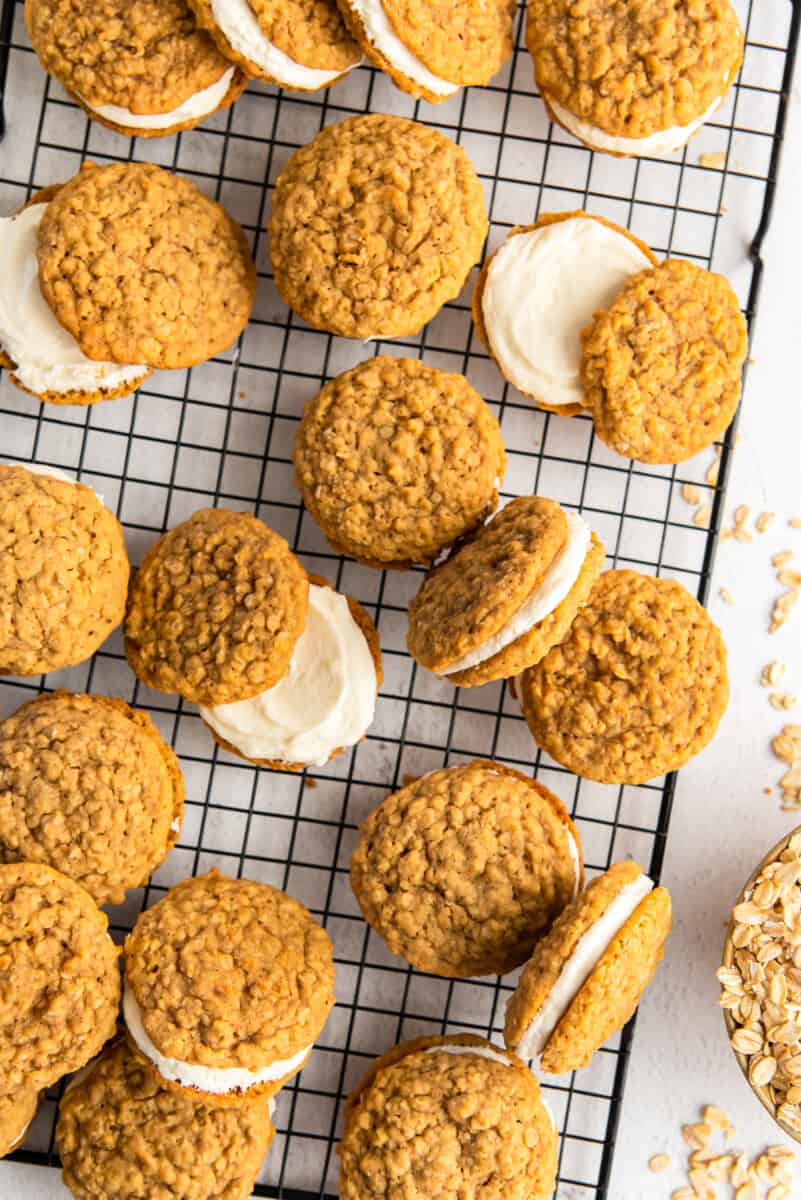 Copycat Oatmeal Cream Pies
Make the most delicious Oatmeal Cream Pies you've ever tasted with this simple recipe. Made completely from scratch, these cookie sandwiches feature a smooth, sweet filling spread between 2 soft-baked and wonderfully spiced oatmeal cookies.
These copycat cookies are 100% homemade and 100% delicious! Perfect for any and all occasions, these pies are always a hit.
Why You'll Love this Oatmeal Cookie Recipe:
DELICIOUS: Each oatmeal cream pie is loaded with flavor and texture, with hearty oats, warm cinnamon, spiced molasses, and sweet vanilla.
EASY: You'll be surprised at how quickly and easily these pies come together. It's a fun afternoon project for young bakers to help with, too!
HOMEMADE: Unlike the original Oatmeal Cream Pies, these pies are made from scratch without any preservatives or artificial flavors.
Ditch the packaged Oatmeal Cream Pies and make your own from scratch using simple baking ingredients.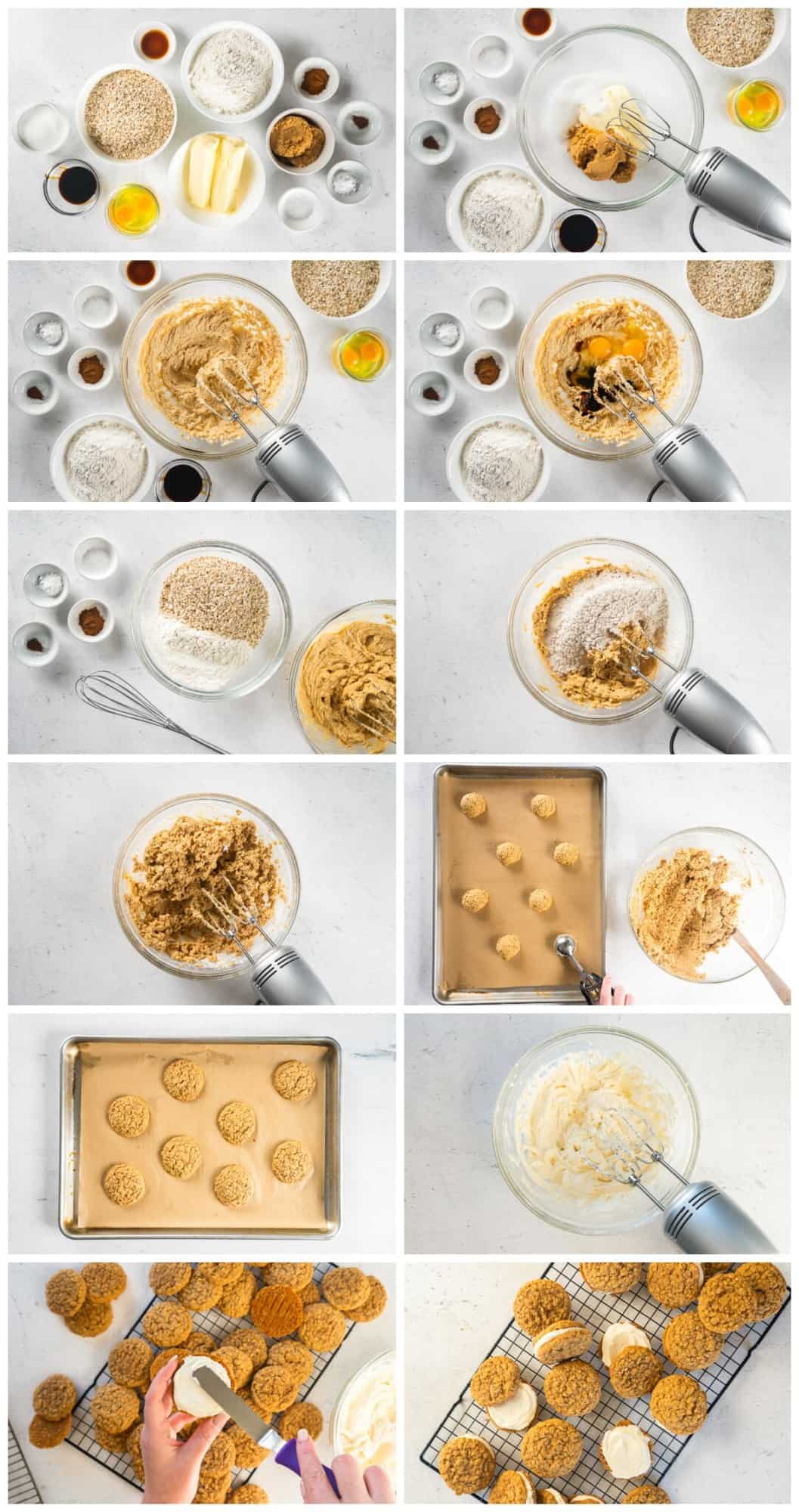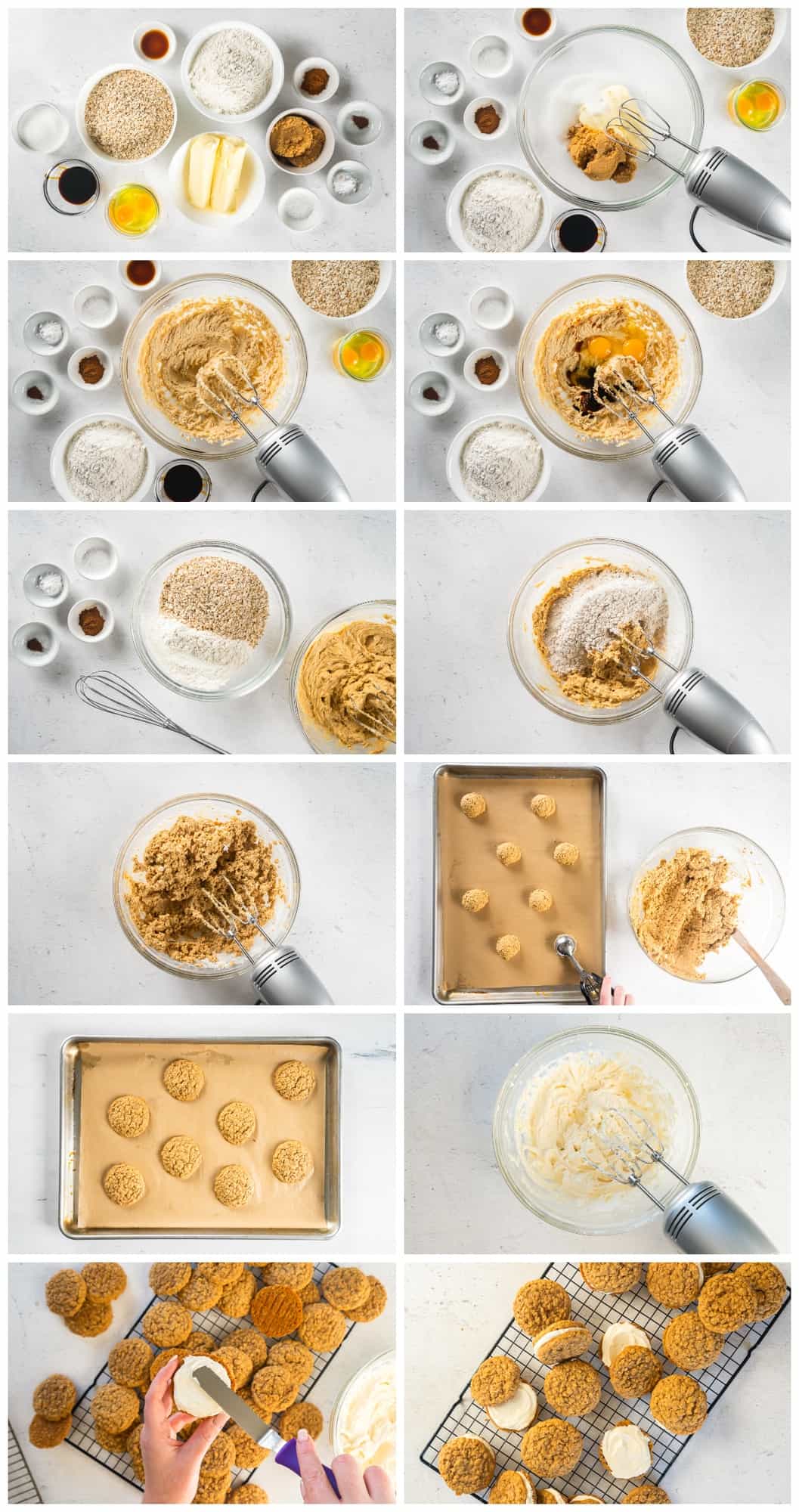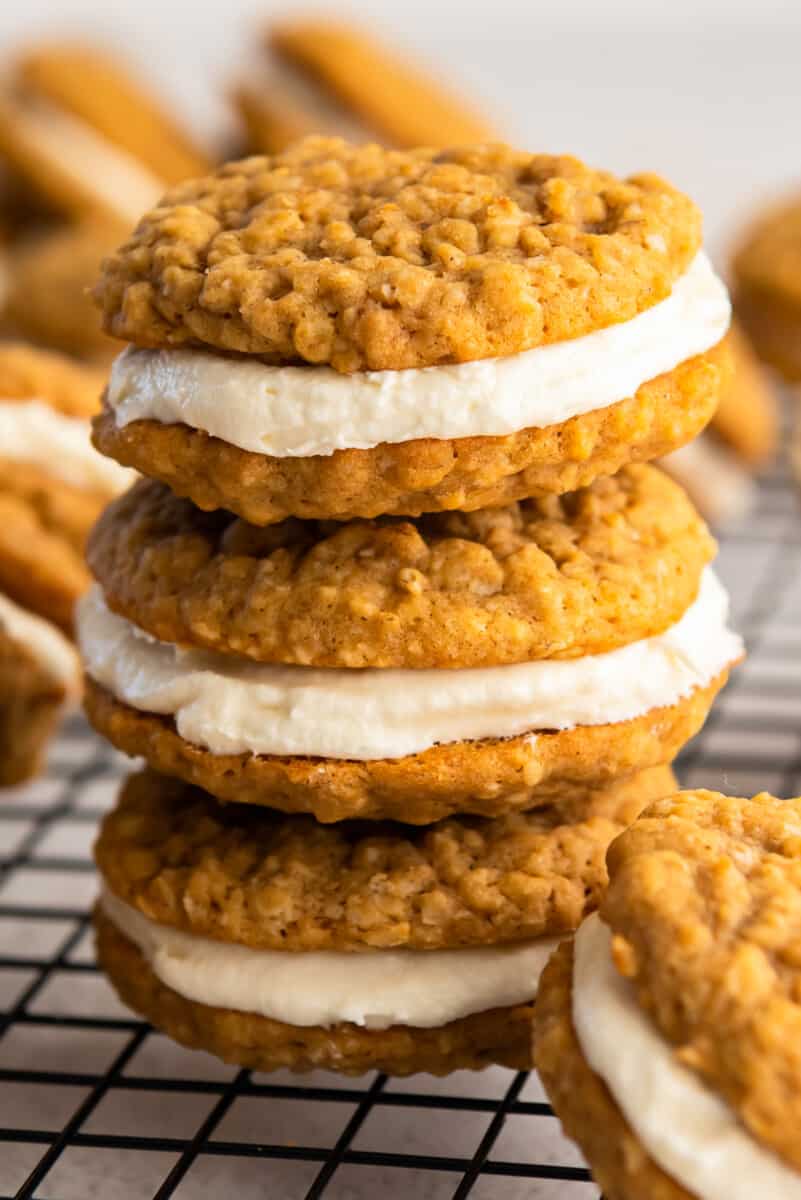 How to Make Oatmeal Cream Pies
You can jump to the recipe card for full ingredients & instructions!
Beat the wet ingredients together.
Mix the dry ingredients together.
Combine the wet and dry ingredients.
Scoop 2 tablespoon-sized cookies onto prepared baking sheets/
Bake.
Flatten and cool the cookies.
Make the filling.
Assemble and enjoy!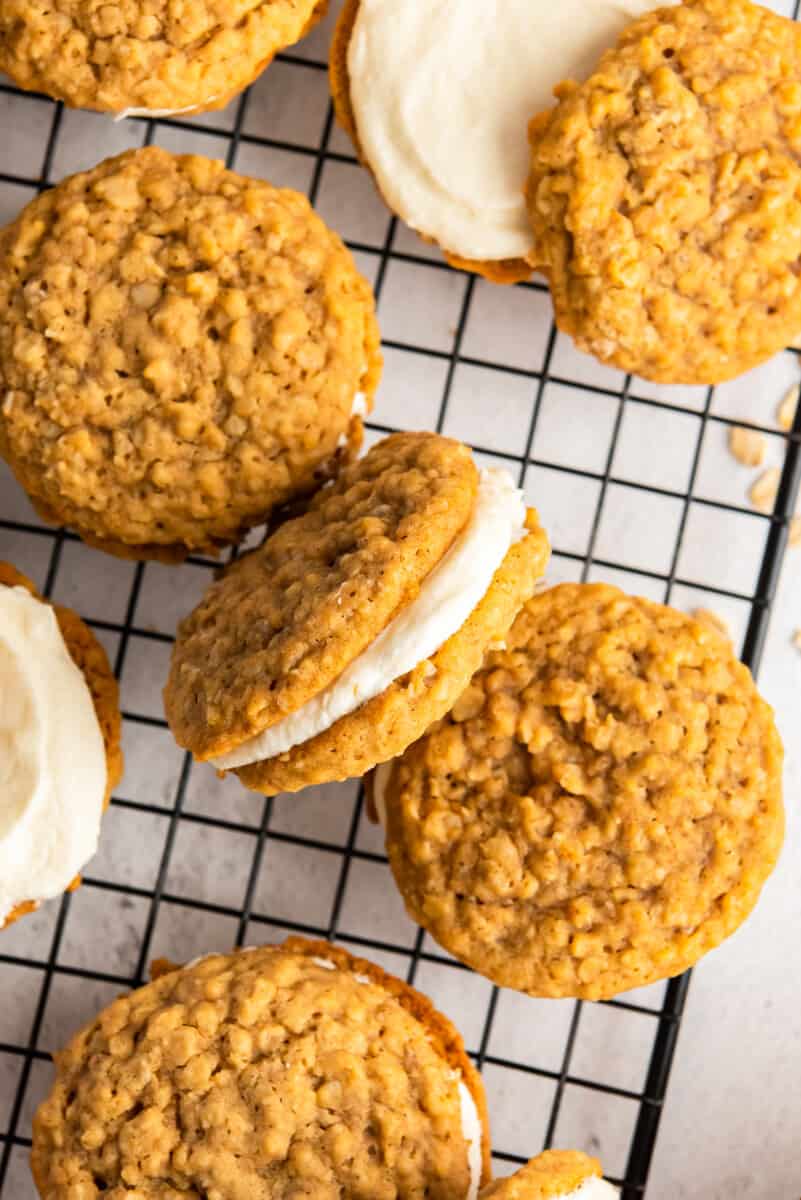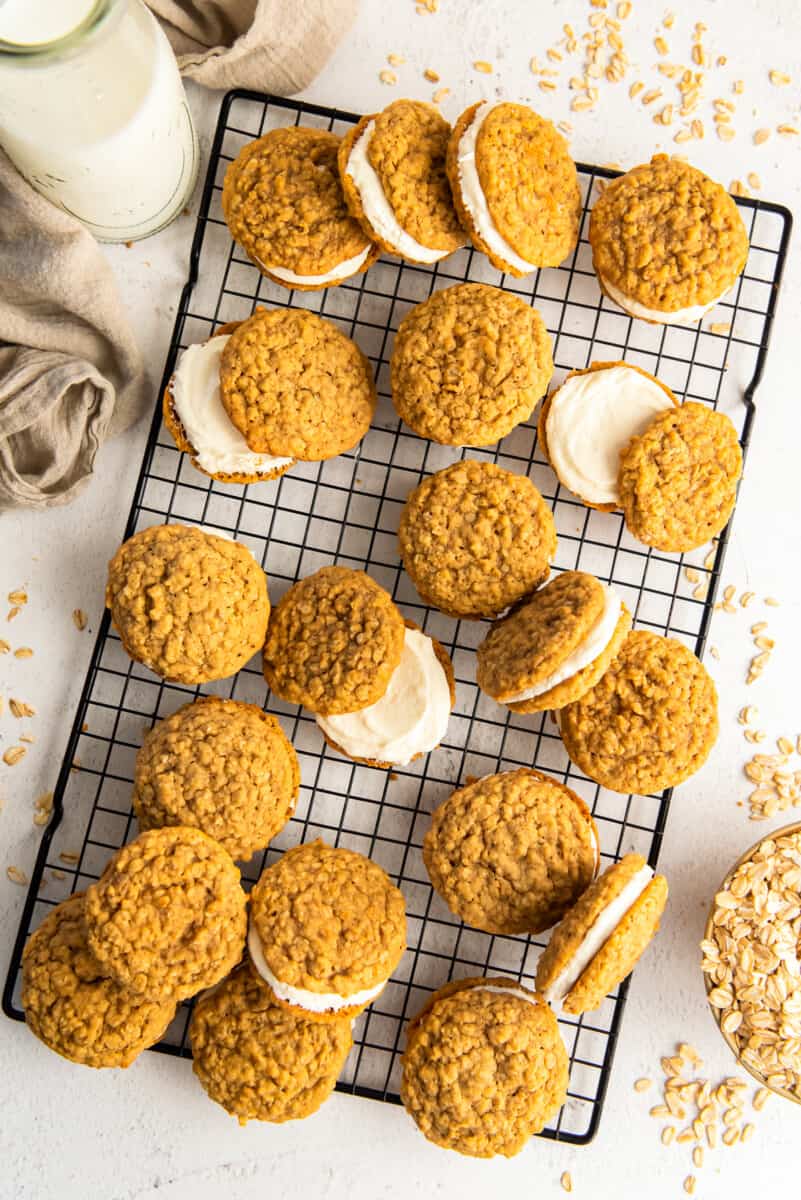 What are oatmeal cream pies?
Oatmeal Cream Pies are a quintessential Little Debbie cookie featuring 2 soft oatmeal cookies sandwiched with a sweet, creamy marshmallow filling. Easily make them at home using this simple recipe!
What is the best way to store oatmeal cream pies?
Store oatmeal cream pies in an airtight container at room temperature for up to 4 days. I like them best on day 2 after the flavors have intensified and the filling starts to soften the oatmeal cookies.
How long do oatmeal cream pies last?
When stored properly, these cream pies should last up to 4 days.
Can I freeze these cookies?
To freeze oatmeal cream pies, wrap each pie individually in plastic wrap, place in an airtight bag or container, and freeze for up to 3 months. Remove from the freezer and thaw before serving.
If you love this childhood sweet treat, whip up a batch at home!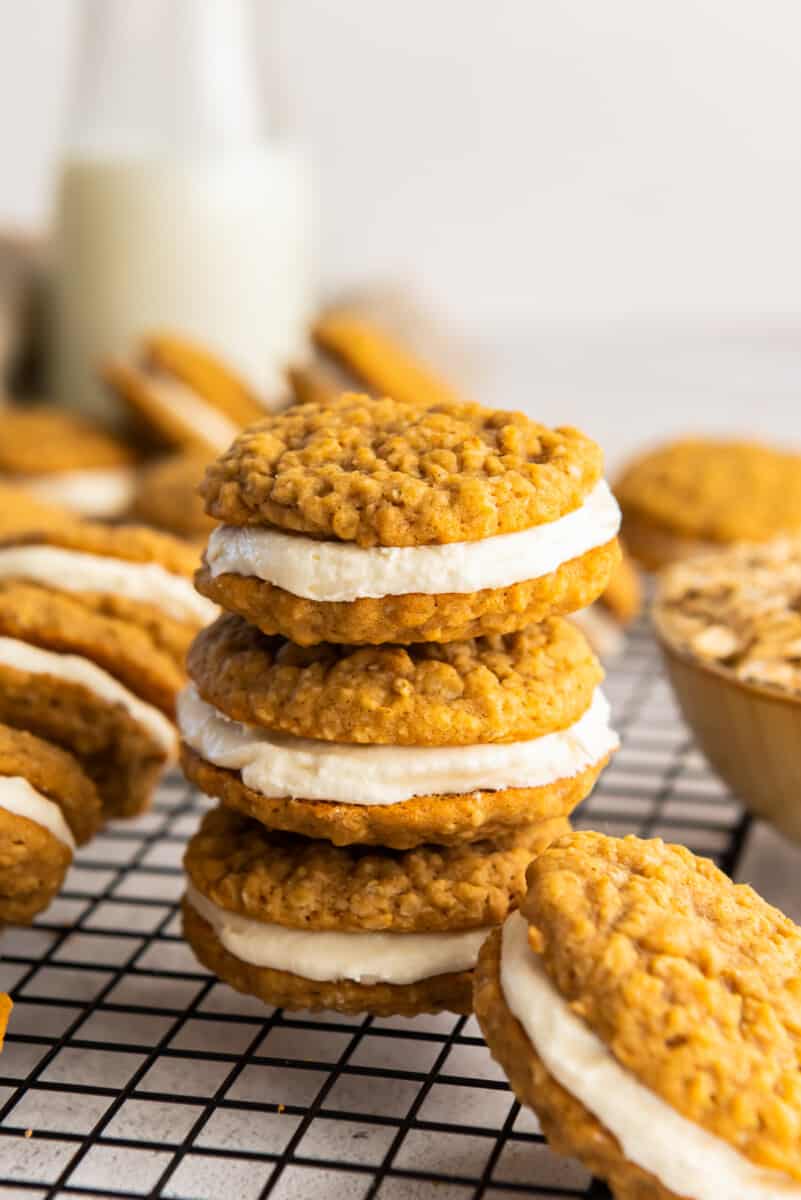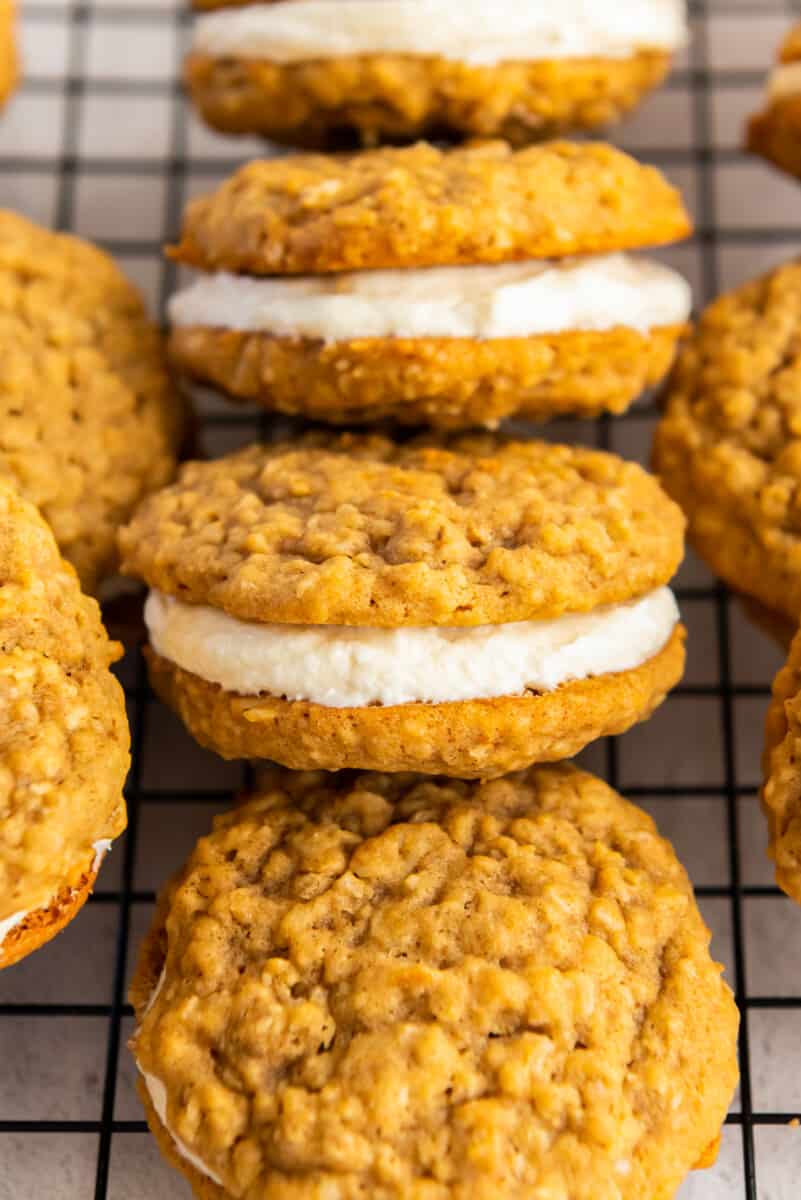 Tips!
For perfect oatmeal cookies, try not to overmix the wet and dry ingredients.
Keep an eye on the cookies as they bake. When the edges are lightly golden brown, they're done!
When removing the cookies from the oven, tap the baking sheet at least 3 times on the counter to flatten the cookies.
Mix it up and add sprinkles or chocolate chips to the filling for a little something extra!
Making sandwich cookies has never been easier. Anyone can prepare this simple recipe!
What kind of oats are best for oatmeal cream pies?
For best results, use quick-cook oats. If you don't have quick-cook oats, pulse old-fashioned oats a couple of times in a blender to break them down. Measure out 2 ½ cups of these oats and continue with the recipe.
Is there a substitute for marshmallow fluff in the filling?
Marshmallow fluff is a must-use in this filling recipe. Instead of using the filling recipe included below, use a buttercream frosting or hazelnut spread between the cookies. Get as creative as you'd like!
Can I make a chocolate cream filling?
Yes! Add 1 tablespoon of unsweetened cocoa powder to the filling mixture.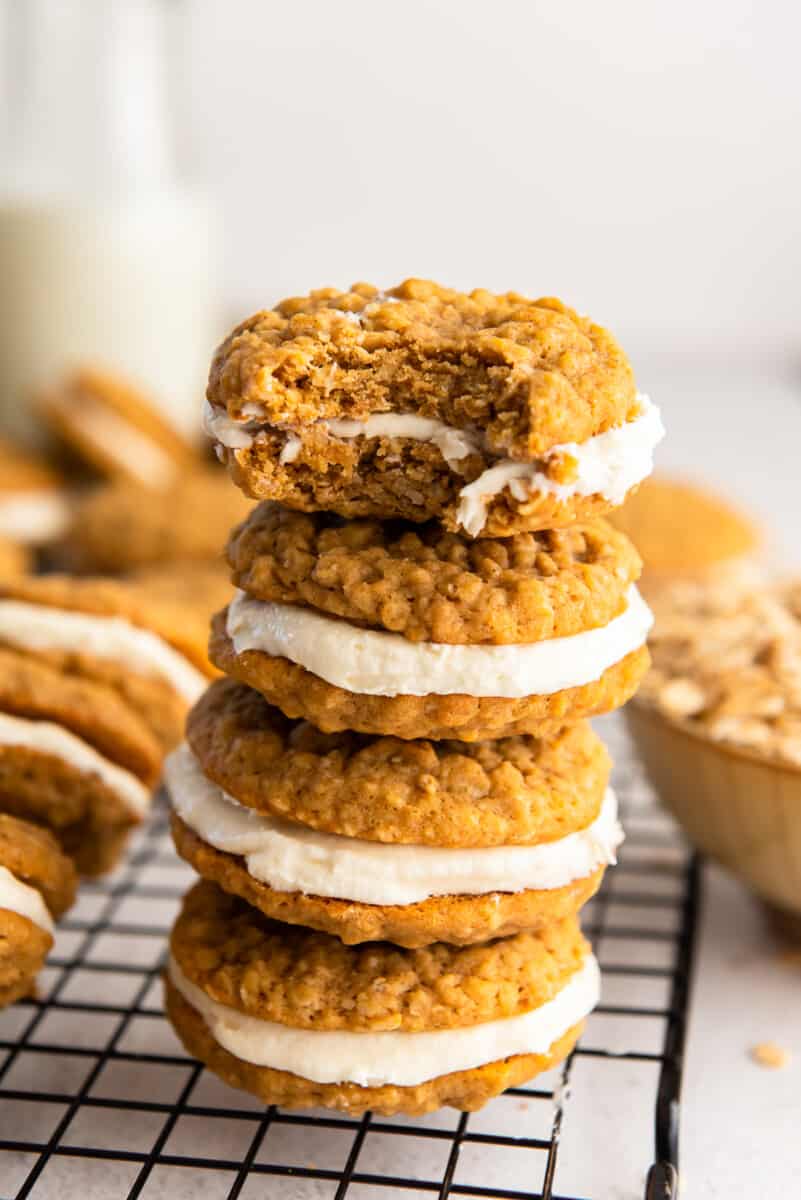 Sweeten anyone's day with a plate of homemade oatmeal cream pies. What's not to love?
If you make this recipe be sure to upload a photo in the comment section below or leave a rating. Enjoy! You can also jump to recipe.