This Black Magic Cake is a take on Hershey's black magic chocolate cake and it's one of the best cakes ever! Perfectly moist chocolate cake covered in the best white icing. This. Is. Sublime.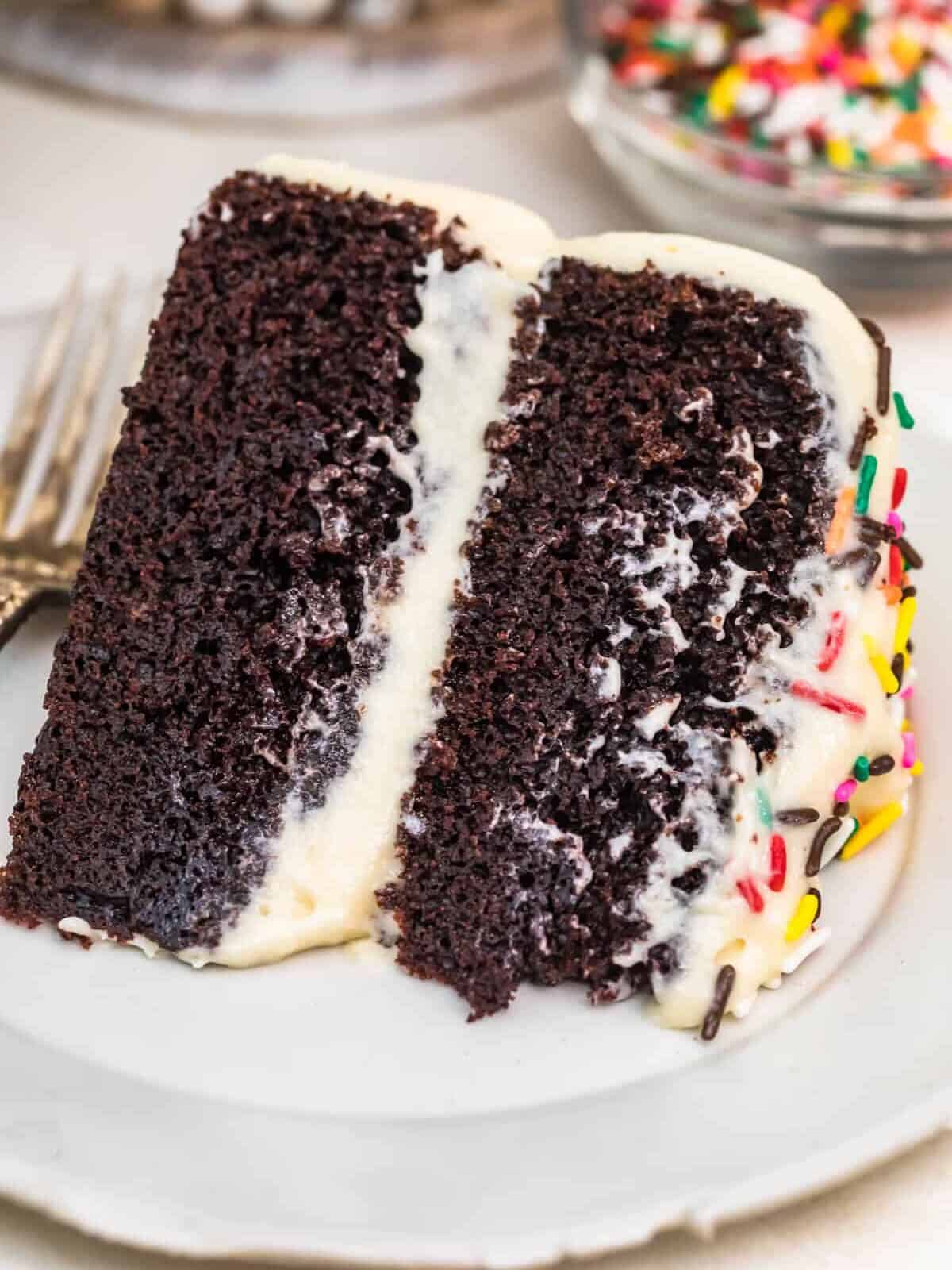 What's in this Black Magic Cake Recipe?
This Black Magic Cake is a chocolate lovers dream. Simple and straightforward, this is one of those chocolate desserts that everyone will love. Coffee enhances the chocolate flavor and buttermilk helps make this chocolate cake super moist.
All-Purpose Flour: Gives the cake structure and texture. Be sure to measure using the spoon-and-level method to avoid a dry, dense cake.
Granulated Sugar: Sweetens the cake.
Cocoa Powder: Adds rich chocolate flavor.
Leavening: Baking soda and baking powder combine to create a light and fluffy cake.
Kosher Salt: Enhances the chocolate flavor.
Buttermilk: Adds moisture and a bit of tanginess.
Vegetable Oil: Adds moisture and fat to the cake, leading to a tender structure.
Eggs: Whole eggs and an egg white add richness and structure while keeping the cake light and airy.
Vanilla Extract: Enhances the sweetness of the cake.
Coffee: Enhances the chocolate flavor do the cake. You can use freshly brewed strong hot coffee or 2 teaspoons powdered espresso powder mixed with 1 cup boiling water.
White Icing: I love this cake served with my favorite white icing to balance the rich chocolate flavor.
Pro Tip: When baking cake, you want your eggs and dairy ingredients to be at room temp so they can create an emulsion that traps air that eventually expands with the oven's heat, for a lighter texture.
Variations on Magic Black Cake
This rich chocolate cake is great as is, but you can also combine it with other flavors to create a whole new experience. Try some of these variations:
Mint: Add some peppermint extract to the batter and top with a layer of mint chocolate frosting for a refreshing twist.
Peanut Butter: Mix some creamy peanut butter into the batter and top with a layer of peanut butter frosting for a rich and nutty flavor.
Raspberry: Swirl some raspberry jam into the batter and top with a layer of cream cheese frosting for a fruity and tangy twist.
Orange: Add some orange zest to the batter and top with a layer of chocolate ganache icing for a citrusy and decadent treat.
Mocha: Mix some extra instant coffee or espresso powder into the batter and top with a layer of mocha frosting for a coffee-infused twist.
S'mores: Top the cake with a layer of marshmallow frosting, sprinkle with graham cracker crumbs, and finish with a drizzle of melted chocolate for a campfire-inspired treat.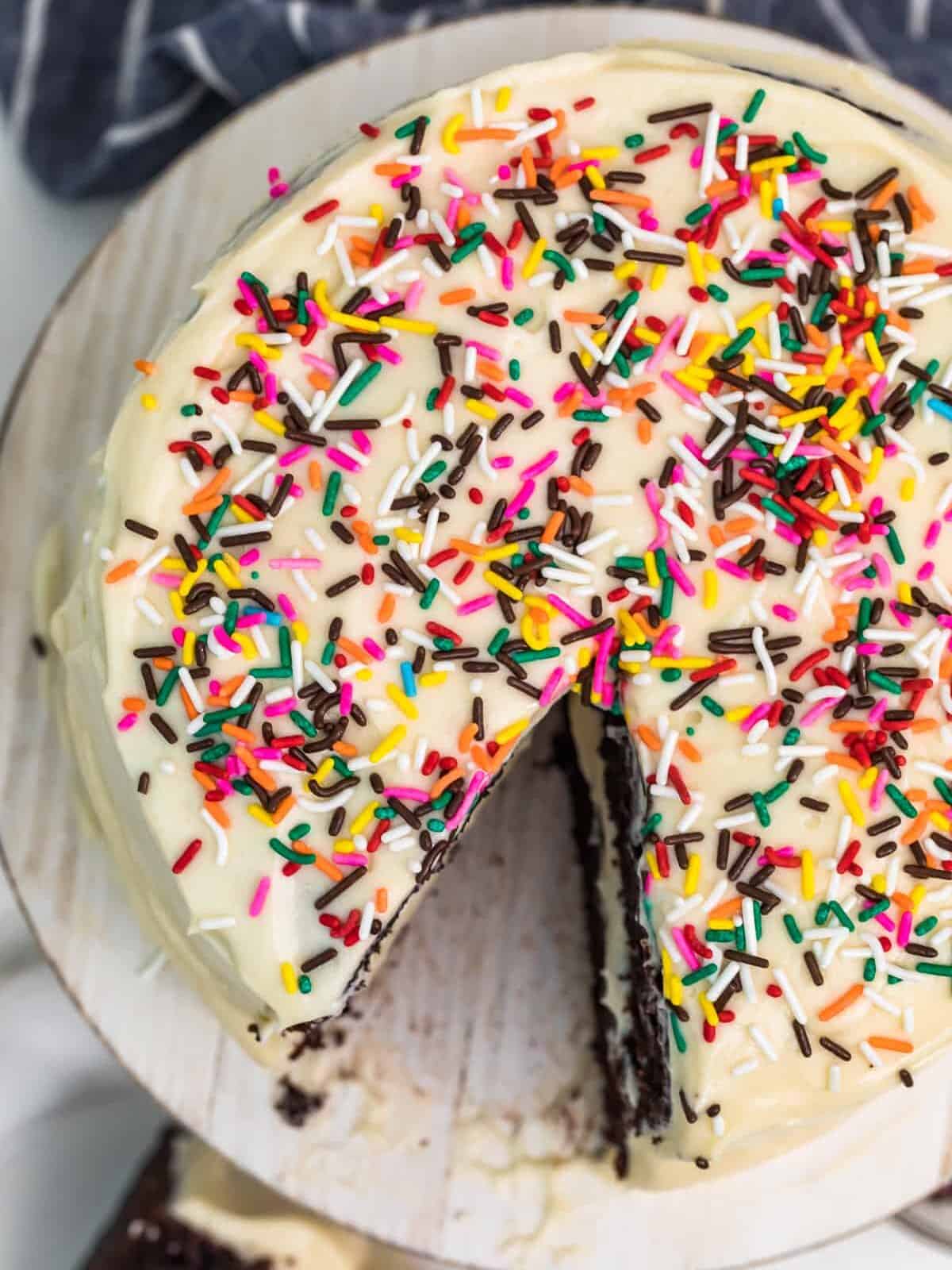 What is a Black Magic Cake?
The Black Magic Chocolate Cake is originally from Hershey's. In their words it's "a moist and magical buttermilk chocolate cake recipe that will have your friends demanding seconds." And they aren't wrong! It's everything a great chocolate cake should be, moist, bursting with chocolate flavor and easy to make. Maybe that's why it's called black magic, something this delicious shouldn't be this simple to pull together…
Why is it called Black Magic Cake?
The cake is named Black Magic Cake because of its dark color and rich chocolate flavor. It is believed that the name was coined due to the cake's ability to enchant and captivate people with its delicious taste.
What's the difference between Black Magic Cake and other chocolate cakes?
Black Magic Cake typically uses buttermilk instead of regular milk, which makes the cake extra moist and gives it a slightly tangy flavor. Additionally, the use of oil instead of butter in the recipe makes the cake denser and more tender.
Can I make Black Magic Cake without buttermilk?
Yes, you can substitute buttermilk with regular milk mixed with vinegar or lemon juice. Mix one tablespoon of vinegar or lemon juice with one cup of milk and let it sit for 5-10 minutes before using it in the recipe.
What kind of cocoa powder should I use?
While you can use any unsweetened cocoa powder you prefer, I like to use natural cocoa powder here because the baking soda helps to neutralize the acidity of natural cocoa powder, letting its rich flavor shine.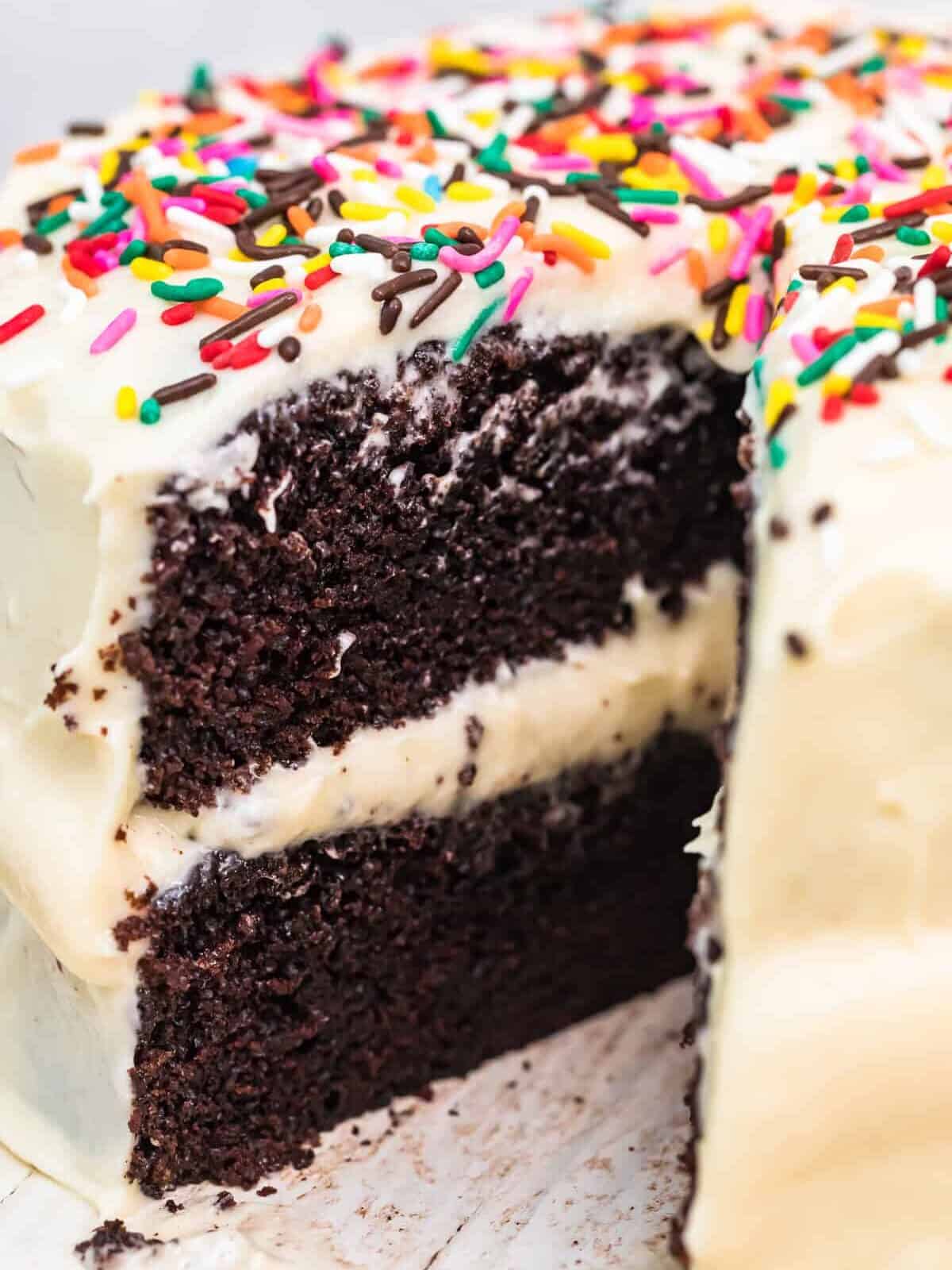 How to Store
Store Black Magic Cake in an airtight container or cake dome at room temperature for up to 3 days or in the refrigerator for up to 1 week. Enjoy at room temperature.
How to Freeze
Freeze Black Magic Cake whole or cut into individual slices tightly wrapped in 2 layers of plastic wrap and 1 layer of aluminum foil for up to 3 months. Let thaw overnight in the refrigerator before reheating.
Serving Suggestions
While I love this chocolate cake topped with my favorite white icing, it's also delicious with chocolate buttercream, chocolate fudge frosting, cream cheese frosting, or stabilized whipped cream. Add a drizzle of chocolate syrup or caramel sauce to take it to the next level.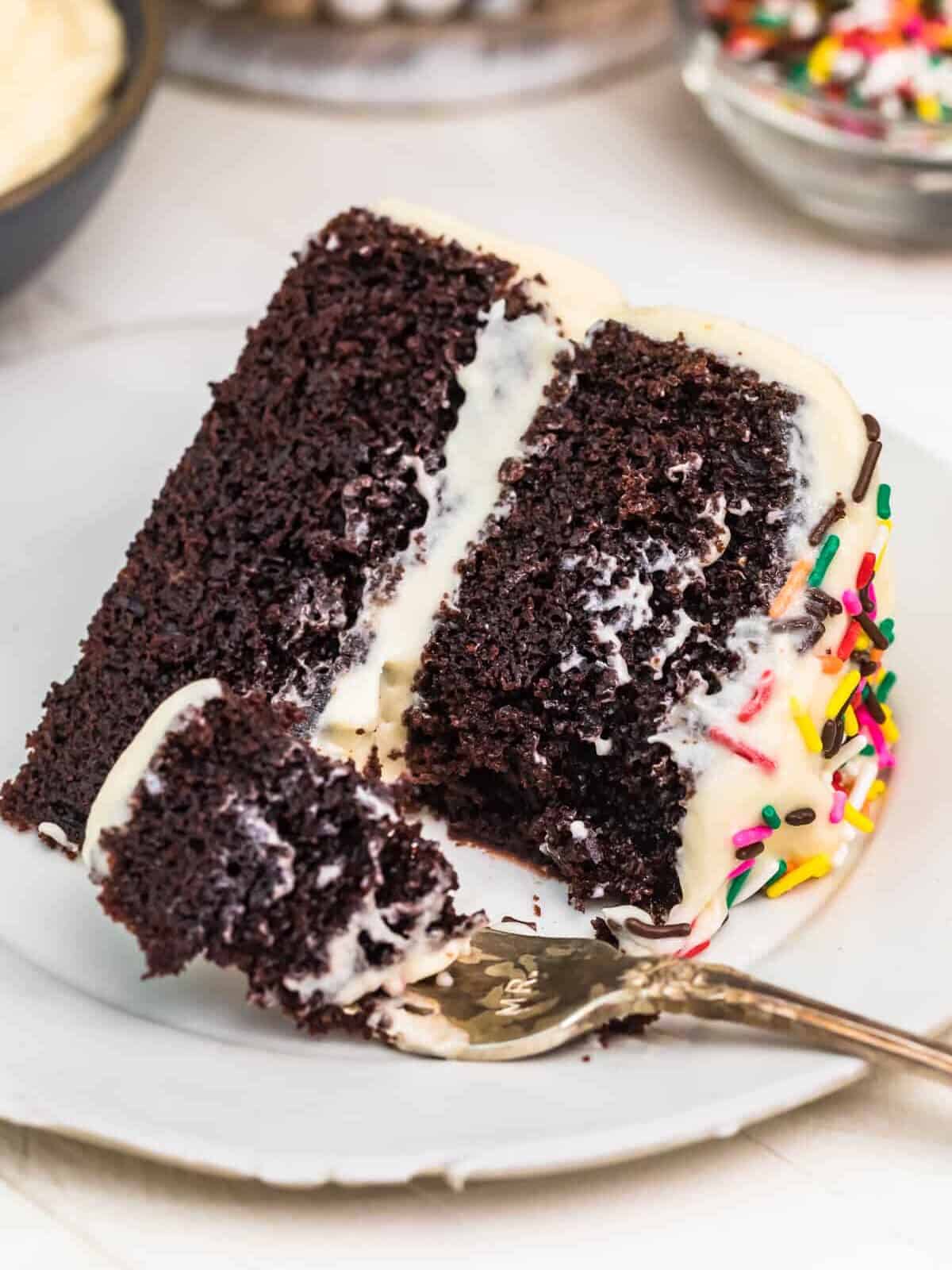 More Chocolate Cake Recipes We Love