This Chocolate Cake is a take on Hershey's black magic chocolate cake and it's one of the best cakes ever! Perfectly moist chocolate cake covered in the BEST white icing. This. Is. Sublime.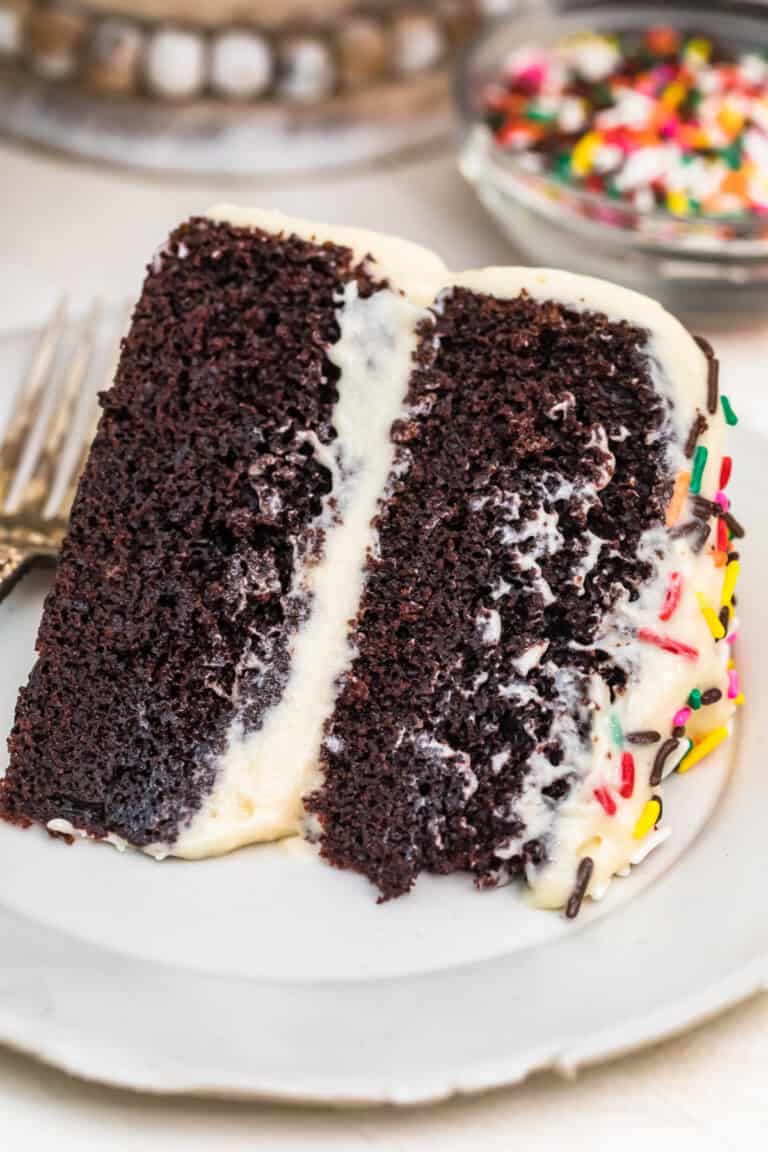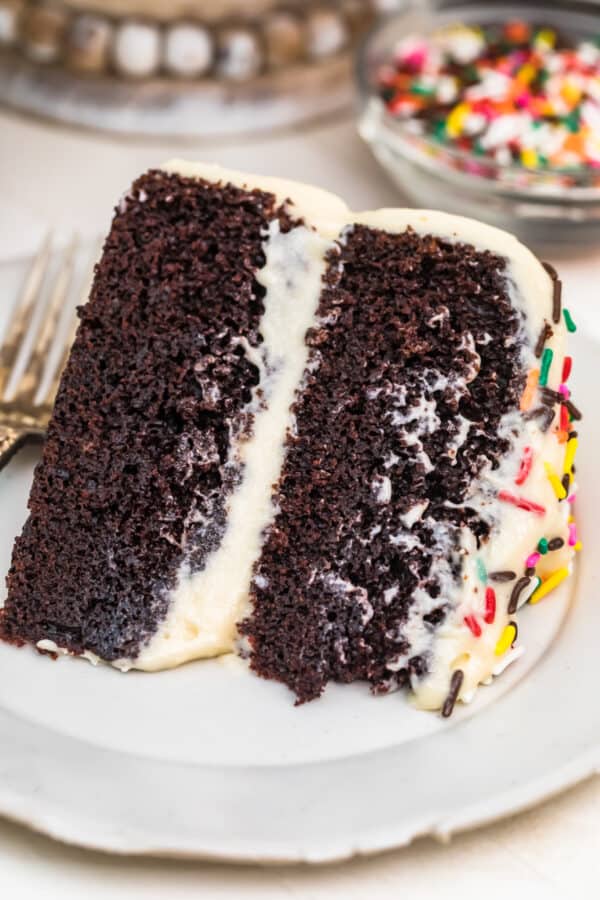 Best Chocolate Cake with White Icing
This Black Magic Cake is a chocolate lovers dream. Simple and straightforward, this is one of those desserts that everyone will love. Coffee enhances the chocolate flavor and buttermilk helps make the cake super moist.
Why this is so good
A perfectly moist cake. The cake batter is made with buttermilk and it delivers a spongey, moist bite every time!
The BEST icing. This icing isn't sugary sweet, it is delicious all by itself and it will turn any cake into the best cake ever!
Easy to make. When it comes to delicious cakes this has to be the easiest, most decadent cake out there, plus the icing is so easy too. Simple ingredients, easy to assemble!
Ingredients
For the Cake
All Purpose Flour
Granulated Sugar
Cocoa Powder
Baking Soda
Baking Powder
Buttermilk: Room temp.
Vegetable Oil: Or canola oil.
Eggs: Large and at room temp.
Vanilla Extract
Coffee: Freshly brewed strong hot coffee or 2 teaspoons powdered espresso powder mixed with 1 cup boiling water.
For the Icing
You can use chocolate or vanilla frosting! Check out our faves:
How to make this Black Magic Cake
You can jump to the recipe card for full ingredients & instructions!
Sift the dry ingredients and mix in an electric mixer. In another bowl mix buttermilk, oil, eggs and vanilla.
Slowly add the wet ingredients to the dry in the mixer. Mix until incorporated. Then add the coffee.
Pour the batter into the cake pans and bake. Then top with your favorite icing, serve and enjoy!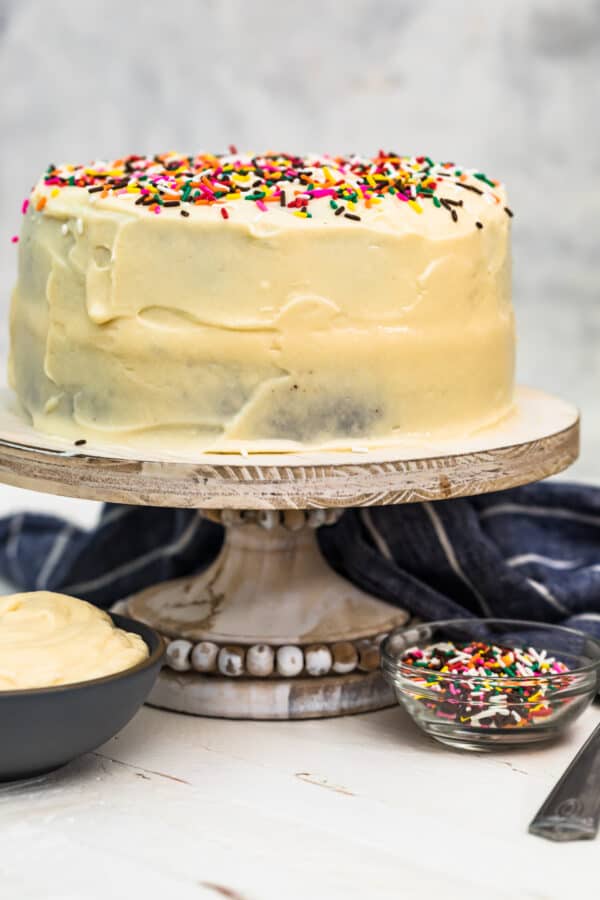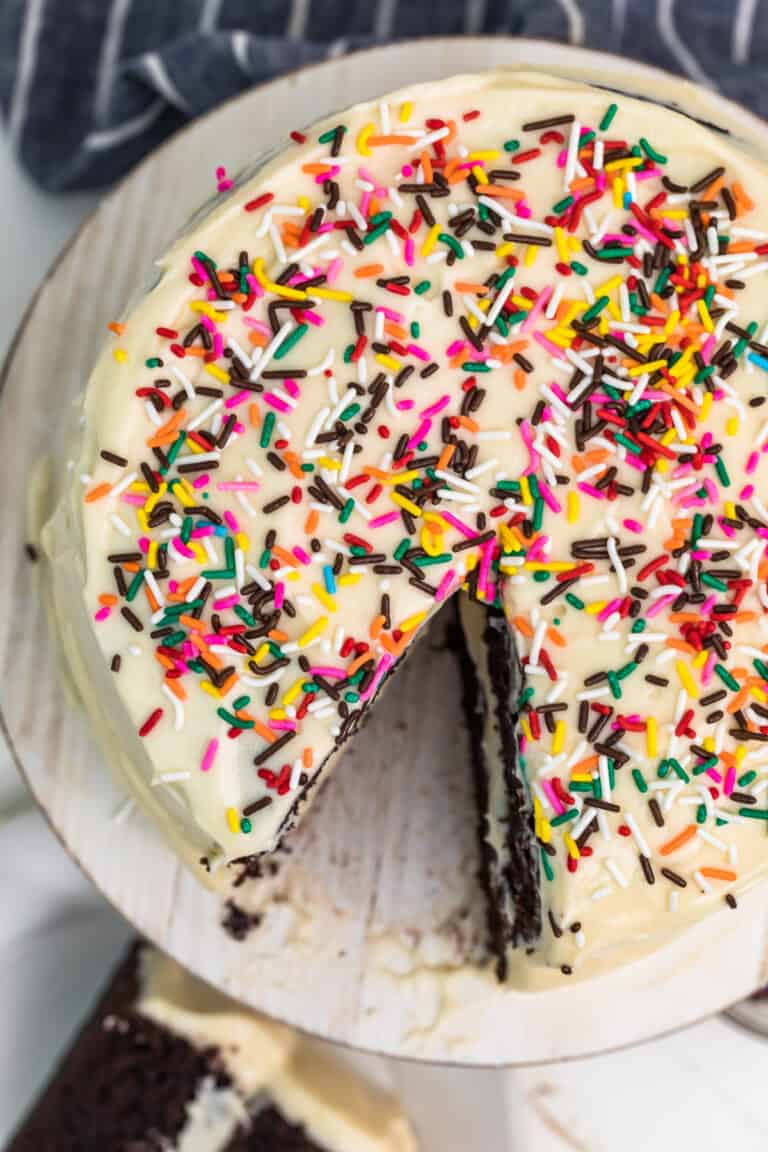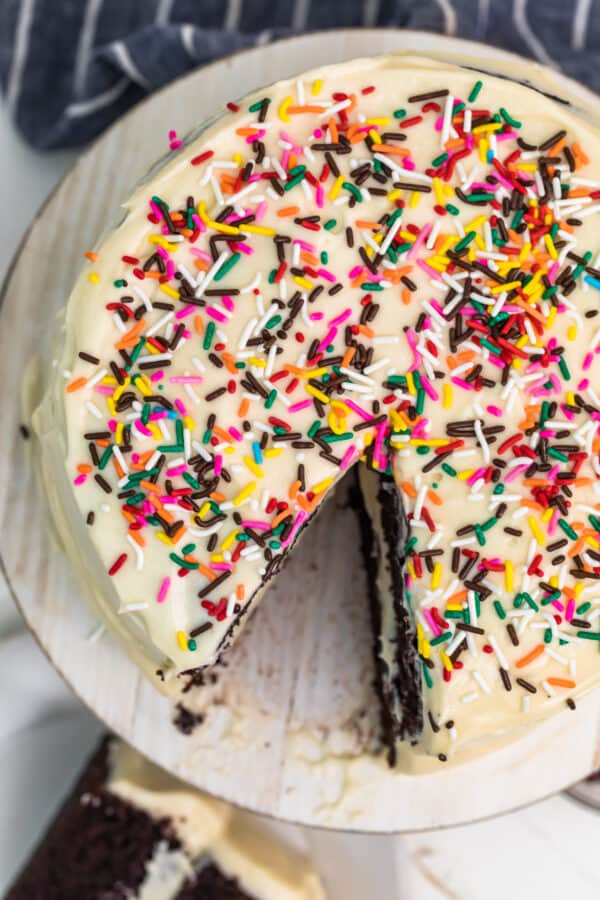 What is a Black Magic Cake?
The Black Magic Chocolate Cake is originally from Hershey's. In their words it's…
"A moist and magical buttermilk chocolate cake recipe that will have your friends demanding seconds."
And they aren't wrong! It's everything a great chocolate cake should be, moist, bursting with chocolate flavor and easy to make. Maybe that's why it's called black magic, something this delicious shouldn't be this simple to pull together…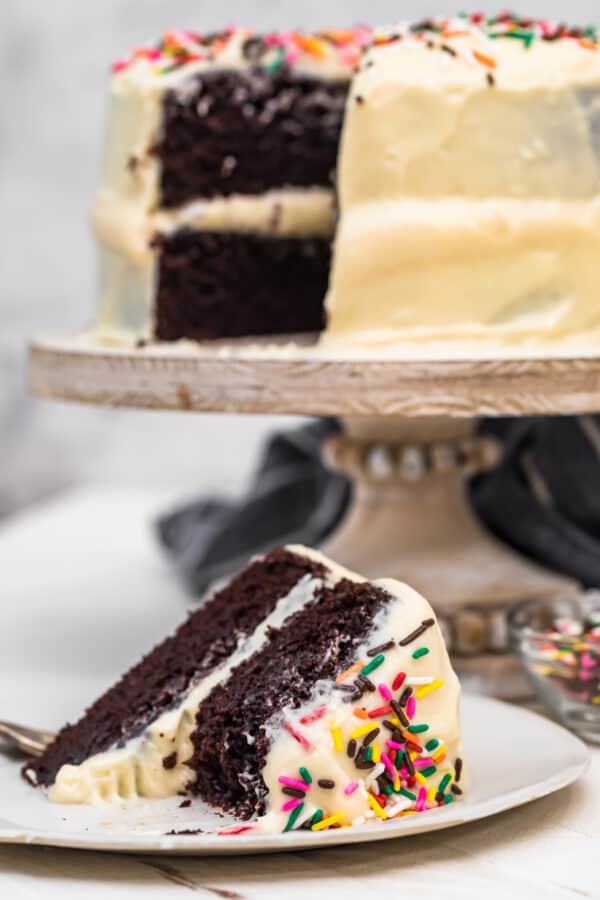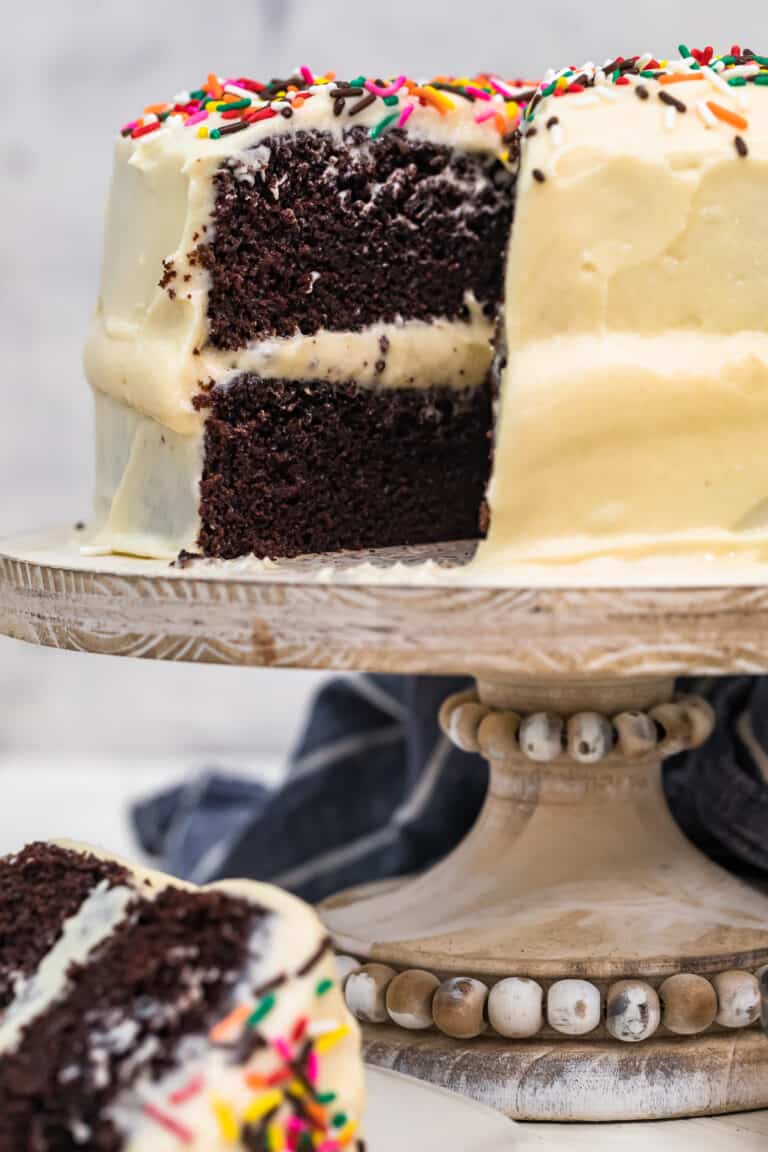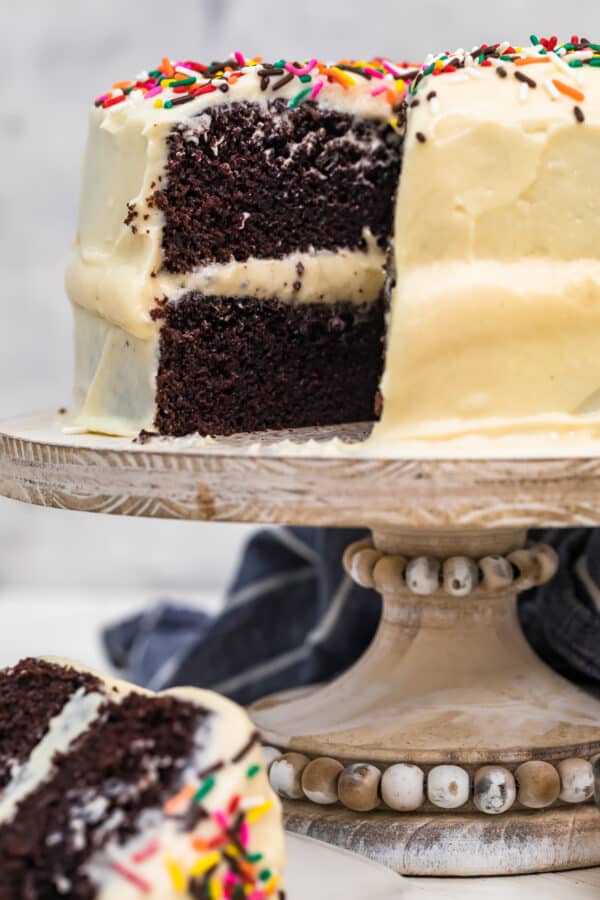 An easy chocolate cake recipe
This Black Magic Cake always gets rave reviews. Coffee is used to bring out the flavor of the chocolate – making it more prominent as opposed to flat and one dimensional.
This cake is so easy, essentially you pour your ingredients all into the mixer and then pop the batter into your pans of choice.
The result is the most decadent, moist, delicious cake that will ever grave your taste buds! It is full of luscious, rich chocolate flavor that blends harmoniously with so many icings.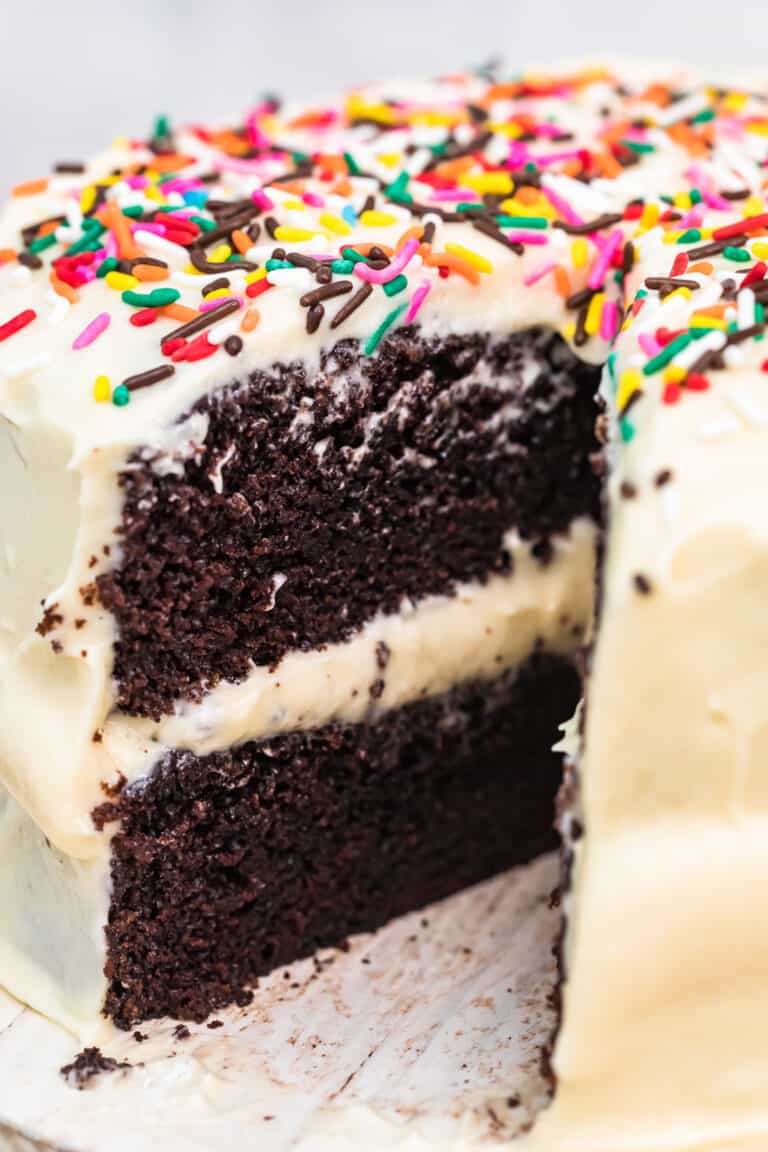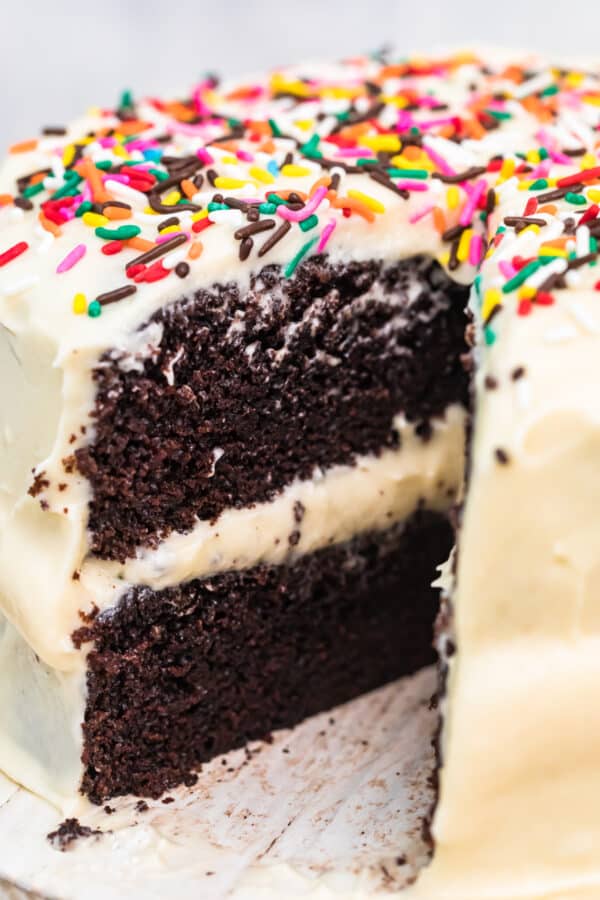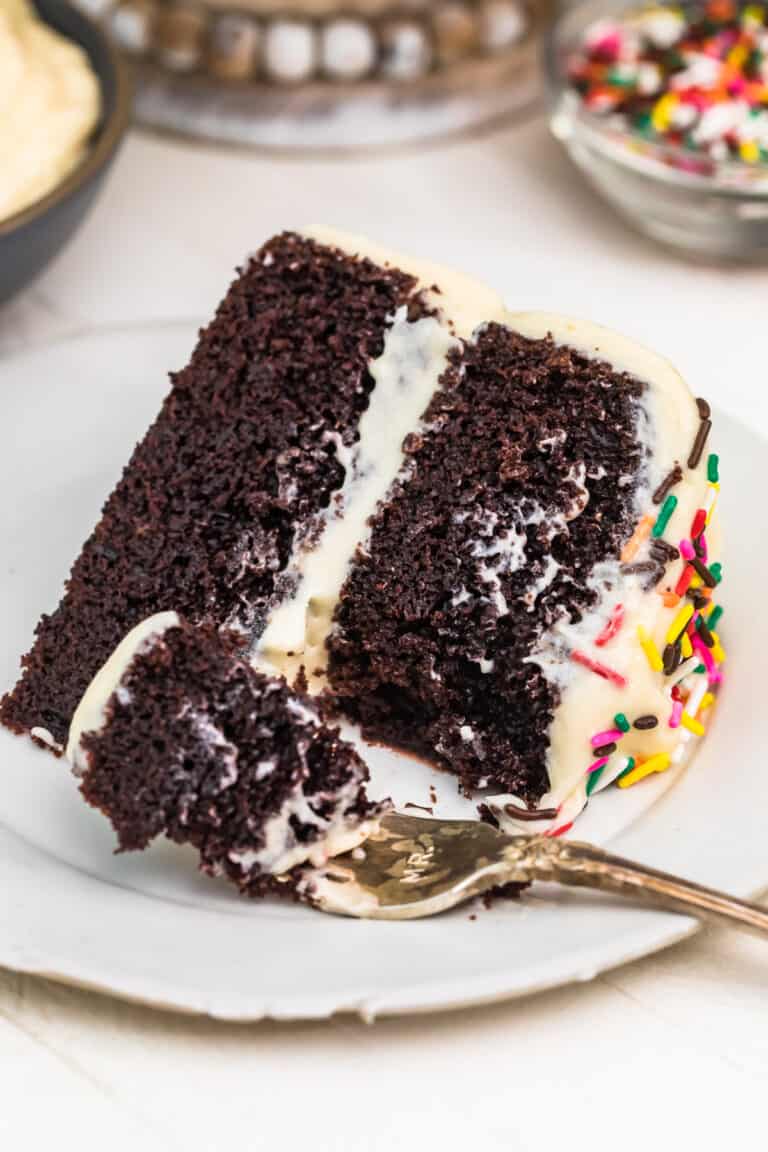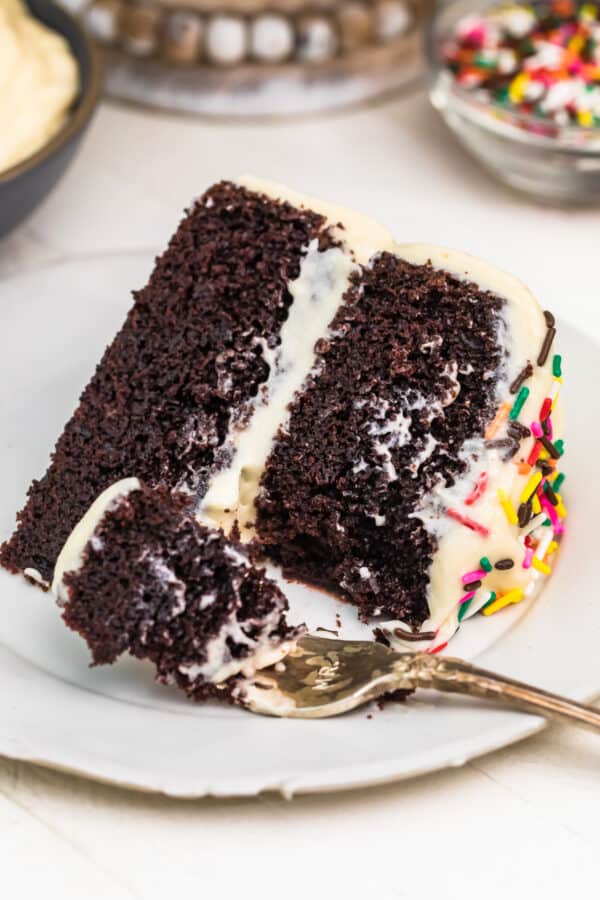 The best white icing!
You can choose your favorite icing, but I have to tell you my mom's is outstanding! I've linked to it in the recipe card.
I love this icing. It will take an ordinary cake to over-the-top yummy and is especially great when combined with chocolate or red velvet cake. This icing isn't overly sweet and it will turn any cake into the best cake ever!
You can easily change up the color and flavor of this frosting. Try swapping the vanilla extract for lemon or orange or add in some cocoa powder. Add food coloring to make it perfect for any event!
Tips!
Ideally use high quality cocoa powder. The darker the hue of the cocoa, the more satisfying the chocolate flavor will be.
Ideally use shiny pans instead of dark pans. Dark can cause your chocolate cake to brown too early around the edges and create a hard crust on the surface and general dryness.
When baking cake, you want your eggs and dairy ingredients to be at room temp so they can create an emulsion that traps air that eventually expands with the oven's heat, for a lighter texture.
Don't over mix. Heavy mixing hand leads to tough cake textures. Instead, mix only until dry ingredients are 99.8 percent incorporated.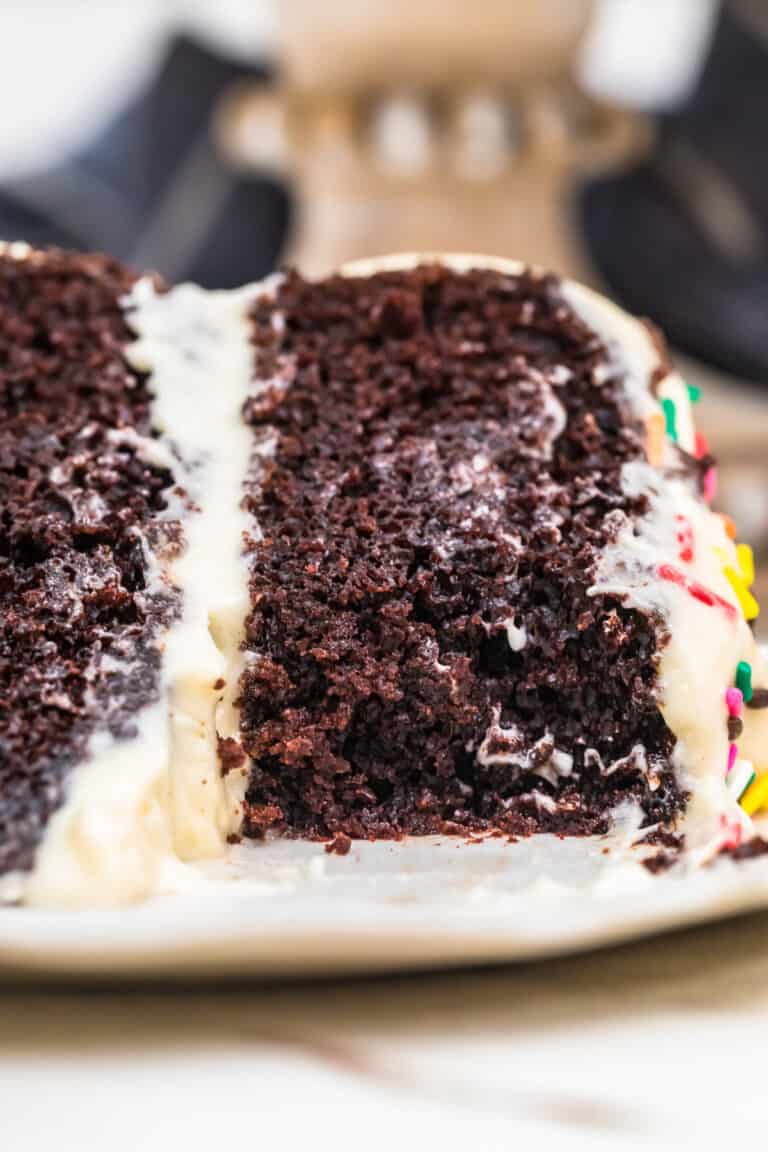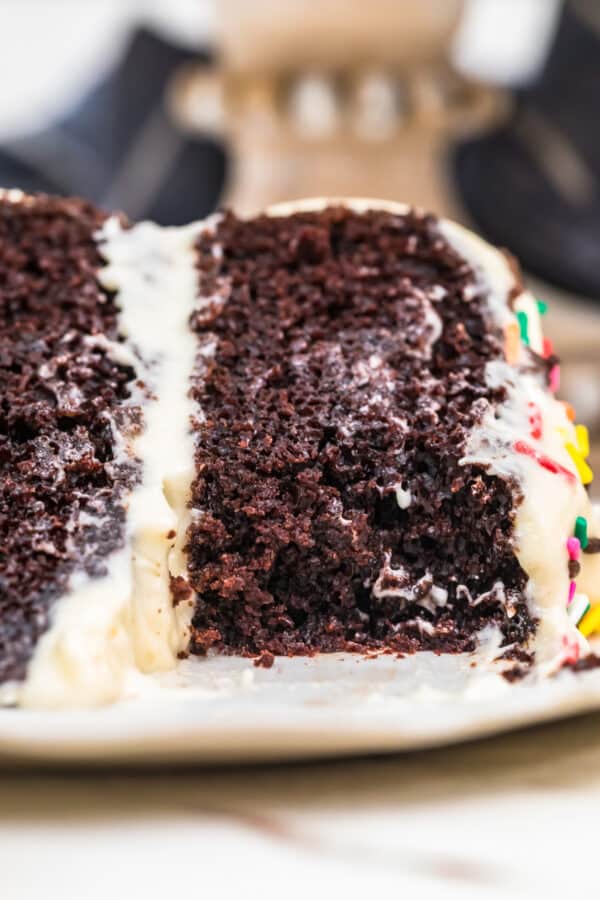 Have you tried this Black Magic Cake? Feel free to leave a star rating and I'd love to hear from you in the comments below!