This delicious Peruvian recipe is a twist on your classic chopped salad recipe. Made with lima beans, corn and a host of other fresh veggies and herbs, this is a perfect summer salad recipe. Dressed in a simple vinaigrette this simple salad is a great way to brighten up any summer party!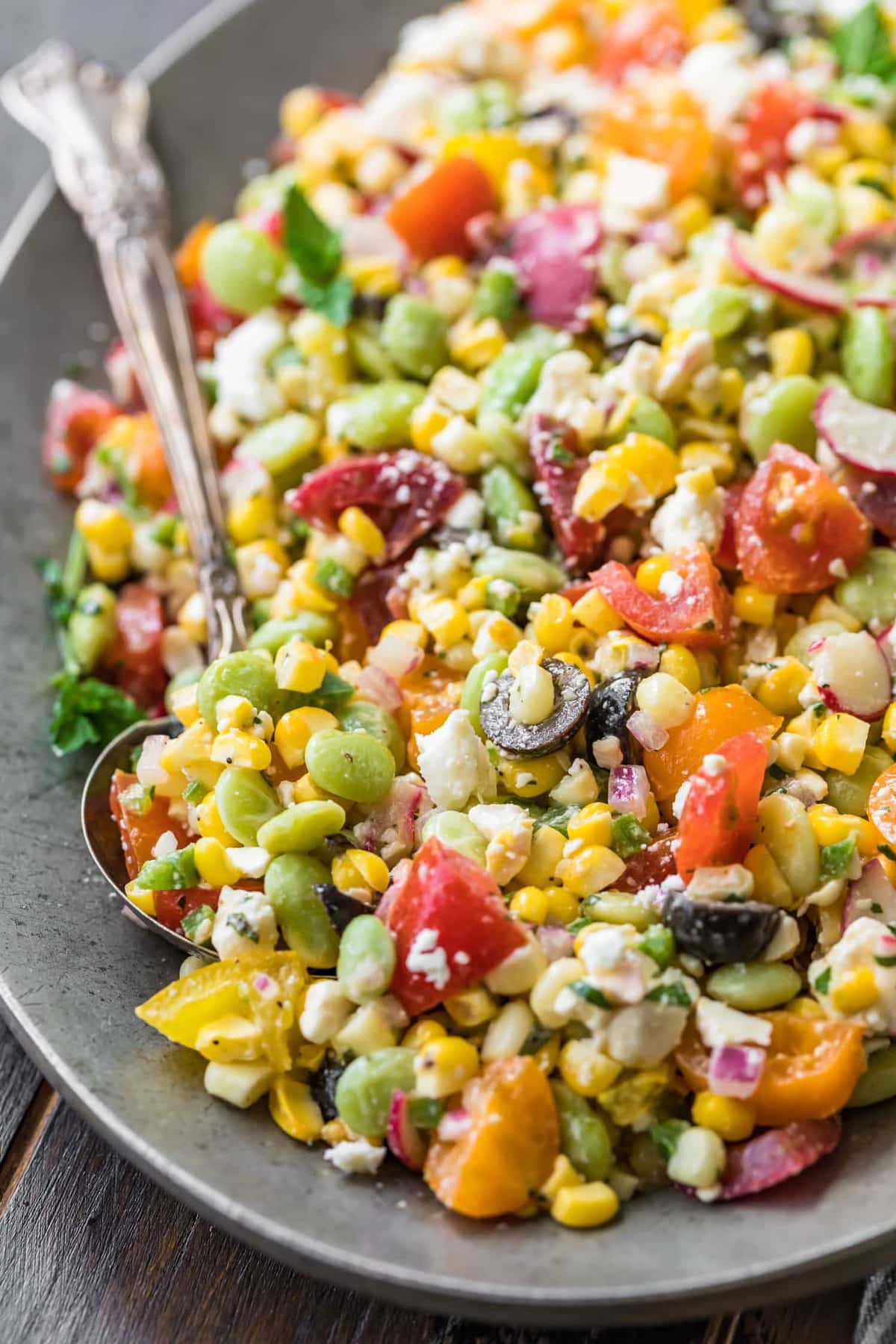 I wanted to make the most of all of the delicious summer produce, and this salad is like summer on a plate! Packed full of fresh flavors, this is a real delight to eat!
How to make this Peruvian Chopped Salad Recipe
Shuck the corn and remove the silks. Bring a pot of water to a rolling boil and boil the ears of corn for 1 minute. Transfer to a plate until cool to the touch. Once the corn has cooled, cut the kernels off the cob and place in a large mixing bowl.

Cook the lima beans per package directions. Drain the beans in a mesh strainer and rinse under cold water. Set aside to cool.

While the beans and corn cool, whisk together, in a small bowl, the olive oil, vinegar, salt and pepper. Whisk the vinaigrette briskly for 1 minute.

Add the cooled beans, radishes, red onion, most of the feta cheese, jalapeno peppers, black olives, most of the mint and cilantro to the corn and mix well.

Pour the vinaigrette over the corn mixture and toss gently until all ingredients are well-coated.

If serving immediately, add the tomatoes and toss gently to mix. (If not serving immediately, place the salad in an airtight container, up to 24

hours, and refrigerate until ready to serve. Add the tomatoes right before serving.

To serve, place the salad on a serving platter and garnish with the reserved crumbled feta and mint leaves.

Enjoy!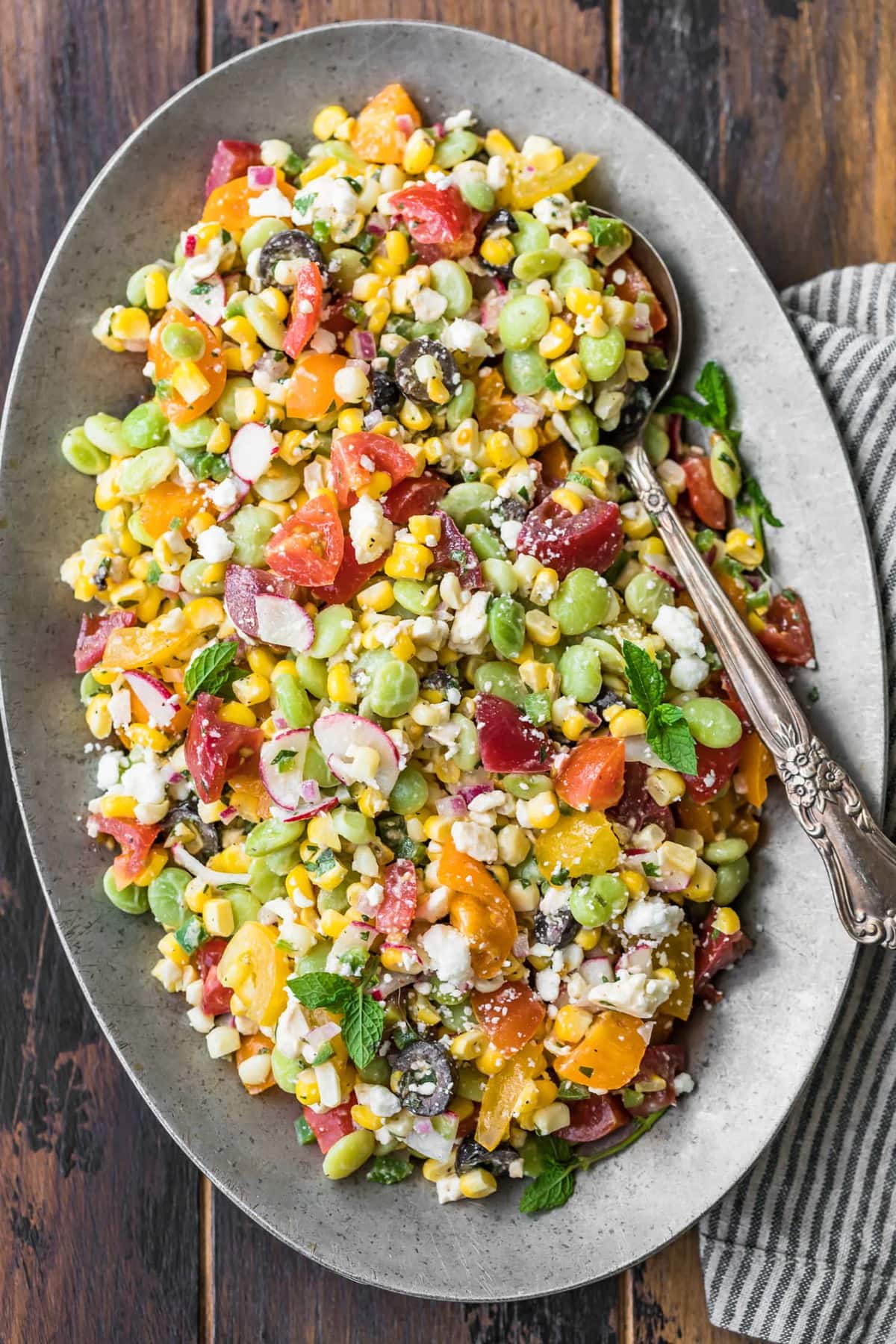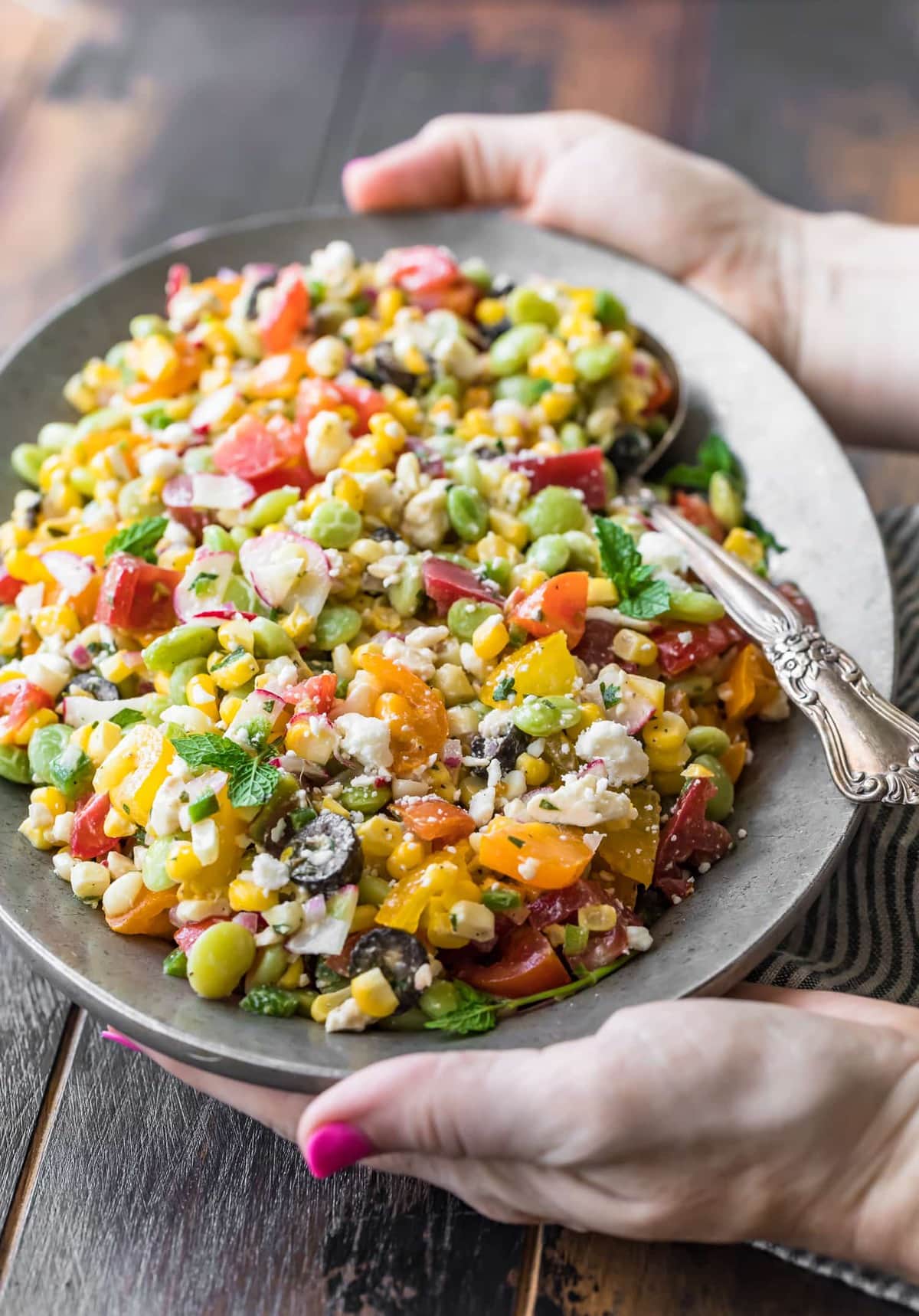 What makes this Peruvian?
Rather than serving up a basic salad at your next bbq, why not give this Peruvian chopped salad recipe a go? The ingredients that make this salad so tasty and unforgettable are:
lima beans
corn
queso freso
fresh cilantro
jalapeños
Along with other fresh flavored ingredients like radishes, red onions and mint, this chopped salad recipe is truly memorable.
Healthy Chopped Salad Recipe
This recipe makes enough for eight generous servings, and each serving is around 200 calories. There are so many healthy veggies in this dish so it is full of lots of different vitamins and minerals. The lima beans are a great source of protein and they are a nutrient dense food.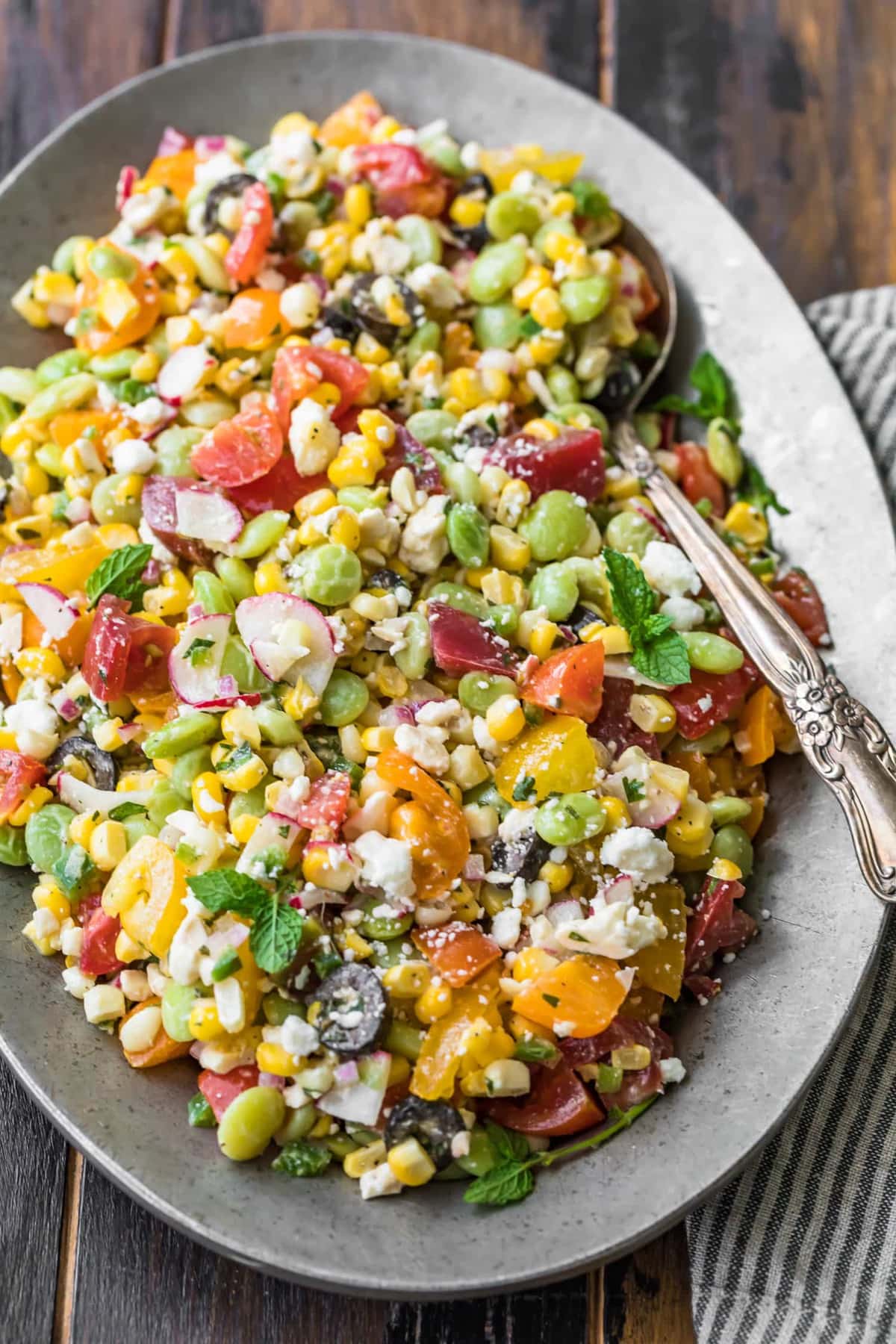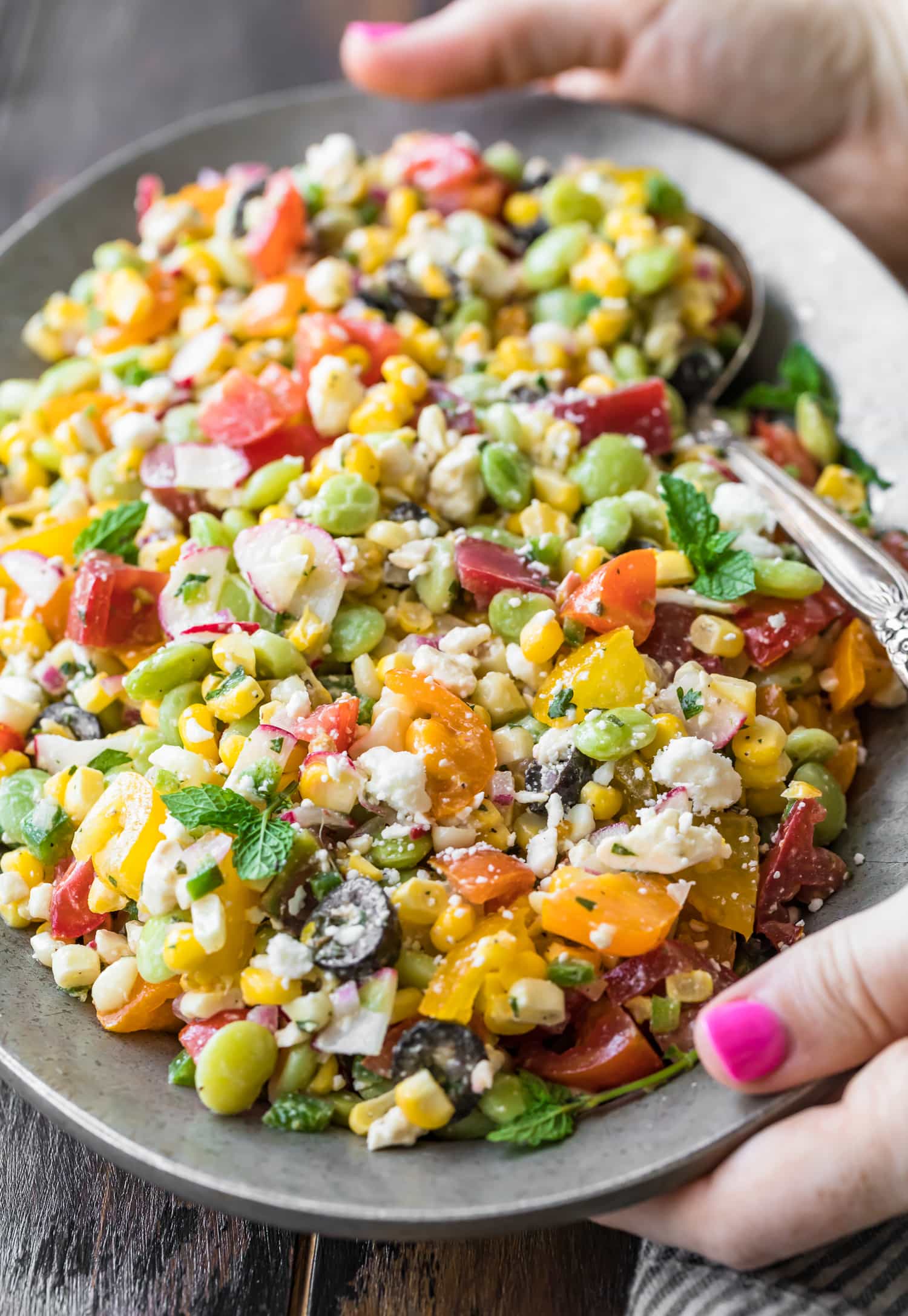 What can I serve with this Peruvian Chopped Salad Recipe?
This summer salad is so bright and colorful, and I love serving it on one big plate with some serving spoons and let everyone dig in! Perfect to serve alongside some grilled meats at a cookout! It's also a great topping for tacos, or serve as part of a weeknight meal with a baked potato or chicken or fish dish.
Here are some ideas for what to serve with this easy Peruvian Salad: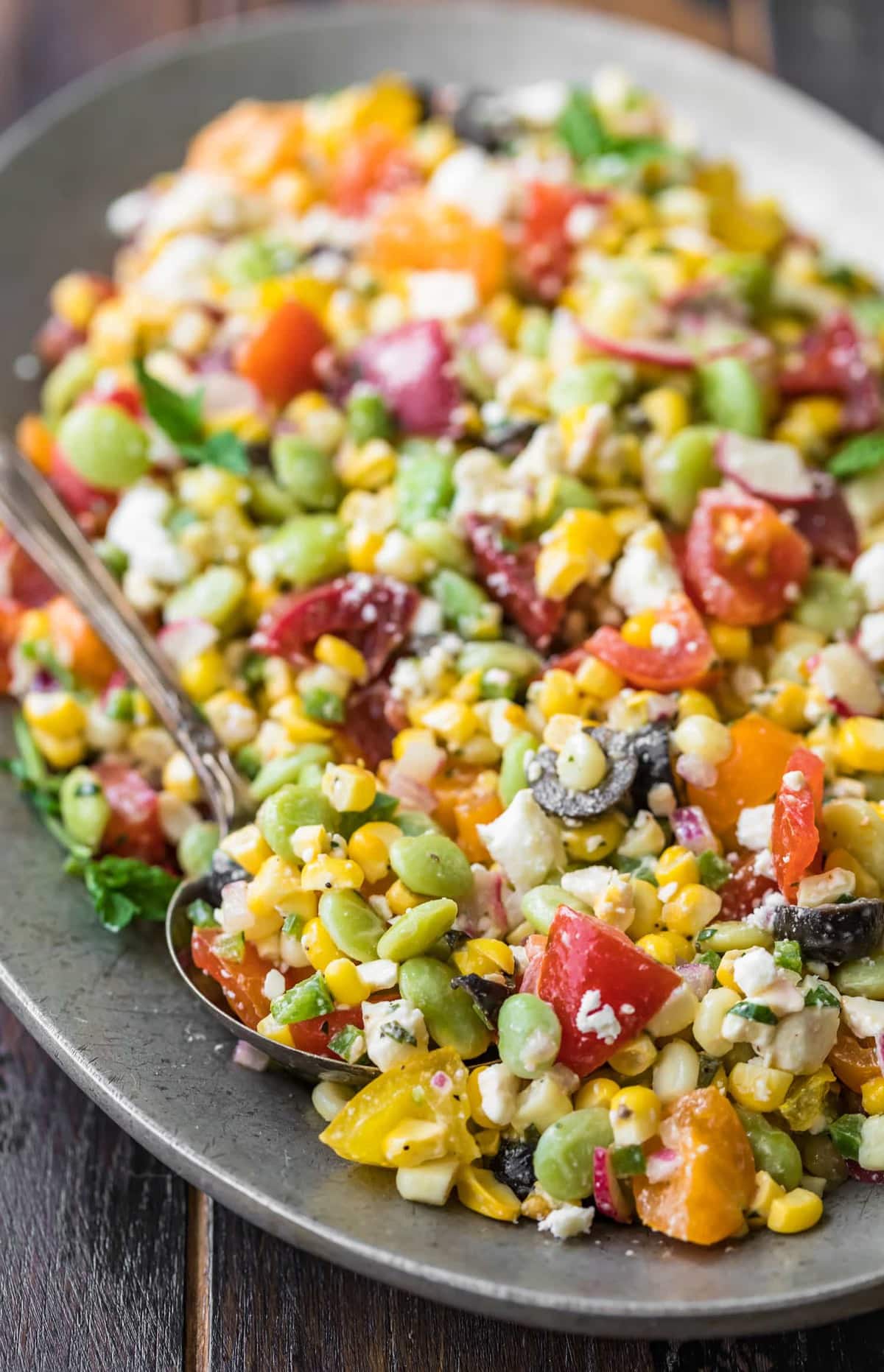 Top tips to make this Peruvian Chopped Salad Recipe
This salad will keep in the fridge for about 24 hours, so it's great to make ahead, or make a big batch and enjoy the leftovers!
Fresh corn is best for this recipe, but if you are in a squeeze, you could use canned or thawed frozen kernels.
Use the freshest ingredients you can – it makes all the difference.
Add another jalapeno if you like it spicy!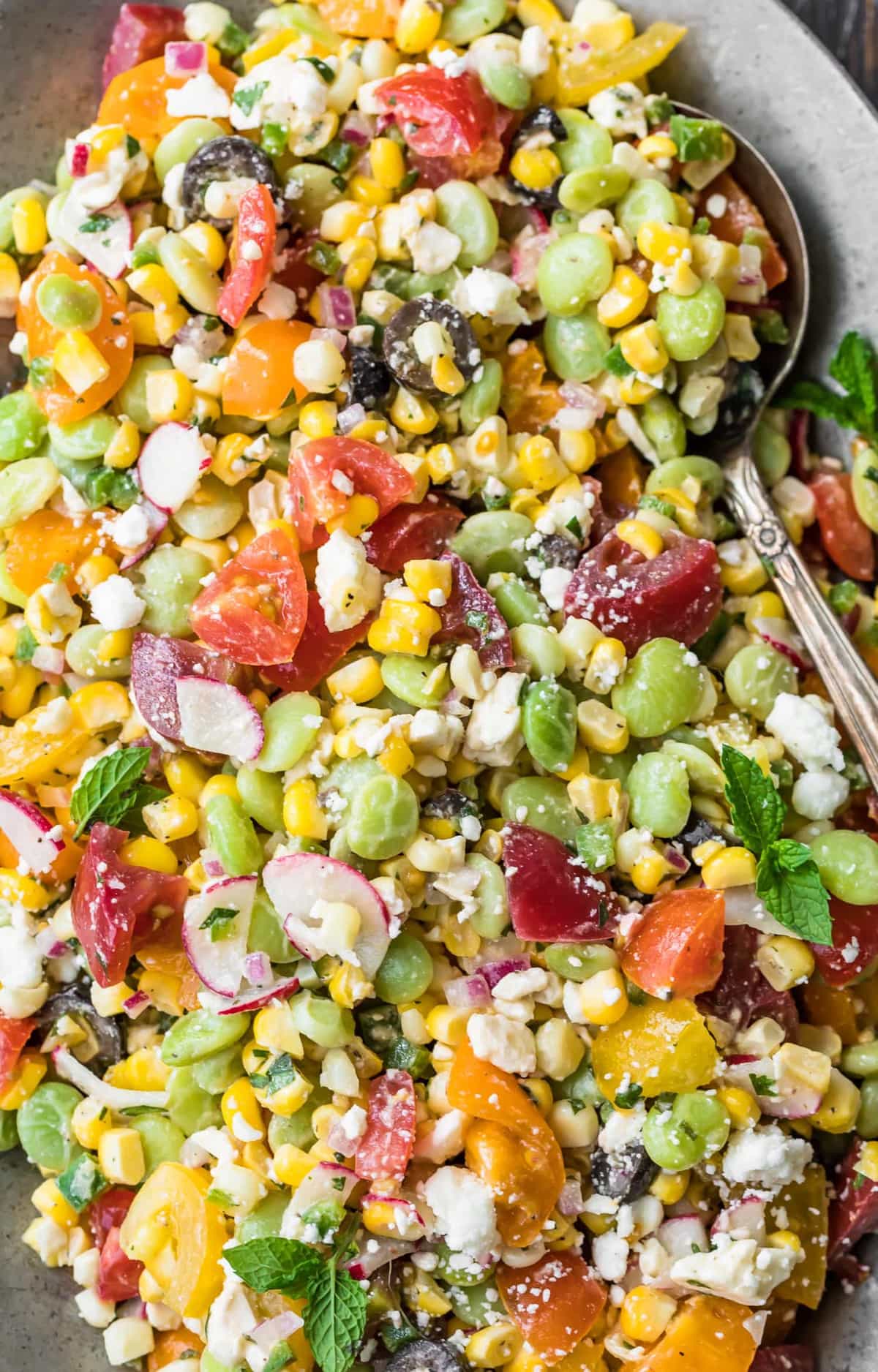 Be sure to check out these other tasty summer recipes!
Strawberry Salad with Poppy Seed Dressing
Creamy Cucumber Salad Recipe (Cucumber Apple Salad)
Zesty Panzanella Salad with Meyer Lemon Vinaigrette