Drizzled with a zesty homemade dressing, this delicious Chopped Salad is packed with goodies! Loaded with eggs, bacon, veggies and croutons, it's one satisfying salad.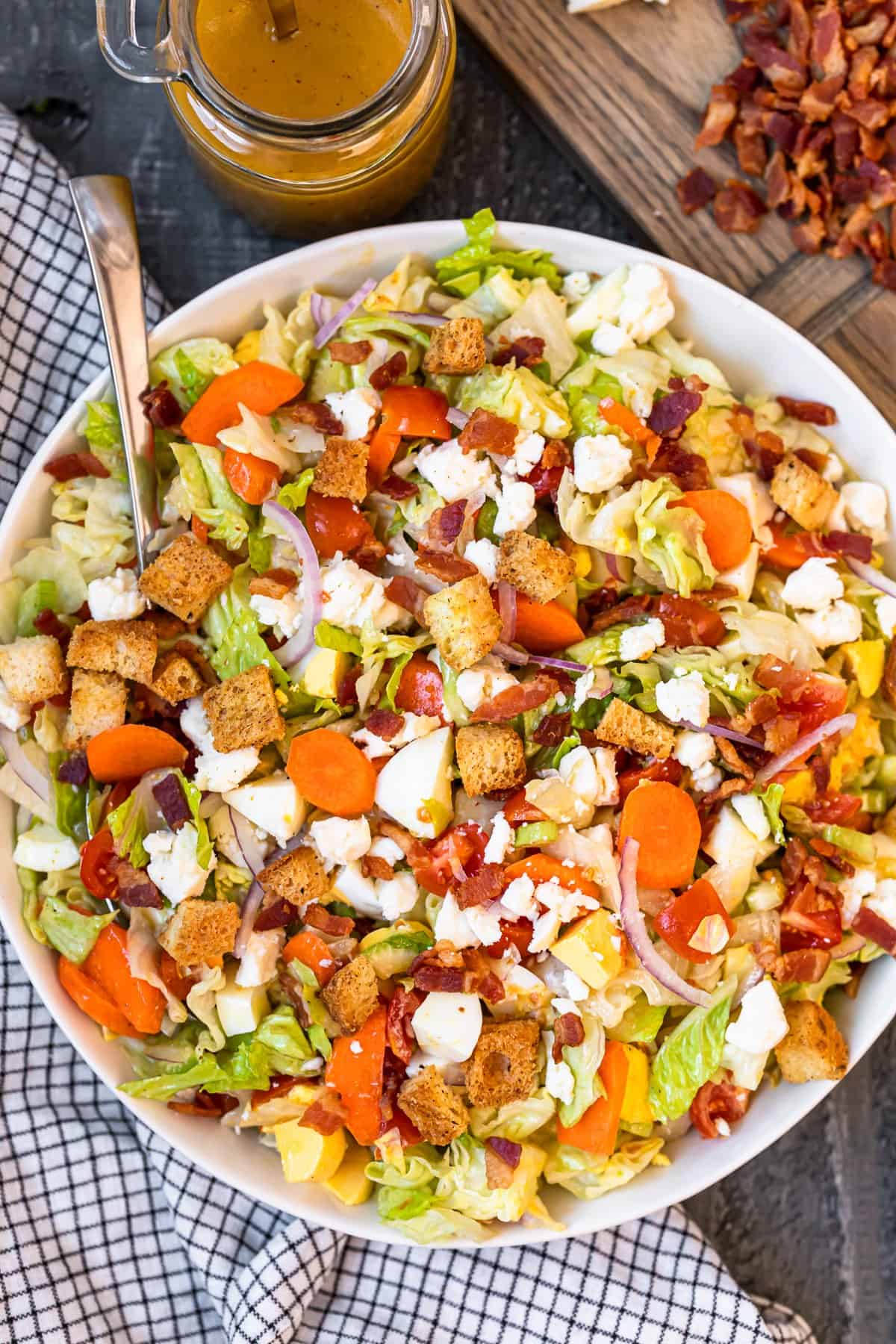 Best Chopped Salad
This is the queen of side salads! Hearty, healthy, and packed with vibrant veggies, this is truly the best-chopped salad. Adorned with crunchy croutons, crispy bacon, and creamy cheese, it's a great side or a satisfying lunch.
Looking for more salad recipes? Why not also try my Mandarin Orange Salad and my Quinoa Salad
Why You'll Love this Chop Salad Recipe:
ZESTY DRESSING: This recipes includes a homemade dressing that's zesty, savory, and super addictive!
VERSATILE: This salad is totally adaptable– feel free to use your favorite veggies and toppings, or even change up the dressing.
HEALTHY: Loaded with veggies and protein-packed eggs, this makes for a pretty well-balanced dish.
Perfect for all year round, this chopped salad is a classic you'll want in your cooking arsenal.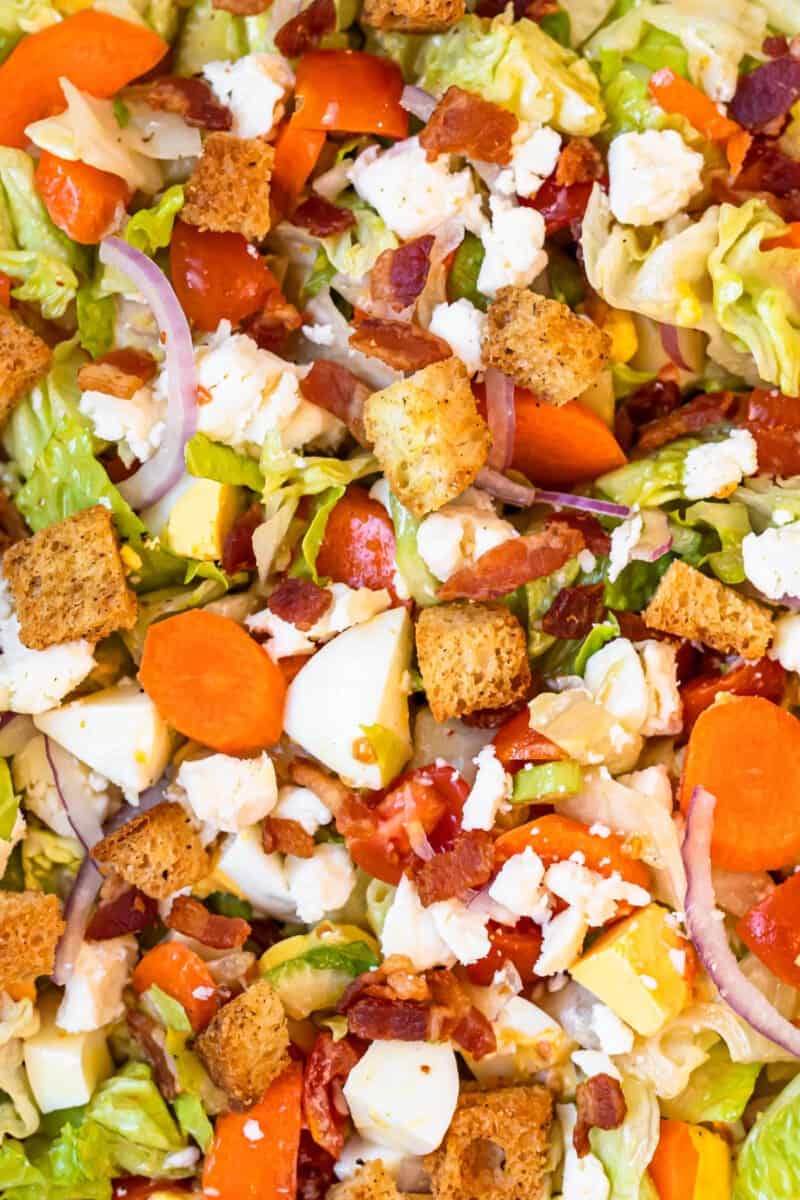 How to Make Chopped Salad
You can jump to the recipe card for full ingredients & instructions!
Toss all your salad ingredients together in a bowl and season.
Mix all your dressing ingredients in a blender, drizzling in the olive oil last.
Serve with dressing and enjoy!
You'll be amazed at how quickly and easily this recipe comes together! Nothing is simpler than tossing ingredients together for a satisfying meal.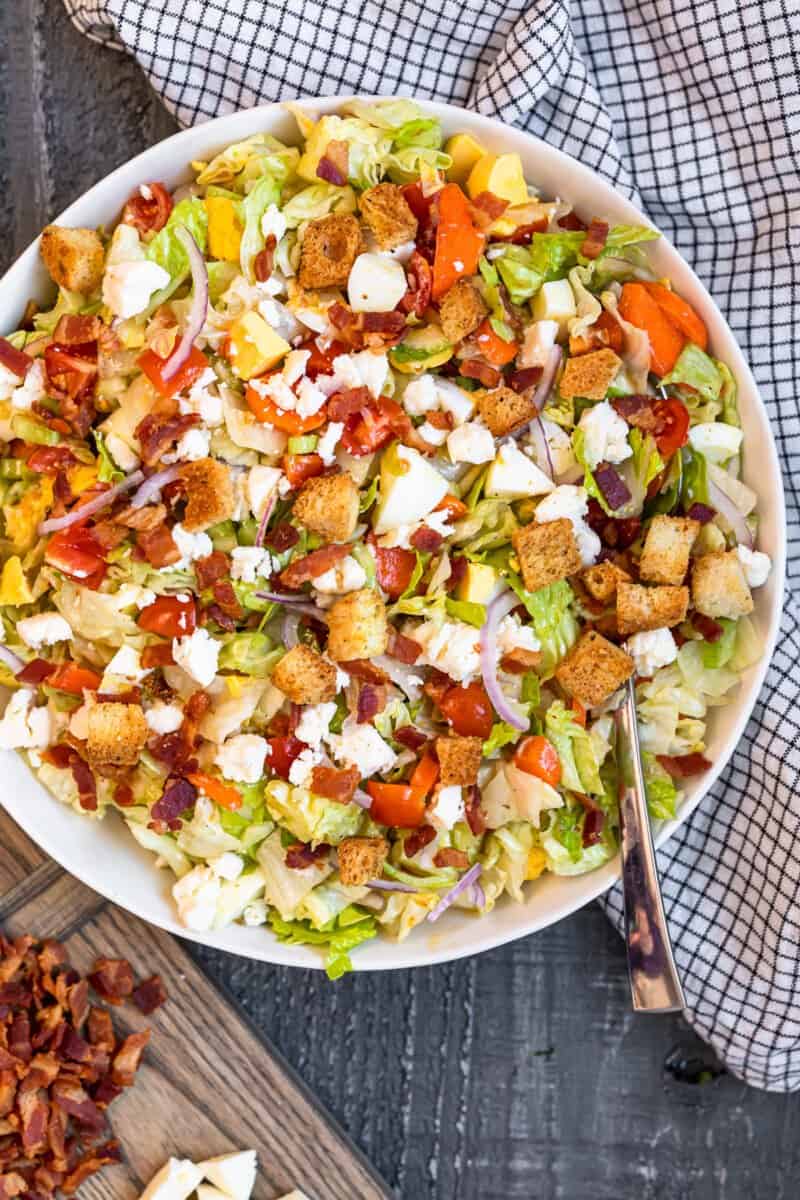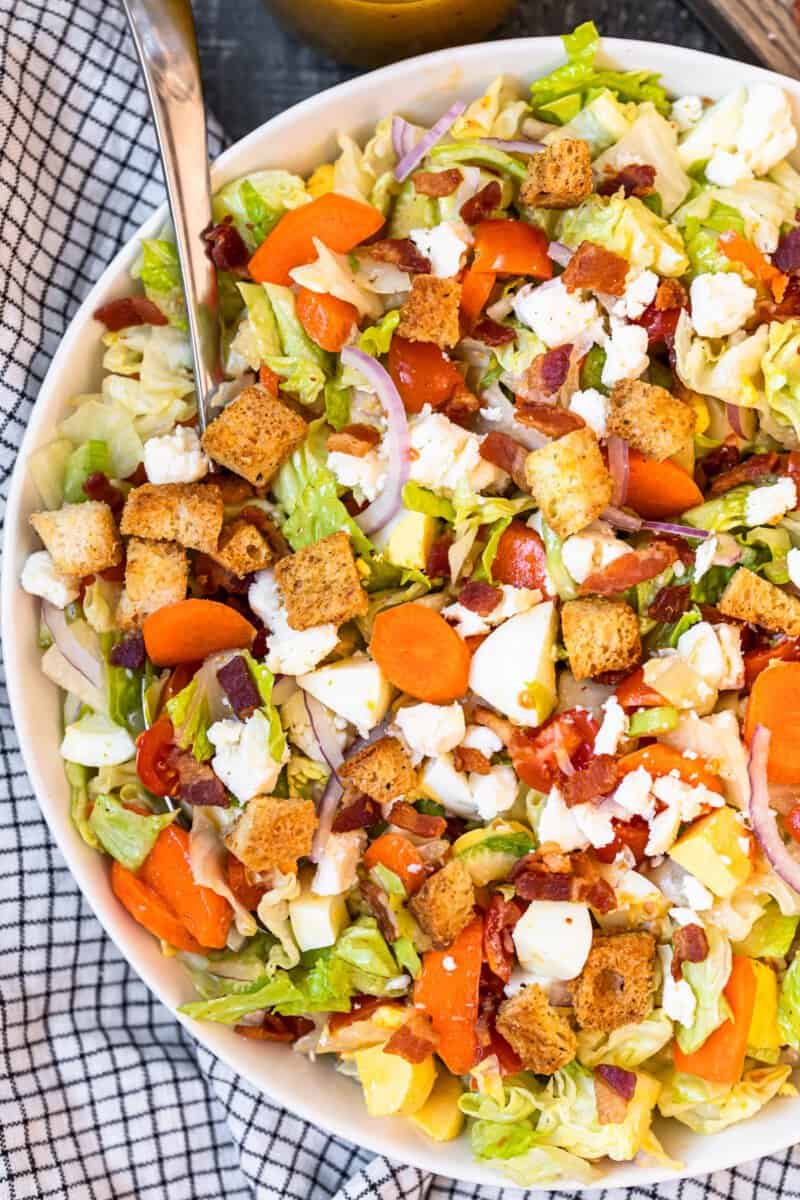 What is a chopped salad?
A chopped salad is a salad that includes ingredients that have been chopped to a uniform size, making it easier to eat.
Can I make this chopped salad with any kind of lettuce?
You sure can! I like the crunchy blend of iceberg and romaine, but you could use a spring mix, chopped kale, or any other salad greens you love.
How can I make this chopped salad vegetarian?
To make this salad vegetarian, simply omit the bacon. To make it vegan, omit the eggs and feta as well. You could substitute with vegan bacon and vegan feta. In place of the hard-boiled eggs, you could use silken tofu.
Is the dressing for this chopped salad spicy?
No, this dressing is not spicy. It is definitely a bit zingy from the vinegar and mustard, but there is not heat.
Serving Suggestions
This chopped salad plays well with so many main dishes. Here are some favorites:
Savory, filling, and utterly delicious, it's a salad that'll easily satisfy the crowd!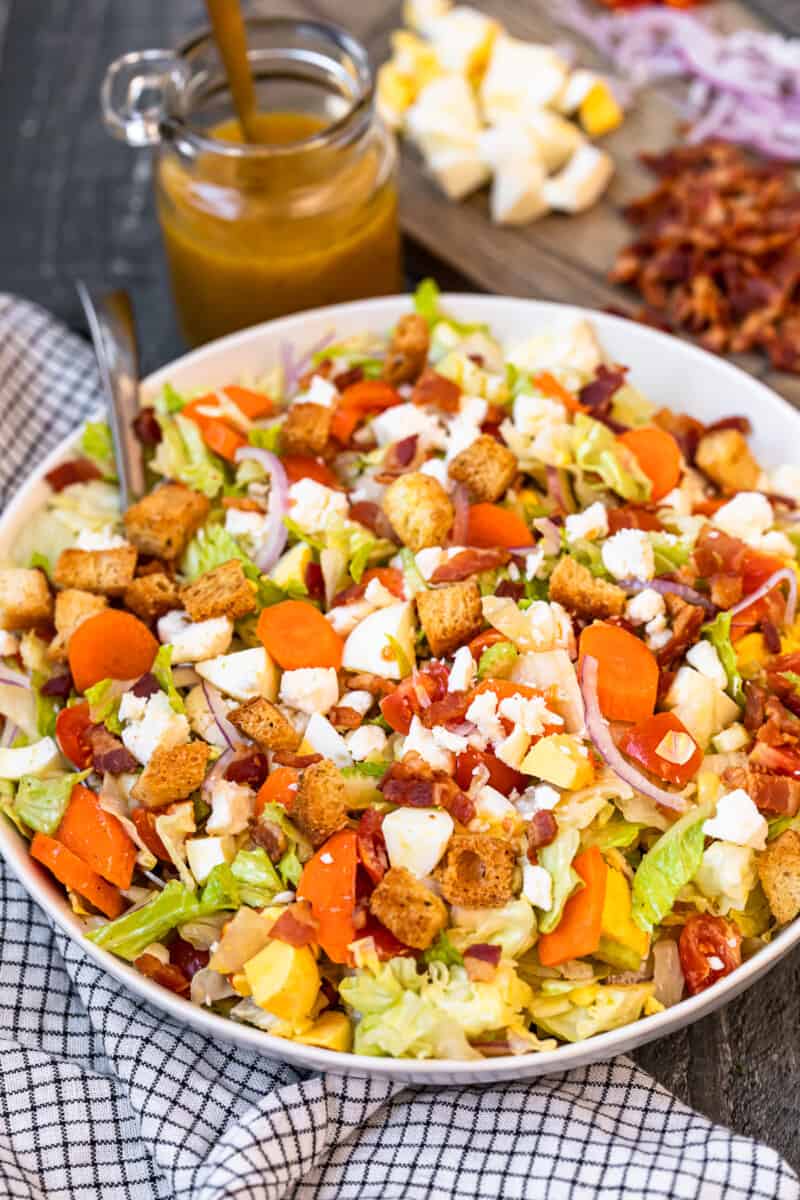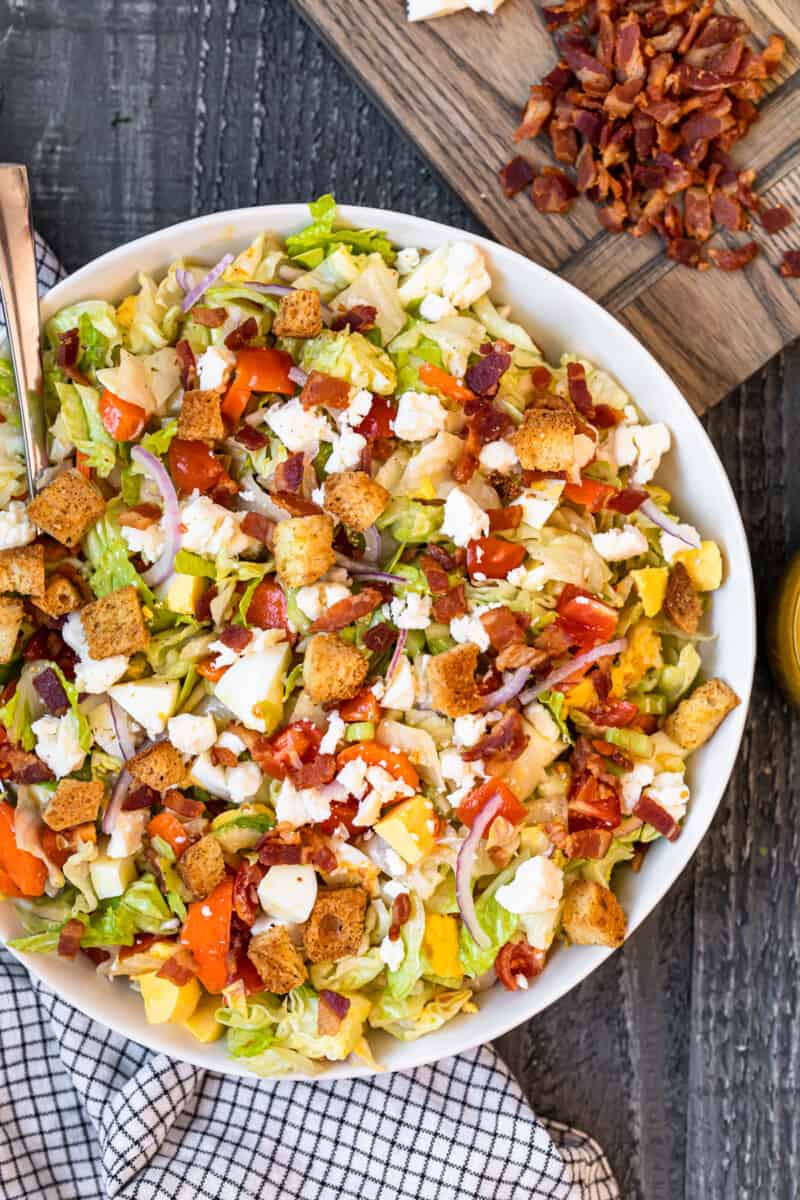 Make Ahead Instructions
To make life easier, you can prepare the ingredients for this salad ahead of time (or throughout the week) so all you have to do the day of is assemble it.
The unchopped lettuce leaves can be cleaned and dried up to 1 day ahead.

Roll the leaves in layers of dry paper towels and place in the refrigerator until ready to use.

The sliced carrots, celery, and onion can be prepared up to 24 hours ahead and kept in a Ziplock bag in the refrigerator until ready to use.
The tomatoes can be chopped and placed in the refrigerator in a paper towel-lined dish up to 8 hours ahead.

The eggs can be hard-boiled, peeled, chopped, and kept in the refrigerator up to 3 days ahead.
Storage Instructions
This salad is best on the day it's made, but you can store it for up to 1 day in the refrigerator. It will get a bit wilty and the dressing will sink to the bottom, so be sure to toss it before serving.
Salad Substitutions
What I love about this salad is that it's just a springboard for your own creativity. You could easily change it up to suit your family's tastes and dietary restrictions.
Use any combination of chopped veggies, such as peppers, onions, broccoli, or snap peas.
Use any cheese you like!
To make this salad vegetarian, omit the bacon.
To make this salad vegan, omit the bacon, eggs, and feta. Use vegan alternatives!
To make this salad gluten free, omit the croutons or use gluten free croutons.
Dress the salad with your favorite dressing!
Make It A Meal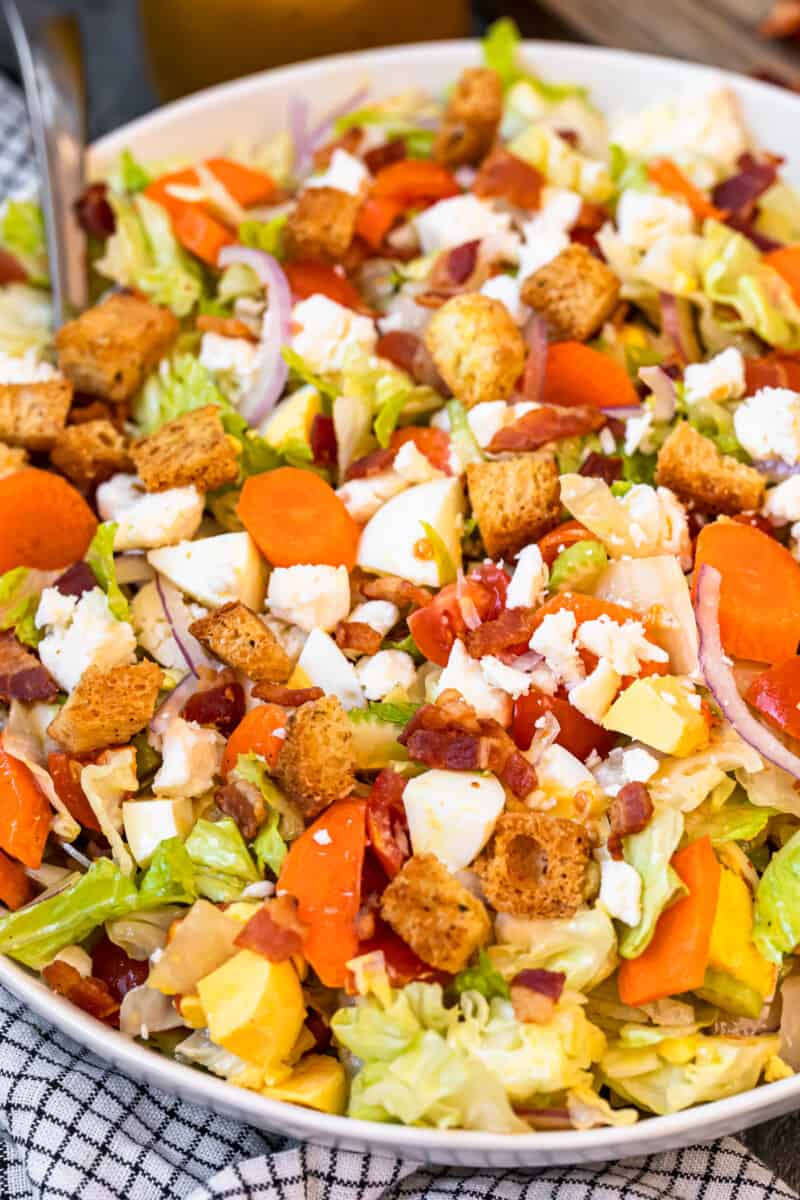 The perfect summer salad for parties, BBQ's, potlucks, or even a hearty lunch, this easy chopped salad delivers on the flavor front. It's savory and zesty, with loads of great textures from the croutons, feta, and bacon. The homemade dressing is a breeze to whip up and you'll want to put it on everything! Pop this beauty on your meal rotation, it's a go-to classic salad!
If you make this recipe be sure to upload a photo in the comment section below or leave a rating. Enjoy! You can also jump to recipe.