Grilling season is here and this grilled pork chops recipe will be the hit of the summer! Easy to make, this fool proof recipe will guarantee perfectly cooked barbecued chops every single time!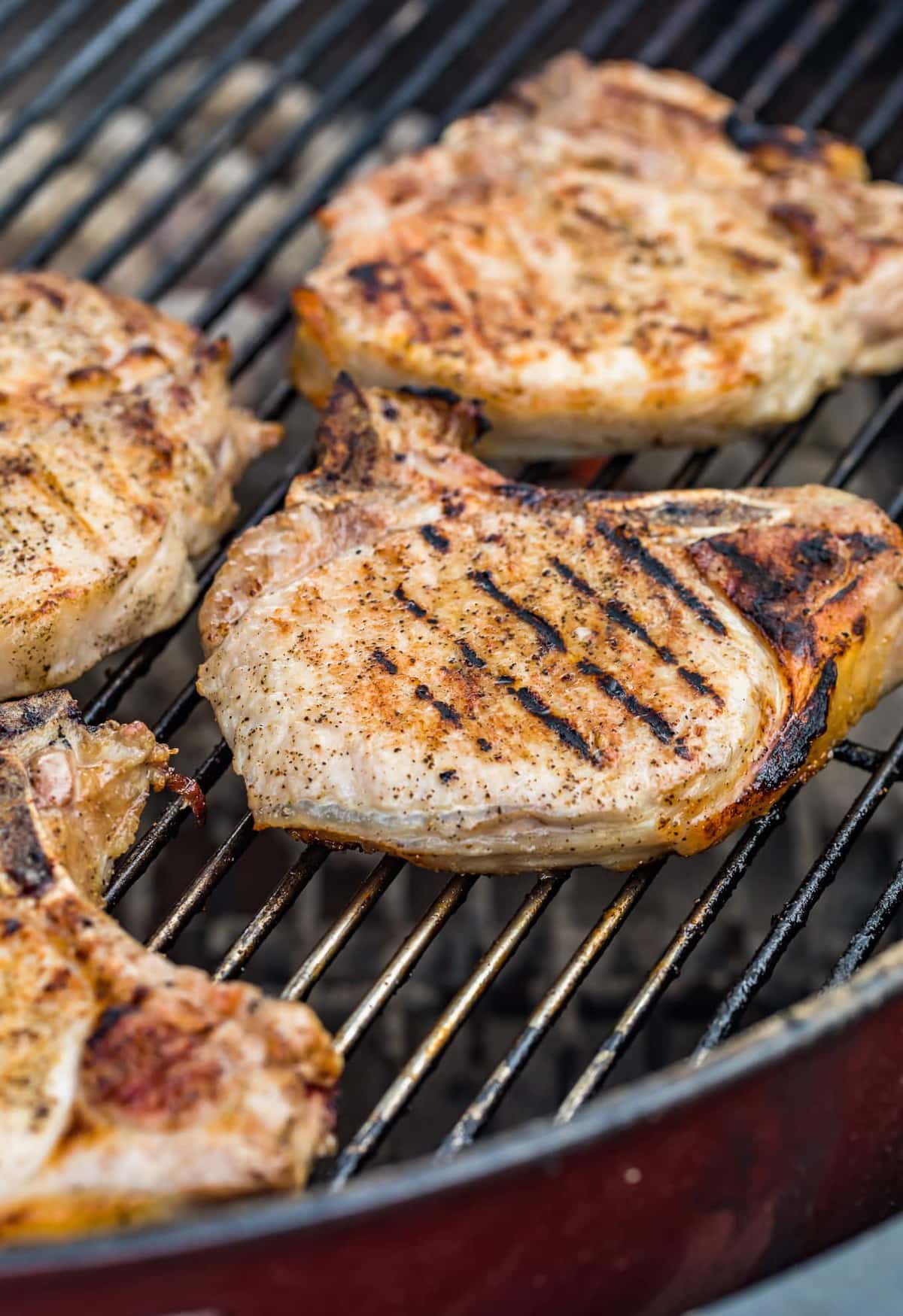 Move over burgers! Grilled Pork Chops are what you need to be grilling this summer! Easy to prep and cook, outdoor cooking has never tasted so good! Pork is a great option to put on the grill and it's a hit with the whole family!
How to make Grilled Pork Chops
Line a rimmed sheet pan with aluminum foil.
Liberally sprinkle pork chops with kosher salt (and dry rub seasoning, if using), and refrigerate the pork chops 1-24 hours.
When ready to cook the chops, remove them from the fridge 30 minutes before grilling.
Sprinkle the pork chops lightly with freshly ground black pepper and kosher salt.
Heat coals until all charcoal is covered with ash and push the coals to cover one half of the grill. Set the grate in place and cover the grill for 5 minutes. This will allow the grill to preheat.
Clean and oil the grilling grate.
Place the pork chops over the hot side of the grill and cook 3-5 minutes or until golden brown on the bottom side. Flip the chops over and grill another 3-5 minutes or until browned on the other side.

Transfer chops to the cool side of the grill with the bone side facing the fire. Cover, cook and flip the chops in one-minute intervals until meat registers 135°F on an instant-read meat thermometer at the thickest part of the pork chop. Remove the chops from the grill. After allowing the meat to rest 10 minutes after cooking, the internal temperature should raise to 145°F (the perfect temperature for juicy pork chops).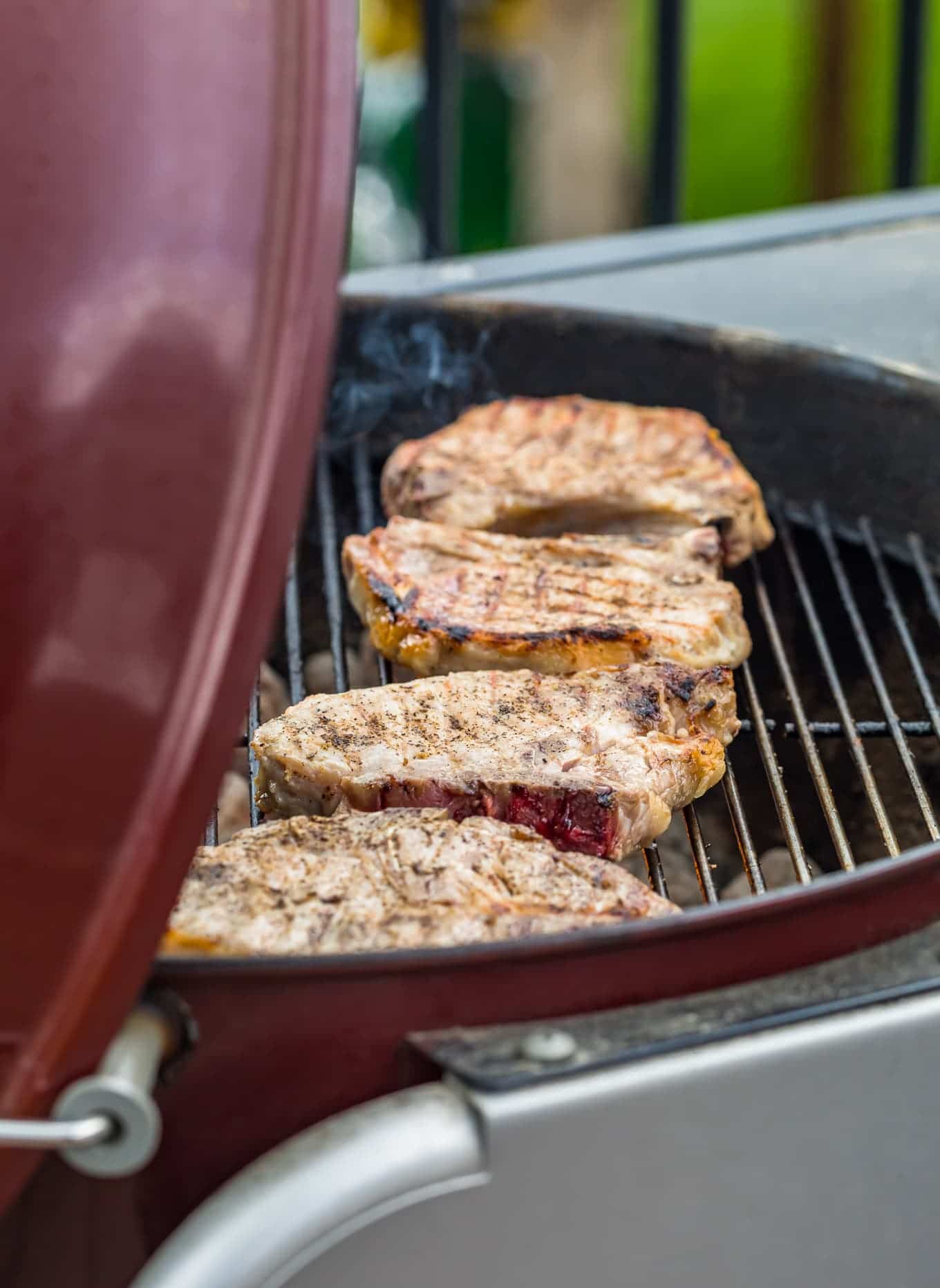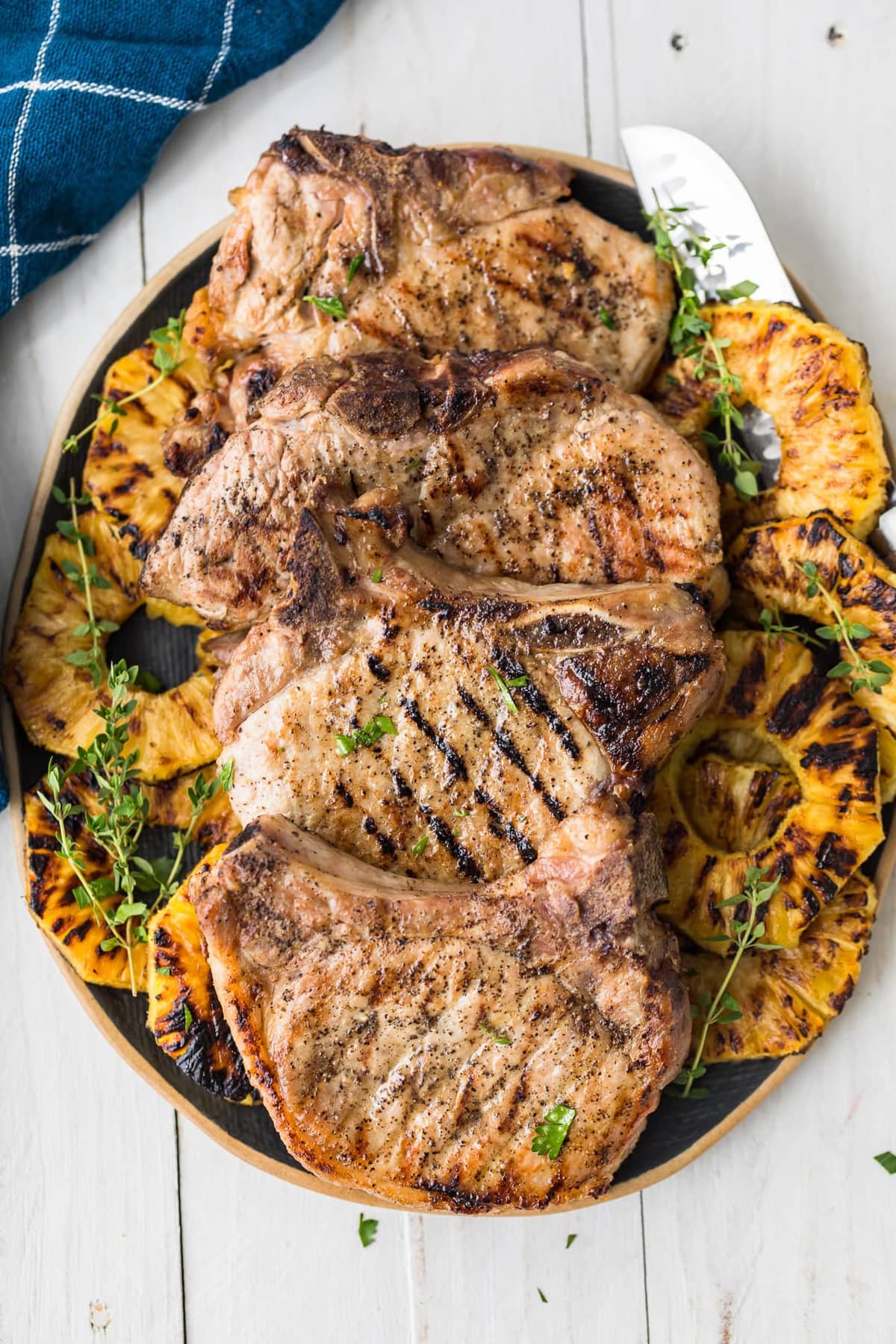 How long do they take to grill?
These pork chops will take around 10-15 minutes to cook, depending on the thickness.
A 3/4 inch chop will take 10 minutes and a 1 inch chop will take closer to 15.
If you have a 1 1/2 inch chop, you are likely looking at a cooking time of up to 20 minutes.
Be sure to rest the pork for at least 10 minutes after cooking so that it becomes tender.
Are grilled pork chops good for you?
As with all meats, the types of cuts you use will contain different levels of fat and cholesterol. It's best to chose a lean pork chop, such as a sirloin or top loin chop which will be lower in calories. Grilling is a healthier cooking option compared to shallow frying as excess fat drips away and you are not adding any extra oils. A lean pork chop can be the basis for a healthy, well-balanced meal.
Types of Pork Chops
For these grilled pork chops, we used Rib Chops. I love bone in pork chops like this because they're so flavorful and juicy. Here are the types of pork chops so you can pick that one that's best for you and your family!
Shoulder Chop: Also known as Blade Chops, this cut comes from the shoulder. While this cut has a lot of flavor due to increased fat, it can also be quite tough and grisly.
Rib Chop: This is the type of pork chop we usually choose to grill. They have a mild flavor, are typically quite tender, and have a good fat content.
Loin Chop: Loin Chops are from the hip of the pig. This is a leaner cut of meat and is very mild.
Boneless Chop: A lot of people choose to cook boneless pork chops because its seen as an easier option. It's very easy to overcook boneless because there's no bone to prevent the drying and overcooking. This can be a great cut for families, but be careful not to overcook.
Sirloin Chop: This cut is cheaper, but can be a very tough (not tender) pork chop.
Other Pork Recipes we LOVE!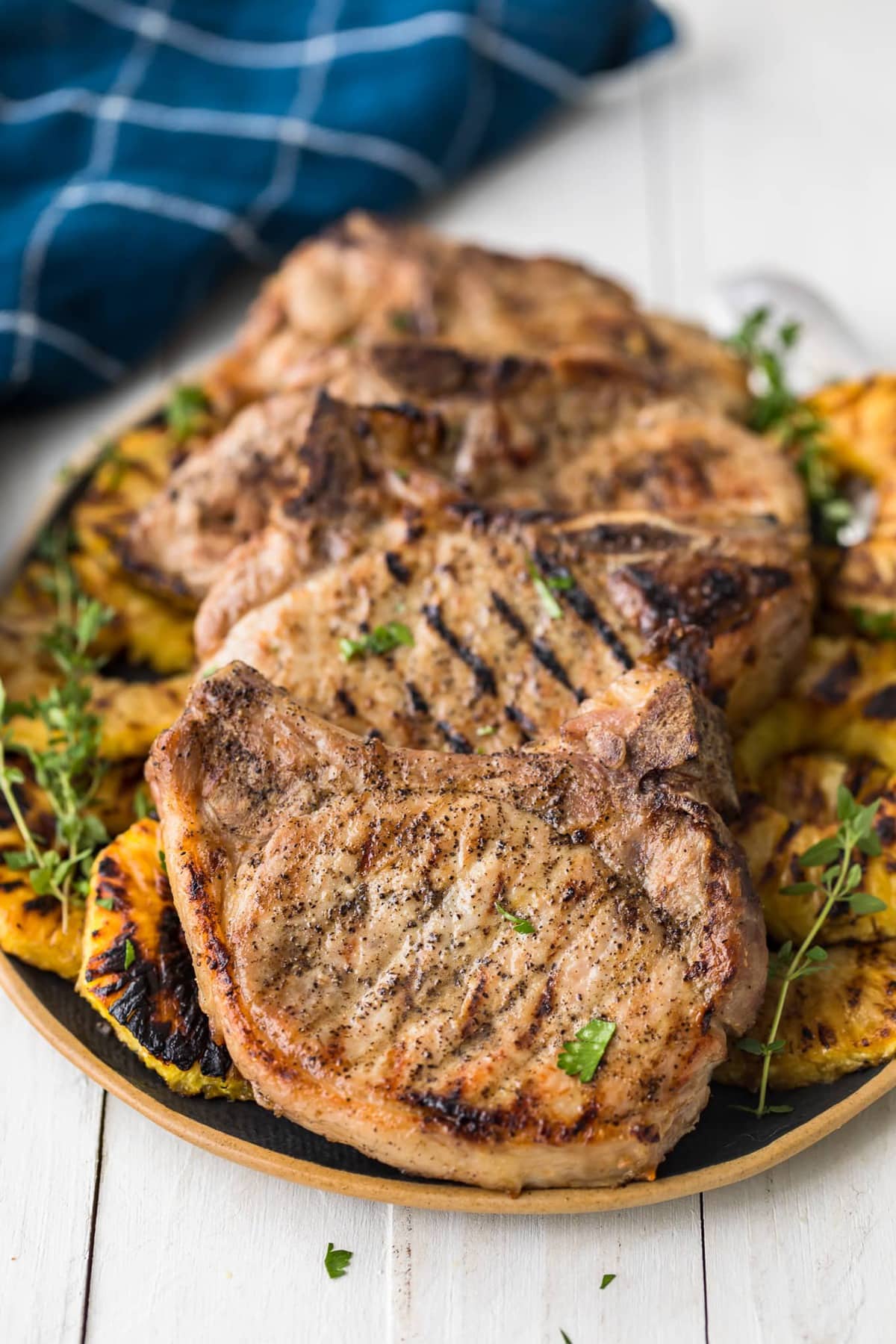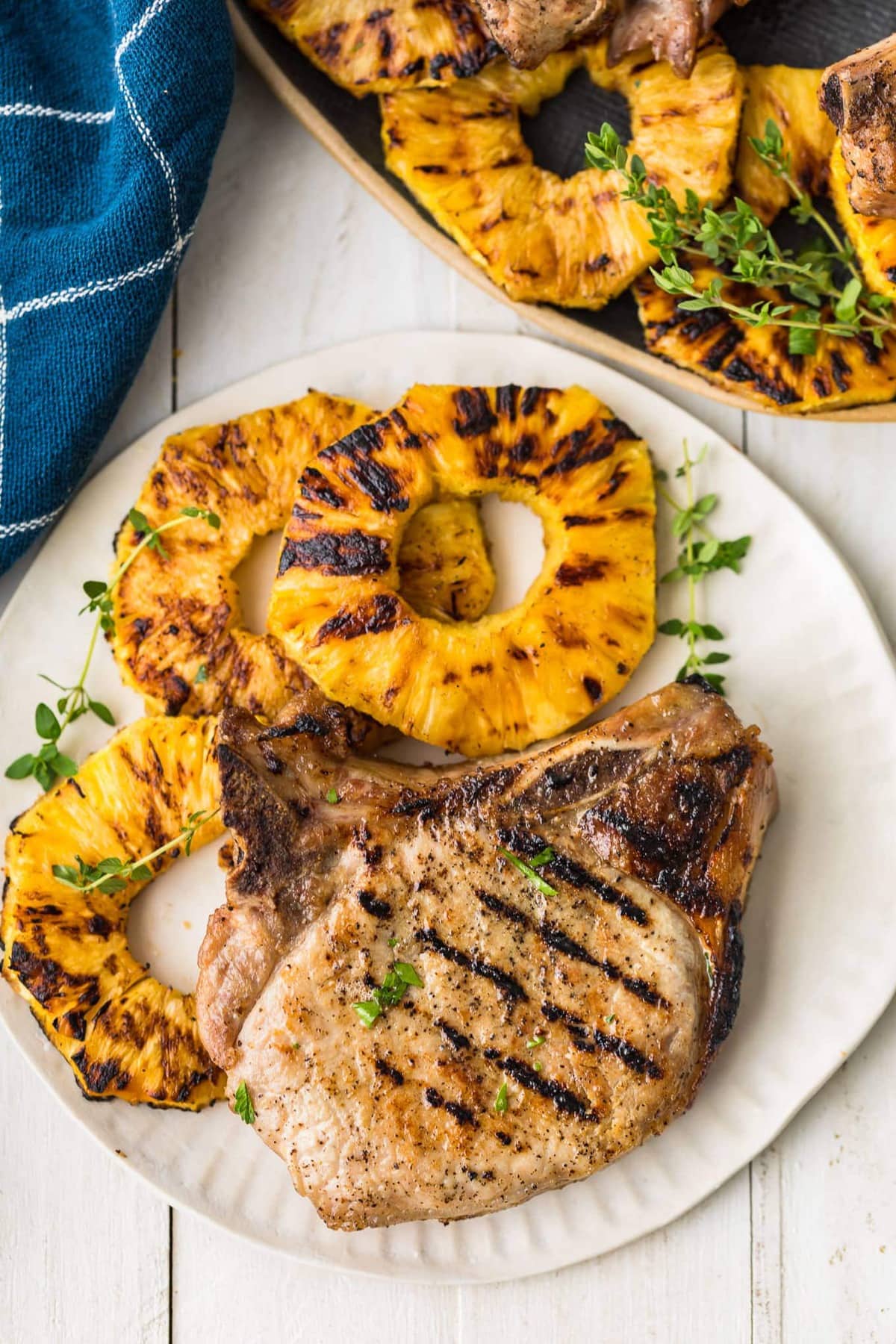 What to serve with grilled pork chops
Grilled pineapple rings make an excellent partner for a grilled pork chop, I love serving several pork chops on grilled rings so everyone can help themselves. Sautéed green beans, a Brussel sprout salad or Spinach Gratin would all be excellent side dishes to serve alongside.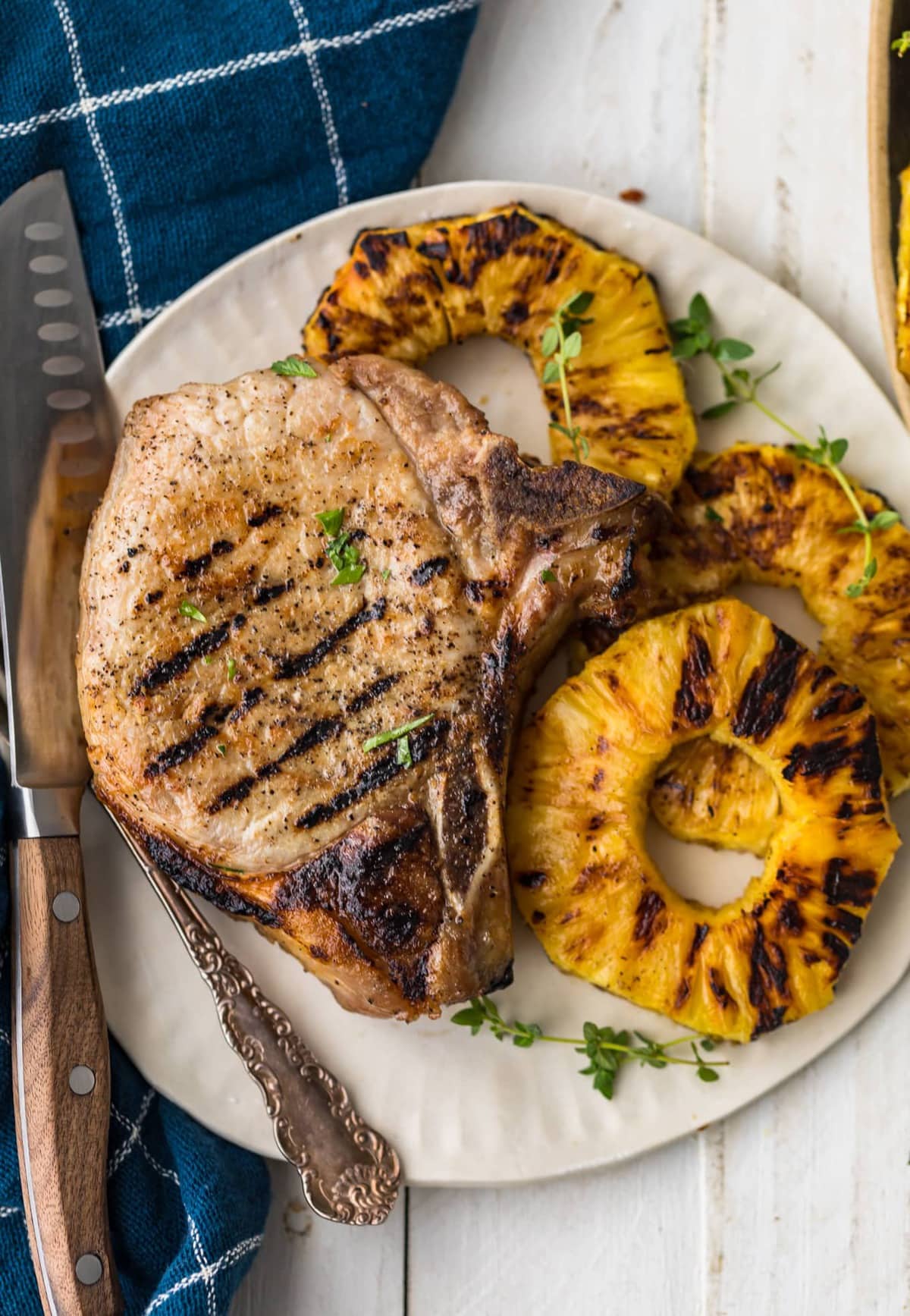 Top tips for making this Grilled Pork Chops Recipe
Try and use chops that are the same thickness.
Let the chops come to room temperature before grilling them.
Pre heat the grill before cooking the chops.
Be sure to let the pork chops rest before serving them.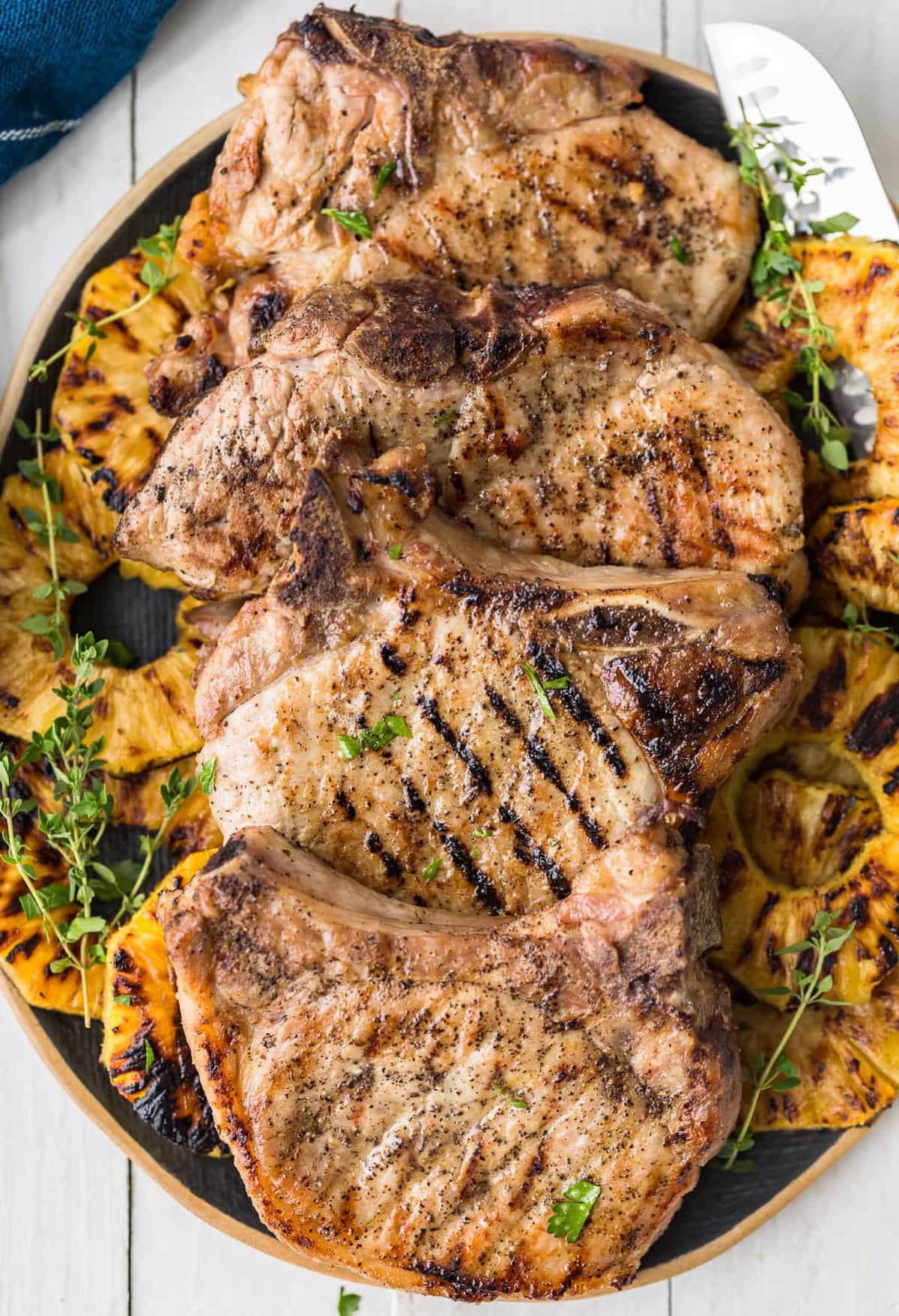 For more grilling recipes and guidance:
Don't forget the Grilled Burgers, Grilled Steak, and Grilled Ribs!