This succulent Greek Chicken is such an easy, no-fuss weeknight meal. Made with a simple honey-yogurt marinade – it's all cooked on sheet with roasted cauliflower.
Greek Chicken Recipe
This delicious Sheet Pan Greek Chicken has an addictive lemon and garlic marinade, roasted on a single sheet pan with cauliflower. It's an all in one main which comes in handy for those busy weeknights, or when you have friends over, so you're not sweating away in the kitchen while trying to be a good host!
Why this Greek Chicken is so good?
Easy: This recipe is made with just one sheet pan.
Delicious Marinade: A quick and delicious honey yogurt marinade adds so much flavor!
Crispy: Perfectly baked, crispy cauliflower.
Meal Prep: This is an easy and healthy meal prep recipe!
Ingredients
Yogurt – go for plain Greek Yogurt.
Garlic, Lemon Zest and Lemon Juice.
Greek Seasoning, Fennel, Fresh Parsley – divided.
Cauliflower – sliced into even florets.
Chicken Breasts – ideally organic/free range
Honey
How to make this Greek Chicken
For the marinade, whisk the yogurt, oil, garlic, lemon zest, lemon juice, salt, pepper, Greek seasoning, fennel, honey and parsley in a bowl.
Cover the chicken in the marinade and refrigerate for 1-12 hours. Then, chop the cauliflower and coat in the oil, salt, pepper and ground fennel.
Place the cauliflower and chicken on a sheet pan and put in the oven for 20-30 mins, then broil for a further 2-4 mins.
Let cool, then garnish with parsley and honey yogurt sauce.
Enjoy!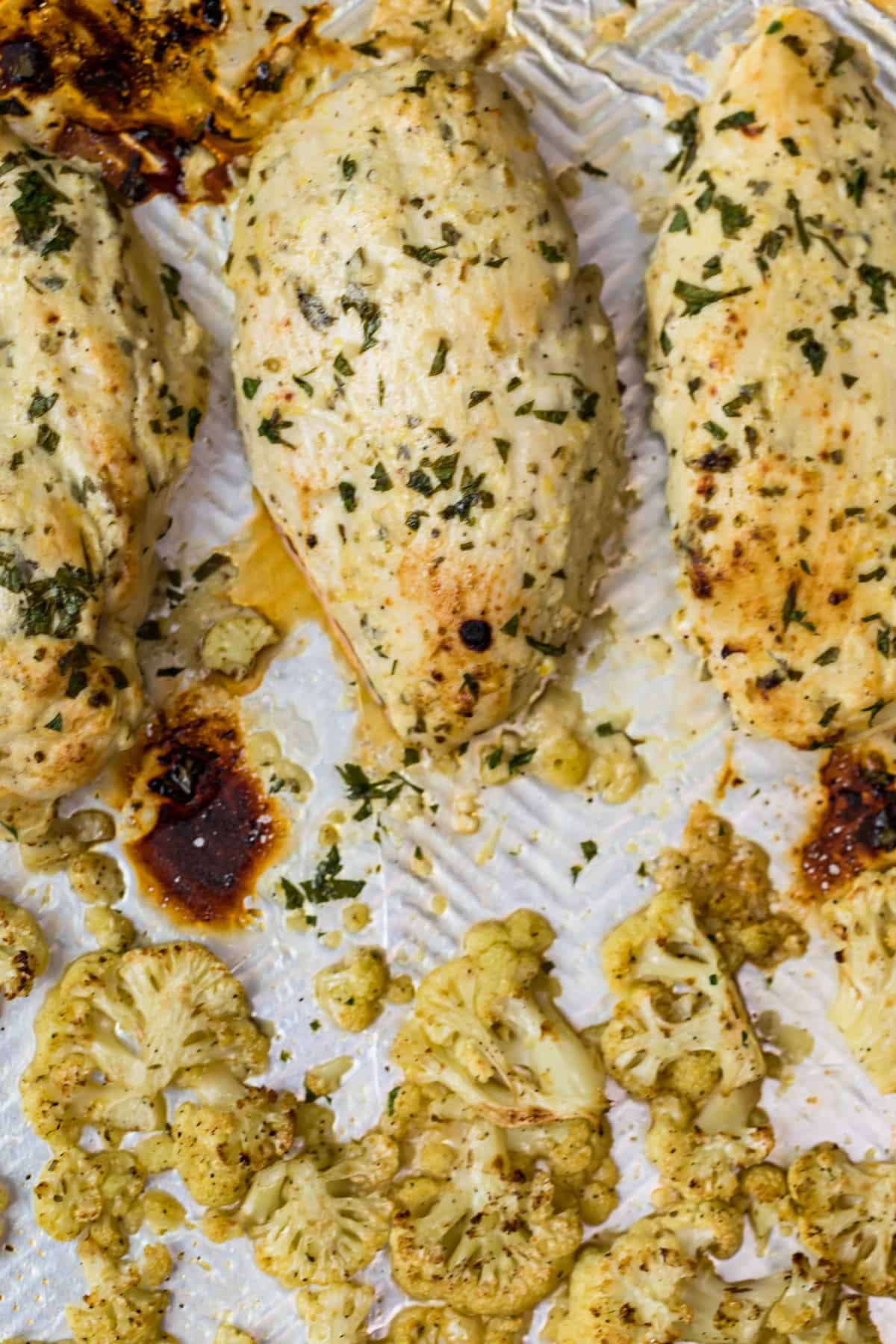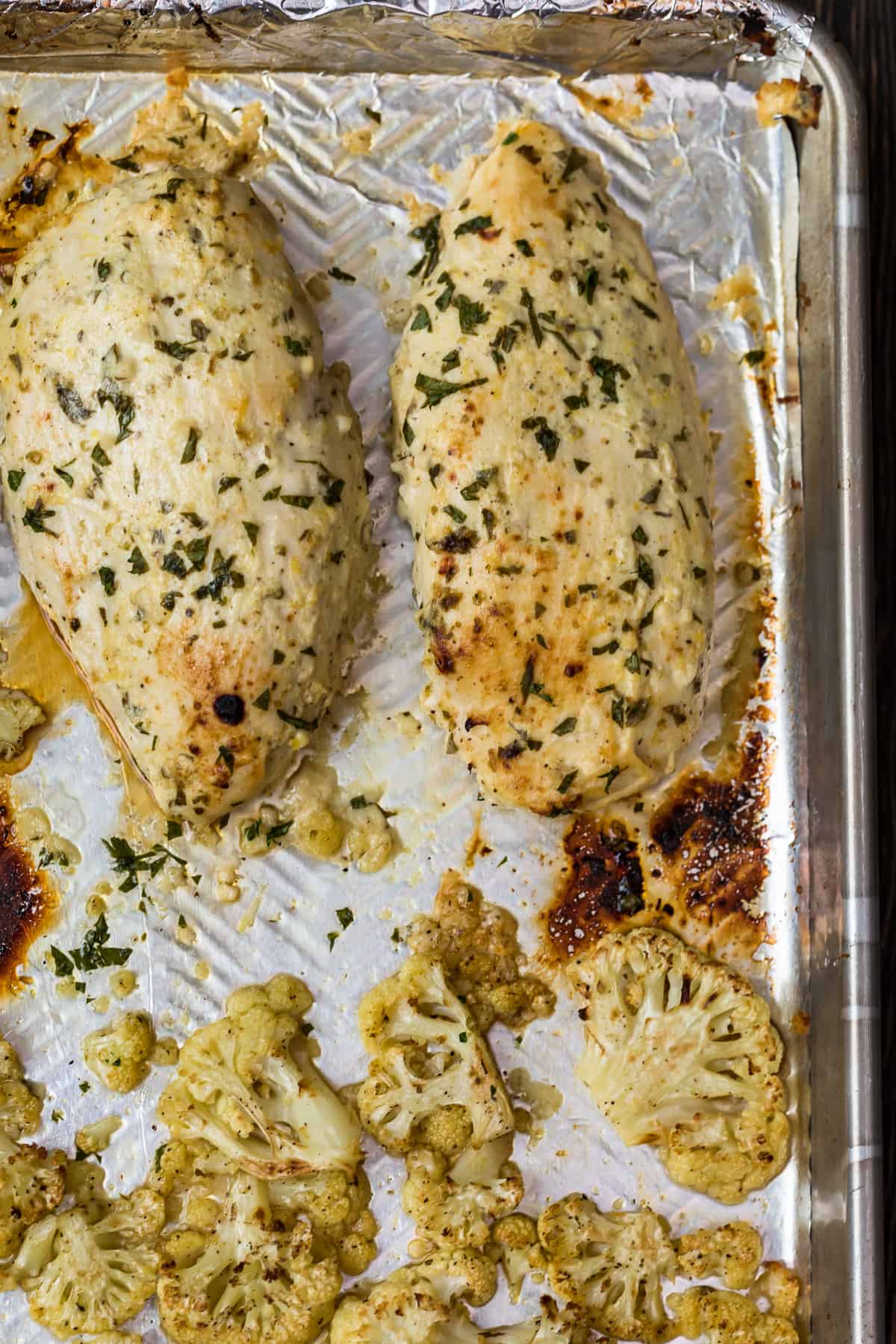 Greek Chicken – an easy weeknight meal
A great thing about this Greek Chicken recipe is you can get it all done on one sheet! With just a handful of ingredients, many of which you may already have in your kitchen, you can have a hearty, healthy weeknight meal.
What's the best cut of chicken?
I've made this recipe with chicken breast, because it adds juiciness and flavor. But you could use bone in, skin on chicken thighs and drumsticks instead. Just increase the cooking time, to make sure the internal temperature reaches 155 F.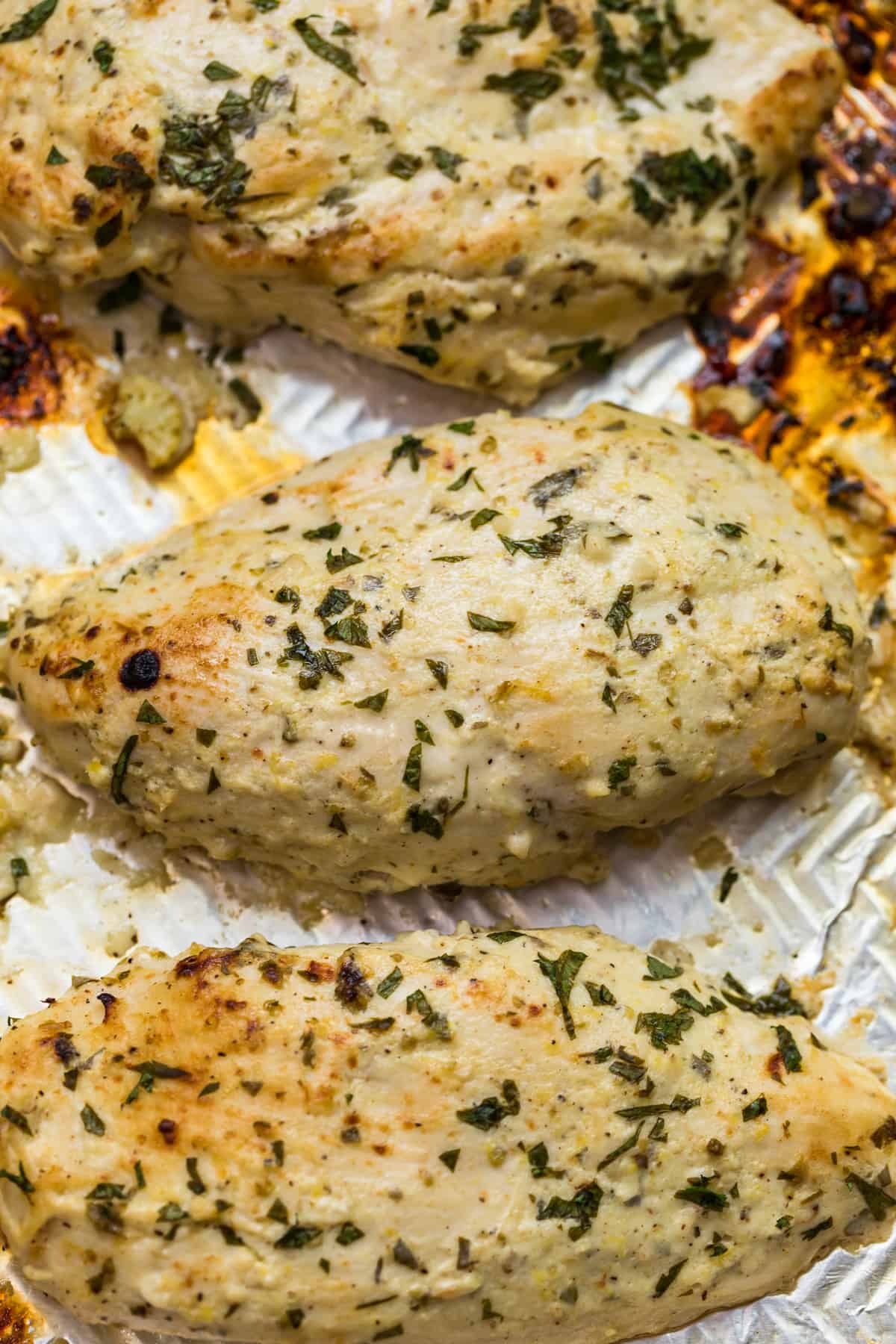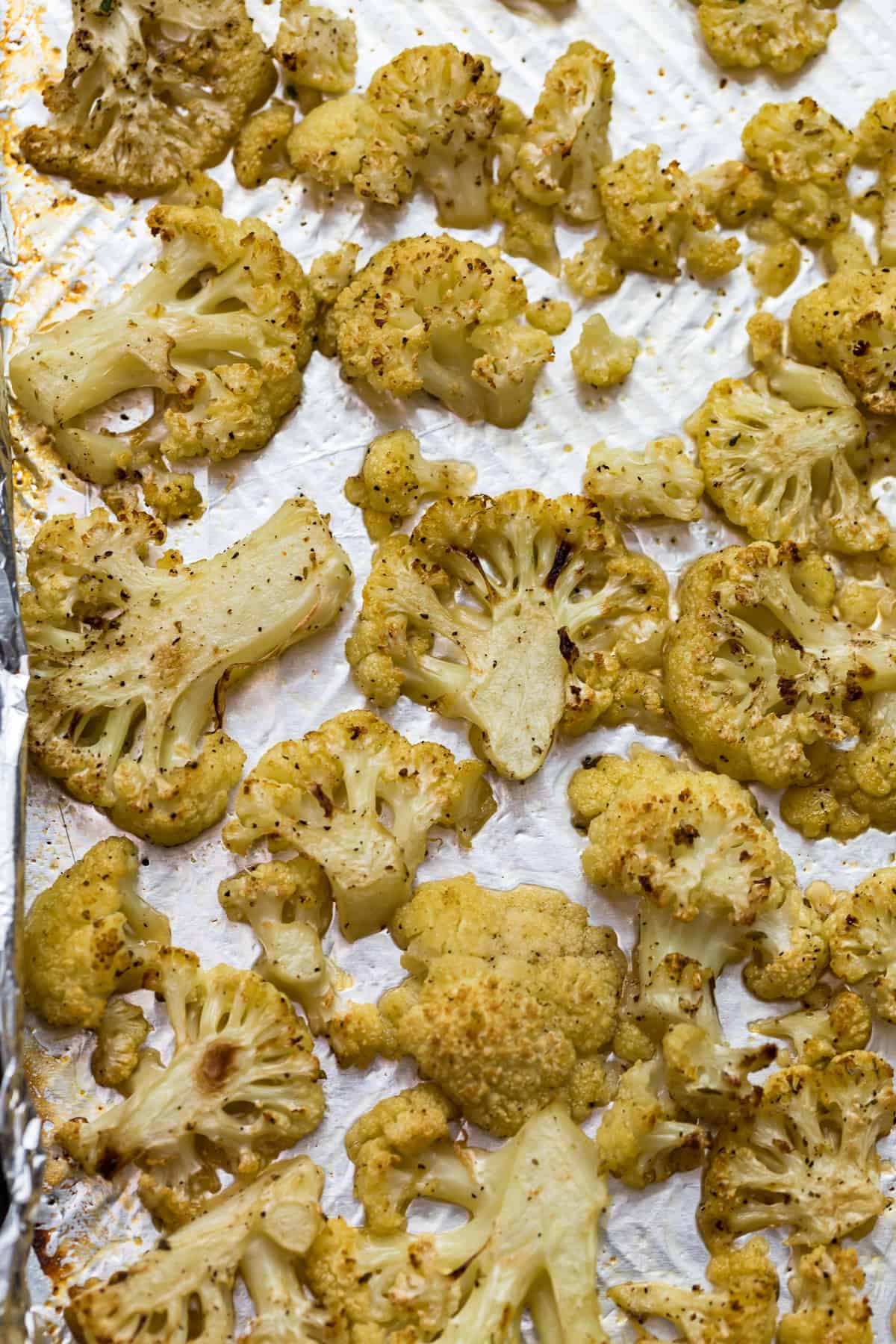 A delicious yogurt marinade
Yogurt is a brilliant marinade. So many cuisines embrace it, such as Greek, Persian and Indian.
What's so good about it? Well, it tenderises quickly and more evenly than liquids with harsher acidity like lemon juice and vinegar, and is also a fabulous flavour carrier, injecting herbs and spices into the flesh.
There's enough flavor in the marinade such that you don't need to marinate for a full 24 hours to get the benefit of the tenderizing and flavor injection. Overnight is definitely recommended but if you really need to rush it, even an hour is enough.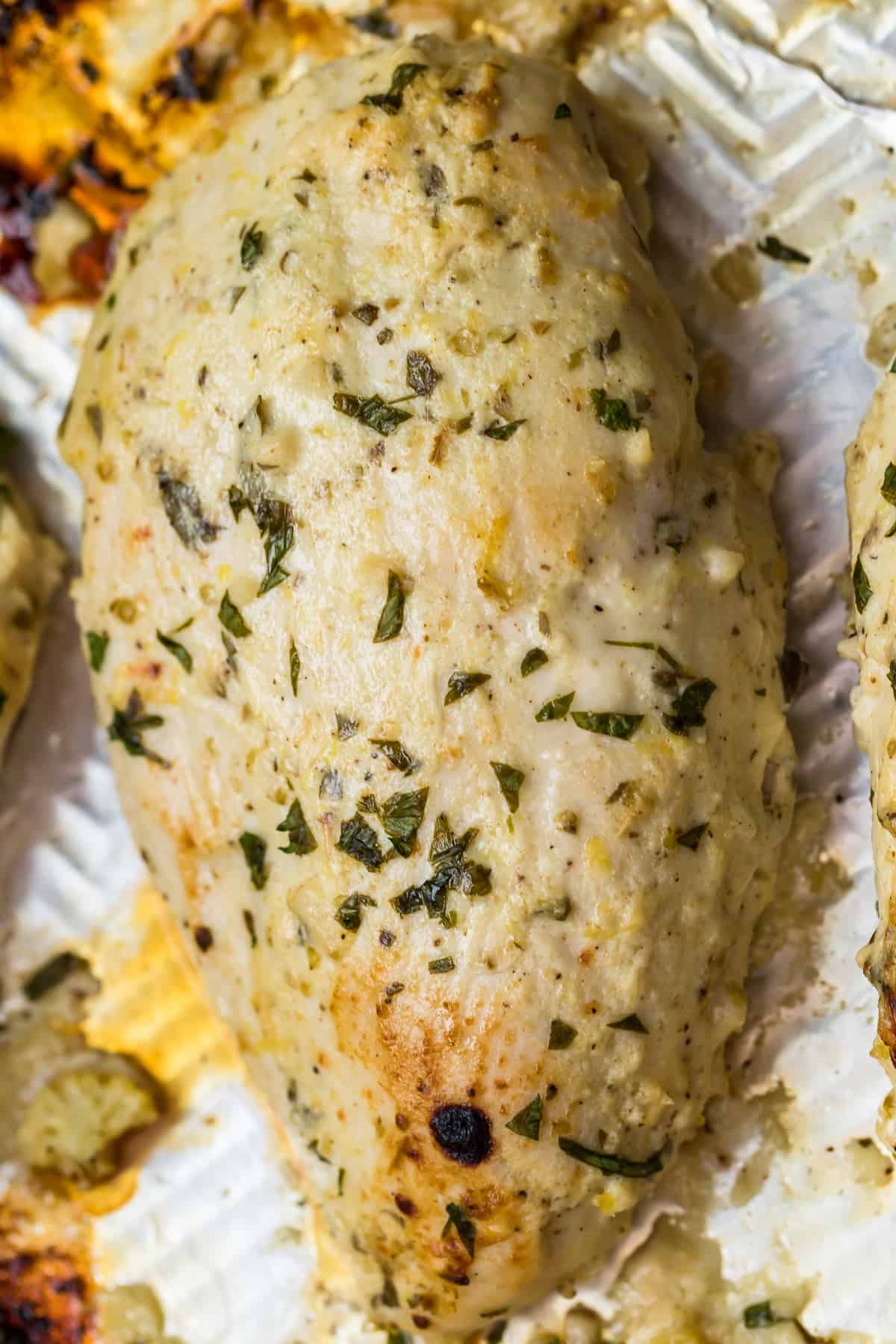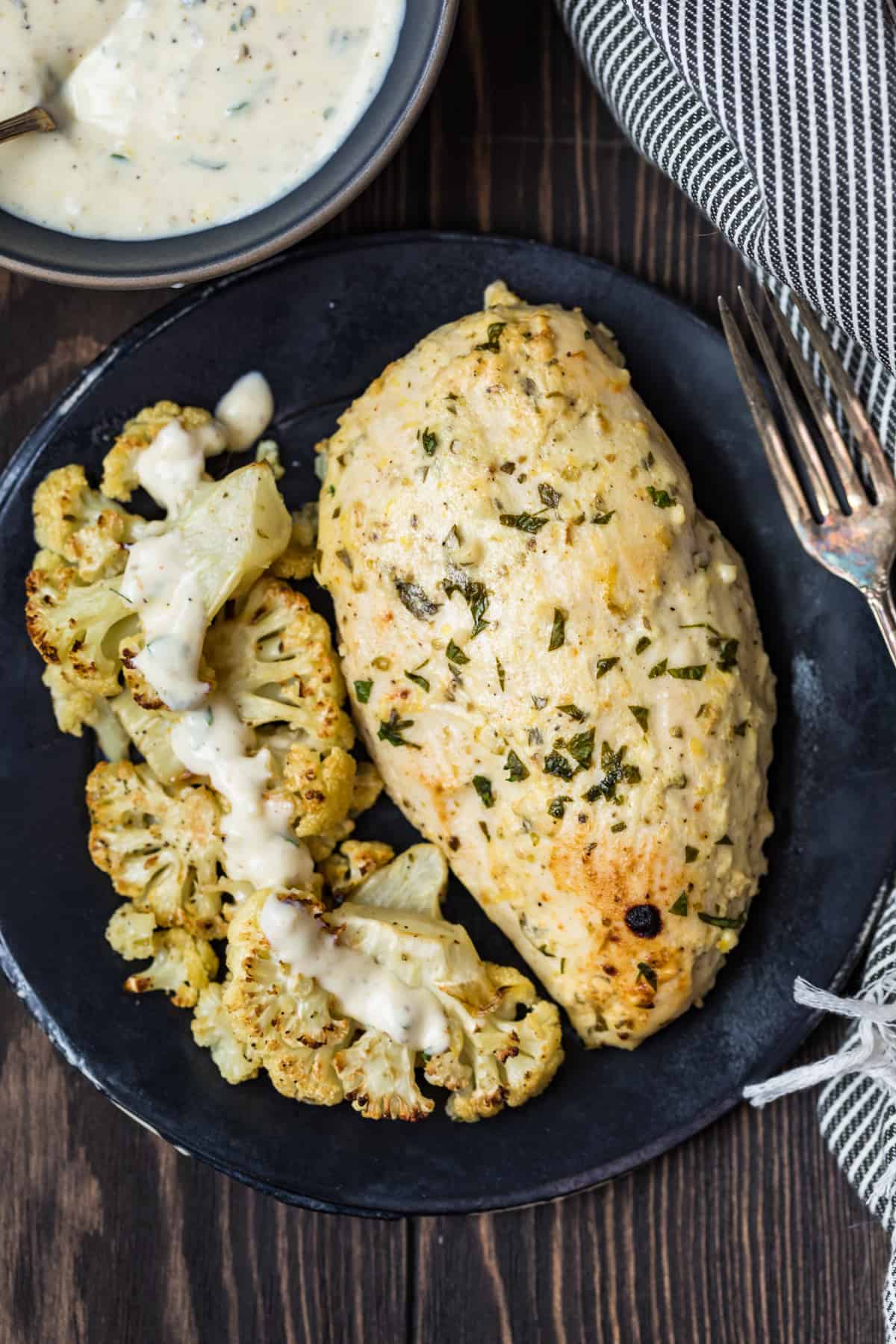 Top Tips
Make sure to separate your raw ingredients from the others. So keep the chicken at one end and the cauliflower at the other. You don't want juices from the chicken contaminating the veggies.
Allow chicken to marinate for at least an hour. The longer it marinates, the better!
Allow to cool for a few mins before serving.
Garnish with parsley and left over honey yogurt marinade.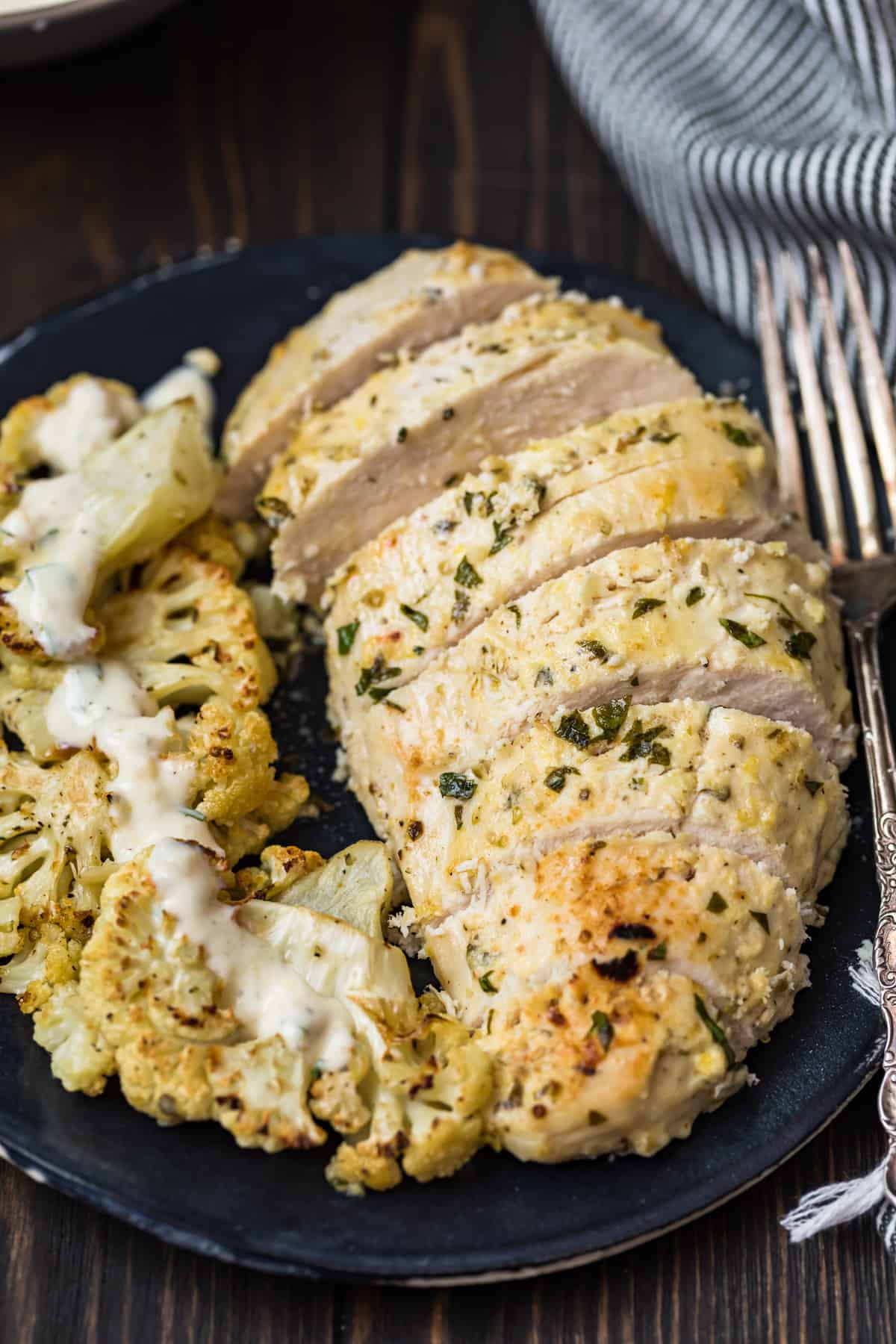 Check out these other delicious one pan meals
Have you tried this Greek Chicken and Cauliflower Sheet Pan Meal? Feel free to leave a star rating and I'd love to hear from you in the comments below!