Sheet Pan Chicken Fajitas are one of our favorite healthy dinners! These baked chicken fajitas are lighter in calories and fat, but still packed with flavor. These healthy chicken fajitas are an easy sheet pan fajitas recipe that everyone will love. It's the perfect dinner for two!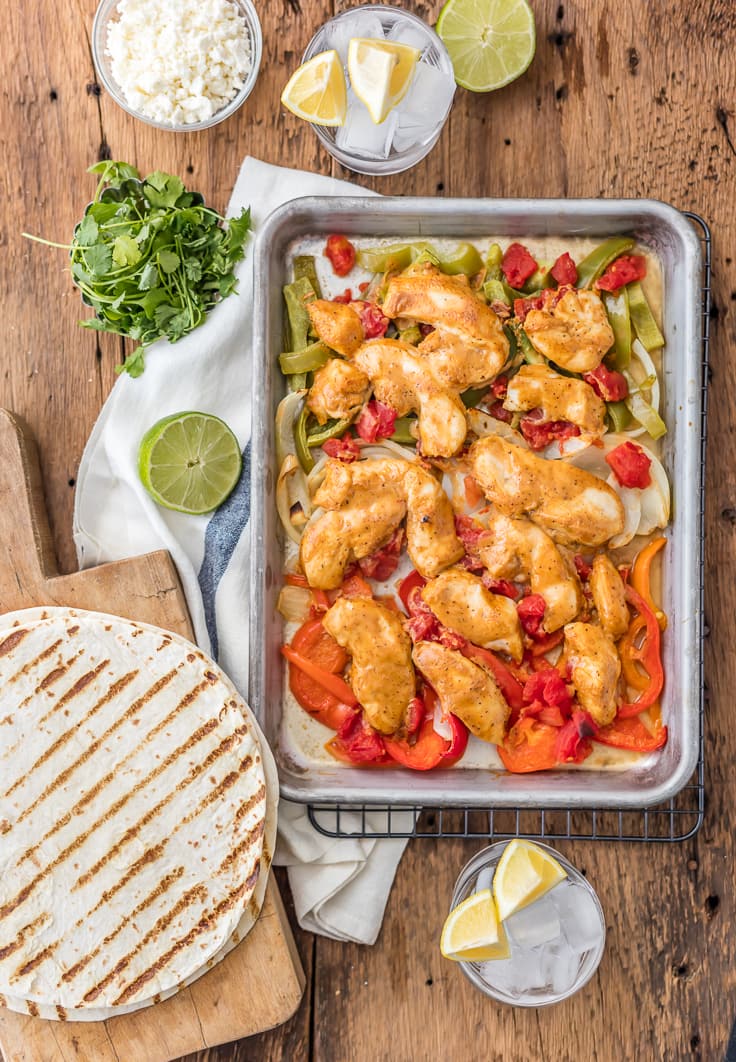 Baked Chicken Fajitas
These sheet pan chicken fajitas are easy, healthy, and SO delicious. What more could you want? I just love Chicken Fajitas and this baked recipe is so simple.
I absolutely love any Mexican or Tex-Mex meal, and fajitas are one of my favorites. I'd normally only order them at restaurants, but these Sheet Pan Chicken Fajitas are easy enough to make at home, any night of the week!
For me, it just doesn't get any better than these baked chicken fajitas! They have everything I love about a great dinner recipes: they are SUPER EASY to make, full of flavor, and family friendly. Absolutely everyone will love these sheet pan fajitas and there's never a wrong time to make them.
This easy chicken fajitas recipe is the perfect meal for two, so it's perfect for at home date nights and weeknight dinners. We have made this recipe over and over, and I never get tired of it. I love them for an easy lunch or for a low key dinner…I just cannot get enough!
And the best part of all of this? This is a HEALTHY chicken fajitas recipe. A couple simple changes make these sheet pan chicken fajitas a healthier, skinnier version of a typically calorie-dense meal. But trust me, you won't miss those calories!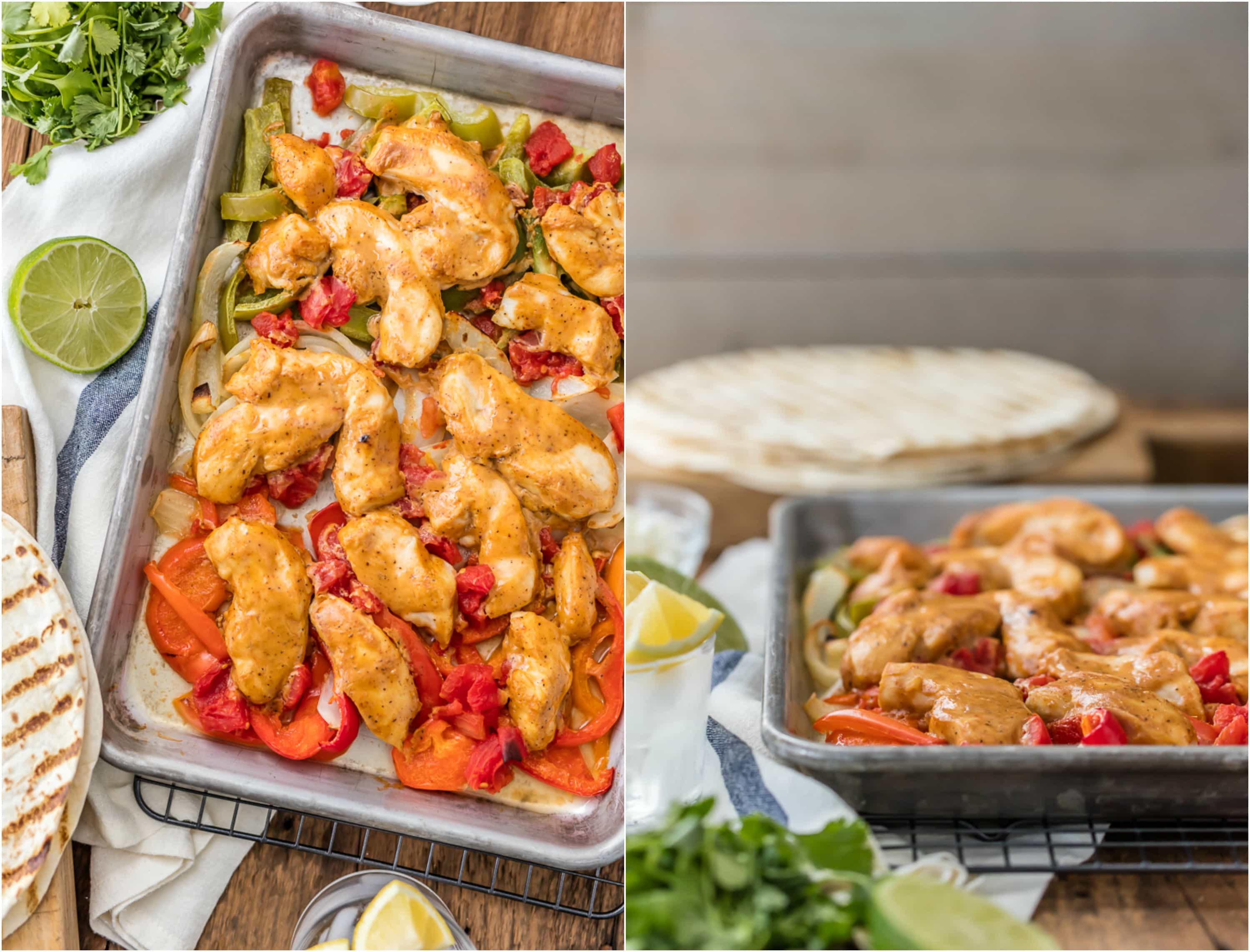 How to Make Baked Chicken Fajitas for Two
Instead of cooking everything on the stove top, this baked chicken fajitas recipe is all made in one sheet pan in the oven. So easy! This is the type of recipe that takes ZERO prep. There is no need to cook the chicken beforehand.
Just pop it on the pan with everything else. I guess you do need to chop the veggies, but that's really all the prep there is, and that takes no time at all. Throw it all in a pan and bake for 25 minutes and you're set!
This recipe couldn't be easier. You'll have fresh, flavorful sheet pan chicken fajitas that are delicious ready in no time. A skinny and simple dinner for two, that also makes great leftovers. Win win! I love these healthy chicken fajitas!
Check out our full Baked Chicken Guide for more easy chicken recipes!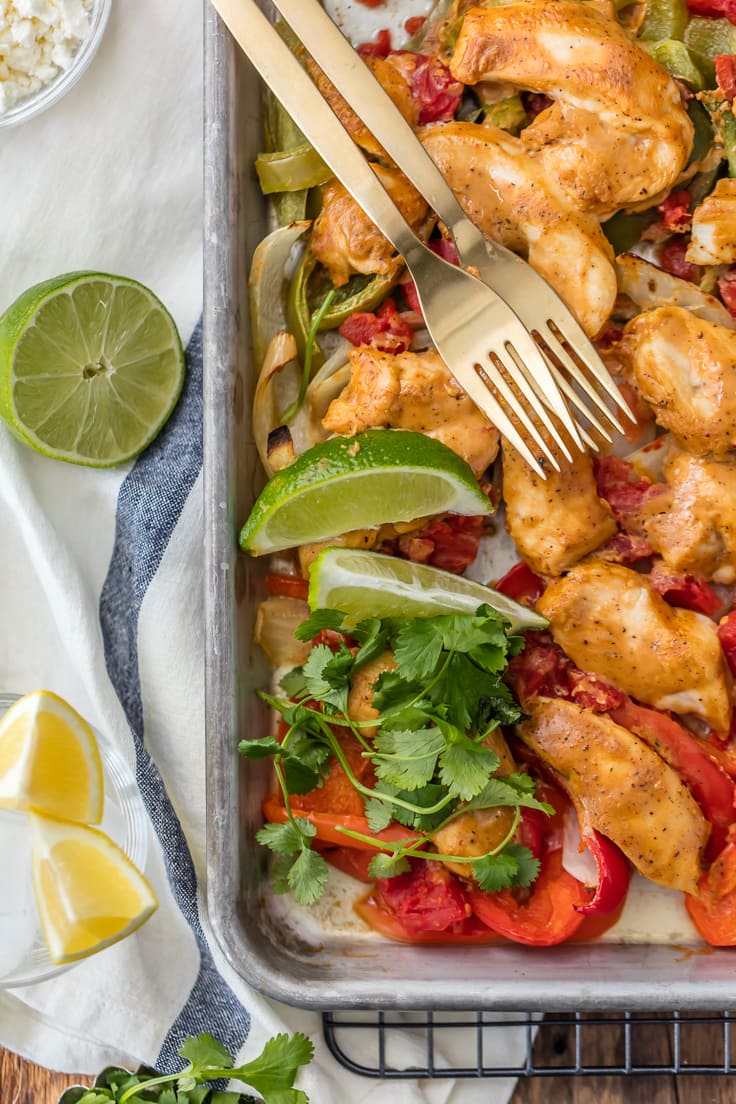 How to Make Sheet Pan Chicken Fajitas
One pan, a few ingredients, and 30 minutes. That's all you need to make these sheet pan chicken fajitas! Tender chicken strips with bell peppers, tomatoes, onions, and more, all ready to be piled on to tortillas for an easy meal. Easy, baked, healthy, done!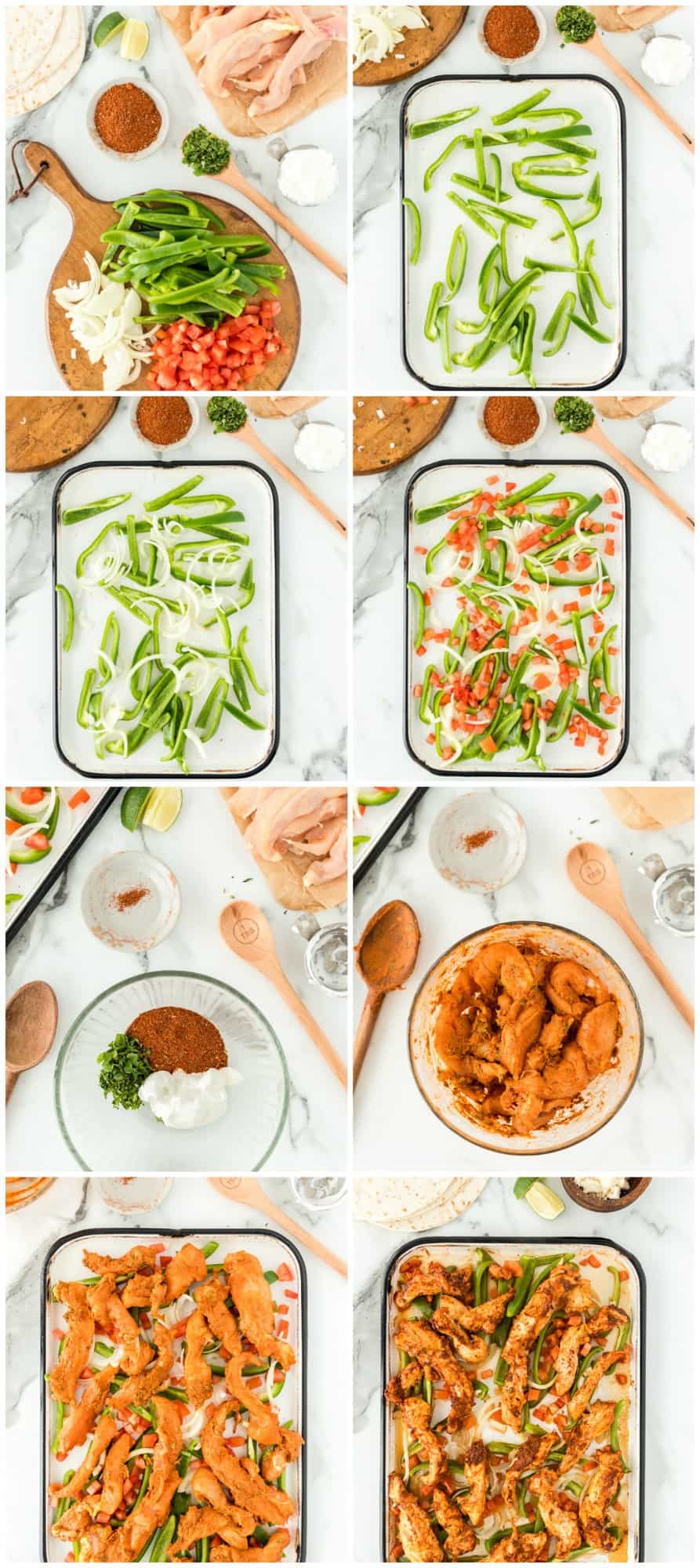 How to Make Sheet Pan Fajitas:
You can jump to the recipe card for full ingredients & instructions!
Chop all your veggies and place them in your sheet pan.
Combine Greek yogurt, cilantro, and fajitas seasoning in a mixing bowl, then toss and coat the chicken strips in the mixture.
Place the chicken in the sheet pan along with the vegetables, and bake for 20-25 minutes (uncovered) at 400°F.
So simple and now they're all ready to eat! I recommend warming up your tortillas, so just wrap a stack of them in foil and place them in the oven about 8 minutes before the rest of the meal is done. Now enjoy those baked fajitas and make sure you save any leftovers. No wasting food allowed here!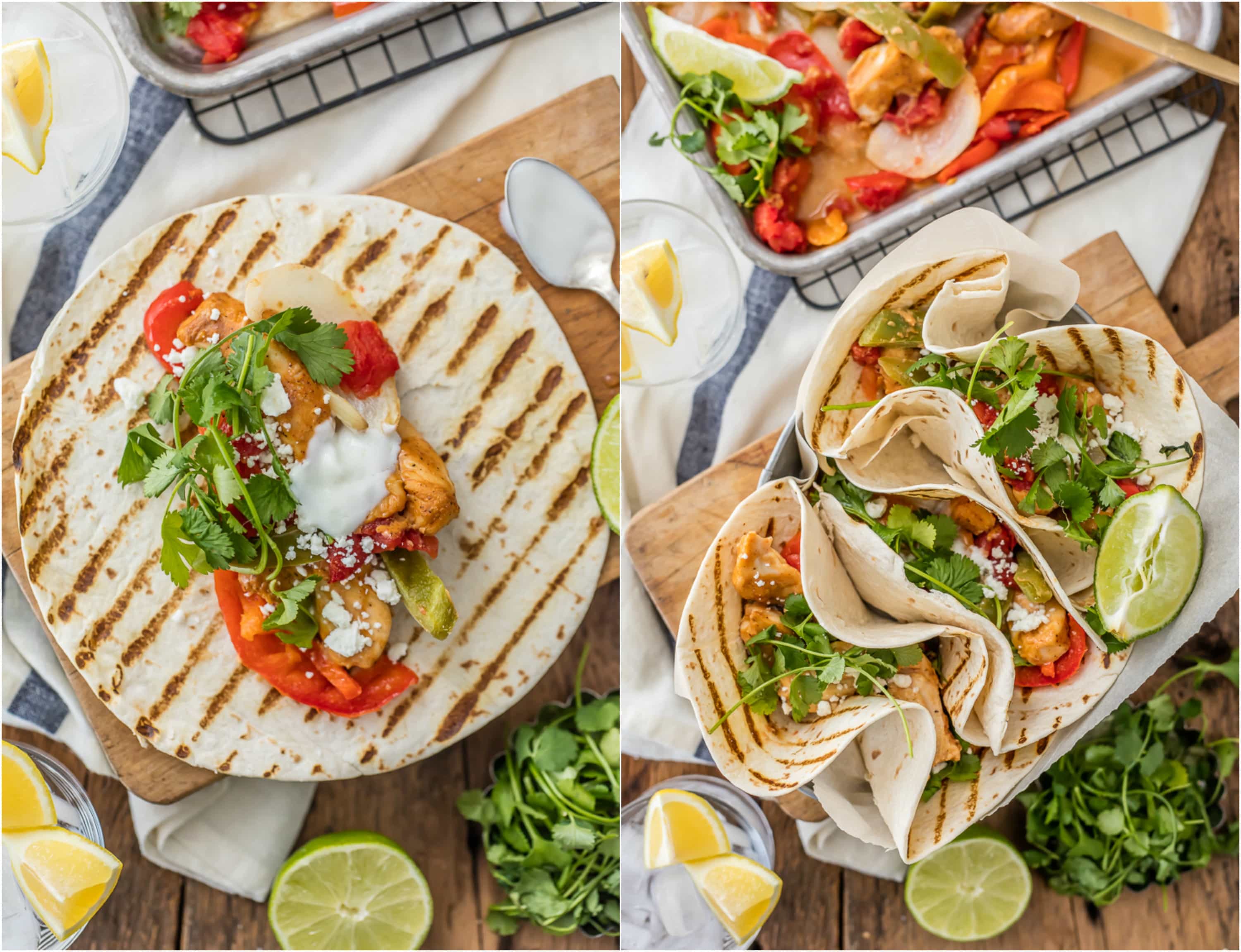 Healthy Chicken Fajitas
When I made these sheet pan chicken fajitas in the past, I piled on the cheese. Can you blame me? I love cheese. I'm making healthy chicken fajitas this time though. And they're still just as tasty!
These baked chicken fajitas have plenty of flavor without piles of cheese. And if I'm foregoing the cheese and not missing it, then you know it's true! I sprinkled a bit of Queso Fresco, but you can leave it off all-together to really cut out those calories. I swear you won't miss it.
My other trick to making a skinny sheet pan fajitas dinner is replacing the sour cream with Greek Yogurt. Now let's be clear…I'm a huge fan of sour cream. But trust me when I say that you won't taste the difference. We do this on so many Mexican meals and it's a new favorite way to skim calories.
Healthy AND delicious dinner for two? Yes please!
I can't wait for you to try this baked chicken fajitas recipe! Easy, delicious, healthy…everything you could want in a weeknight dinner. I love these sheet pan fajitas for special occasions too, though. Like date nights at home, Valentine's Day, or any time you just want a nice meal for you and your partner. So perfect!
And if you prefer steak, make these Sheet Pan Steak Fajitas!
If you like this, try these other chicken recipes: