Sheet Pan Chicken Fajitas are one of our favorite healthy dinners! These baked chicken fajitas are lighter in calories and fat but still packed with flavor. These healthy chicken fajitas are an easy sheet pan fajitas recipe that everyone will love. It's the perfect dinner for two!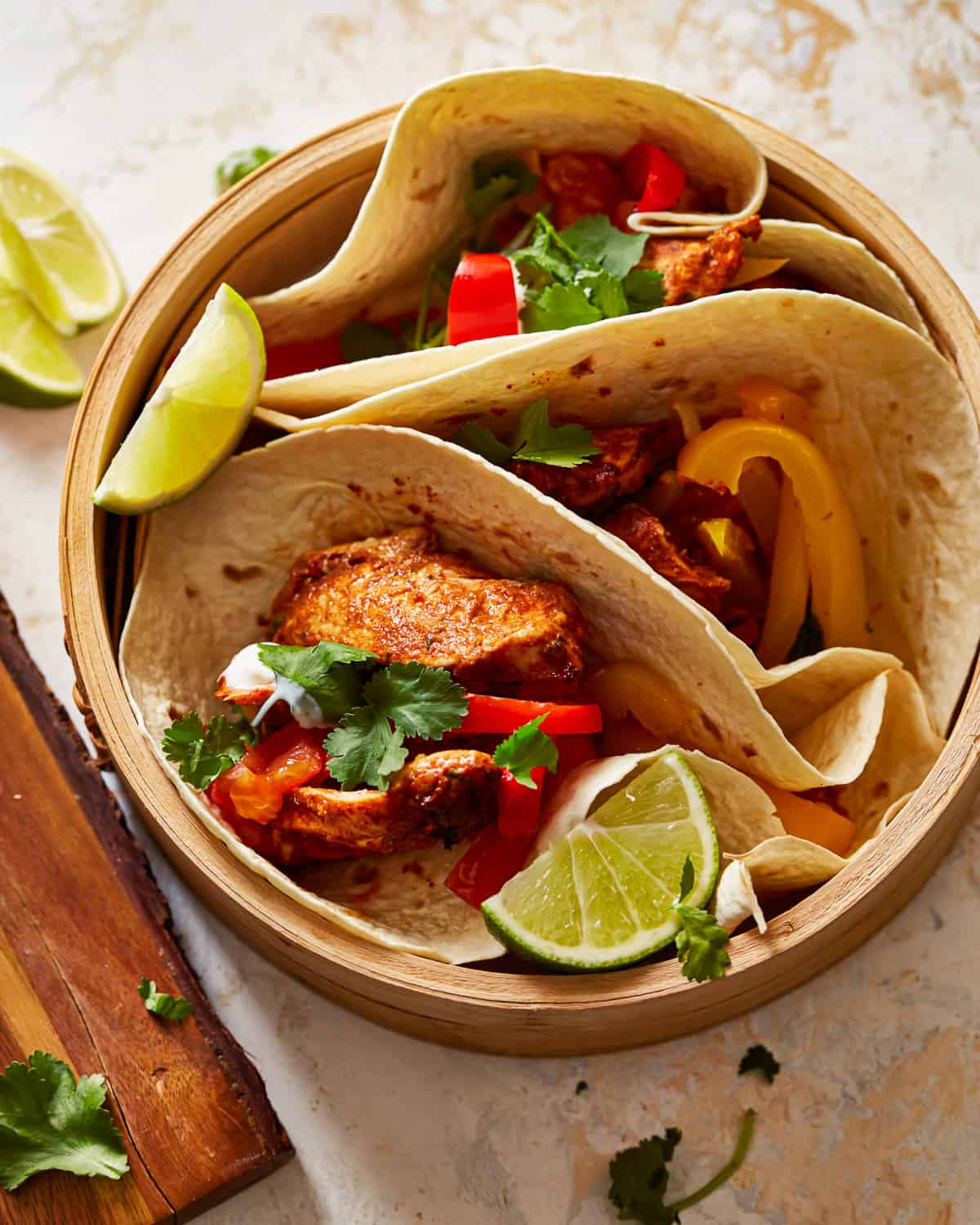 What's in Baked Chicken Fajitas?
One pan, a few ingredients, and 30 minutes. That's all you need to make these sheet pan chicken fajitas! Tender chicken strips with bell peppers, tomatoes, onions, and more, all ready to be piled onto tortillas for an easy meal. Easy, baked, healthy, done!
Roma Tomatoes: Add freshness and acidity to the dish.
Yellow Onion: Adds an earthy, sweet flavor.
Bell Peppers: Add crunch and a delicious earthy flavor.
Plain Greek Yogurt: My trick to making a skinny sheet pan fajitas dinner is replacing the sour cream with Greek Yogurt. Trust me when I say that you won't taste the difference!
Fajita Seasoning: Gives these fajitas their classic flavor.
Fresh Cilantro: Adds a pop of color and freshness. Feel free to swap for parsley if you're not a fan!
Chicken: I used boneless, skinless chicken breast, but thighs will also work.
Flour Tortillas: My favorite vessel for fajitas. For an even healthier option, try cassava or almond flour tortillas.
Pro Tip: I recommend warming up your tortillas, so just wrap a stack of them in foil and place them in the oven about 8 minutes before the rest of the meal is done.
Variations on Healthy Chicken Fajitas
There are many ways to change up this chicken to better suit your tastes. You could swap the chicken breasts for chicken thighs or even turkey. If you don't love fajita seasoning, try using taco seasoning instead.
The yellow onion can be swapped for a white, sweet, or red onion, and you can use any color or combination of colors of bell peppers! Try swapping the flour tortillas for corn or cassava flour tortillas, or skip the tortillas altogether and serve this chicken on top of pasta, salad, or Mexican rice!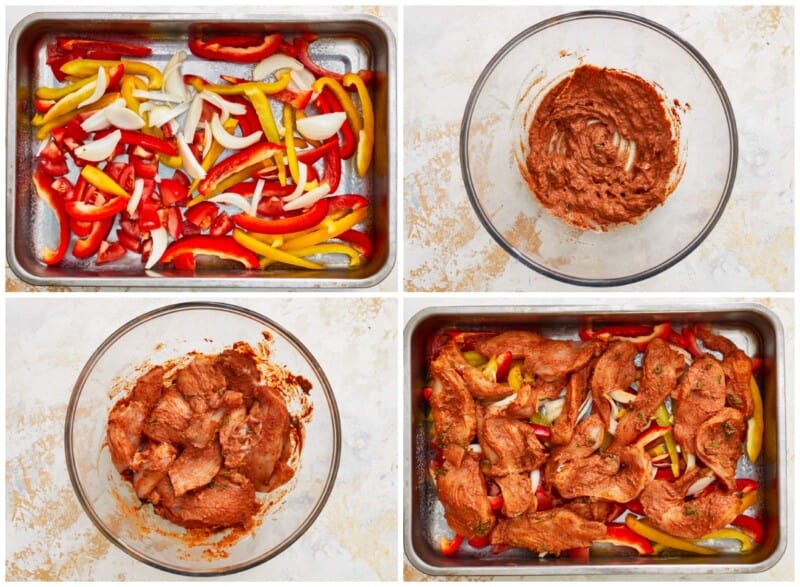 How many chicken breasts per person for fajitas?
I usually go for 1 chicken breast per person!
Do you slice chicken before or after cooking fajitas?
You should slice the chicken into strips before cooking it. This will help it cook at the same rate as the vegetables in the oven!
Why is my fajita chicken tough?
If your chicken is tough, it is likely overbaked. I recommend cutting the chicken and vegetables into equal sizes so that they cook at the same rate. Check the temperature with an instant-read thermometer towards the end of cooking. It should read 165°F.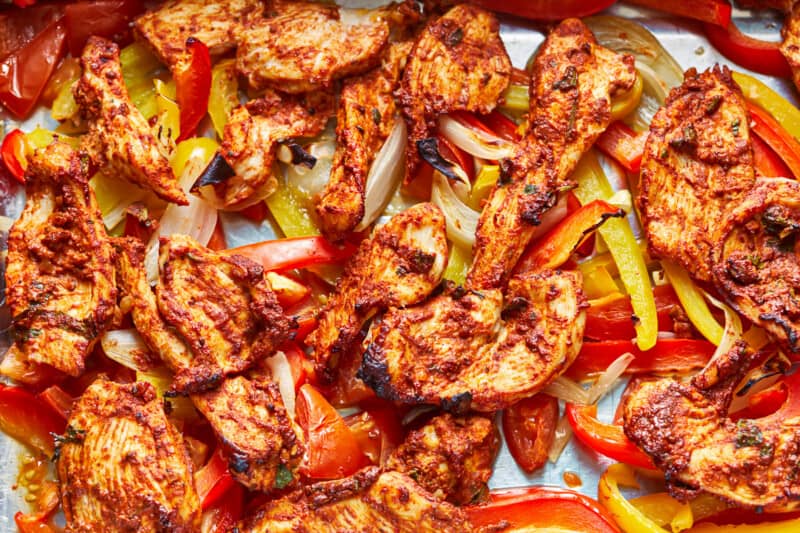 How to Store and Reheat
Store leftover sheet pan chicken fajitas in an airtight container in the refrigerator for up to 3 days. Reheat in the microwave in 30-second increments until warmed through.
How to Freeze
Freeze sheet pan chicken fajitas in an airtight container or Ziplock bag for up to 3 months. Let thaw overnight in the refrigerator before reheating.
Serving Suggestions
Serve these healthy chicken fajitas with a side of cilantro lime rice, grilled veggies, healthy queso, and a skinny margarita.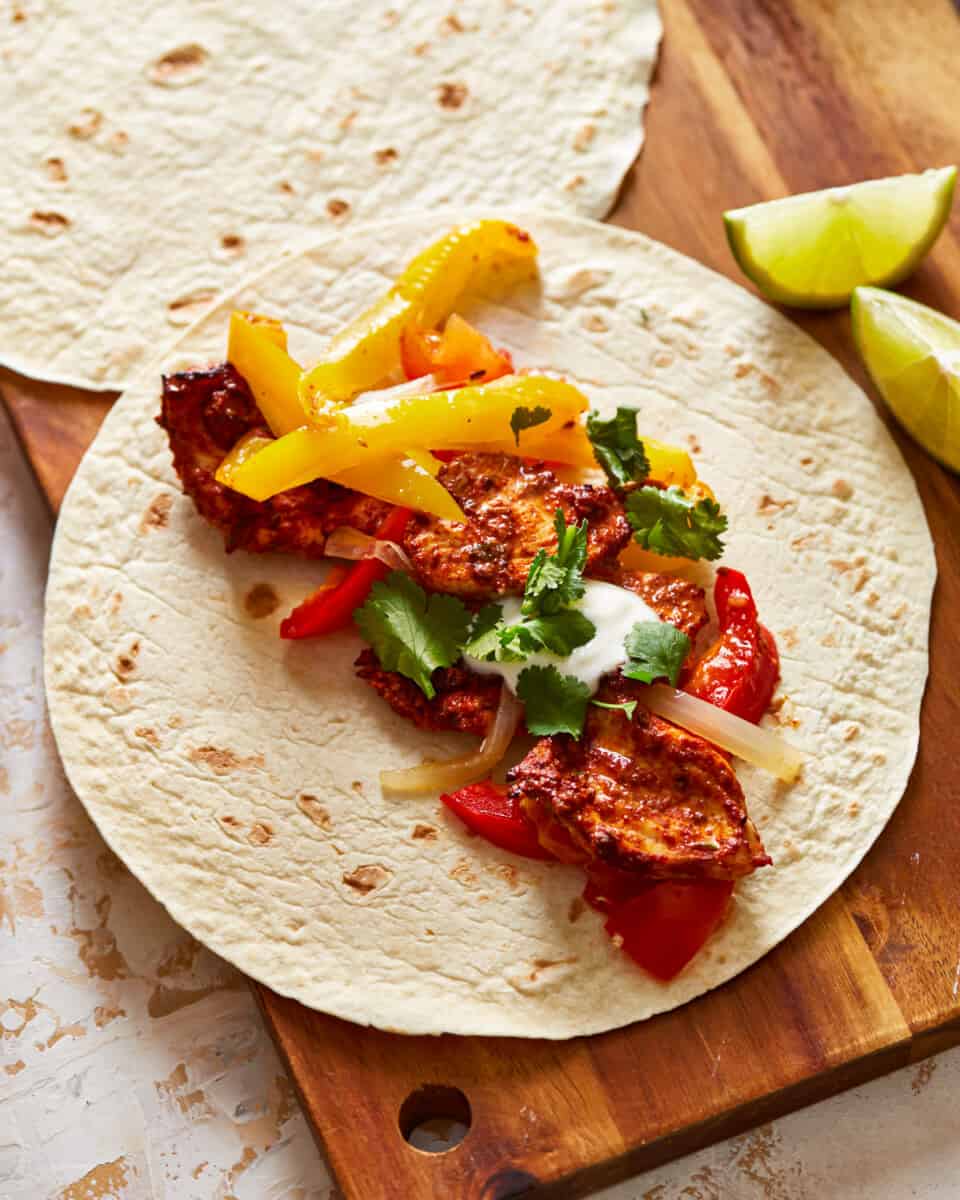 More Chicken Fajita Recipes We Love