Roast Chicken and Potatoes is an all time favorite Sunday dish! A delicious and juicy roast chicken served with perfectly roasted potatoes, seasoned with a glorious blend of herbs, plus it's a one pan meal! It can't get any simpler and more delicious than this.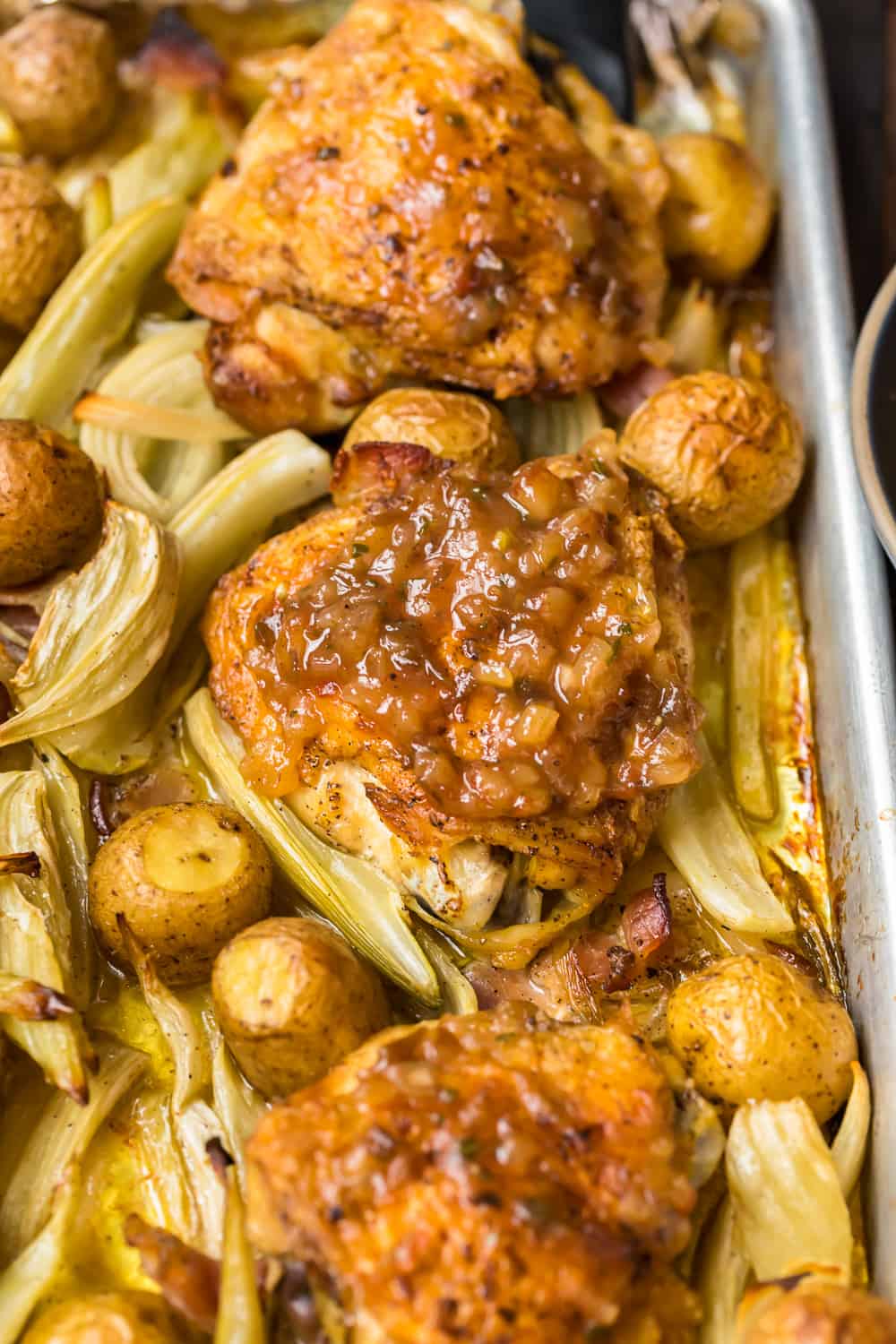 Sheet Pan Chicken Thighs
This one pan Roast Chicken and Potatoes is a great midweek menu or Sunday meal. No need to marinate, no long list of fancy ingredients, it's a one pan, simple meal that is ready in under an hour.
The skin of the chicken turns very crispy, while the meat inside stays juicy, and the potatoes are perfectly crunchy on the outside but fluffy on the inside.
How To Make Roast Chicken and Potatoes – Step by Step
You can jump to the recipe card for full ingredients & instructions!
Add potatoes, onions, bacon to the baking sheet and drizzle with oil. Toss ingredients to coat with thoroughly with oil, and season with salt and pepper, then set the vegetables in the oven (lowest rack).
While the vegetables roast, heat 2 tablespoons oil in a large cast iron (if available) skillet set over medium-high heat. When the oil is hot, press the chicken (skin-side down) in the skillet. Cook until the skin is a dark golden brown, about 10 minutes. When all chicken has partially cooked, transfer the chicken (skin-side up) to the sheet pan with the vegetables.
While the chicken/vegetables finish cooking, drain all except 2 tablespoons fat from the skillet. Turn heat to medium and add minced shallot, rosemary, ¼ teaspoon kosher salt and ¼ teaspoon ground black pepper.
Cook until shallot tender. Add figs, Madeira and wine and cook until slightly reduced. Serve fig sauce over the roasted chicken and vegetables.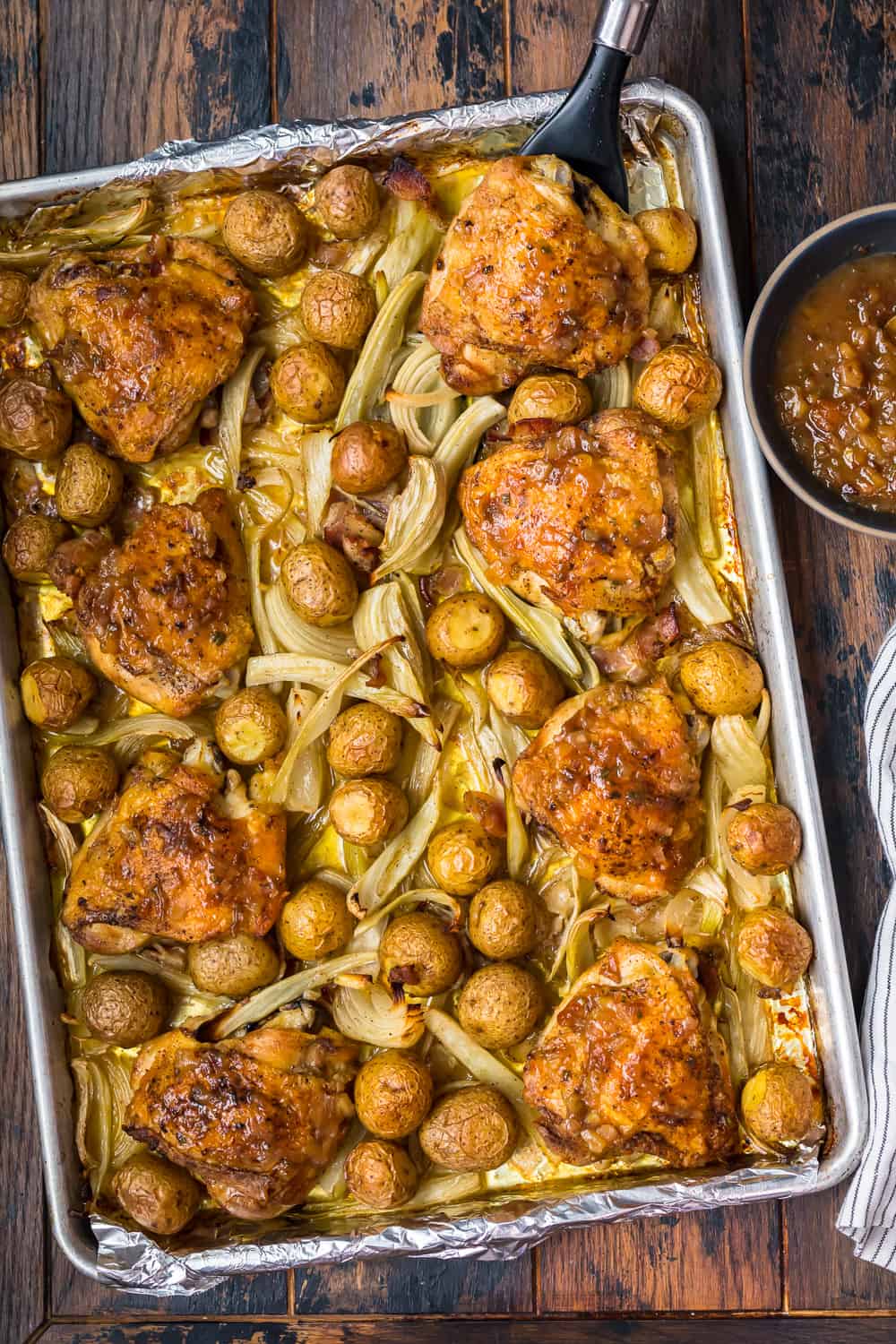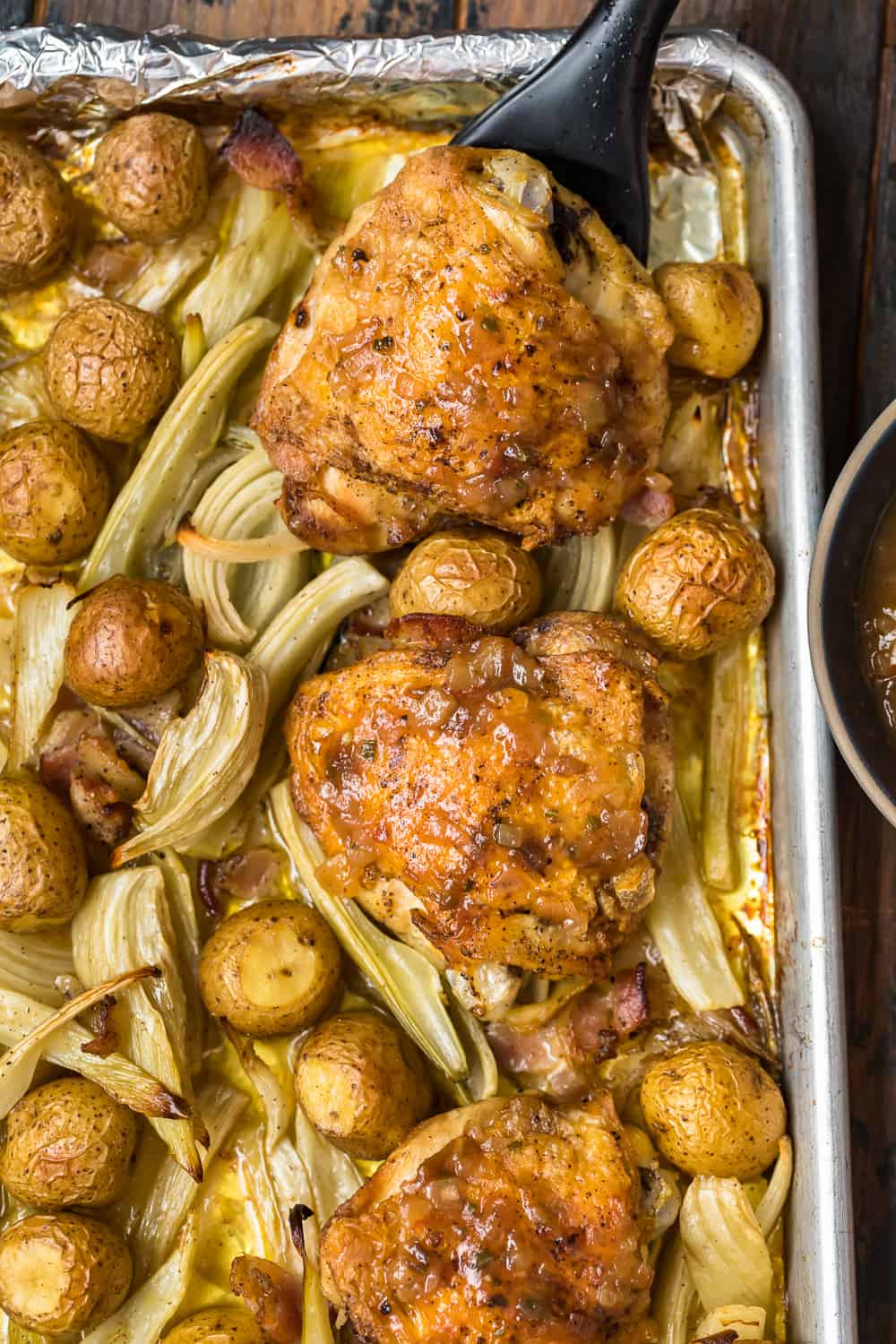 Can I Roast Other Cuts Of Chicken?
I made this recipe with chicken thighs, you can replace them with chicken breasts, drumsticks or with a combination of the three.
If you are using other chicken cuts, you may have to adjust the cooking time, as needed.
Easy Customizable Dish
What is great about this roast chicken and potatoes recipe is that you can completely customize it!
One way to do this is to use different cuts of chicken (as I mentioned above). For instance, if you bought a big pack of chicken legs, use those instead!
You can also use skinless chicken thighs instead of skin-on thighs. Although, I would highly recommend leaving the skin on for flavor. That gorgeous, golden crispy skin is one of the best parts.
What about veggies? You can mix it up and use any vegetables you like. Try zucchini, asparagus, broccoli or mushrooms.
Roast Chicken and Potatoes One Pan Meal
This is a great go-to dish for when you have guests over. If you have a lot of guests, you just need to double or triple the recipe and you can basically feed an army. Perfect for a holiday gathering or hearty weeknight family meal.
And since it's all made in one pan, you don't have to worry about doing extra dishes. Instead, you can spend that time with your guests!
But if you want a little something extra, try these Soft Naan Rolls!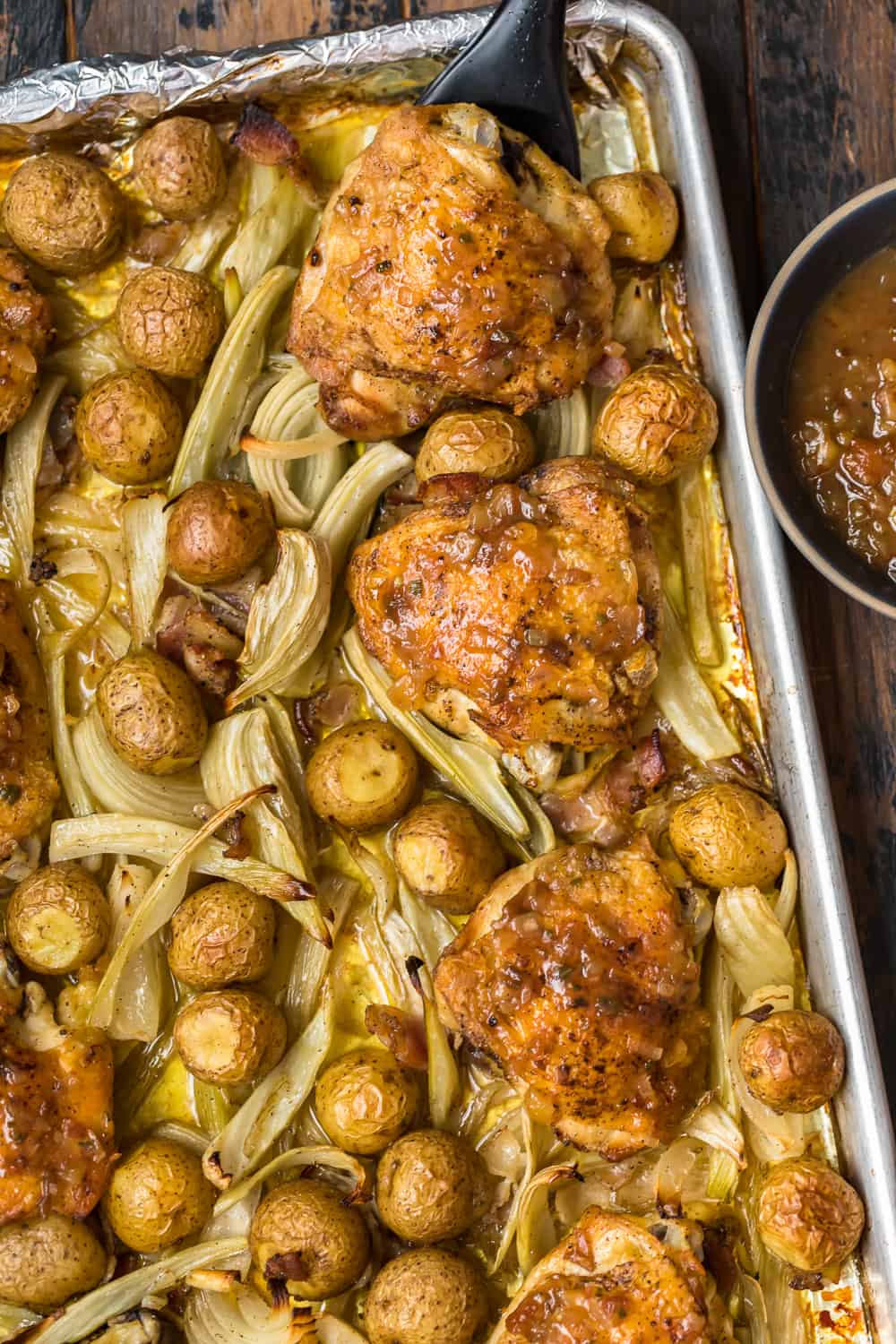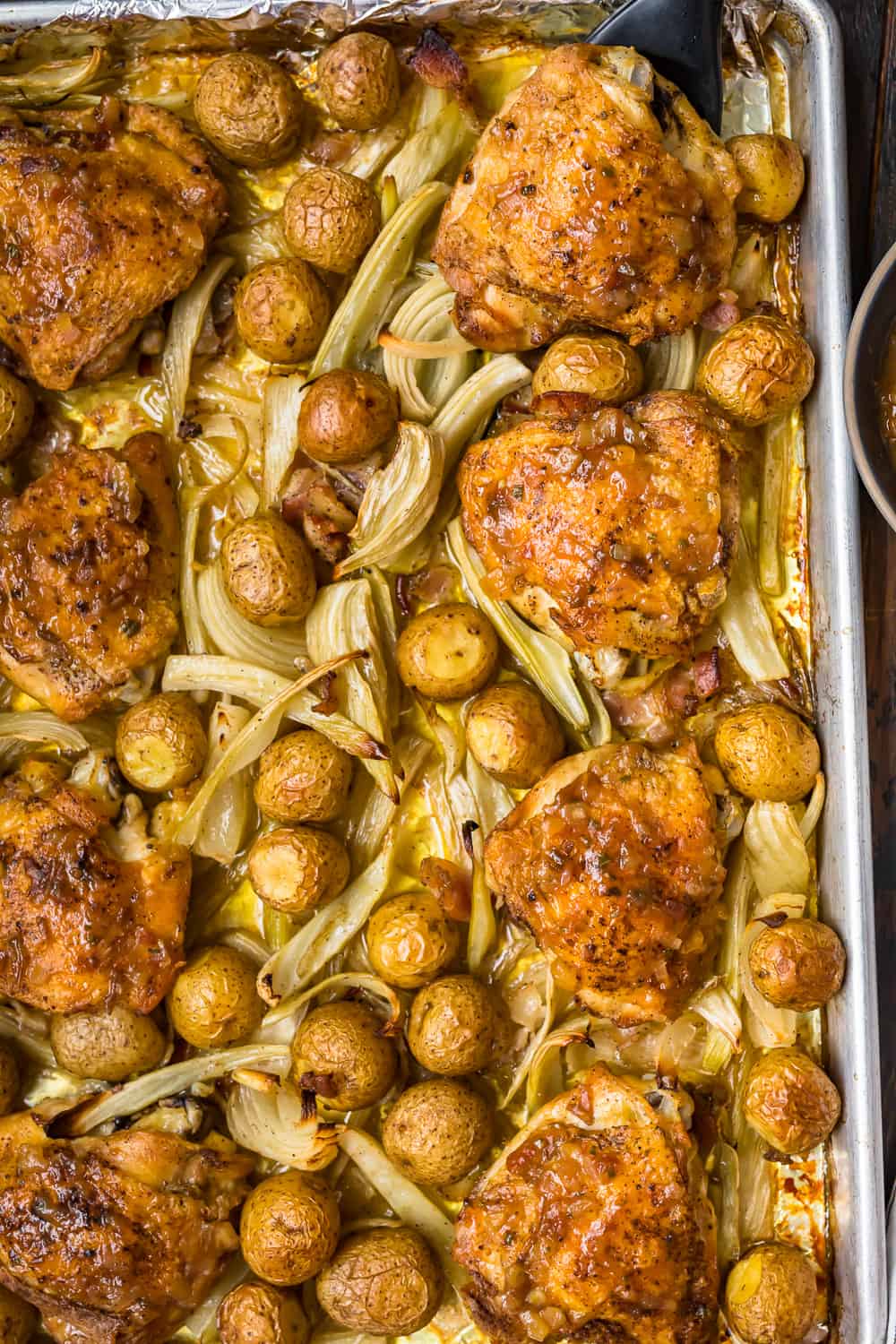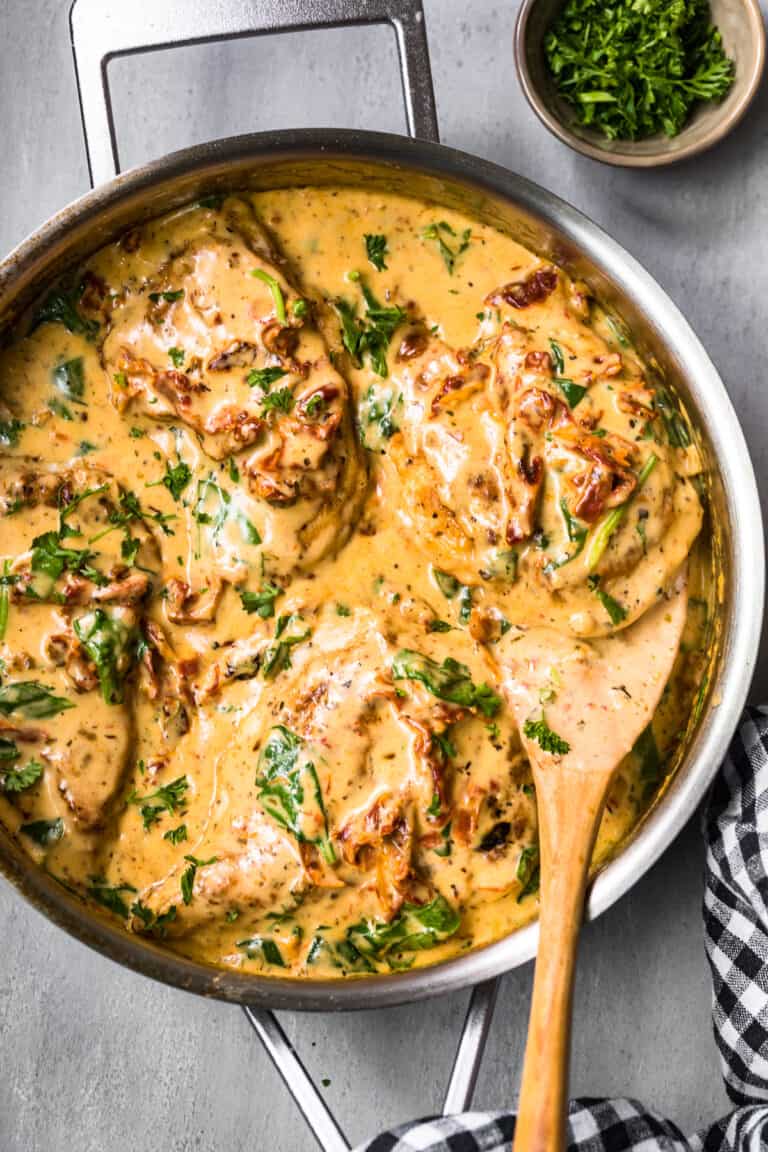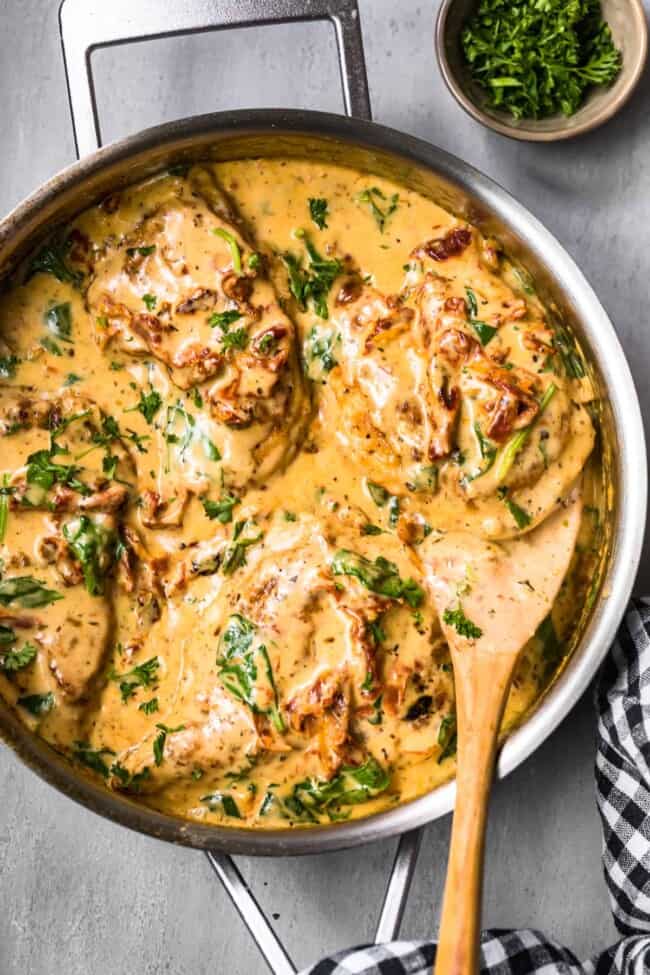 Winner Winner Chicken Dinner
72+ Chicken Dinner Recipes
See our Chicken Guide for all the best chicken recipes plus tips and tricks for juicy chicken every time.
Chicken Dinner Recipes
Tips!
Make sure to preheat the oven! You want it to be fully heated so the chicken cooks evenly.
If cooking for a smaller group, you can use a cast iron skillet to roast the chicken in. It retains heat well, has built-in handles, and doesn't take up as much room as a roasting pan.
Roasting time may vary depending on your oven or the weight of the chicken.
Serve a fresh salad and/or a crusty baguette with this roast chicken and potatoes. It's a full meal all in one, so you don't need to add much.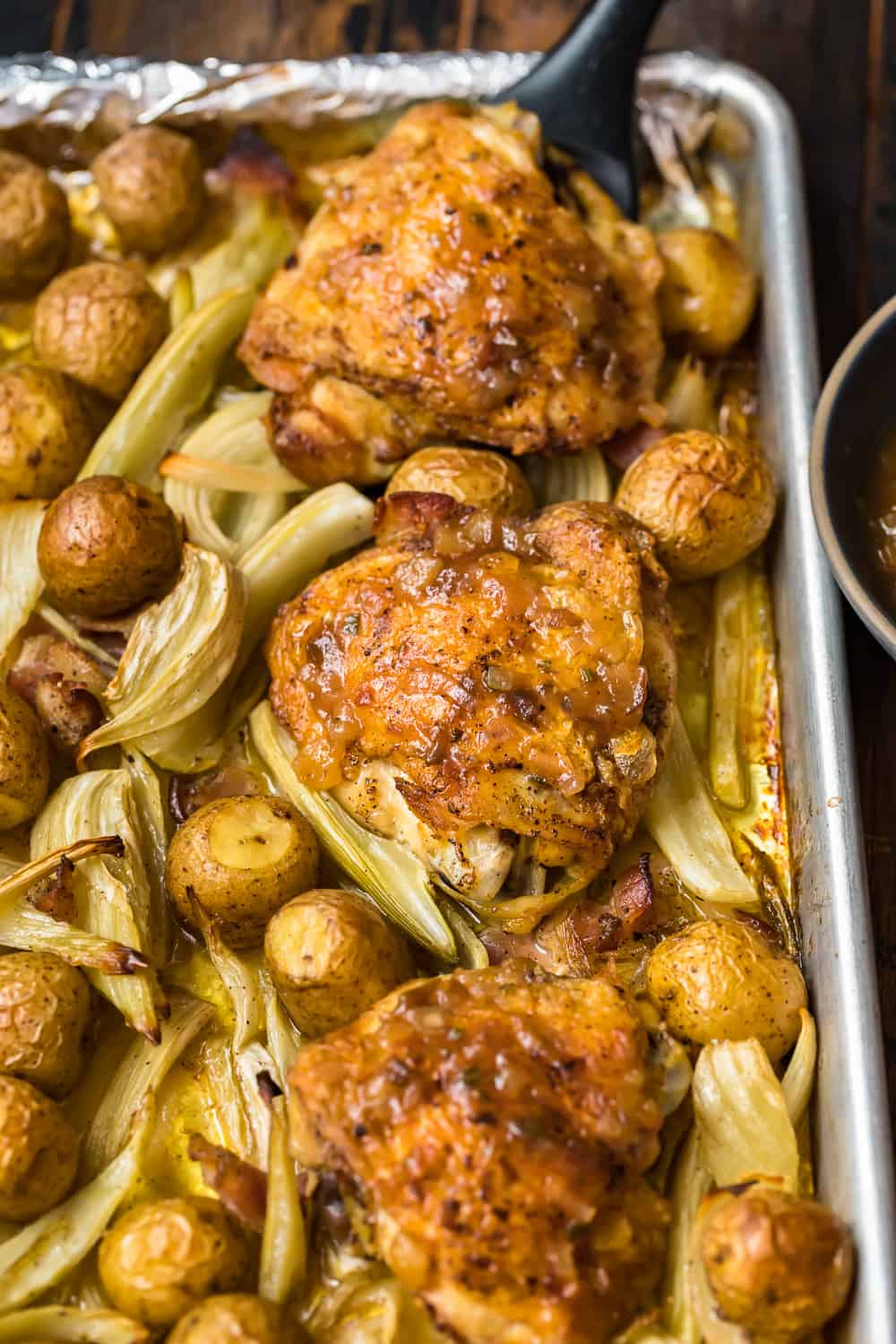 If you make this recipe be sure to upload a photo in the comment section below or leave a rating. Enjoy! You can also jump to recipe.