MEAT LOVERS PIZZA is one of the best, so why not bring that deliciousness to the breakfast table?! This meat lovers Breakfast Pizza is the perfect Christmas morning breakfast recipe! It's loaded with pepperoni, bacon, sausage, hamburger, egg, hash browns, and cheese! BEST SHEET PAN BREAKFAST PIZZA EVER!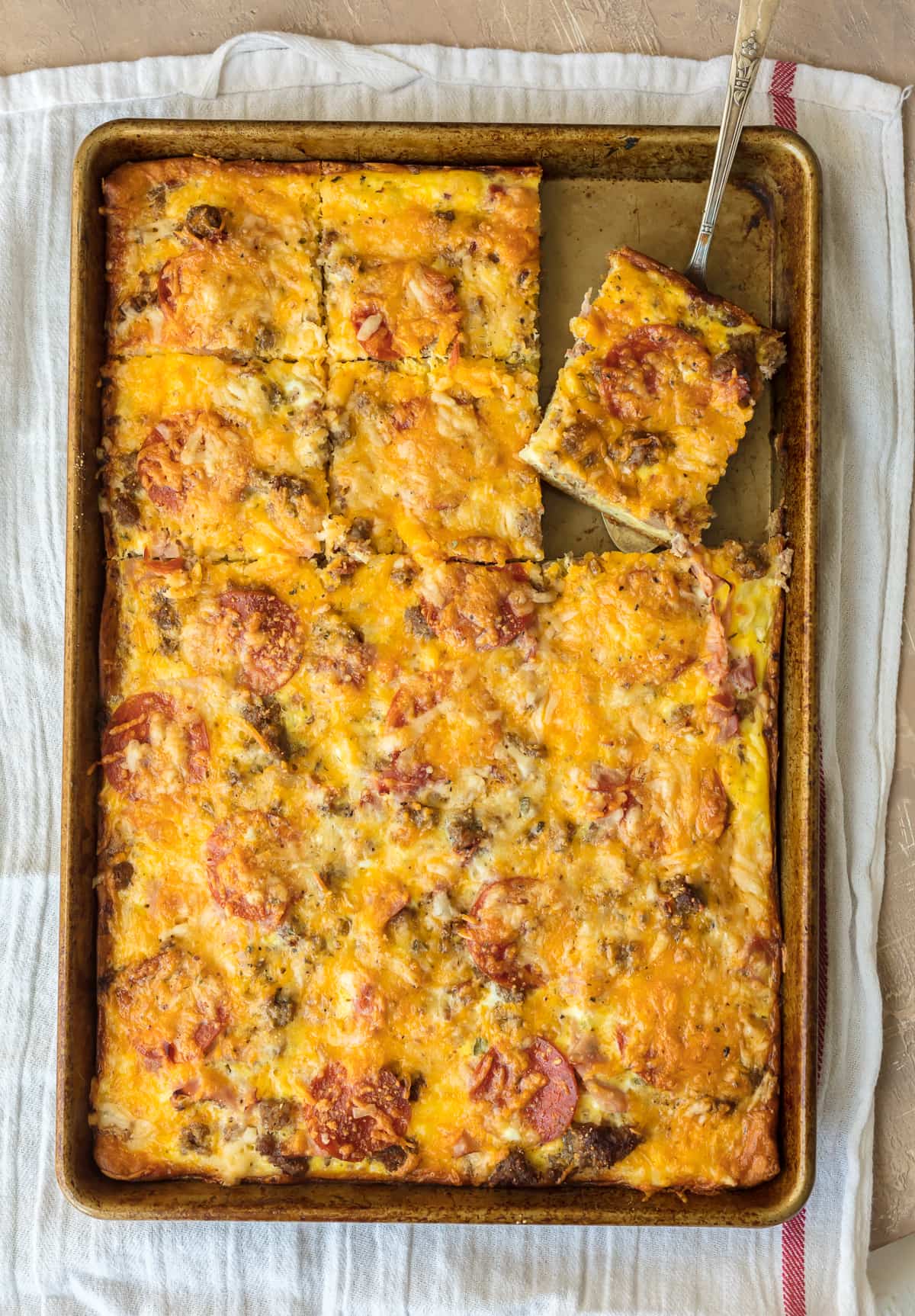 Meat Lovers Pizza (for Breakfast!)
Meat Lovers Pizza isn't just for dinner. This sheet pan breakfast pizza recipe is perfect for Christmas morning, or any other time you've got a house full of guests to feed!
My mom is the queen of Christmas morning breakfast recipes. Every year, we are utterly spoiled with food on Christmas: Monkey bread, specialty orange juice, and especially breakfast pizza! This year we wanted to change things up a bit but also keep to tradition. We put a spin on our sheet pan breakfast pizza and added all the best meats to amp things up with a Meat Lovers Breakfast Pizza!
This Meat Lovers Pizza is the ULTIMATE Christmas morning brunch recipe. It's utterly delicious, full of flavor, and most importantly, it's EASY to make. It's made in a single sheet pan and it can feed a lot of people. Perfect for a crowd of guests on holiday mornings, and everyone will devour this tasty pizza! It's made with crescent roll dough, eggs, hash browns, pepperoni, bacon, cheese, hamburger, and sausage. YUM!
Make this easy meat lovers pizza for an easy breakfast for a large group. Can you think of a better way to start off Christmas morning than a breakfast pizza filled with delicious ingredients? Nope, me neither!
This Meat Lovers Pizza is filled with eggs, cheese, hash browns, and all the best meats. It's the perfect breakfast pizza recipe for Christmas morning, or any time you have a house full of guests!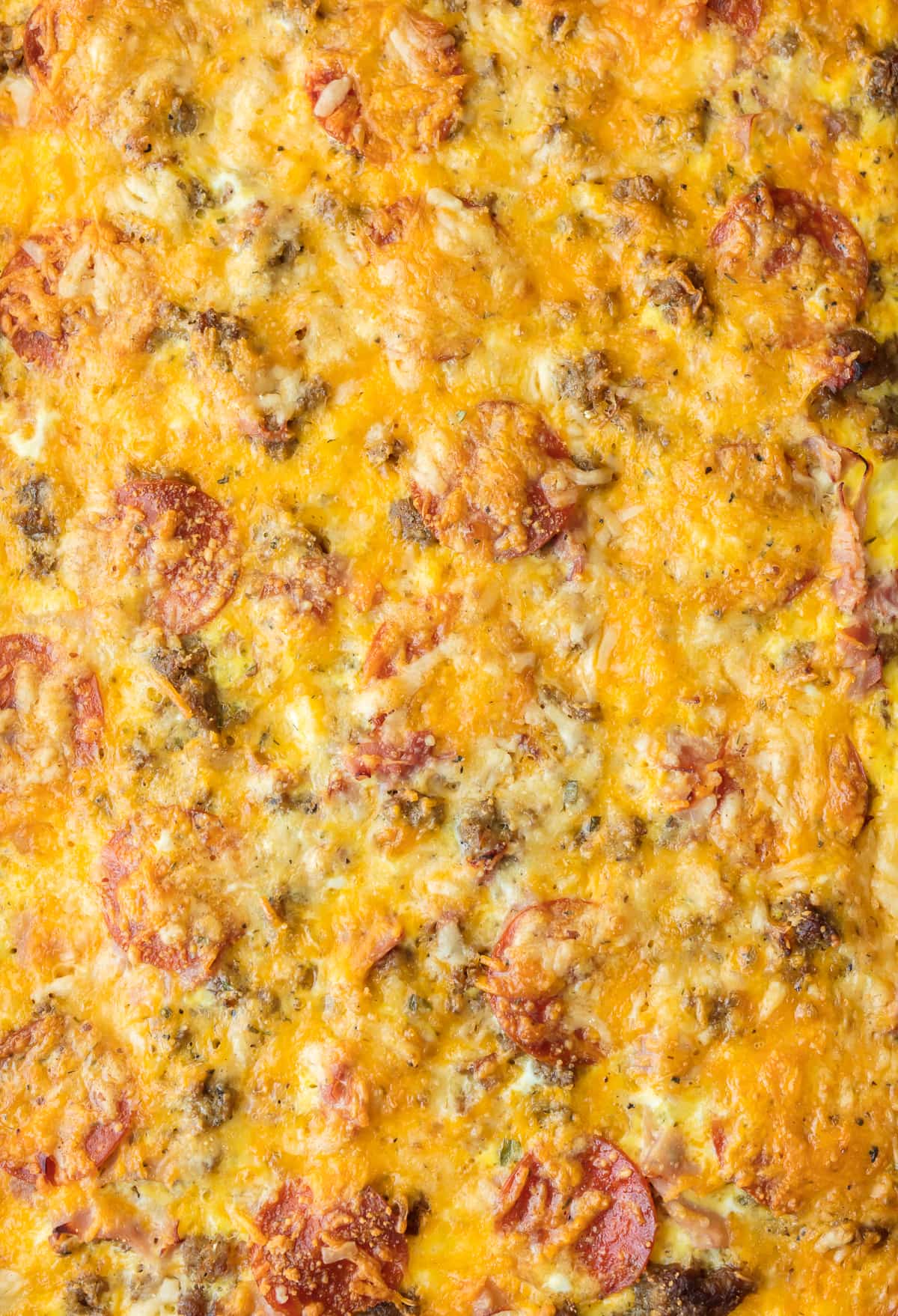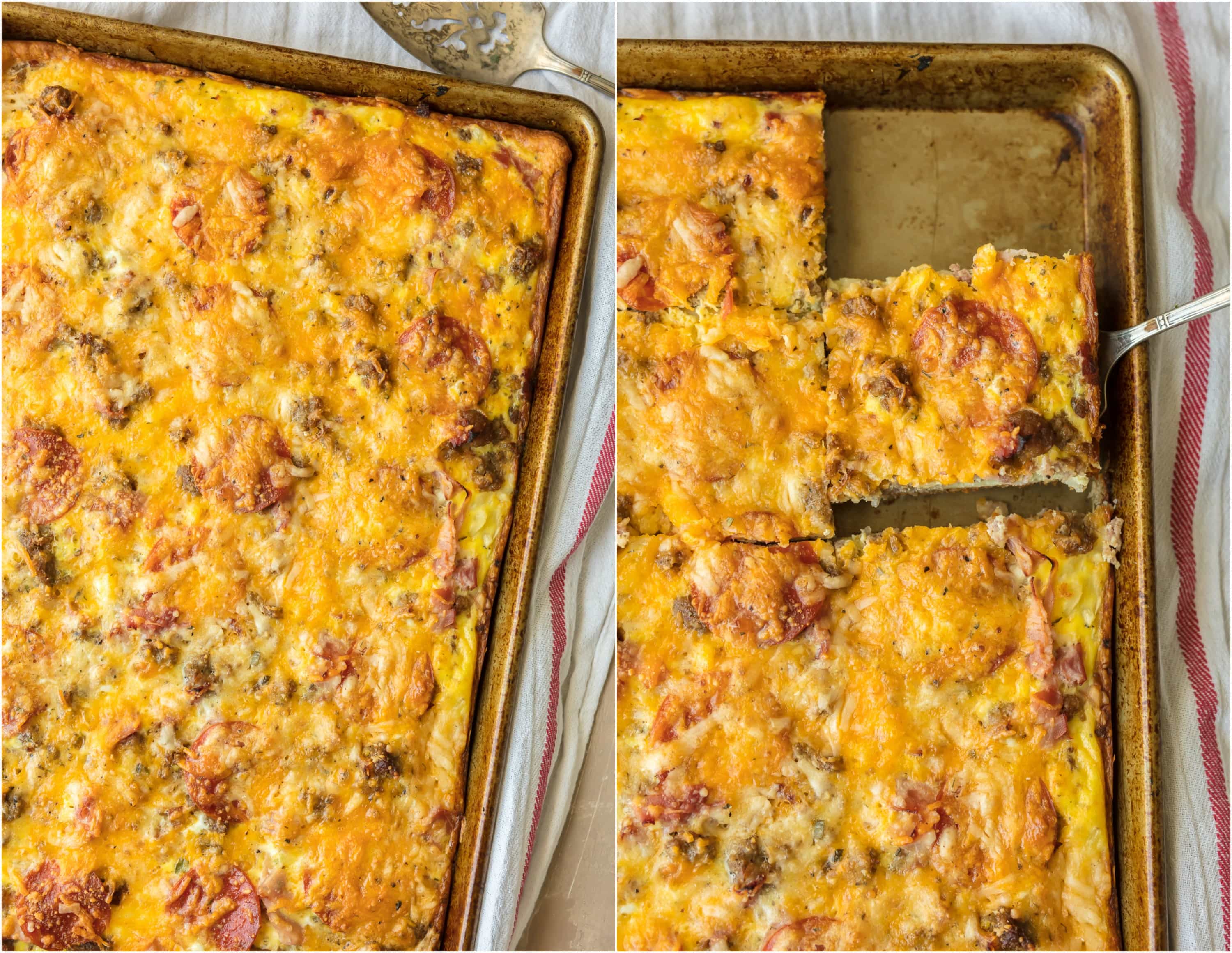 Meat Lovers Sheet Pan Breakfast Pizza
I can't imagine a more satisfying and easy breakfast recipe. Meat Lovers Breakfast Pizza is absolutely perfect for the holidays, but also absolutely made for Christmas morning. When we were recipe testing for this meat lovers pizza, Pat ate a bit more of it than I'm sure he would care to admit. To say he is already excited about all the good food over the holidays is an understatement!
This is like his favorite pizza recipe being okay to eat for breakfast. I mean, what could be better than that! And it's only a positive that there is only one pan to clean up after all the food has been eaten and all the presents opened. Keep it simple. Keep it delicious!
How to Make Breakfast Pizza (Meat Lovers Style)
Breakfast Pizzas are one of my favorite things to make for holiday mornings, or any time I've got a lot of guests staying over. It's simple, it's delicious, and everyone loves pizza! This Meat Lovers Pizza is the perfect thing to serve for breakfast and it's easy to make.
How to Make Meat Lovers Breakfast Pizza:
Combine eggs, milk, Parmesan cheese, and salt & pepper in a bowl, then set aside.
Brown the ground chuck, sausage, and bacon in a skillet, then drain.
Lay out the crescent roll dough on the sheet pan and pinch seams together.
Spread the hash browns on top of the dough, then layer on the ground chuck/bacon/sausage mixture, along with the ham and pepperoni.
Sprinkle the shredded cheese over the meat, then pour the egg mixture on top of the cheese.
Sprinkle parmesan cheese on top.
Bake the breakfast pizza for 25-30 minutes at 375°F.
When the pizza is done, cut it into squares and serve. This meat lovers pizza is SO good for breakfast. All of the cheese, eggs, and meat mix together perfectly for a delicious holiday breakfast! See the recipe card below for detailed instructions.
Delicious Christmas Morning Breakfast Recipes
Christmas morning isn't complete without the perfect breakfast! Everyone might be waiting (impatiently) to get to the gifts and celebrations, but every holiday morning should start with something delicious to get everyone going. And when you have a house full of guests, you really need to step it up and have the best breakfast for a crowd. This meat lovers breakfast pizza is perfect for those occasions!
Here are a few more favorite breakfast recipes for the holidays: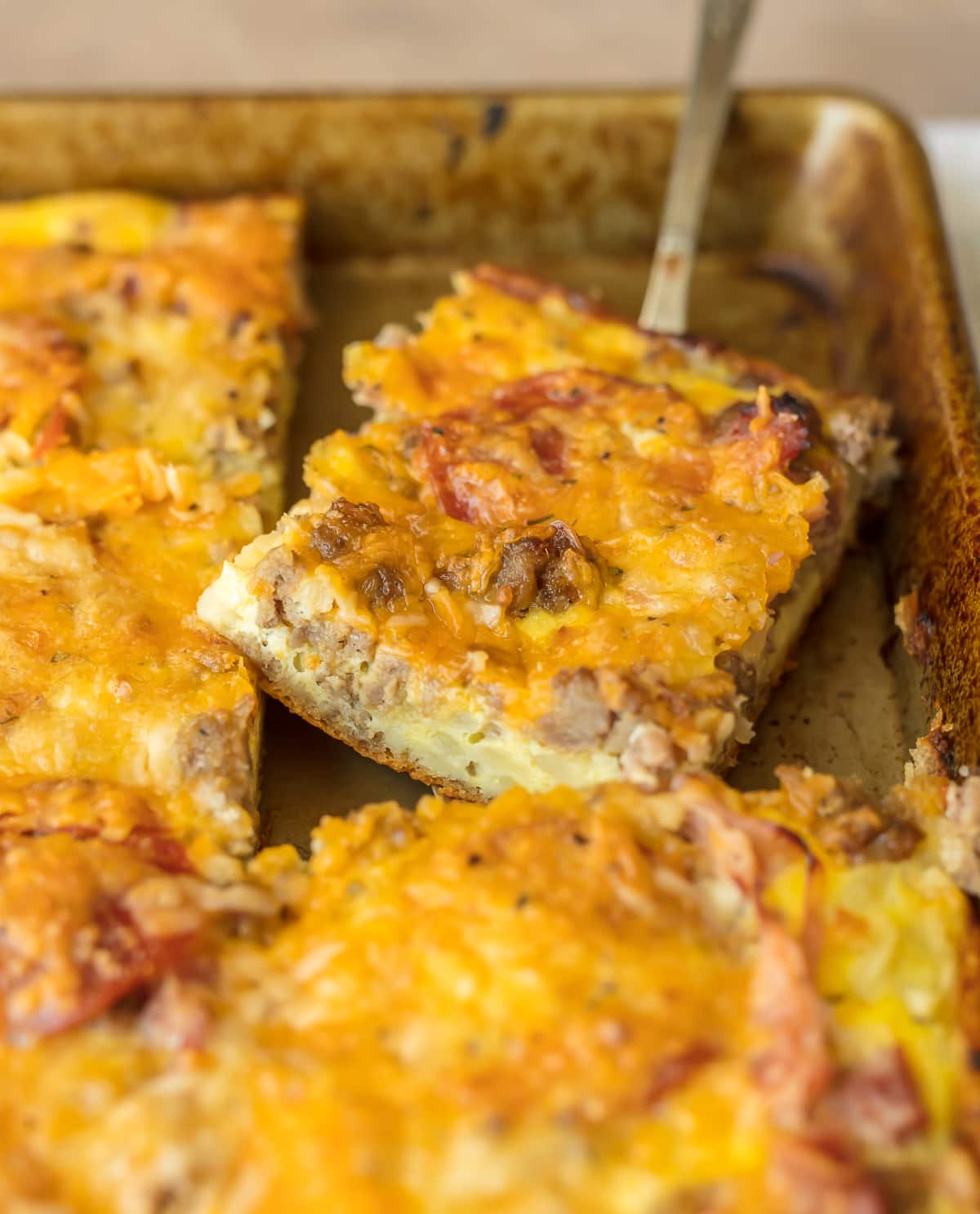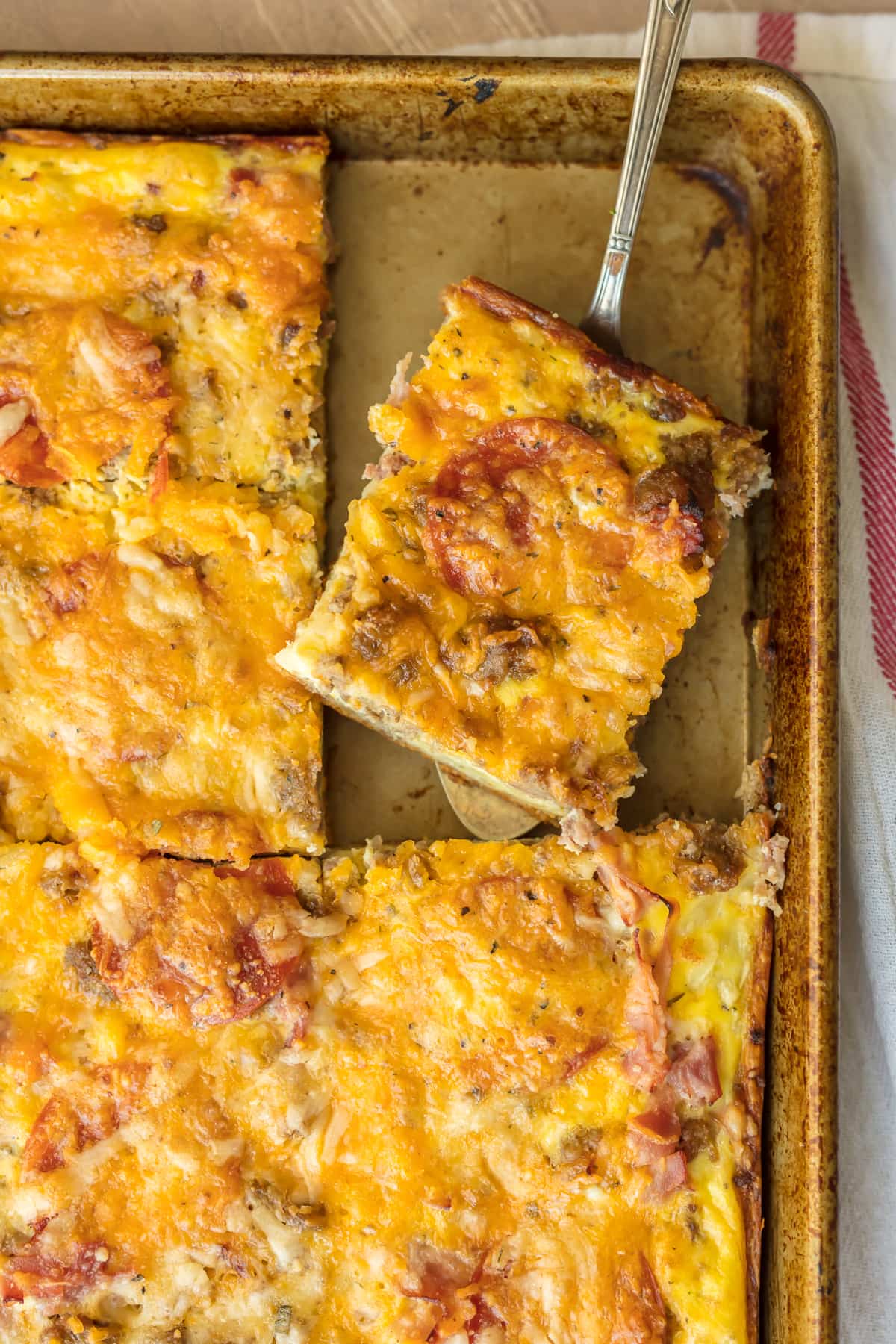 I would love to hear about your favorite Christmas morning traditions! Are there recipes you make again and again? I hope you can add this Meat Lovers Breakfast Pizza to your menu list, you won't regret it! You'll be the star of the show, and people might even just wait to open presents until after they eat. It's just that good!
See the recipe card below for details on how to make Meat Lovers Pizza for Breakfast. Enjoy!
If you like this recipe, here are some more breakfast favorites: