Shoestring Potatoes, AKA Shoestring Fries, are a delicious and versatile side dish perfect for any and every meal! Julienne Fries are thinly sliced potatoes deep fried to perfection. So thin and crispy! If you've ever wondered how to make Shoestring Fries, today is your lucky day.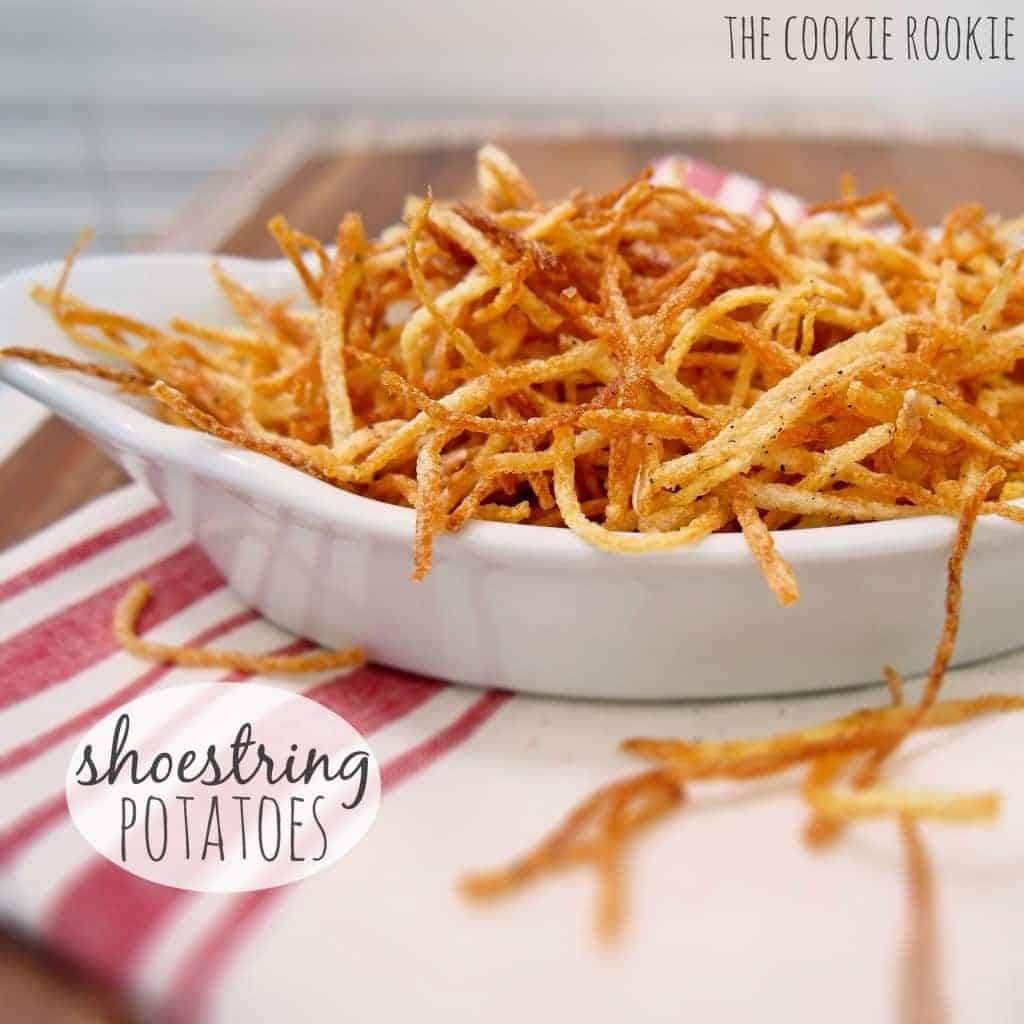 These shoestring potatoes are crispy, salty, peppery, awesome. Best of all, they're simple. You know I love simple!! They make the perfect side for so many main dishes. Mom and I have made these Julienne Fries several times (See our updated recipe for Shoestring Fries) and they're a hit each and every time.
Why these Shoestring Potatoes are so good
Easy to make – only 3 ingredients!
Perfectly crispy and utterly addictive.
A great for side for chicken, burgers, steak and more!
Ingredients
Potatoes – I used Yukon Gold. They're bright, vegetal and slightly sweet, perfect for fries.
Canola Oil – refined peanut oil and safflower oil also work well.
How to make these Shoestring Potatoes
Be sure to scroll down for the full recipe
Peel and julienne potatoes, then wash off any excess starch and pat dry. Pace the potatoes in a Dutch oven (or deep pot) with hot oil. Fry until they are brown and crispy. Only fry a small amount at a time.
Scoop up the potatoes from the pot and onto paper towels, season with salt and pepper.
Enjoy!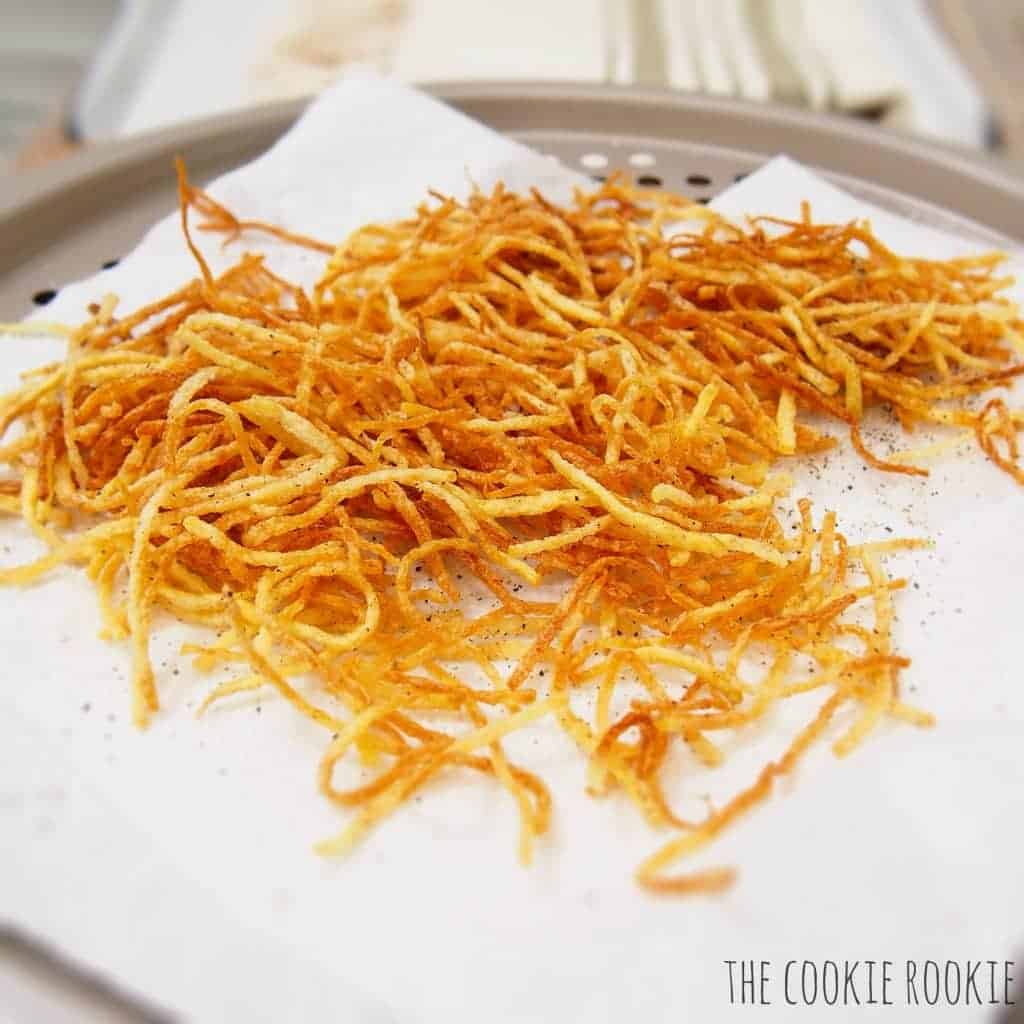 What to serve with Shoestring Potatoes
We love to make these Shoestring Potatoes as a side dish for everything from Perfect Skillet Steak, French Dip Sandwiches, and Chicken Burgers, to Baked Chicken Nuggets. Eat them simply seasoned with just salt and pepper or jazz them up with cheeses, herbs and more. The sky is the limit!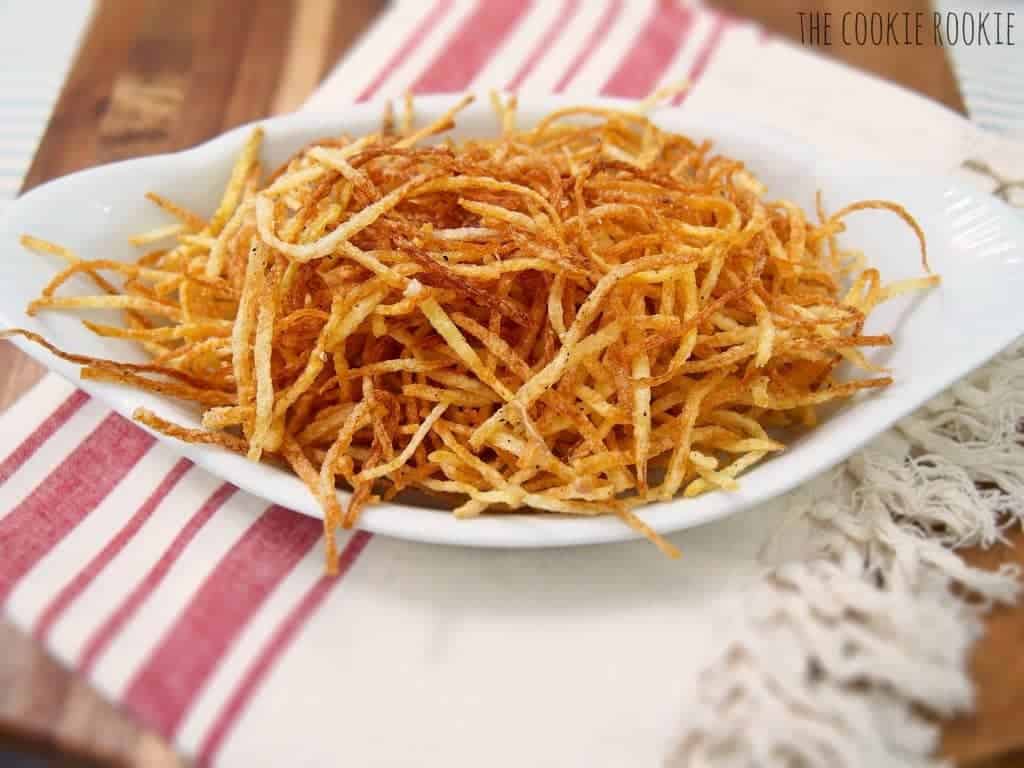 What are some other names for Shoestring Potatoes?
If you don't know them by the name Shoestring Fries, you might know them as being called Shoestring Potatoes, Julienne Fries, Matchstick Fries, or Straw Potatoes. All the same crispy, thin, delicious fries that you'll instantly love!
What are some good dipping sauces for Shoestring Fries?
You can go simple with things like honey mustard or bbq sauce…or you can get creative with an amazing garlic or truffle aioli! These fries go with everything.
Top Tips
Remove any dark spots or eyes when peeling the potatoes.
Don't add too many potatoes at one time, the pot will boil over and hot grease will go….everywhere.
Always be SUPER careful when frying food. Dropping the shoestring potatoes into the oil can be dangerous so pay close attention and be on guard!
Check your thermometer often, to make sure the oil stays at 360-365 degrees.
Check out these other delicious sides
Have you tried these Shoestring Potatoes? Feel free to leave a star rating and I'd love to hear from you in the comments below!