Shoestring Potatoes, AKA Shoestring Fries, are a delicious and versatile side dish perfect for any and every meal! Julienne Fries are thinly sliced potatoes deep fried to perfection. So thin and crispy! If you've ever wondered how to make Shoestring Fries, today is your lucky day.
Shoestring Fries Recipe
These shoestring potatoes are crispy, salty, peppery, awesome. Best of all, they're simple. You know I love simple!! Mom and I have made these Julienne Fries several times (See our updated recipe for Shoestring Fries) and they're a hit each and every time.
We love to make these Shoestring Potatoes as a side dish for everything from Perfect Skillet Steak, French Dip Sandwiches, and Chicken Burgers, to Baked Chicken Nuggets. Eat them simply seasoned with just salt and pepper or jazz them up with cheeses, herbs and more. The sky is the limit!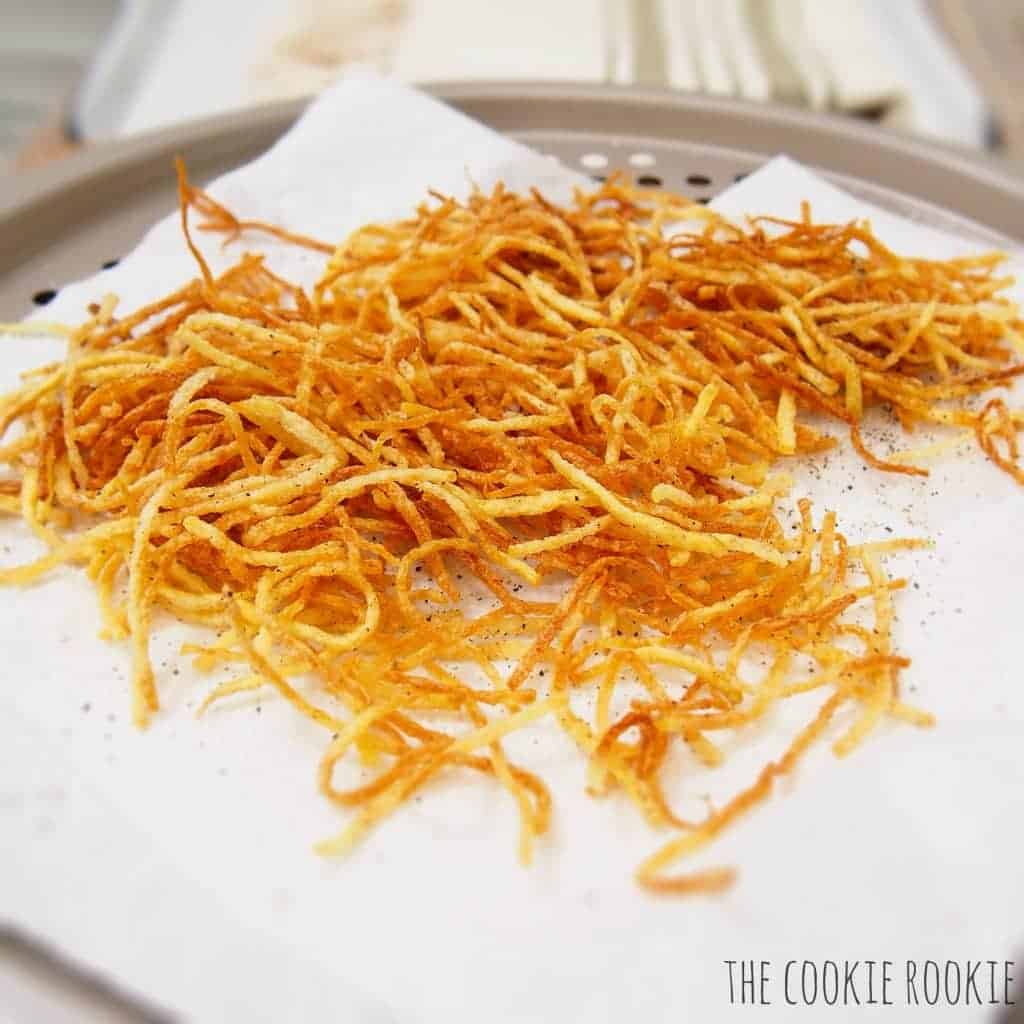 Tips for making Shoestring Potatoes:
Mom wrote out really detailed instructions below, including what NOT to do. We learned the hard way that if you add too many potatoes at a time, the pot will boil over and hot grease will go….everywhere. I just wish we had a video. Screaming, jumping, dad and Pat just STANDING THERE. Ha. It was quite the moment.
We recovered and that's what learning to cook is all about. After the disaster came these delicious and perfect Shoestring Fries. Worth the disaster.
Always be SUPER careful when frying food. Dropping the shoestring potatoes into the oil can be dangerous so pay close attention and be on guard!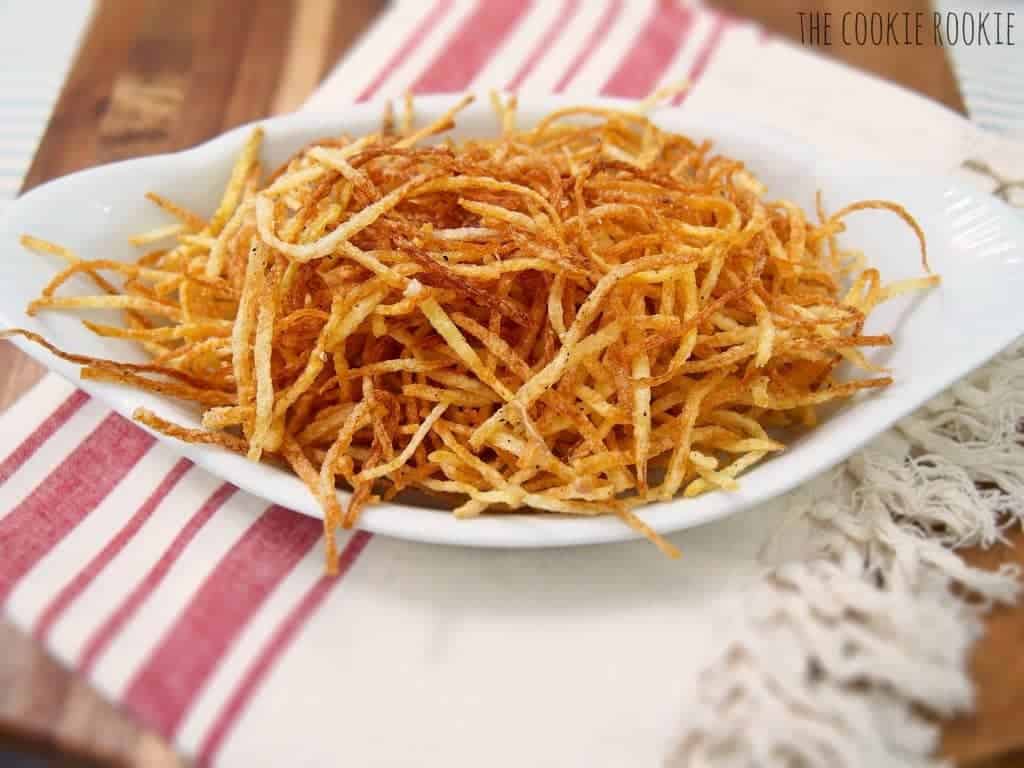 What are Julienne Fries?
According to wikipedia:
Julienne, allumette, or french cut, is a culinary knife cut in which the food item is cut into long thin strips, similar to matchsticks. Common items to be julienned are carrots for carrots julienne, celery for céléris remoulade or potatoes for Julienne Fries.
Julienne cut makes AMAZING shoestring fries perfect for every dish!
What are some other names for Shoestring Fries?
If you don't know them by the name Shoestring Fries, you might know them as being called Shoestring Potatoes, Julienne Fries, Matchstick Fries, or Straw Potatoes. All the same crispy, thin, delicious fries that you'll instantly love!
What are some good dipping sauces for Shoestring Fries?
You can go simple with things like honey mustard or bbq sauce…or you can get creative with an amazing garlic or truffle aioli! These fries go with everything.
What are some Easy Dinner Recipes to serve with these Shoestring Fries?
We love to serve these Shoestring Potatoes with so many dishes, but especially our Stovetop Burgers, Skillet Steak, Chicken Burgers, Baked Fried Chicken, and Pizza Grilled Cheese. These really are such a great and beloved side dish recipe.
See the recipe card below for full details on How to Make Shoestring Fries. Enjoy!