We love these Healthy Baked Avocado Fries when we are craving something crispy and "fried" but don't want the calories. These Baked Fried Avocado Sticks have all the good fats and none of the guilt. We love this fun and easy side the entire family will devour.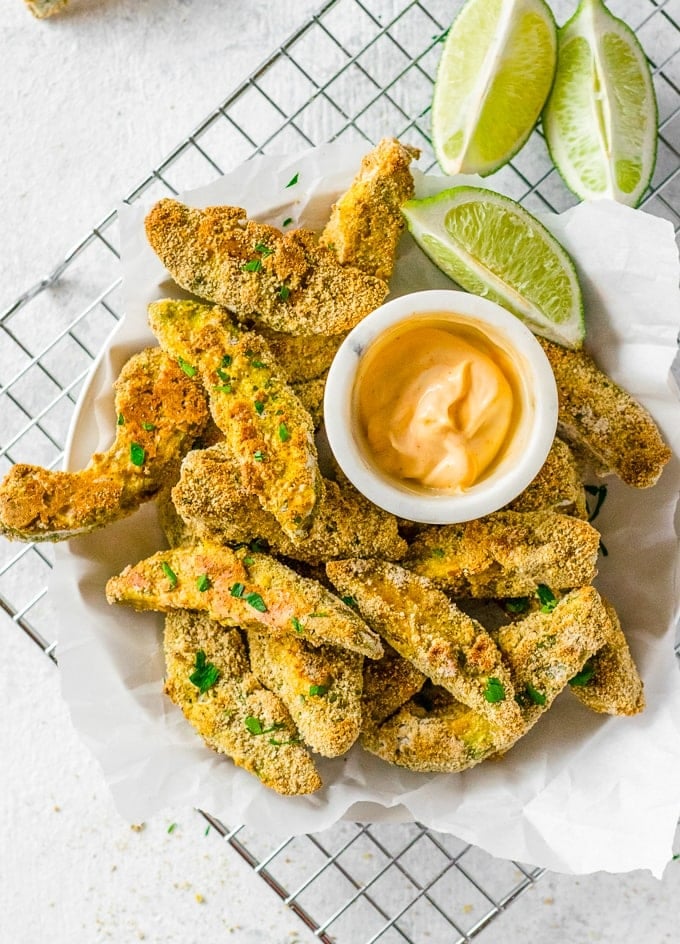 Avocado Fries Recipe – Healthy Baked Appetizer
Avocado Fries are juicy, flavorful, EASY, and healthy! This Baked Avocado Recipe is baked and not fried, but still crispy on the outside and creamy on the inside.
If you're looking for an easy, yummy, and healthy appetizer or side dish to feed your family this weekend, you've come to the right place! These Baked Fried Avocados are so fun to make and one of my favorite delicious treats. They're amazing on their own, dipped in ranch or buffalo sauce (or a mix of both!), and are loved by both kids and adults alike.
Avocado Fries are the type of kid friendly recipe that my husband and I eat by the handful. My favorite type of side dish fit for the entire family.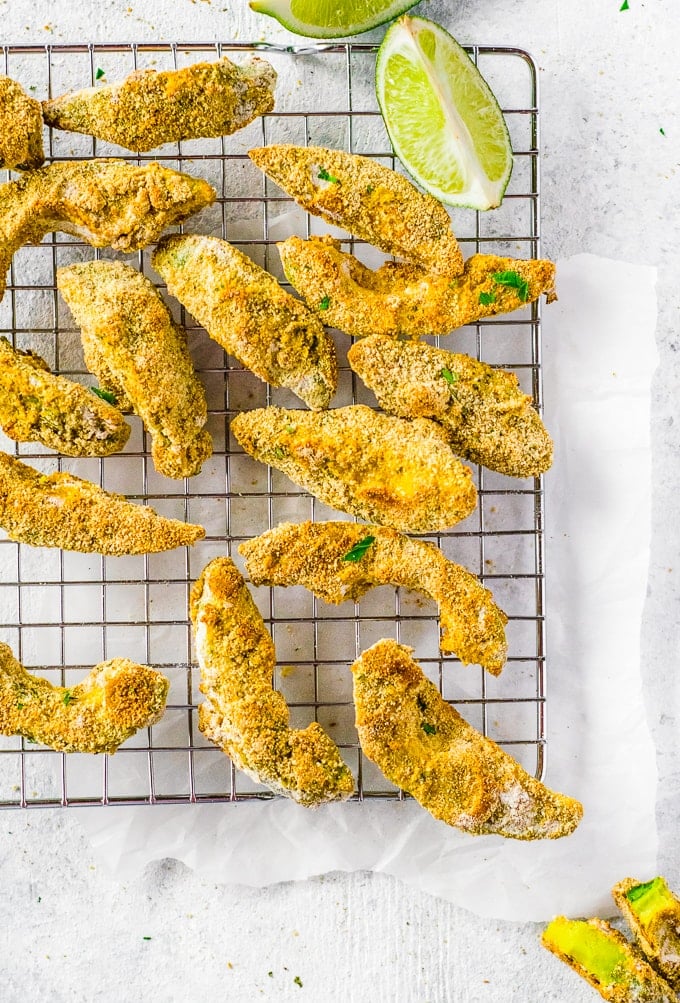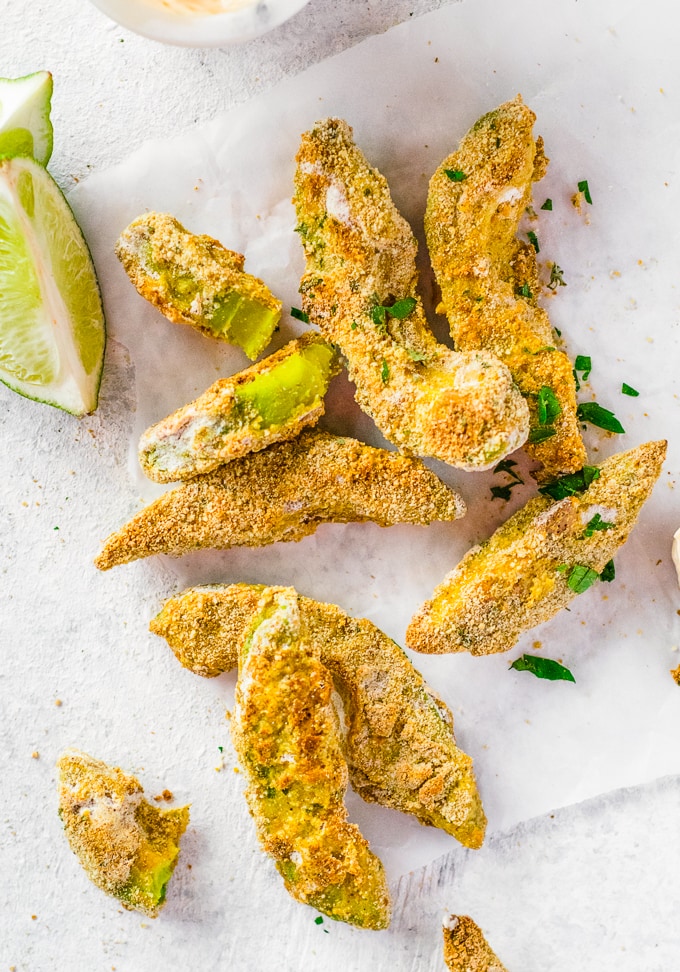 How to Make Baked Fried Avocado Fries:
Cut your avocados in half and remove the pit from the middle. TIP: Use a large knife and (without holding the avocado to make sure you're being safe) press down into the pit. Twist the knife and the pit should come right out.

Use a large spoon to scoop out the entire half of the avocado in tact.

Alternately, you can slice first and peel back the skin of the avocado. If you don't have a large enough spoon, this works better.

Cut the avocado length-wide to form "fries".

Coat each avocado strip. Dip the avocado fries into the flour mixture, then the egg, then the breadcrumbs.
Lay the avocado fries on a baking sheet and bake according to instructions below.
Baked Fried Avocado is truly a simple side dish fit for any amazing meal at home. Avocado Fries also make an AMAZING appetizer, especially for healthy tailgating or a guilt-free Cinco de Mayo Celebration! SO YUM!
Tip: Try adding some of this Everything Bagel Seasoning to the fries before baking to add a little crunch and extra flavor!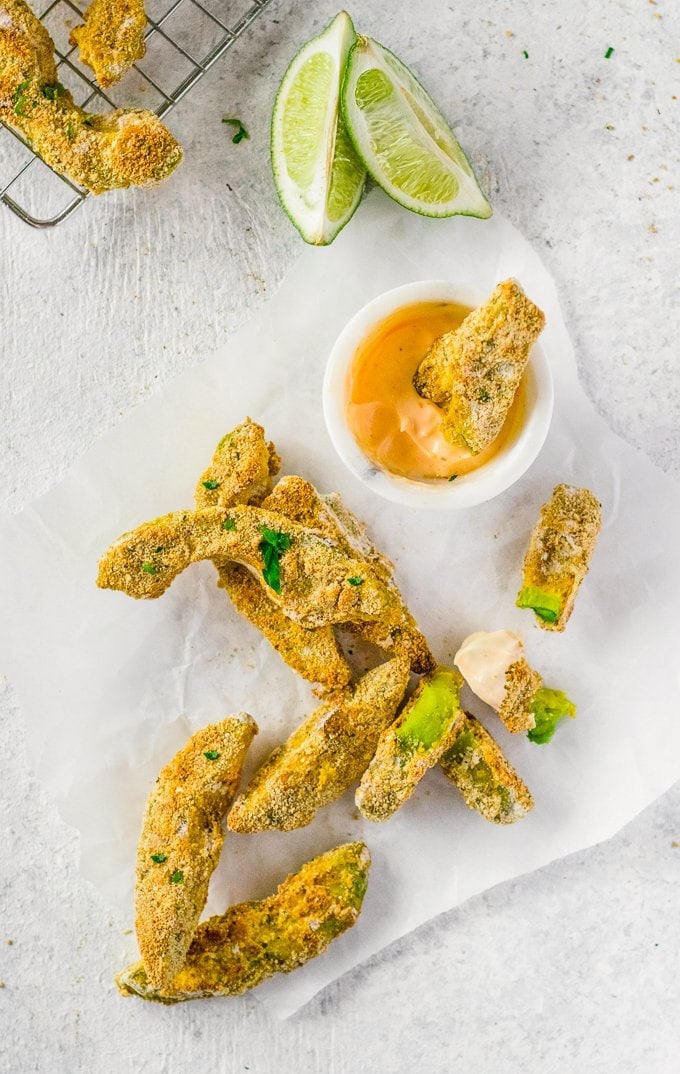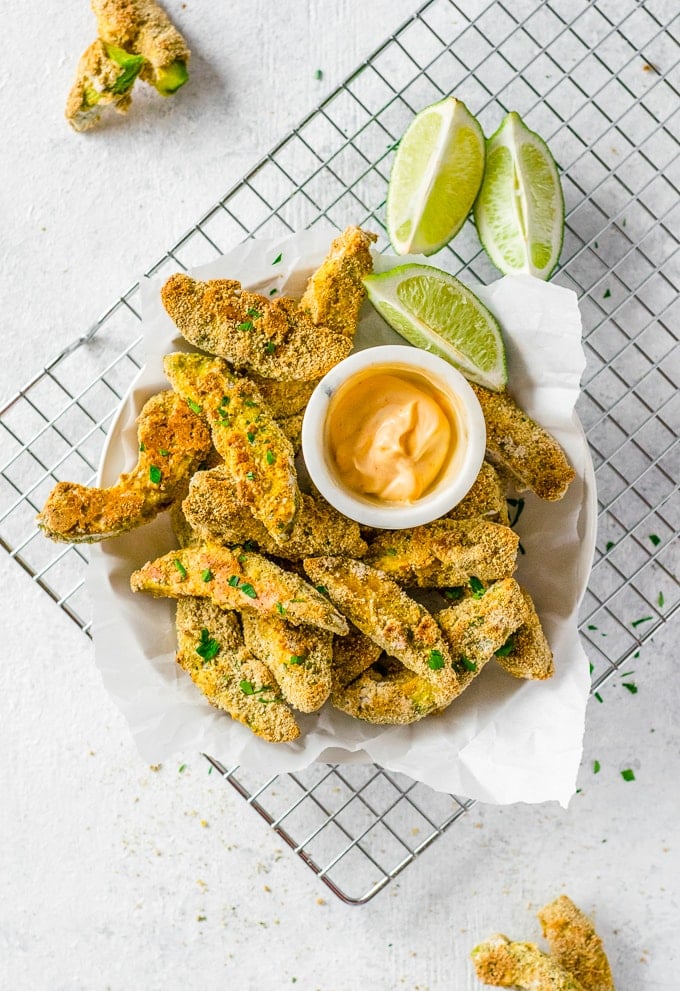 Is an avocado a fruit or a vegetable?
I have categorized this recipe as "vegetarian" and with "vegetables", but technically, avocados are FRUITS! More specifically, it's a single seeded BERRY. Say what?! Haha I guess I've found a new favorite berry, a luscious green AVOCADO! So I guess these are fruit fries?! Strange…but true! Science for the win.
Other Avocado Recipes we LOVE:
For each of those favorite recipes with avocado, a ripe avocado is key to making sure the end result is fresh and delicious. A ripe avocado is a MUST for these Baked Fried Avocado Tempura!
How to tell if an avocado is ripe:
Test the color of the avocado skin: The darker the skin, the riper the avocado. You want an avocado that is deeper in color but not all the way dark brown or black. That would be a sign the avocado has turned.
Test the small step or "cap" of the avocado: If the stem comes off easily and reveals green underneath, your avocado is ripe and ready to go! If brown is revealed, the avocado is overripe.
Test the firmness of the avocado: When you hold the avocado in your hand and apply light pressure, it should give a bit under your fingertips. If it doesn't give at all, it's too early. If it is squishy, it's overripe.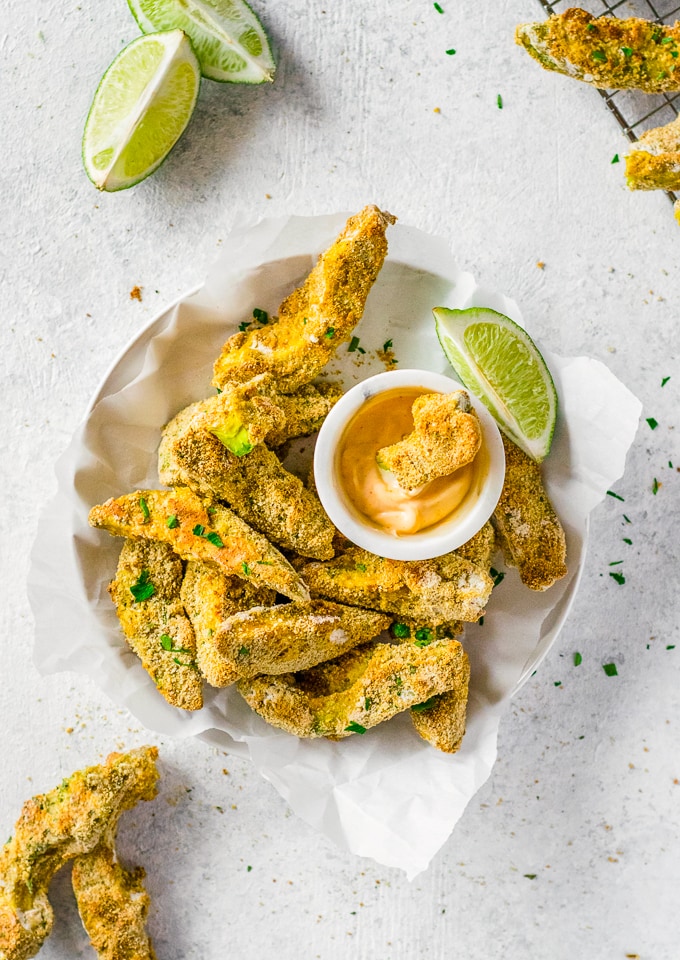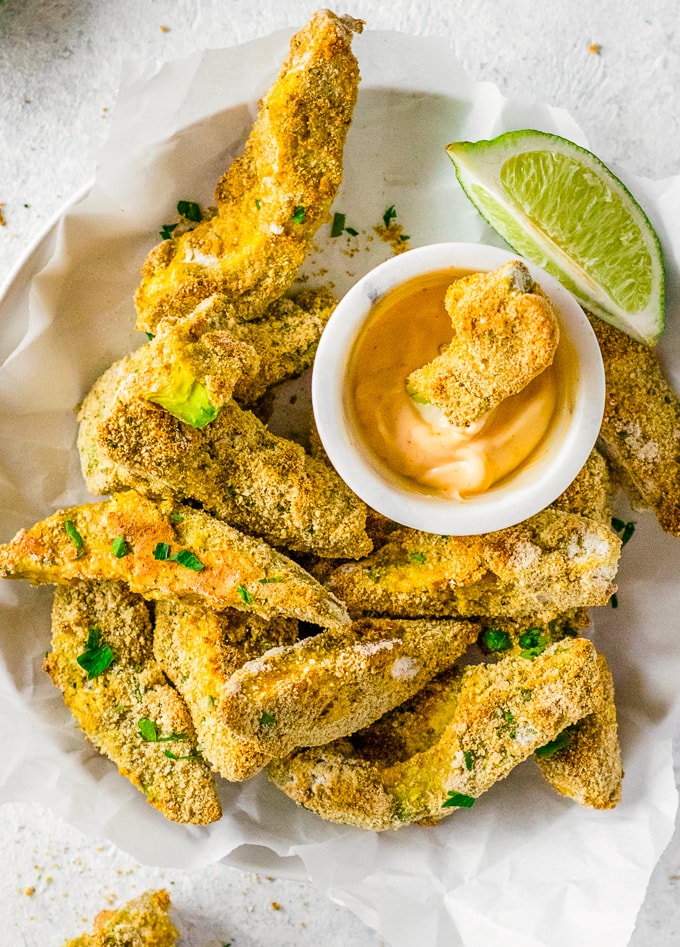 What to serve with Healthy Baked Avocado Fries:
We have so many favorite recipes that these Crispy Tempura Avocado would be just perfect for. Try pairing them as a side dish for some of our other healthy recipes such as Oven Fried Chicken, Chicken Burgers, Parmesan Crusted Tilapia, Baked Salmon, Healthy Chicken Salad, or Bang Bang Shrimp!
They are great with indulgent recipes as well, such as Stovetop Burgers, Chicken Cordon Bleu Sandwiches, or Crockpot BBQ Pulled Pork. So many options, they're amazing with everything we pair them with!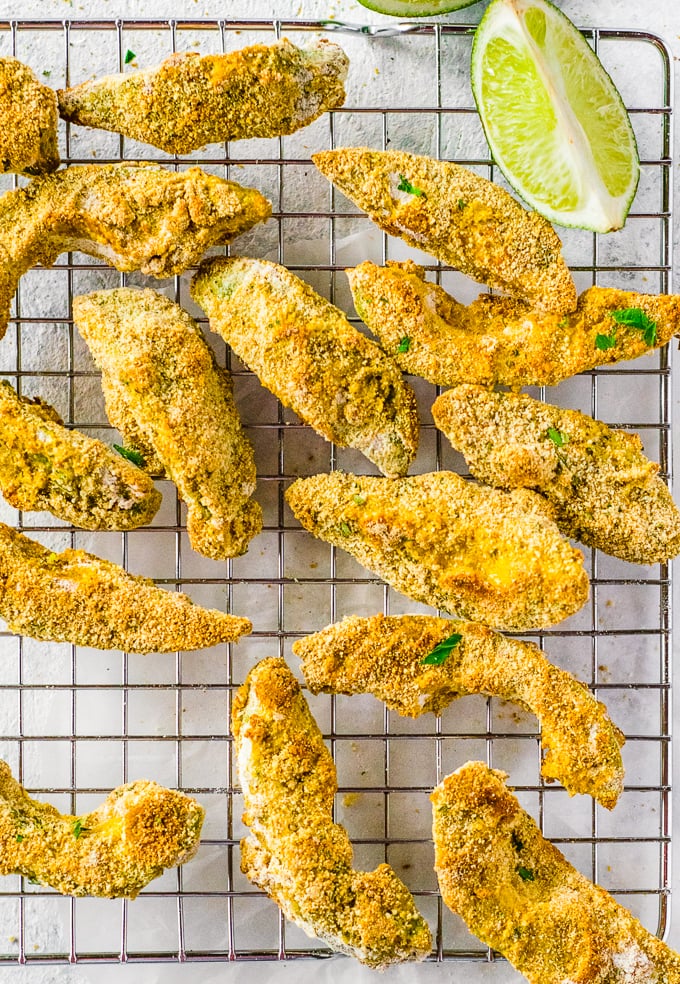 We have lots of other recipes you should try as well!
I hope you love this Baked Fried Avocado Recipe as much as we do! From our one year old to my 35 year old husband, we are all major fans. What are you waiting for? The perfect ripe avocado awaits!
See the recipe card below for How to Make Avocado Fries. Enjoy!