These Baked Chili Dogs on a sheet pan are the best chili hot dogs ever! These chili cheese dogs are topped with the best hot dog chili recipe. If you're in the mood for comfort food (toasted buns, grilled hot dogs, best-ever chili, and of course tons of cheese) this recipe is for you!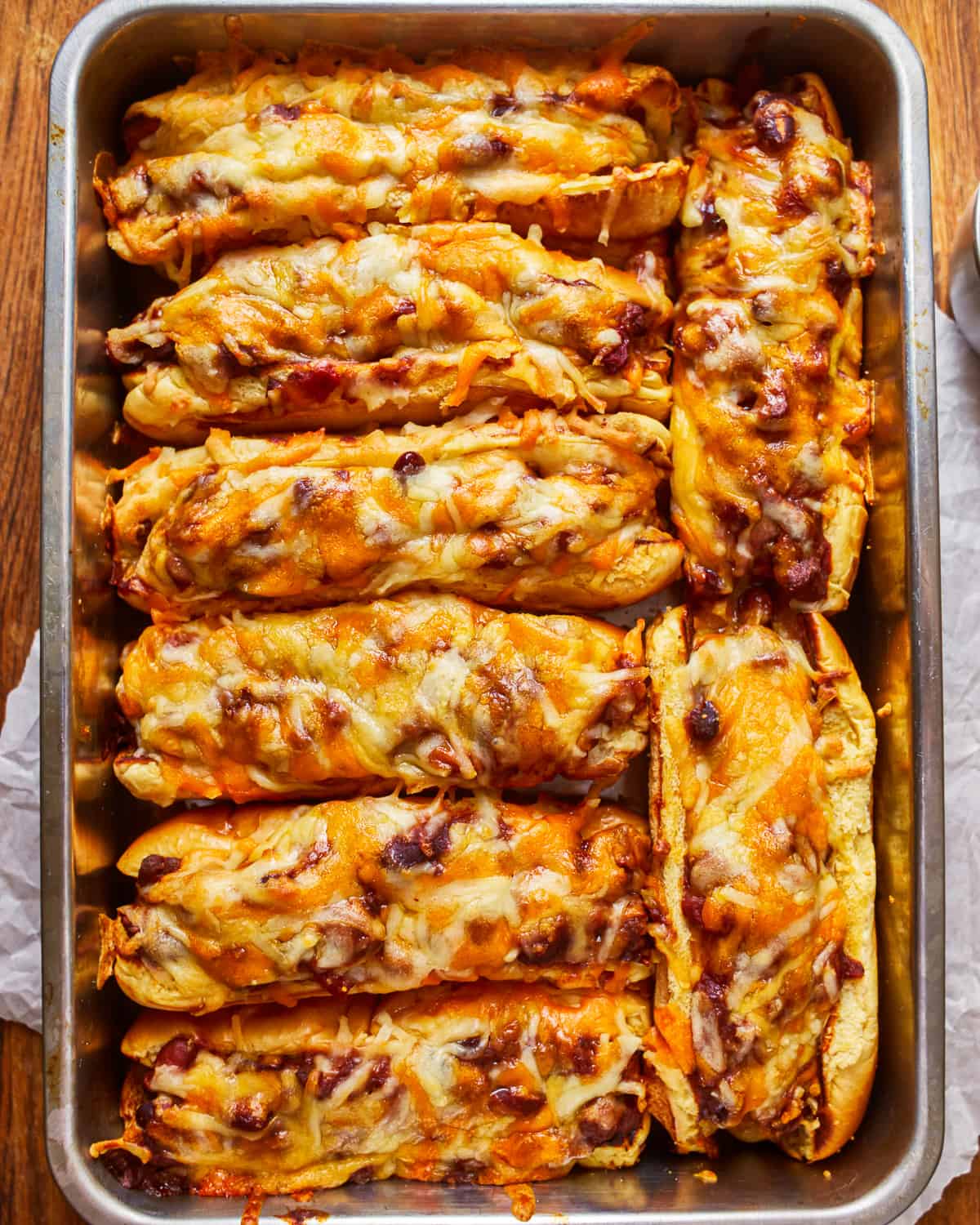 What's in Chili Dogs?
An amazing chili cheese dog can turn any frown upside down! My mom's famous chili recipe turns out to be an amazing hot dog chili recipe. I mean, if you want to eat it all on its own, just wait until you taste on top of a hot dog, covered in cheese!
Olive Oil: Helps the buns toast without burning.
Hot Dog Buns: You'll need something hearty to hold in all that chili!
Mexican Cheese Blend: Adds a Southwestern flair to these dogs.
Hot Dogs: You'll want bun-length hot dogs. Choose your favorite brand.
Chili: I love using my mom's chili recipe, but if you're short on time, try this easy chili recipe.
Toppings: Yellow onion, cilantro, ketchup, and mustard are my favorites, but feel free to get creative!
Pro Tip: You'll want to make the chili a day ahead of time so it's ready to go!
Variations on a Chili Cheese Dog
To bean or not to bean? That is the real chili question. For me, chili always has beans. But for those of you that feel differently, you can make these dogs with chili con carne instead. Yes, my recipe also has beans (sorry, not sorry!), but you can easily omit them for that classic all-meat chili.
For even more meaty flavor, top your dogs with crumbled bacon. You could also swap out the yellow onion for red or white onion and the cheese blend for straight cheddar cheese. Add a dollop of sour cream for good measure, and you've got one tasty chili cheese dog!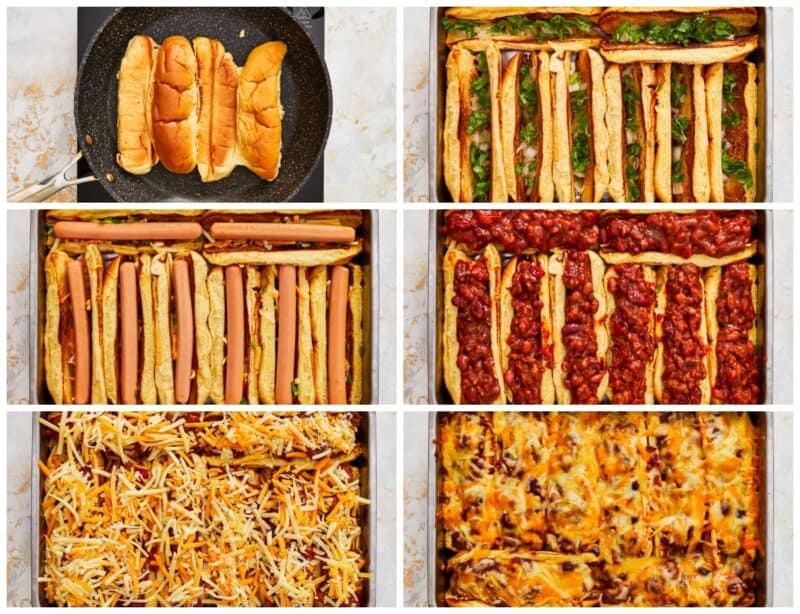 What are the best hot dogs?
I love an all-beef frank, but you can really use any hot dog (or sausage– I won't tell!) here. There's no wrong answer!
What kind of chili is best for hot dogs?
If you ask me, I'll always say my mom's chili is the best. It's just so good! But if you have a favorite recipe, feel free to use it!
Are chili dogs spicy?
Yes, they are usually spicy, but that really depends on the type of chili you use. If you're not a fan of spice, use a milder chili. If you love spice, use a hotter chili and add some pickled jalapeños or banana peppers to your dogs.
What's the difference between a chili dog and a Coney dog?
A Coney dog is topped with an all-meat chili (called Coney sauce) that's a bit thinner than your typical chili con carne.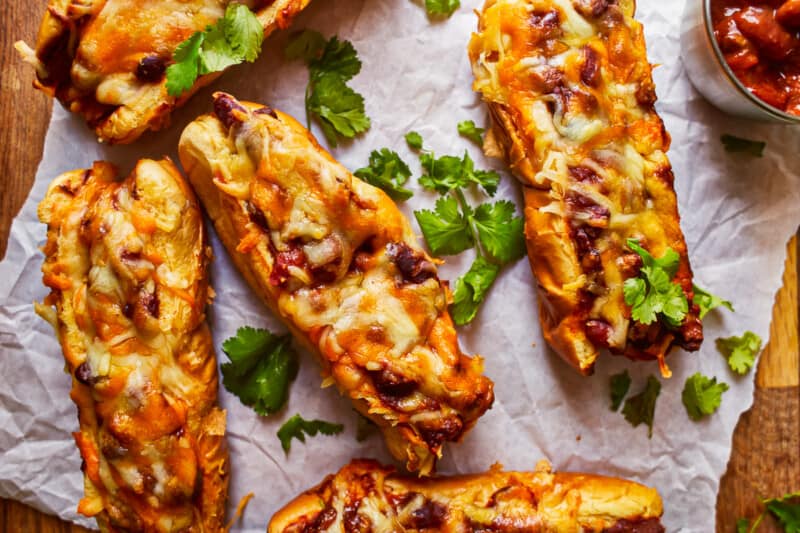 How to Store and Reheat
If you think you'll have leftovers, I recommend storing everything separately. The components will all keep for 3 days in the refrigerator, so simply assemble them starting at step 4 of the recipe when you're ready to serve them.
How to Freeze
I don't recommend freezing assembled chili dogs, but you can freeze the chili for up to 3 months in an airtight container. Let it thaw overnight in the refrigerator before using.
Serving Suggestions
I feel like chili dogs pair so naturally with hearty potato wedges or tortilla chips for scooping up all that messy chili that ends up on the plate.
A side of coleslaw, macaroni salad, or mac and cheese would be so good! Wait, now I'm thinking about putting mac and cheese on my chili dogs… yum!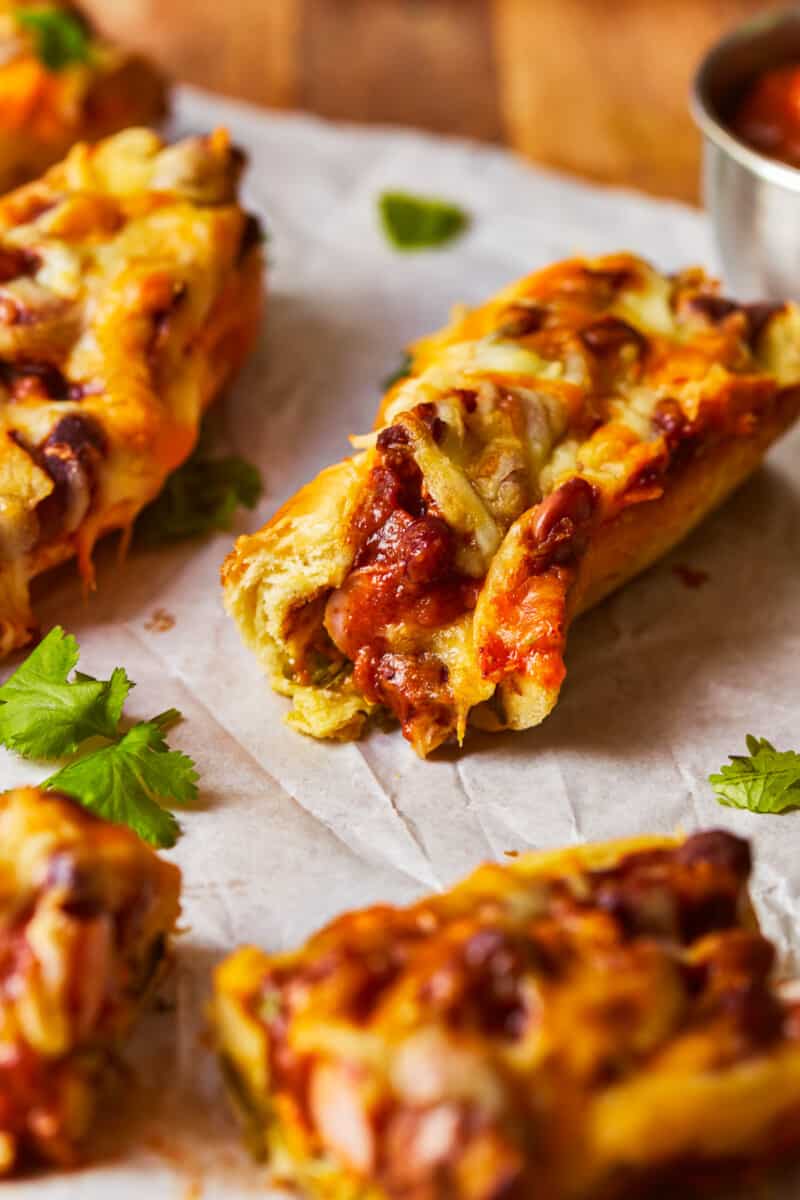 More Hot Dog Recipes We Love