This Chili Dog Recipe all baked together on a sheet pan is the BEST Chili Dog Recipe ever! These Chili Cheese Dogs topped with the best hot dog chili recipe. If you're in the mood for comfort food (toasted buns, grilled hot dogs, best ever chili, and of course tons of cheese) this recipe is for you!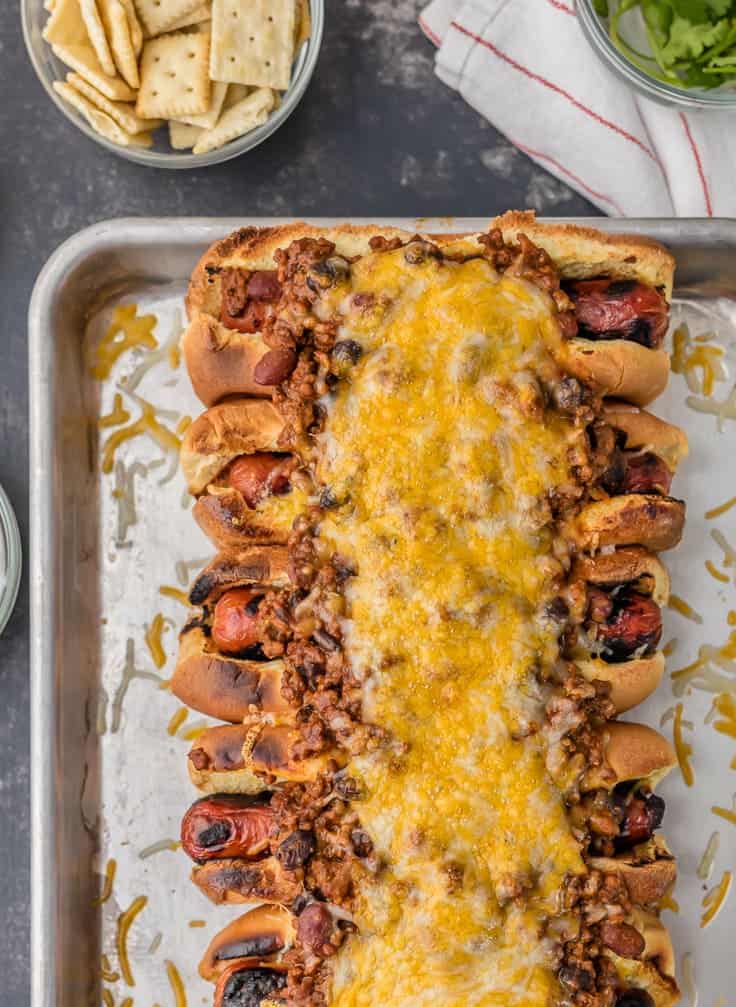 Best Chili Dog Recipe
If you're looking for the Best Chili Dog Recipe, you've come to the right place! These baked chili cheese dogs are SO good, so cheesy, and so perfect for game day!
A good chili dog recipe is something I CRAVE in the summer time. There's something magical that happens when you make chili cheese dogs on a sheet pan. I can't explain it, but trust me. You'll know what I mean as soon as you try this chili dog bake!
These chili dogs are topped with best ever hot dog chili recipe, LOTS of cheese, and then baked to perfection. This is such an easy way to make chili cheese dogs for a crowd. It's one of my go-to recipes for big game days, like the Super Bowl. It's a sure fire way to please everyone!
This is the best chili dog recipe and I know you all will love it just as much as I do!
This chili dog recipe is the perfect Super Bowl food. Baked chili cheese dogs for the win!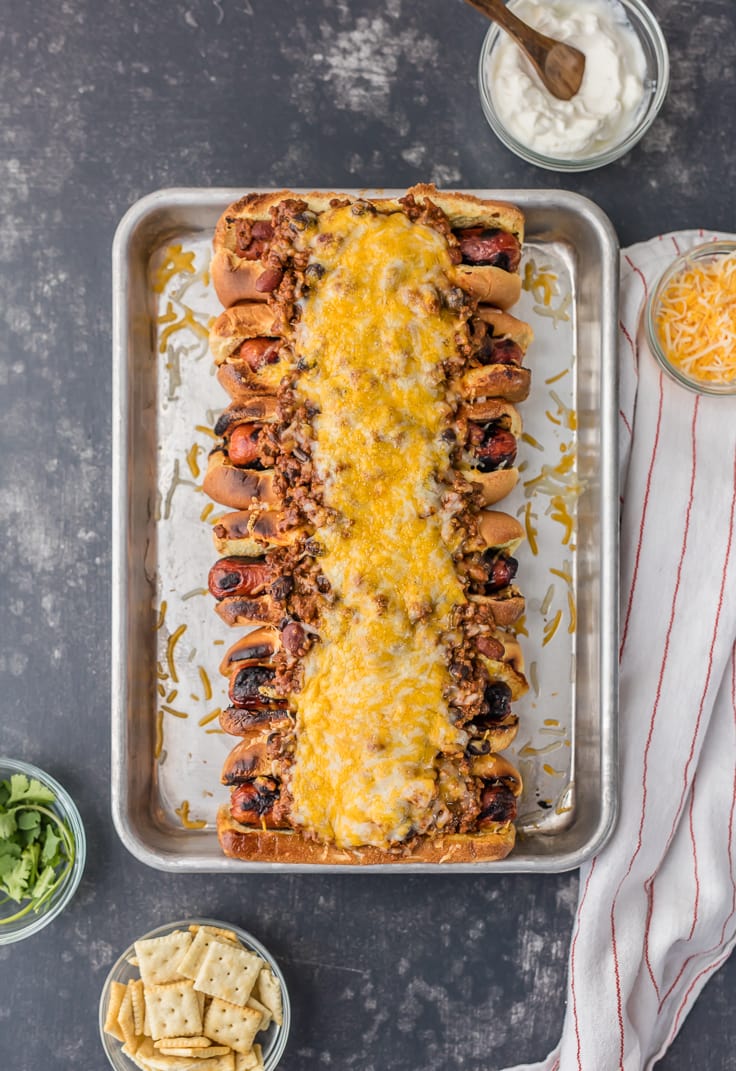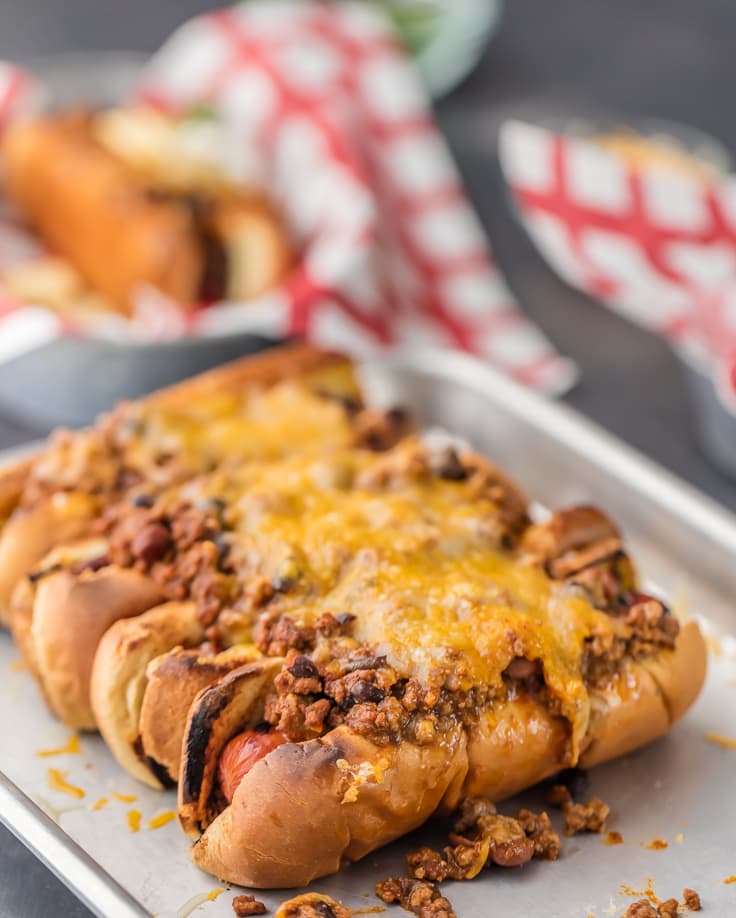 Chili Cheese Dogs
An amazing Chili Cheese Dog topped with the World's Best Chili Recipe can turn any frown upside down!
No matter what I did to make them look beautiful, they still look like…Chili Dogs. But trust me, this recipe makes the BEST EVER CHILI DOG. There's really nothing too high tech about them, they're just delicious.
This Chili Dog recipe is the ultimate comfort food. Perfect for a quick dinner, game day tailgating, and easy to make for a crowd. Pretty? No. Amazingly crave worthy? YES.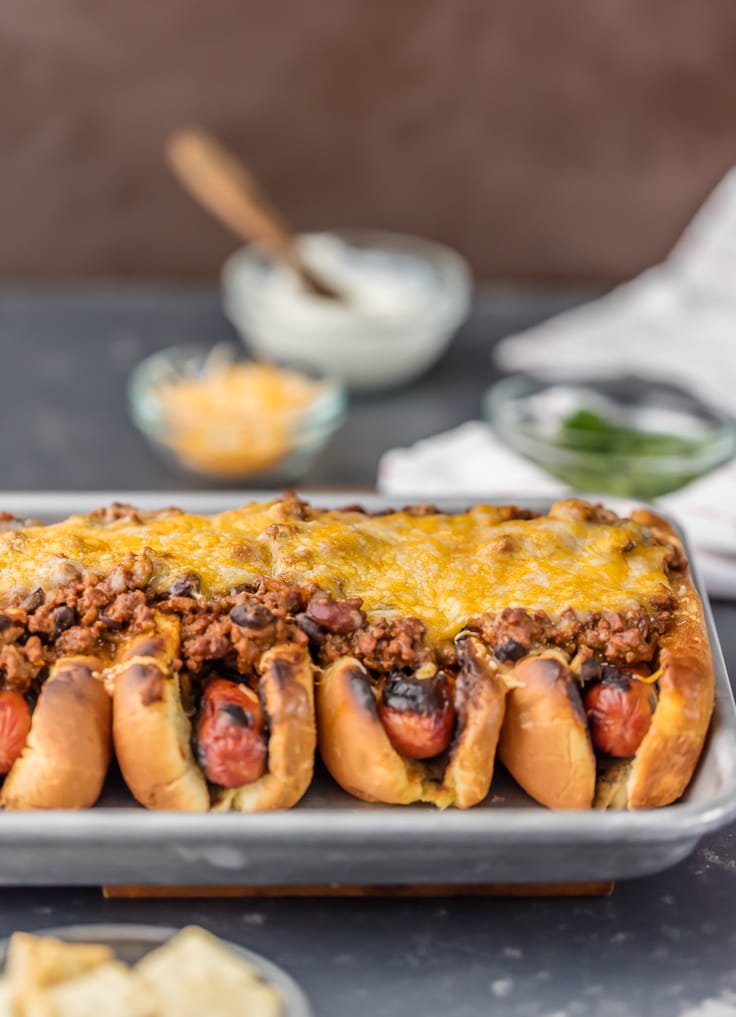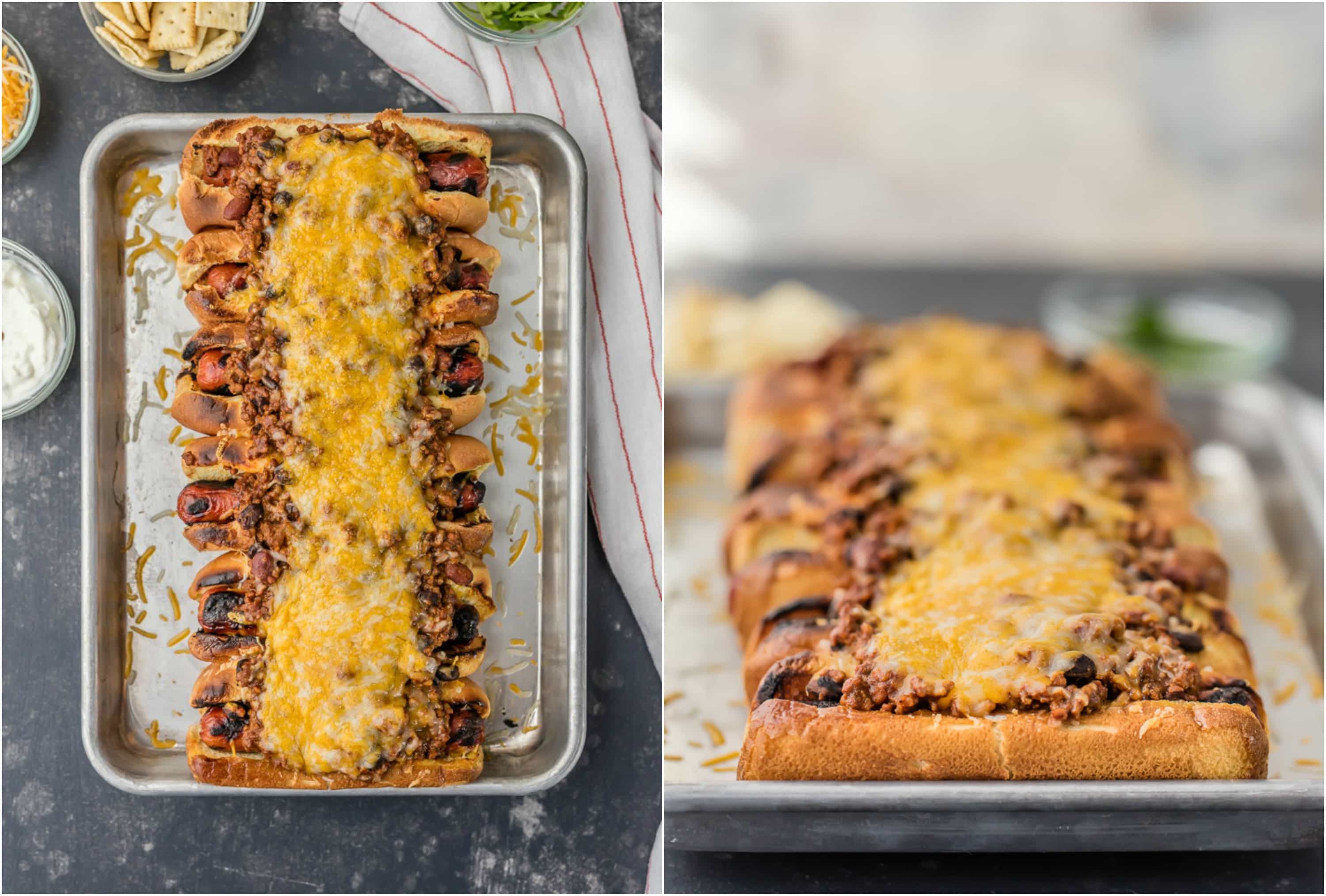 How to Make the BEST Chili Dog Recipe
Since this recipe involves homemade hot dog chili, you'll need to make that first. Use our favorite chili recipe here. If you're planning to make these chili cheese dogs for game day, or something else you can plan ahead, then make the chili at least the day before. You can actually make it well ahead of time and freeze it too. Whatever works for you!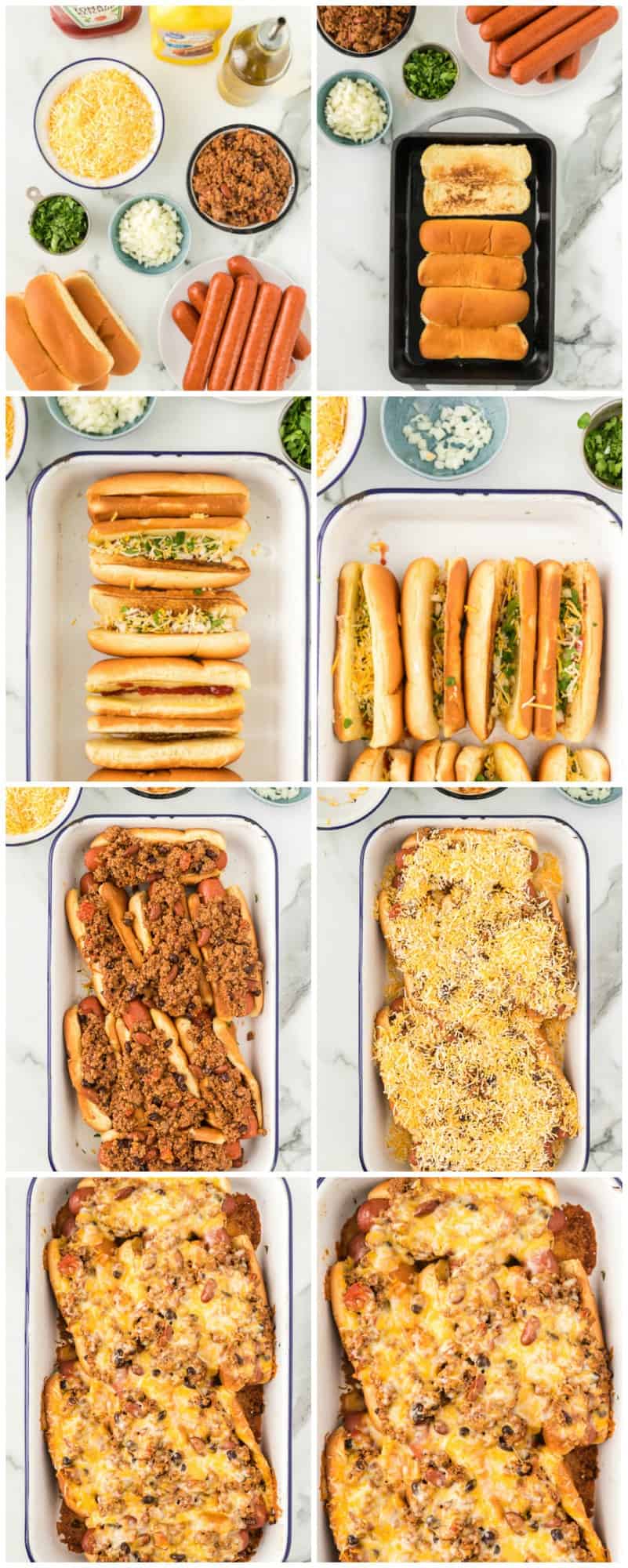 How to make chili cheese dogs:
Place the hot dog buns (inside down) on a skillet over medium high heat, and give them a quick toasting.
Now arrange the buns on a baking dish (something rimmed or with high sides), and place the onions, cilantro, and ketchup inside. Then sprinkle them with cheese.
Place a hot dog inside each bun, top with lots of chili, and then top with LOTS of cheese.
Cover the baking dish with foil, then bake for 30 minutes at 375°F.
Take them out, give them a few minutes to cool, and then serve! If you want, take the foil off at the end and broil them for a few minutes. This will make them extra toasty! Be sure to check the recipe card below for the full recipe details.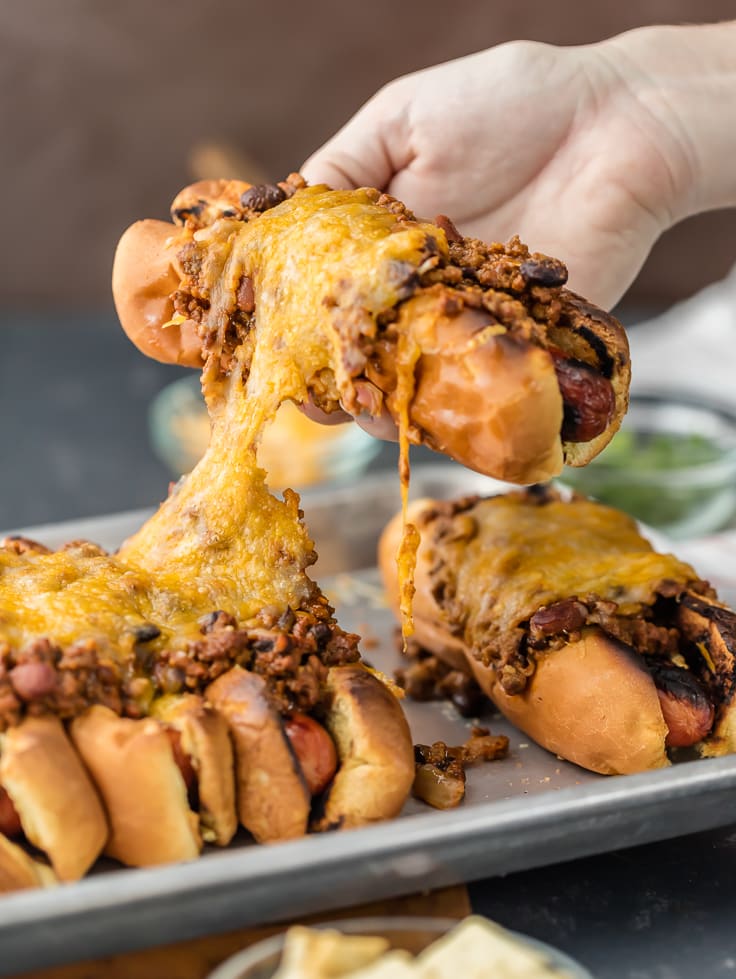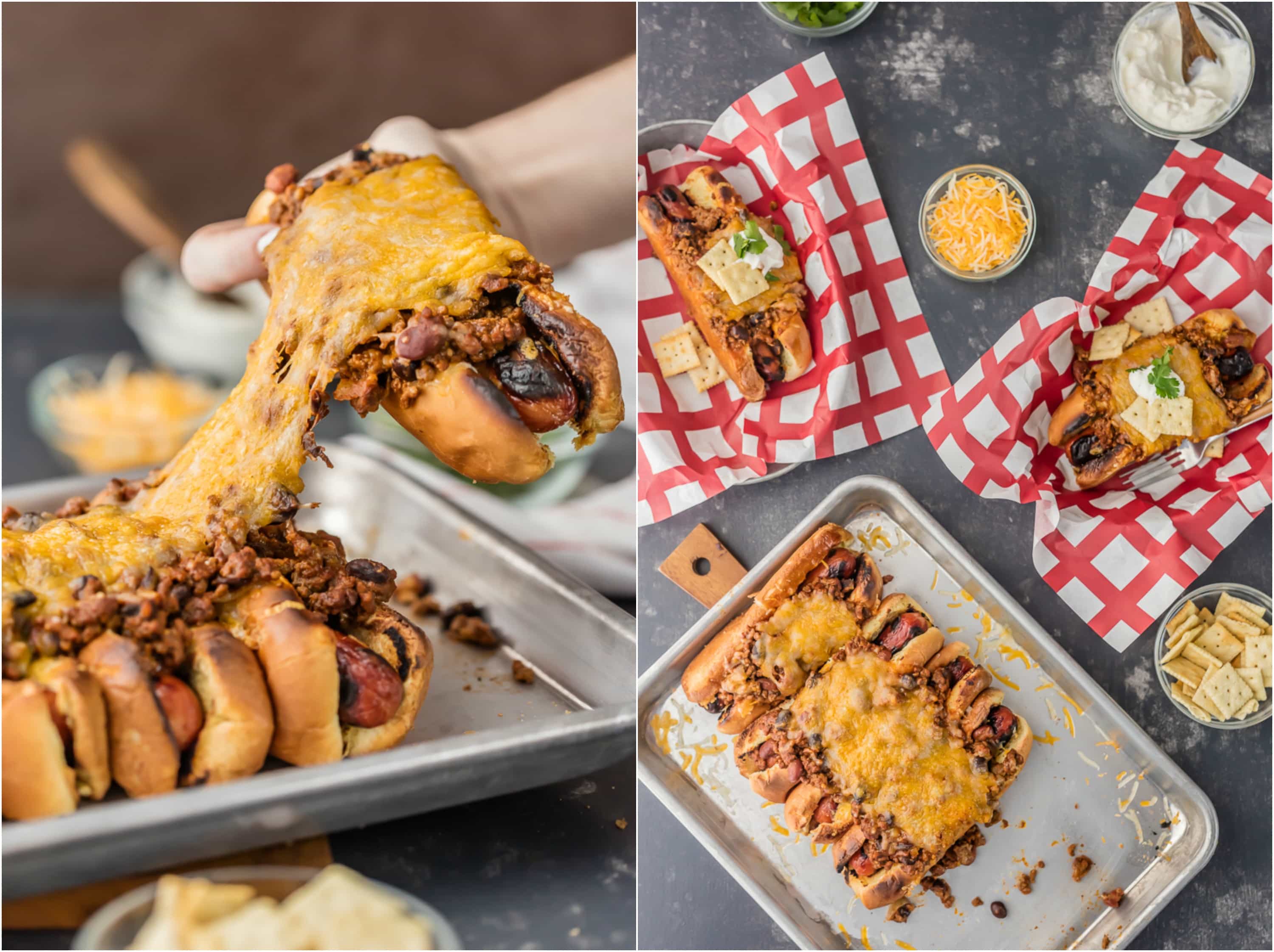 Homemade Hot Dog Chili
So what makes these the Best Ever Chili Dogs? THE BEST CHILI RECIPE of course! My mom's famous chili recipe turns out to be an amazing hot dog chili recipe. I mean, if you want to eat it all on its own, just wait until you taste on top of a hot dog, covered in cheese!
You will not believe how delicious (and easy) that chili is. Make a big batch to eat for dinner, then save it to make these hot dogs. Oh and don't forget to add a TON of cheese. The more cheese the better! That's what makes them chili CHEESE dogs after all. Listen, if you're going to eat chili dogs you can't worry about the calories. You just can't. Save that for another day.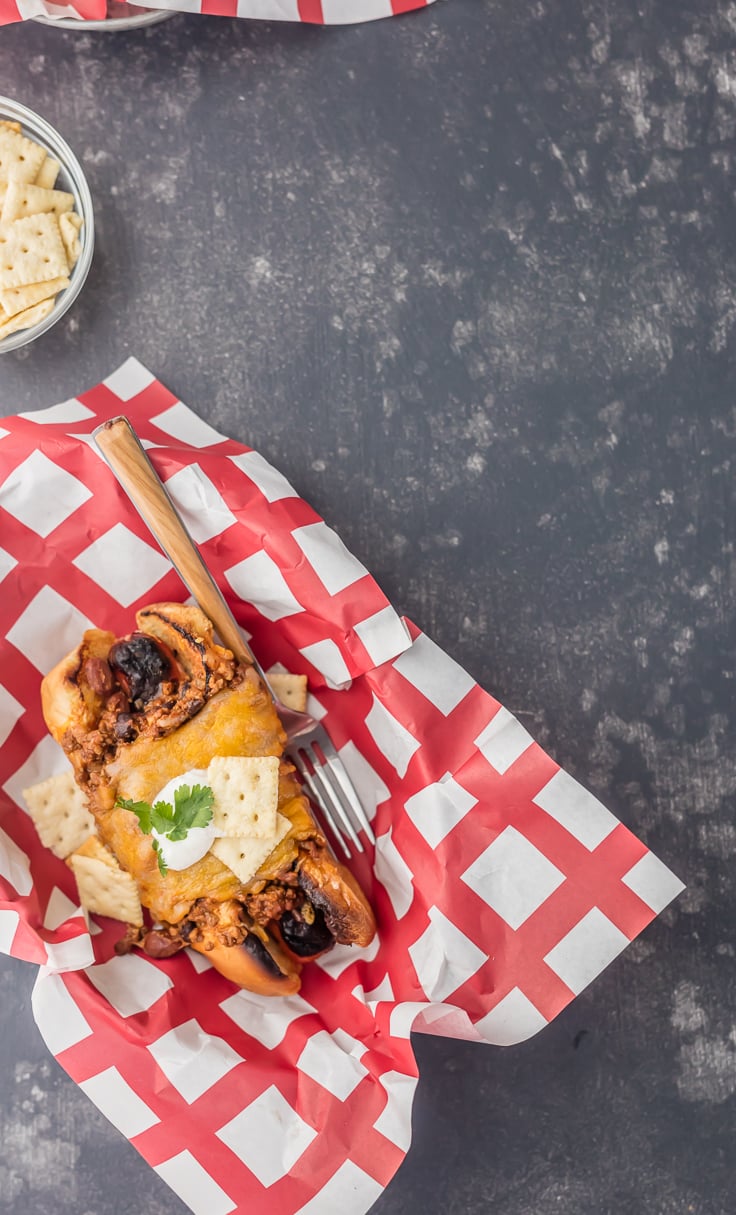 This Chili Dog Recipe completes me. It's a classic and I hope your family loves it as much as we do! Whether you make them for game day, a summer time party, or just a super delicious dinner, they will surely hit the spot.
Looking for an easy Chili recipe to pair with these Chili Dogs? Check out the video below for our 6 Ingredient Lazy Day Chili!
See the recipe card below for full details on how to make Chili Dogs. Enjoy!
Try these other amazing recipes for game day: