This Chili Dog Recipe all baked together on a sheet pan is the BEST Chili Dog Recipe ever! These Chili Cheese Dogs topped with the best hot dog chili recipe. If you're in the mood for comfort food; toasted buns, grilled hot dogs, best ever chili, and of course tons of cheese; this recipe is for you!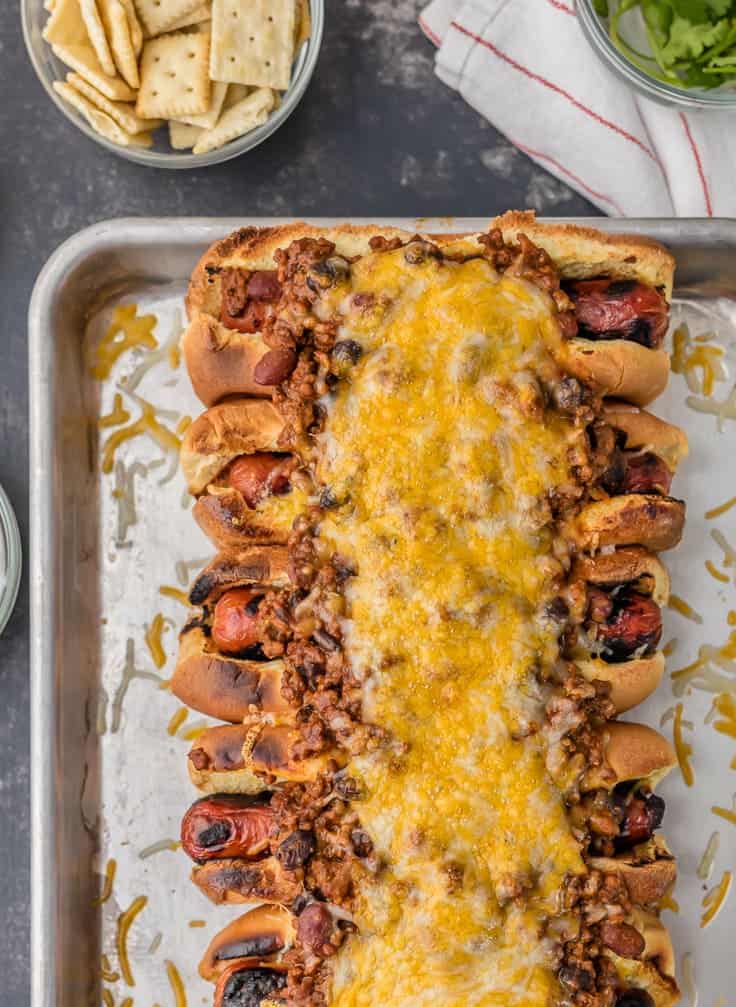 Best Chili Dog Recipe anyone?! This one is AMAZING!
A good Chili Dog Recipe is something I CRAVE in the Summer Time. There's something magical that happens when you make chili dogs on a sheet pan. I can't explain it…just trust me.
Sometimes I have to laugh at this job I have. Don't get me wrong, I'm SUPER grateful that this passion of mine has turned into a career. I seriously wake up every day excited to figure out what's next. But some days, I have to laugh that I'm literally taking pictures of Chili Dogs and posting them on the internet, trying to make them look pretty.
Chili dogs aren't the prettiest thing, you know. But…this is the job. (If you're looking for our other favorite chilis, be sure to check out our favorite White Chicken Chili as well as this Best Chili Recipe!)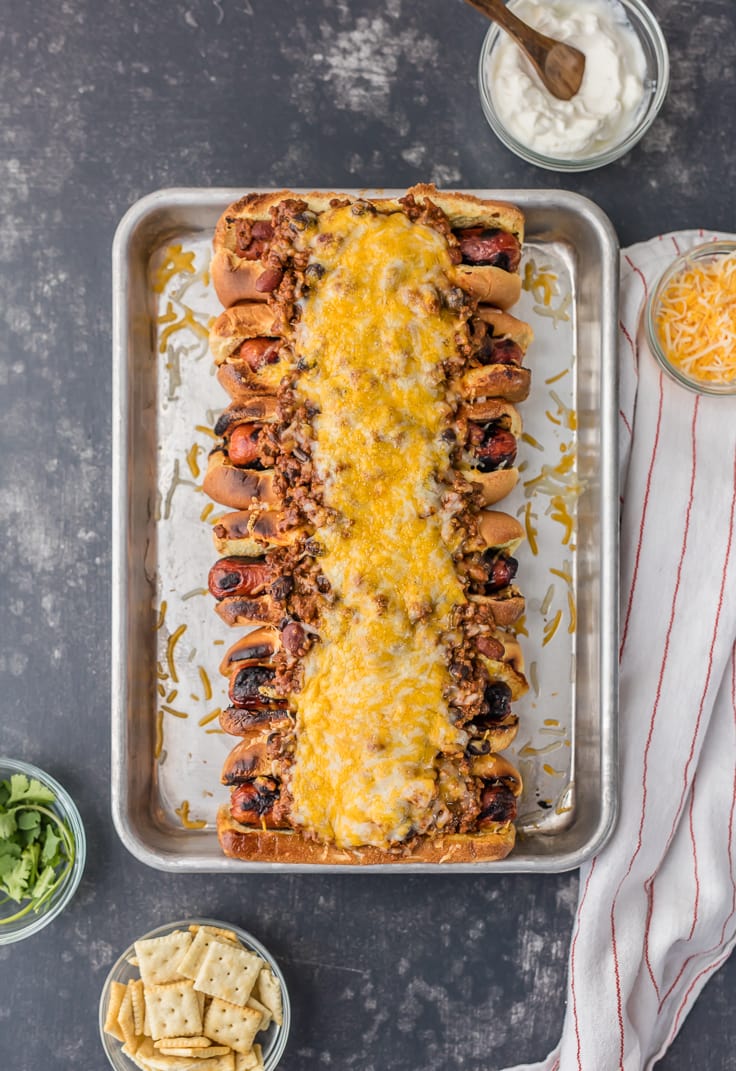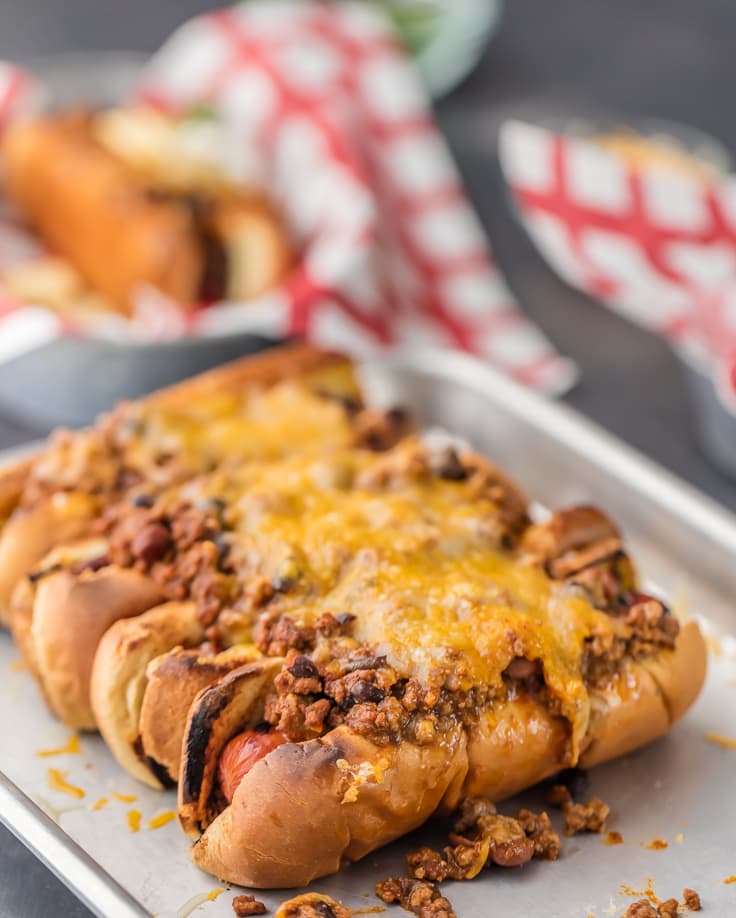 An amazing Chili Dog topped with the World's Best Chili Recipe can turn any frown upside down.
No matter what I did to make them look beautiful, they still look like…Chili Dogs. But trust me, this recipe makes the BEST EVER CHILI DOG. There's really nothing too high tech about them, they're just delicious.
These Chili Dogs are the ultimate comfort food. Perfect for a quick dinner, game day tailgating, and easy to make for a crowd. Pretty? No. Amazingly crave worthy? YES.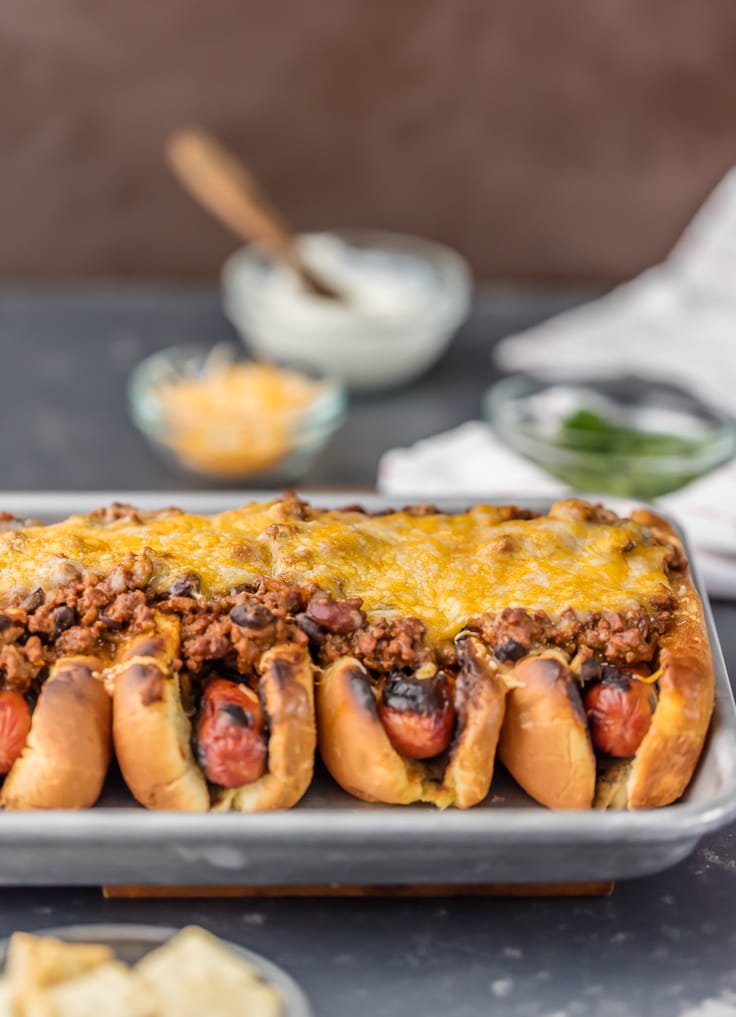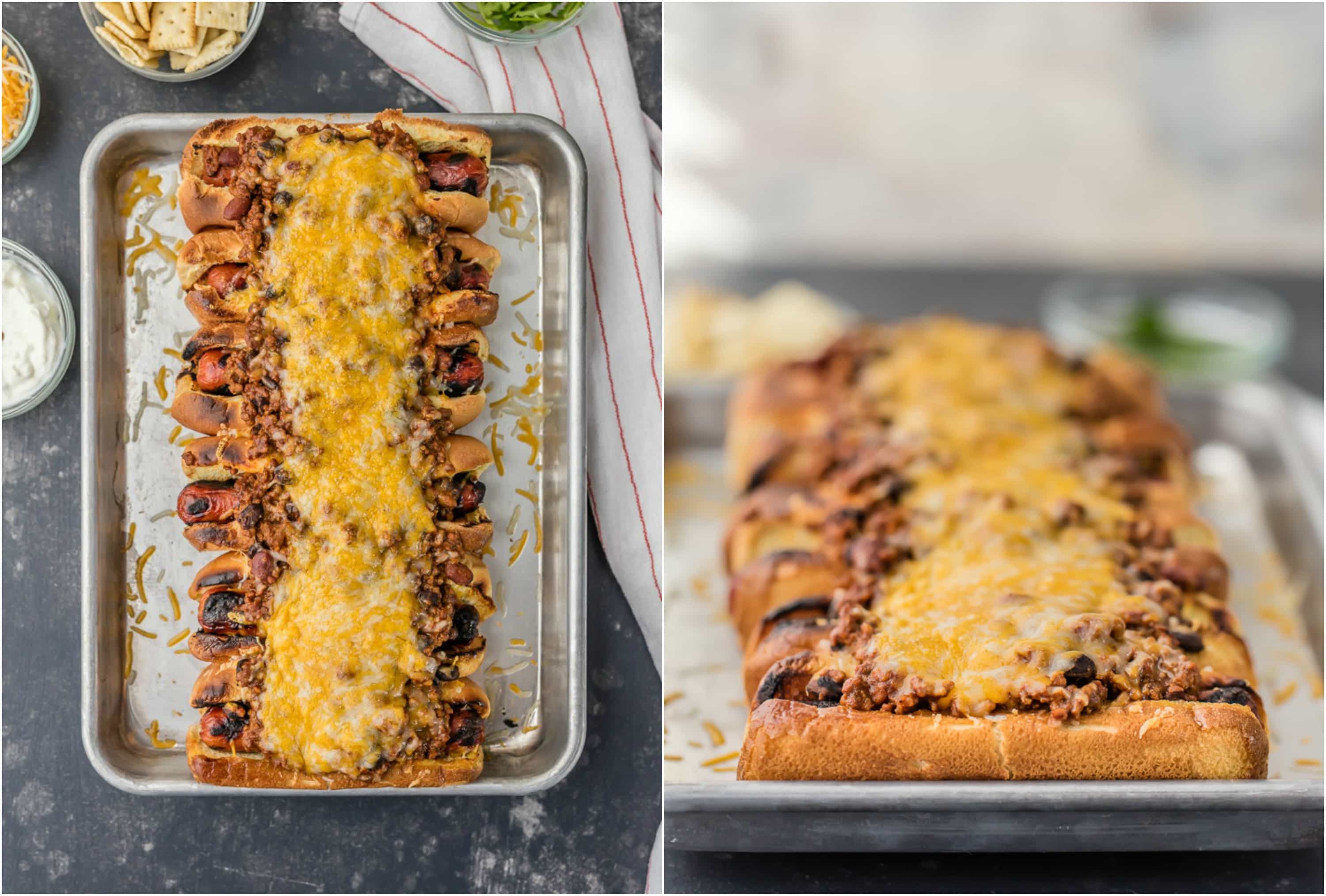 Tips for making the BEST Chili Dog Recipe:
So what makes these the Best Ever Chili Dogs? THE BEST CHILI RECIPE of course! My mom's famous Chili recipe is the ULTIMATE topper for hot dogs. You will not believe how delicious (and easy) that Chili Recipe is. Oh and don't forget to add a TON of cheese. The more cheese the better! Listen, if you're going to eat chili dogs you can't worry about the calories. You just can't. Save that for another day.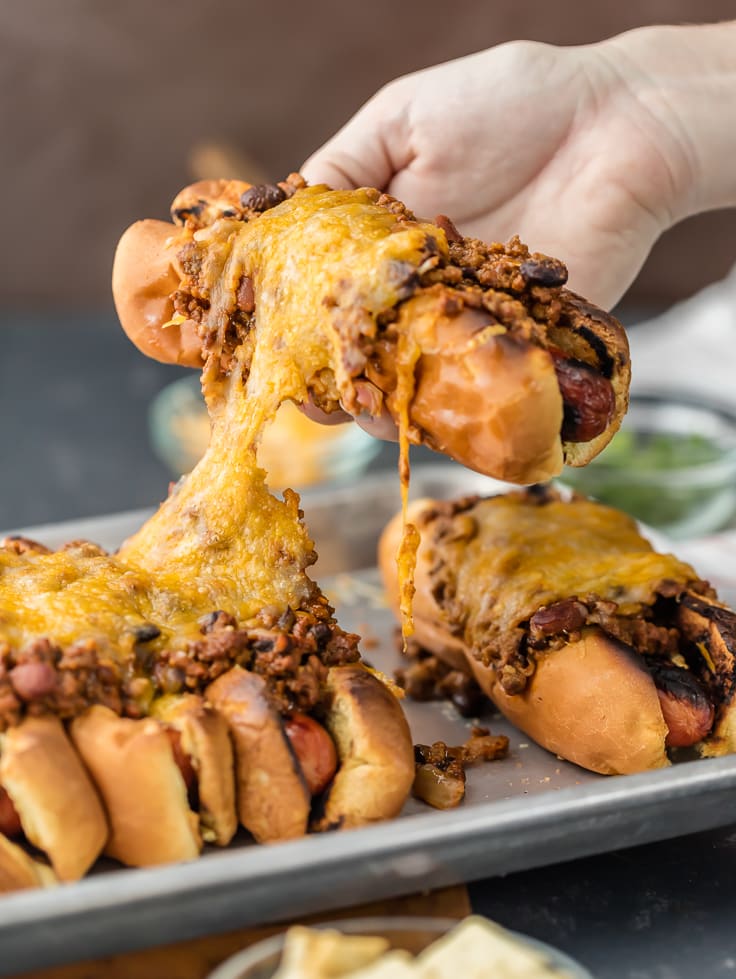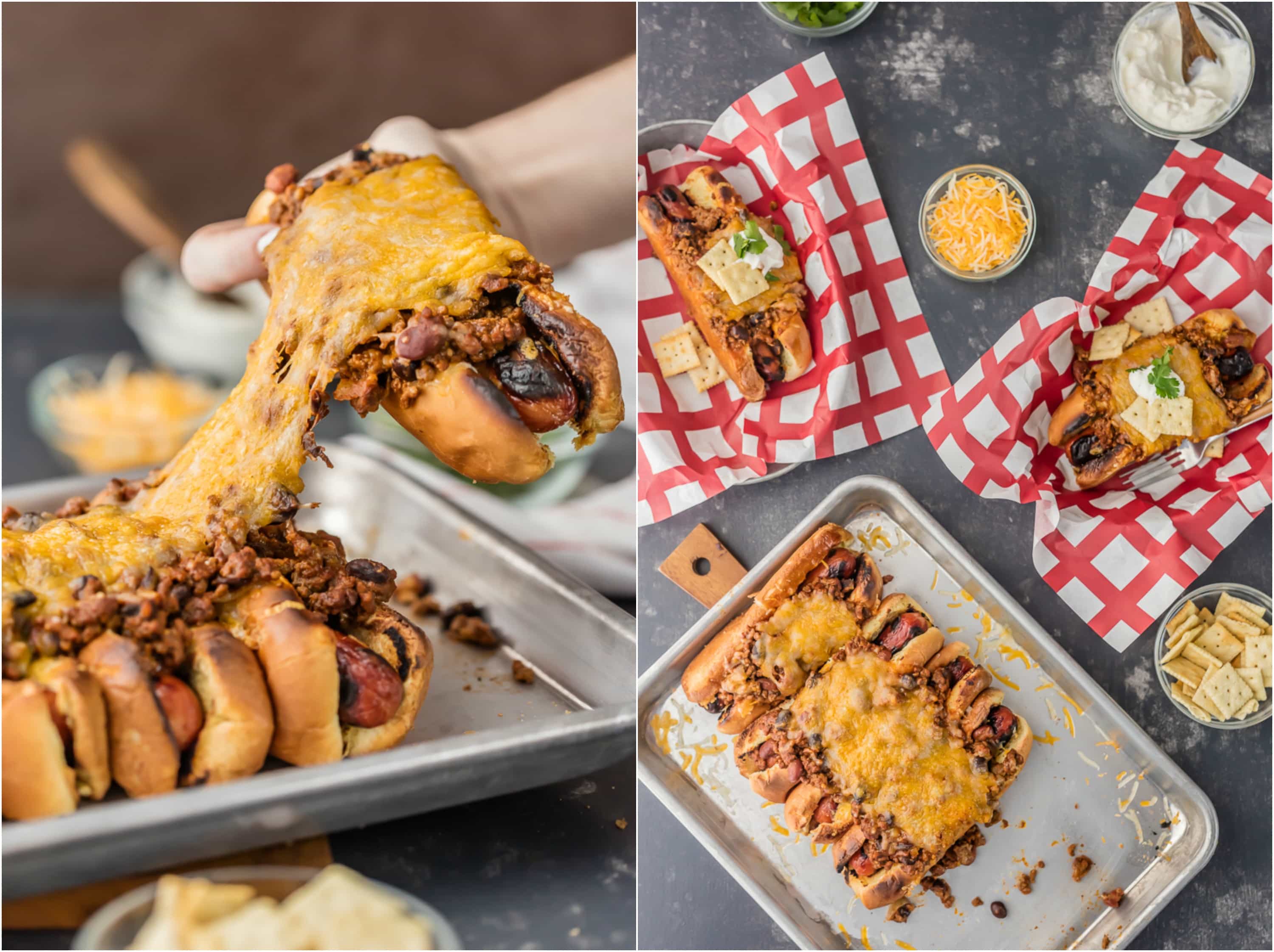 So yeah, let's all laugh that I actually did a photo set up and put my camera on a tripod, then attempted to make the best ever chili dog recipe look beautiful.
Trust me that their sloppy appearance only makes them taste better. These are the type of Best Ever Chili Dogs that require a fork.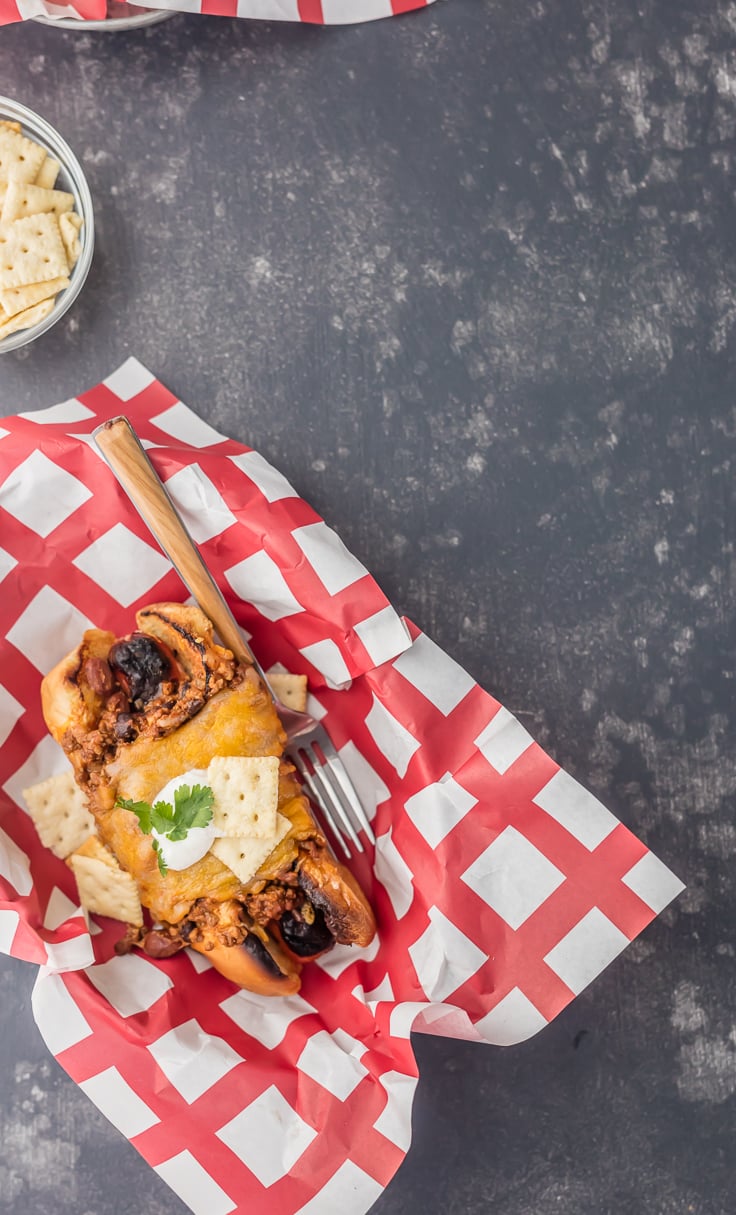 This Chili Dog Recipe completes me. It's a classic and I hope your family loves it as much as we do!
Looking for an easy Chili recipe to pair with these Chili Dogs? Check out the video below for our 6 Ingredient Lazy Day Chili!
See the recipe card below for full details on how to make Chili Dogs. Enjoy!
If you love hot dogs and want to see some gorgeous and delicious hot dog recipes, take a look at these Cuban hot dogs or this chili cheese corn dog casserole.