Get the party started with Ranch Dill Pickle Dip! This easy-to-make dip is creamy, smooth, and loaded with pickle flavor from the fresh dill, pickle juice, and finely diced pickles. Pickle lovers, rejoice – this one's for you!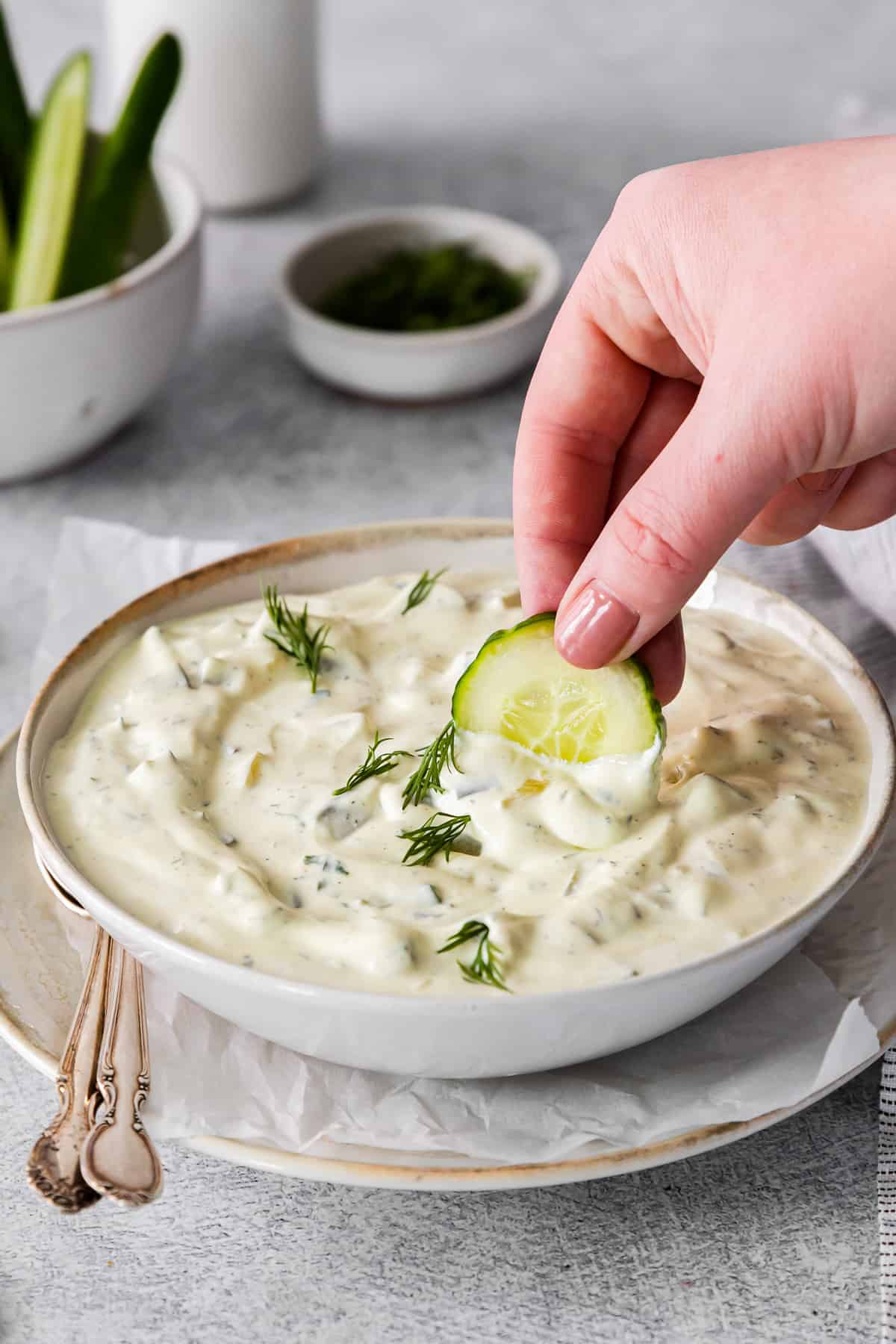 5-minute Dill Pickle Ranch Dip
Headed to a potluck or party? Instead of your usual go-to dip recipe, consider serving this Dill Pickle Ranch Dip instead! It's loaded with dill flavor, so all of the pickle lovers in your life will be on cloud 9. Plus, pickle and ranch together? Swoon!
The mix of seasonings in this cold dip also makes it addictive. There's fresh parsley, granulated garlic and onion, and a pinch of celery salt. When all of that gets mixed with the ranch seasoning, the real magic happens.
Looking for more pickle recipes? You'll love these ranch fried pickles (great for dipping) and our easy refrigerator pickles.
Why You'll Love this Dill Pickle Dip Recipe:
Creamy: The sour cream base not only adds a little tangy flavor to the dip, but it also makes it nice and creamy as can be.
Pickle Flavored: Fresh dill, pickle juice, and diced dill pickles work in tandem to create the most delicious pickle flavor throughout the dip.
Versatile: You can customize this dip by switching up the seasonings, swapping the sour cream for Greek yogurt, or even adding spice with jalapeños!
Dill Pickle Dip is perfect for serving at parties of any kind, but it's also wonderful for keeping in your fridge! It's delicious when served with veggies or crackers as a midday snack, or even smeared on a bagel in the morning. After all, real pickle lovers know that there's never a bad time to eat a pickle.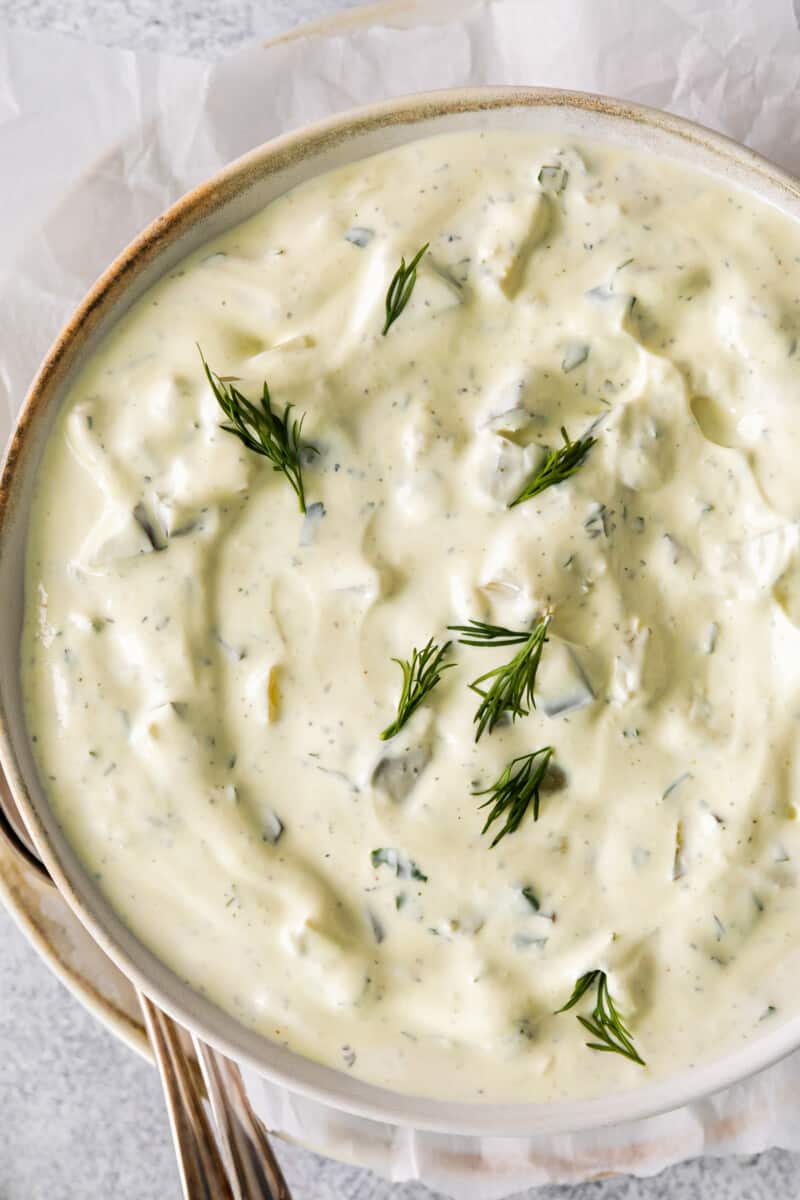 How to Make Ranch Dill Pickle Dip
You can jump to the recipe card for full ingredients & instructions!
Combine all of the ingredients except for the dill pickles in a bowl.
Once combined, fold in the finely diced dill pickles.
Serve and enjoy!
Recipe Notes
Sour Cream: The base of our dip – it is light and creamy and pairs perfectly with the pickle and ranch flavors.
Pickle Juice: Thins the dip and adds a tangy vinegar flavor.
Ranch Seasoning: I'm using a store-bought ranch seasoning in this dip, but feel free to use a homemade ranch seasoning mix if you prefer.
Parsley: Adds a fresh, grassy flavor that pairs perfectly with pickles.
Dill: Helps complement the flavor of the pickles.
Granulated Garlic, Onion, and Celery Salt: Enhance the ranch flavors in the dip. If you don't have them on hand, feel free to leave them out.
Diced Dill Pickles: Add a delicious crunch and strong pickle flavor to the dip.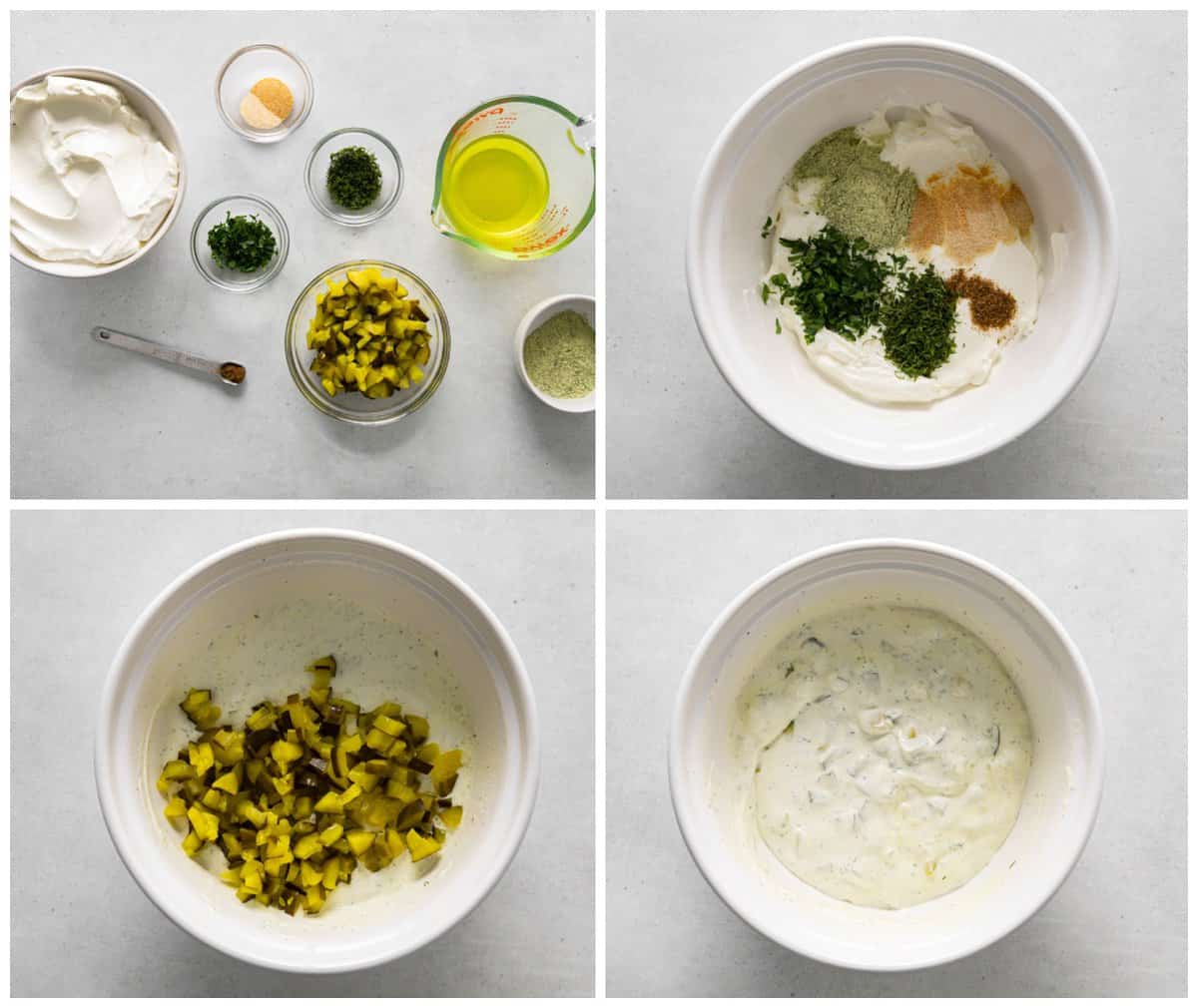 What is ranch dill pickle dip?
Ranch dill pickle dip is a savory dip made from sour cream, pickle juice, ranch seasoning, chopped pickles, and mixed herbs and seasonings. It has a creamy texture and a zesty, tangy taste.
What type of pickles are best for ranch dill pickle dip?
Dill pickles are the most classic choice, but you can use half-sours for a more garlicky flavor, sweet or bread-and-butter pickles for a sweeter flavor, or hot and spicy pickles for a spicy dip!
What can I do with ranch dill pickle dip?
Ranch dill pickle dip is super versatile. You can serve it with fresh vegetables, chips, pretzels, or crackers; as part of a cheese plate; or you can spread it on sandwiches or bagels!
What temperature should I serve ranch dill pickle at?
Serve this dip cold or at room temperature. Do not leave the dip out for more than 2 hours.
Serving Suggestions
Here are just a few tasty ways to enjoy Ranch Dill Pickle Dip!
Serve it in the middle of a crudite platter with your favorite fresh veggies.
Of course it tastes great with fresh cucumber slices!
Plate it with pretzels or crackers of any kind.
Smear it on a toasted bagel in the morning.
Get creative and use it in a sandwich of your own making!
You can use any brand of pickles to mince up and toss into this dip recipe. Just don't forget to save the juice, too!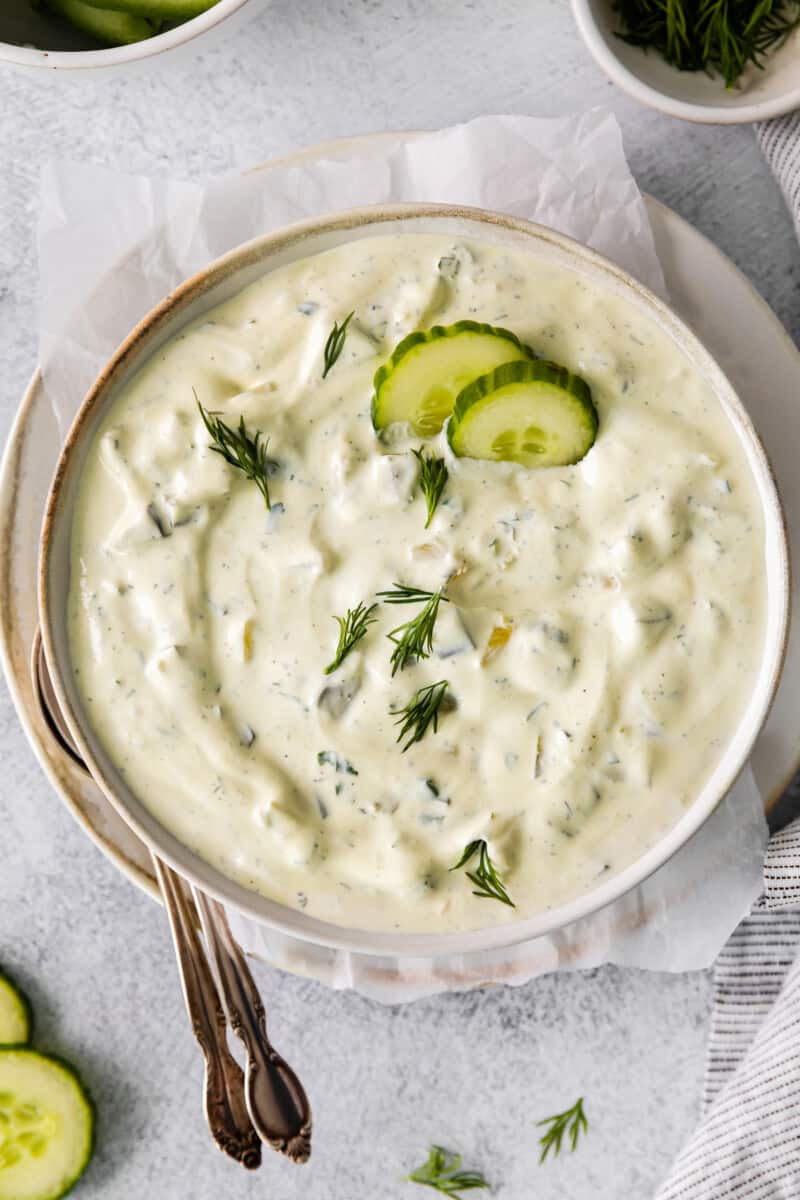 Make Ahead Instructions
This dip can be made up to 2 days in advance. For the best flavor, I recommend making this dip at least 8 hours in advance of when you plan to serve it. Store the dip tightly covered in the refrigerator until ready to enjoy.
Storage Instructions
Store leftover ranch dill pickle dip in an airtight container in the refrigerator for up to 3 days. Serve cold or at room temperature. I do not recommend freezing this dip.
Substitutions
Sour Cream: You can use plain Greek yogurt instead of sour cream.
Fresh Herbs: While I don't recommend leaving out the dill, you can definitely add other herbs, such as chives or scallions.
Spices: You can leave out the garlic, onion, and celery salt if you don't have them.
Spicy Pickle Dip
To make this dip spicy, use hot and spicy pickles or add ¼-½ cup of finely chopped jalapeños!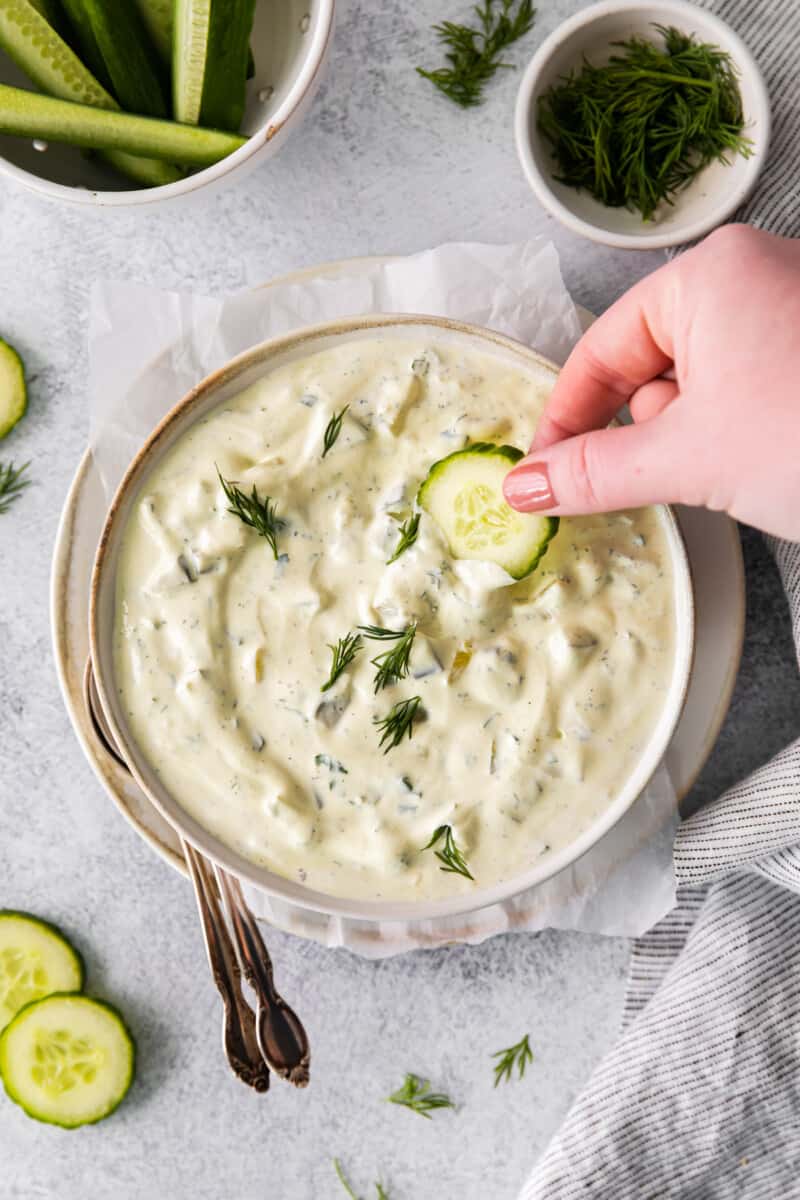 Ranch Dill Pickle Dip has it all! It's creamy, tangy, and filled with mouthwatering ranch and pickle flavors. Pair it with pretzels, crackers, or veggies, or use it in a sandwich – no matter how you choose to enjoy this easy-to-make dip, you're going to love it!
If you make this recipe be sure to upload a photo in the comment section below or leave a rating. Enjoy! You can also jump to recipe.