Homemade Tartar Sauce tastes so much fresher than store-bought, and learning how to make Tartar Sauce at home is simple. This easy Tartar Sauce Recipe just requires a few ingredients and some mixing. It's the perfect sauce for fish and seafood recipes, like these tasty Crab Cakes. I just love the way the flavors of classic tartar sauce mix together with fresh seafood!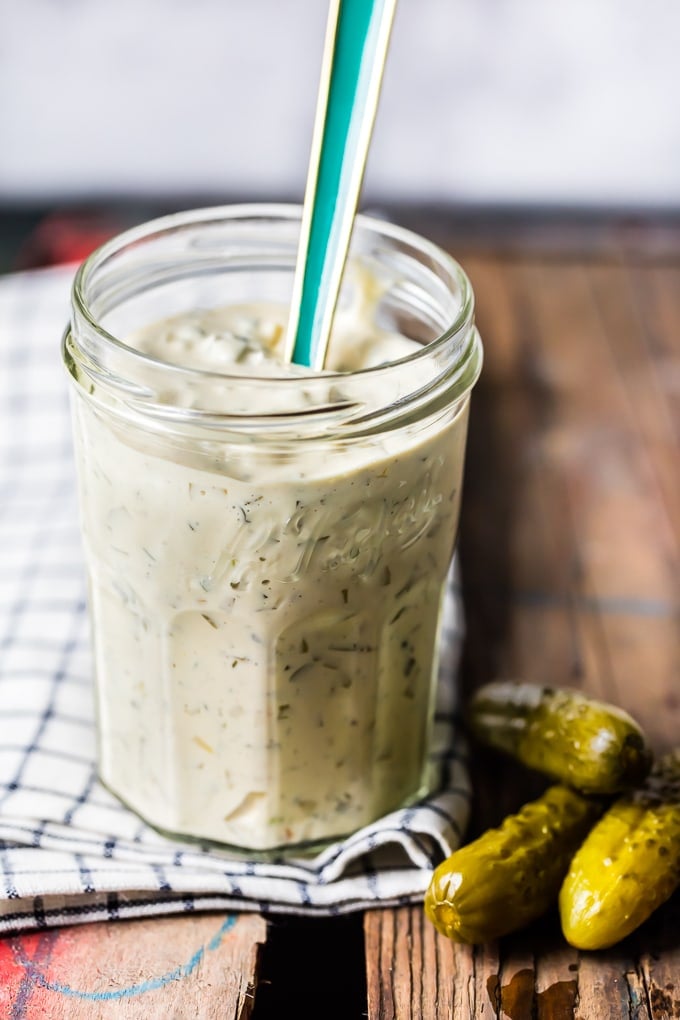 Homemade Tartar Sauce Recipe
This homemade tartar sauce recipe is so fresh and flavorful! Learn how to make tartar sauce at home for your next seafood dish.
Homemade Tartar Sauce is filled with so many bold flavors, and that's what I love about it! It's so creamy and tart, and it's the best flavor combo when mixed with seafood. I love fresh seafood, especially grilled or baked fish. And crab cakes…I could eat those all day! This Tartar Sauce recipe just enhances the flavor of my favorite seafood dishes. It's such a classic!
I've been making a lot of homemade classics lately, because homemade sauces and dressings really just taste better. And they're all so easy to make! You can make ranch dressing, Caesar salad dressing, and basil walnut pesto…now you can learn how to make tartar sauce too!
This is the best tartar sauce recipe to make at home, and it tastes so incredibly delicious with baked, battered, and fried seafood dishes!
Learn How to Make Tartar Sauce with this flavorful Homemade Tartar Sauce Recipe. It's so creamy and tasty with crab cakes, battered fish, and lots of other seafood dishes!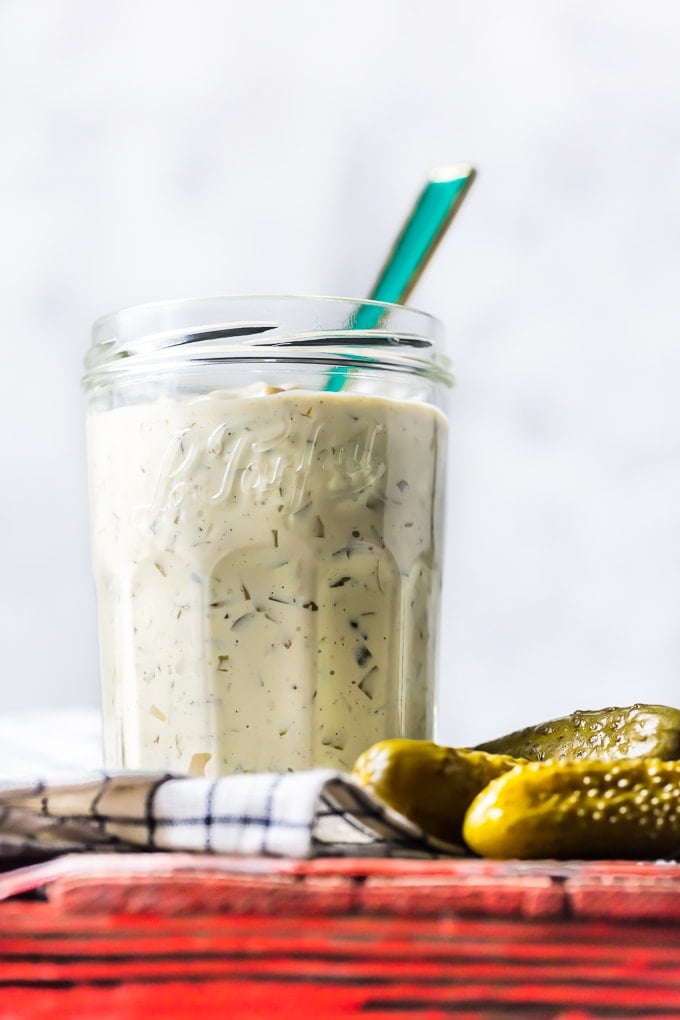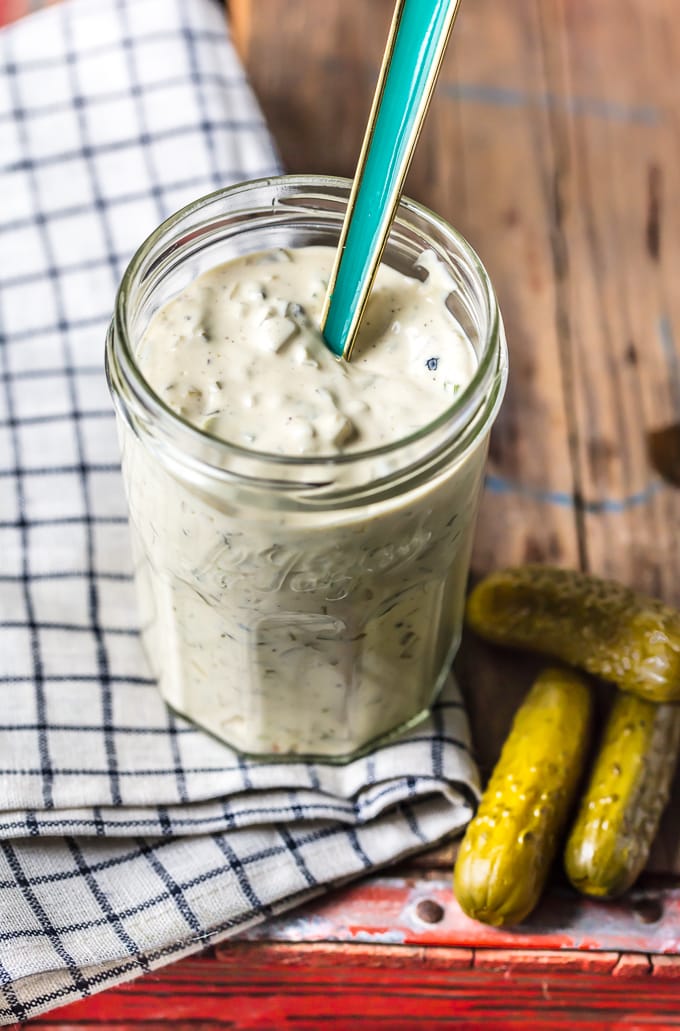 Homemade Tartar Sauce Ingredients
This Homemade Tartar Sauce Recipe has all the best, classic tartar sauce ingredients! I just love the creamy, bold, tart flavor of this sauce.
Tartar Sauce Ingredients:
Mayonnaise
Dill pickles
Lemon juice or white wine vinegar
Dijon mustard
Fresh chives
Shallots or green onions
How to Make Tartar Sauce
Making tartar sauce is easy. Like, you don't even need instructions kind of easy. Once you've got the ingredient list, you're just about done. That's the kind of recipe I like! Quick, simple, straightforward, and easy to make any time. In case you do want instructions, though, here they are:
Gather your ingredients
Whisk everything together in a bowl
Refrigerate for at least 30 minutes before serving
This homemade tartar sauce is too easy! Prepare it for every seafood dinner, or serve it along with the best seafood appetizers.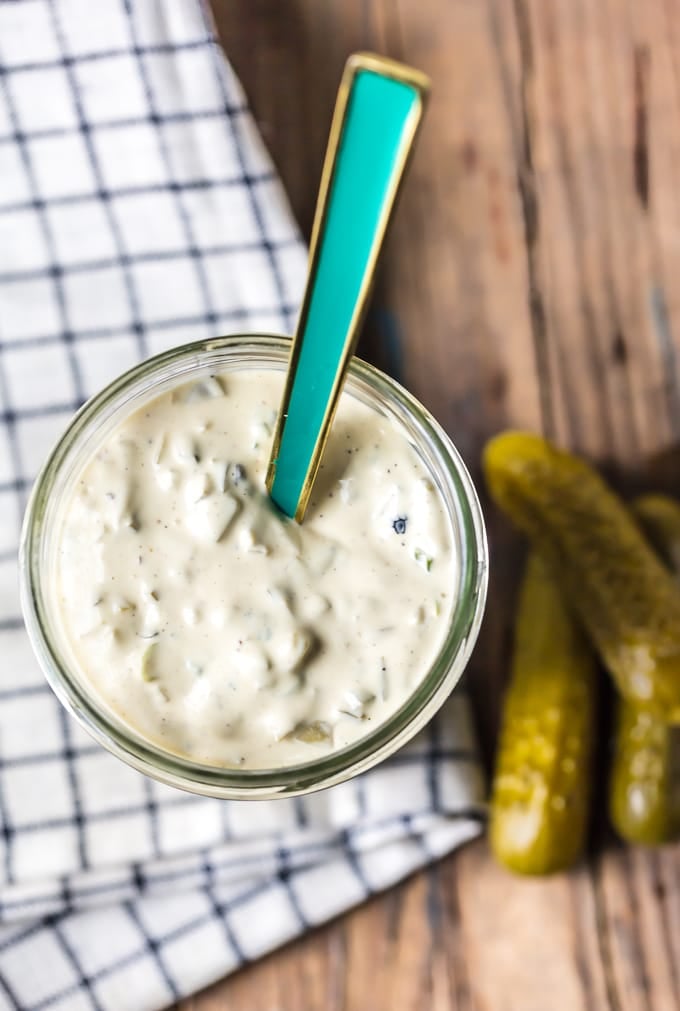 What goes with Tartar Sauce?
This tartar sauce recipe goes with all the seafood dishes you can think of! First and foremost, I think it is the absolutely perfect sauce to serve with the best crab cakes. I can't get over that flavor combination…fresh crab, crispy batter, and creamy tartar sauce. Yum! But this sauce goes well with plenty of other dishes too.
Try out these seafood recipes with this homemade tartar sauce:
It would also taste so amazing with fish and chips or any battered fish recipe. I love crunchy fried fish dipped in tartar sauce!
How long does tartar sauce keep in the fridge?
This homemade tartar sauce recipe will stay fresh in the refrigerator for up to one week. This sauce is something you'll want to make fresh for your seafood dishes, but you can certainly save any extra for a few days without any problems.
How do you make tartar sauce without lemon juice?
If you don't have lemon juice, just substitute white wine vinegar in its place.
How do you make tartar sauce without relish?
You really don't need relish to make tartar sauce. Just use fresh dill pickles instead. Mince the pickles and you have a proper replacement. The fresh pickles taste better anyways!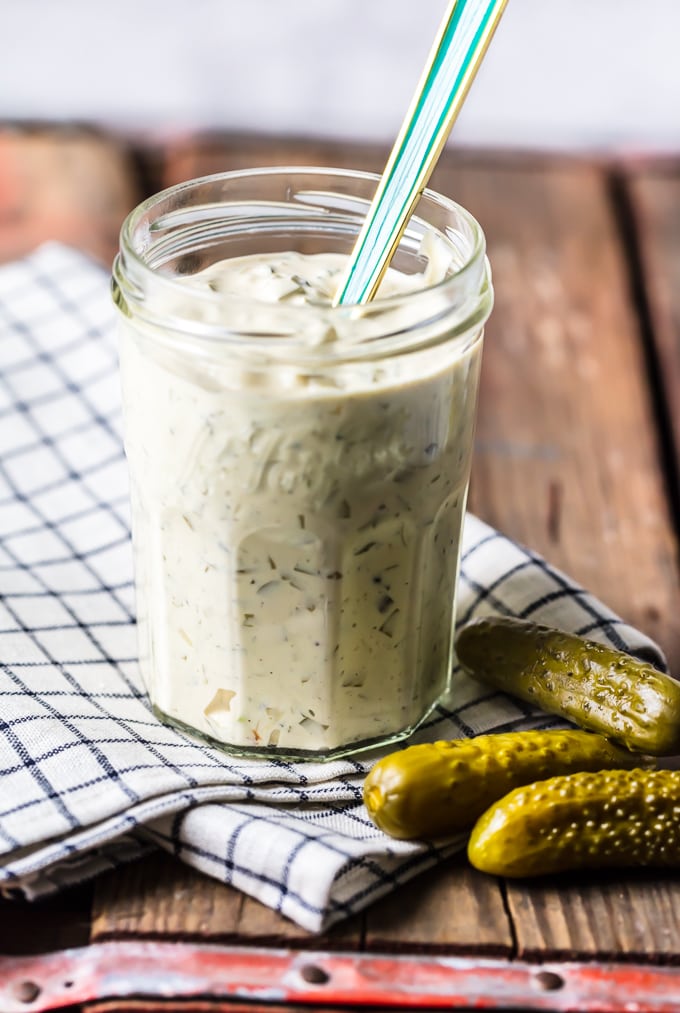 Don't forget to add this Homemade Tartar Sauce Recipe to your next seafood dish! It's creamy, tart, and so full of flavor. You're going to love it!
See the recipe card below for full details on How to Make Tartar Sauce at home. Enjoy!