Cheese Fries are one of my all-time favorite comfort foods. Made with frozen French fries, garlic, cheddar cheese, a little flour, and some fridge staples like butter and milk, they are super easy to make and always disappear fast after serving. Who doesn't want to devour crispy potatoes smothered in a creamy, dreamy homemade cheese sauce?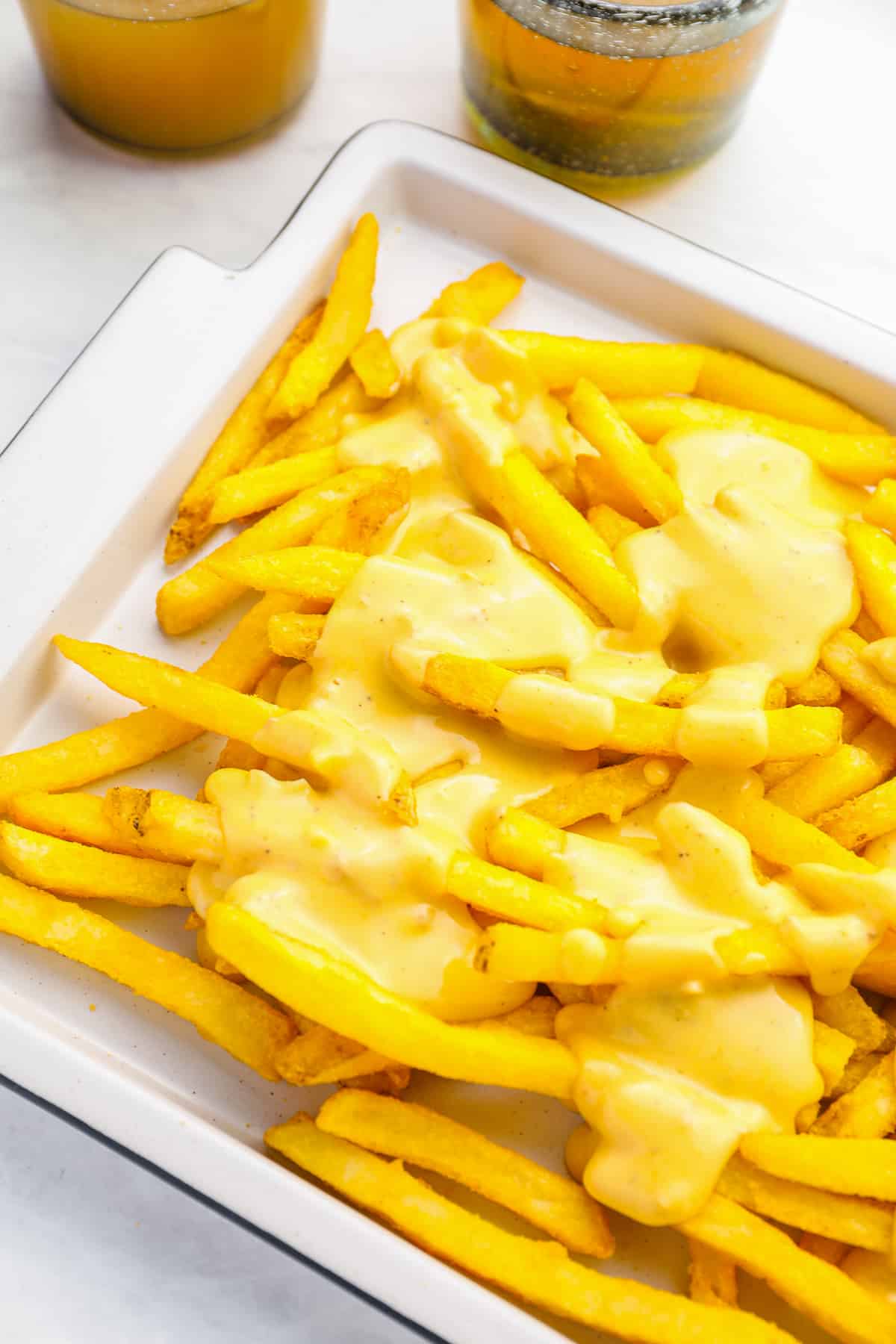 What's in Texas Cheese Fries?
This delicious appetizer, side, or midnight snack takes just minutes to put together with these simple ingredients!
Frozen French Fries: While you could make this recipe with homemade French fries, you will save so much time by using frozen – and they will taste just as delicious.
Butter: I like to use grass-fed butter in my recipes, but the important thing is to use real butter and not margarine.
Garlic: One of the healthiest foods on earth, this ingredient always adds irresistible flavor to any recipe.
Flour: All-purpose flour is all you need to thicken the cheese sauce.
Milk: For the best, creamiest cheese sauce, go for full-fat milk in this recipe.
Cheese: The recipe calls for yellow cheddar cheese, but you can also use another cheese like white cheddar, Colby, or Monterrey Jack.
Cayenne Pepper: This red spice adds the right kick to turn up the heat slightly.
Toppings: Chopped green onions and diced jalapenos add depth and flavor to this already flavorful comfort food dish.
Variations on Cheddar Cheese Fries
If you're looking for a bit of Mexican flair, swap the cheese sauce for white queso, poblano queso, vegan queso, nacho cheese sauce, or Rotel dip.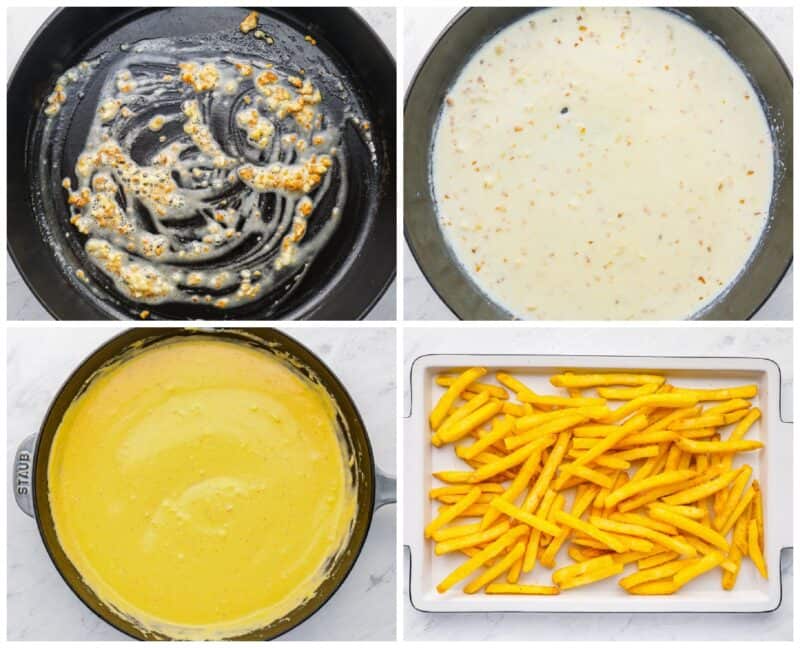 What are the best frozen french fries for cheese fries?
The best frozen fries for cheese fries are your favorite brand! Regular, shoestring, steak, or crinkle-cut fries all work well. I like extra crispy fast-food-style fries because they hold up well to the cheese sauce!
Are cheese fries gluten-free?
Unfortunately, these cheese fries are not naturally gluten-free. Many brands of frozen french fries contain wheat flour, and we use all-purpose flour to thicken the cheese sauce.
What kind of cheese is best for cheese fries?
The best cheese for cheese fries is classic cheddar cheese! However, you can always swap some or all of the cheddar for a different cheese, like mozzarella, pepper jack, Swiss, Colby jack, or American.
Why is my cheese sauce grainy?
It is important to slowly add the cheese to the sauce off heat to prevent the sauce from becoming grainy. If the cheese isn't melting into the sauce, return it to low heat and stir constantly while it melts.
What should I do if my cheese sauce is too thick?
If your sauce is too thick, add in another splash of milk until it reaches the desired consistency.
Can I store cheese fries for later?
I really don't recommend storing these cheese fries. Cheese sauce thickened with flour and butter doesn't reheat well. I recommend halving the recipe if you think you won't finish it all in one day.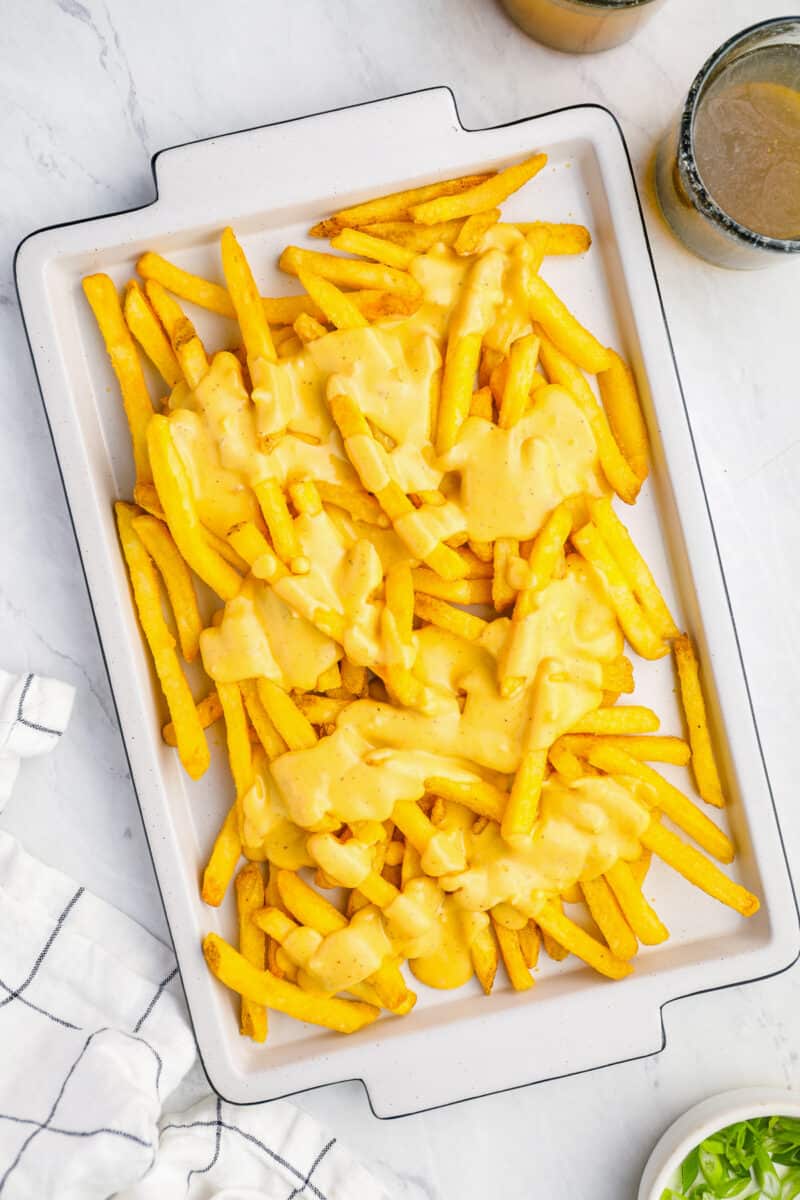 What to Serve with Homemade Cheese Fries
While I could eat cheesy fried potatoes as a complete meal any day of the week, they go great with Air Fryer Hamburgers, Philly Cheesesteaks, or Turkey Meatloaf.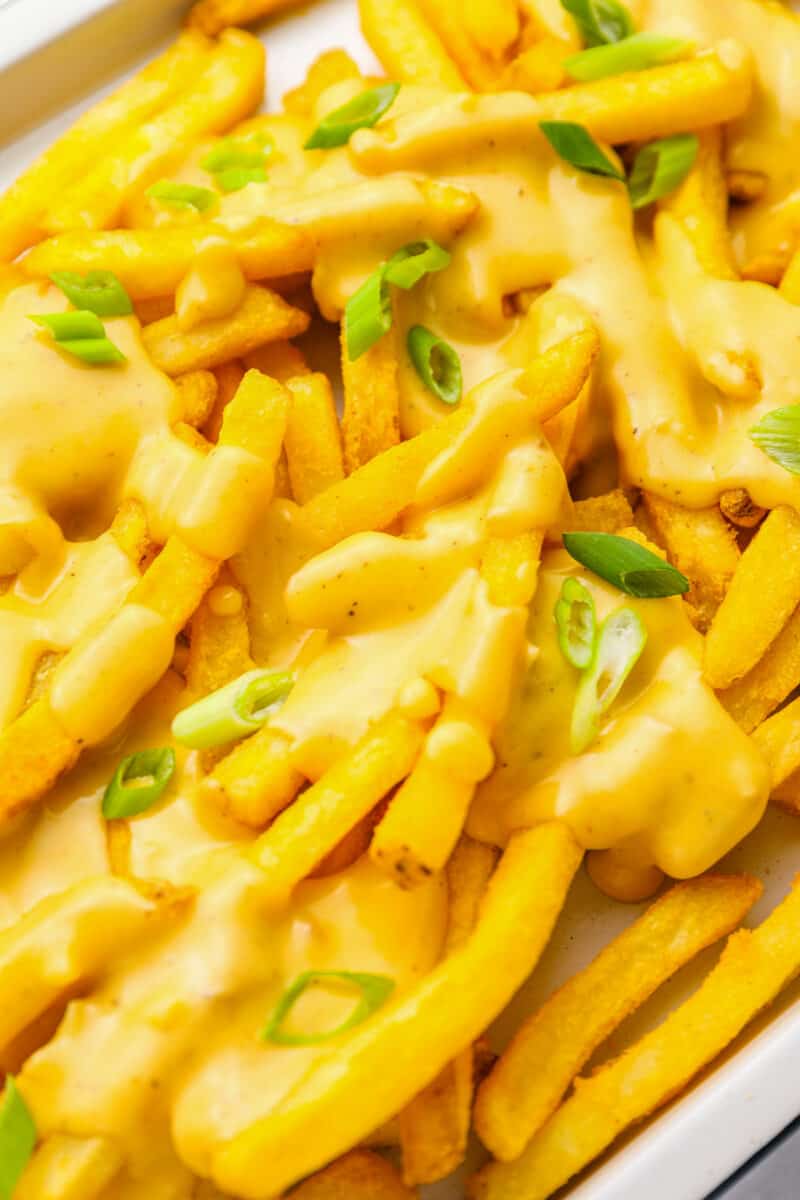 More Loaded French Fry Recipes We Love