This Crockpot Garlic Parmesan Chicken Wings recipe is the best way to make our favorite wings flavor! It's an easy, hands-off recipe that's perfect for game day. Our homemade garlic parmesan wing sauce is delicious, and it tastes just like going to Buffalo Wild Wings.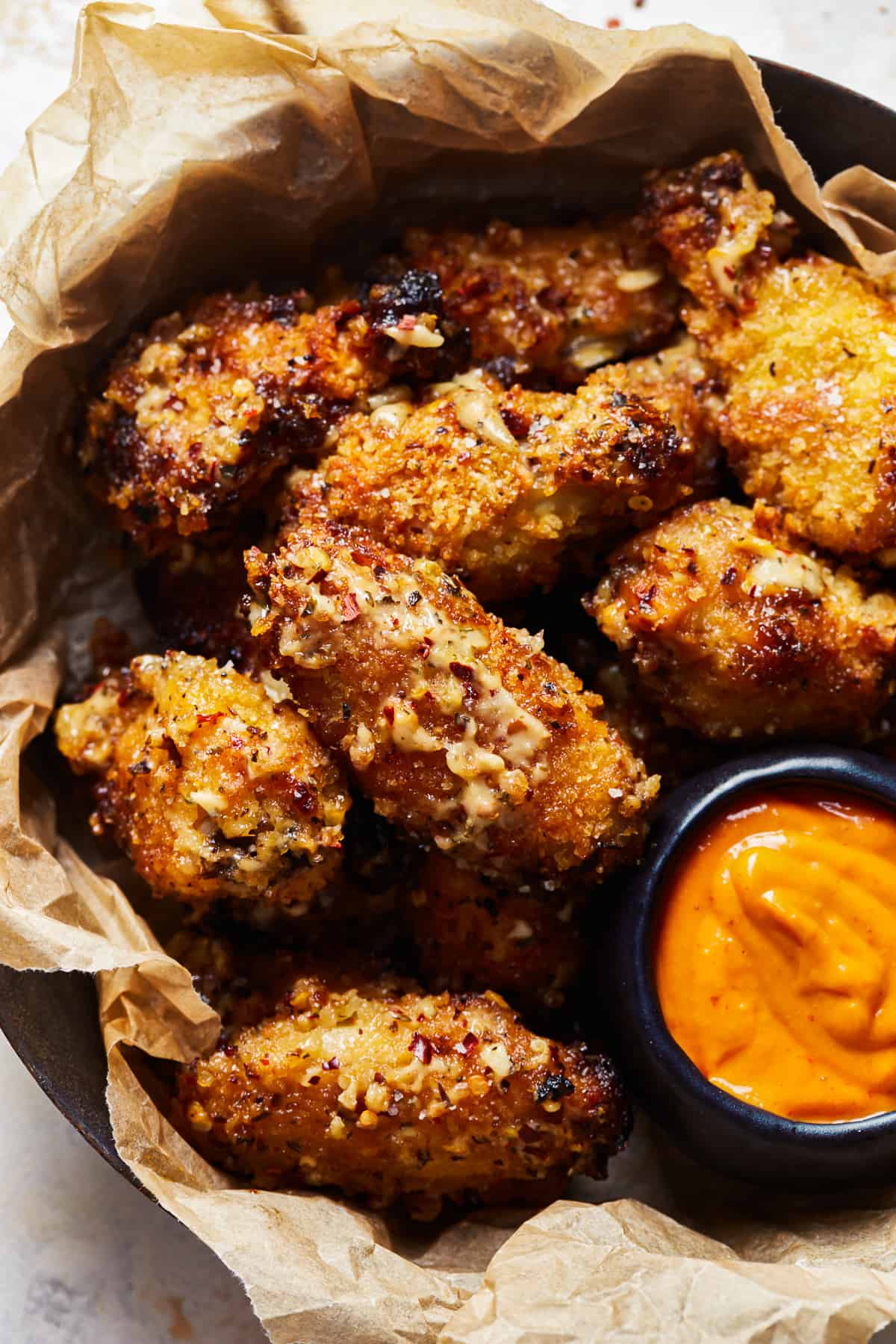 Crock Pot Garlic Parmesan Chicken Wings Recipe
These garlic parmesan wings are our favorite crockpot chicken wings recipe. They taste just like your favorites from Buffalo Wild Wings or Wingstop, but they're homemade!
The garlic parmesan wing sauce is so perfect. It's creamy and rich in flavor, and simple to make. Let your wings cook directly in the sauce, give them a few hours in the slow cooker, and you'll have the tastiest appetizer or meal.
Why You'll Love this Garlic Parm Wing Recipe:
FLAVORFUL: The garlic parmesan wing sauce adds so much flavor to these wings. They are unbelievably delicious!
HANDS OFF: Cooking chicken wings in a crock pot means this recipe is all hands off and super easy to make.
GAME DAY FOOD: These are the perfect appetizer to serve on game day. Let them cook, then serve and eat without interrupting game time.
Whether you're making some tasty wings for Super Bowl food, to bring to a potluck, or just for a delicious dinner at home, these parmesan garlic wings are exactly what you need. Pair them with your favorite dipping sauce and get to eating!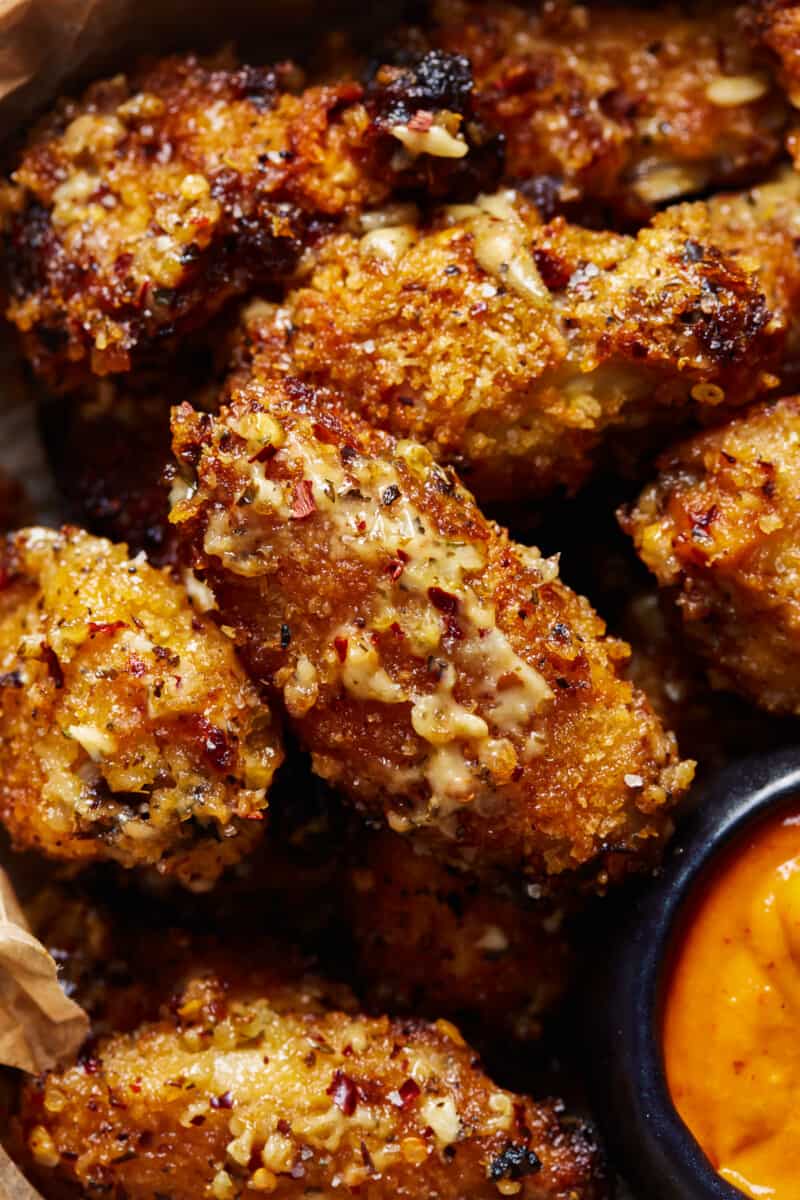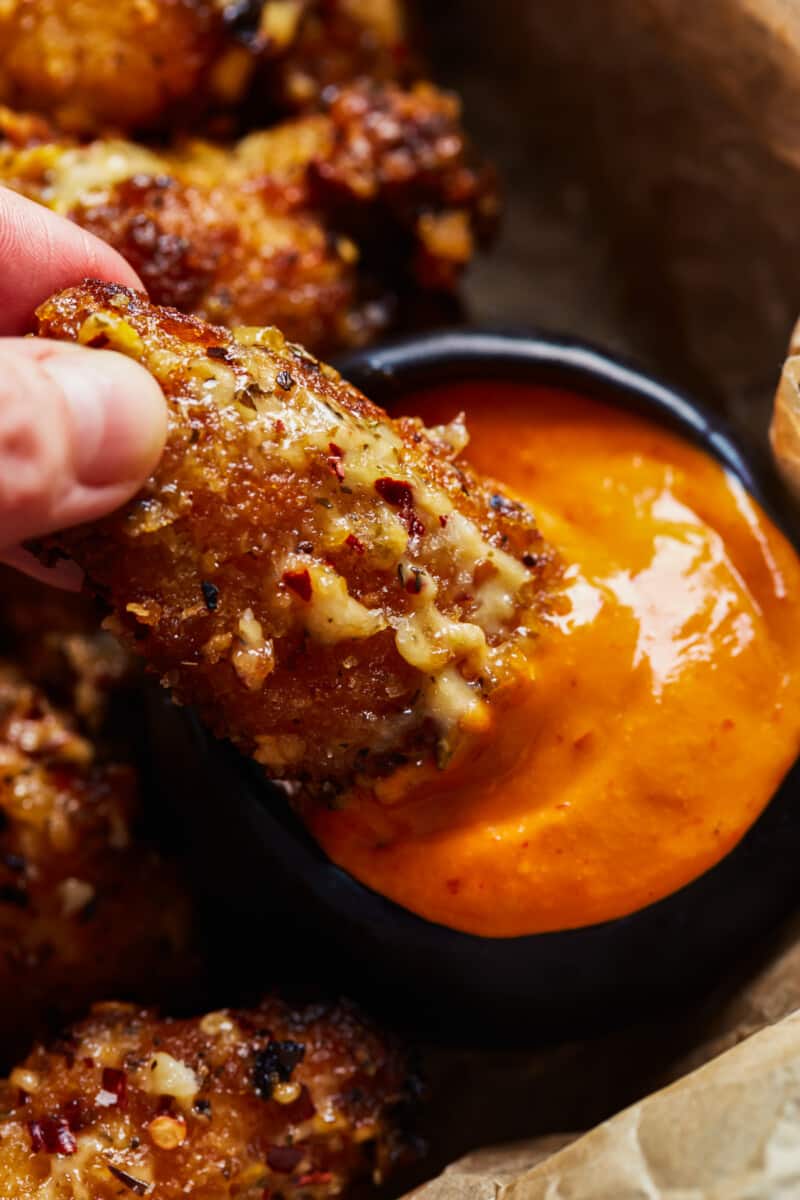 Garlic Parmesan Wing Sauce
I've always loved the garlic parmesan wing sauce from Buffalo Wild Wings. If you've ever tasted it, then you know how good it is! It's not too hot or spicy, it's just full of flavor and perfectly seasoned. So learning how to make my own version of that sauce at home was a must.
This parmesan garlic sauce works great in the slow cooker, but you can use it with any wing recipe. So if you prefer to cook them with another method (Air Fryer, baked, grilled, etc.), just add the sauce in the right step for that method.
Wing Sauce Ingredients
Garlic: Use about 2 tablespoons of minced garlic, or more if you want to intensify the flavor.
Mayonnaise: I recommend using light mayo for this recipe.
Olive Oil
Corn Syrup
Cheese: Use grated parmesan cheese.
Lemon Juice
Apple Cider Vinegar
Seasonings: Add dried oregano, dried basil, red pepper flakes, and salt and pepper.
Optional: If you want your sauce a little spicier, add a pinch of cayenne pepper or hot sauce.
How to Make Garlic Parmesan Wings in a Crock Pot
Be sure to see the recipe card below for full ingredients & instructions!
Whisk all of the garlic parmesan wing sauce ingredients (listed above) together in a mixing bowl.
Spray the slow cooker, then add half of the sauce.
Place the chicken wings in and stir it up to coat them in the wing sauce.
Cook on the high setting for 3-4 hours, OR on the low setting for 7 hours.
At the end, pour the remaining sauce in and let them cook another 15 minutes.
Optional: Broil the wings in the oven for a few minutes to crisp them up.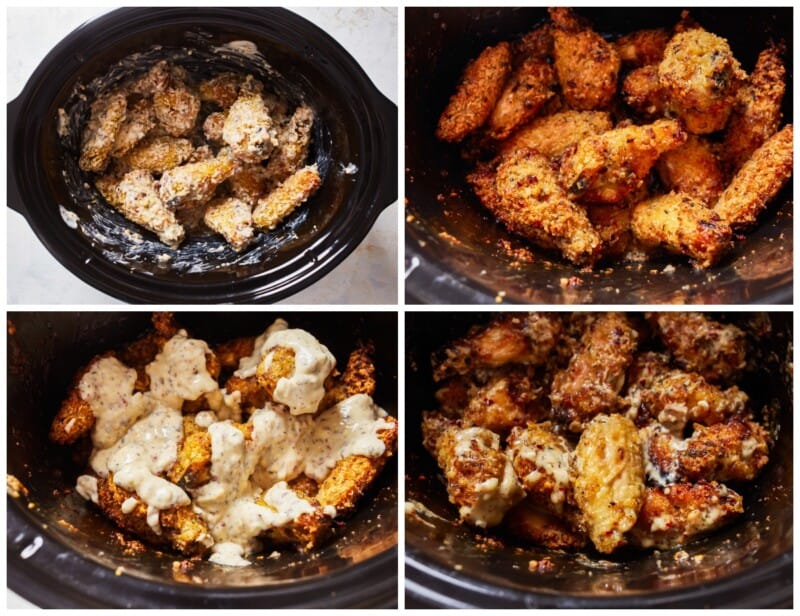 These slow cooker garlic parmesan wings are SO easy to make. No stress, no hassle, just let the wings cook in that sauce and they're ready to eat!
What kind of wings should I use?
You can use bone-in or boneless chicken wings for this recipe. And you can use fresh or frozen (just thaw frozen wings before cooking).
How long does it take to cook chicken wings in a crock pot?
These wings needs 3-4 hours to cook on the high setting. If you prefer to cook on LOW, allow 7 hours to fully cook.
What can I use instead of corn syrup?
If you don't have corn syrup in your pantry, or just don't want to use it, there are a few ingredients you can use instead. Substitute it for honey, light molasses, or agave.
Serving Suggestions
These crockpot garlic parm wings make a great appetizer for parties, game day, and BBQs. They are easy to serve along with other apps, snacks, dips, and finger foods, or as part of a chicken wings buffet with all your favorite flavors.
If you want to eat them as a meal, add these parmesan potato wedges, some simple veggies, or potato salad.
And of course you can't forget the dipping sauce! Serve them with hot sauce, ranch dressing, blue cheese, or buffalo sauce.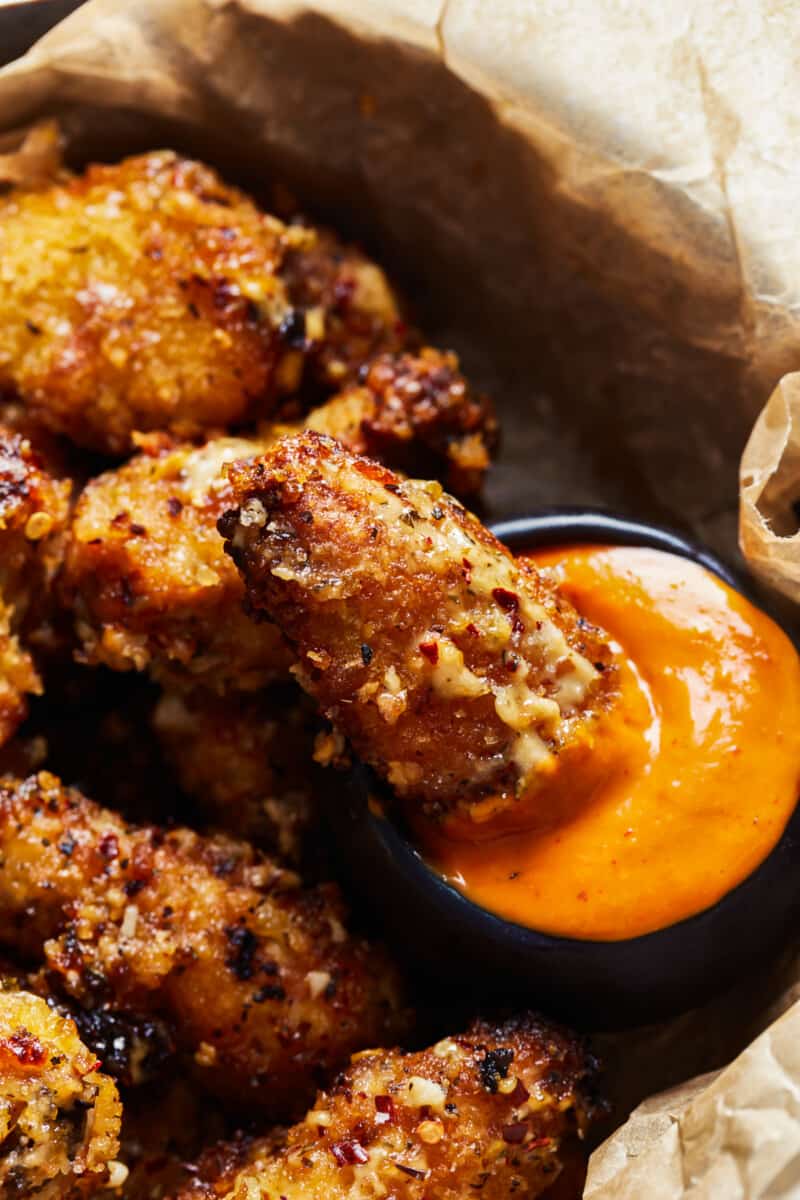 How do you make crock pot wings crispy?
Cooking chicken wings in a slow cooker doesn't lead to the crispiest result, but I have a trick to fix that! I like to finish them off in the oven for just a couple of minutes, to give them that crispy bite.
Line a baking sheet with aluminum foil. When the garlic parm wings are done in the crock pot, arrange them in a single layer on the sheet. Place them in the oven under the broiler for just a few minutes (2-5 minutes).
This is a great way to reheat leftover wings as well. Warm them up then broil to finish them!
If you don't want to take the extra step though, they still TASTE amazing without the baking. That parmesan garlic wing sauce is just so good either way.
Can I use frozen chicken wings for this recipe?
Absolutely! Just thaw the wings first, then add them into the crock pot according to the recipe instructions. The USDA does not recommend adding frozen chicken directly into a slow cooker, so defrosting means you can be sure everything is cooked safely.
These crockpot garlic parmesan wings are perfect for game day, along with all your other favorites!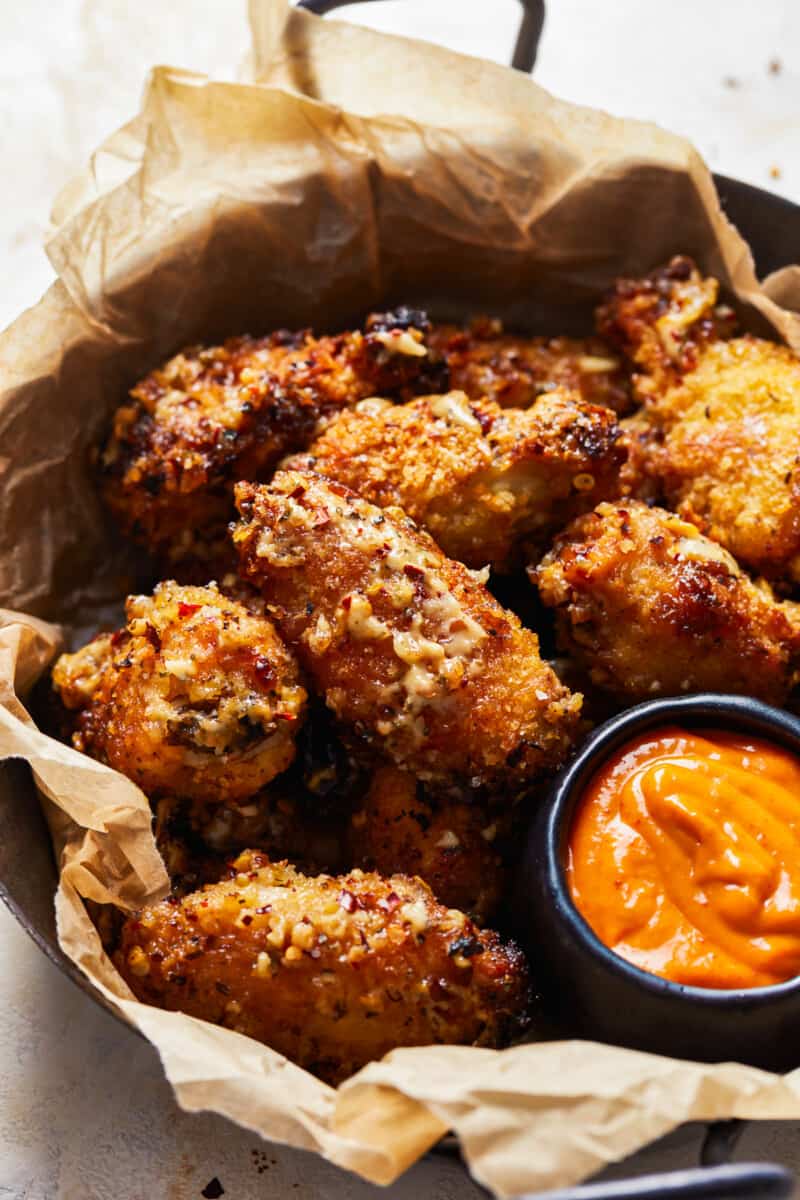 You are going to LOVE these crock pot chicken wings with garlic parmesan wing sauce. You won't believe how flavorful they are, and they're so easy to make. Bring them to your next potluck, party, or just eat them at home by yourself. Skip the Buffalo Wild Wings, and make these instead!
If you make this recipe be sure to upload a photo in the comment section below or leave a rating. Enjoy! You can also jump to recipe.