The oven baked garlic parmesan chicken wings are so loaded with flavor and crispy and crunchy. Perfect for a game day appetizer and to serve to a crowd.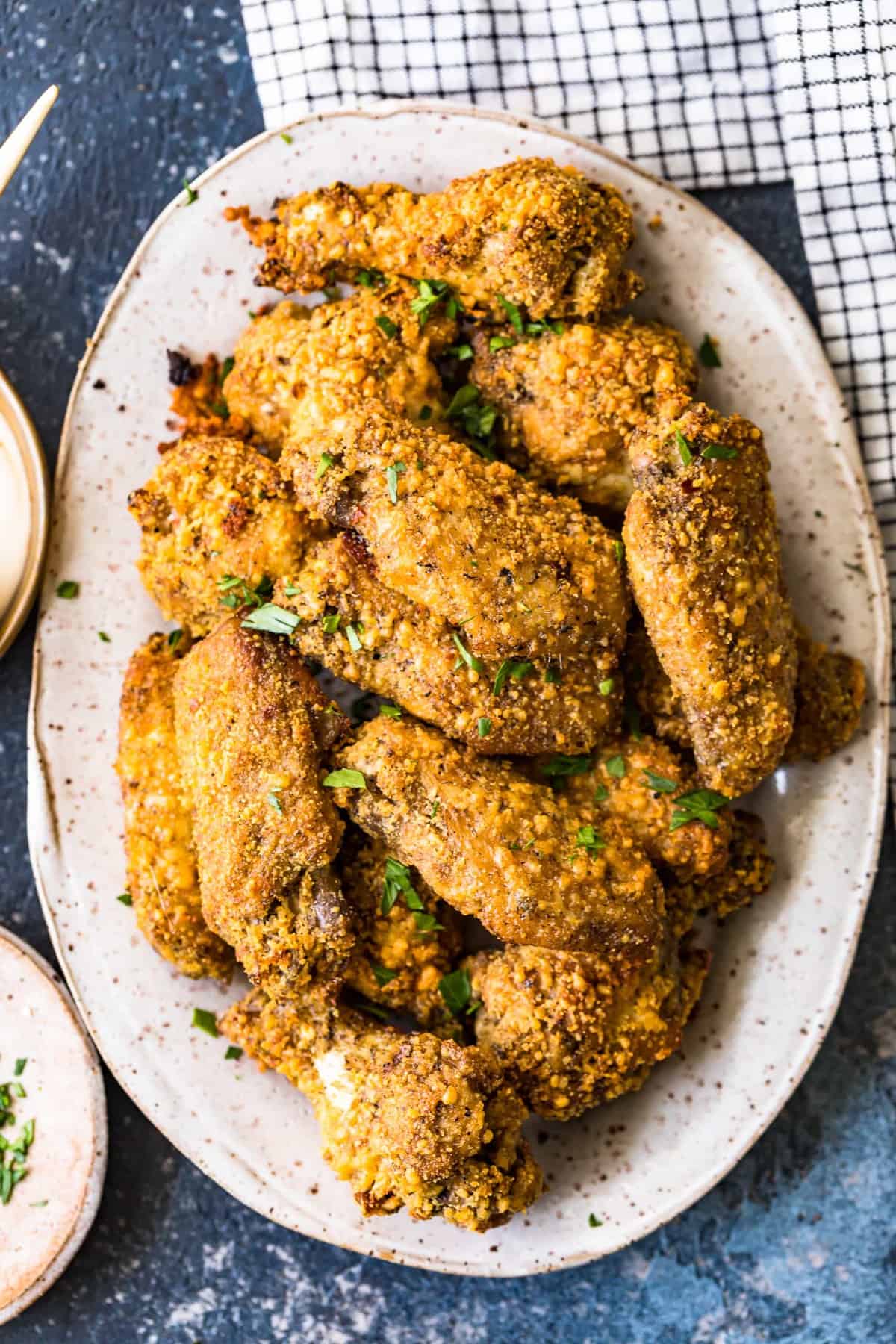 Oh chicken wings, how do we love thee?! There's my Crispy Baked Buffalo Wings, my Sesame Sticky Wings, Thai Chicken Wings, and my Baked Hot Wings to name a few!
And don't forget to check out my very favorite Chicken Wing Recipes OF ALL TIME. Honestly, you can never have enough, and this one is a keeper!
How to Make This Garlic Parmesan Chicken Wings Recipe
Heat oven to 425°Line a baking sheet with aluminum foil and spray both sides of a wire rack with nonstick cooking spray. Set the wire rack over the baking sheet.

In a large saucepan, bring water, vinegar, salt, bay leaf, ½ teaspoon Herbes de Provence and onion powder to a boil. Add chicken and return to a boil. Reduce heat to low and simmer 15 minutes. Transfer chicken to a cooling rack set over paper towels for 15 minutes.

Place the minced garlic on a cutting board and sprinkle with a pinch of kosher salt. Mash the garlic salt together until a paste forms. (Alternately, mash the minced garlic and salt in a mortar and pestle until smooth.)

In a large mixing bowl, mix together mashed garlic salt, olive oil, black pepper, onion powder, red pepper flakes and remaining ½ teaspoon Herbes de Provence. Add par-cooked chicken wings, breadcrumbs and ¼ cup Parmesan cheese; toss to coat.

Place chicken on the prepared baking rack & sheet and sprinkle with the remaining ¼ cup cheese.

Bake wings at 425°F for 20 minutes, rotate the pan and flip wings over. Bake another 15-20 minutes or until cooked through (165°F-170°F internal temperature) and golden brown.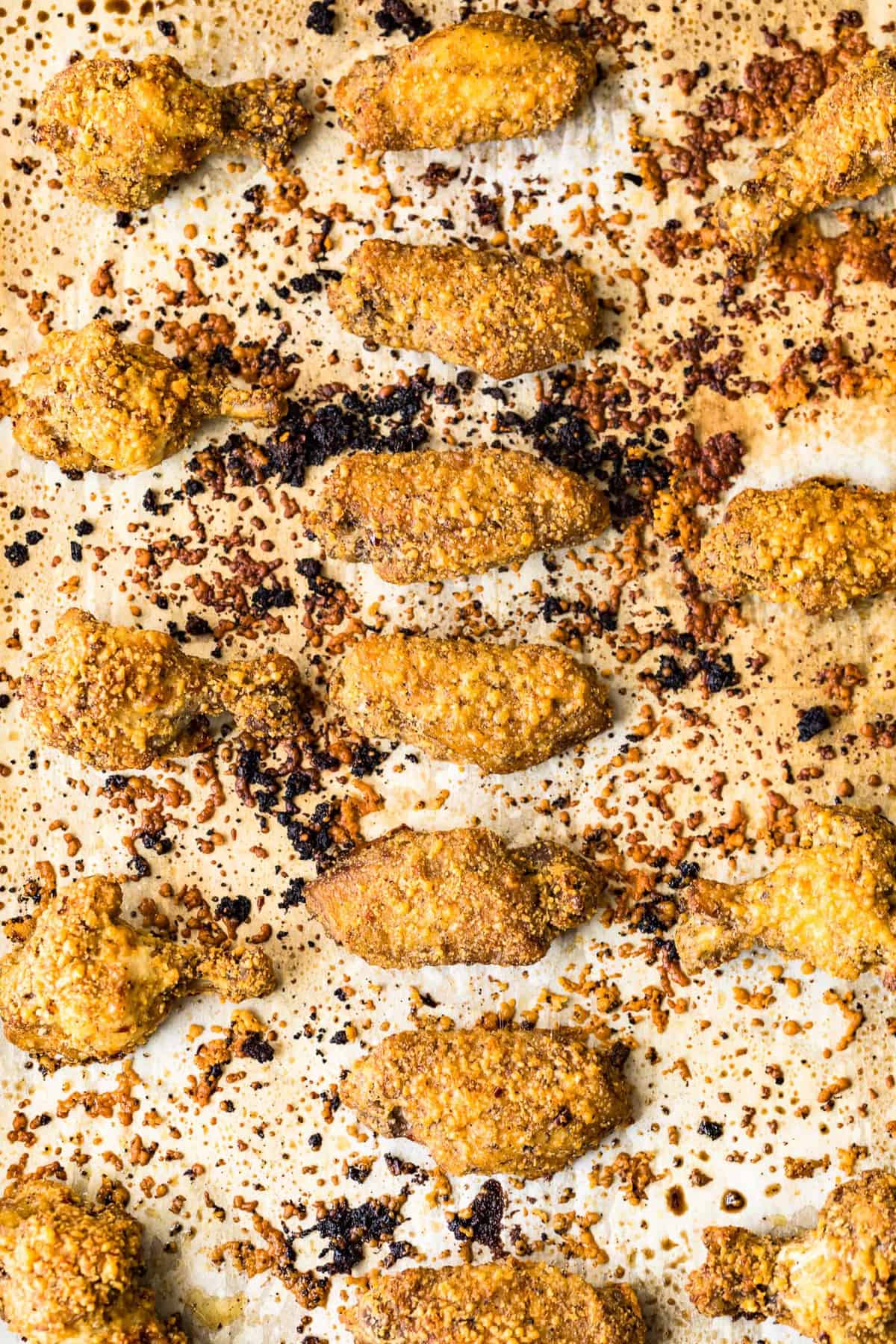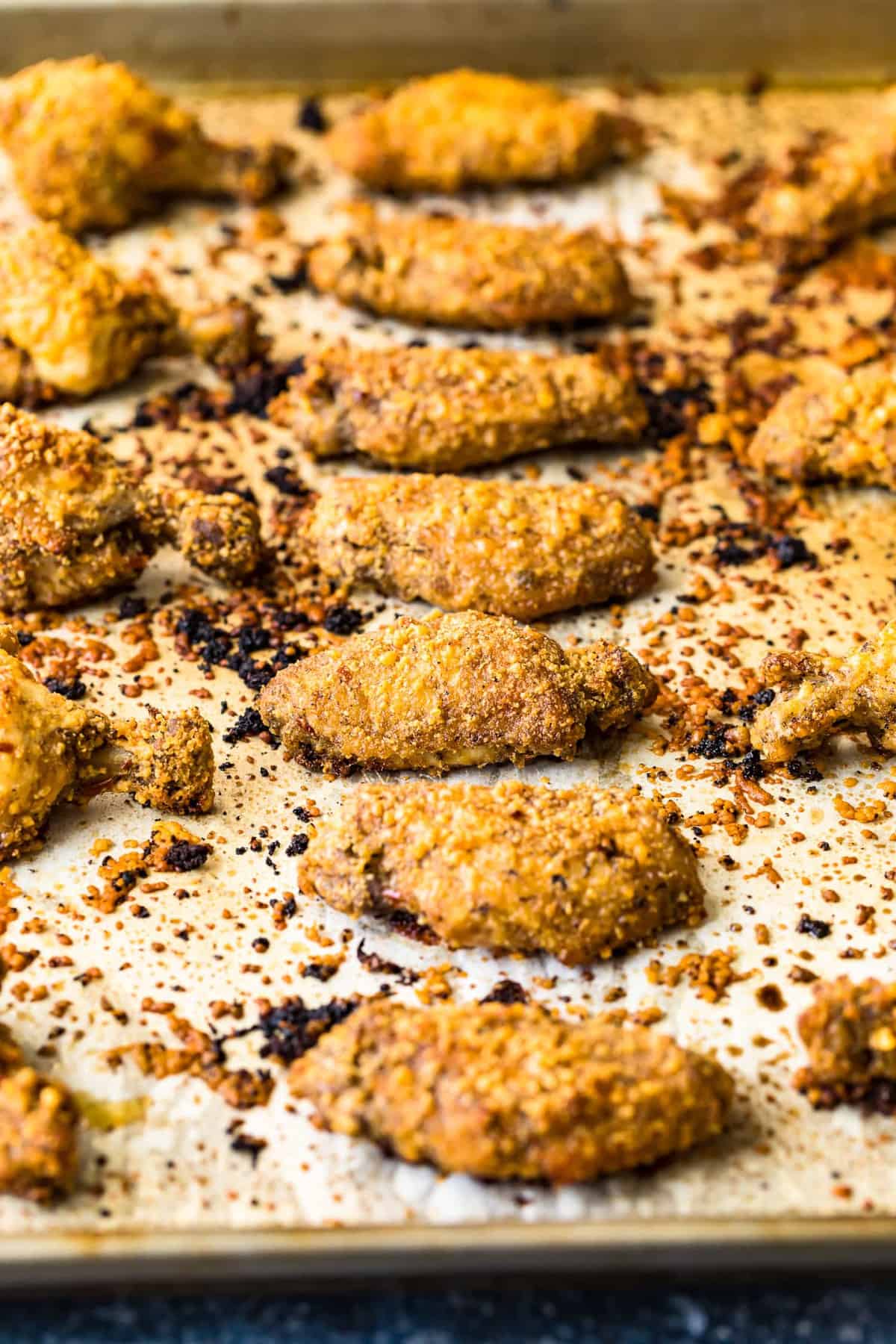 What do you serve wings with?
These garlic parmesan wings can be served on their own with a dip as an easy finger appetizer, served alongside other tasty apps or with a side salad or fries for a fuller main meal. They are super versatile and garlic and parmesan goes with pretty much anything!
Baked garlic parmesan wings for finger licking good chicken!
The coating on this chicken is so full on flavor and crispy like wings should be. It's amazingly cheesy and garlicky and the method is easy. Because these wings are baked, they are also way healthier than fried and you only need a little oil for these bad boys.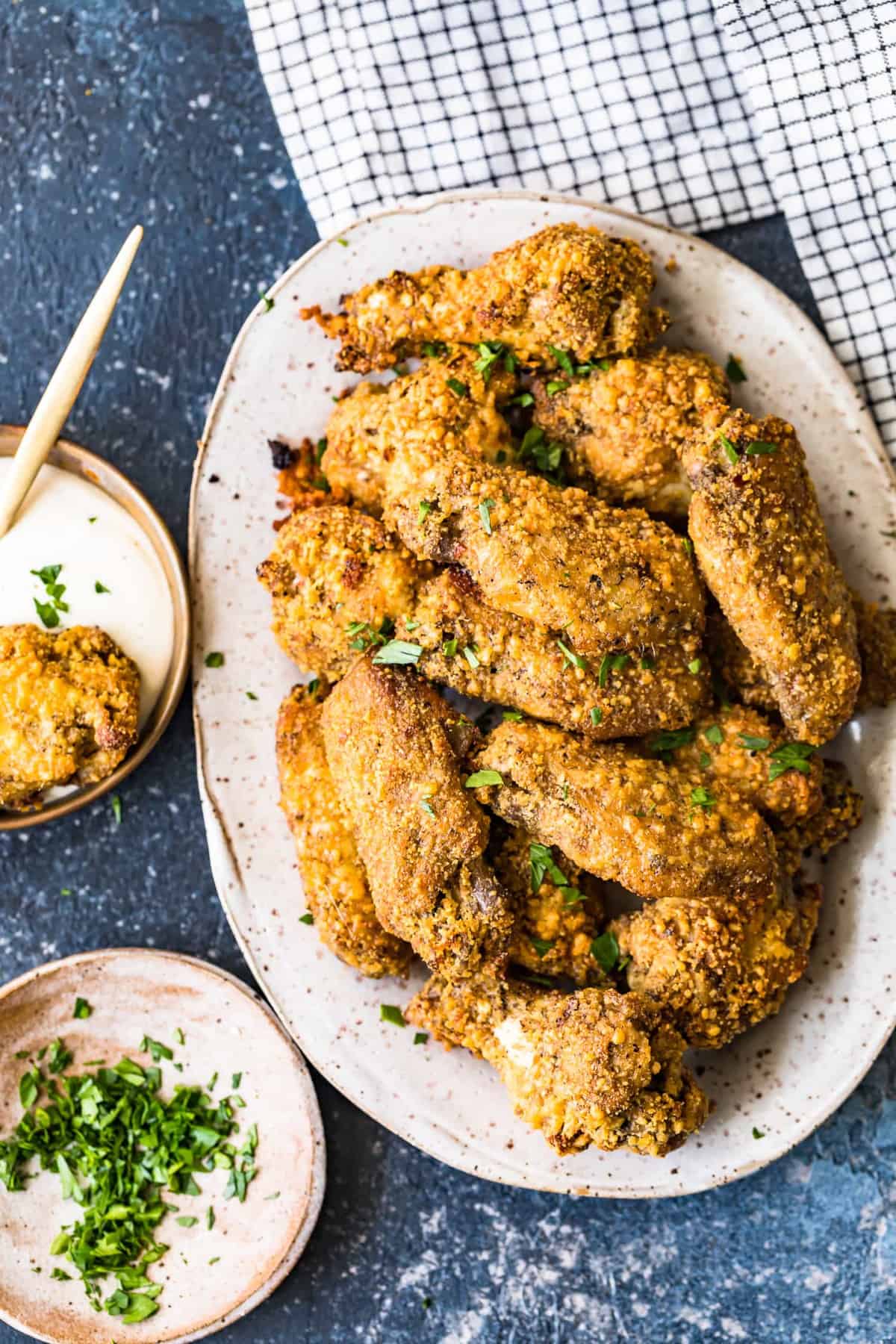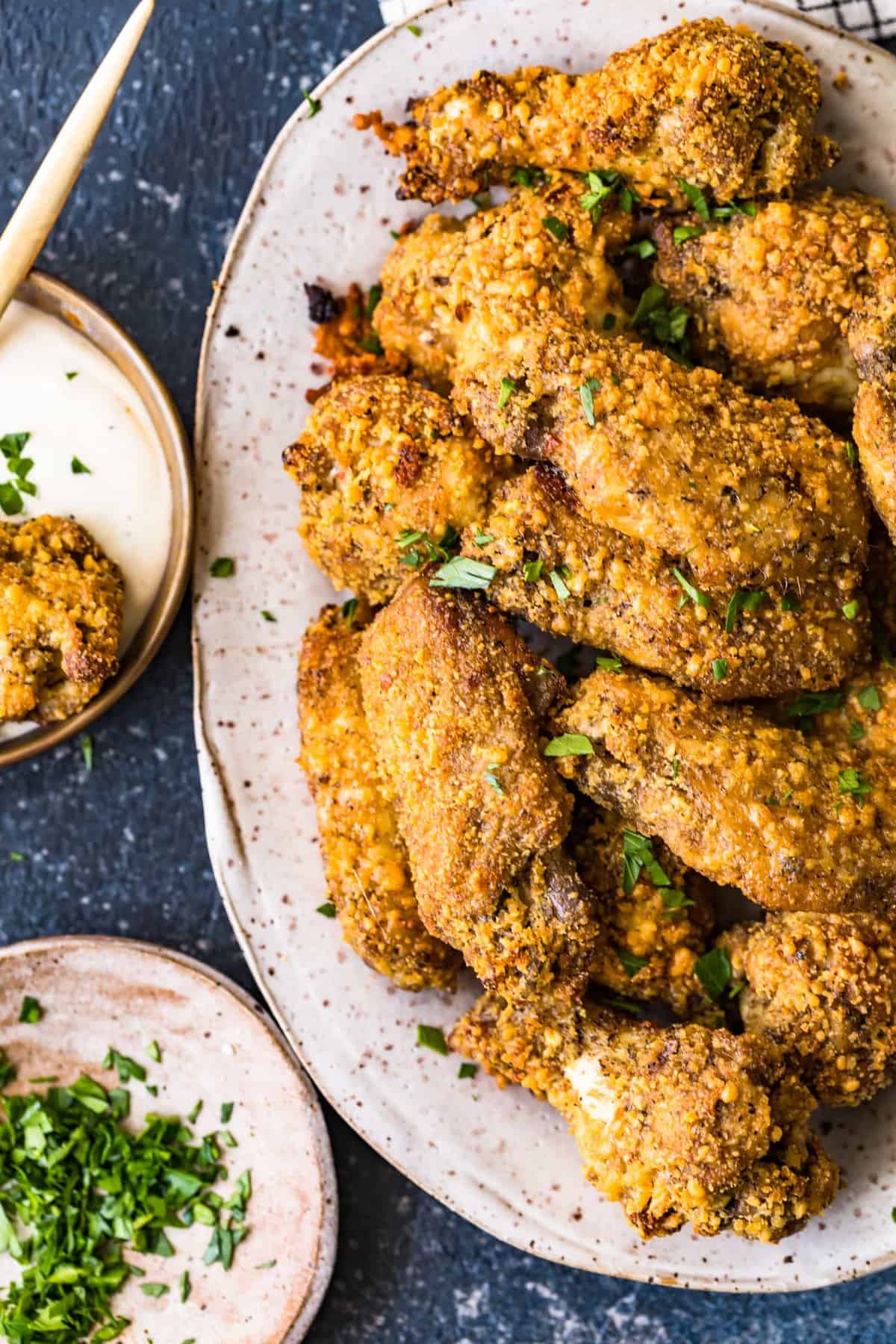 How do you know when the wings are done?
The wings will take around 35 to 40 minutes to bake. When they are ready, they will be golden brown in color and the coating will be crispy. The internal temperature should read 165°F-170°F.
What's the best dip to serve with these chicken wings?
Every good chicken wing deserves a good dip! These wings will work well with most dips, here are some recipes to get you going!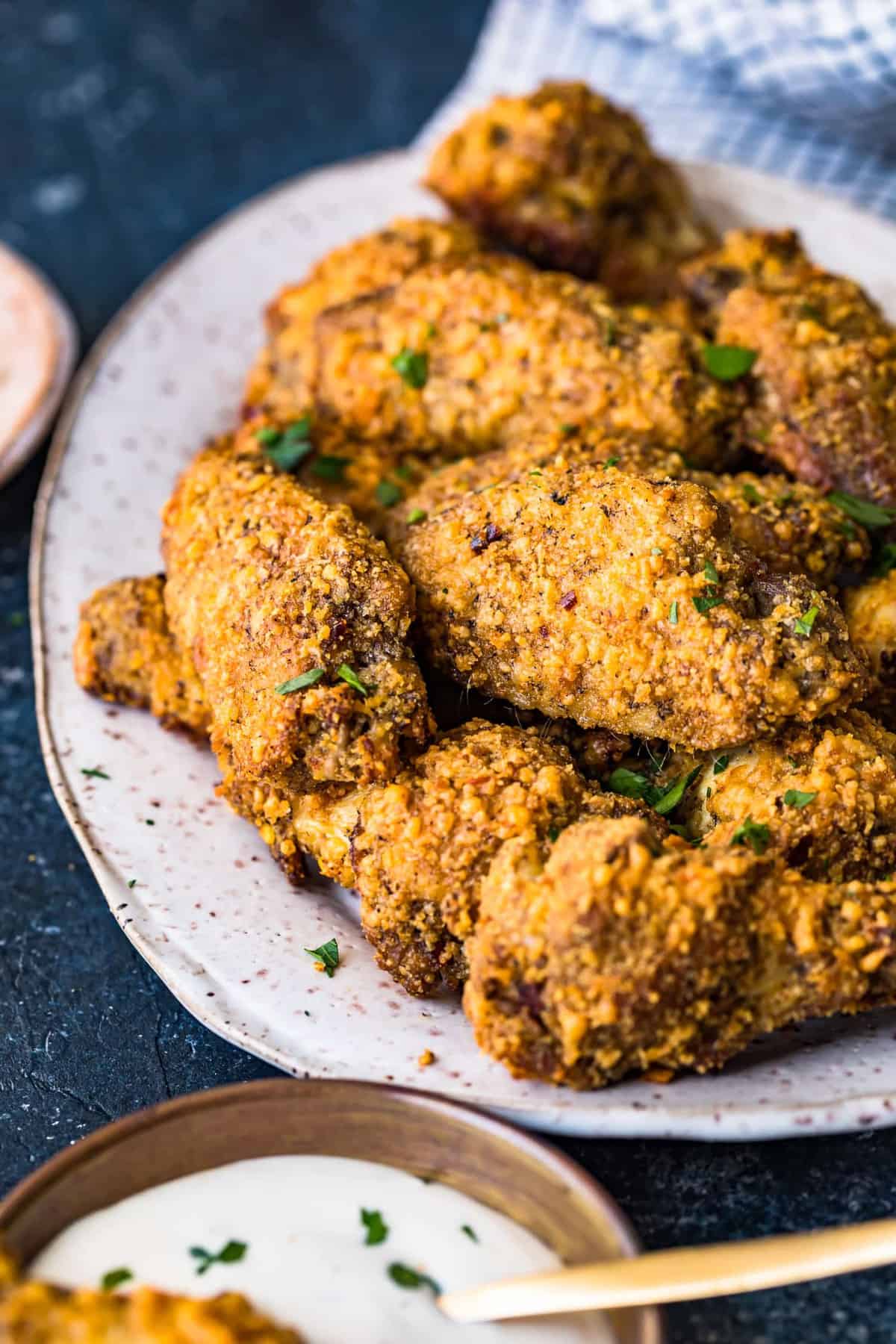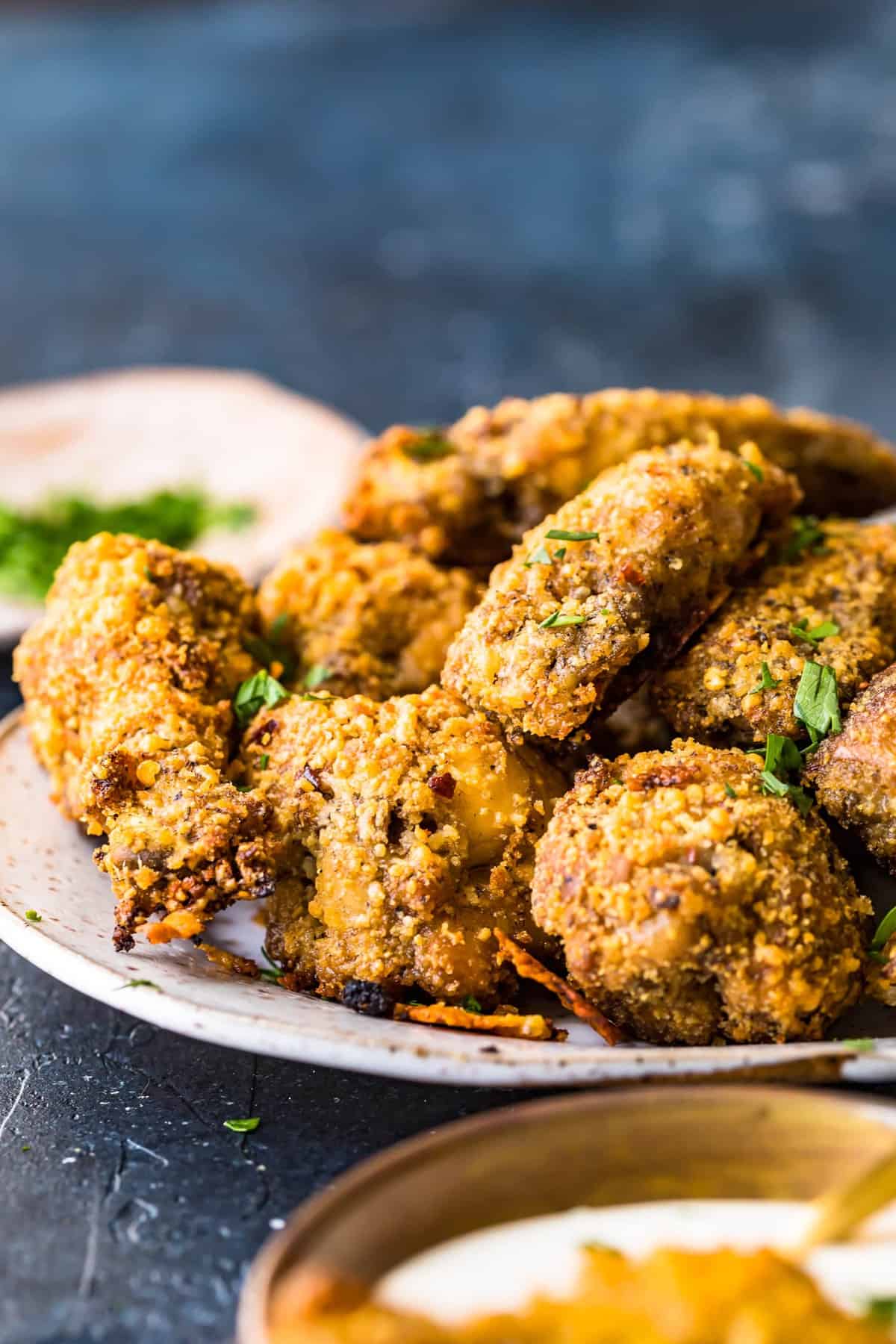 Top Tips to Make Garlic Parmesan Wings
Dry the chicken before coating it for maximum crispiness.
Flip the wings half way through cooking so that they bake evenly.
Use free run / organic chicken that hasn't been raised on antibiotics.
Serve immediately!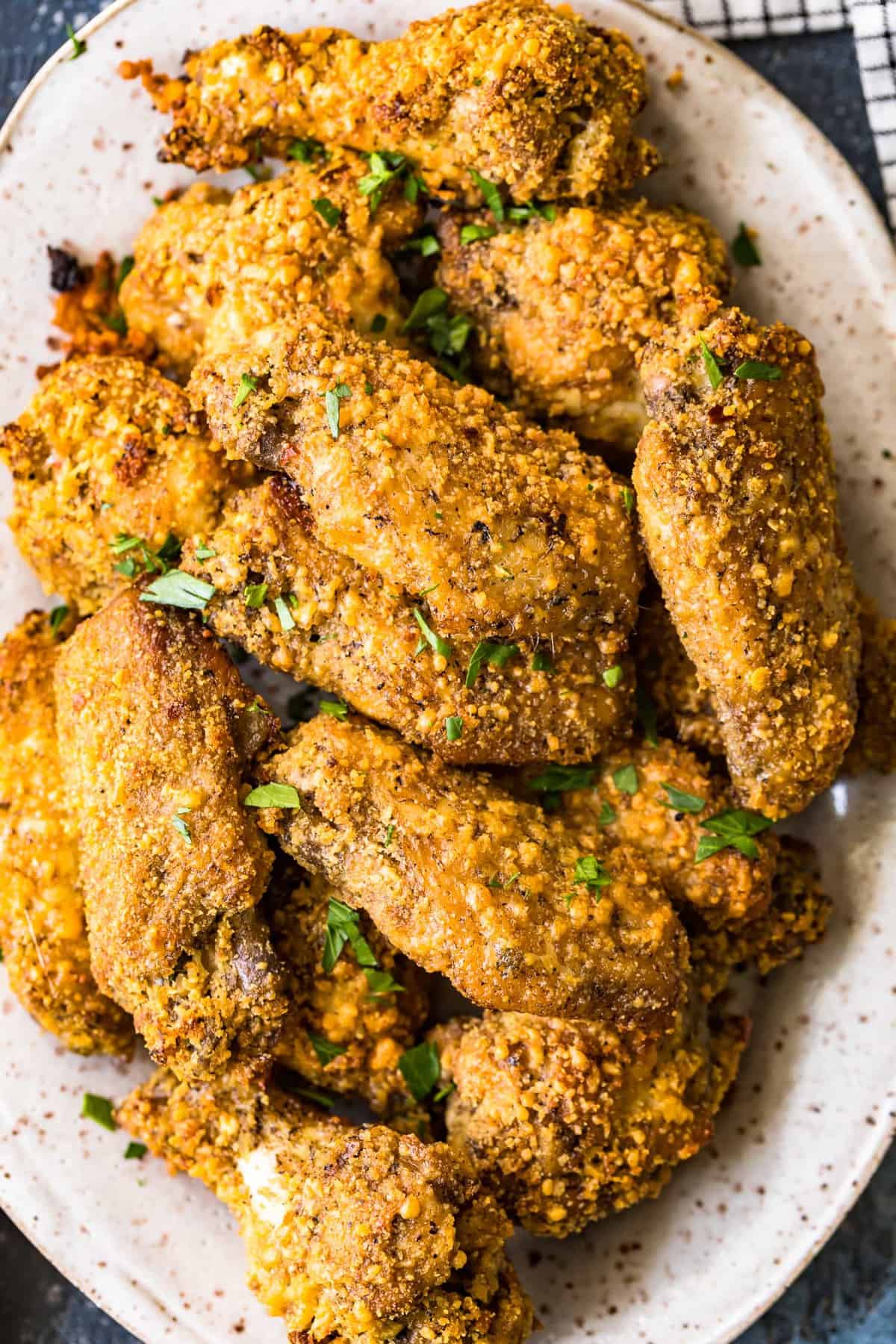 Be sure to check out these other appetizer recipes!