PARMESAN POTATO WEDGES are so absolutely delicious and EASY! You'll never go back to regular fries after you try this thick crispy baked potato wedges recipe coated in a crispy cheese shell. They're just too good!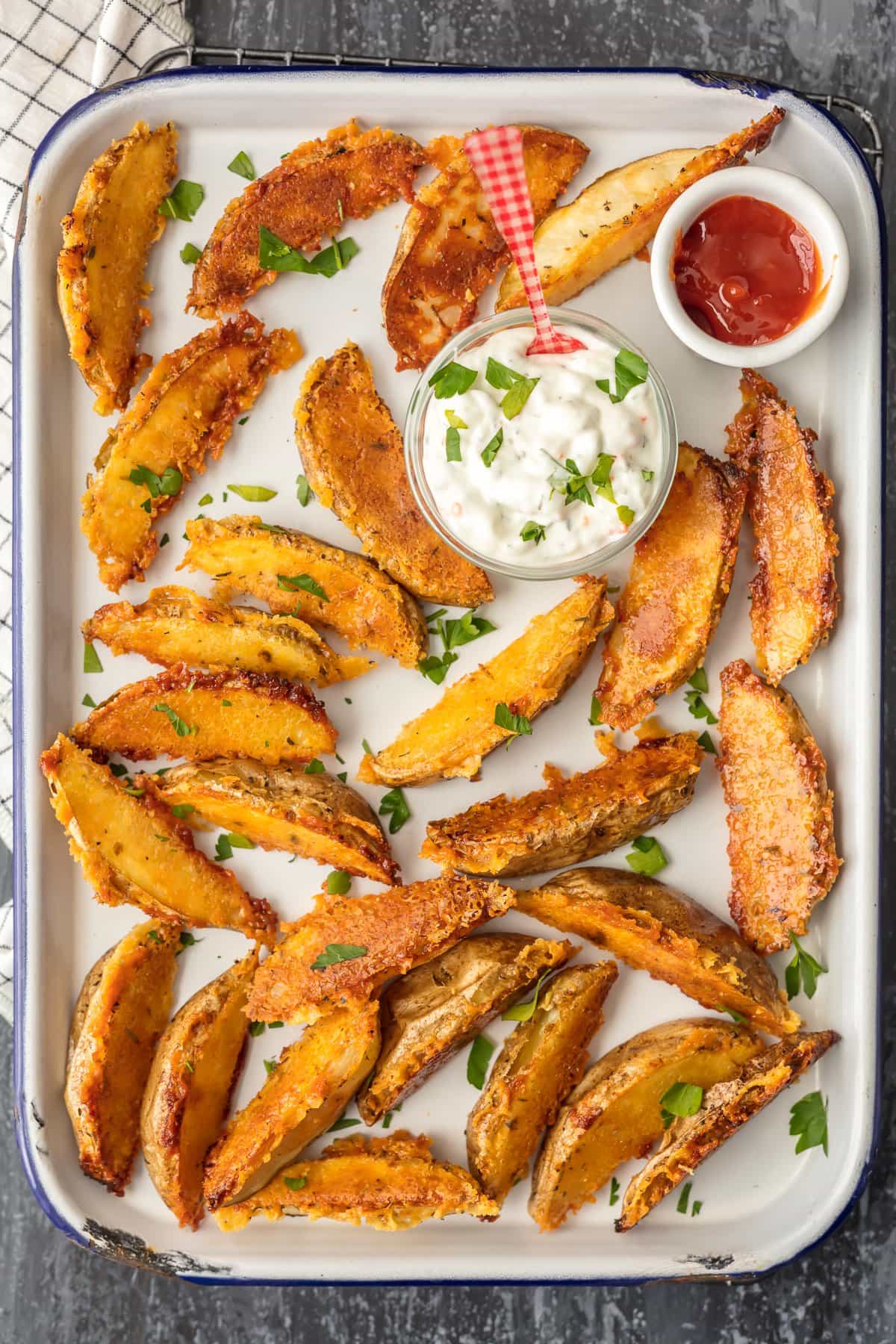 Parmesan Potato Wedges Recipe
Parmesan Potato Wedges are a cheesy, delicious side dish for any meal. This crispy baked potato wedges recipe is something you'll make over and over again!
I'm struggling to find the right words to describe these utterly amazing CRISPY PARMESAN POTATO WEDGES! These are by far my favorite potato recipe on the site, and when I say they're addicting, I mean that Mom and I ate the entire pan in under 30 minutes after photographing them…Ya, they are THAT good.
We dipped these crispy baked potato wedges in ranch, ketchup, honey mustard, and hot sauce, and all were absolutely divine.
They've got the best crispy Parmesan shell coating tender potato wedges, and I'm just so excited about this recipe. Are you ready to try the best side dish this side of the Mississippi?! Buckle up!
Parmesan Potato Wedges are about to be your new favorite way to eat potatoes. This crispy baked potato wedges recipe is beyond delicious!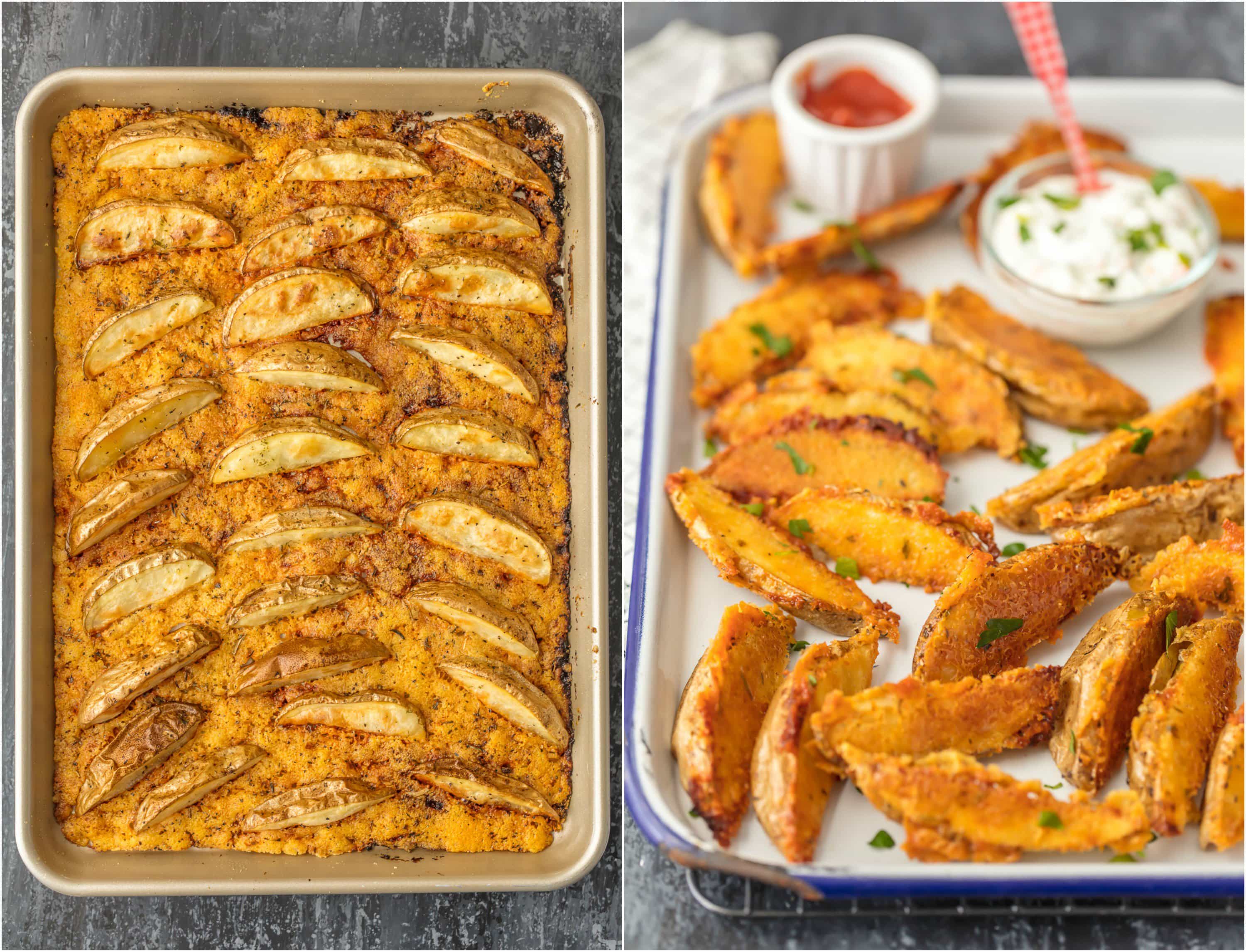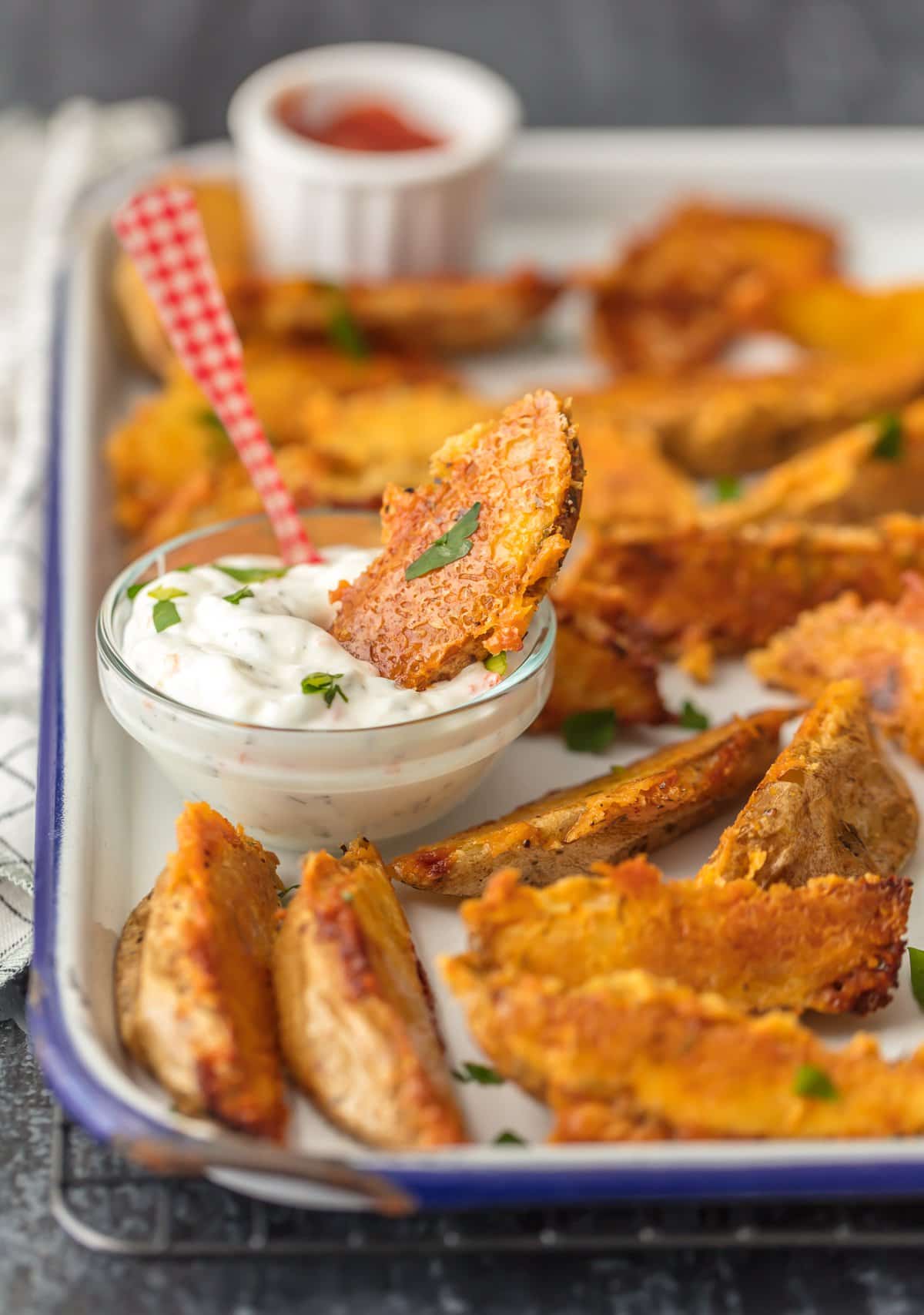 Crispy Baked Potato Wedges
I'm not gonna like, when these Crispy Parmesan Potato Wedges are cooking in the oven, they look a tad strange. It looks like all the cheese has cooked off of them and that the recipe is about to be a failure. BUT TAKE HEART! That's how they should look.
The crispy shell is just baking onto the side of the wedges and is waiting for you to break them each apart, creating the tastiest steak fries you've ever tasted. Best. Recipe. Ever. Crispy Baked Potato Wedges…will you marry me?!
These baked parmesan potato wedges are a side dish fit for the most casual burger meal, or the most classy romantic dinner at home.
If I would make these every single night, Pat would be one very happy husband. He could not believe how many of them we ate on our own, and he was pretty disappointed we didn't make him a double batch.
Lucky for him I'll be making these again and again and again.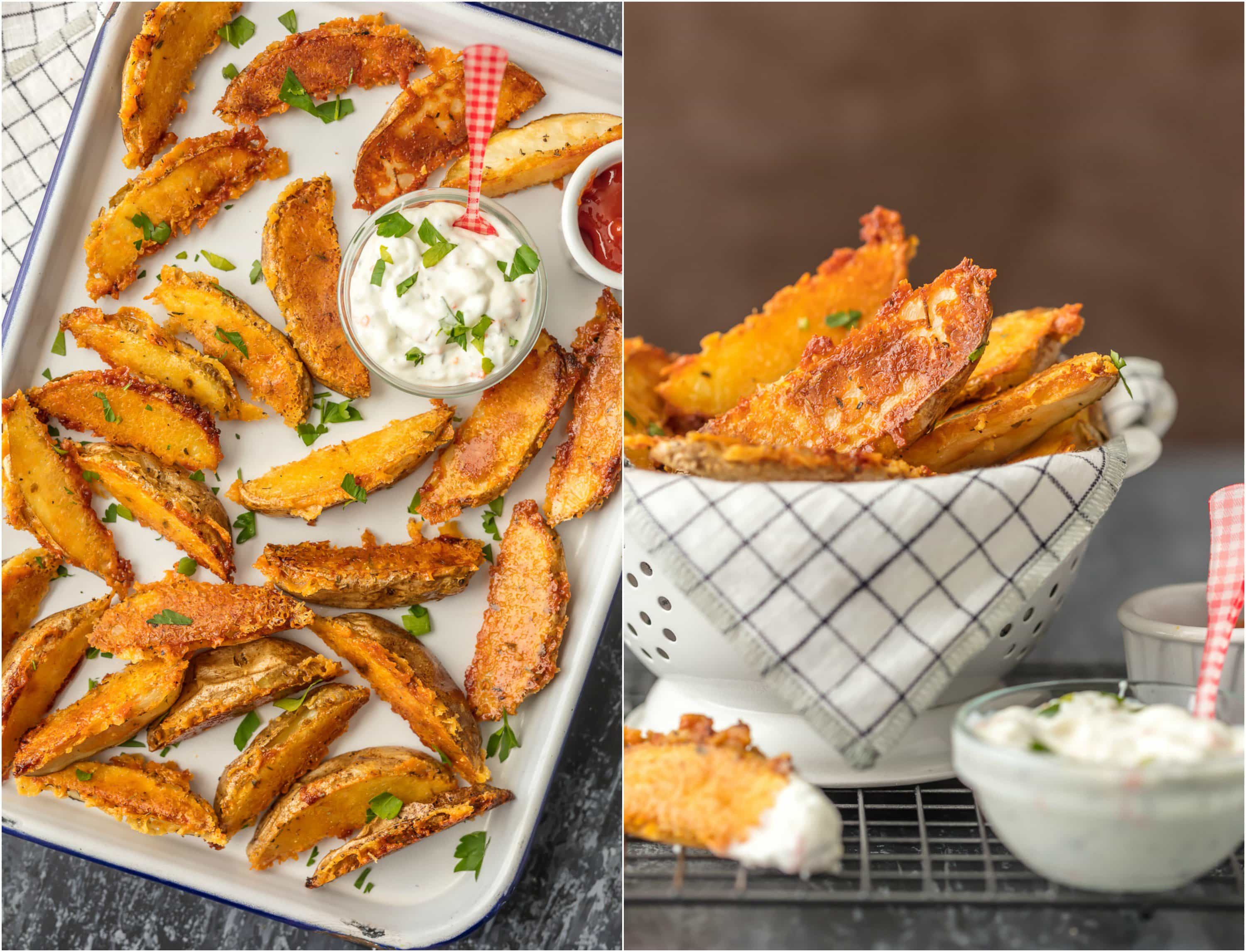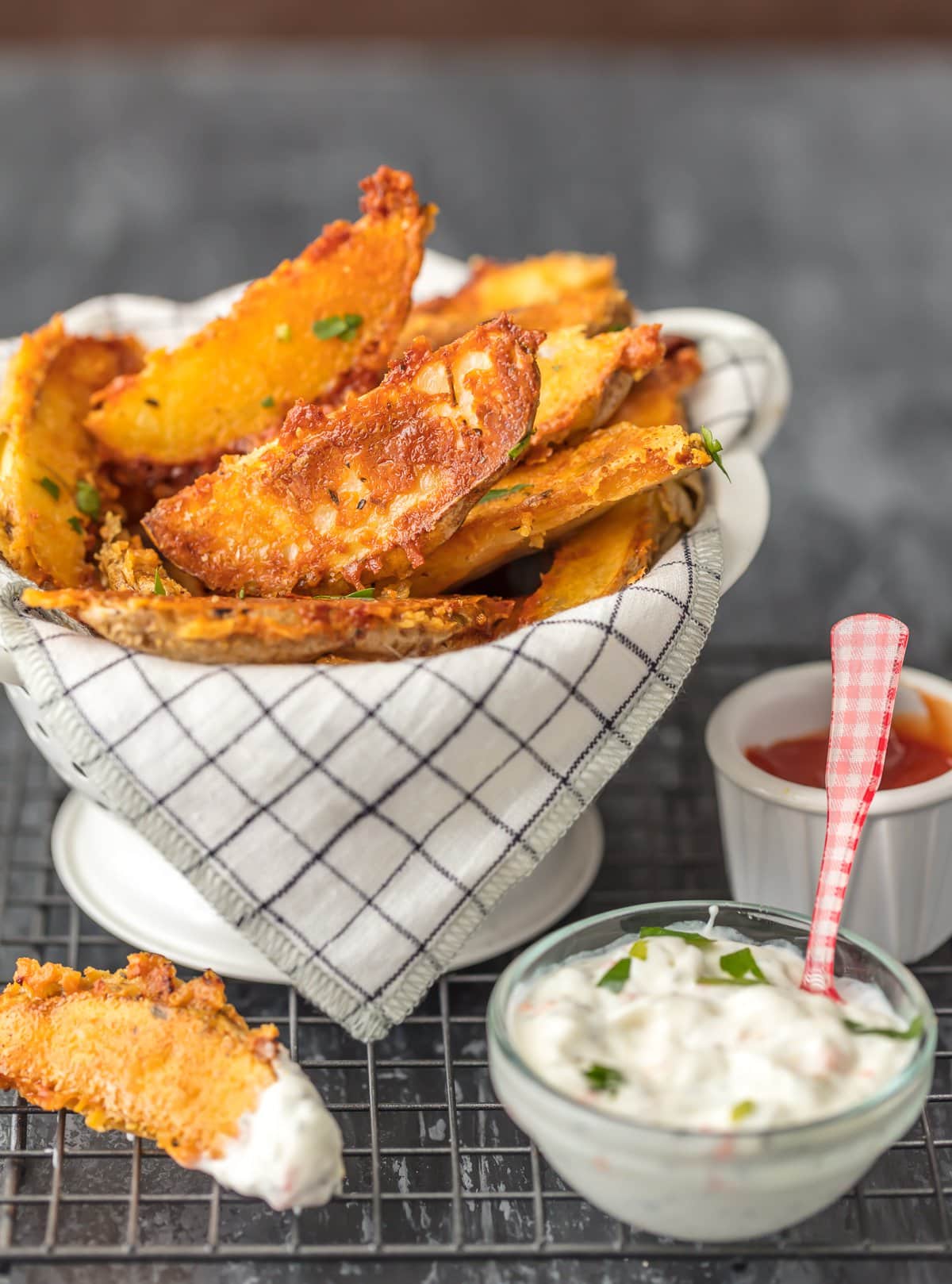 How to Make Potato Wedges
These oven baked potato wedges are a must make for all kinds of meals. This is such a great recipe to have under your belt, because they really do go with so many dishes, and everyone will love them!
Potato wedges are generally pretty easy to make, and this recipe just requires an extra step to get that crispy cheesy coating.
How to make Parmesan Potato Wedges:
Preheat oven to 375°F & melt butter in pan
Cut potatoes into wedges and dry them with paper towels
Sprinkle the Parmesan and seasonings into the melted butter
Press potato wedges firmly into the cheese & butter, then brush the other sides with olive oil
Bake wedges for 40-50 minutes
Let the Parmesan potato wedges cool for about 7 minutes before serving
You can turn the heat up to 400°F for the last 5 minutes to really crisp up the cheese if you want. These crispy baked potato wedges are definitely a dip kind of dish, so serve them with ranch, ketchup, whatever you prefer!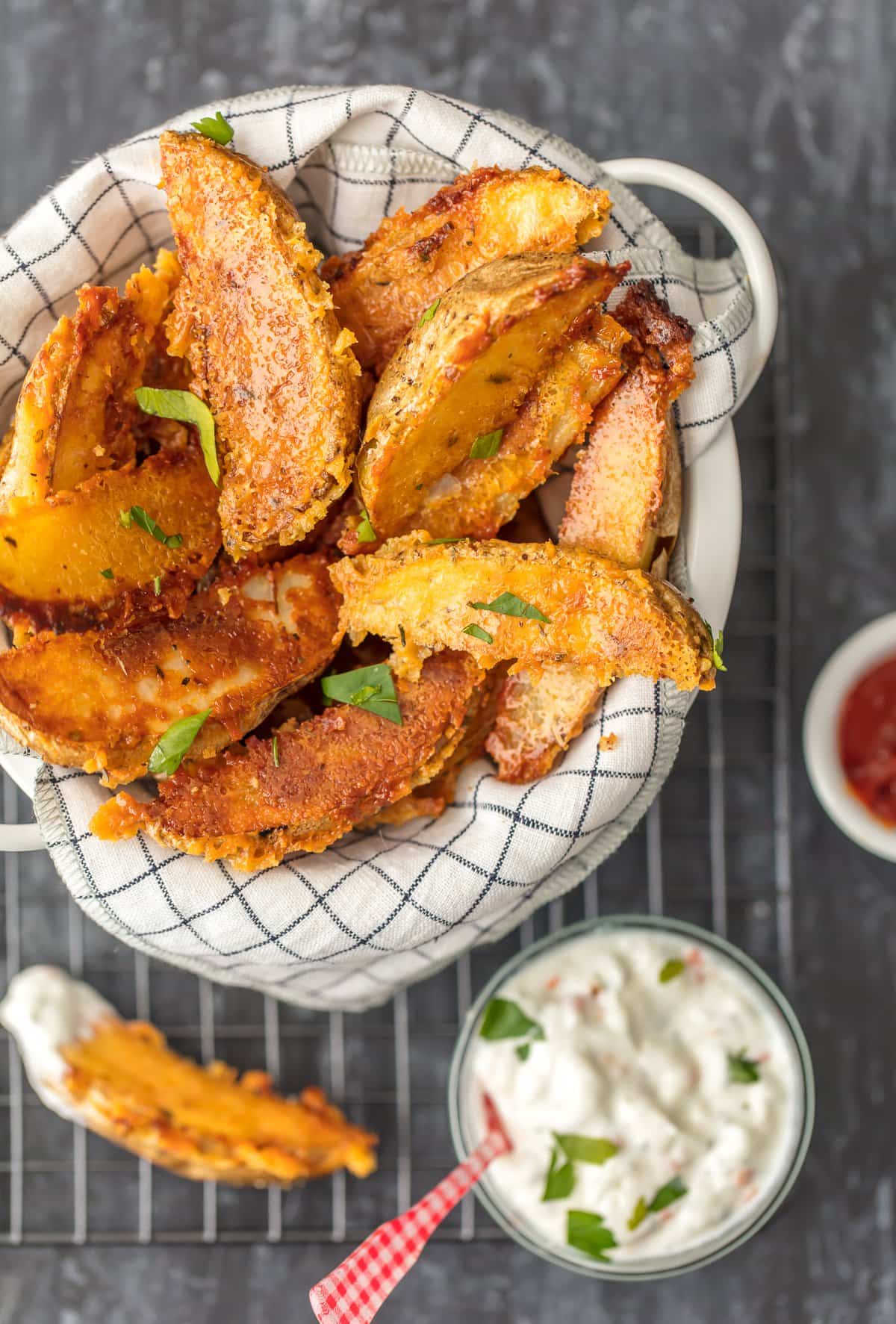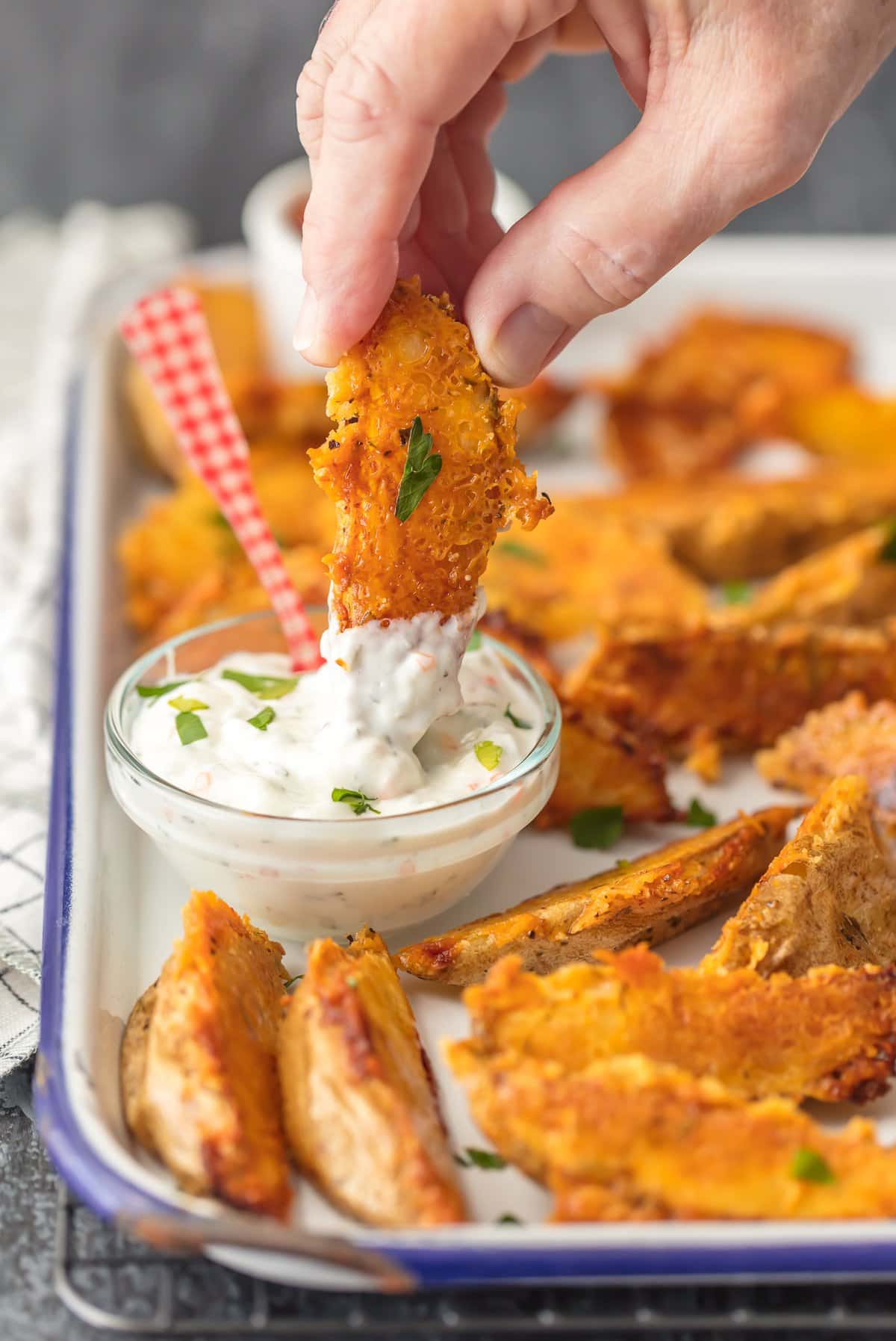 These Baked Parmesan Potato Wedges are one of my most favorite recipes on The Cookie Rookie. I hope you love them as much as we do! This crispy baked potato wedges recipe is so perfect with burgers, sandwiches, steaks, or even as just an appetizer or party snack.
Along with a bunch of dips, these would definitely be gone in seconds on game day. They are just too good to resist!
Watch the Video & See the recipe card for details on how to make Parmesan Potato Wedges. Enjoy!
If you like these oven baked potato wedges, you'll love these other potato recipes too: