These CRISPY PARMESAN POTATO WEDGES are so absolutely delicious and EASY! You'll never go back to regular fries after you try these thick baked potato wedges coated in a crispy cheese shell. Just too good!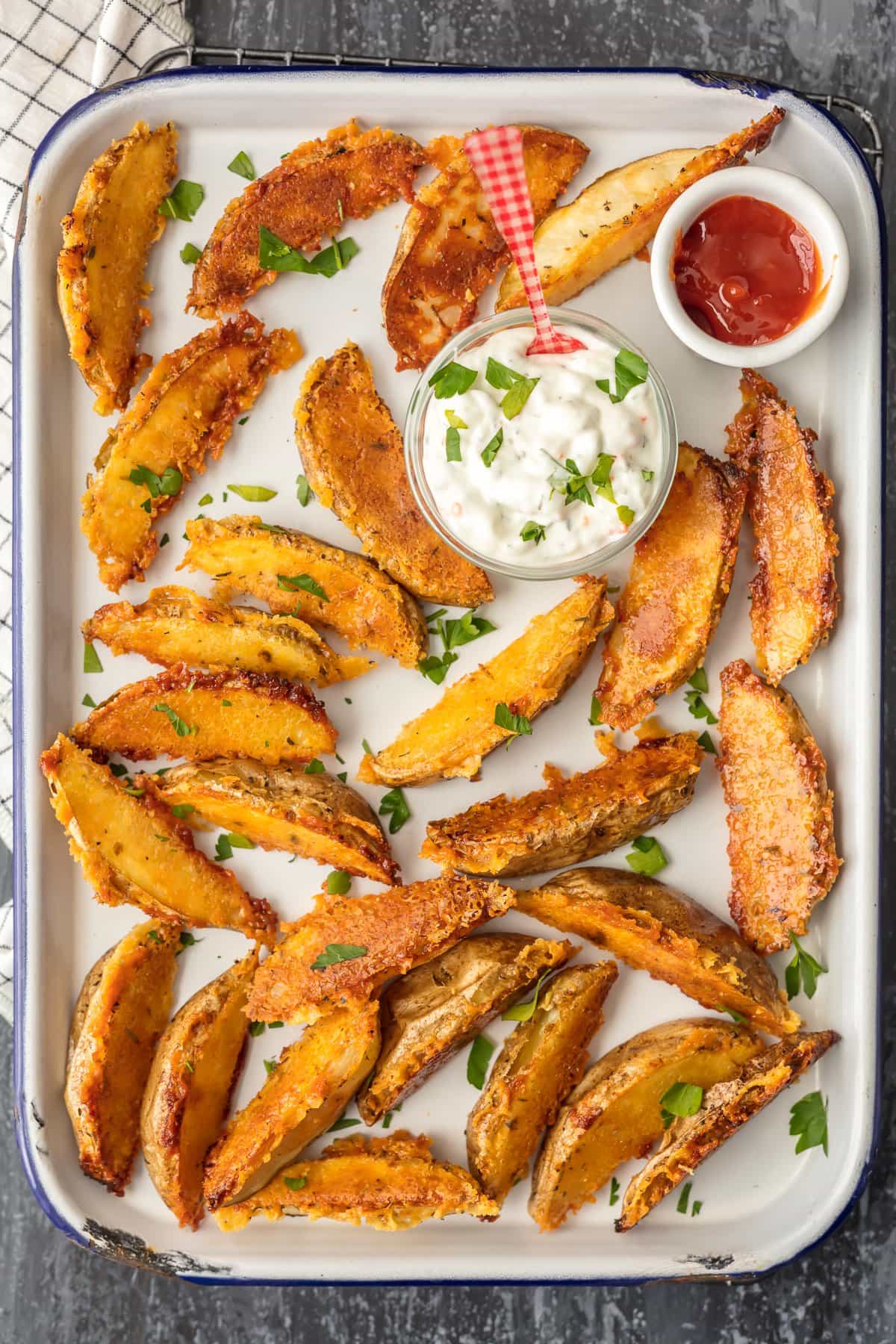 I'm struggling to find the right words to describe these utterly amazing CRISPY PARMESAN POTATO WEDGES! These are by far my favorite potato recipe on the site, and when I say they're addicting, I mean that Mom and I ate the entire pan in under 30 minutes after photographing them.
We dipped them in ranch, ketchup, honey mustard, and hot sauce, and all were absolutely divine. They've got the best crispy parmesan shell coating tender potato wedges, and I'm just so excited about this recipe. Are you ready to try the best side dish this side of the Mississippi?! Buckle up!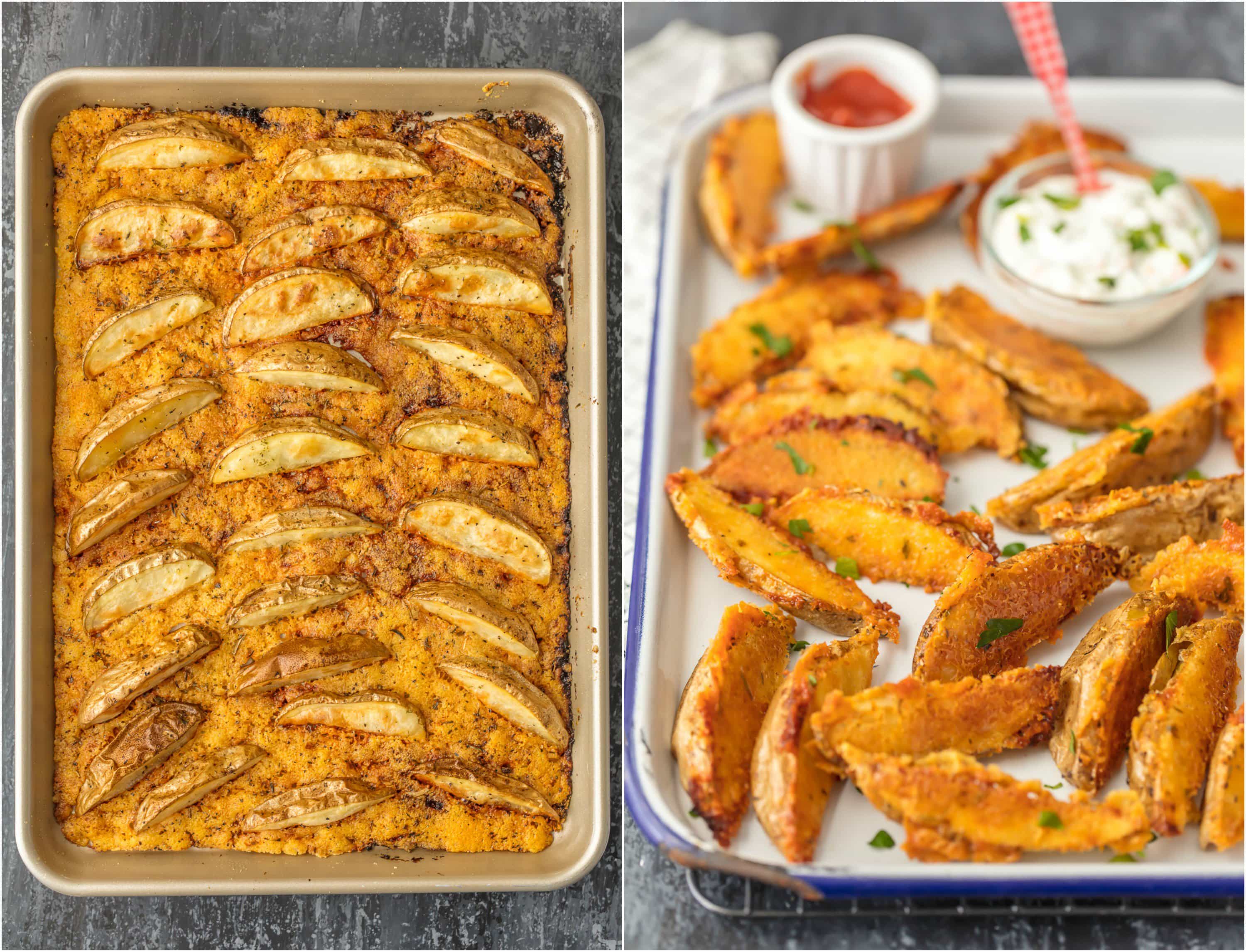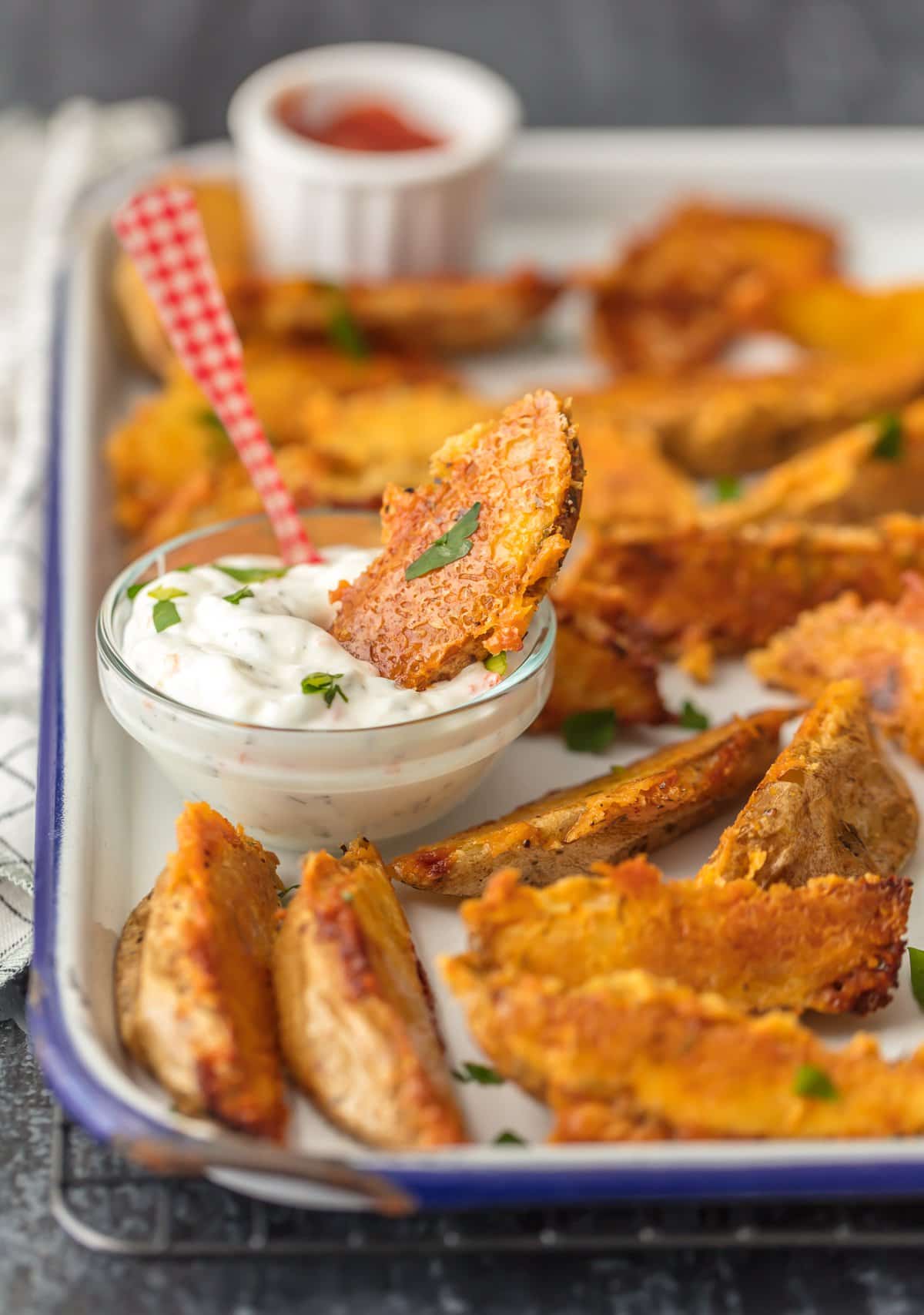 I'm not gonna like, when these Crispy Parmesan Potato Wedges are cooking in the oven, they look a tad strange. It looks like all the cheese has cooked off of them and that the recipe is about to be a failure. BUT TAKE HEART! That's how they should look. The crispy shell is just baking onto the side of the wedges and is waiting for you to break them each apart, creating the tastiest steak fries you've ever tasted. Best. Recipe. Ever. Baked Potato Wedges…will you marry me?!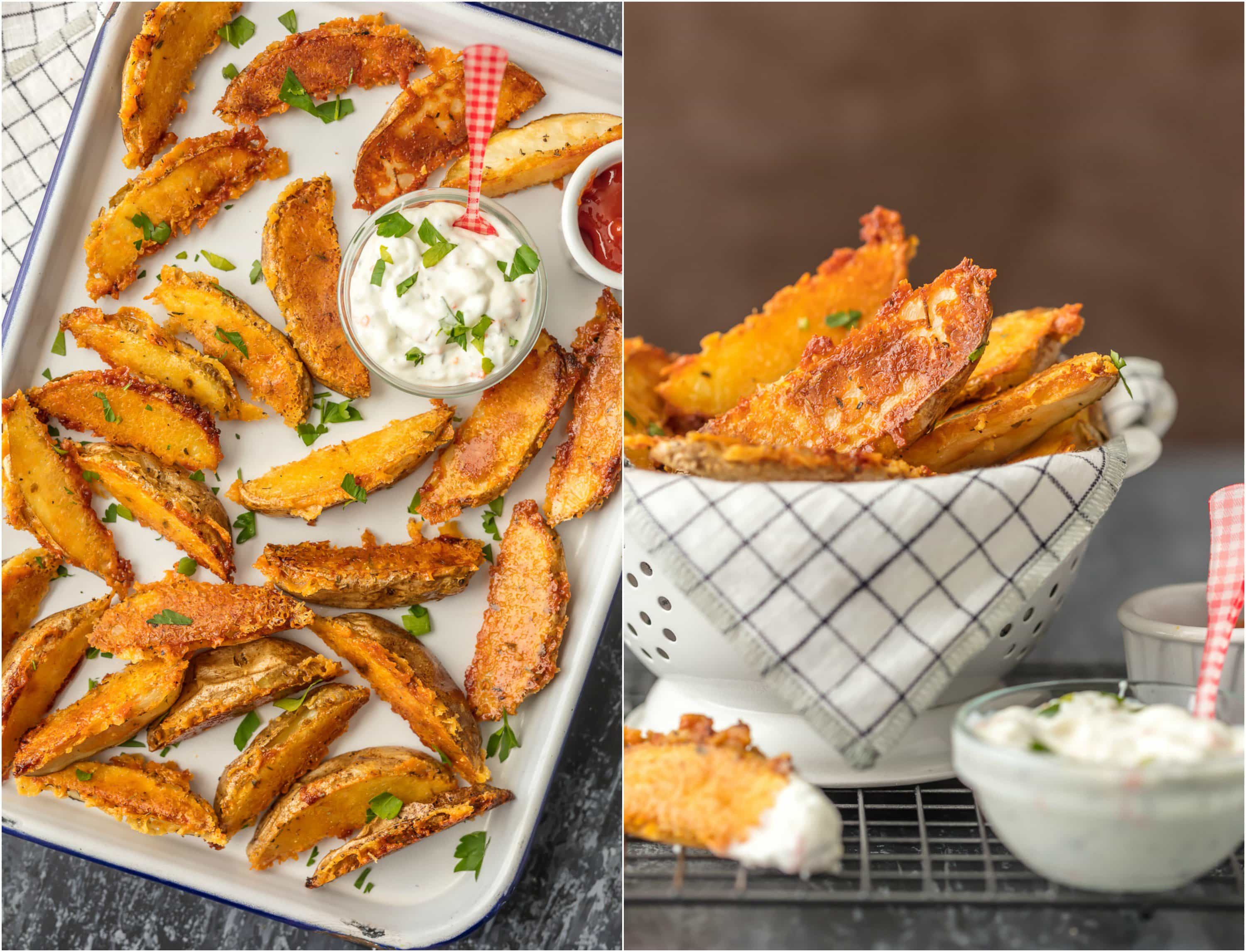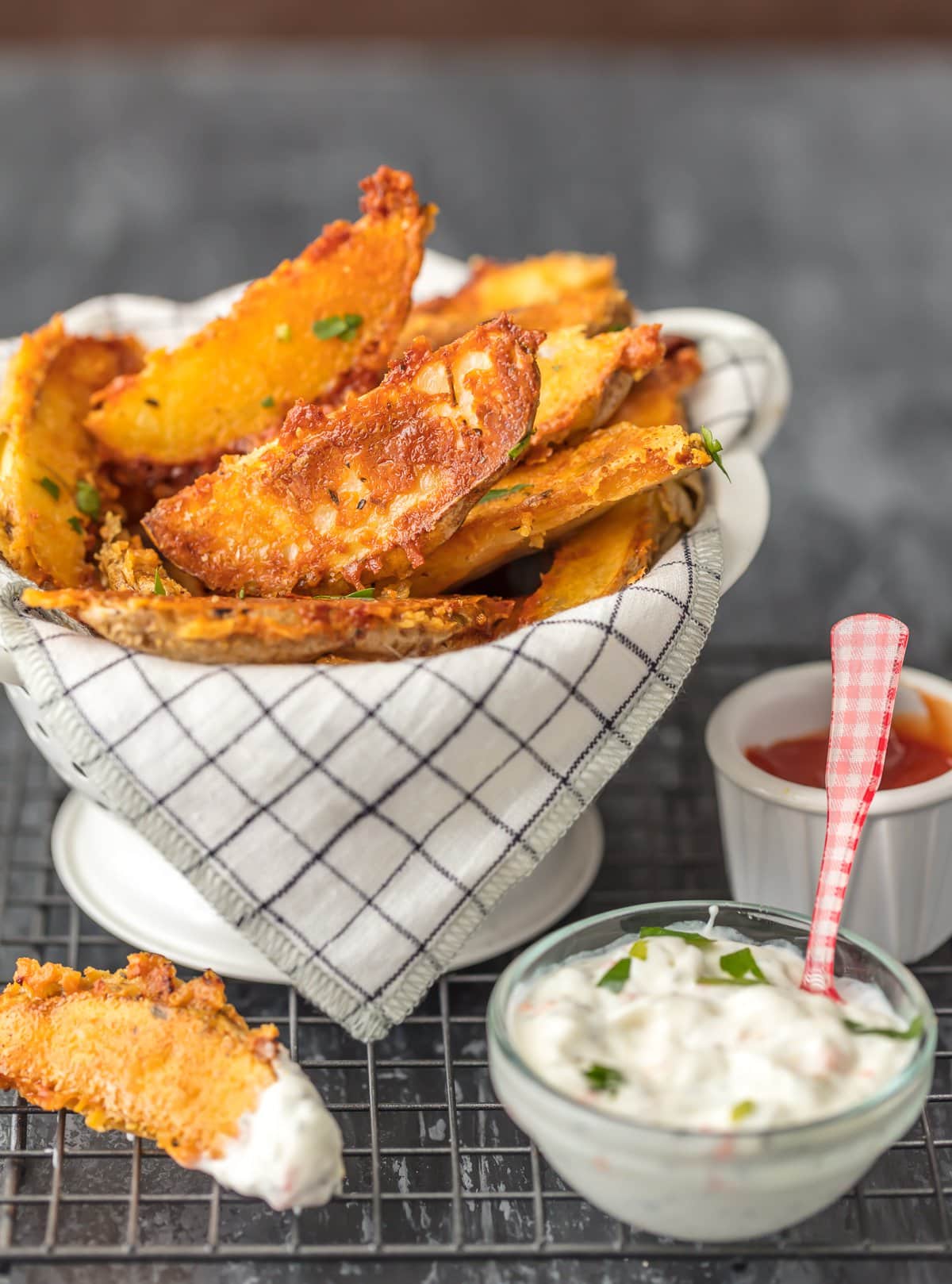 These Crispy Parmesan Potato Wedges are a side dish fit for the most casual burger meal, or the most classy romantic dinner at home. If I would make these every single night, Pat would be one very happy husband. He could not believe how many of them we ate on our own, and he was pretty disappointed we didn't make him a double batch. Lucky for him I'll be making these again and again and again.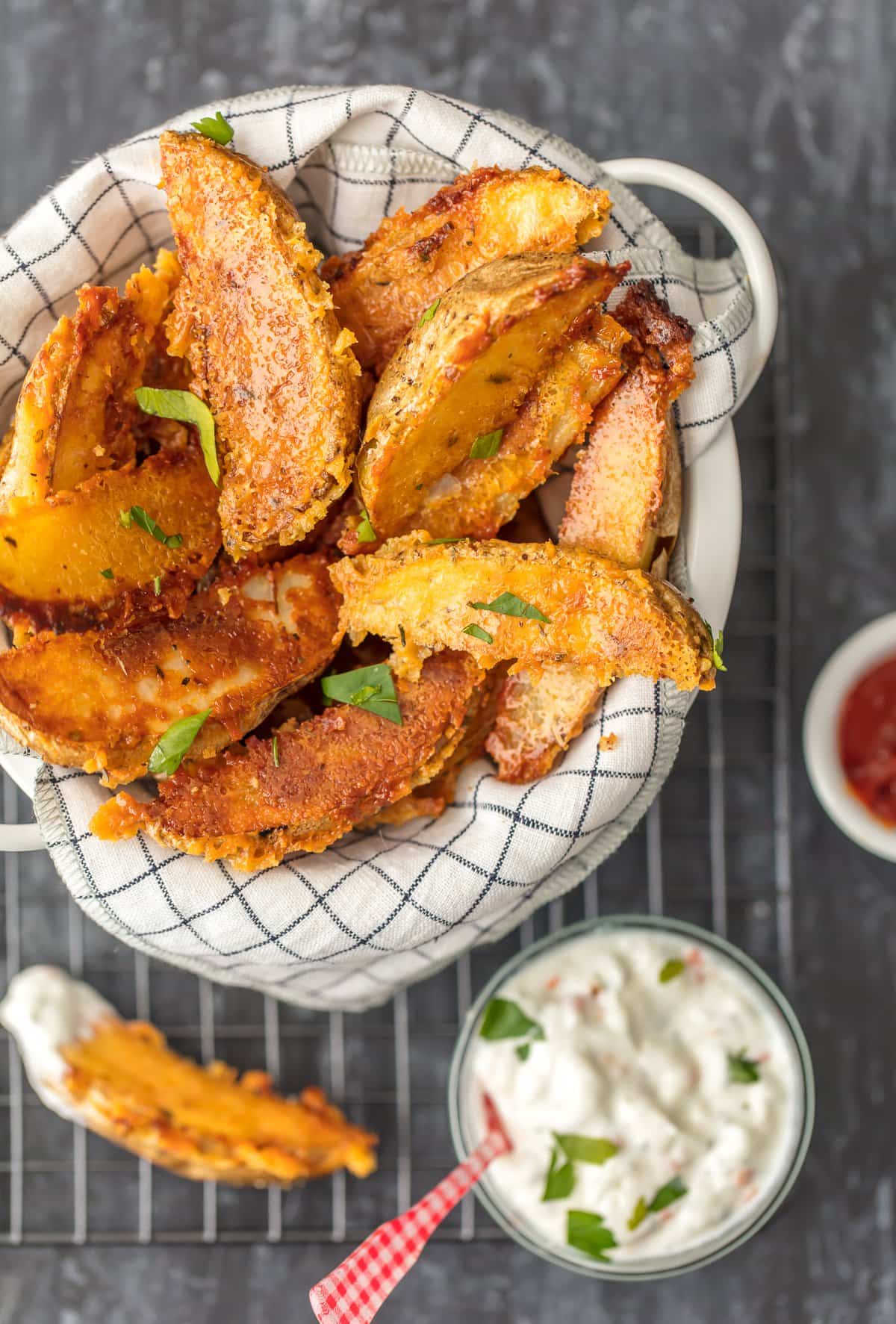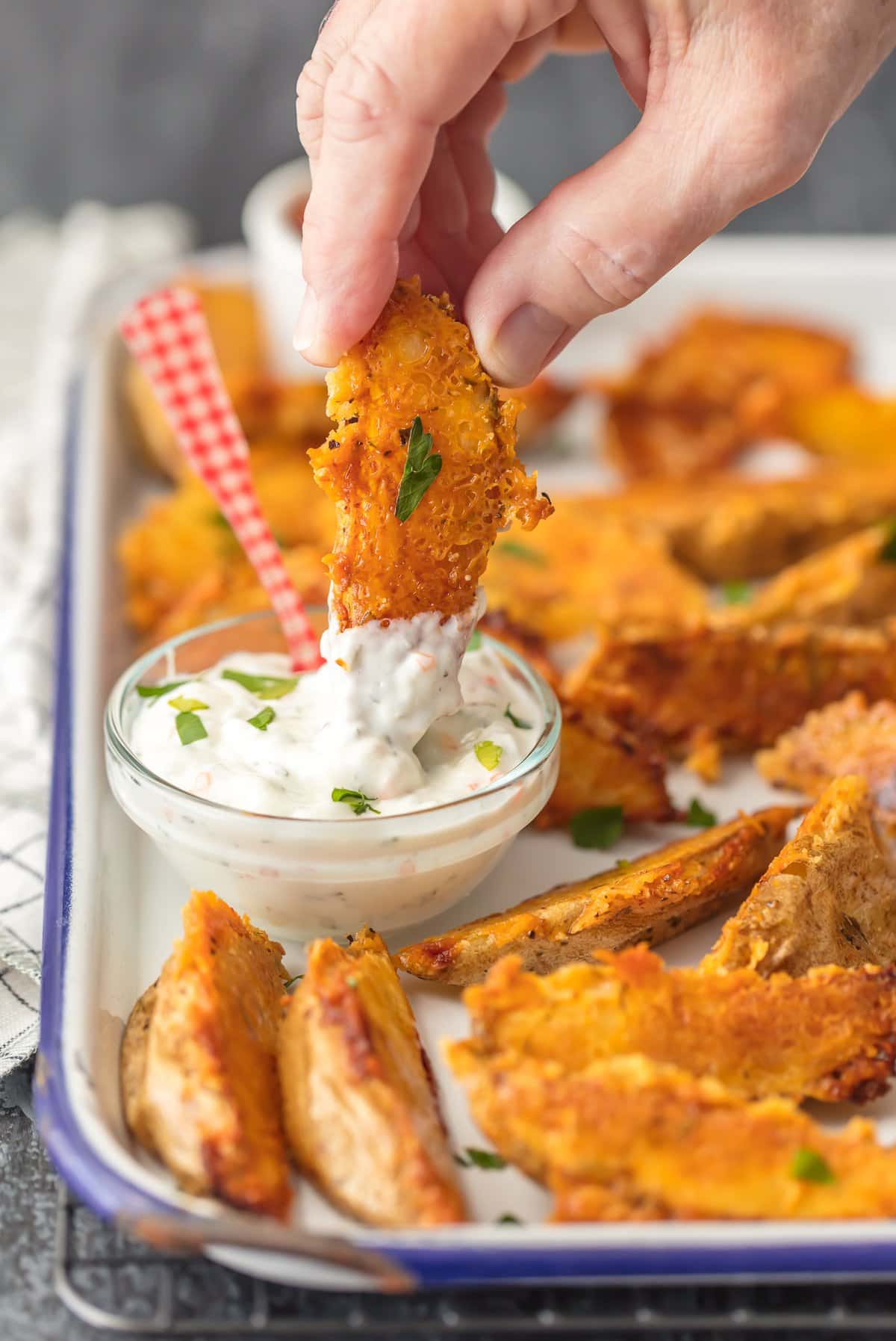 These Parmesan Baked Potato Wedges are one of my most favorite recipes on The Cookie Rookie. I hope you love them as much as we do!
Enjoy!
Crispy Parmesan Potato Wedges
10 minPrep Time
45 minCook Time
55 minTotal Time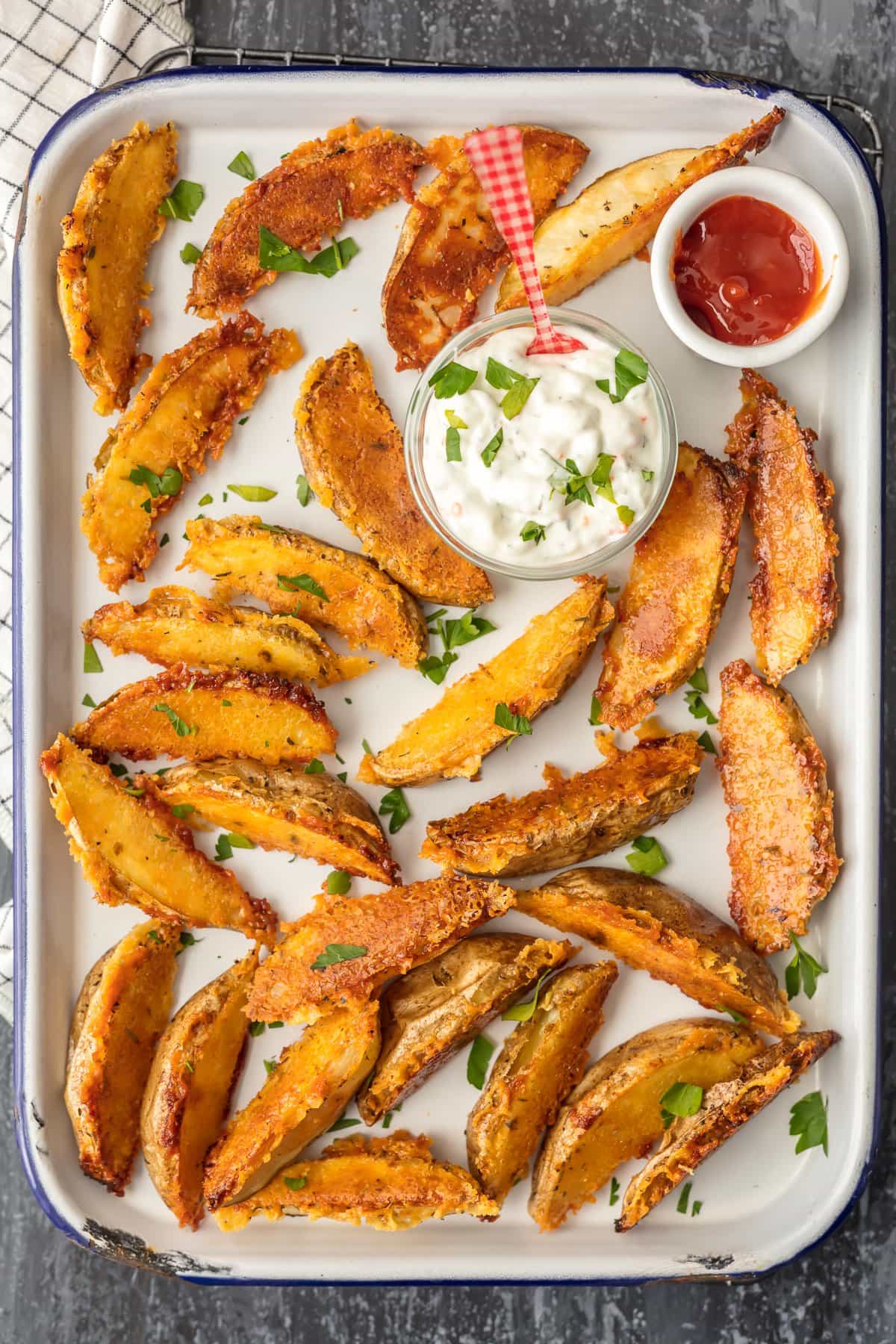 5 based on 2 review(s)
Ingredients
6 medium potatoes, russets or Yukon Gold, washed
¼ cup butter, unsalted
1¼ cup grated Parmesan cheese
½ teaspoon ground black pepper
Penzey's Sandwich Sprinkles or garlic powder
Dried parsley or favorite herb
Olive oil, to brush potatoes
Instructions
Preheat oven to 375 degrees F.
Place butter in an 11x15 inch jelly roll pan and place in oven until butter melts. Remove from oven as soon as butter has melted.
Halve each potato, lengthwise, and cut each half into 3 equal wedges. Dry potato wedges with a paper towel.
Sprinkle melted butter evenly and liberally with grated Parmesan, then sprinkle with pepper, seasonings and herbs. Press the cheese onto the butter.
Press each potato wedge, flesh-side down, firmly onto the Parmesan.
Lightly brush the exposed section of potato with olive oil.
Very lightly season the potatoes with coarse salt & freshly ground pepper and sprinkle with crushed herbs.
Place in preheated oven and bake 40-50 minutes.
*If needed to crisp the Parmesan crust, turn the heat up to 400 for the last 5-10 minutes.
**Transfer potatoes to a cooling rack and allow to cool at least 7 FULL MINUTES - this allows the cheese crust to stick to the potatoes.
Serve with your favorite dip. Buffalo, sour cream or Ranch dips work well.
Enjoy!
7.6.7
2392
https://www.thecookierookie.com/crispy-parmesan-potato-wedges/