Craving some wings but want to keep game day simple? This slow cooker chicken wings recipe is a stress free way to make succulent chicken, loaded with mouthwatering finger-licking flavors! When it comes to cooking, it's hands free and gives you tangy, spicy chicken that'll be gobbled up in no time. Thanks to Reynolds Kitchens® Slow Cooker Liners cleanup is done in only 8 seconds!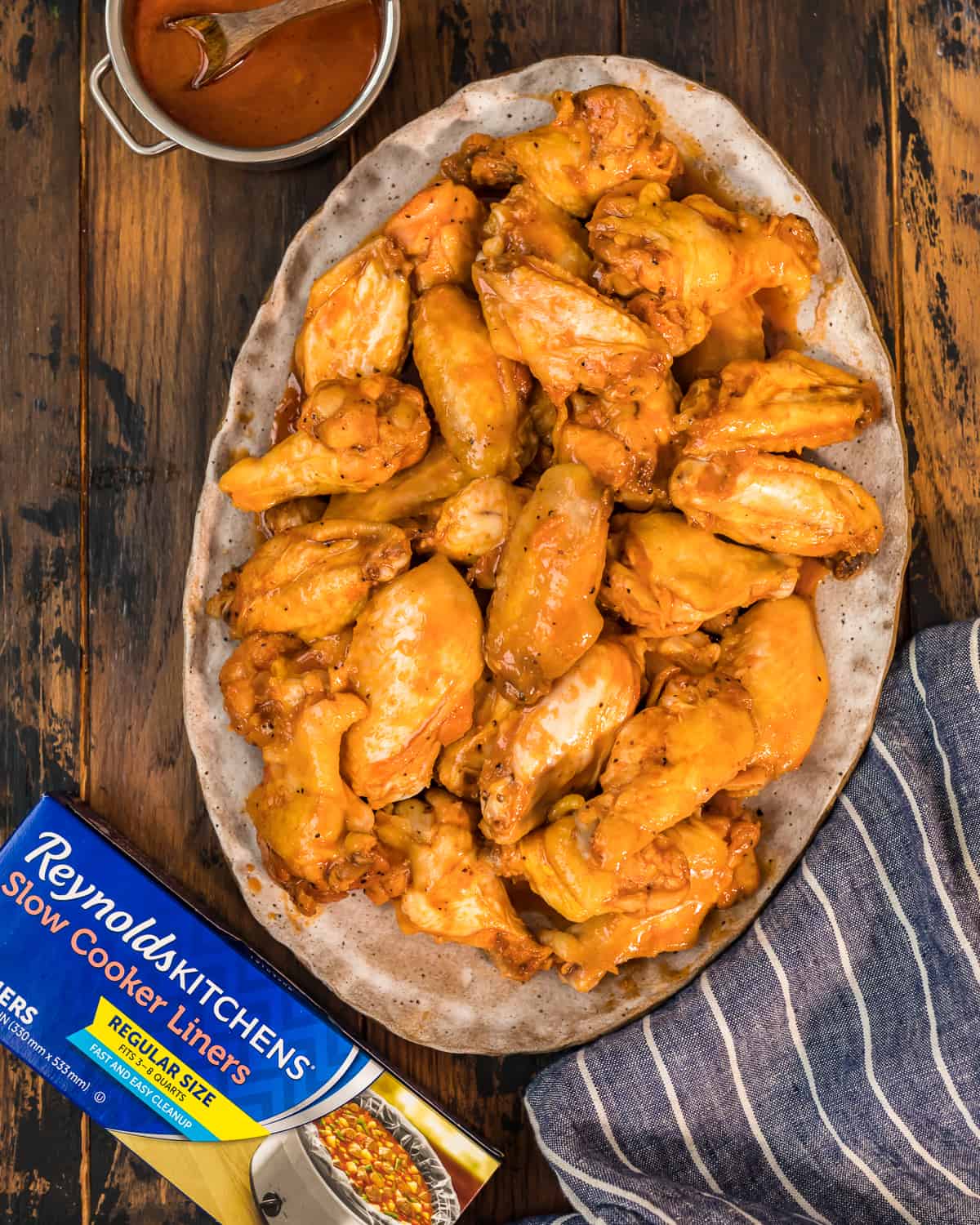 This Slow Cooker Chicken Wings recipe is the perfect game day food!
How To Make These Slow Cooker Chicken Wings – Step By Step
Add the rubbed wings to the slow cooker.
Using the same bowl, stir together all of the sauce ingredients except the cornstarch. Pour over the wings.
Cook on high for 2 hours, or on low for 3-4 hours until the wings reach an internal temperature of 165F.
Remove the wings from the slow cooker (leaving the sauce) and place in a large bowl. Stir the cornstarch into 2 tablespoons cold water, and then add to the sauce mixture inside the slow cooker. Stir to combine.
Cook the sauce on high for 10 more minutes. Pour the thickened sauce over the wings and toss to coat.
Serve and enjoy!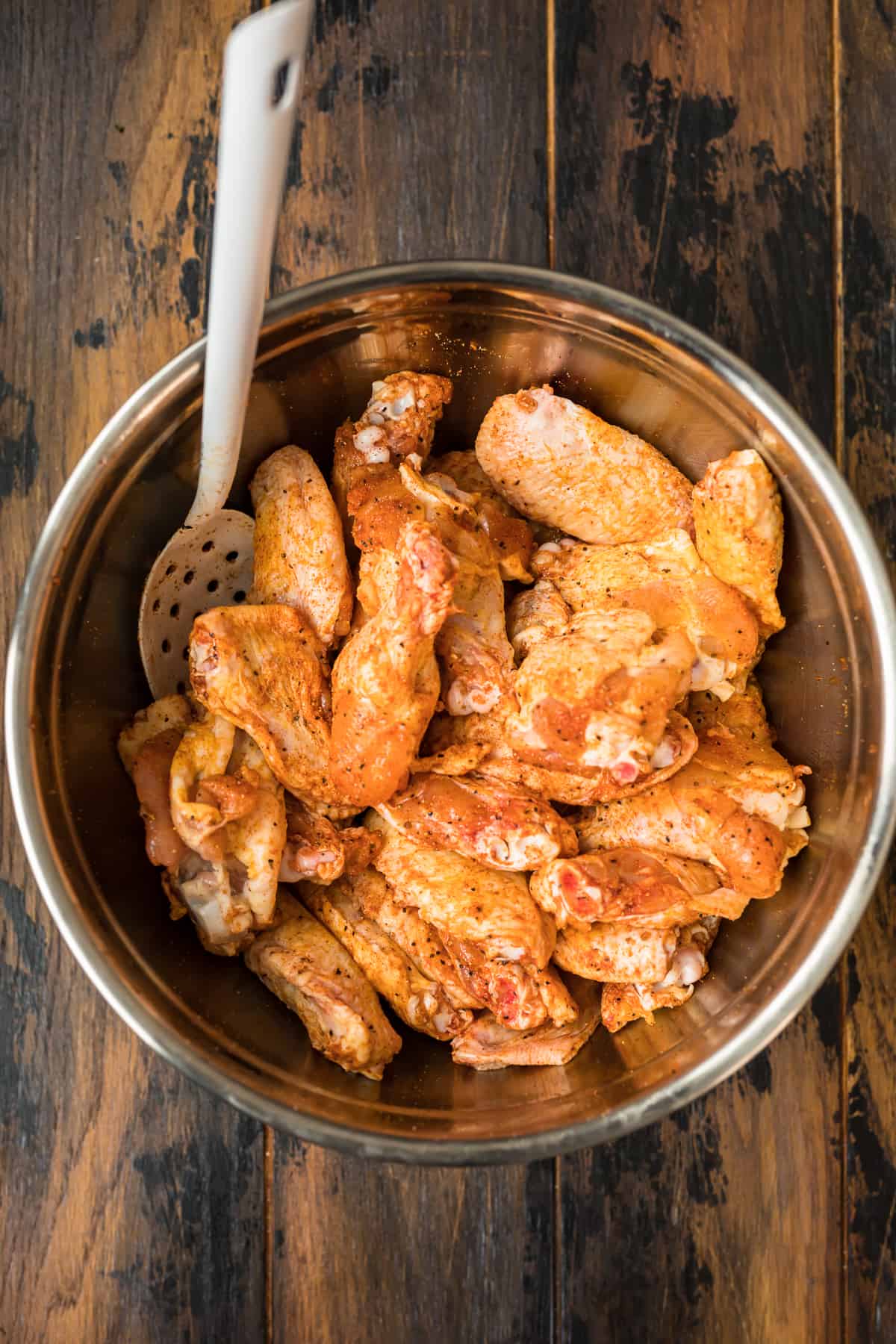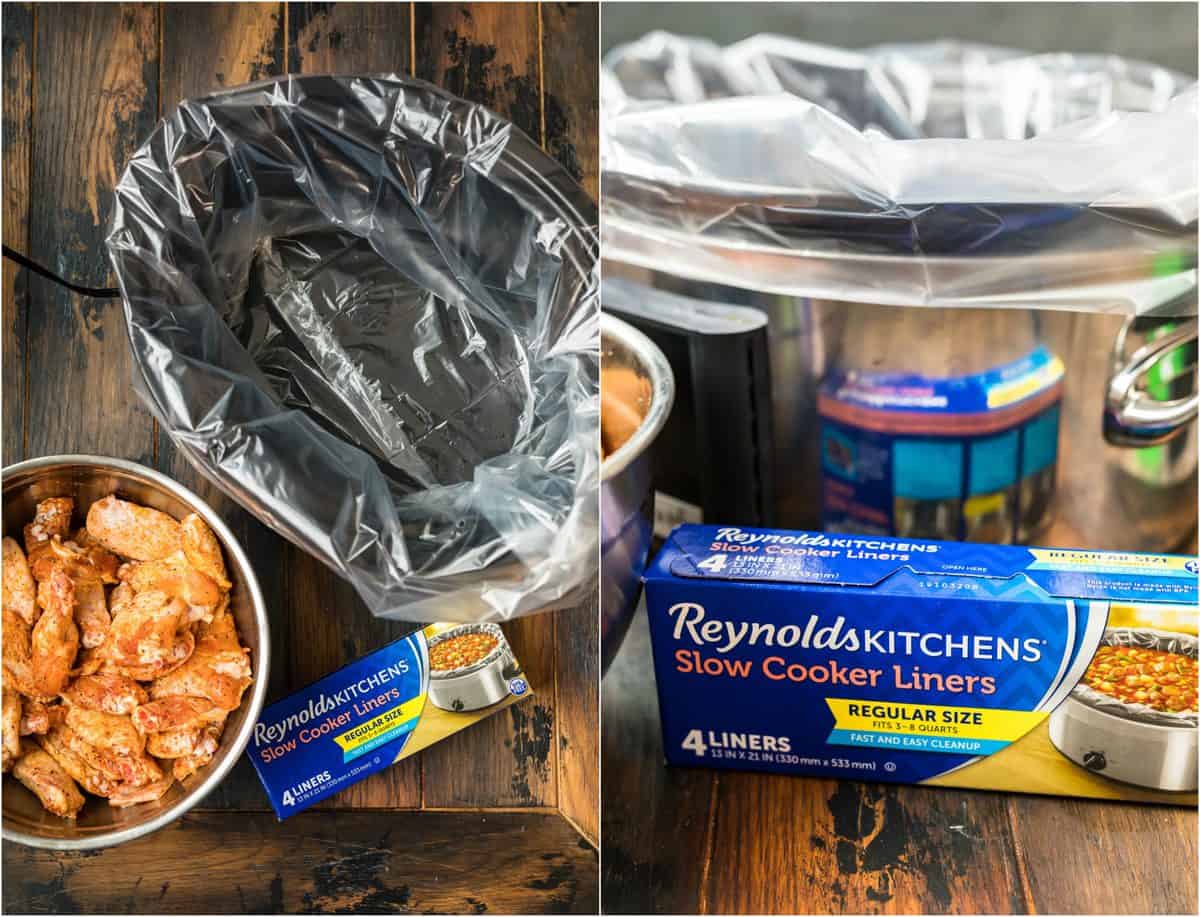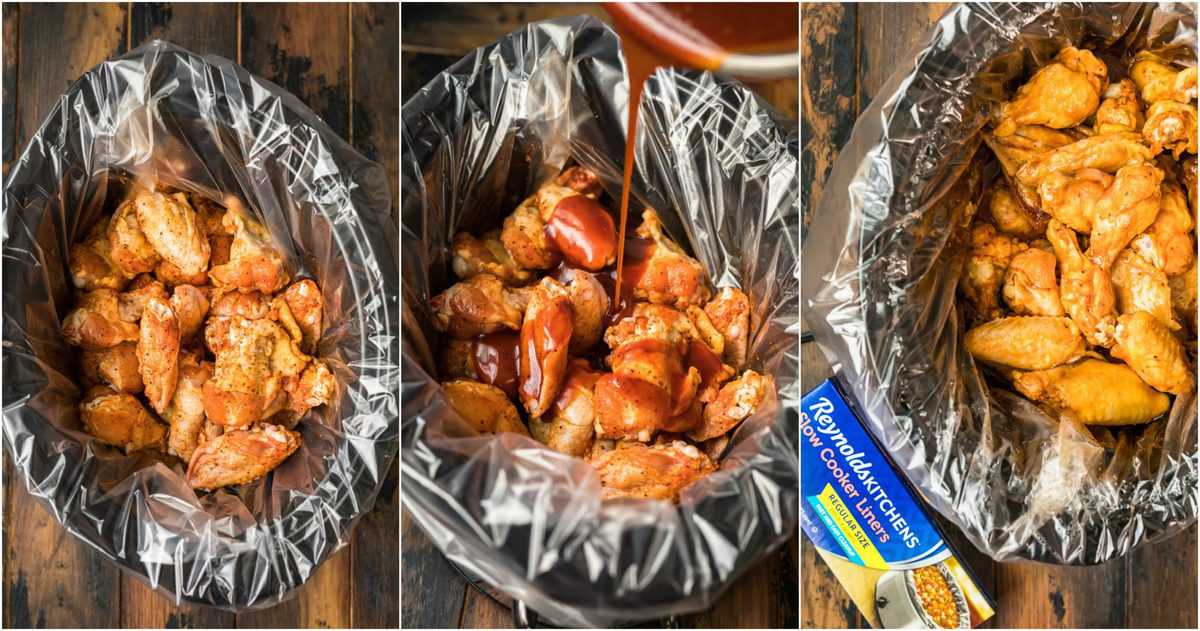 An Easy Appetizer!
Who knew making chicken wings could be this easy. I love a great appetizer that I can pop in the slow cooker and forget about for a couple of hours. Usually when I'm hosting a party, there are what seems like a million things to do, and babysitting an appetizer for hours just isn't on my to-do list!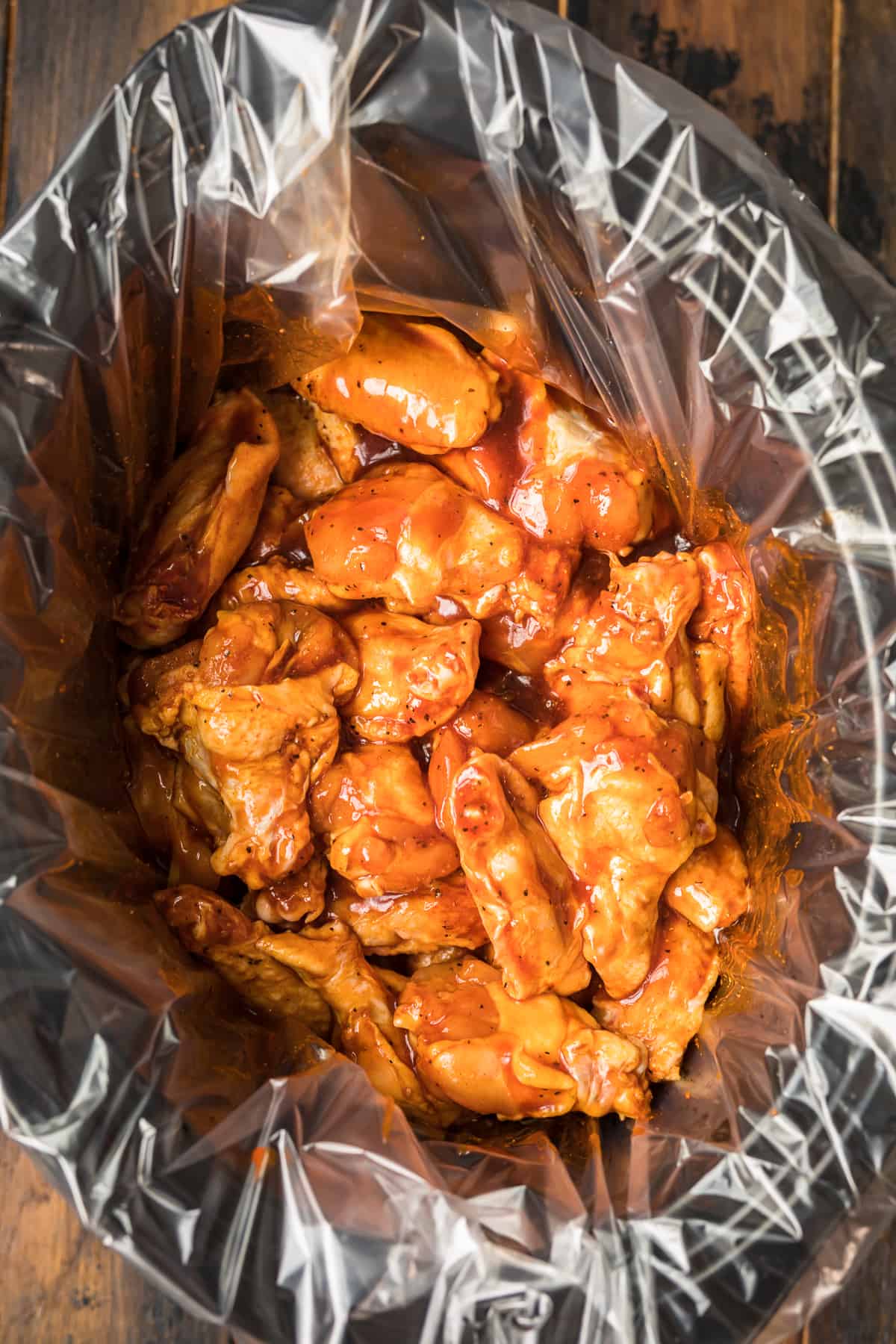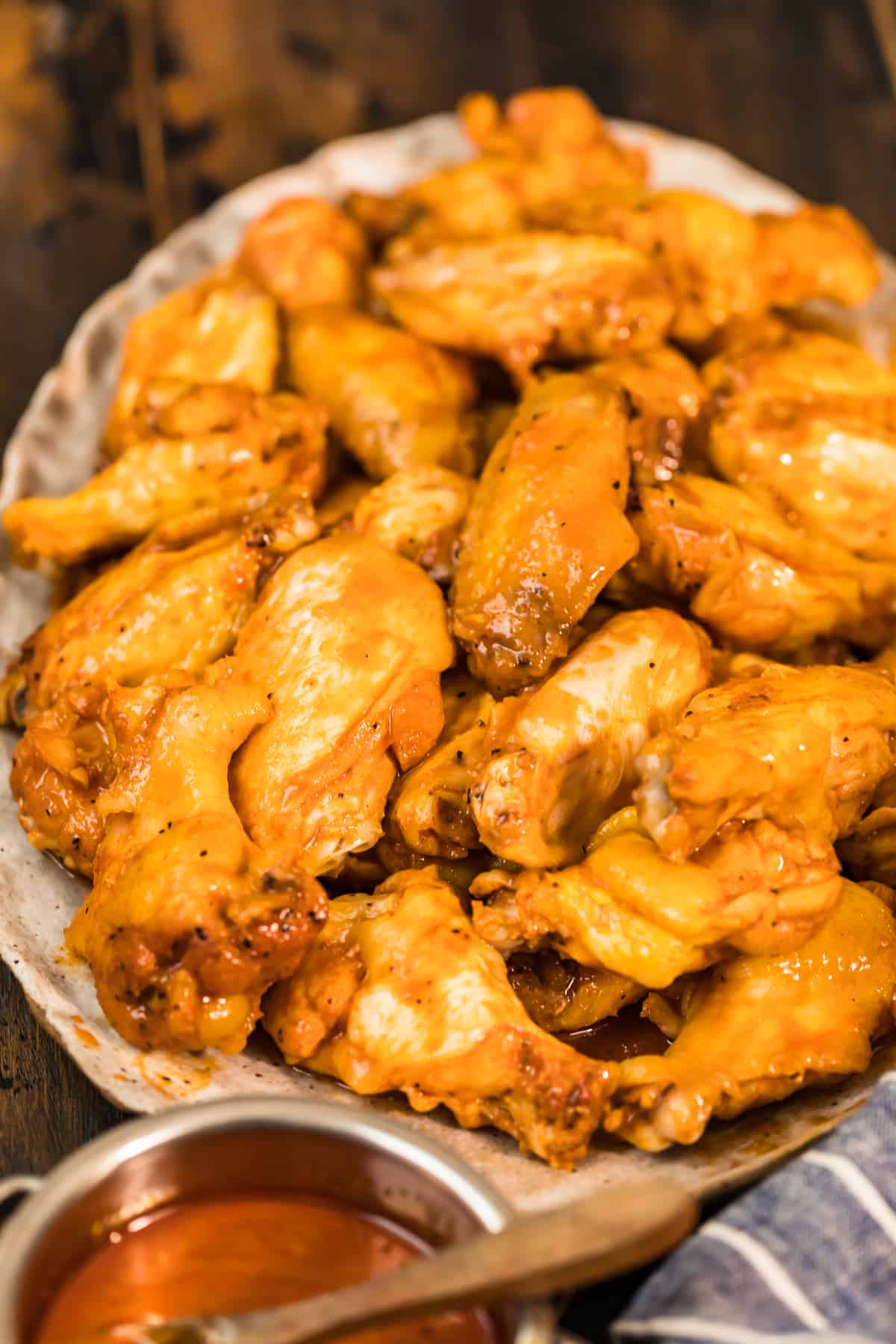 Reynolds Kitchens makes things easy
I'm in love with the Reynolds Kitchens® Slow Cooker Liners because they just make life so much easier. As a busy Mom, I don't have time for lots of cleanup, but that doesn't mean we don't want all the best big game appetizers (even the sticky ones like these delicious chicken wings!)
Reynolds Kitchens makes their Slow Cooker Liners in both small and regular size, so you're sure to be able to find one that fits your device. Cleanup is as fast and easy as taking the food out of the slow cooker, lifting the bag, and discarding. SO SIMPLE. We love to use them for chilis, soups, party dips, and more.
Reynolds Kitchens® Slow Cooker Liners are made of a heat-resistant nylon, BPA-free and FDA approved! You can feel great about them being food safe and ready to assist in all your clean up needs. Perfection.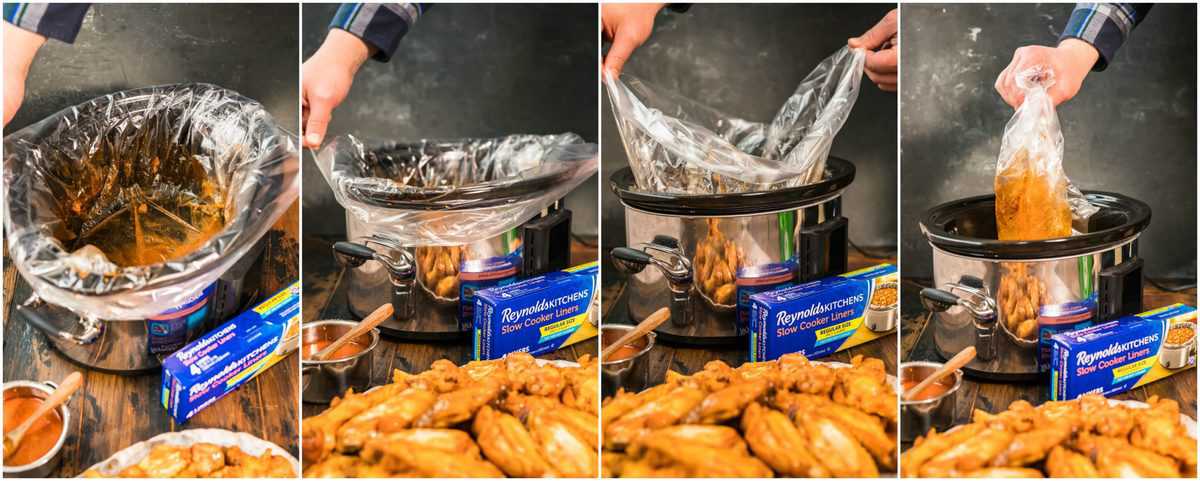 How Many Chicken Wings Are In A Pound?
According to the USDA, an average uncooked whole chicken wing weighs 102 grams (or 3.5 ounces). So how many chicken wings in a pound? That would mean there are approximately 4 to 5 chicken wings in a pound. That would mean there are approximately 40 to 50 chicken wings in a 10 pound (lb) bag.
A standard serving of chicken wings is 4.4 ounces, or about four wings.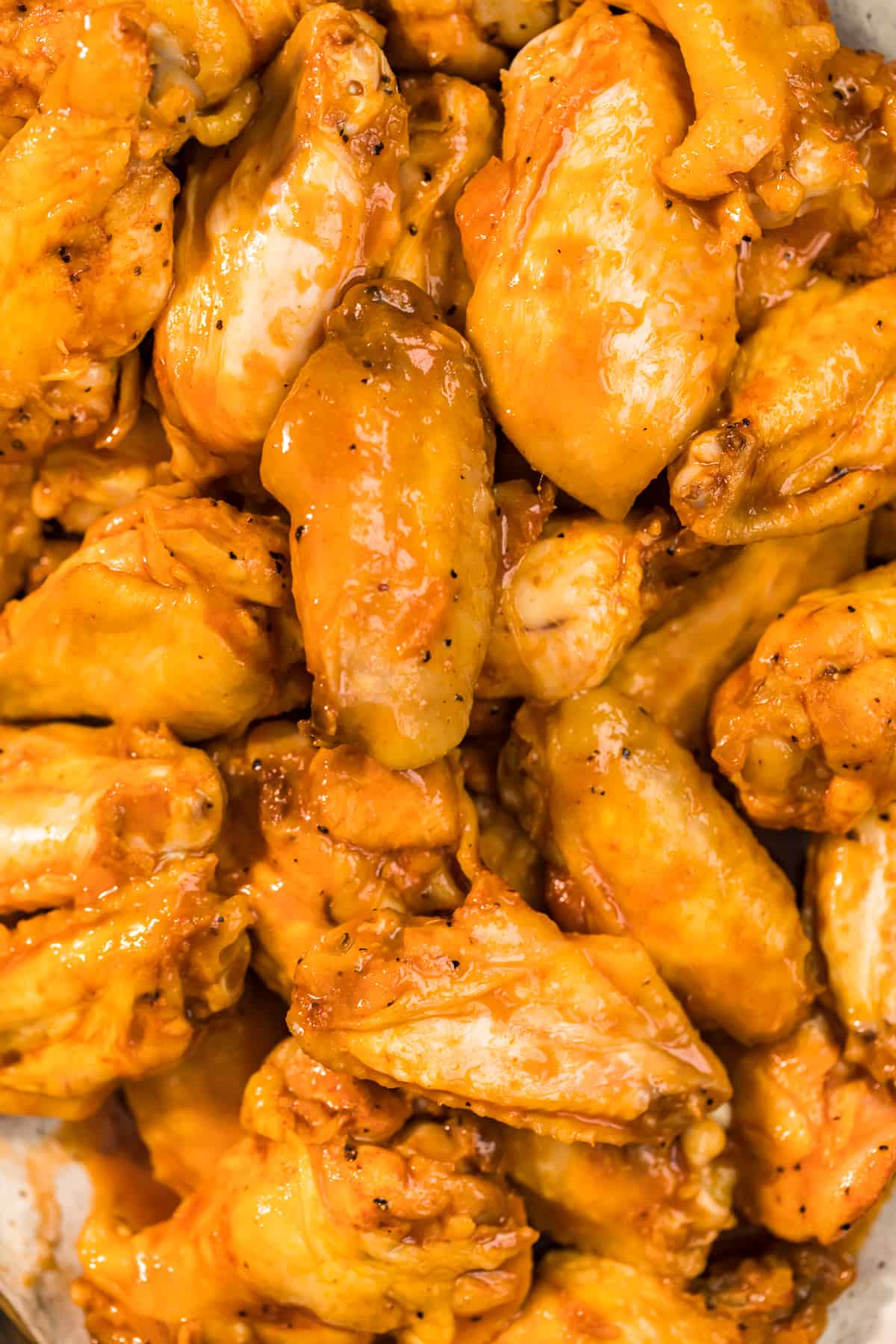 Can You Freeze These Slow Cooker Chicken Wings?
Yes, you can freeze cooked chicken wings. Place them in a large, freezer safe, zip lock bag and remove as much air as possible before you seal it. Keep in the freezer for up to 3 months. To heat, let the wings thaw in the refrigerator. Once thawed, place in an oven safe dish or baking sheet and heat at 375˚ for 20-25 minutes or until heated through.
Top Tips For This Slow Cooker Chicken Recipe
If using frozen wings, they will produce liquid while cooking. Discard liquid once wings are cooked. Brush wings with extra sauce before and after broiling if desired.
Pat dry the wings so the seasoning spice sticks to the chicken.
If you want golden and crispy wings, you can quickly broil them in the oven.
Serve with a side, like carrots and celery or some other favorite side dishes include: loaded potato skins, nachos, baked macaroni and cheese, pierogies, baked beans, pasta or potato salad, garlic roasted baby potatoes, french fries and onion rings.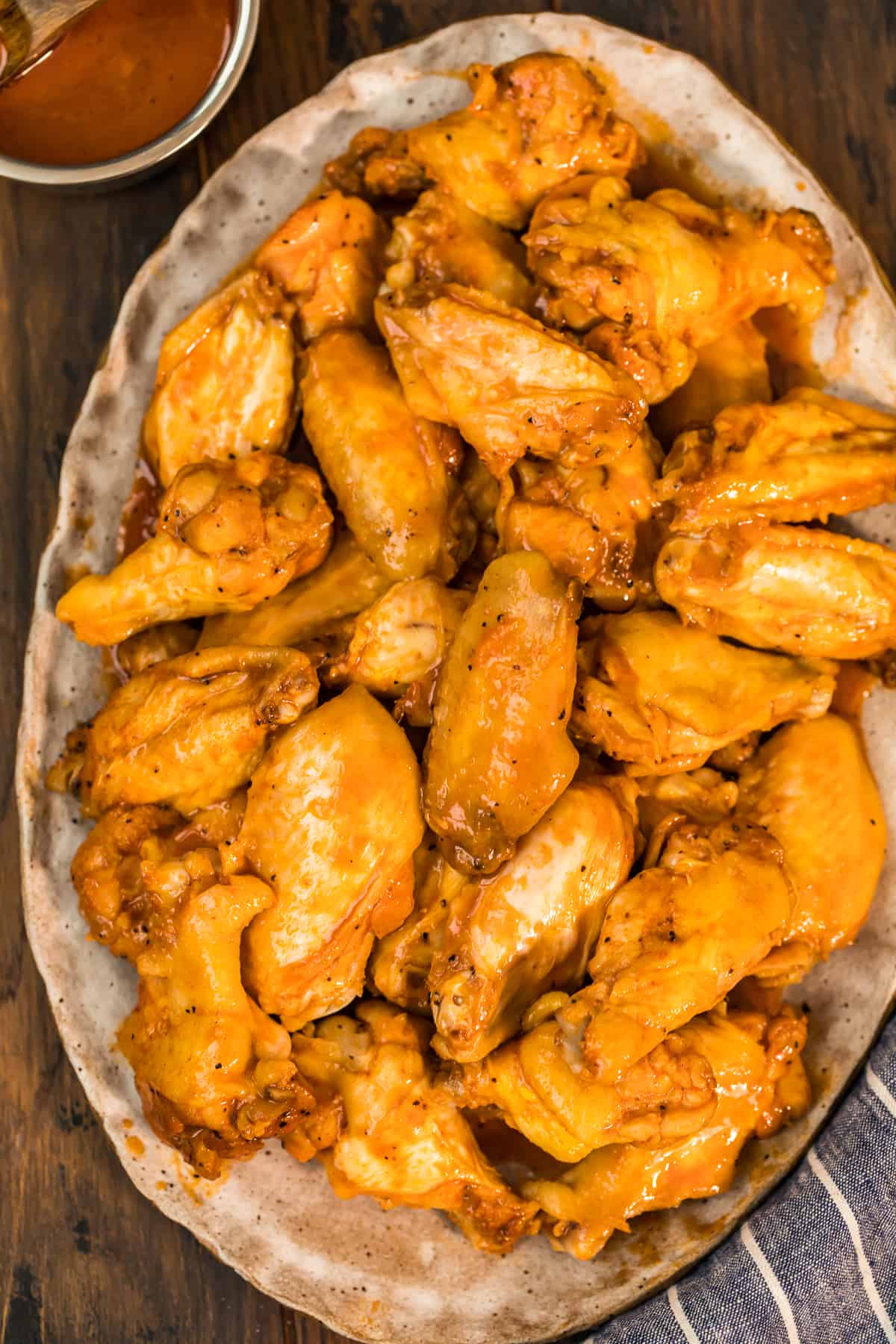 Have you tried these Slow Cooker Honey BBQ Chicken Wings? I'd love to hear from you in the comments below!