Loaded S'more Crepes are the perfect sweet dessert crepes! Follow this easy crepe recipe to make the batter and learn how to make them at home, then add your filling. These are loaded with milk chocolate, marshmallows, and crumbled graham crackers. Yum!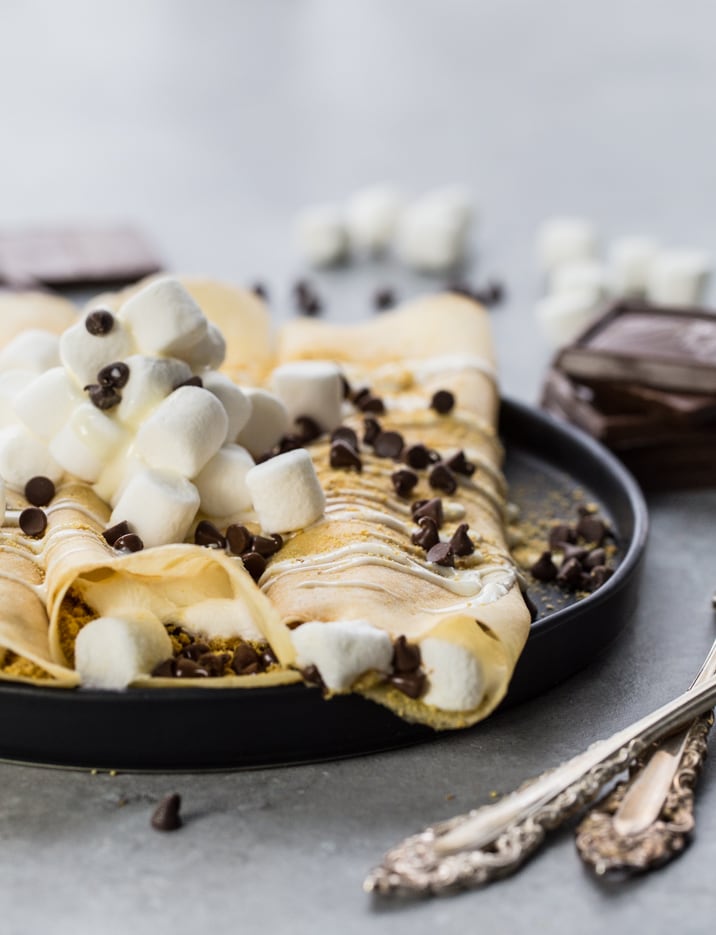 Easy Crepe Recipe
When I was recently in New Orleans, we had the awesome opportunity to take cooking classes Langlois Culinary Crossroads. We had the most amazing gumbo, followed by fresh crepes! The chefs were patient with me while I made my very first crepe EVER, and it was so fun! My mind immediately raced to all the variations I could make, and of course, I thought of a sweet S'mores crepe first.
Now I want to encourage you guys to try making crepes at home too! I know how terrifying the thought of making these is at first, but YOU CAN DO IT! This is a super easy crepe recipe. It takes a bit of practice with the timing and flipping, but once you've got it down, it feels like second nature.
You can use the basic crepe recipe (batter and how-to) and then use any filling ideas you want. S'mores is just the tip of the iceberg here (but it is so delicious for dessert).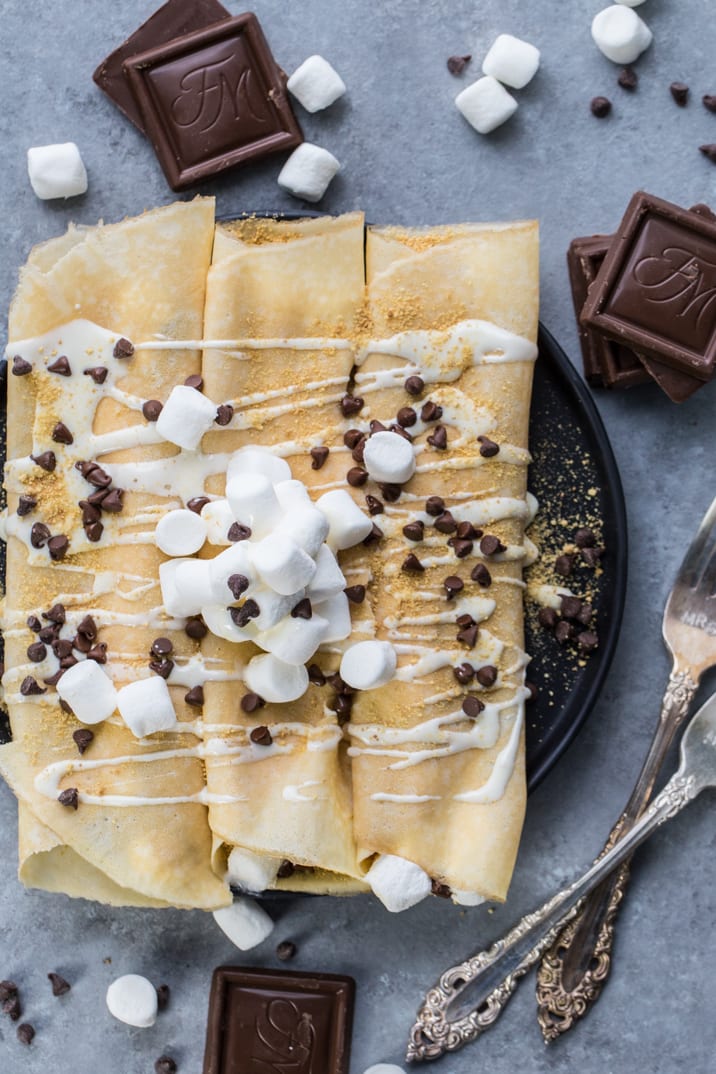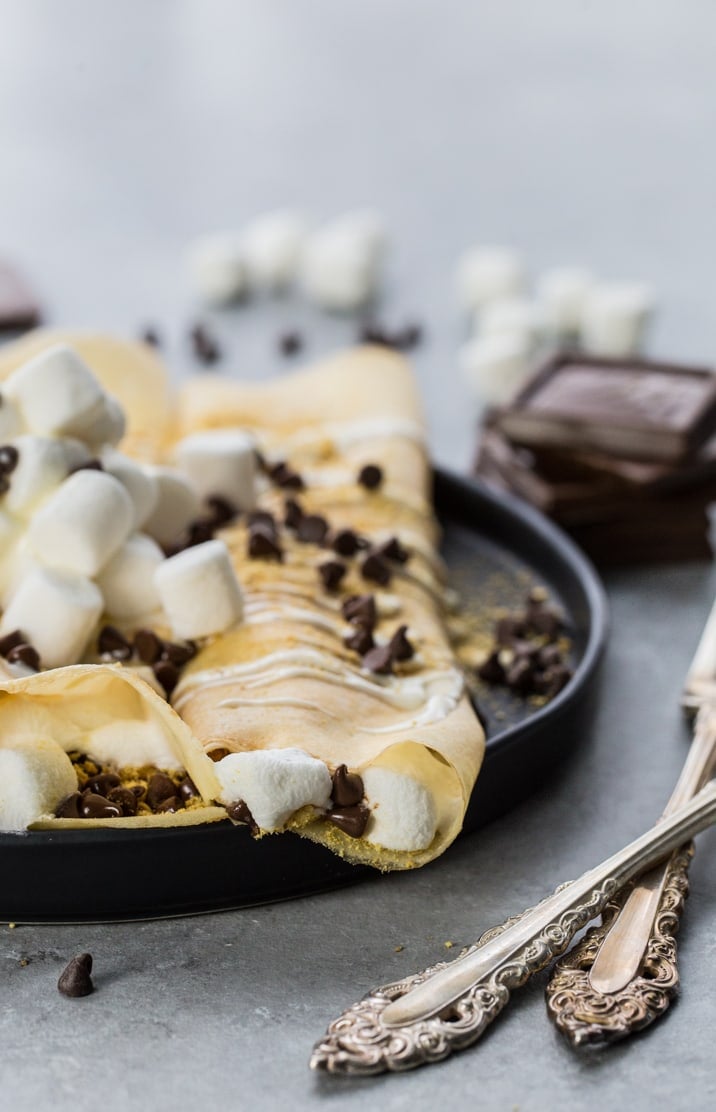 What is a crepe?
A crepe is a very (very) thin pancake that originated in France. They are typically served folded up and filled with all kinds of ingredients. You can choose between sweet crepes (like this recipe!) or savory crepes. The "pancake" batter is spread thin in a pan/skillet and heated briefly to cook.
Crepe Batter Ingredients
Eggs
Oil (I use canola oil)
Granulated Sugar
Flour
Milk
All you need to make homemade crepe batter is a few ingredients that you probably already have. Combine everything in a blender and it's ready to cook.

How to Make Crepes at Home
Start making the crepe batter by blending ingredients together until smooth.
Use a non-stick skillet (cast iron works great) on medium-high heat. Use a small amount of batter for each crepe.
Move the pan in a circular motion to spread the batter out over the whole pan and make it nice and thin. Let it cook just until the edges of the batter start to bubble a little (30-60 seconds).
Slide a spatula under the edge of the crepe, quickly flip it, and let it cook another 30 seconds.
Then fill them up, fold them over, and you're ready to serve.
Be sure to check the recipe card below for the full step by step recipe instructions.
S'mores Dessert Crepes
This is one of my favorite sweet crepe recipes to serve for dessert or just an extra special breakfast. The s'mores filling is chocolatey and decadent and I just can't get enough. All you need for the filling/topping is chocolate chips, marshmallows, and graham crackers. I recommend broiling the marshmallows to get that authentic campfire s'mores taste. Serve these with a side of marshmallow or vanilla ice cream!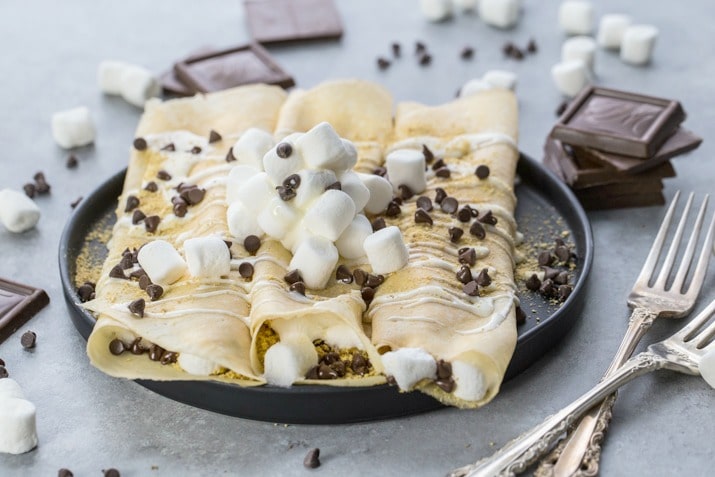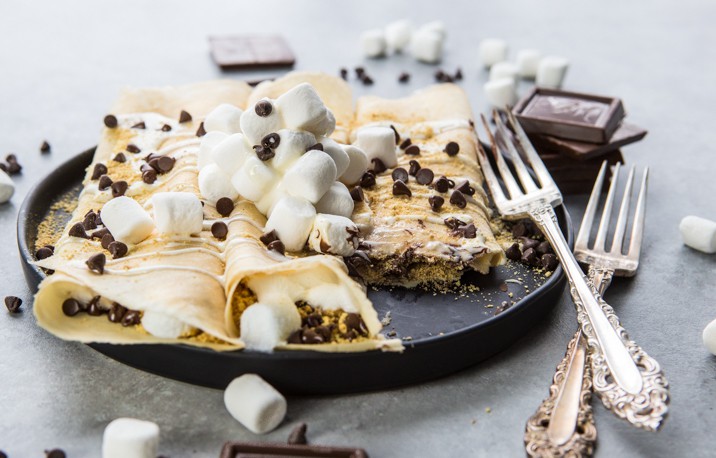 This easy crepe recipe will come in handy for decadent weekend breakfasts and special desserts alike. Trust me, it's simpler than you think. Give it a try and be sure to let me know how it goes in the comments.
If you love s'mores, give these sweet recipes to try: