Loaded S'more Crepes…what more do you need in life?? Easy crepes loaded with milk chocolate, marshmallows, and crumbled graham crackers. What a way to wake up!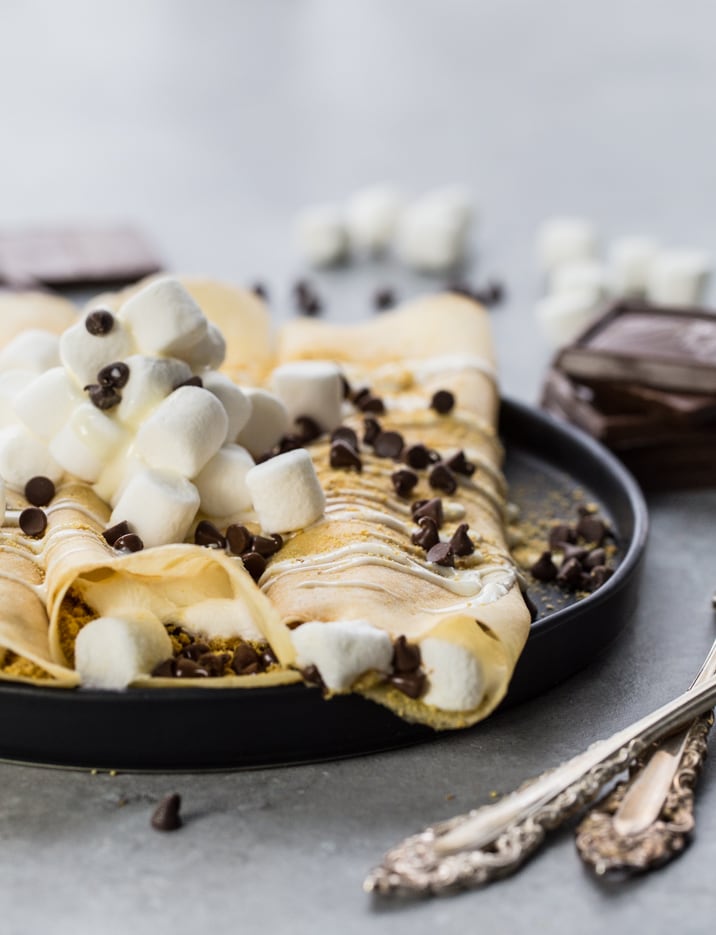 When I was recently in New Orleans, we had the awesome opportunity to take cooking classes Langlois Culinary Crossroads. We had the most amazing gumbo, followed by fresh crepes! The chefs were patient with me while I made my very first crepe EVER, and it was so fun! My mind immediately raced to all the variations I could make…and of course I thought of S'mores. Duh.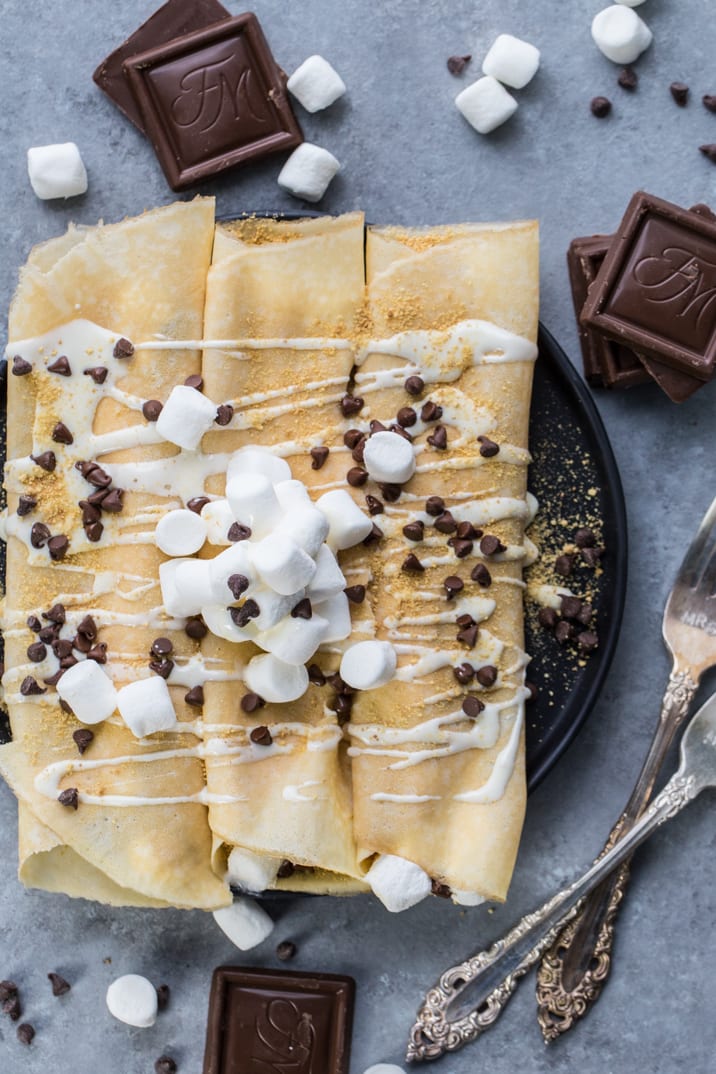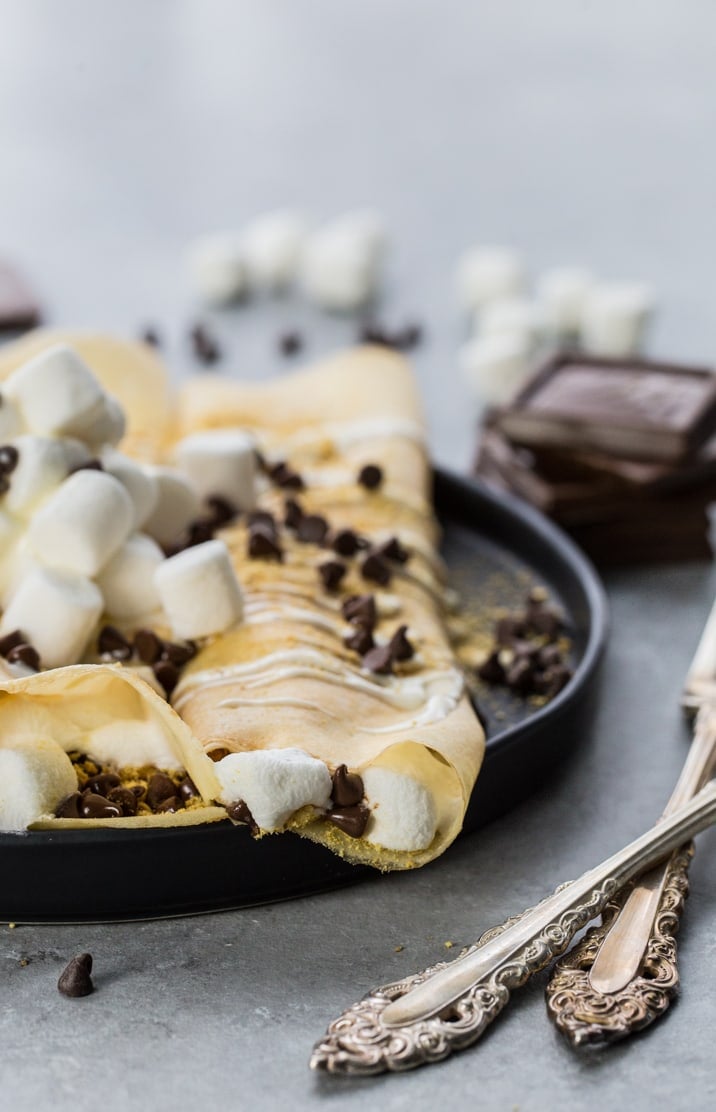 I want to encourage you guys to try making crepes, YOU CAN DO IT! I've learned through this blogging journey that cooking is so much easier than I ever ever thought. If I can do it, you can too! Crepes do take practice, but practicing doesn't usually taste this delicious, so it's worth it!
These Loaded S'more Crepes make breakfast or dessert a delicious and memorable event.
Stuffed with chocolate, graham cracker crumbs, and of course marshmallow. The best flavor combo on the planet. I'm going to pretend they're healthy since it's all wrapped inside a fresh crepe. Girl math.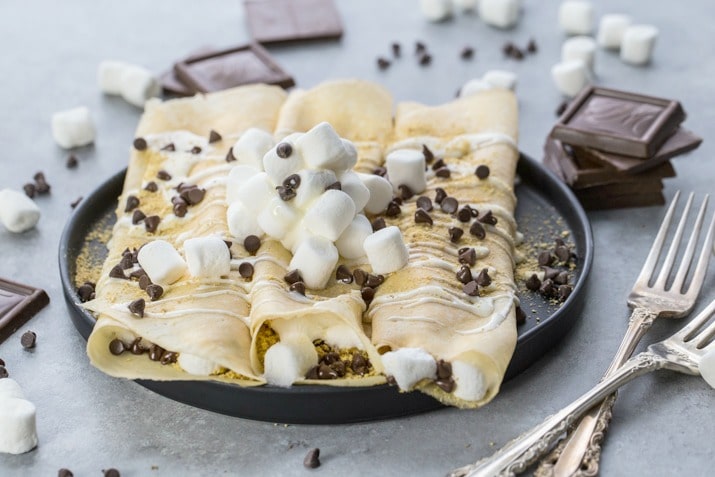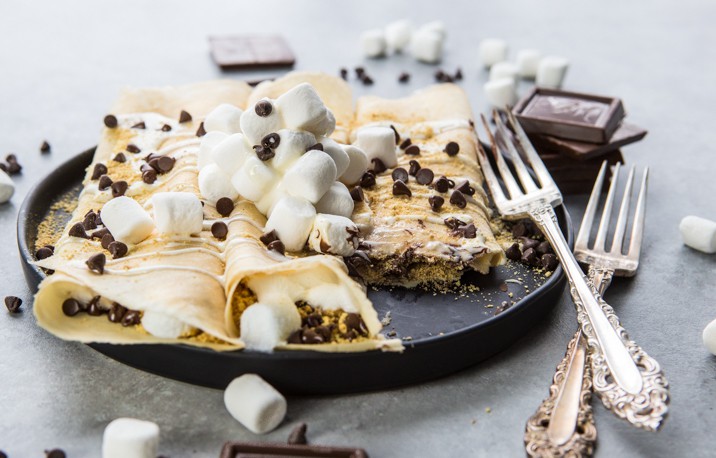 Enjoy!
Loaded S'more Crepes
10 minPrep Time
20 minCook Time
30 minTotal Time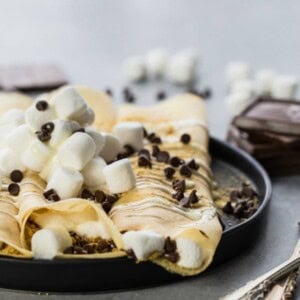 Ingredients
2 eggs
2 tablespoons canola oil
1 tablespoon sugar
1 cup flour
1 1/3 cup milk
1 cup chocolate chips
2 cups mini marshmallows
1 cup graham cracker crumbs
marshmallow ice cream topping as garnish
Instructions
Combine eggs, oil, sugar, flour, and milk in a blender. Blend until well combined and completely smooth.
Heat a non-stick skillet (or greased) over medium high heat. Pour a small amount of crepe batter into the pan, and move the pan in a circular motion to coat the entire bottom of the pan with batter. Let cook about thirty to sixty seconds, or until the edges of the batter bubble slightly.
Slide a spatula under the edge of the crepe to make sure its ready. Flip the crepe and cook about 30 more seconds or until fully cooked. Remove and stack on a plate, making as many crepes as your batter will allow.
Preheat an oven on low broil settings. Place your marshmallows on a parchment lined baking sheet in a single layer. Broil marshmallows for about 2 minutes until they are bubbly and golden brown.
As soon as marshmallows are done, start filling your crepes. Place a layer of graham cracker crumbs on the inside of a crepe, followed by chocolate chips, and then marshmallows. Wrap crepe and garnish with more crumbs, marshmallow ice cream topping, and chocolate chips.
Enjoy!
7.6.7
1839
https://www.thecookierookie.com/smore-crepes/