S'mores Dessert Pizza is a sweet, chocolaty dessert made just like a pizza! It's got the classic s'mores flavor of melted chocolate, graham crackers, and fluffy marshmallows, all melted together into the most amazing s'mores pizza. This easy dessert pizza recipe is fun to make and even more fun to eat!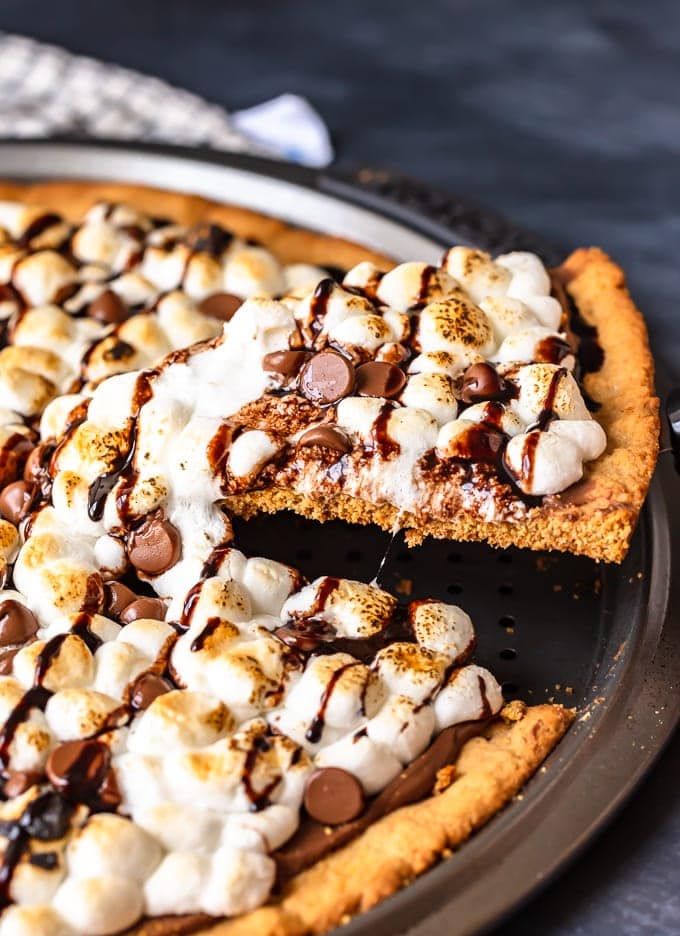 S'mores Dessert Pizza Recipe
S'mores pizza is a chocolaty dessert your whole family will absolutely love. This easy dessert pizza recipe is fun to make and fun to eat!
I'm a big fan of s'mores. Melting chocolate between crispy graham crackers with a big fluffy marshmallow in the middle…a classic campfire treat we all love! It seems like they're usually left for camping and kids parties, but I want that delicious flavor combination in a dessert I can make any time. And this S'mores Dessert Pizza solves that problem!
This easy S'mores Pizza is one of the most amazing things I've ever tasted. Start by making your own dessert pizza dough, melt chocolate chips to create the "sauce", then add on a layer of graham cracker crumbs, mini marshmallows, and more chocolate chips as the toppings. Bake it all to perfection and you've got one seriously chocolaty, tasty dessert ready to serve.
I love this easy dessert recipe because it doesn't take much effort to put together, and EVERYONE will love the amazing taste of this S'mores Dessert Pizza recipe. Make it for a fun weeknight dessert, or for a party. Kids will devour this, but so will every adult in the room!
Make this delicious S'mores Pizza recipe with a homemade dessert pizza dough, melted chocolate chips, graham cracker crumbs, and mini marshmallows.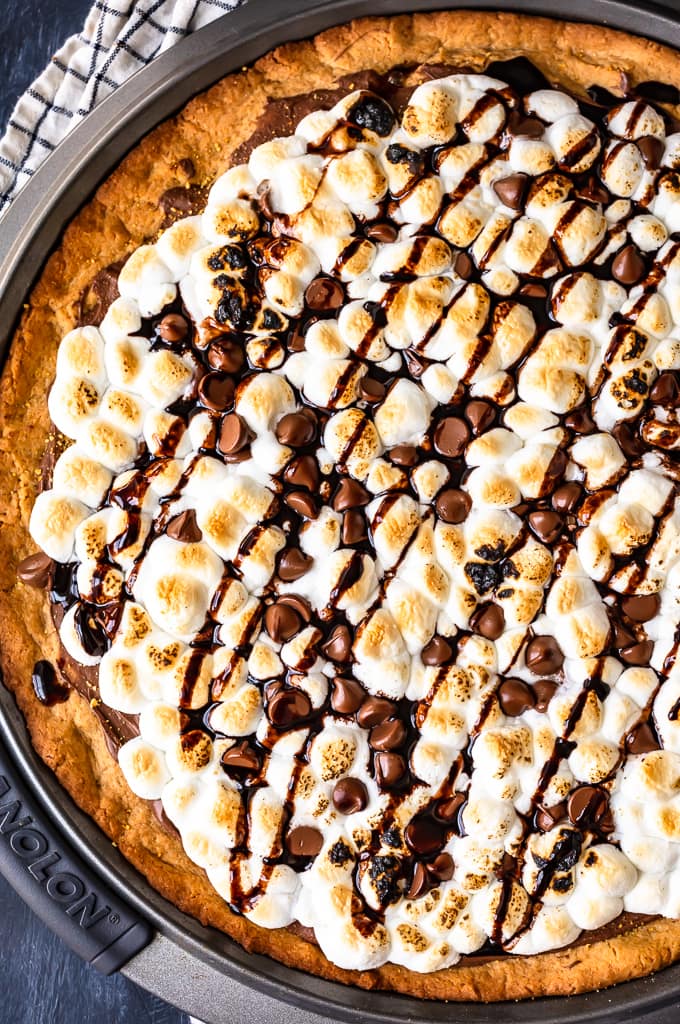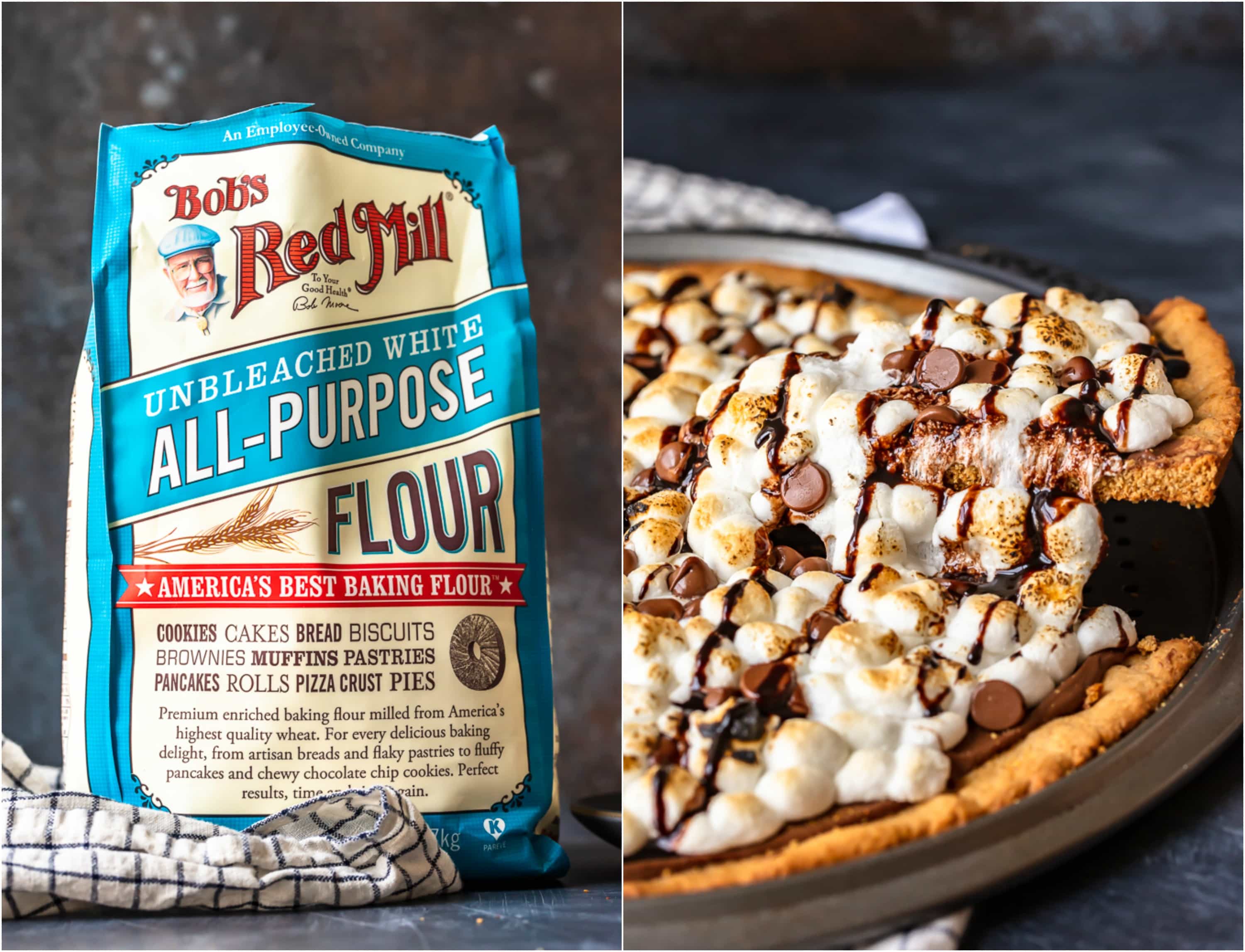 How to make this Graham Cracker Cookie Crust
I thought about making this even easier and using a pre-made cookie crust, but NO! We are conquering the kitchen and we can do this! Taking the extra time to make this delicious Graham Cracker Cookie Crust is a MUST for this S'more's Pizza and I'm so glad I did.
Bob's Red Mill has so many varieties of flour, and I've loved every one I've tried. For this recipe, I used their Unbleached White All-Purpose Flour (which is DIVINE btw) but their Gluten Free 1:1 Baking Flour would also be perfect depending on your needs.
I'm just so honored to be working with Bob's Red Mill, where quality is always front and center. Click HERE to buy on Amazon, or HERE to see where to buy at a local store near you. High fives!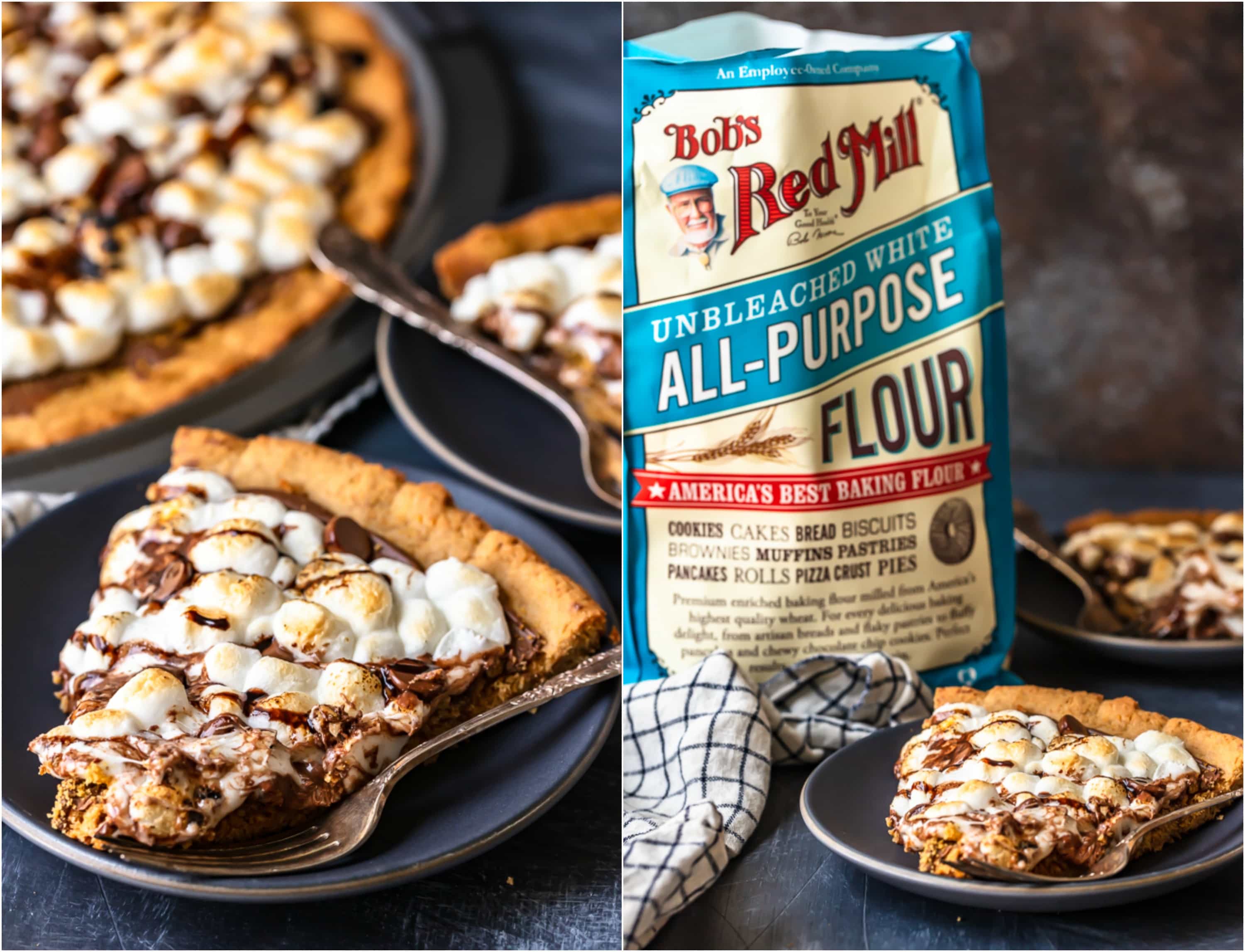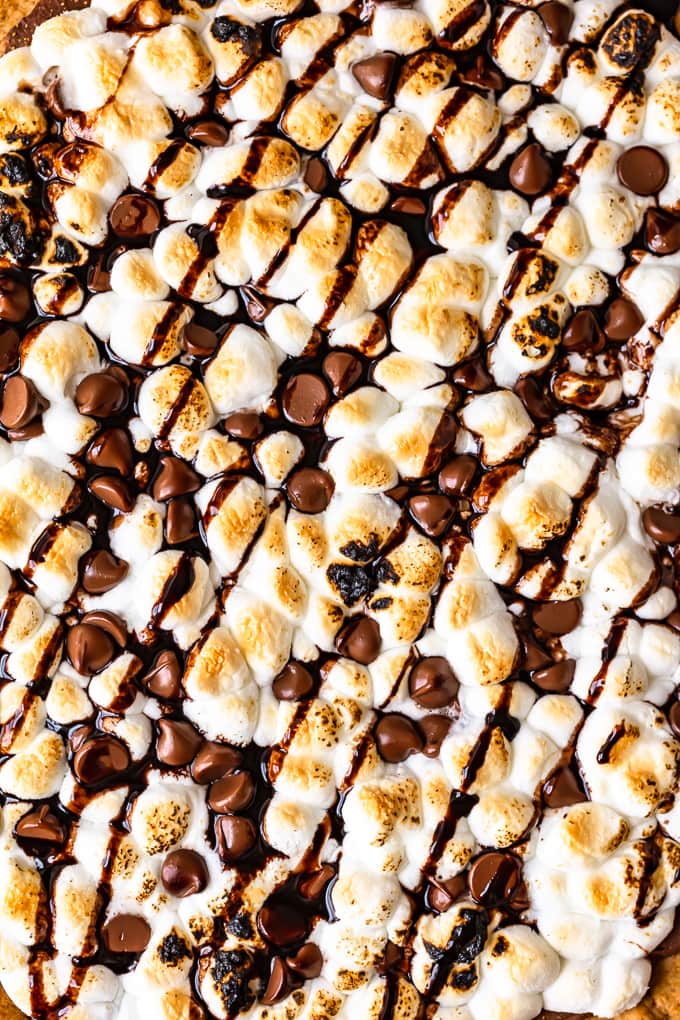 Easy S'mores Pizza
You guys know by now that I'm all about easy dessert recipes, and you should also know by now that I really like s'mores.
I've made S'mores Cookies (the BEST easy cookie recipe), a S'mores Ice Cream Sandwich (so good in the summer time), S'more Crepes & S'mores Folded Tortillas (because you need a breakfast version too), and even a S'mores Martini! That just wasn't enough though.
This delicious and easy S'mores Pizza is the ultimate dessert! It's the perfect thing to serve at a party (kid's birthday party, BBQ, even a fun game day dessert), or just for a fun weeknight treat.
The kids will love helping you make it, and they'll think they won the lottery with something so amazing to eat after dinner.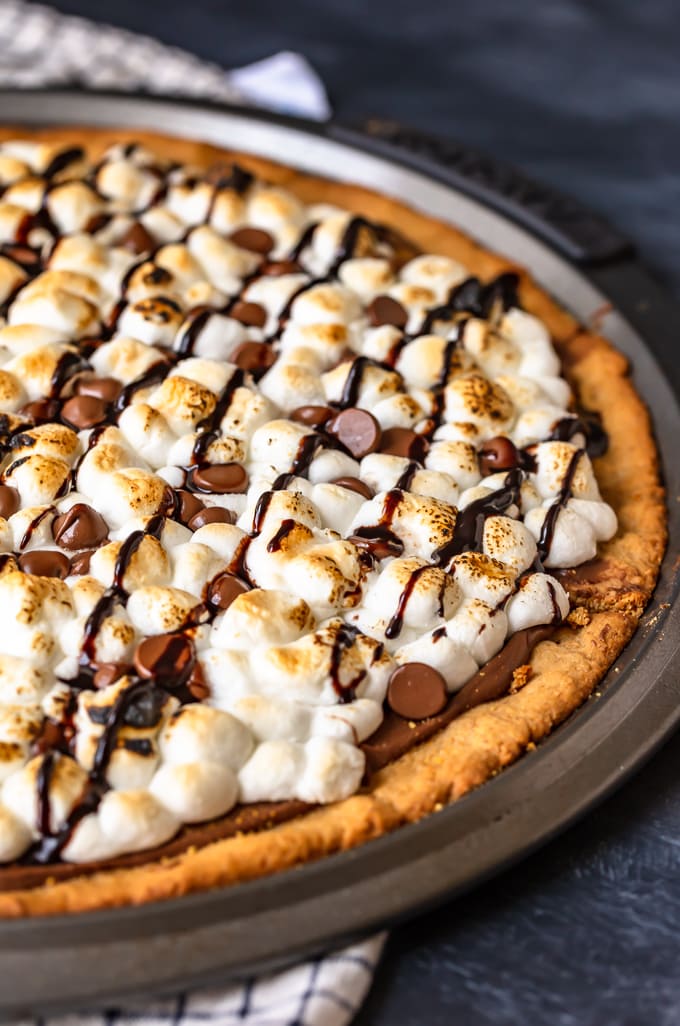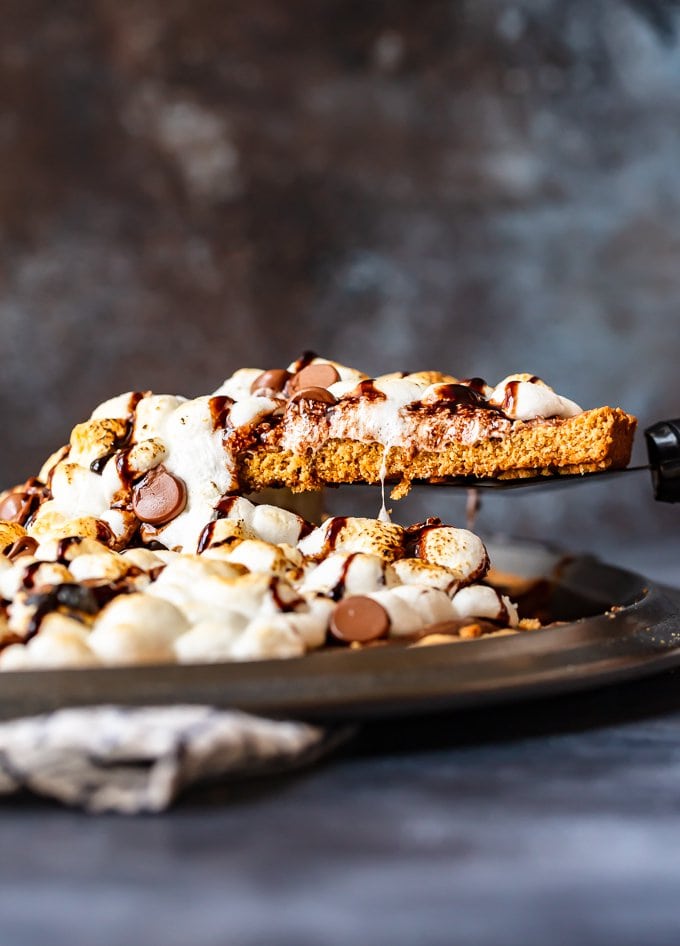 How to Make Dessert Pizza
This S'mores Dessert Pizza recipe is so much fun to make! It's like building your own pizza, but with sweet, sugary ingredients. It's almost impossible to mess up this recipe, so gather the kids to help you add the toppings and make a fun family activity out of it.
How to Make S'mores Pizza:
Make the dessert pizza dough by combining graham cracker crumbs, flour, & baking soda; mixing the butter & sugar in a mixer then adding in the eggs; and then combining wet & dry ingredients.
Press out the dough onto a pizza pan and use a fork to pierce the dough for venting
Bake the dough for 8-10 minutes until brown
Sprinkle chocolate chips all over the dough, let them melt, and then spread the chocolate out like a sauce
Sprinkle the rest of the graham crackers crumbs, chocolate chips, & mini marshmallows across the pizza and broil for 1-3 minutes until marshmallows start to brown
Drizzle melted chocolate across the pizza to finish it off, then slice and serve like you would a regular pizza
This easy S'mores Dessert Pizza recipe is irresistible. So much chocolate and so sweet! I'm glad it's easy to make because I want to make this ALL the time.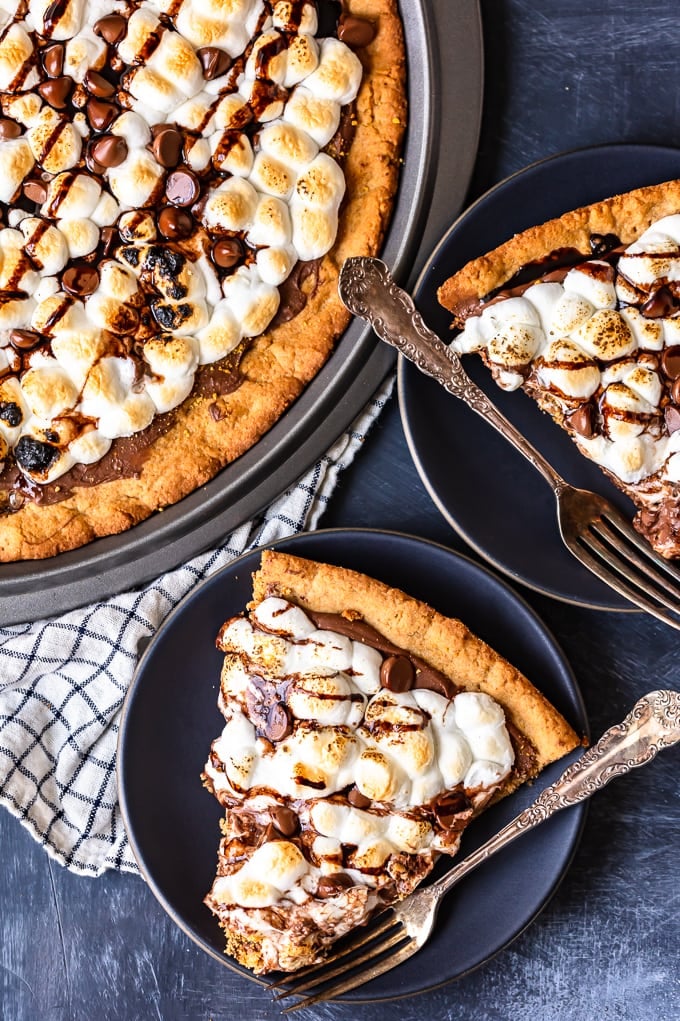 Watch the Video & See the recipe card for full details on how to make S'mores Dessert Pizza. Enjoy!
If you like this dessert pizza recipe, you'll love these other tasty desserts too: