S'mores Cookies are one of the BEST Easy Cookie Recipes I have ever made (or tried!). These Easy Smores Cookies are a favorite at our house for Christmas or any time of year. It can be our little secret that they're made with pre-made refrigerated chocolate chip cookie dough, dipped in milk chocolate, then graham cracker crumbs. Everything you love about S'mores in cookie form. DIVINE! Easy S'more Cookies for the win!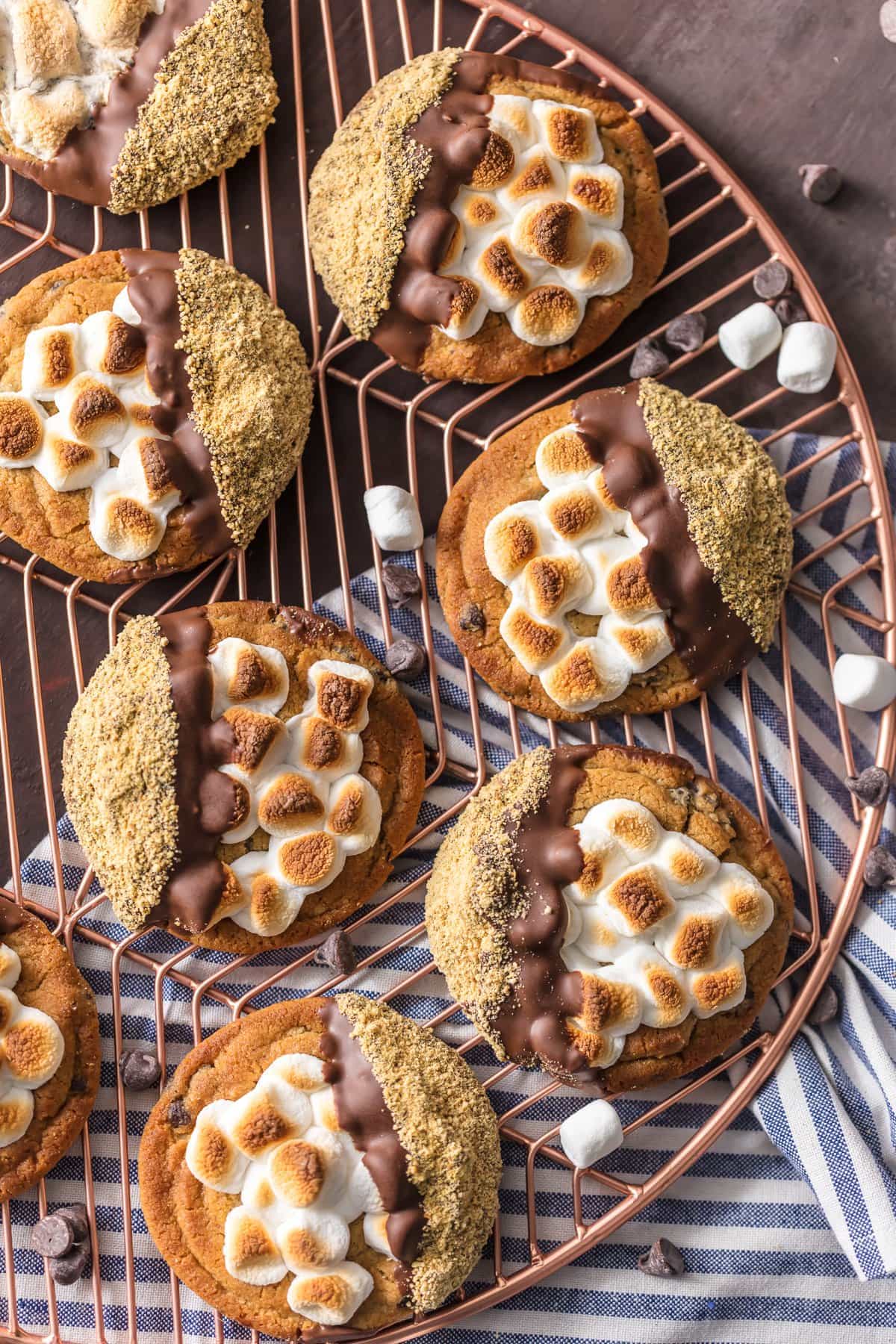 S'mores Cookies Recipe – Easy Cookie Recipes
S'mores Cookies are everything I want in my Easy Cookies Recipes. SIMPLE, made with pre-made dough, and utterly delicious.
I'm always on the lookout for a great baking hack. I've said it before and I'll say it again, I'm not a baker. I started this blog as I was learning to cook, and baking seems like an entirely different animal. I've baked cakes here and made cookies there, but I'm definitely not an expert yet. You might catch me using store bought cinnamon rolls (CINNAMON ROLL FRENCH TOAST BAKE) or even cake mix (STRAWBERRY CAKE MIX COOKIES) from time to time. Even so, these S mores Cookies remain my favorite, the best of the best.
Am I ashamed?…HECK NO! We all do our best in the kitchen and sometimes a little hack goes a long way.
These EASY S'MORE COOKIES could not be more delicious, and they also happen to be made with store bought refrigerated chocolate chip cookie dough. OOPS! :)
If you're looking for Easy Cookie Recipes, then you have to try this easy S'mores Cookies Recipe!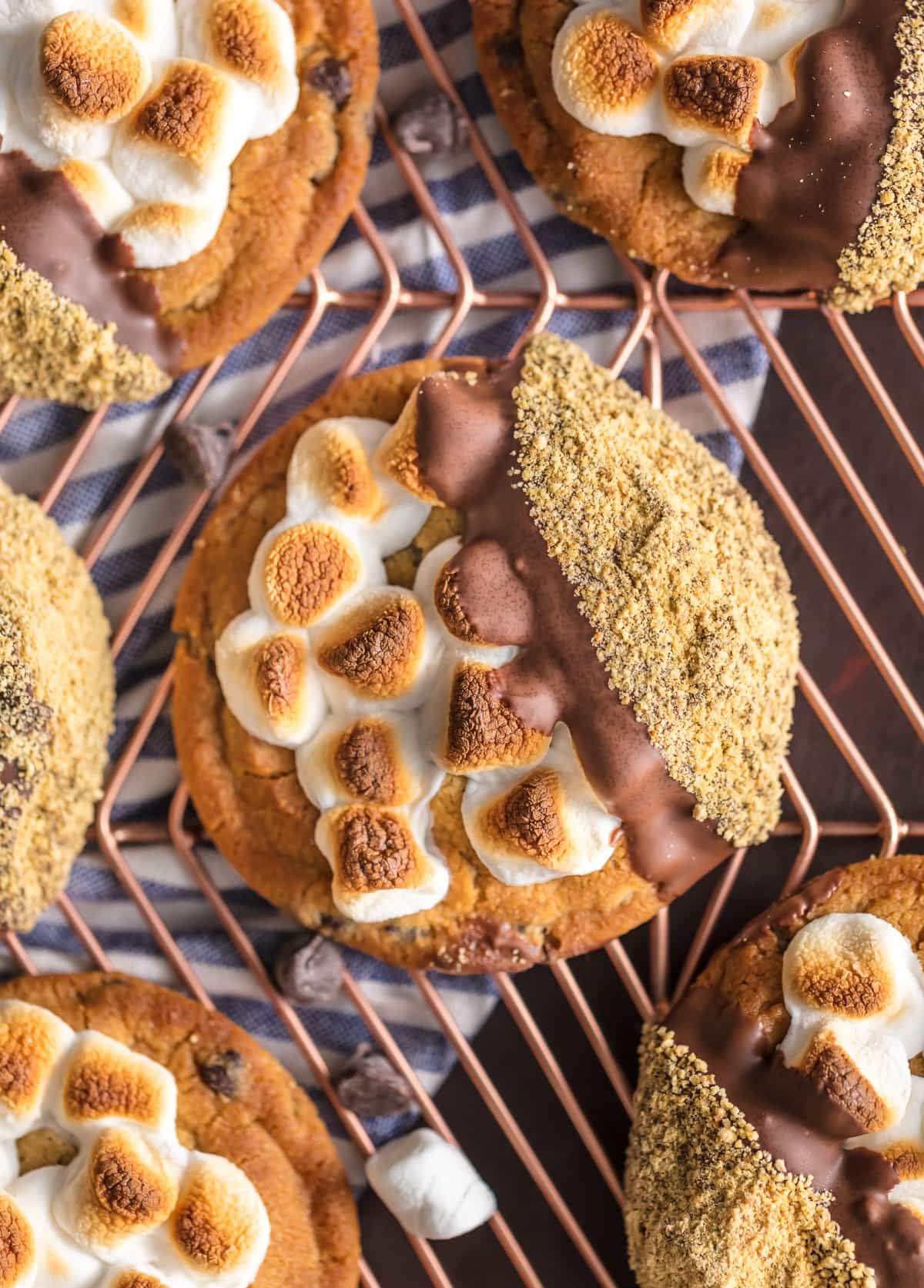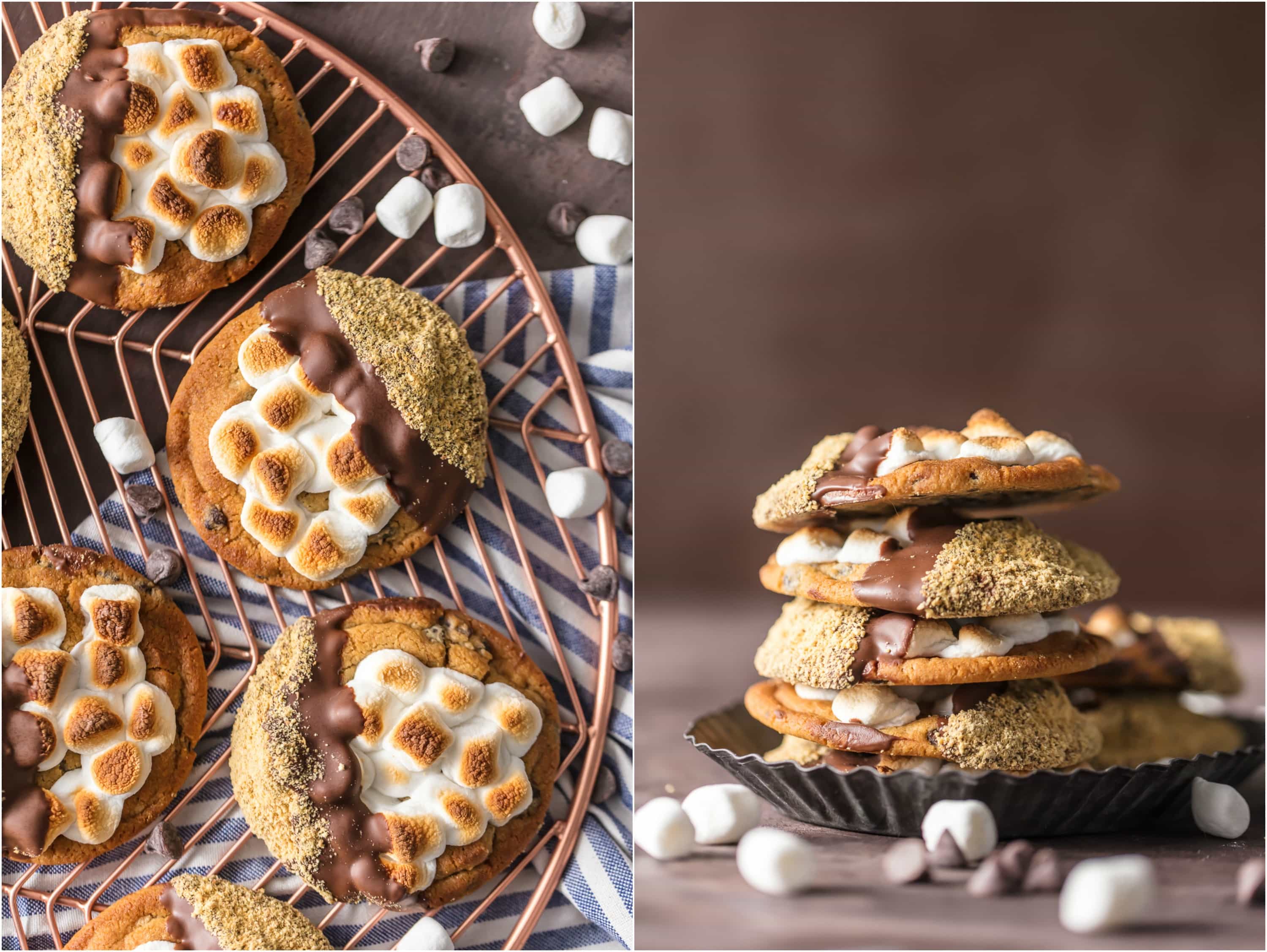 Easy Cookie Recipes
These Easy Smores Cookies are raved about each and every time I make them.
For these Easy S'mores Cookies, you can use your favorite chocolate chip cookie recipe as the base, or use store bought cookie dough. No shame! S'mores are at their best in the colder weather when we can build a fire and roast marshmallows. The flavors are second to none. Toasted marshmallows, milk chocolate, and crisp graham cracker. Bake all those flavors into Easy S'mores Cookies and you've got a real winner.
This easy cookie recipe is amazing year round, but I happen to think they're just perfect for holiday parties and Christmas get togethers.
They're EASY…no slaving away in the kitchen when there are presents to open!
They're sure to please kids and adults alike
They're full of flavors that bring us back to childhood and make us feel at home…and no better time for that than Christmas!
S'more Cookies are also a GREAT Summer recipe. They're made so quickly and they're virtually fool proof. S'mores Cookies are awesome for bake sales, class parties, baby or wedding showers, or anything you have coming up where you want to impress. Again, no need to tell anyone that this is one of your favorite truly EASY Cookie Recipes!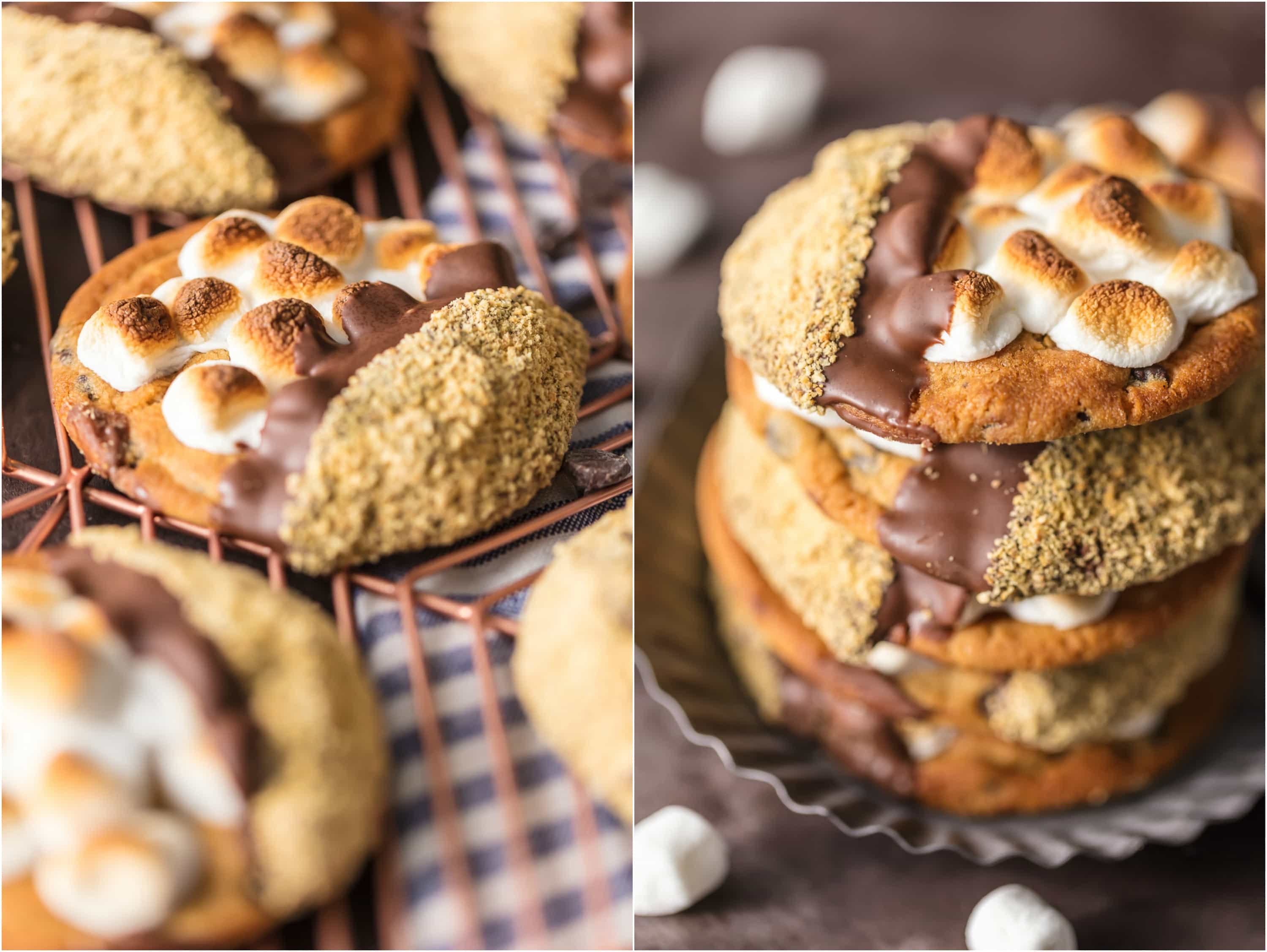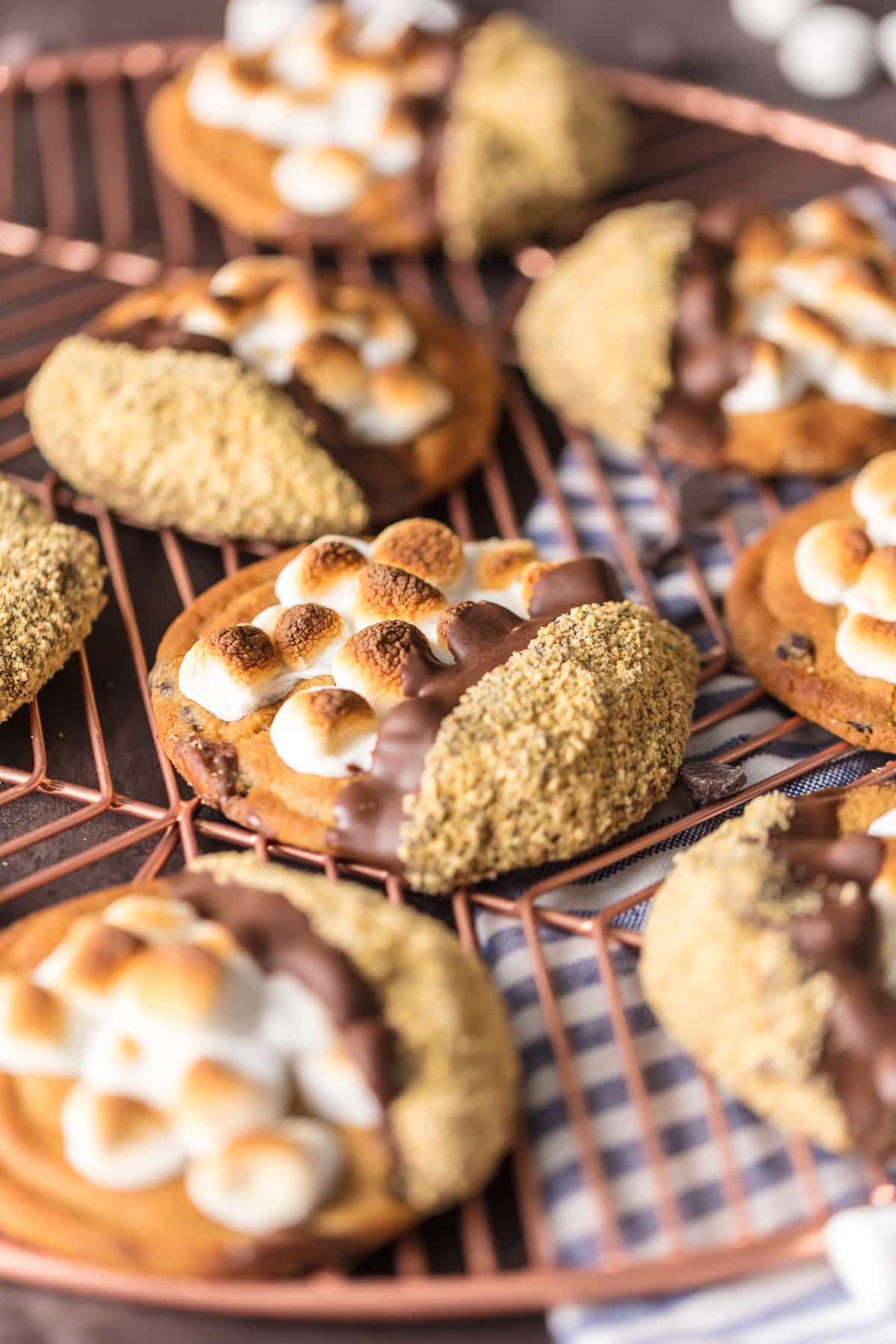 How to Make S'mores Cookies
These Easy Smores Cookies are as simple as baking the store bought dough according to package instructions, broiling on some mini marshmallows, and dipping in chocolate and graham cracker crumbles. Then sit back and listen to the compliments roll in. Best cookie hack ever?? It just might be!
Easy Cookie Recipes are one of my favorite things because I have never been a true baker and I'm fine with that. Cooking amazing food doesn't have to be super difficult or complex.
In the cooking show style video below I outline all the steps in How to Make S'mores Cookies, so I hope you give it a watch! Easy Cookie Recipes have never been this simple, and that's saying something!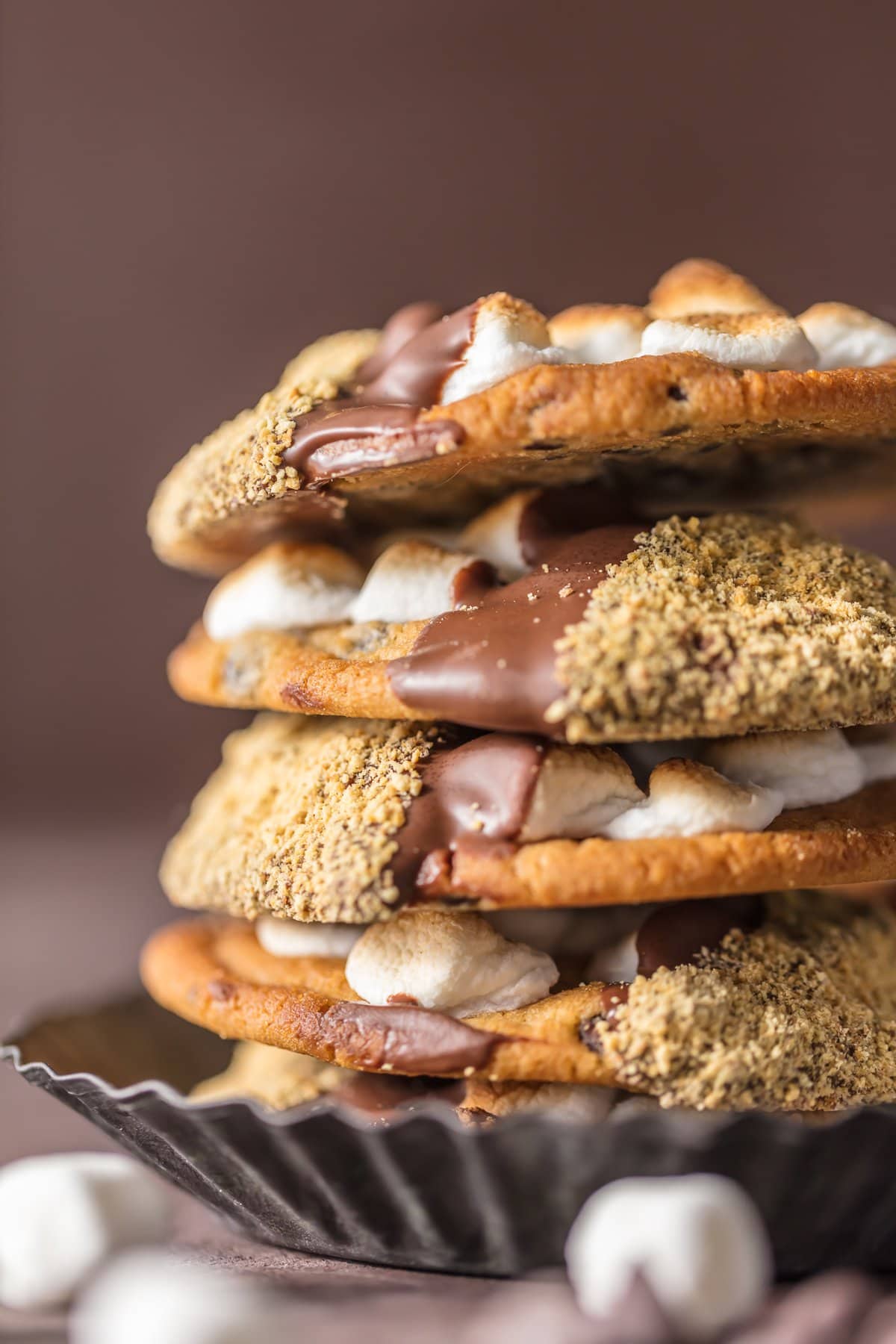 If you're on the hunt for Easy Cookie Recipes, you've come to the right place. These Smores Cookies steal the show each and every time. If you're in the mood for easy desserts rather than cookies, we have you covered there too. Be sure to check out our Easy French Silk Pie, Easy Peach Cobbler, or Easy BEST EVER Lemon Squares!
Watch the videos or see the recipe card below for full details on How to Make S'mores Cookies! Enjoy.
Want to see more cookies? Here are some faves: