This S'mores Ice Cream Sandwich Recipe is the perfect SUPER EASY Summer Recipe. Beat the heat with ice cream, chocolate frosting, and marshmallow fluff all frozen between two graham crackers. Kids go crazy for this fun and simple Ice Cream Sandwiches hack. Nothing beats an ice cold s'more on a hot Summer day!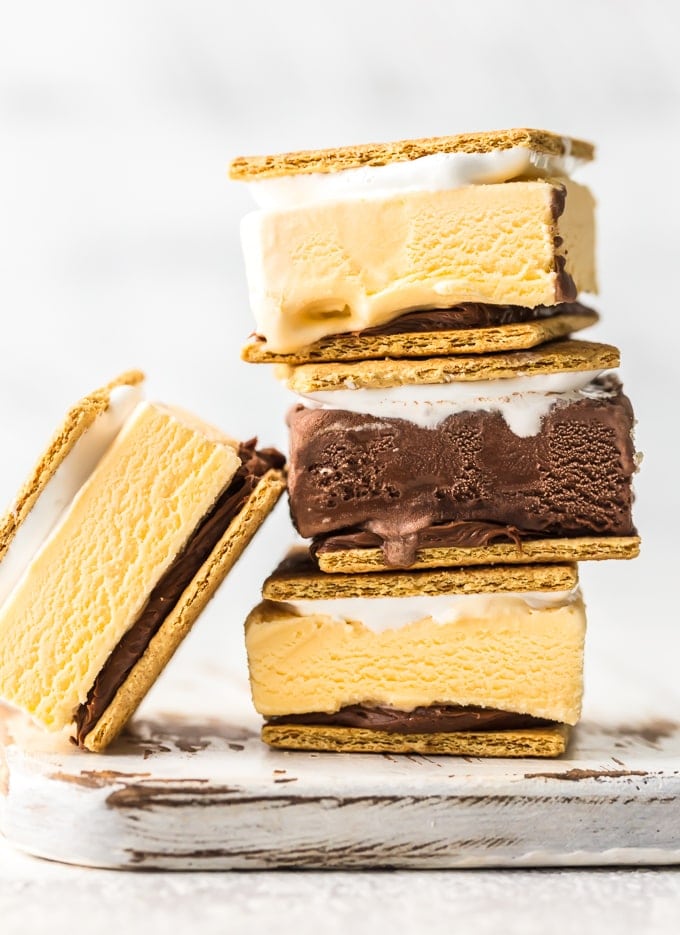 S'mores Ice Cream Sandwich (SUPER EASY RECIPE)
An Ice Cream Sandwich is the best way to beat the Summer heat! These S'mores Ice Cream Sandwiches are fun, easy, and most importantly delicious!
One of the best sounds a kid can hear during a hot Summer afternoon is the sound of the Ice Cream Truck rounding the neighborhood corner. I know I can remember that sound and feeling from when I was a kid. As an adult that works from home, you better believe I'm not running out into the street to accost the poor Ice Cream Man every time I have a craving for a frozen sweet treat. No one needs to see my bed head and slippers! :)
These days I realize that I can make just as fun and tasty ice cream treats as we bought when I was young, in the comfort of my own home! This hack recipe for S'mores Ice Cream Sandwiches will be a neighborhood favorite for kids and adults alike. They're perfect for Summer, or any day you're craving something sweet and fun.
S'mores Ice Cream Sandwiches can make any day a bit more fun and tasty. Especially the hot Summer days that are just around the corner.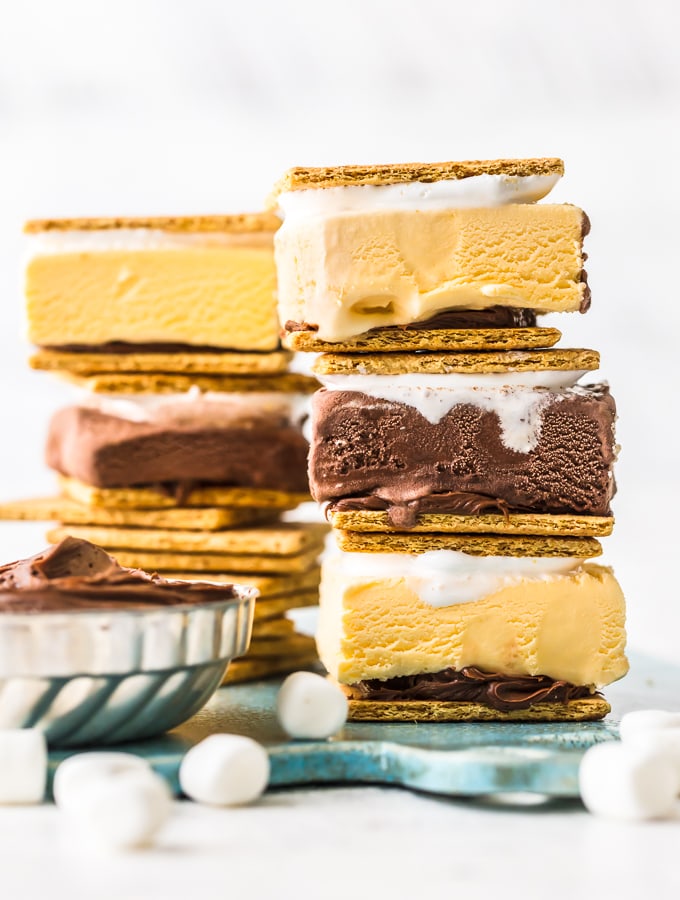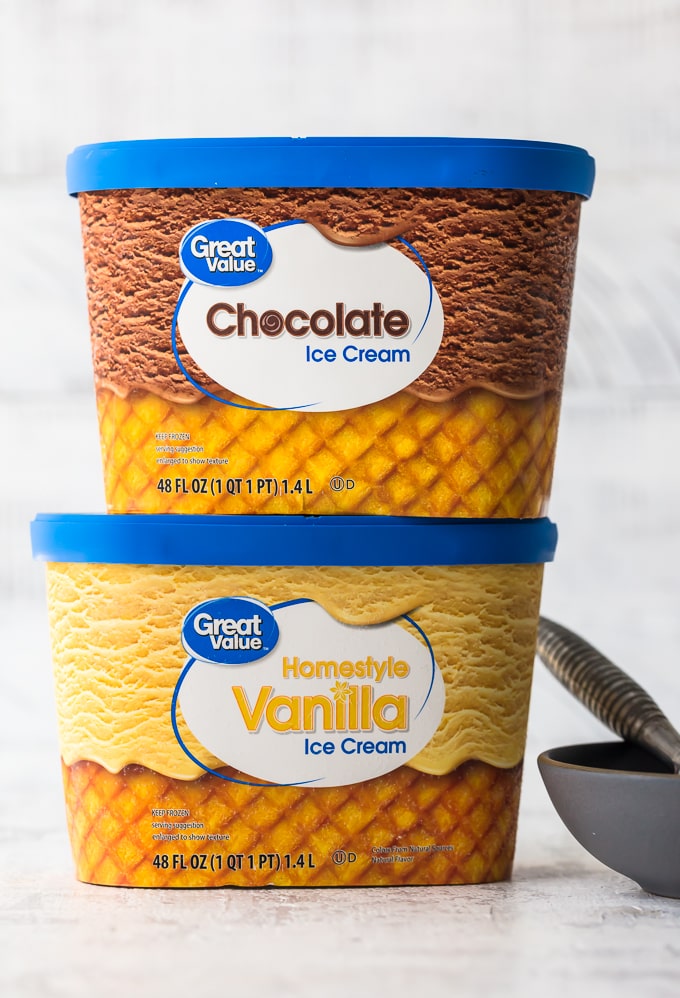 What ingredients to use in S'mores Ice Cream Sandwiches
The key to the perfect ice cream sandwich is amazing ice cream! You want an ice cream that will stay firm while also being creamy and easy to eat. Our favorite all natural ice cream is Great Value Ice Cream from Walmart! I love that it's made with fresh milk and cream and comes in all sorts of great flavors. I love ice cream on anything and everything, but it's especially tasty in this S'more Ice Cream Sandwich Recipe. I chose to use Chocolate and Homestyle Vanilla, but you can use any flavor. Cookies and Cream would be fun!
Other ingredients used in our S'mores Ice Cream Sandwich:
Graham Cracker Squares
Chocolate or Vanilla Ice Cream
Milk Chocolate Frosting
You can pick up all the ingredients when you're on your mission to Walmart to grab some Great Value Ice Cream. Easy peasy! Make a huge batch and have it in the freezer for when you need a break from the heat. Share with the kids or hide from them, either way is fine!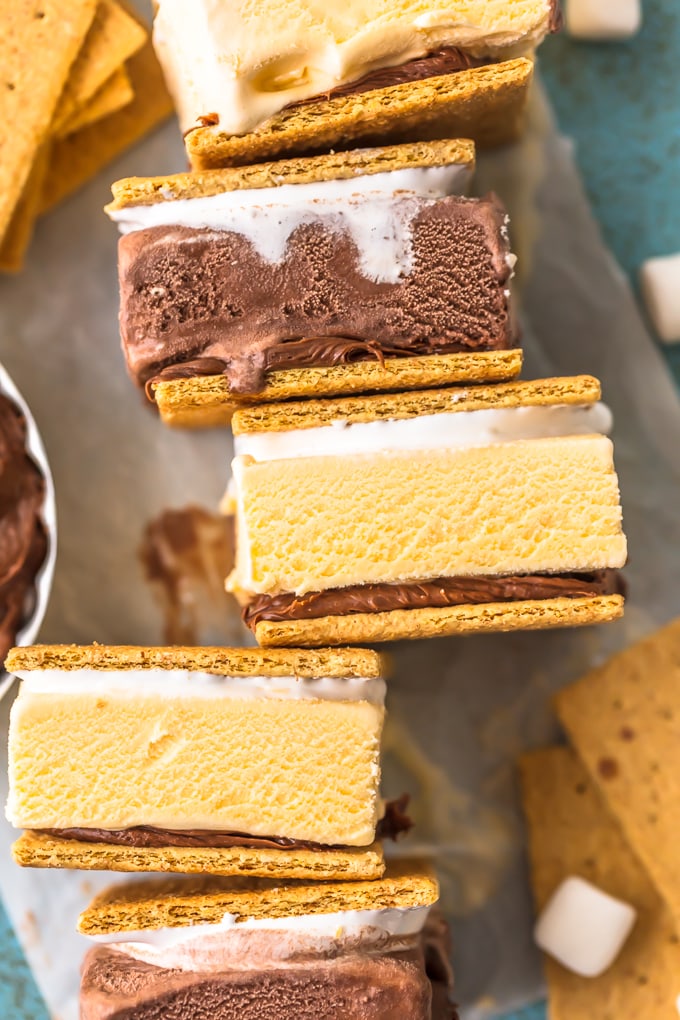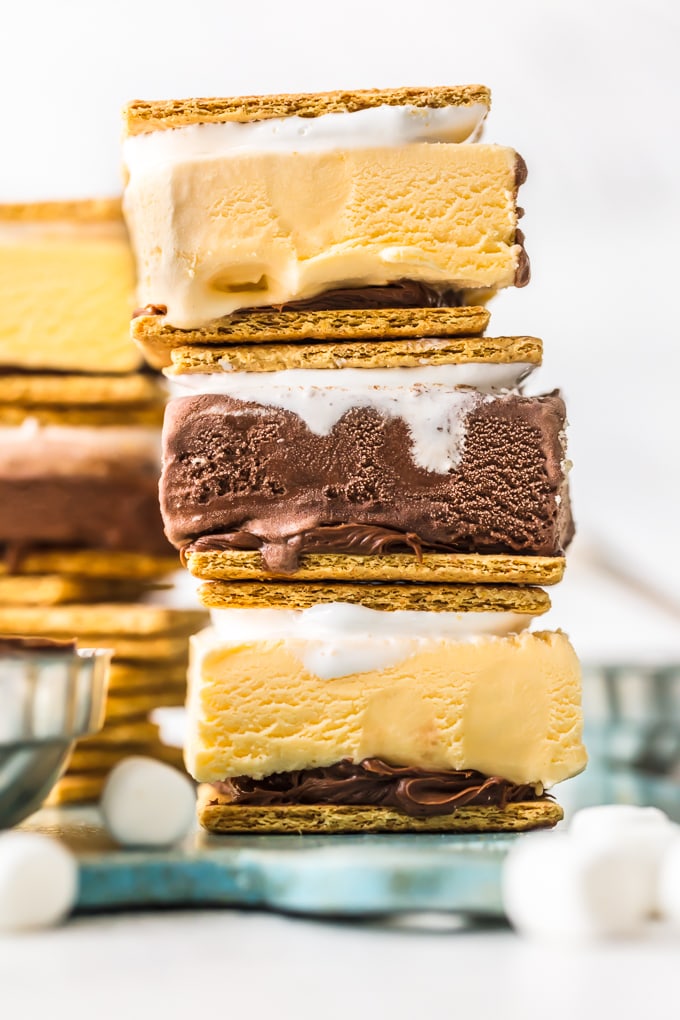 How to Make S'more Ice Cream Sandwiches
Making these Ice Cream Sandwiches is SO easy! This is one of our favorite hack recipes, because it's "semi-homemade". You won't be slaving away in the kitchen to make this fun recipe. You can buy everything and throw them together to create a unique and perfect Summer treat. Here is how you make these Ice Cream Sandwiches:
Break your graham crackers into 24 squares and lay them face down on a large baking sheet.
Spread 1 tablespoon chocolate frosting on 12 squares, and marshmallow fluff on the other 12.
Take scissors and cut the cardboard off of the ice cream container, revealing the block of ice cream.
Use a large knife to cut in thirds length wise, the cut each into two squares. You might need to trim the sides a bit. I just usually eat the excess:)
Lay each ice cream square onto the graham crackers with the icing. Take the marshmallow sides (face down) and press into the top of the ice cream to form each sandwich.
Freeze immediately for at least 4 hours or until fully set.
How to store an Ice Cream Sandwich
After you've allowed the Ice Cream Sandwiches to fully set, wrap each in foil and add to a freezer safe ziplock back. Then seal inside yet another freezer safe ziplock. You want to make sure you squeeze all the air out so that there's no chance of freezer burn.
How long with Ice Cream Sandwiches stay good in the freezer?
You can safely store Ice Cream in the freezer for 2-3 months. I like to keep these S'more Ice Cream Sandwiches no more than 1-2 months in the freezer. Don't worry, they won't last that long!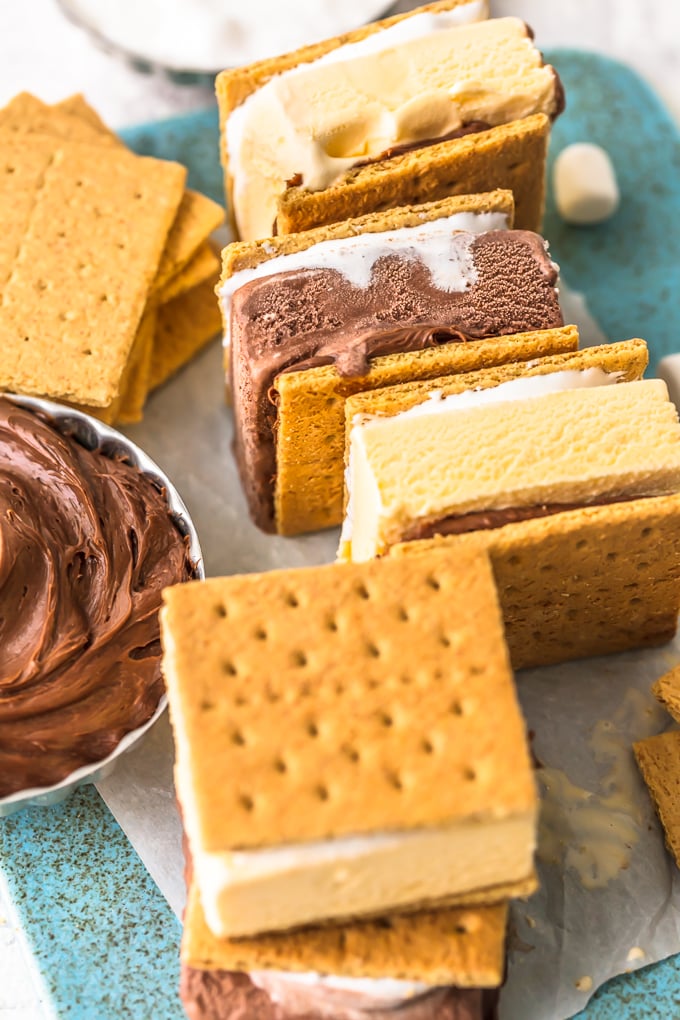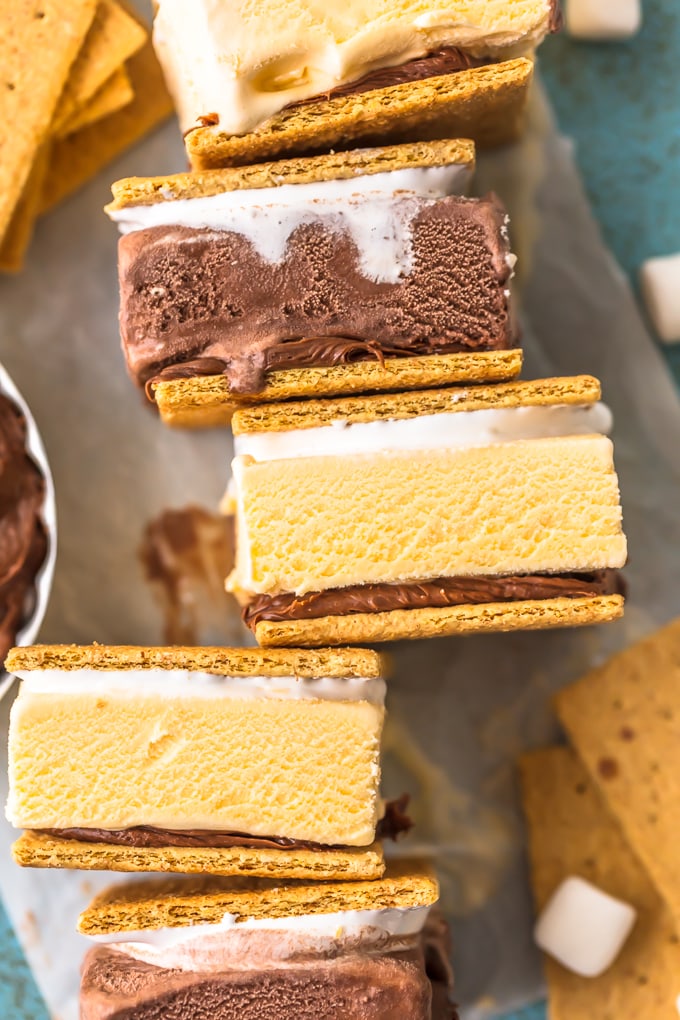 Other recipes with Ice Cream that we love
We cannot get enough ice cream during the hot Summer months. Here are some other favorite ways to beat the heat!
Creative ways you can make these Ice Cream Sandwiches
We love to make this S'more Ice Cream Sandwich, but it's always fun to play with flavors! Here are some ideas of how you could change things up:
Use pre-made chocolate chip cookies instead of graham crackers for the outside of your ice cream sandwich
Make in other flavors such as Strawberry S'mores, Cookies and Cream S'mores, or Sea Salt Caramel S'mores! Pick a Great Value Ice Cream flavor that you love, and then you can still use a frosting of your choice and the marshmallow fluff on the sides.
If you want to go all out with these S'more Ice Cream Sandwiches, you can dip them half way in melted chocolate after they're frozen. Freeze once more and you're in business! Messier to eat, but so much fun!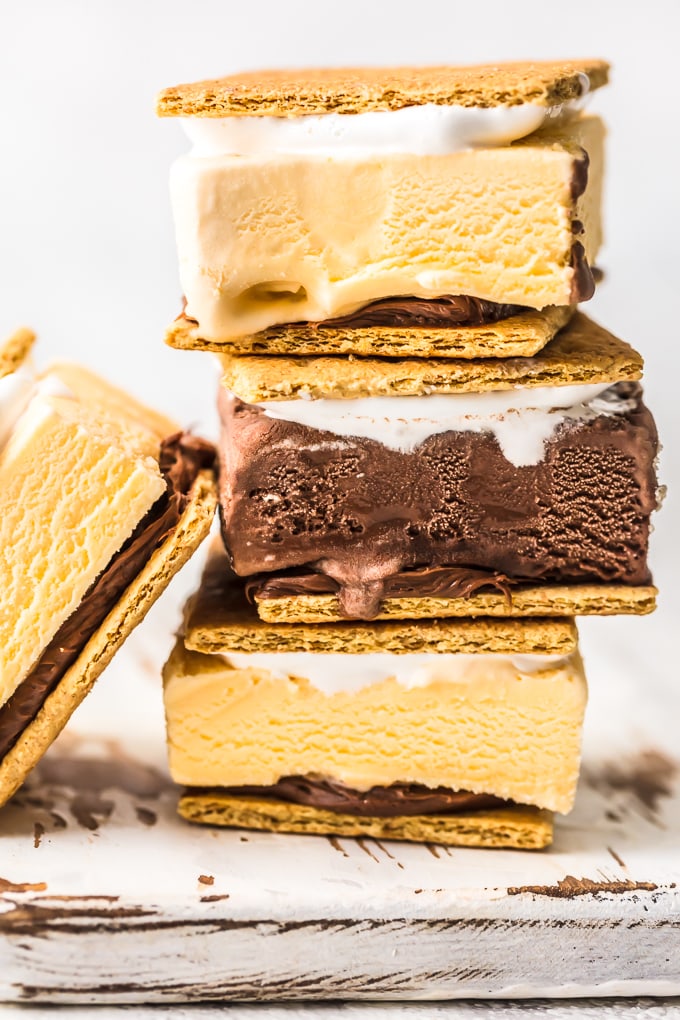 I hope this fun and easy S'more Ice Cream Sandwich Recipe brings joy, heat relief, and a little fun to a Summer day near you. I know having a batch in my freezer always leads to a smile for my family! Let me know if you make them and how you like them. I'd love to hear about all your flavor variations!
See the recipe card below for details on How to make S'mores Ice Cream Sandwiches
Looking for more S'mores? We have so many recipes! Here are some of our favorites: