This TOASTED S'MORES MARTINI is as delicious as it is beautiful. With layers of cream, marshmallow vodka, and chocolate liqueur all you need is a graham cracker rim! This Marshmallow Vodka Martini is do fun and festive for Fall.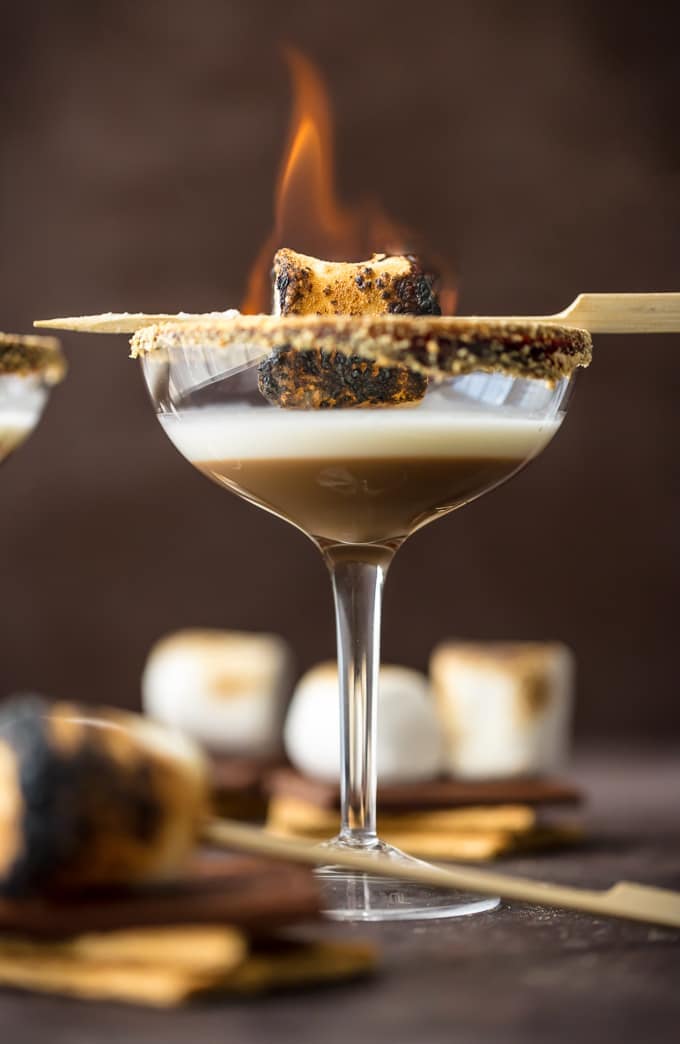 S'mores Martini Recipe
This Toasted S'mores Martini features marshmallow vodka, chocolate liqueur, and a toasted marshmallow to top it off! What could be more fun than a S'mores Martini?
I have always loved s'mores and this Toasted S'mores Martini is one of my favorites! I even had a s'mores bar at my wedding in lieu of a cake! They remind me of camping and family time. I may love s'mores but I don't necessarily want to have to camp in the cold and dirt to enjoy them. This Marshmallow Vodka Martini is the perfect way to enjoy the ultimate flavors of Fall while still being indoors in the comfort of your own home. This cocktail is fun, festive, and oh so delicious!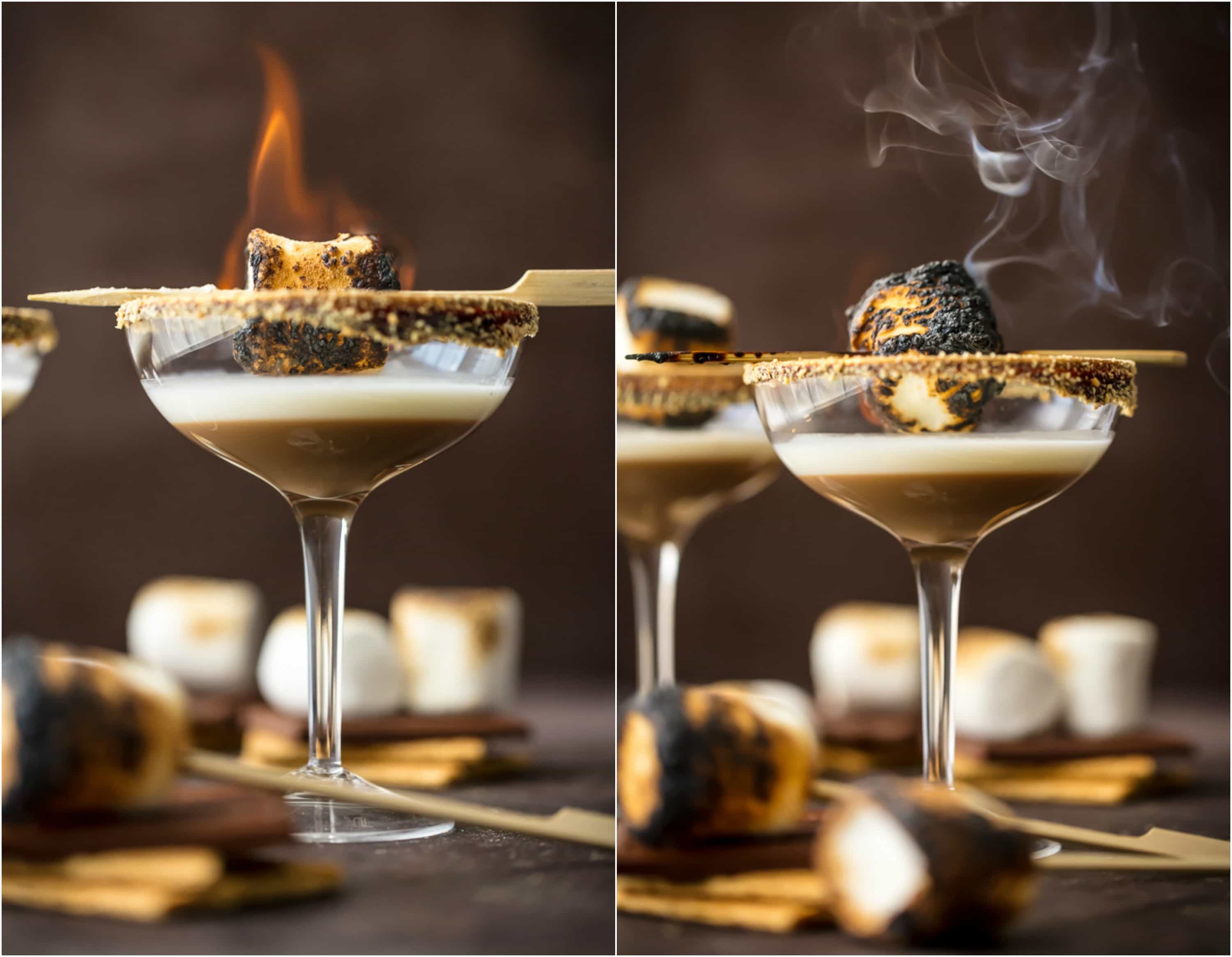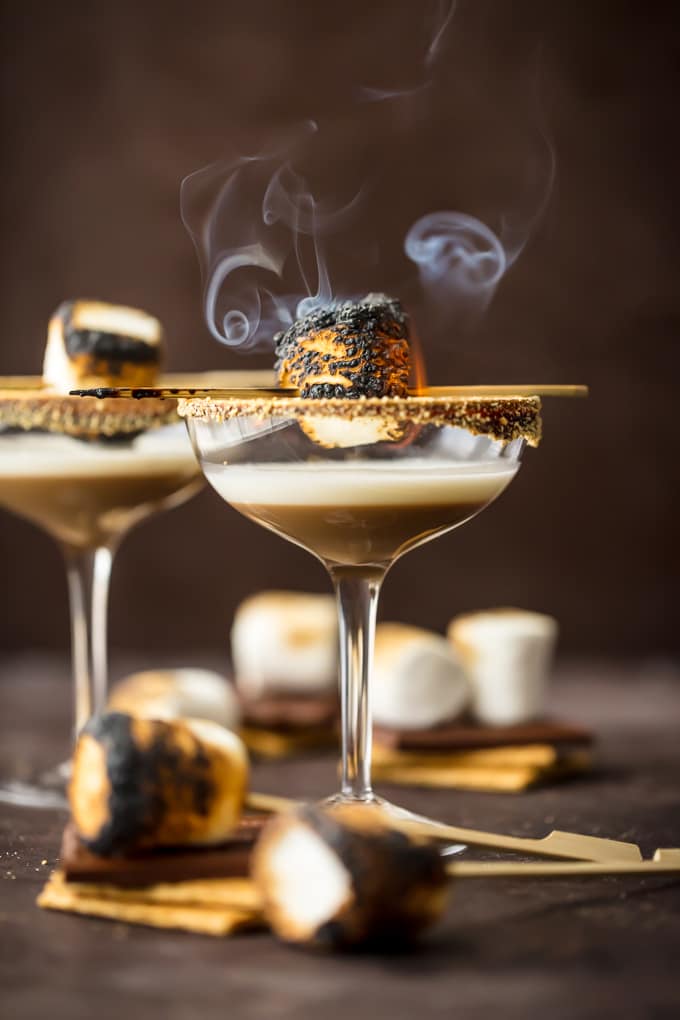 How to Make S'mores Martinis
We had so much fun making these Toasted S'mores Martinis. This was my mom's creation, isn't it so cute?? We originally made these in 2013 but the pictures were TERRIBLE so we remade them again a couple weeks ago. They were just as fun as we remembered and I'm so happy to share this recipe again with you.
Making the marshmallow vodka martini is a very simple process, it just takes a little more time than the average drink. Here are a few tips to keep in mind:
Make the rim first, using Hershey syrup and then crushed graham crackers.
If you want the drink to be layered, see the pictures below (don't judge…we were just starting out!!!).
Pour each part VERY SLOWLY over an upside down spoon.
The slower the better to make the layering.
I love the way it looks with the layers, but in all honesty, it tastes better mixed together. You can make it all mixed together to start, or if you make it layered, just stir it with the bamboo stick after lighting your marshmallow. Easy peasy!
Pre-toasting the marshmallow is really important to make this drink go off without a hitch. You just want to brown them slightly, so that they will light quickly once you're ready to serve your drinks.
I just think these are so cute, and it makes it even better that it seriously tasted like a toasted s'more fresh out of the fire.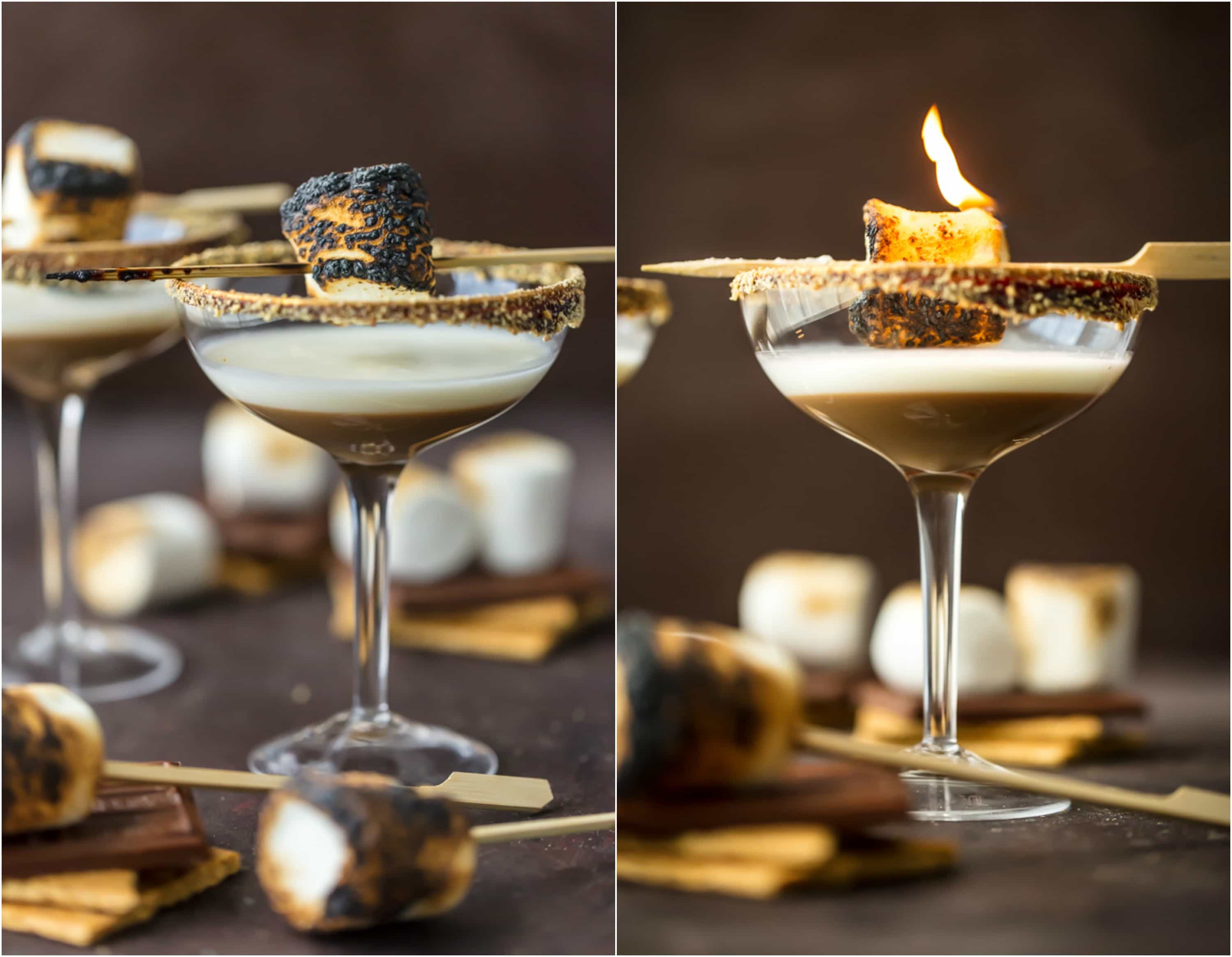 Toasted S'mores Shot with Marshmallow Vodka
Back in 2013 we also tried it on a smaller scale as a Toasted S'mores Shot. I like the taste of the drink better, but the shot version is SO FUN. You can take it like a tequila shooter; lick the chocolate and graham, take the shot, and then eat your marshmallow! Here's baby Pat being a good sport and demonstrating back in the day. I left this in the new post because it cracks me up so much! We weren't married yet. Just kids!!!
So yeah, we weren't cool. But the drink is. You're gonna love it.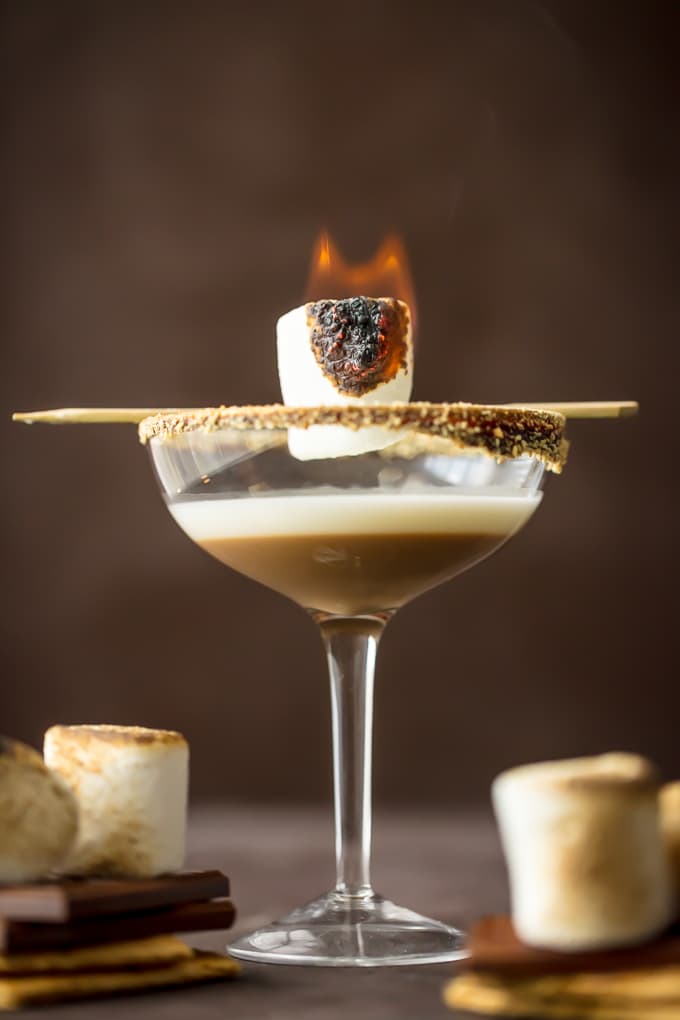 This Toasted S'mores Martini is so much fun. I just love dressing up a classic s'more as a fancy drink. And the toasted marshmallow just makes it look SO COOL.
See the recipe card below for details on how to make a S'mores Martini. Enjoy!
If you enjoyed the S'mores Martini, try these other fun cocktails too: