SNICKERS COOKIE BARS! Snickers Shortbread Cookies made with caramel, chocolate, and peanuts! BEST CHRISTMAS COOKIE RECIPE EVER!! Peanuts, caramel, chocolate, and shortbread. Now what could be better?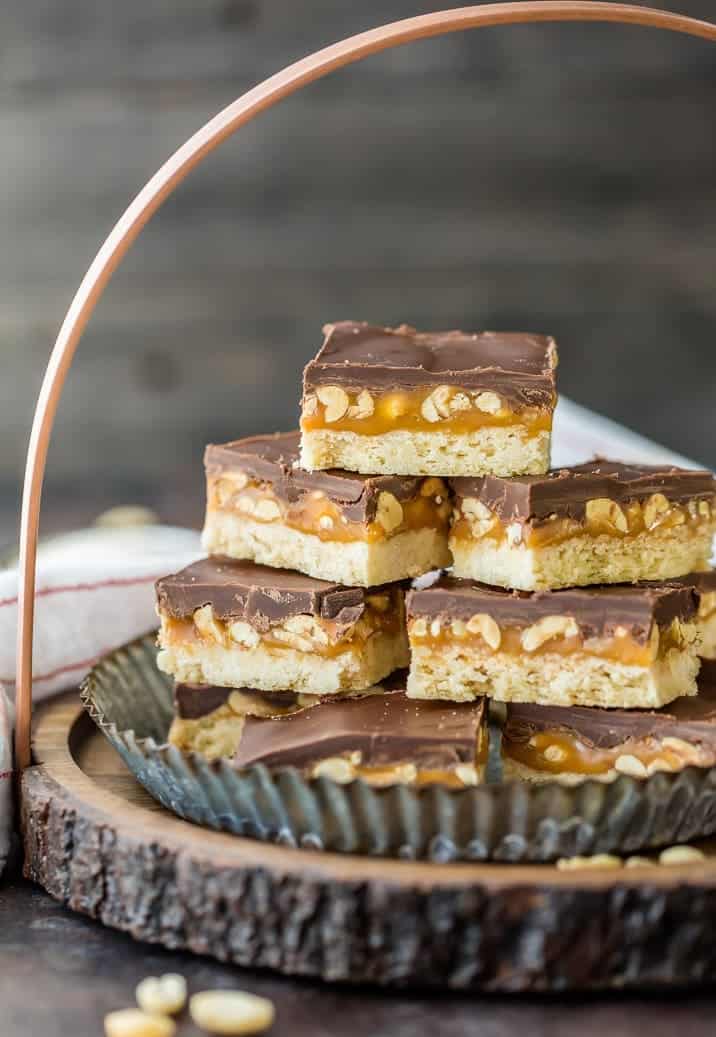 HAPPY NATIONAL COOKIE DAY!!! The best day of the year. What could be better than you Instagram, Facebook, and Pinterest feeds showcasing amazing cookies ALL DAY LONG! The entire world celebrates the best food there is…COOKIES! And you guys know I'm not a baker, so I've made you my favorite easy easy recipe, SNICKERS COOKIE BARS! Prepare yourself for a sugar rush!
You guys are used to me working with In The Raw Sweeteners by now. They have been one of my very favorite brands to work with this year (click HERE to see my other recipes in partnership with In The Raw), their products are just amazing. They have an entire line of speciality sweeteners for every type of dietary restriction. You can trust that their ingredients are properly sourced and that their products are second to none. For these Snickers Shortbread Bars, I used their Sugar In The Raw Organic White. This sugar is never bleached, eco-social certified, non-gmo, and organic. If you prefer white sugar in your baking, this is the ticket!
So, ABOUT THESE SNICKERS COOKIE BARS!
Where to start. (SUPER EASY) Shortbread crust, (SUPER GOOEY) caramel and peanut center, and (SUPER RICH) chocolate top. Does that sound like heaven or what?
To be honest, these taste a bit like a cross between Twix and Snickers. That shortbread base reminds me of twix. And if you don't like peanuts, you can totally leave them out and make these Twix Cookie Bars! Win win in my opinion, although I do like the extra texture and taste of the peanuts. And did I mention the Gooey Caramel yet?
ENJOY! And Happy National Cookie Day! Be sure to celebrate by eating tons and tons of cookies! Click HERE to see more cookie ideas on In The Raw's website!!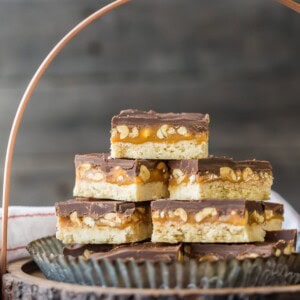 Ingredients
FOR THE SHORTBREAD LAYER

2/3 cup butter, softened
1/4 cup sugar (I use and LOVE In The Raw Sugar Organic White)
1 1/4 cup all purpose flour
1/4 teaspoon salt
1 teaspoon pure vanilla extract

FOR THE CARAMEL LAYER

1 (11 ounce) bag of caramels
1/4 cup heavy cream
1 cup dry roasted (plain) peanuts

FOR THE CHOCOLATE LAYER

12 ounces good quality milk chocolate chips
Instructions
Preheat oven to 350F. Line a 9x9 inch baking dish with parchment paper. Set aside.
Cream together the butter, sugar, flour, salt, and vanilla until crumbled and fully incorporated.
Press the shortbread mixture into the bottom of the lined baking dish and cook for approximately 20 minutes, until slightly golden.
Remove from the oven and set aside.
Place the caramels and the cream in a microwave safe bowl and microwave for 2 minutes, stirring every 30 seconds. Stir in the peanuts and pour the mixture evenly over the shortbread. Use a spoon to distribute the caramel evenly.
Allow to cool for at least 10 minutes.
In a microwave safe bowl, heat chocolate in increments of 30 seconds, stirring each time, until melted.
Pour the chocolate over the caramel and spread evenly.
Allow the chocolate to cool and harden completely before serving, about 2 hours. You can speed up the process by letting it cool in the fridge. Cut into squares and serve!
Enjoy!
7.8.1.2
2039
https://www.thecookierookie.com/snickers-cookie-bars/