These Snickers Cookies Bars are made with a shortbread base, caramel, chocolate, and peanuts. It's the best Christmas cookie recipes ever! This cookie bars recipe tastes just like Snickers and they are just so delicious.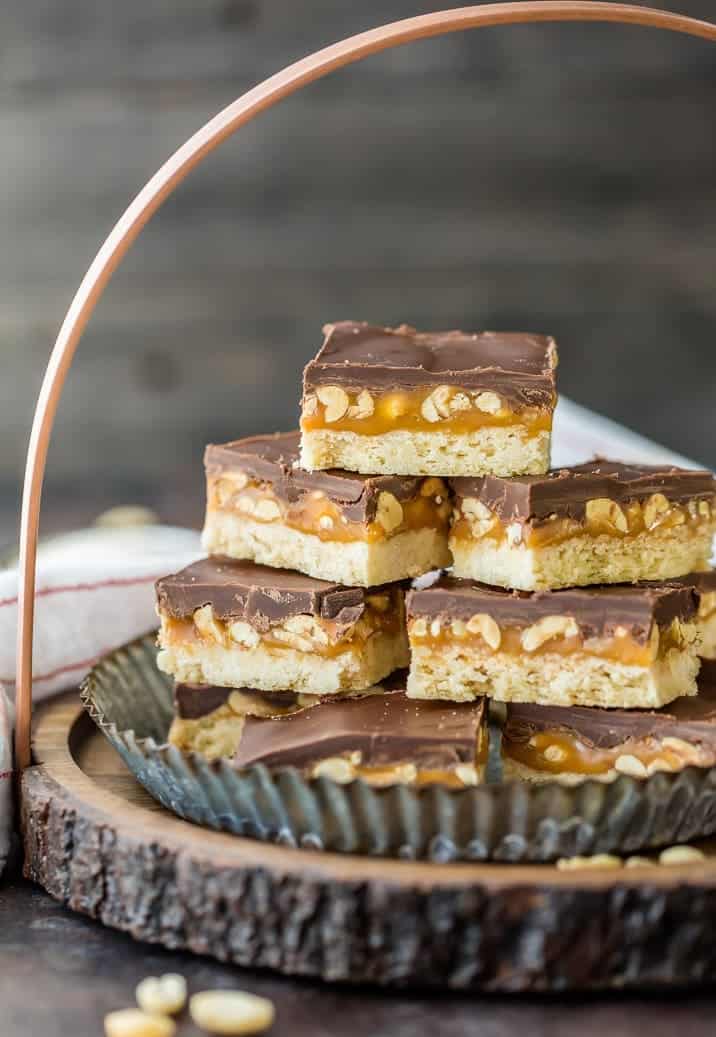 Snickers Cookies Bar
Snickers Cookies Bars are perfect for the holiday season. If you love Snickers (what's not to love?), then you'll love this amazing cookie bar recipe!
HAPPY NATIONAL COOKIE DAY! It's the best day of the year. What could be better than logging into social media and seeing amazing cookies in your feed ALL DAY LONG? For one day, the entire world celebrates the best food there is: COOKIES! To celebrate, I'm sharing these amazing Snickers Cookies Bars.
You guys know I'm not the best baker; it's one aspect of cooking that will always make me a little nervous! But I'm sharing this easy cookie bars recipe with you because it's super simple. It's a Snickers in cookie form! What could be better? Start with a layer of shortbread cookie, then add a layer of peanuts and caramel, and top it off with a layer of pure chocolate. YUM! It tastes just like a Snickers bar, but even better because it's a cookie bar!
Get ready for a major sugar rush with this delicious candy bar cookie recipe. You won't be able to stop eating them!
This Snickers Cookie Bar recipe is the perfect combination of cookie, caramel, peanuts, and chocolate. Just like the candy bar but in cookie form!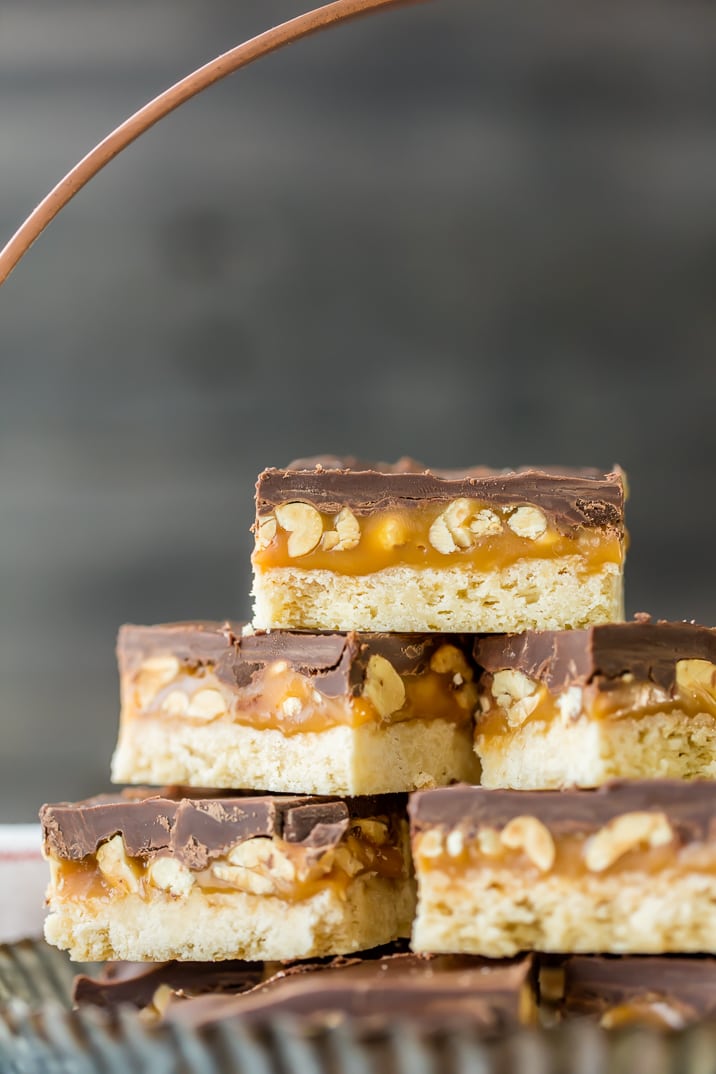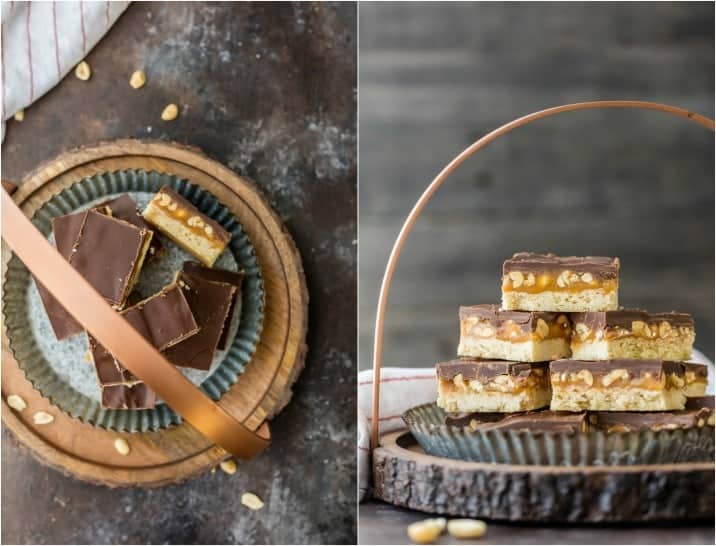 Easy Cookie Bars Recipe
I'm super excited about this Snickers Cookie Bars recipe because it's so easy. I mean, I wouldn't make it if it weren't! And of course it's all about the ingredients, because that's what makes food so tasty after all.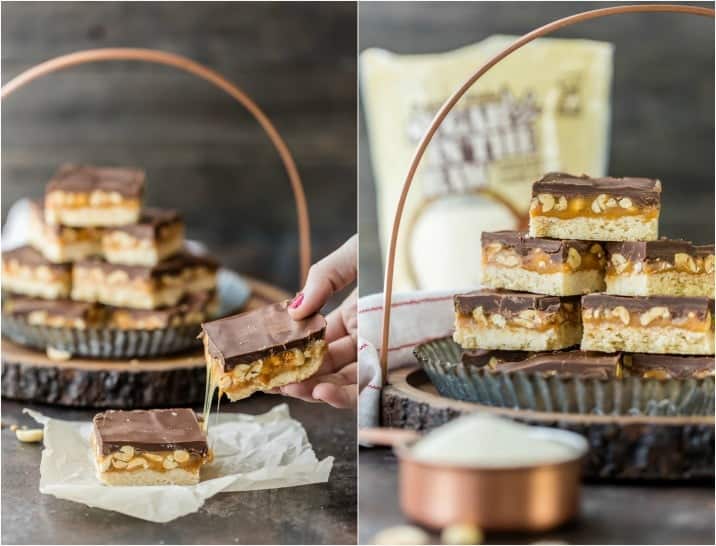 How to Make Snickers Cookies Bars
Where to start with these delicious cookie bars… You've got the (SUPER EASY) Shortbread crust, the (SUPER GOOEY) caramel and peanut center, and the (SUPER RICH) chocolate topping. Does that sound like heaven or what? Let's get to baking!
Make the shortbread layer: Combine sugar, butter, flour, salt, and vanilla.
Press the mixture into the bottom of a 9 x 9 baking dish (lined with parchment paper).
Bake for 20 minutes at 350°F and then remove from oven.
Make the caramel layer: Put caramels and heavy cream in a microwave safe bowl, and microwave for 2 minutes, stirring regularly.
Stir the peanuts into the caramel, then pour the mixture in an even layer over the shortbread. Let cool for 10 minutes.
Melt the chocolate chips in the microwave, stirring every 30 seconds.
Pour chocolate over the caramel in an even layer.
Let the cookie bars sit in the refrigerator. The chocolate should cool and harden completely before serving.
I'm so obsessed with these Snickers Cookies Bars! The perfect treat! Check the recipe card and video for more detailed instructions.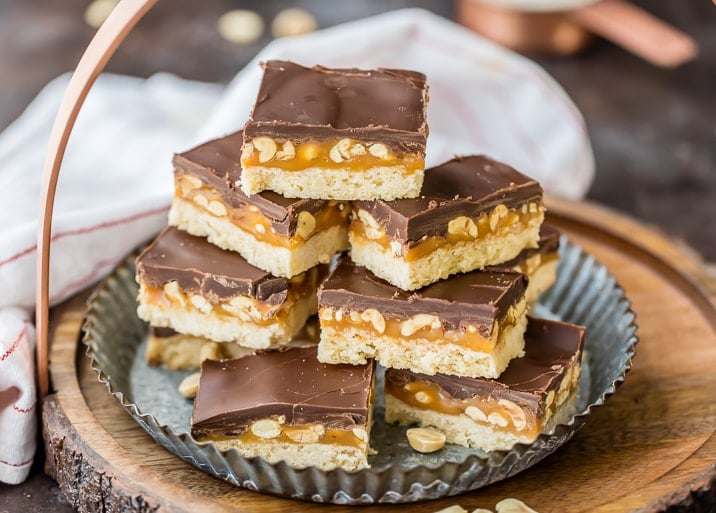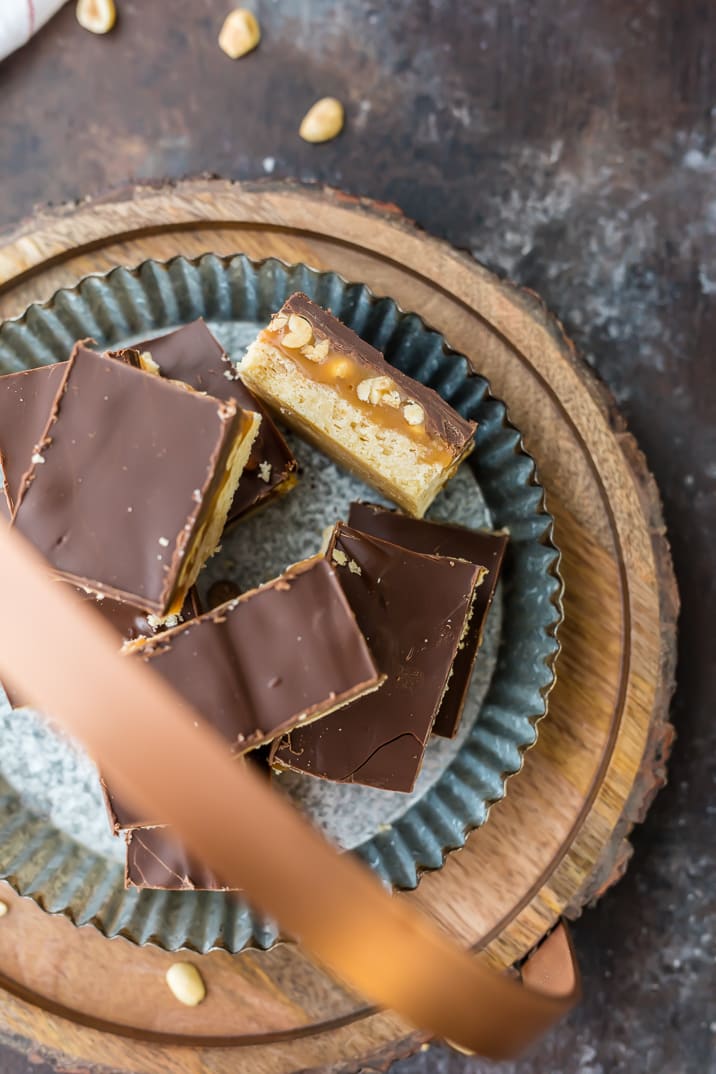 Twix Cookie Bars
To be honest, these cookie bars taste a bit like a cross between Twix and Snickers. That shortbread base just reminds me so much of Twix candy bars. So if you don't like peanuts, you can totally leave them out and make these Twix Cookie Bars instead! Win win in my opinion, although I do like the extra texture and taste of the peanuts. And did I mention the Gooey Caramel yet? So good!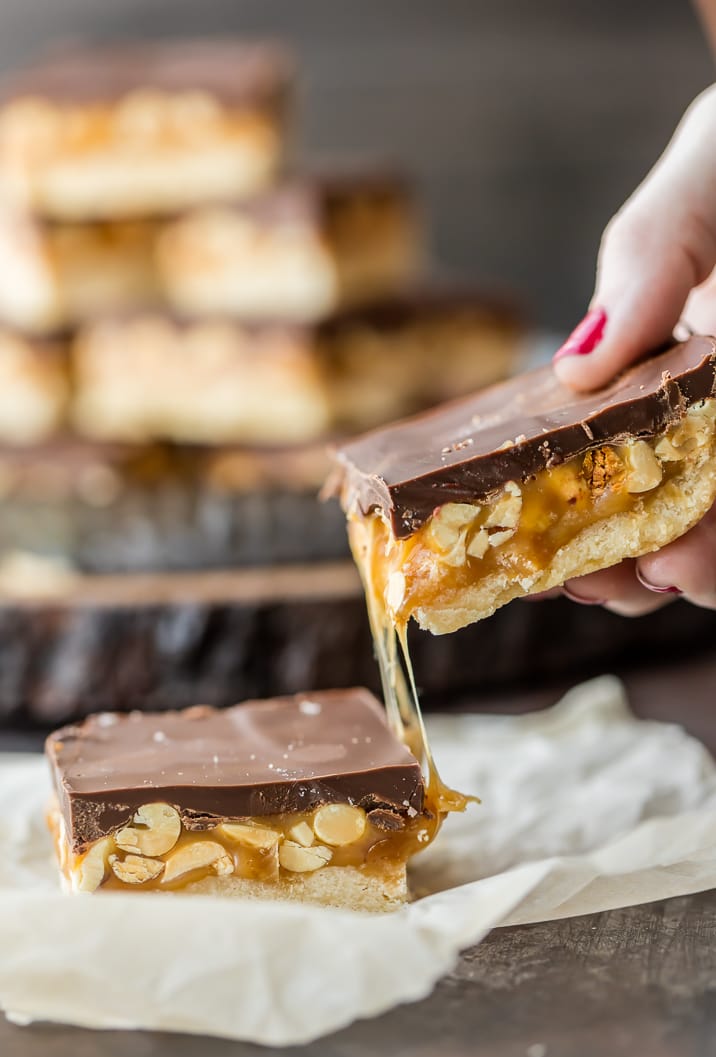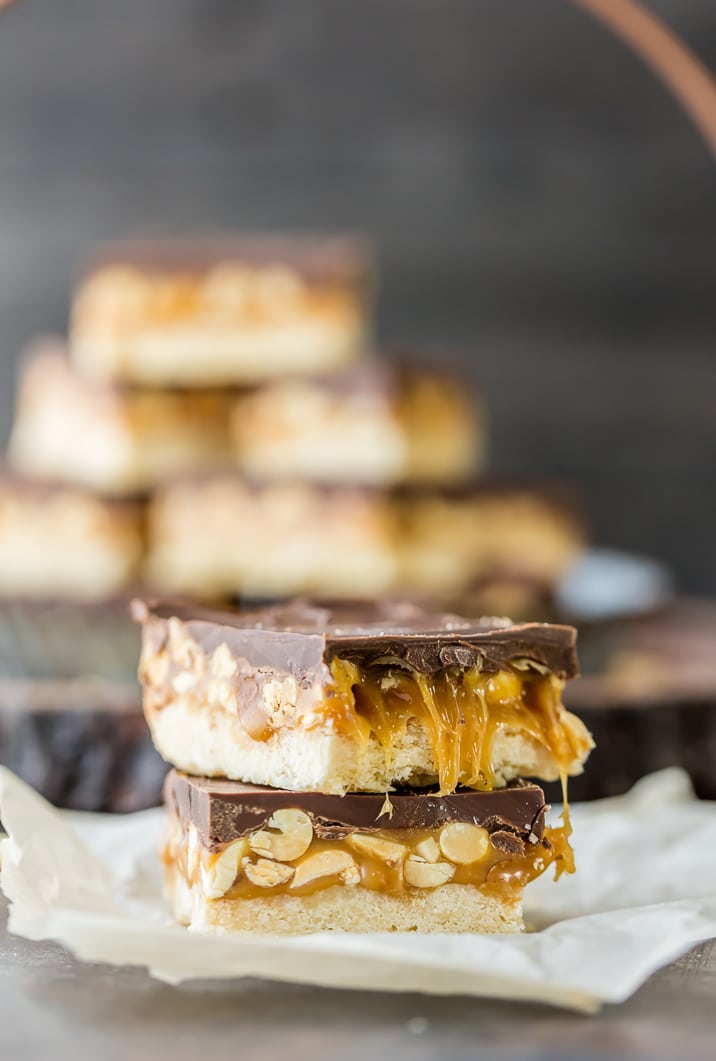 Happy National Cookie Day! Be sure to celebrate by eating these Snickers Cookies Bars, or tons and tons of your favorite cookies.
Watch the Video and See the recipe card below for details on how to make Snickers Cookies Bars. Enjoy!
If you like this recipe, try these other tasty cookie recipes too: