These Twix Cookie Cups will be the hit at any party. Did you hear me? TWIX.  COOKIE.  CUPS.  The absolute best (and easiest) recipe ON THIS SITE!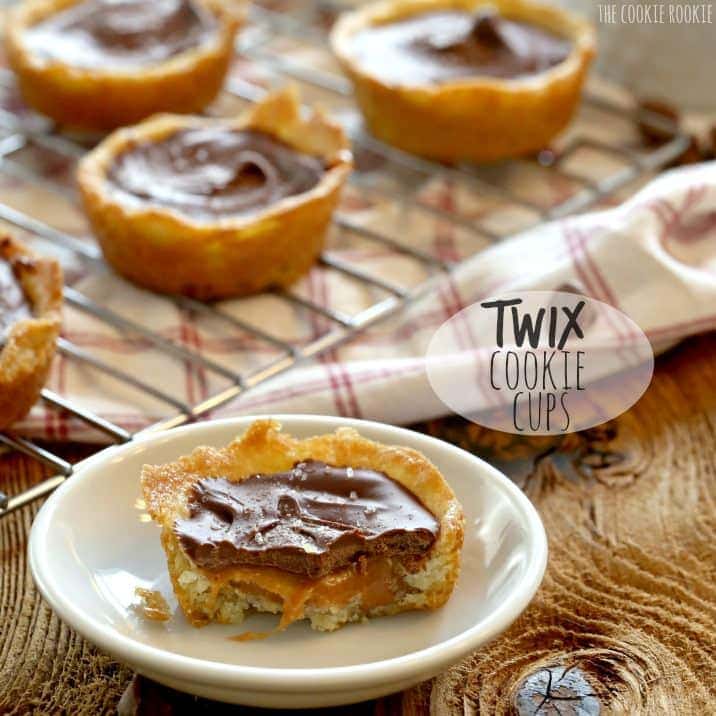 So I'm not usually dramatic (READ: I'm always dramatic) BUT…these Twix Cookie Cups are the BEST and EASIEST recipe on The Cookie Rookie.  Sorry but it's true.  I've had favorites before; Apple Pie Sangria, Pomegranate Moscow Mule, Dark Cherry Cream Soda (wait…are all my favorite recipes cocktails…?), but there's a new favorite in town.  Twix Cookie Cups.  Easy as pie.  Tastier than pie.  Heaven.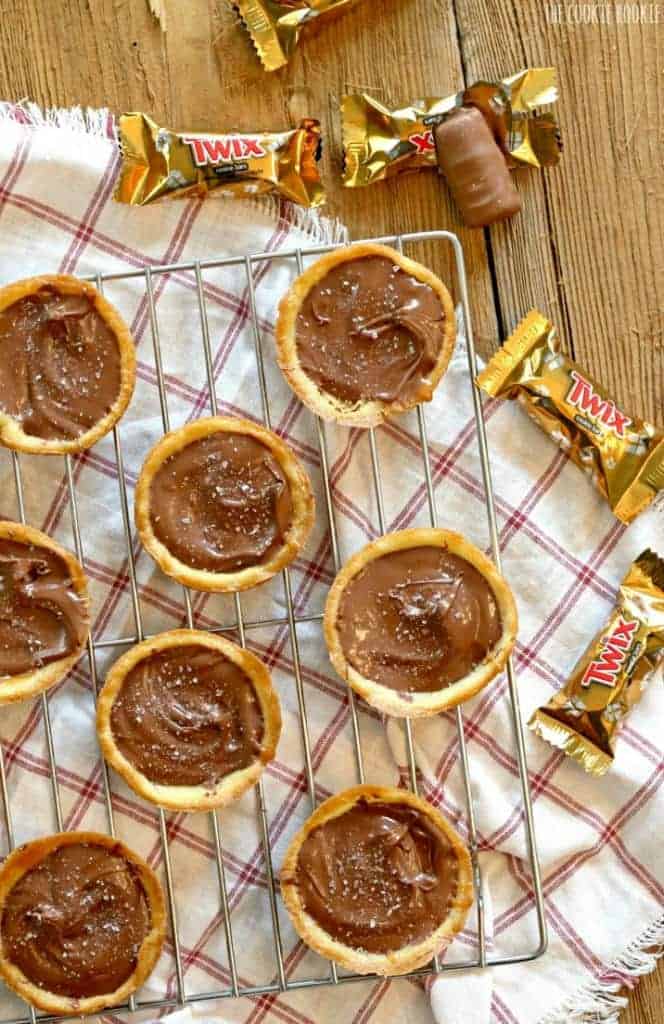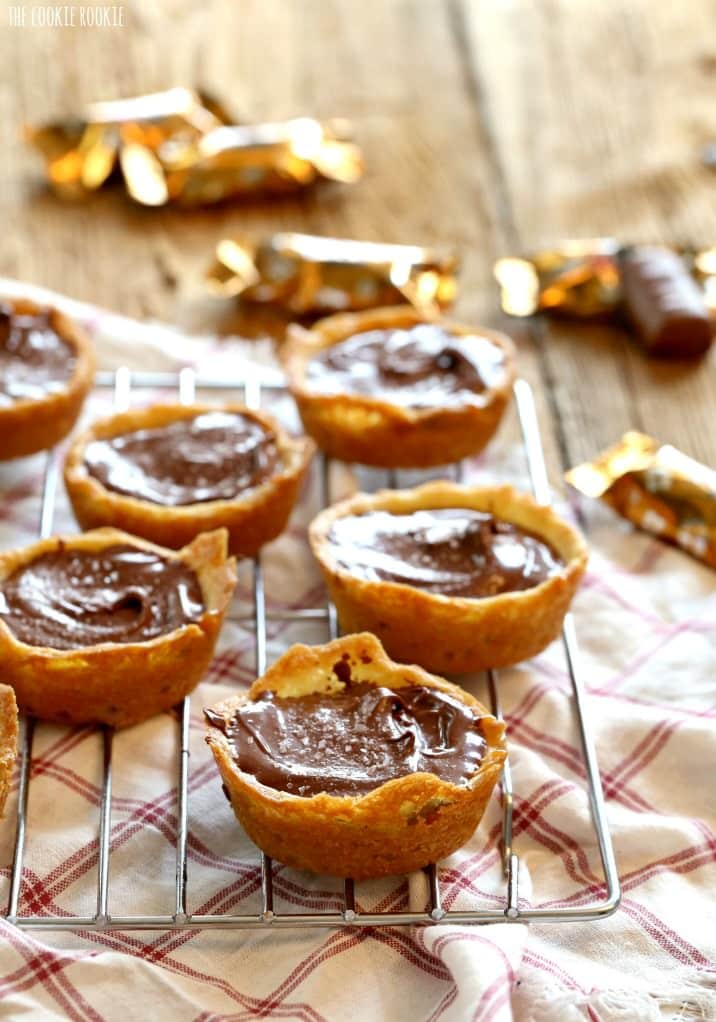 I've been so stressed about holiday baking.  It's just not my cup of tea.  I'm getting better at baking, but I'm definitely not there yet.  I have all this anxiety about being a food blogger and struggling with baking.  Christmas is the best and scariest all at the same time.  But now I have a secret weapon.
Now I have a Twix Cookie Cups recipe delicious enough for any holiday party and cozy enough for me to eat sitting home alone watching reality tv.
Best recipe on the site.  Sorry!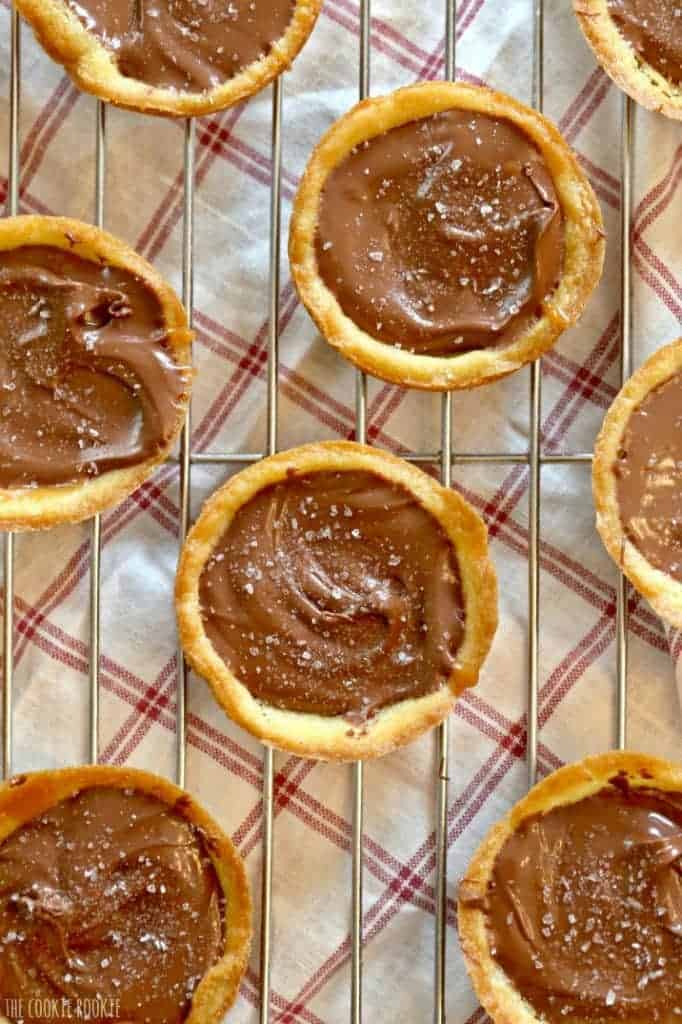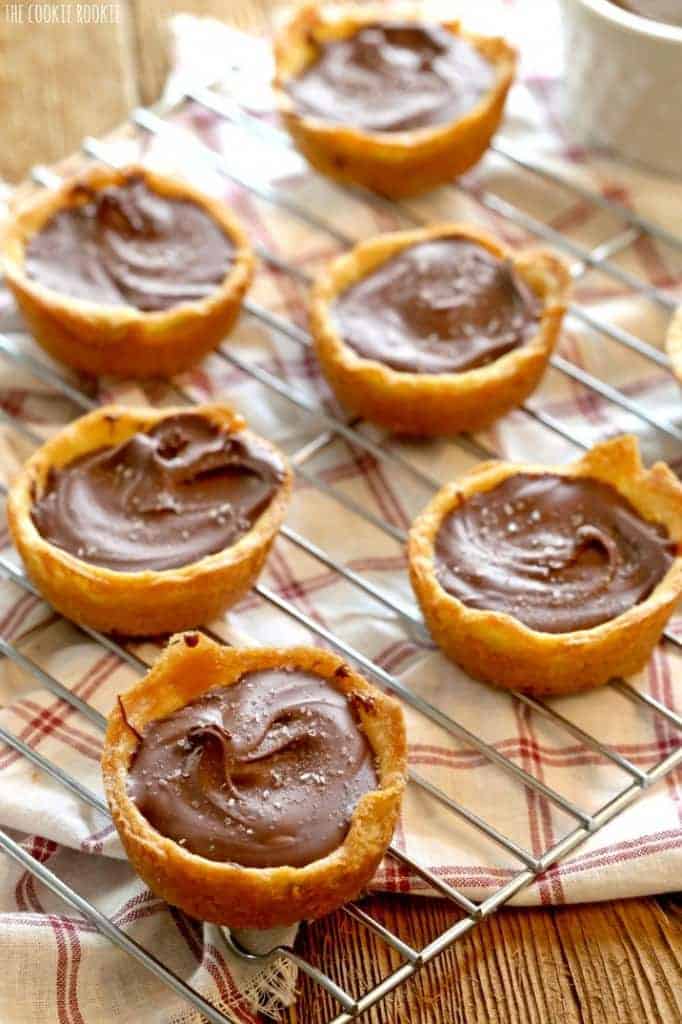 I was inspired to make these while surfing Pinterest (where else).  I came across this little gorgeous recipe from 2007.  Tucked away in the annals of Pinterest by one of the best, Tartlette.  Helene, the write of Tartlette, is also the writer of my very favorite foodie photography how-to, Plate to Pixel.  If you're a food blogger, you better buy that book.  I'm not an amazon affiliate, I'm just in love with that book.  Every single food blogger HAS to read it.  Buy it today!!! Okay moving on. Helene made a similar recipe to these Twix Cookie Cups back in 2007 and I wish I would have found it way back then! I changed a couple things to make it even easier for the novice in all of us.  But otherwise this is her idea and her recipe.  THANK YOU TARTLETTE!!!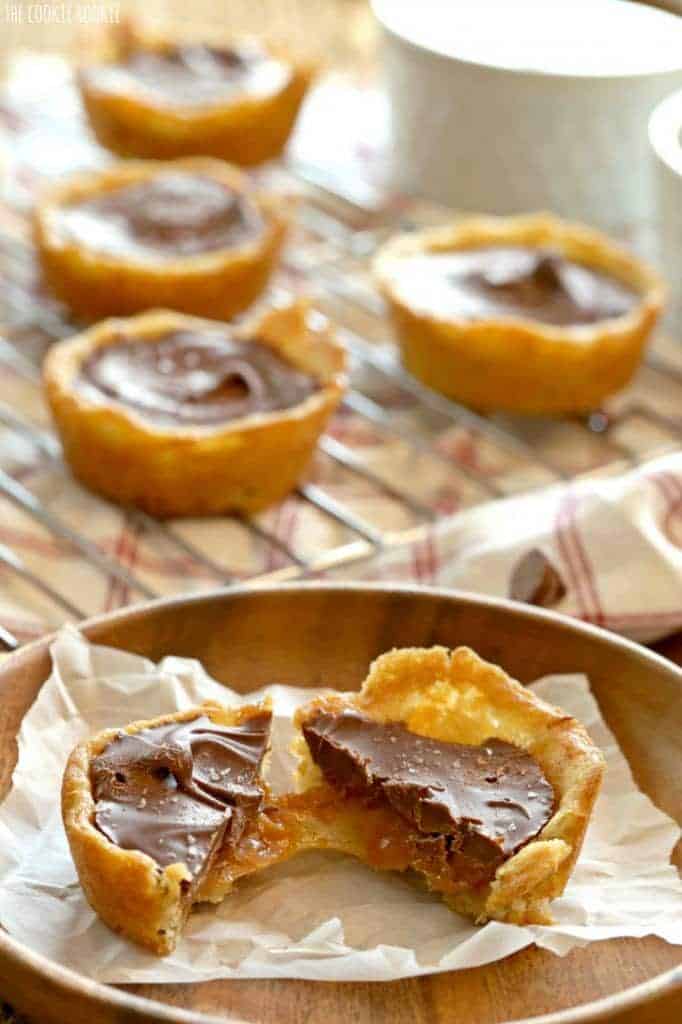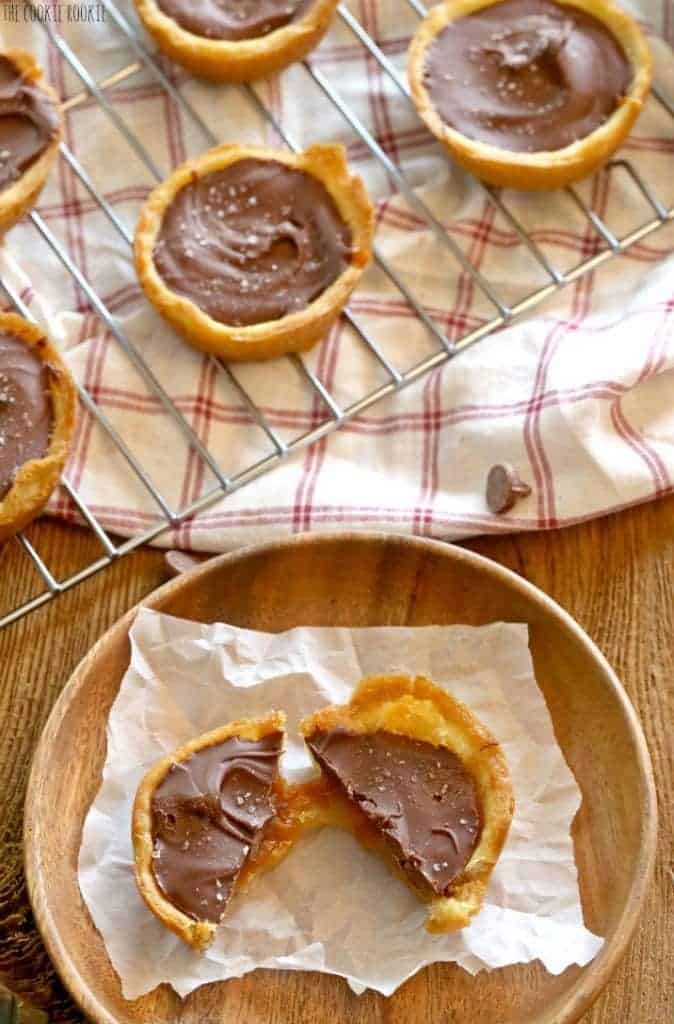 I took these to work today.  I work in an office with 7 people, and 2 of them were out sick.  4 people ate ALL of these before noon.  I felt so proud.  Success!! Twix Cookie Cups for the win!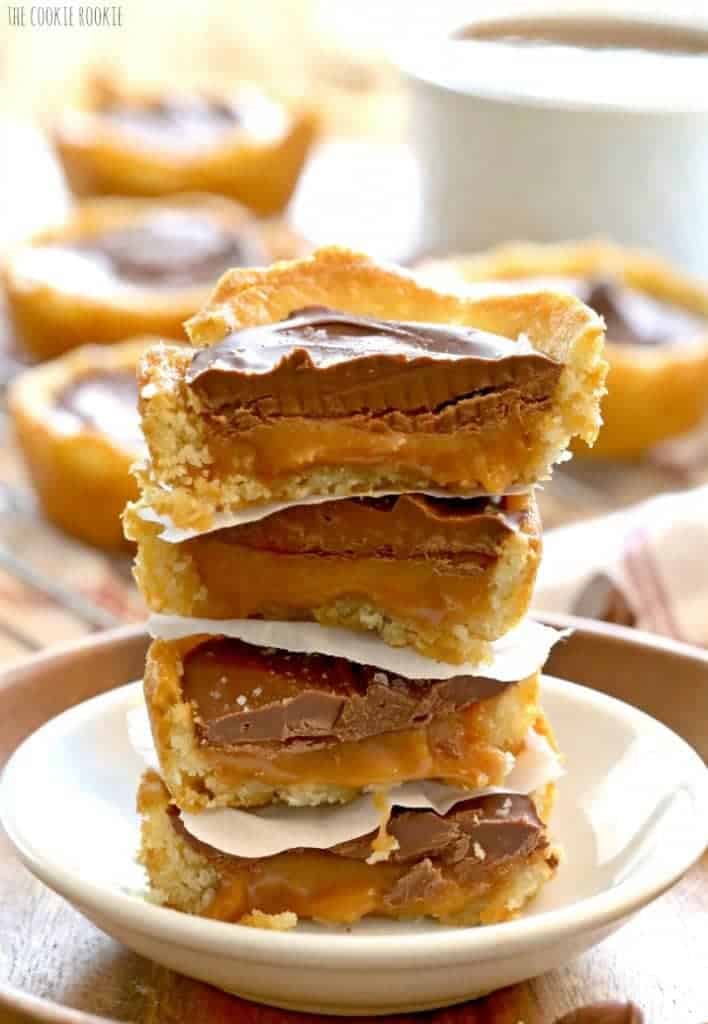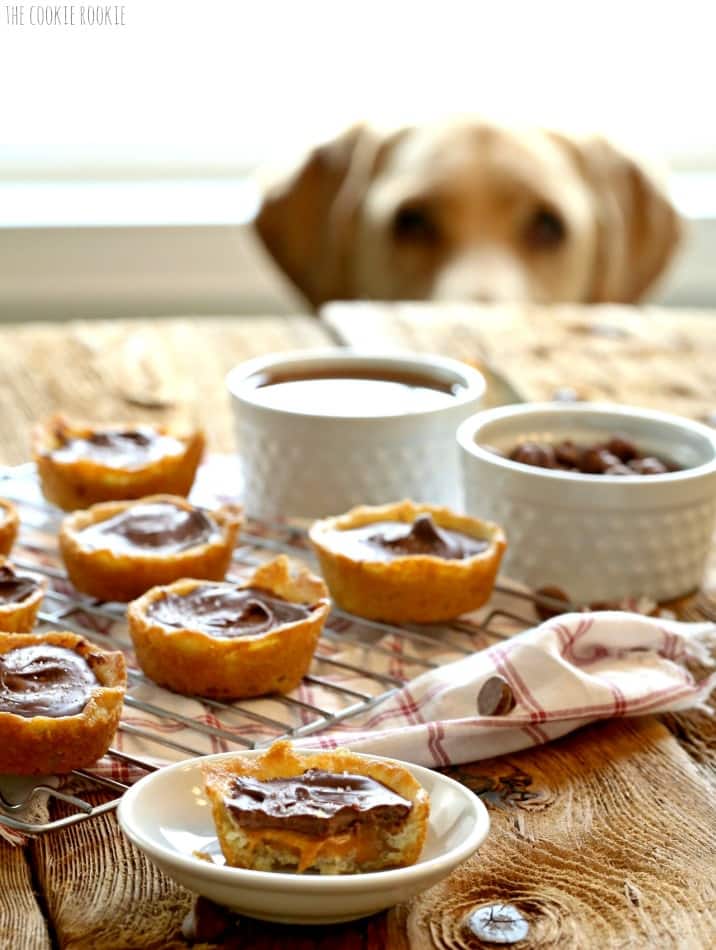 Look at Scout's face.  That the face of "missing out".  She lives a tough life…but someone has to live it.  Poor baby.  I think she has some more homemade dog treats coming her way soon!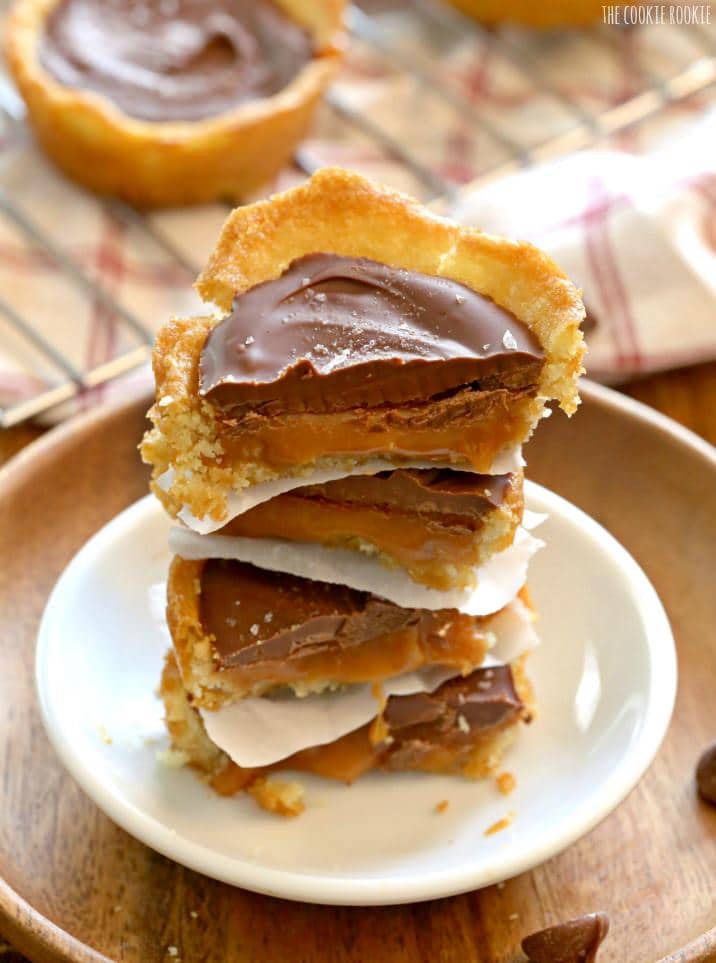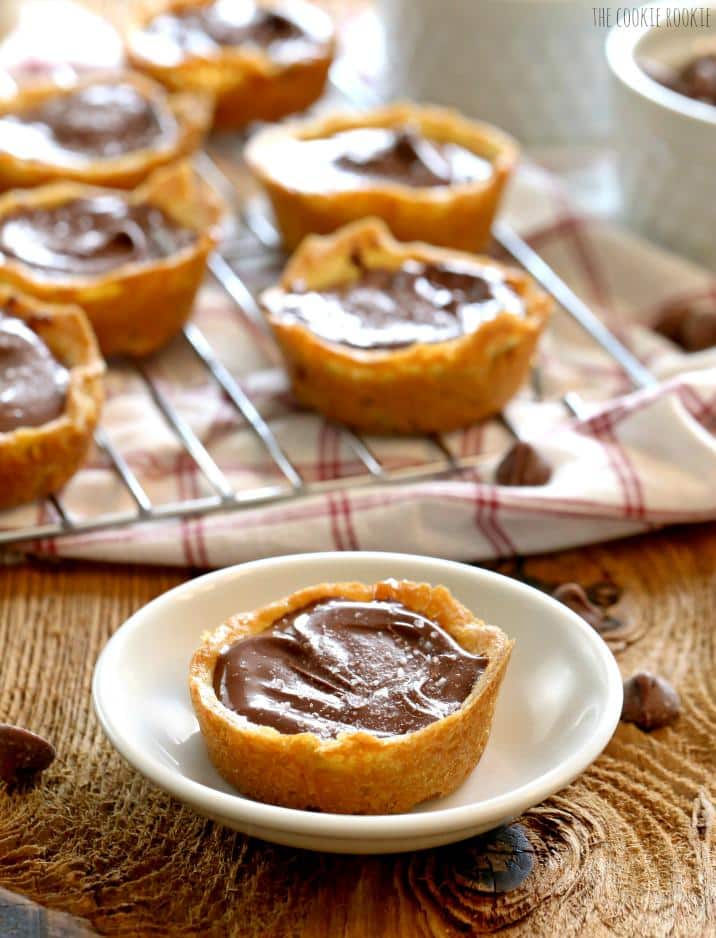 I don't think I took enough pictures of my favorite recipe (kidding).  Enjoy friends! Merry Christmas!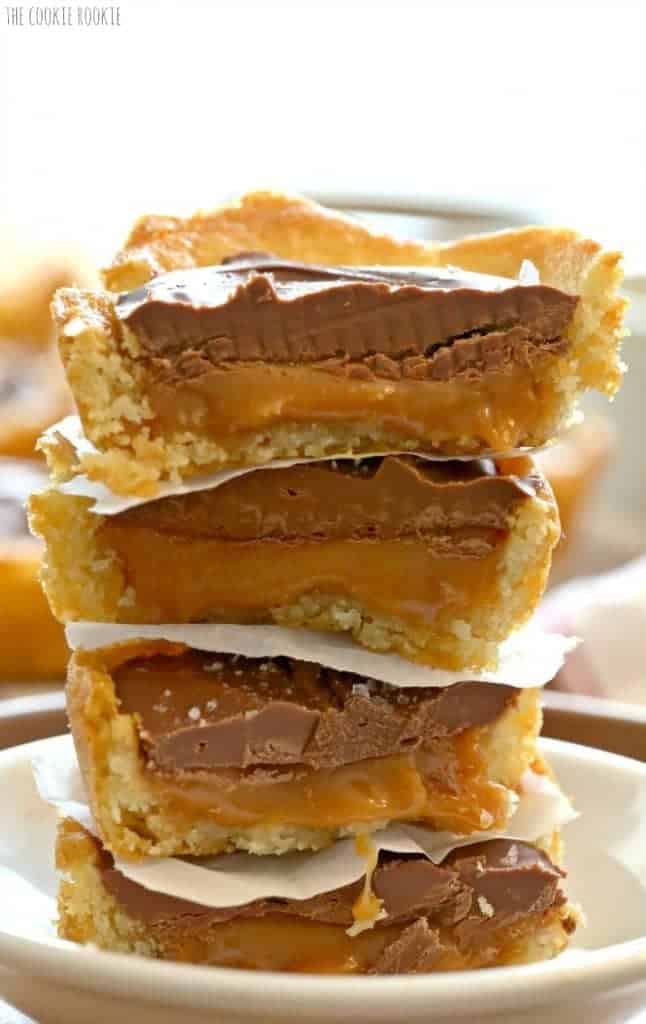 Ingredients
1 package premade sugar cookie dough
2 cups caramel bits or caramels (http://www.kraftbrands.com/caramels/products/default.aspx)
1-2 tablespoons water
2 cups milk chocolate chips
sea salt
Instructions
preheat oven to 350F
grease or spray a muffin pan
Slice about 1/2 inch of dough. Using your fingers, take each slice and push it into the bottom and up the sides of each muffin mold. You'll want to press firmly to make sure its adhered to all sides.
Bake for 10-12 minutes or until cookies are slightly golden. Depending on your oven, it could take more or less, so watch carefully to make sure they don't burn.
Take out of oven and create a cup by pushing the end of shot glass into each muffin cup (you could also use the bottom of a spice jar or wooden spoon. you just need to push the middle of each cookie back down to create a "cup")
Allow to cool slightly and then using a butter knife, carefully take each cookie out of the muffin tin.
Heat the caramel with the water in a microwave. (use more or less water depending on the consistency of the caramel) Heat in intervals of 30 seconds, stirring between heating. It should take 2-3 times to be fully melted and creamy. Fill each cookie cup 2/3 full with caramel.
Place cookies in the fridge for about 20 minutes to set the caramel. While caramel is setting, melt chocolate in the microwave, again in intervals of 30 seconds.
Take cookies out of fridge and pour chocolate to the top of each cookie. Sprinkle each cookie with a pinch of sea salt.
Cool cookies in the fridge to set chocolate and then store in an airtight container.
Enjoy!
7.6.4
1764
https://www.thecookierookie.com/twix-cookie-cups/

JOIN OUR MAILING LIST
TO GET COOKING!
Subscibe to recieve all the latest, greatest, and EASIEST recipes sent straight to your email inbox. If we post something yummy, you'll be the first to know.