Twix Cookies are the easiest way to get your chocolate and caramel fix. This Twix Cookie Cups recipe is inspired by (obviously) the delicious Twix candy bar. These layered cookie cups are made in a muffin pan and they create the most perfect chocolate caramel cookie. Great for holidays and parties!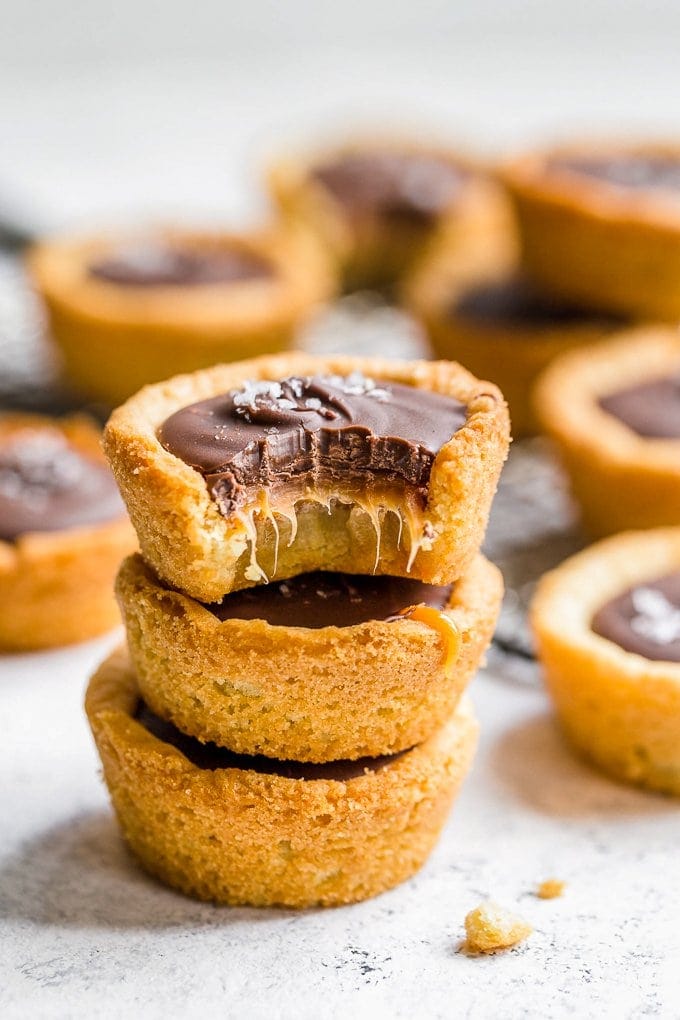 Twix Cookies
Twix Cookies are the best way to get your fix of chocolate and caramel. These cookie cups have the perfect Twix-inspired flavor!
Twix Cookies!! Twix in cookie form. YES. These chocolate and caramel cookies are inspired by one of my favorite candy bars (it's Twix, if you haven't guessed).
So I'm not usually dramatic (READ: I'm always dramatic), but these Twix Cookie Cups are the BEST and EASIEST recipe on The Cookie Rookie. Sorry but it's true. I've had favorites before: Apple Pie Sangria, Pomegranate Moscow Mule, Dark Cherry Cream Soda…wait, are all my favorite recipes cocktails?
Anyways, there's a new favorite recipe in town. These Twix Cookies are easy as pie (I should make a Twix pie). They're tastier than pie. They are the ideal mix of caramel and chocolate in sweet cookie cup form.
Twix Cookies are a chocolate and caramel dream. You have to try this easy Twix Cookie Cups recipe!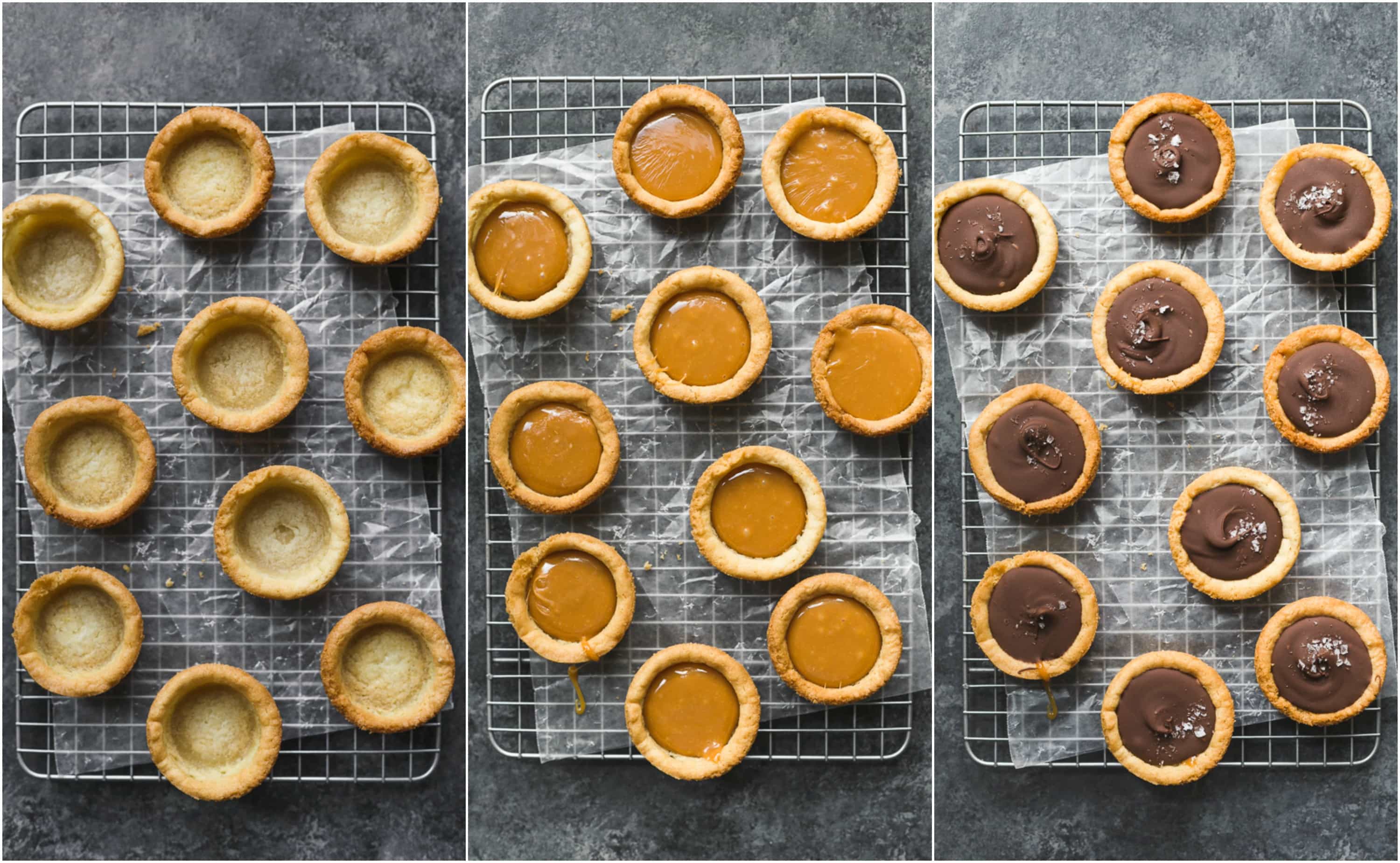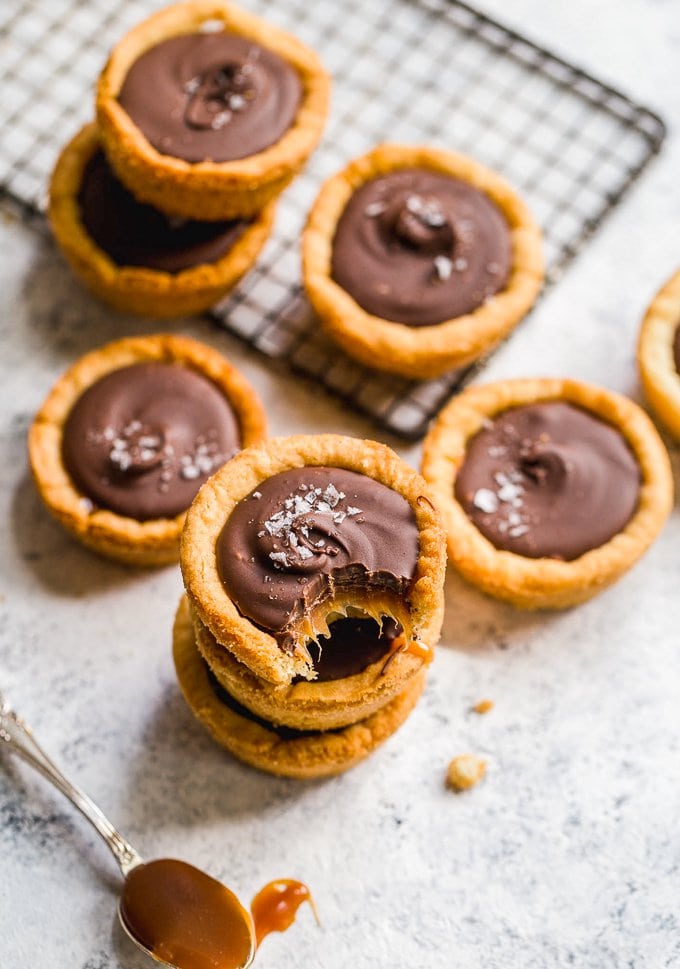 Twix Cookie Cups
Twix Cookie Cups are kind of genius. If you've never had a Twix bar before, you might be wondering what the hype about these cookies is for. Twix is a delicious crunchy biscuit covered with caramel and chocolate. So it lends itself perfectly to a cookie cups recipe.
These Twix Cookies are made up of a tasty cookie cup (molded into a muffin pan) and filled with chocolate and caramel. It creates a delicious layered cookie perfect for holidays (or any time of year).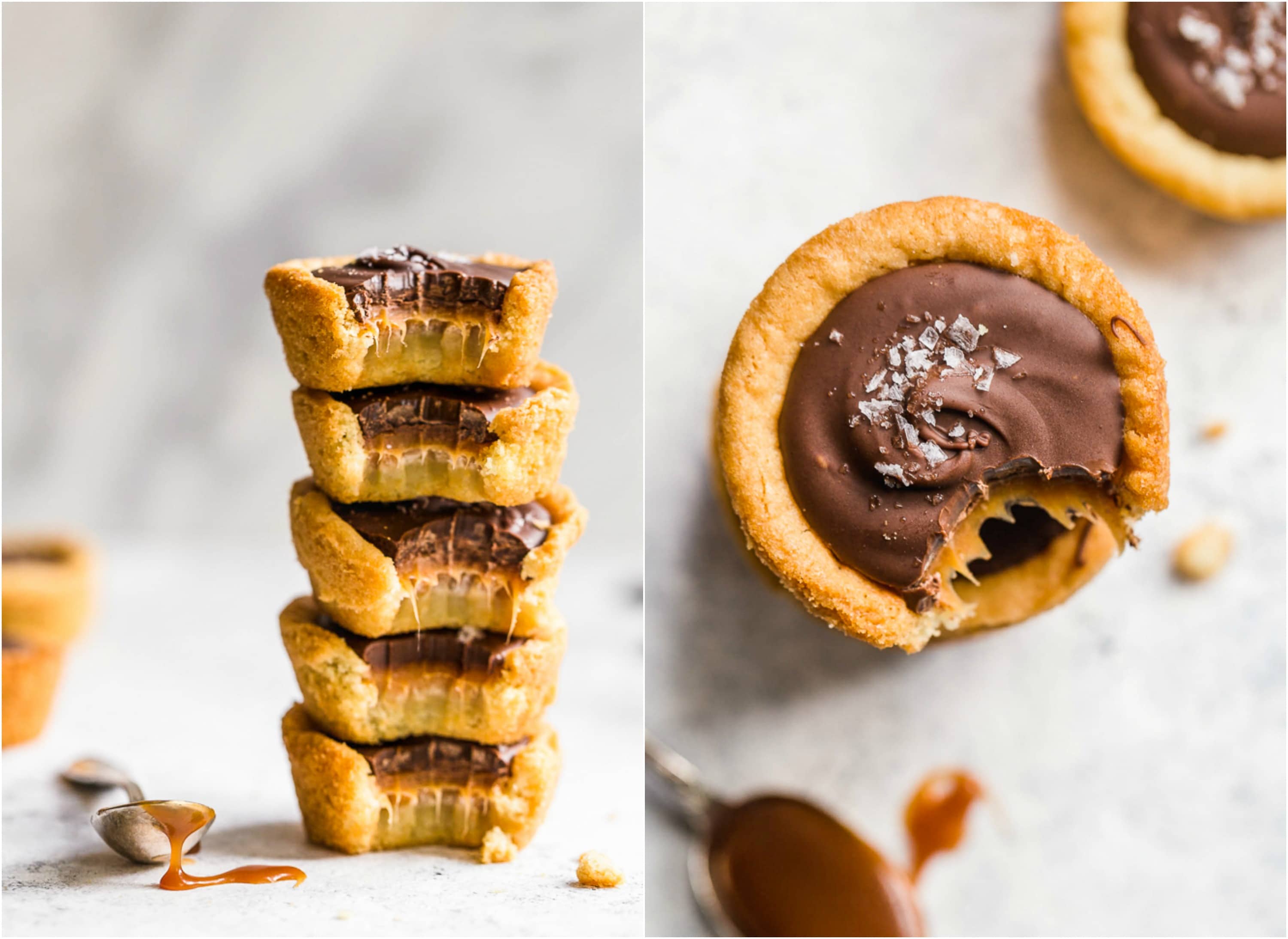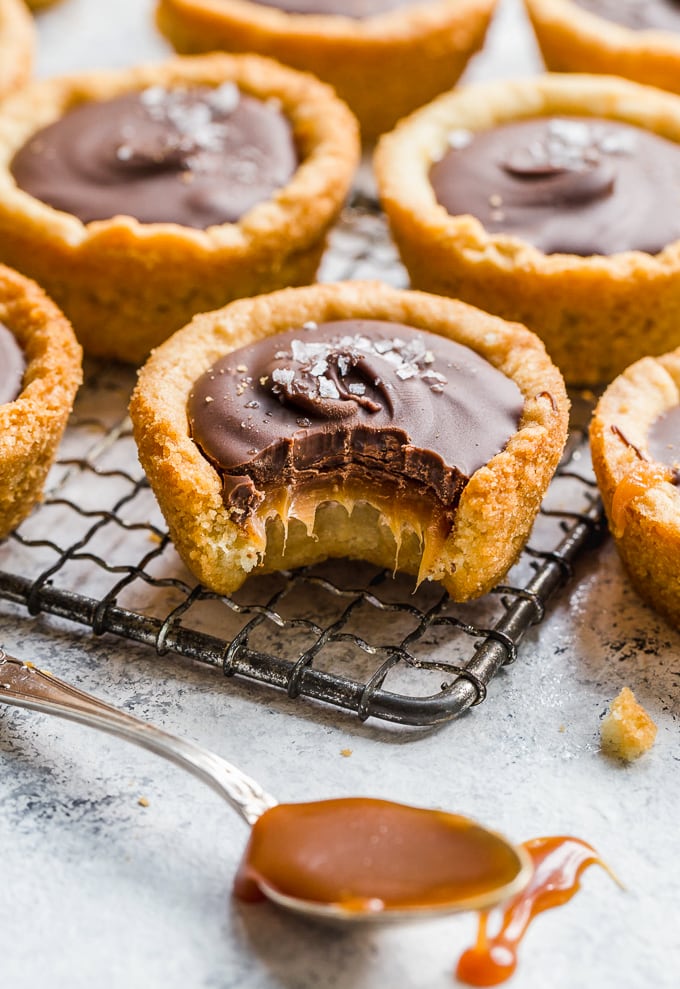 Twix Cookies Inspiration
I was inspired to make these Twix Cookie Cups while surfing Pinterest (where else). I came across this delicious little recipe from 2007. Tucked away in the annals of Pinterest by one of the best, Tartlette.
Helene, the writer of Tartlette, is also the writer of my very favorite foodie photography how-to, Plate to Pixel. If you're a food blogger, you better buy that book. Every single food blogger HAS to read it. Okay moving on…
Helene made a similar recipe to these Twix Cookie Cups back in 2007 and I wish I would have found it way back then! I changed a couple things to make it even easier for the novice in all of us. But otherwise this is her idea and her recipe. THANK YOU TARTLETTE!!!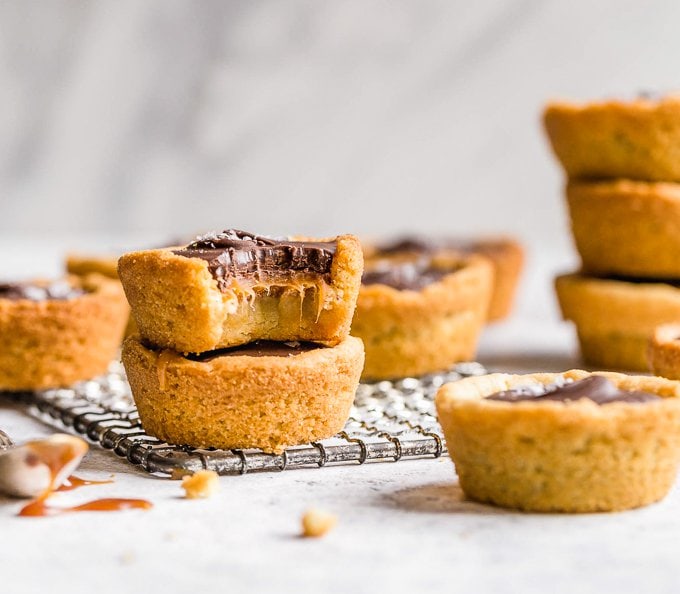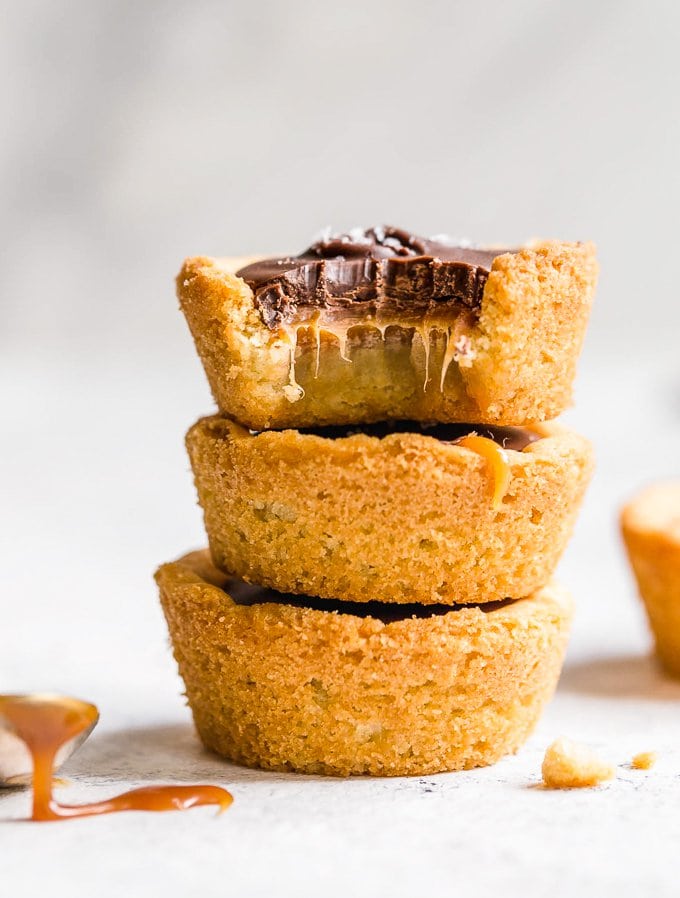 How to Make Twix Cookies
I love this Twix Cookies recipe for many reasons. The main reason, of course, is because they are just so darn delicious. What's not to love about layers of chocolate and caramel?
But I also love these cookie cups because they're so easy to make! Cookie cups are a fun alternative to regular ole' cookies, you just bake them in a muffin pan.
How to Make Twix Cookies:
Take 1/2 inch sections of premade sugar cookie dough & press them into a greased muffin tin
Bake for 10-12 minutes at 350°F
Create cookie cups by pushing a shot glass into the dough
Let cool for a couple of minutes & then remove the cookie cups from the muffin tin
Heat up the caramel (with water) in the microwave
Fill each cookie cup 2/3 full with caramel then set in fridge for 20 minutes
Heat chocolate in microwave, fill the tops of the cookie cups, and set in fridge
Once the cookies have cooled, they're all ready to serve! This method creates the most perfect layers. These Twix Cookies are just soooo good! See the recipe card below for full instructions.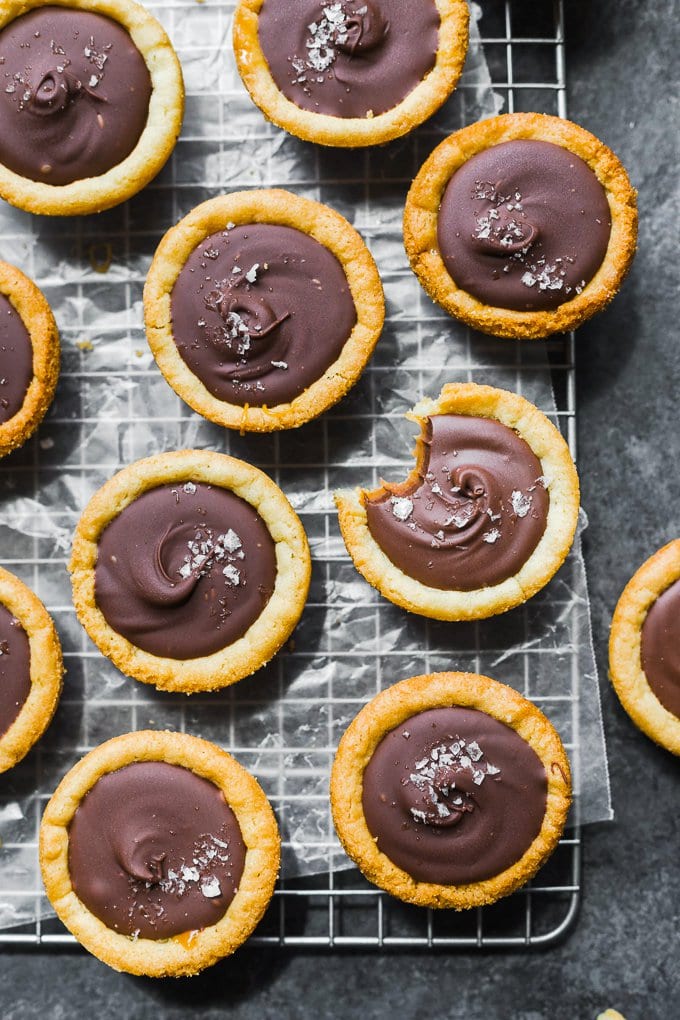 This Twix Cookie Cups recipe is just too good! I could make these every weekend, but I'll try to save them for the holidays. Twix Cookies are now one of my favorite cookie recipes. I just love how they caramel and chocolate layer up and become so creamy. Try these out if you're craving a caramel fix!
See the recipe card below for details on how to make Twix Cookies. Enjoy!
Looking for more tasty cookie recipes? Try some of these favorites:
If you make this recipe be sure to upload a photo in the comment section below or leave a rating. Enjoy! You can also jump to recipe.