With only 8 ingredients, this no-bake Scotcheroos Recipe serves up the best cereal bars! Chewy, crispy, and downright addictive, these bad boys are as easy as they are delicious.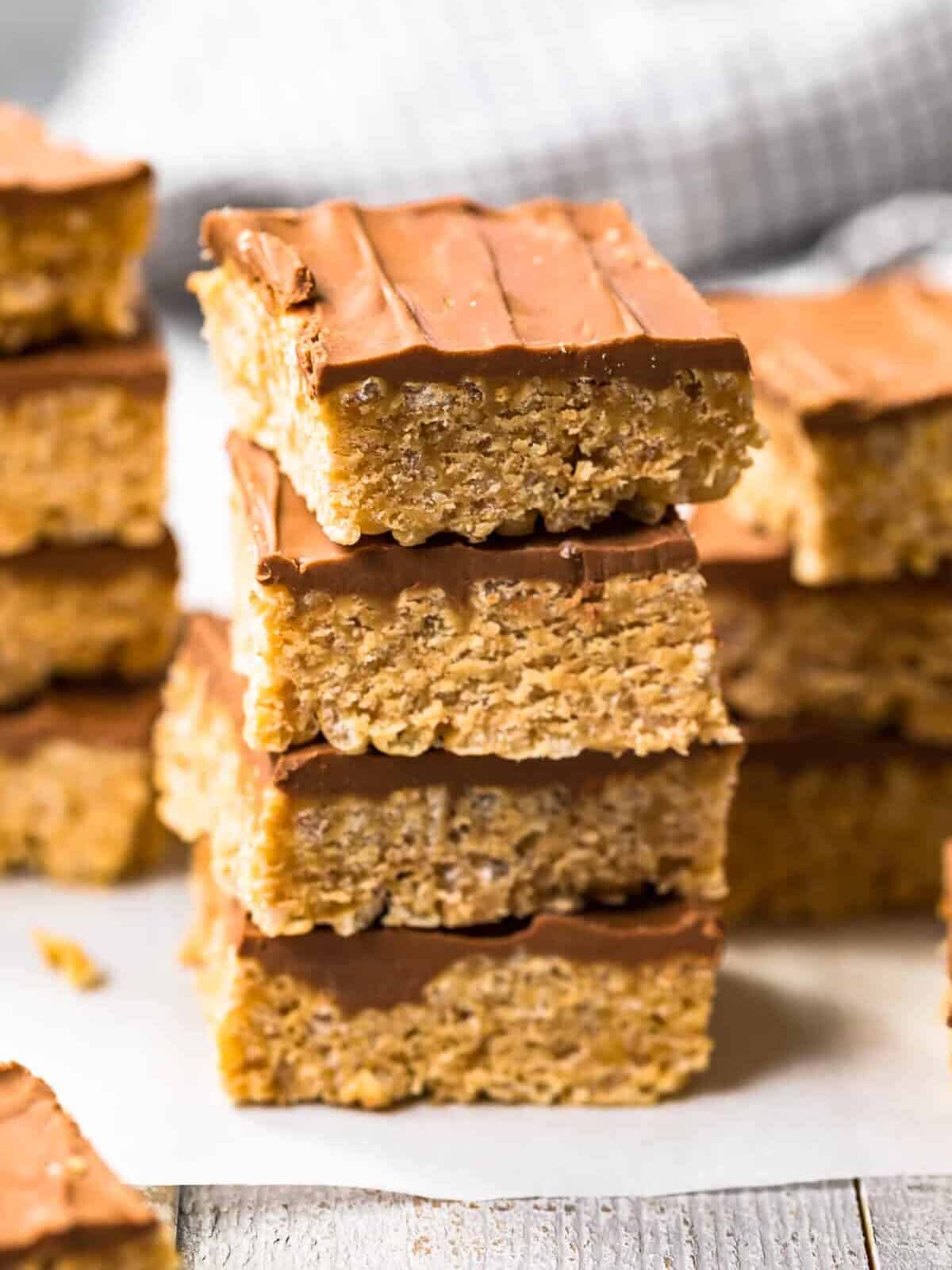 What's in this Scotcheroos Recipe?
Who wants a next-level rice Krispies treat flavored with peanut butter, chocolate, and butterscotch? This recipe delivers the most divine treats. Such an awesome no-bake dessert!
Light Corn Syrup: Adds sweetness, a chewy texture, and prevents sugar crystallization, creating a smoother final product.
Granulated Sugar: Sweetens the bars. Ultrafine Sugar works best.
Peanut Butter: Adds richness and nuttiness to the bars while helping to hold them together. Natural style would be totally fine, but for the best texture, I recommend a creamy peanut butter like Jif or Skippy.
Salt: Enhances the flavor of the bars. Coarse sea salt works best.
Rice Krispy cereal: The perfect base for the bars. They provide crunch and texture.
Chips: Milk chocolate, butterscotch, and peanut butter chips provide a sweet and creamy flavor. The combination of butterscotch and peanut butter chips gives these bars their signature flavor.
Pro Tip: Other cereals work well as substitutes. Special K or Cornflakes work great.
Variations on Peanut Butter Rice Krispie Treats
Try adding a butterscotch swirl to make your scotcheroos just as pretty as they are delicious! Do this by melting a separate bowl of butterscotch chips and drizzling it over your already mixed and poured chocolate and butterscotch frosting. Then, use a toothpick to drag the butterscotch drizzle through the frosting to create a lovely little pattern.
You can also swap the peanut butter for your favorite nut, seed, or cookie butter. I love Nutella, cashew butter, sunflower seed butter, or cookies and cream butter. Adjust the flavored baking chips to match the butter you choose. Nutella would be great with espresso and white chocolate chips. Cookies and cream butter would be great with white chocolate and cream cheese chips!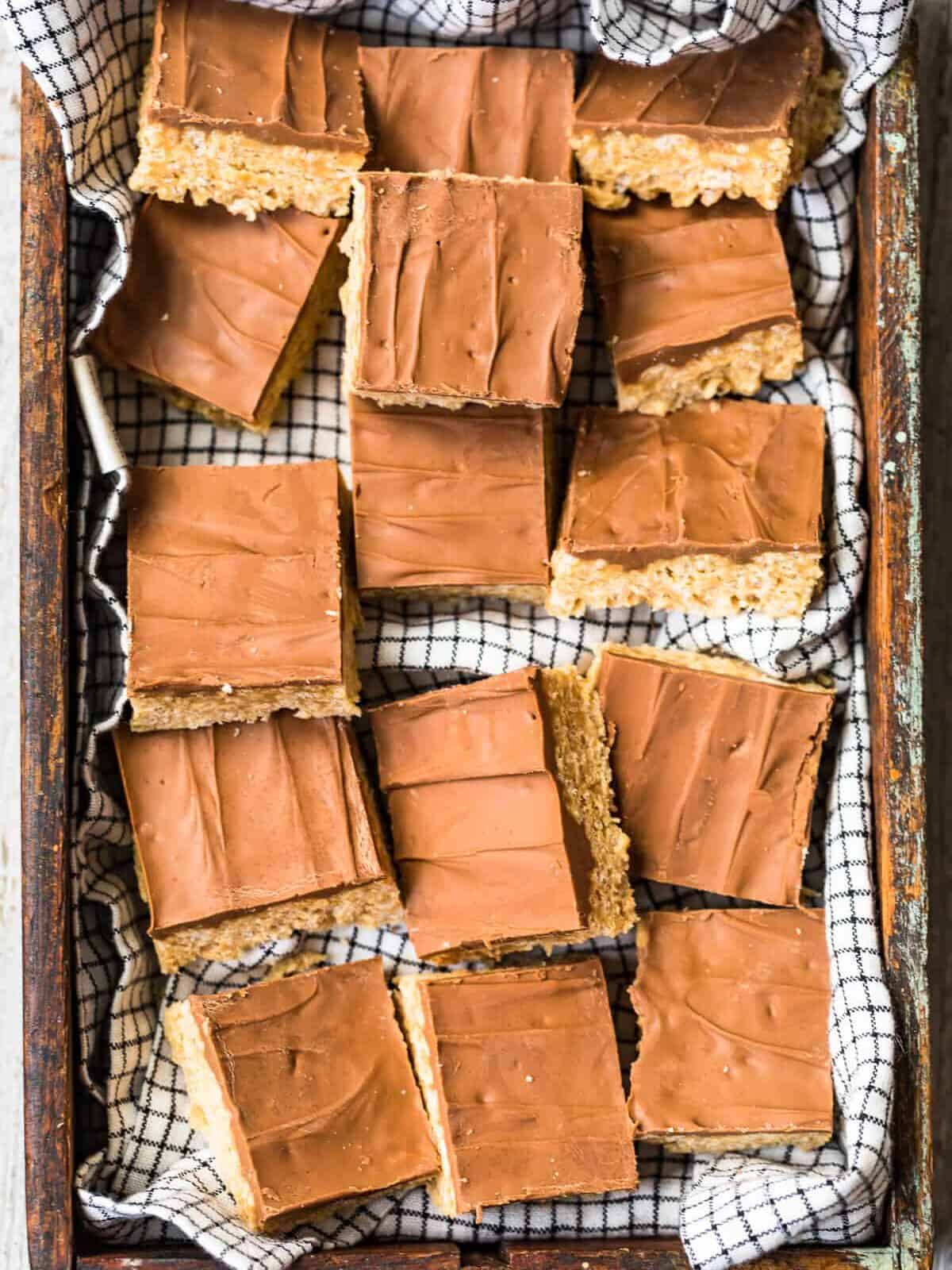 What are scotcheroos?
Scotcheroos are no-bake dessert bars with chocolate, butterscotch, peanut butter, and Rice Krispies cereal. The recipe was originally printed on cereal boxes in the mid-1960s.
Why are they called scotcheroos?
Scotcheroos get their name from one of the key ingredients, butterscotch!
Are scotcheroos gluten-free?
Unfortunately, Rice Krispies cereal is made with malt, so these bars are not gluten-free.
Why are my scotcheroos hard?
If the corn syrup and sugar mixture is cooked for too long, this can cause hard scotcheroos. The mixture should only be cooked long enough for the sugar to dissolve. Once it starts bubbling, it's done!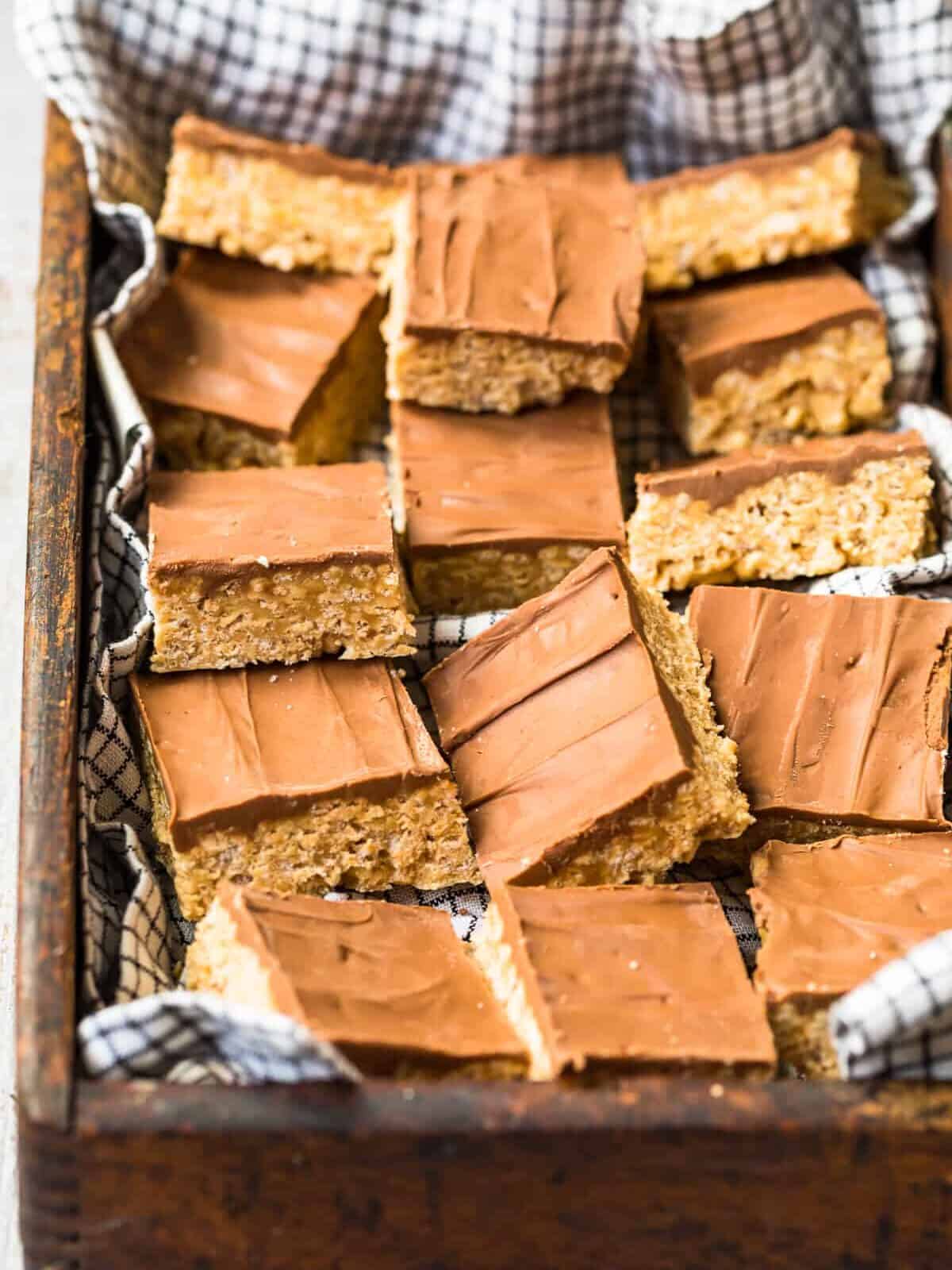 How to Make Ahead and Store
While these bars are best served on the day they are made, you can make them the morning of and serve them later in the evening.
Store leftover scotcheroos in an airtight container at room temperature for up to 3 days.
How to Freeze
Freeze scotcheroos whole or as individual treats wrapped in 2 layers of plastic wrap and 1 layer of aluminum foil for up to 3 months. Let thaw in the refrigerator overnight or on the countertop for a few hours before enjoying.
Serving Suggestions
Scotcheroos are delicious served with a refreshing glass of oat milk, an iced coffee, or a frozen caramel hot chocolate.
They also pair well with other peanut butter desserts, like peanut butter pie, peanut butter cookies, peanut butter ice cream pie, peanut butter cup fudge, or chocolate peanut butter cheesecake.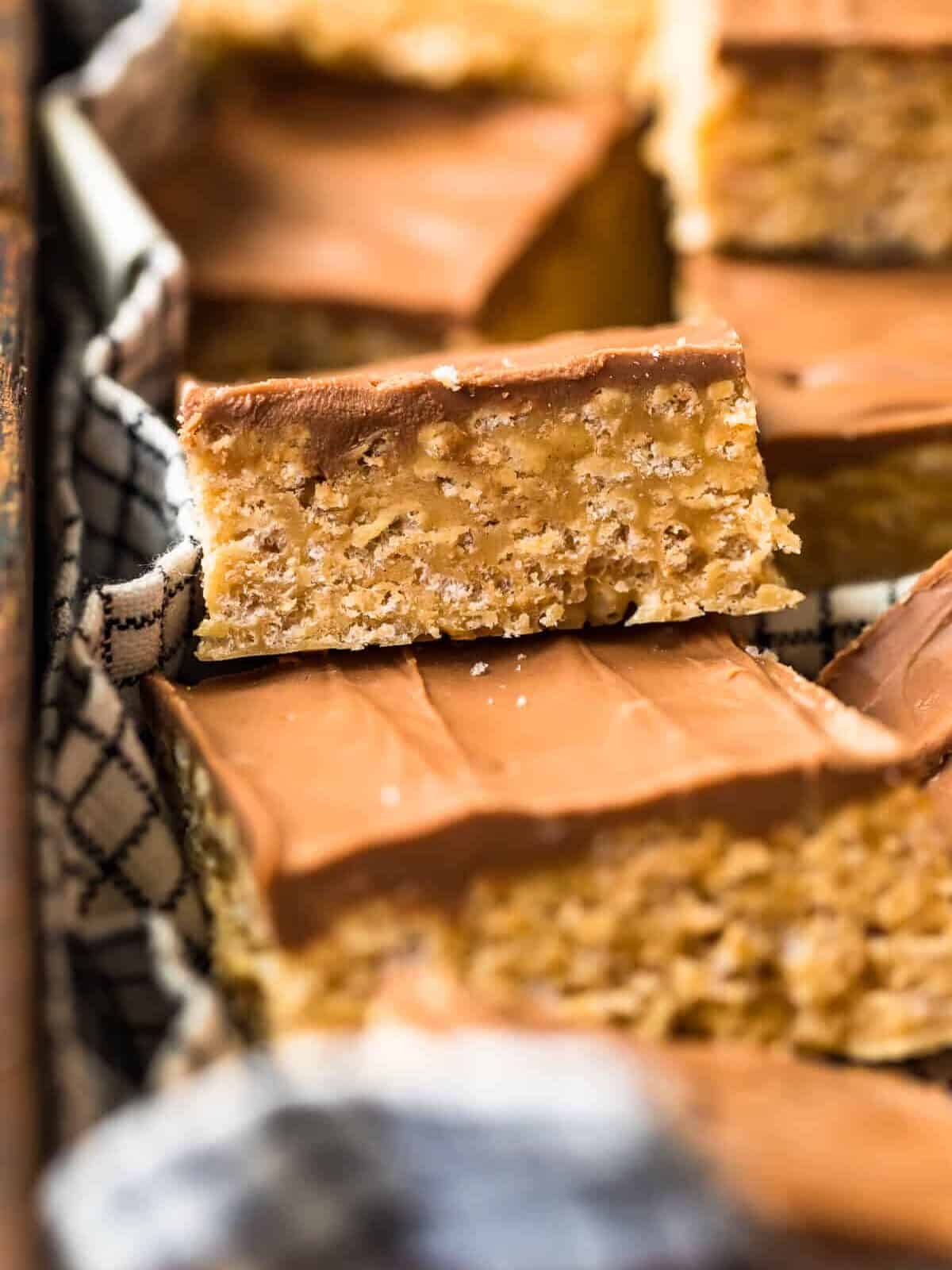 More No Bake Treats We Love