Texas sheet cake is a classic southern dessert that is perfect for a crowd. It full of chocolate-y goodness and even topped with a decadent chocolate frosting. Everyone will rave about this Texas sheet cake recipe!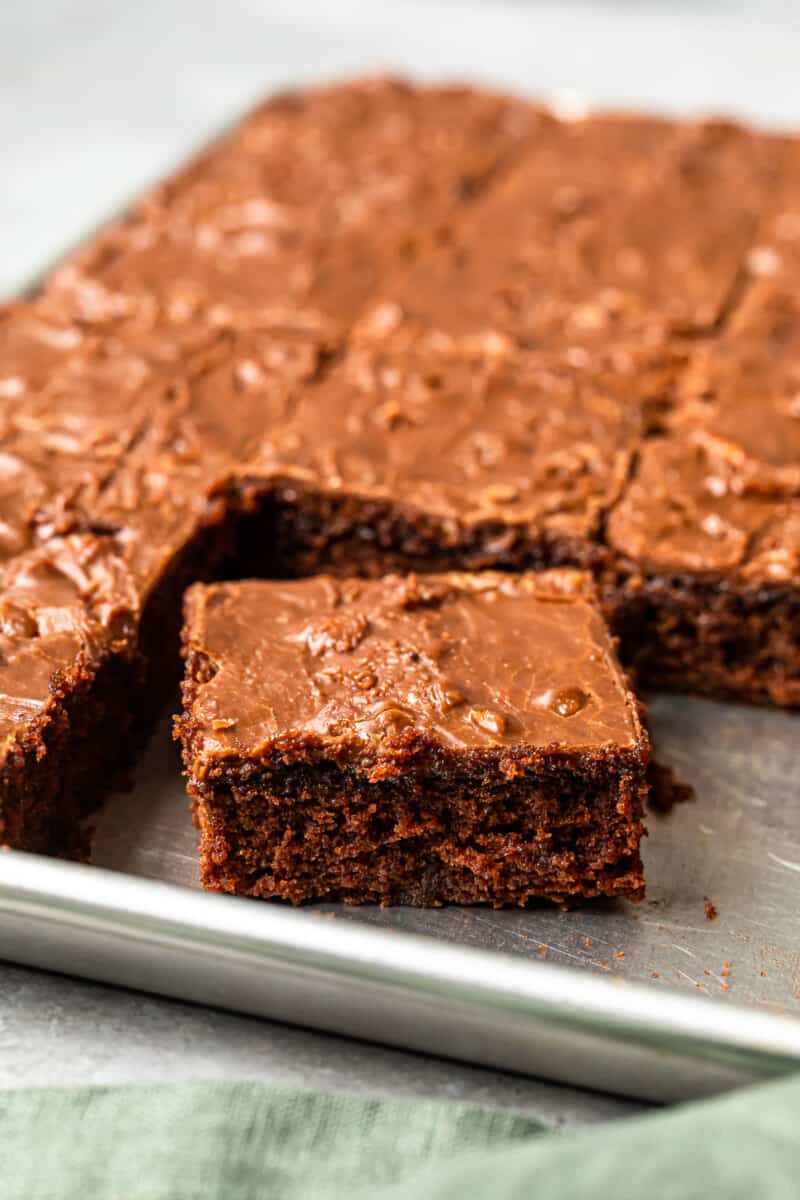 Best Texas Sheet Cake
If you are looking for a truly decadent chocolate cake, you have got to try this Texas sheet cake! It is a chocolate cake that is topped with warm chocolate frosting with nuts. This cake is unique because it's baked on a jelly roll pan or baking dish.
Texas sheet cake gets its name because it's a Texas tradition to bring this cake to large events such as funerals or potlucks. It's big enough to feed a Texas-sized crowd and everyone looks forward to it.
Why You'll Love this Chocolate Sheet Cake Recipe:
EASY TO MAKE: Texas sheet cake is a simple cake recipe that comes together quickly.
CHOCOLATE ON CHOCOLATE: This cake is literally chocolate on chocolate on chocolate. The base of the cake is chocolate and the frosting is an indulgent chocolate fudge.
GREAT FOR A CROWD: Texas-sized sheet cake is big enough to feed a few dozen people. It is a popular dessert at potlucks, family gatherings, and holiday parties. It makes a great Easter dessert!
This cake is a little different than a traditional cake because it's baked on a rimmed baking sheet instead of a cake pan. This makes the cake larger and is what makes it great for a big group of people. You can also use a jelly roll pan to bake this cake in as well.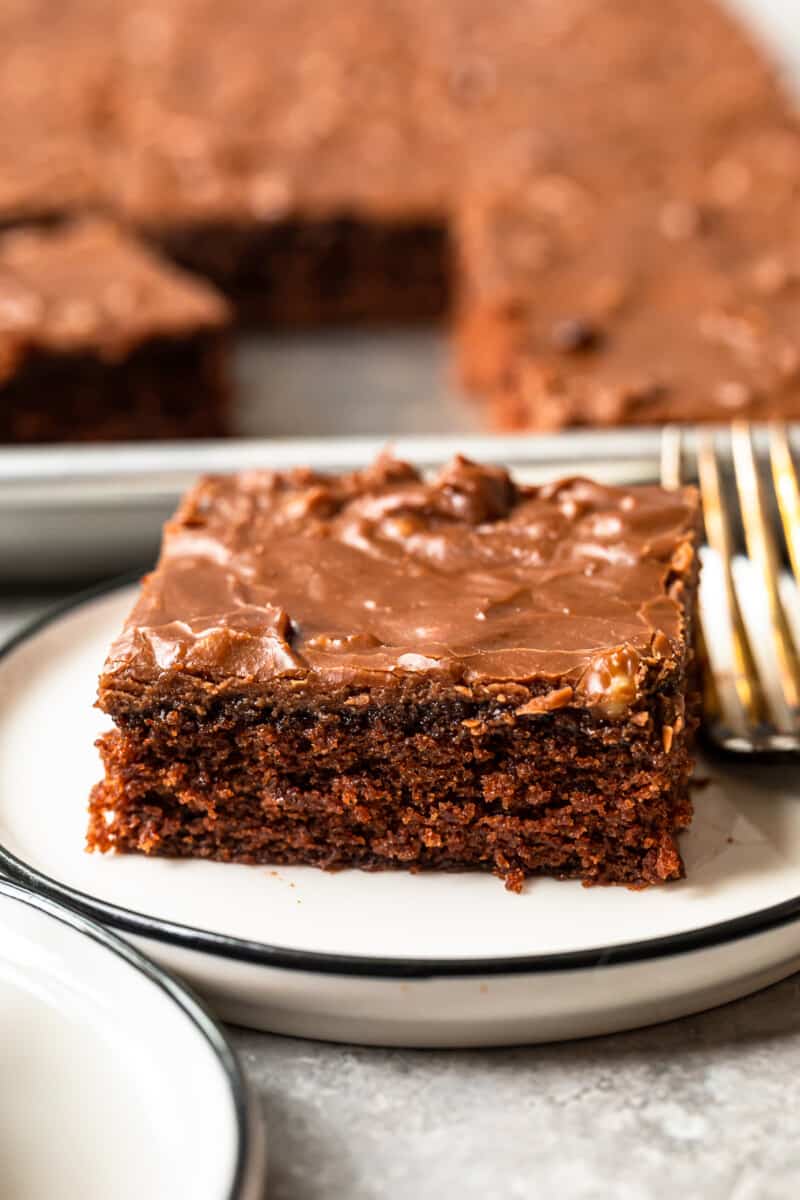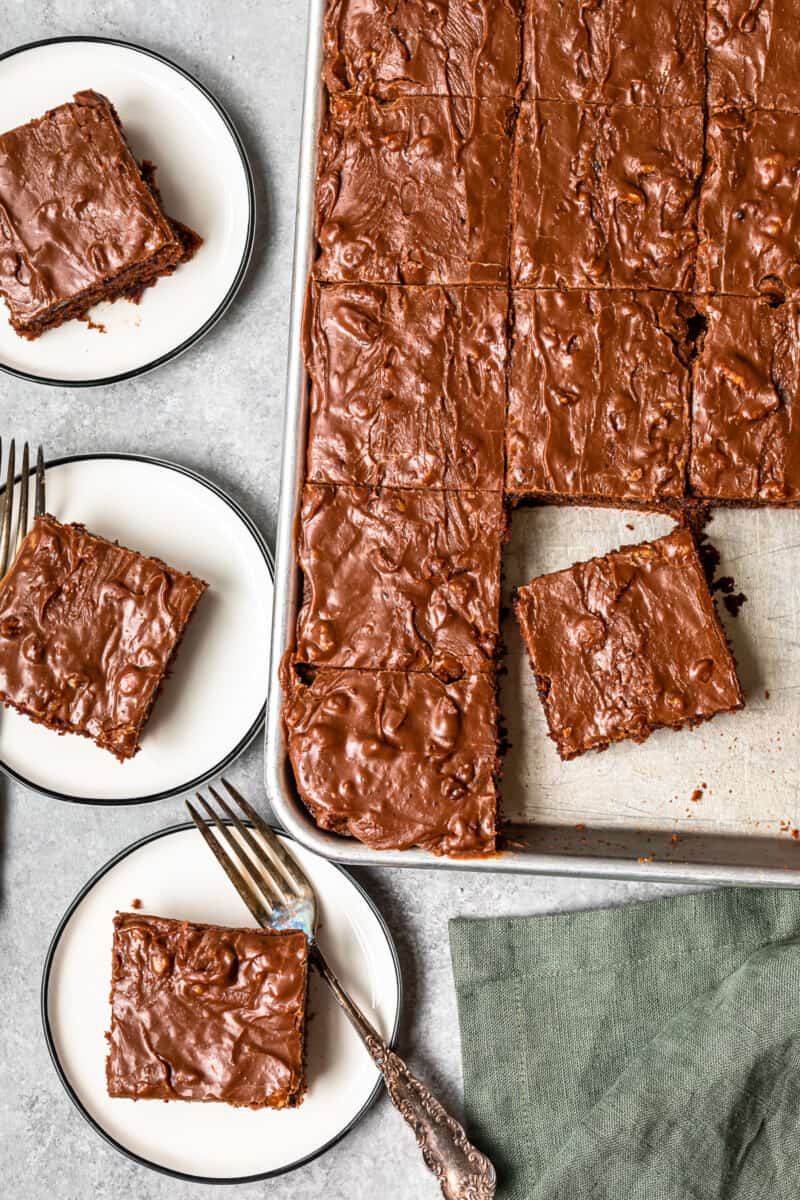 How to Make Texas Chocolate Sheet Cake
You can jump to the recipe card for full ingredients & instructions!
Add the oil, butter, water, and cocoa to a saucepan and bring to a boil.
Mix together the dry ingredients in a large bowl.
Pour the hot cocoa mixture into the dry ingredients and combine well.
Pour the batter into your prepared baking pan and tap out the bubbles.
Bake for 10 minutes, rotate, and bake for another 10-15 minutes.
Allow to cool.
Make the fudge frosting by combining all of the frosting ingredients in a saucepan.
Whisk to combine everything and then pour the frosting over the cake.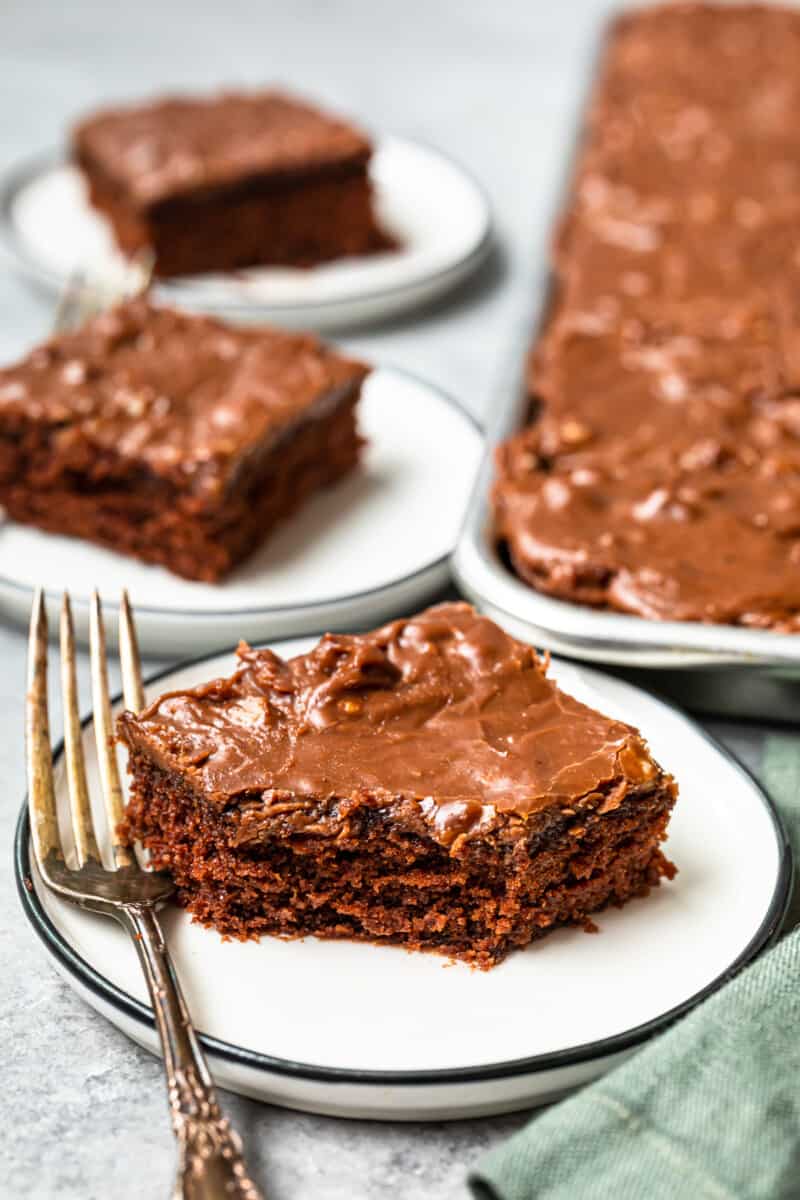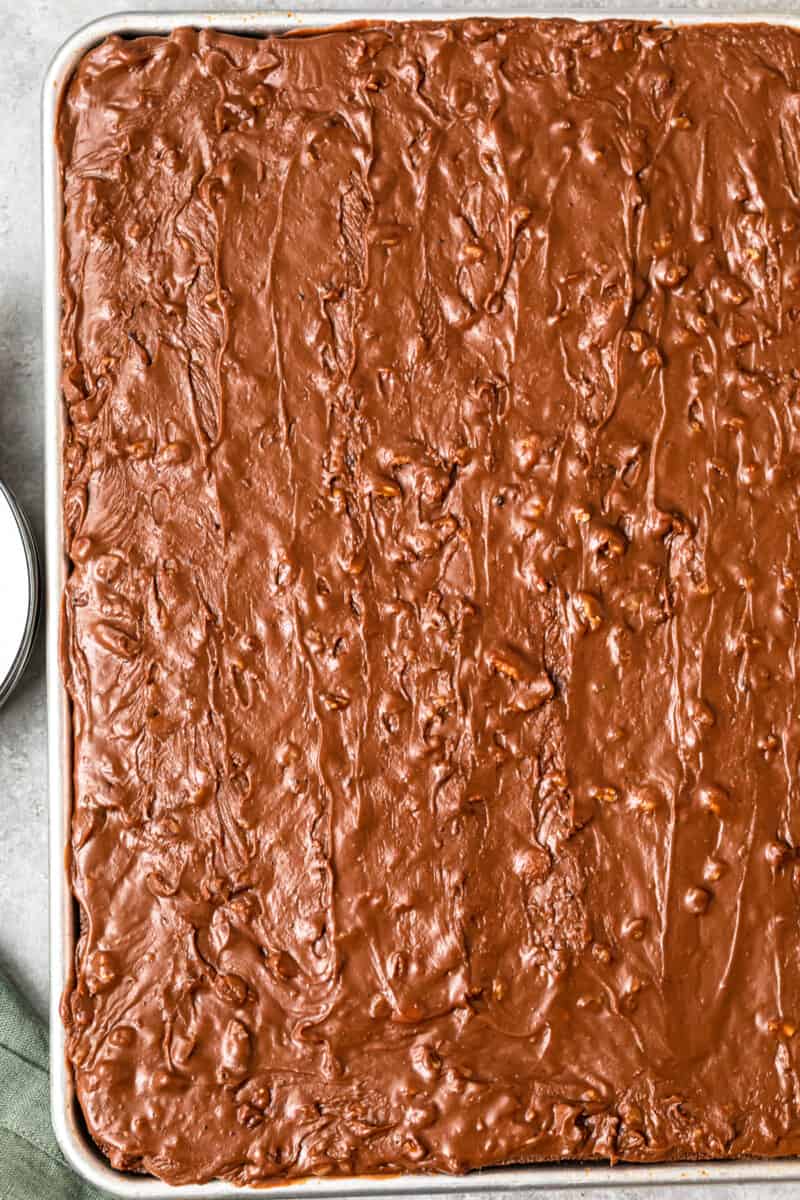 What size pan is best for this sheet cake?
You will want a 9×13-inch baking sheet or jelly roll pan for this Texas sheet cake. The large baking sheet size is where this cake in part gets its name.
Can I use any other pan sizes instead?
You can use any size baking pan, but you would need to adjust the baking time.
Can I halve this cake recipe?
Yes, you can easily make half of a Texas sheet cake. You would need to half all of the ingredients and use a smaller baking sheet to bake the cake.
What other frostings can I use?
You can use any frosting on top of the sheet cake. Cream cheese frosting and vanilla frosting would make great additions to the chocolate cake.
Can I use walnuts instead of pecans?
Yes! You can! Walnuts make a great substitution for pecans in this cake recipe.
Not only do you get a super moist cake, but the frosting is chocolate fudge. It is thick and the edges of the frosting firm up when cooling. You get a great combination of fudgy with crispy on top of a tender chocolate cake.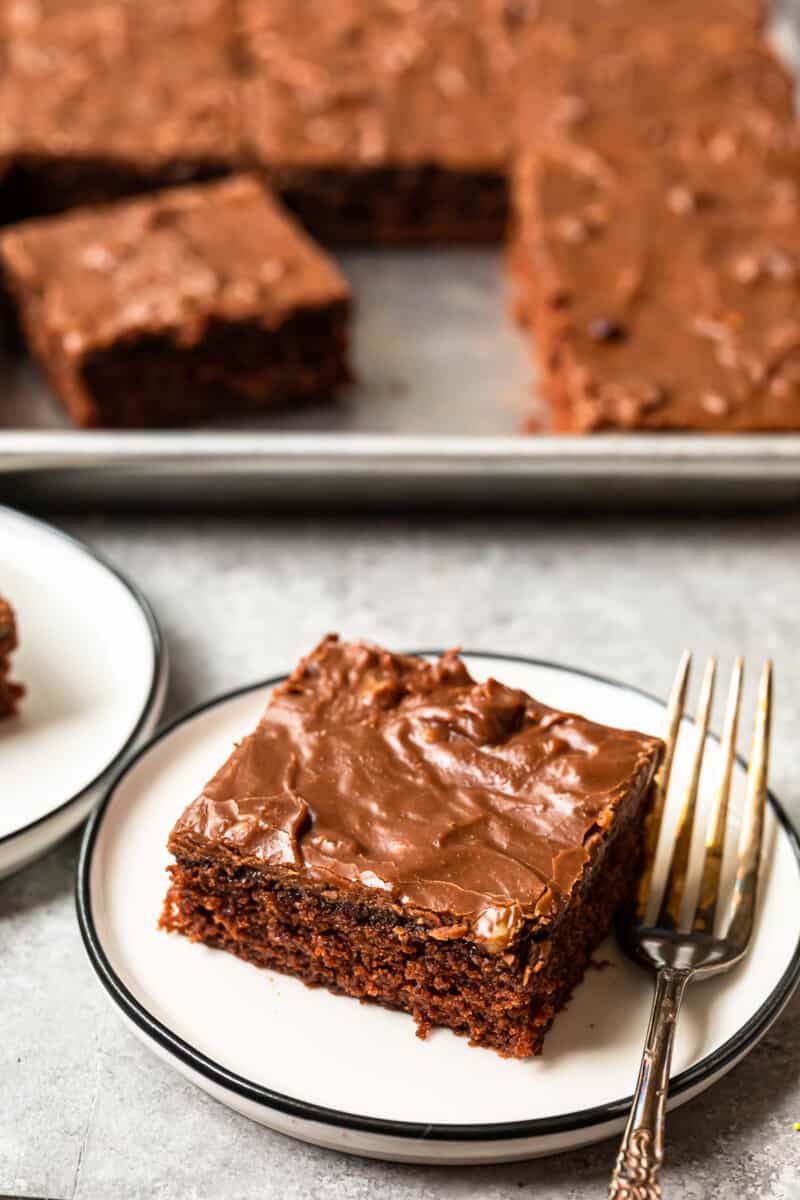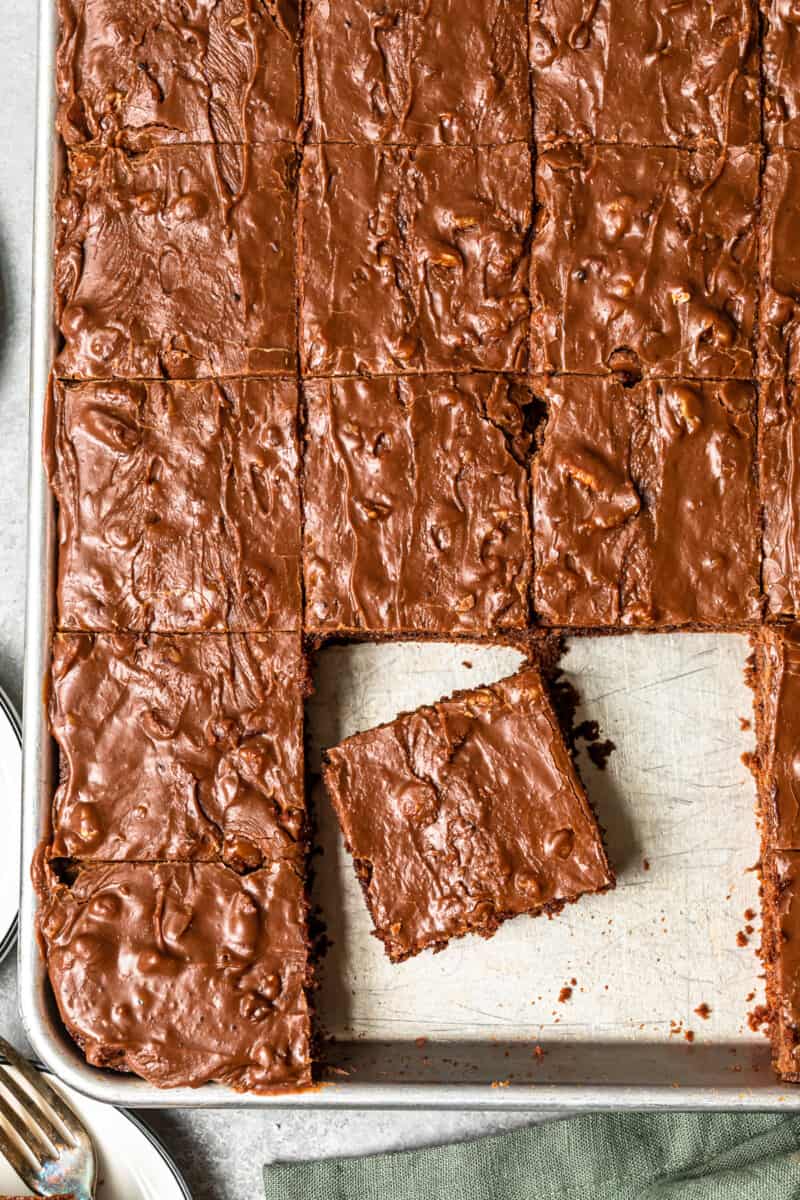 Tips!
Make sure you stir the batter and the frosting constantly while they are on the stovetop. You will want to stay by the stove to make sure neither burns.
Use a high-quality cocoa powder for this recipe. The better the quality the cocoa powder, the better the cake will taste.
Store leftovers in the fridge to keep them fresh longer. Place a piece of plastic wrap over the baking sheet before placing it in the fridge.
This cake is great on its own but you can add a scoop of ice cream or even a dollop of whipped cream on top of your cake. One scoop of ice cream on a warm cake takes it from good to amazing.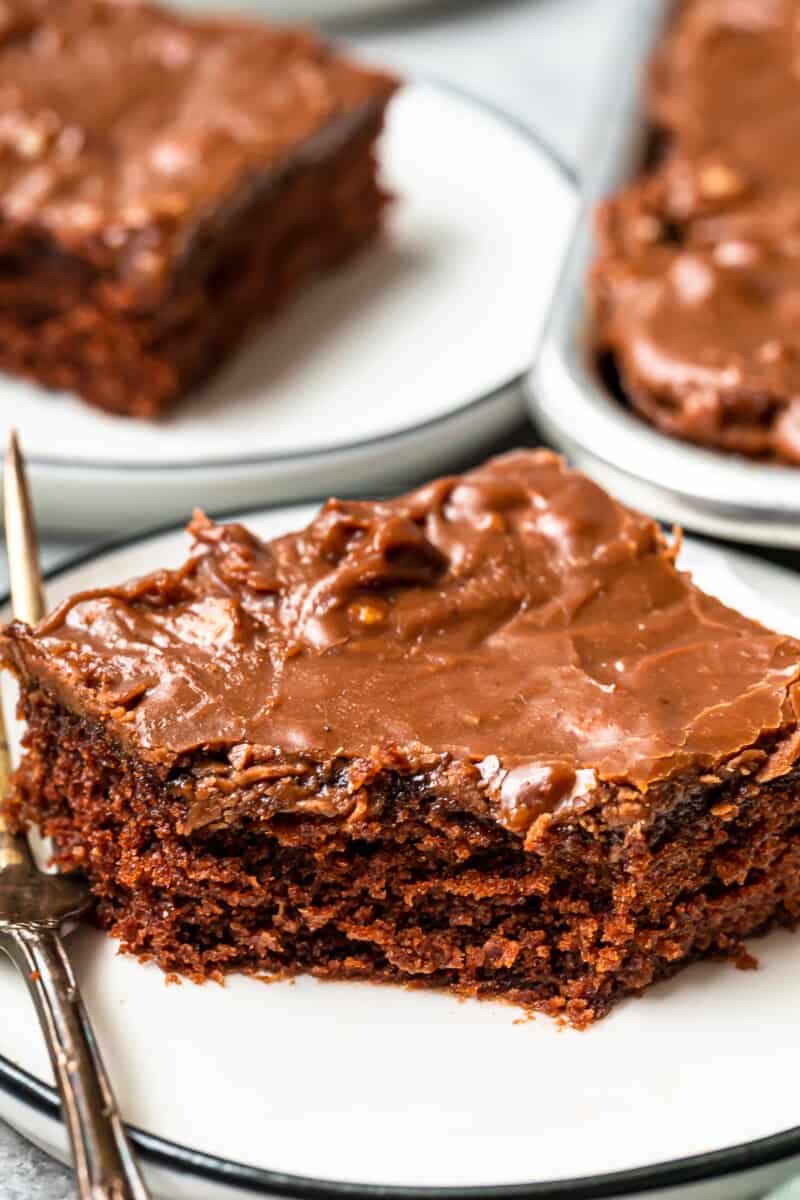 Texas sheet can is a classic southern dessert that is fit for a crowd. This chocolate sheet cake combines a tender cake with a chocolate fudge frosting. It's easy to make and everyone will want a slice when you bring it to your next gathering.
If you make this recipe be sure to upload a photo in the comment section below or leave a rating. Enjoy! You can also jump to recipe.