This homemade Vanilla Sheet Cake recipe is made from scratch with just a few baking basics! The moist, fluffy vanilla cake is topped with a vanilla buttercream frosting, and can be decorated as you please. It's the best sheet cake for crowds, birthday parties, and other occasions!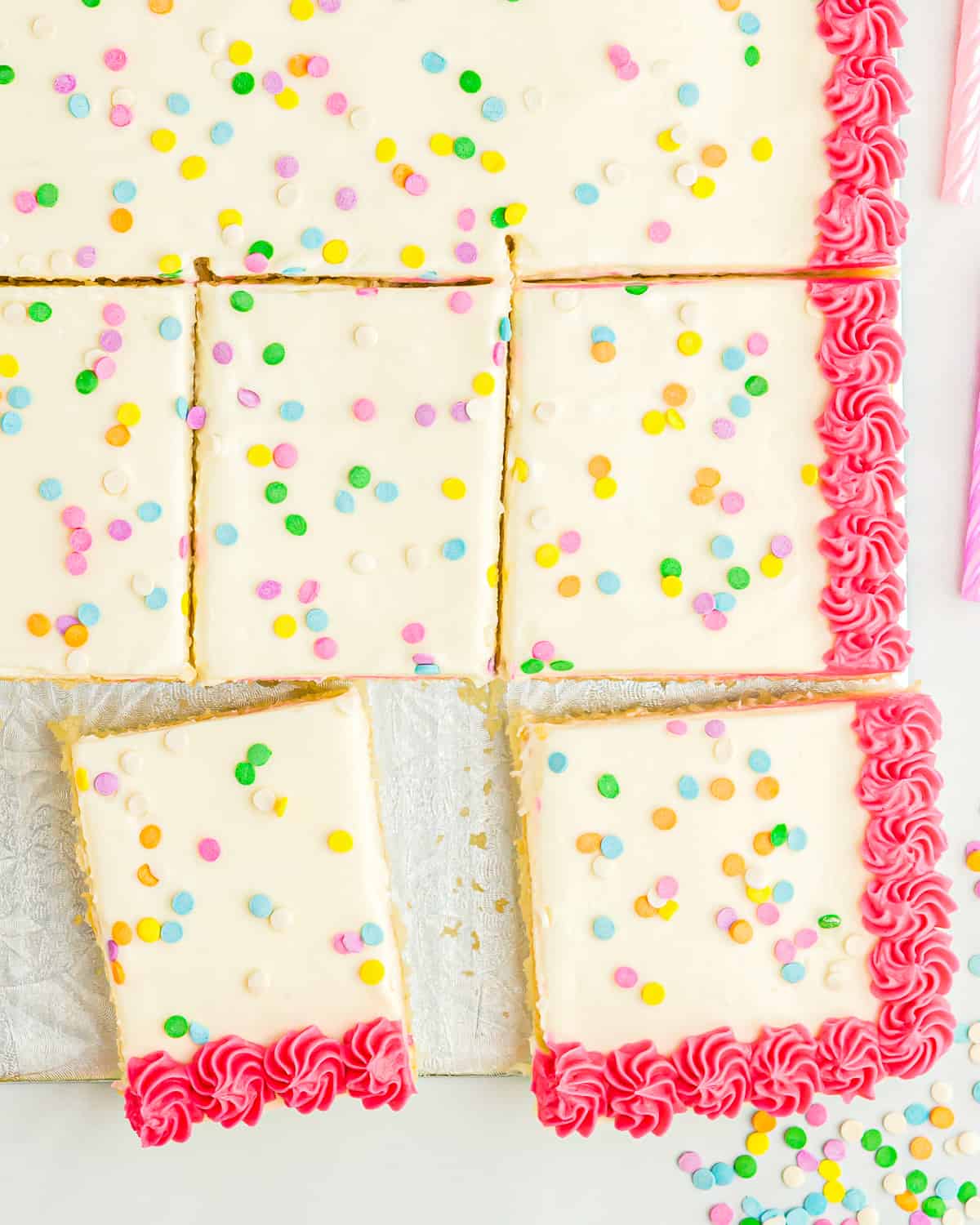 What's in this Homemade Vanilla Sheet Cake Recipe?
Some simple pantry staples come together to create a moist and delicious vanilla sheet cake that'll have you coming back for seconds…and thirds! It makes a great birthday cake but works for any occasion.
All-Purpose Flour: Gives the cake structure.
Baking Powder: Helps the cake rise in the oven.
Kosher Salt: Balances the sweetness of the cake.
Unsalted Butter: Makes the cake moist and tender, and gives the frosting structure.
Sugar: Granulated sugar sweetens the cake, while powdered sugar sweetens the frosting without making it gritty.
Vegetable Oil: Makes the cake ultra-moist and helps prevent it from drying out too quickly.
Eggs: Give the cake structure and richness.
Vanilla Extract: Adds rich vanilla flavor to both the cake and the frosting.
Milk: Adds moisture to the cake.
Heavy Cream: Helps to thin the frosting to a spreadable consistency.
Pro Tip: Set your refrigerated ingredients (milk, eggs, and butter) on the counter and let them come to room temperature before using them.
Sheet Cake Flavors
This vanilla cake recipe is the perfect base to turn into just about any flavor you like. Try some of these sheet cake variations!
Chocolate: Replace ½ cup of all-purpose flour with unsweetened cocoa powder.
Strawberry: Add ½ cup of pureed strawberries to the cake batter and garnish with fresh strawberries.
Red Velvet: Add 2 tablespoons of unsweetened cocoa powder and 2 tablespoons of red food coloring to the batter.
Lemon: Add 2 tablespoons of lemon zest and ¼ cup of freshly squeezed lemon juice to the batter.
Caramel: Add ½ cup of caramel sauce to the batter and drizzle some extra on top.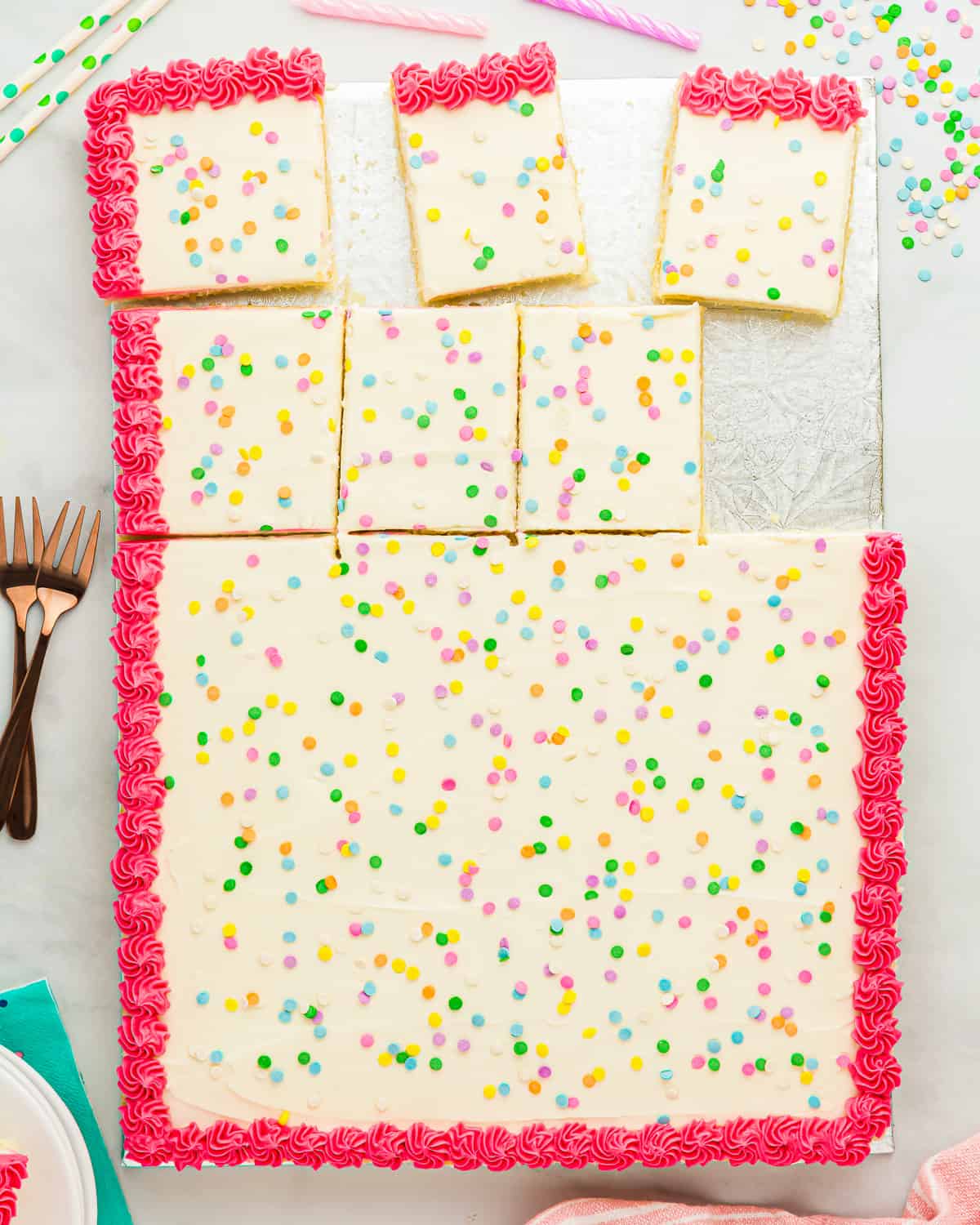 How can I quickly bring butter to room temperature?
If you forget to let your butter for the frosting adjust to room temperature, don't panic! Just microwave a cup of water for 3 minutes. Then, quickly open the microwave door and place the sliced butter in the microwave, closing the door quickly. Let the butter sit in the microwave (without the microwave being on) for about 5-10 minutes. Within that time, the butter should soften, not melt.
Can I use salted butter in this vanilla cake recipe?
Yes! However, if you choose to use salted butter, omit the kosher salt!
How can I add even more vanilla flavor to this cake?
If the vanilla extract isn't enough to satisfy your vanilla craving, don't despair! Vanilla bean paste will get the job done. Simply add 1 tablespoon of vanilla bean paste to the cake batter and 1 teaspoon to the frosting. You'll have a significantly more vanilla-flavored cake!
Can I use this recipe to make cupcakes?
Yes, you can use this recipe to make cupcakes. Simply portion out the batter evenly between the wells of a cupcake tin, filling ¾ full, and bake for 15-20 minutes, or until a toothpick inserted into the center comes out clean.
Why isn't my cake rising properly?
If your cake is a bit flat, that's most likely because you didn't add enough baking powder. Also, be sure to check the expiration date on your baking powder! If it's expired, it just won't do the trick.
Why is my cake dry?
A dry cake can be caused by 2 things. You may have measured the ingredients incorrectly, or you might have overmixed the batter. It's important to scoop and level your ingredients if you're not using a scale, and it's important to have a light hand when mixing the batter.
My cake crumbles and breaks apart when I try to frost it. What happened?
If you try to frost a warm cake, the cake will start to crumble and tear so be sure to let the cake fully cool before frosting. Your frosting may also be too thick – you can fix this by beating in a tablespoon of heavy cream.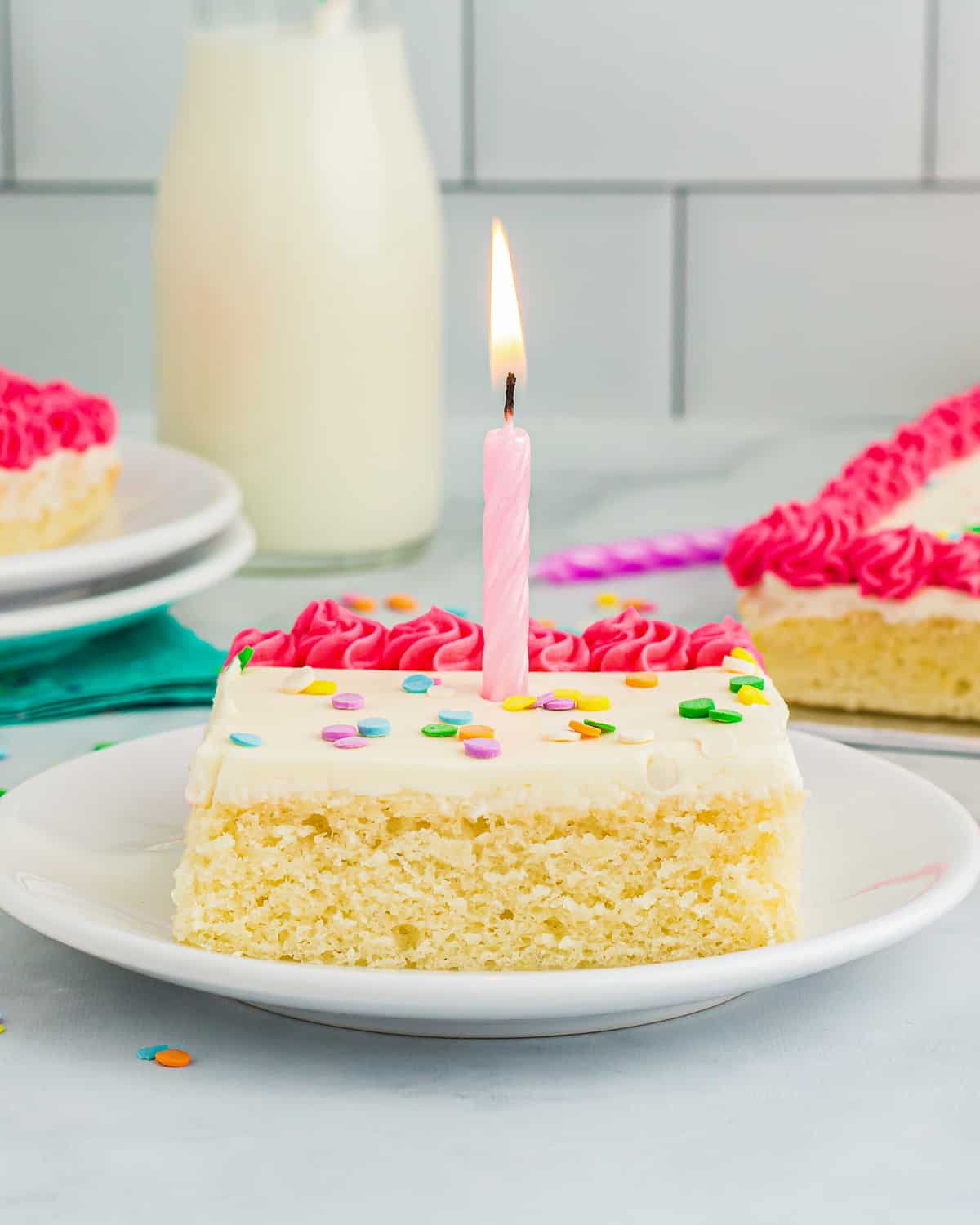 How to Store
Store vanilla sheet cake tightly wrapped in plastic wrap at room temperature for up to 3 days, or in the refrigerator for up to 5 days. This cake is best enjoyed at room temperature.
How to Freeze
Freeze this confetti sheet cake whole or cut into individual slices, tightly wrapped in 2 layers of plastic wrap and 1 layer of aluminum foil, for up to 3 months. Let thaw overnight in the refrigerator before enjoying.
Serving Suggestions
This rich vanilla cake recipe pairs perfectly with a glass of milk (or oat milk)! And if you're using this as a birthday cake, don't forget scoops of vanilla ice cream or red velvet ice cream, and a few candles.
For a lighter cake, try topping it with stabilized whipped cream and fresh fruit instead of buttercream.
More Sheet Cake Recipes We Love