This vegan pumpkin pie recipe is made with almond milk for a delicious and vegan Thanksgiving dessert. Easy to make with simple ingredients, this dairy free holiday recipe is sure to impress your guests. Can be made ahead of time for an easy fuss free fall dessert.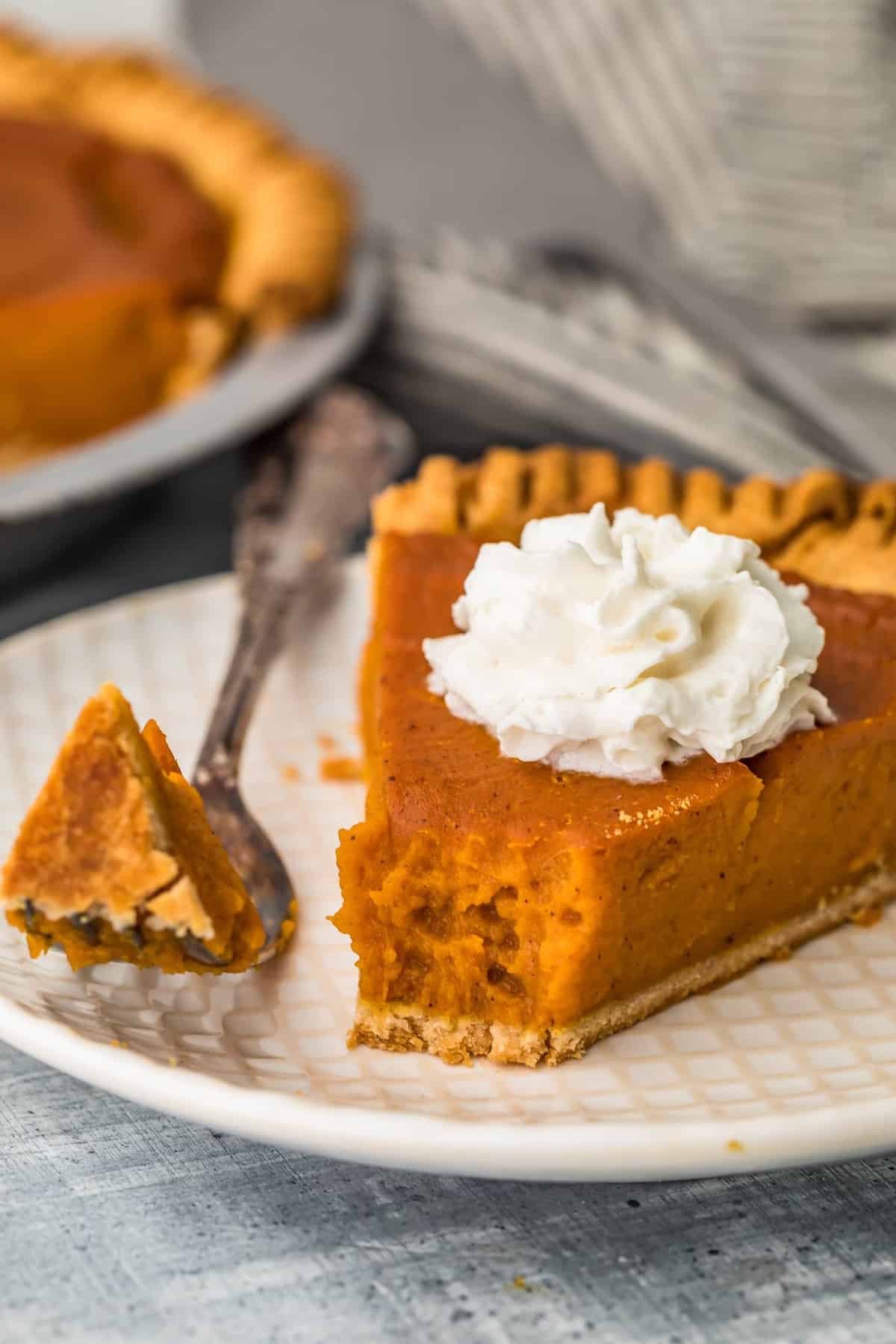 If there's one thing that screams fall, it's pumpkin! Especially pumpkin pie.
It's the perfect dessert to serve after your Thanksgiving meal and this recipe is so delicious! Perfect if you or any of your guests are vegan or dairy free, and the ones who aren't won't know the difference!
Thanks to Almond Breeze Almond milk we are able to make this Dairy Free Pumpkin Pie taste just like a traditional pumpkin pie, but in vegan form! Easier on tummies and with all the nutrition you've come to know and love from Almond Breeze.
How to Make This Vegan Pumpkin Pie Recipe
FOR THE CRUST
Add flour and salt to a large mixing bowl, whisking to combine. Add the butter and use a fork or pastry cutter to incorporate. Don't overwork.

Add the cold water a bit at a time until a loose dough comes together. Don't add more water than you need.

Lay dough on a piece of plastic wrap sprinkled with flour. Work with your hands to form a disk about 1/2 inch thick. Wrap firmly and keep in the fridge until ready to bake (up to 2 days). When ready to bake, let it warm back up out of the fridge for 10 minutes before use.
FOR THE PIE
Preheat oven to 350F.

Add all the pie ingredients to a high powered blender and blend on high until fully smooth.

Roll out your pie dough on a floured surface and form it around the inside of a pie pan. Press into the bottom and sides slightly to adhere to the pan.

Pour the pumpkin pie filling into the crust and bake for 60 minutes or until the filling is golden with a few cracks in the top. It should be set, but still slightly jiggly. Remove from the oven and let cool completely on the counter.

After pie is cool, cover loosely with plastic wrap and keep in the fridge overnight before serving (this will help it be fully set).

Slice and serve!
What To Serve With Vegan Pumpkin Pie
You can serve this dairy free pumpkin pie with Almondmilk Whipped Cream or just sprinkle with cinnamon sugar. If you do have any leftovers, be sure to keep them in an airtight container in the fridge.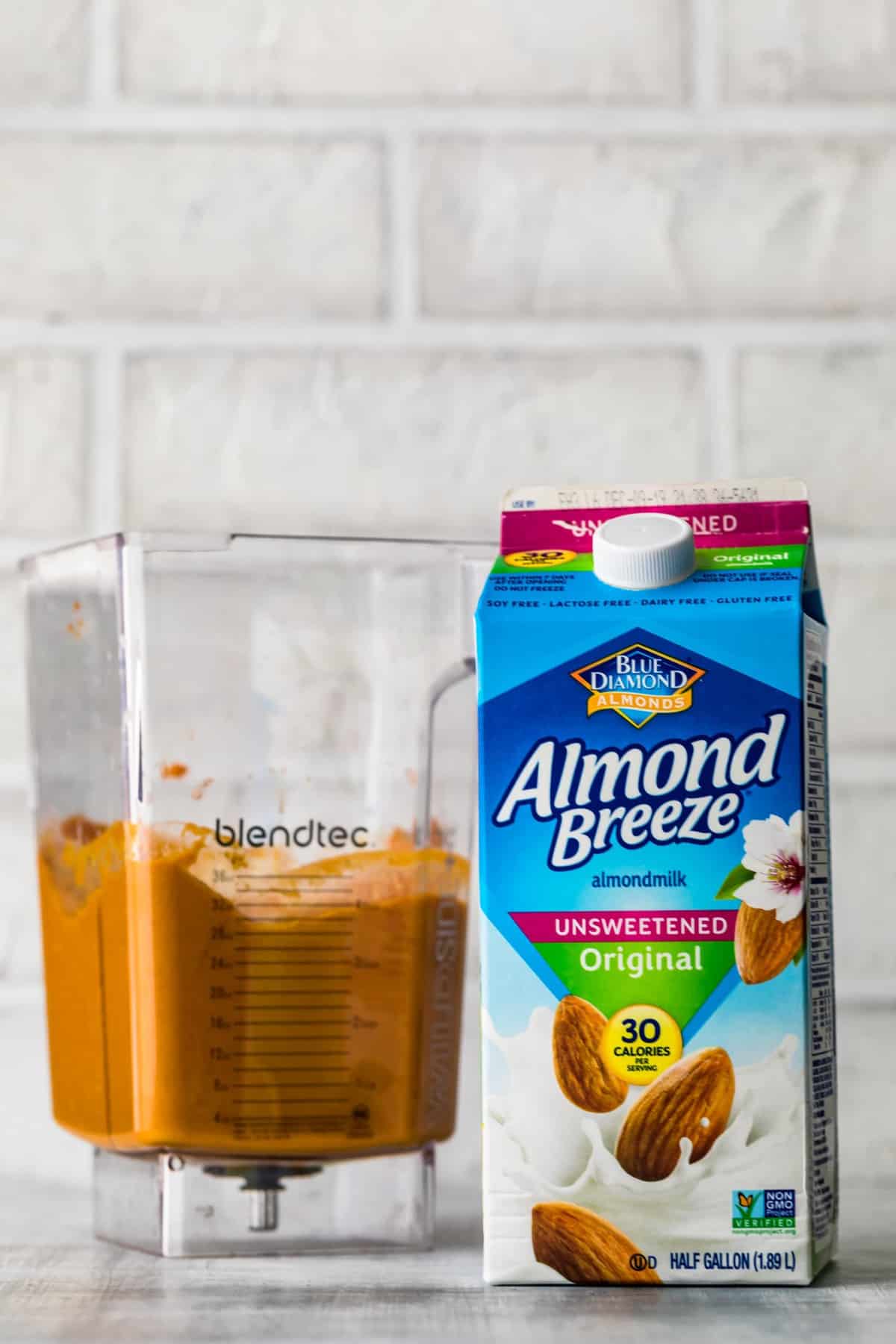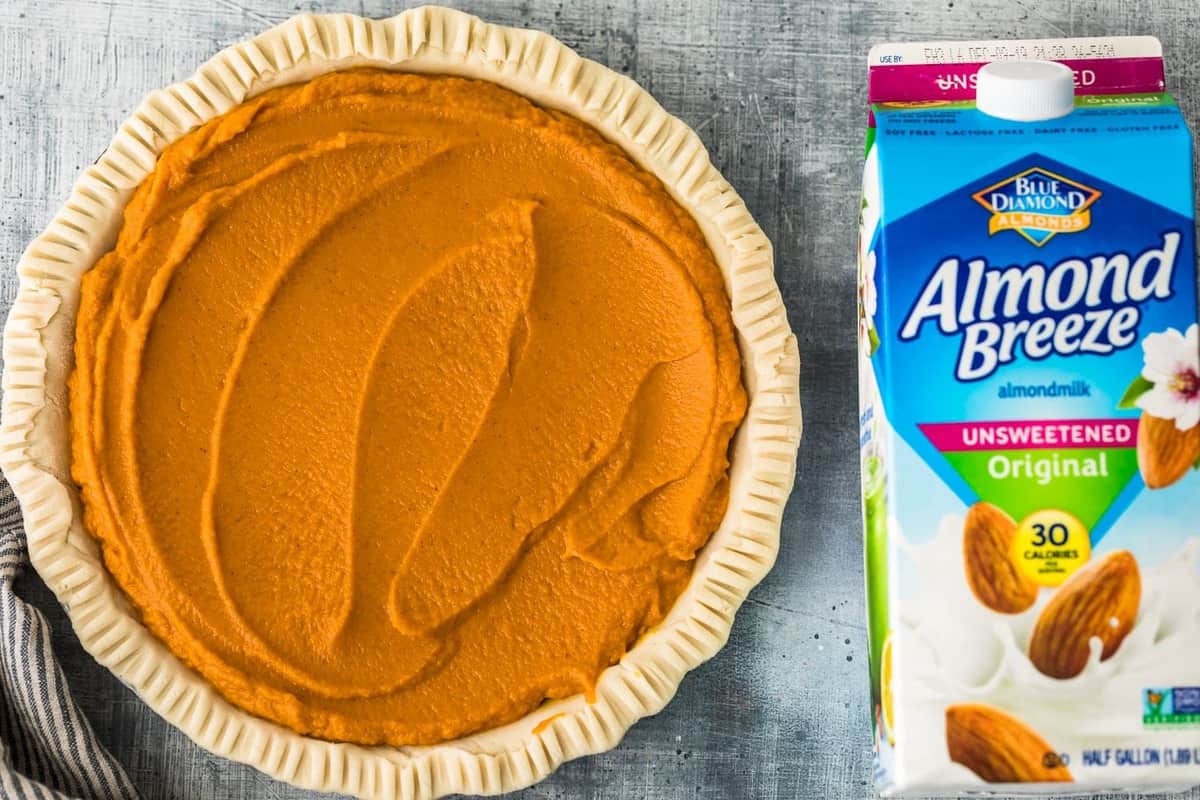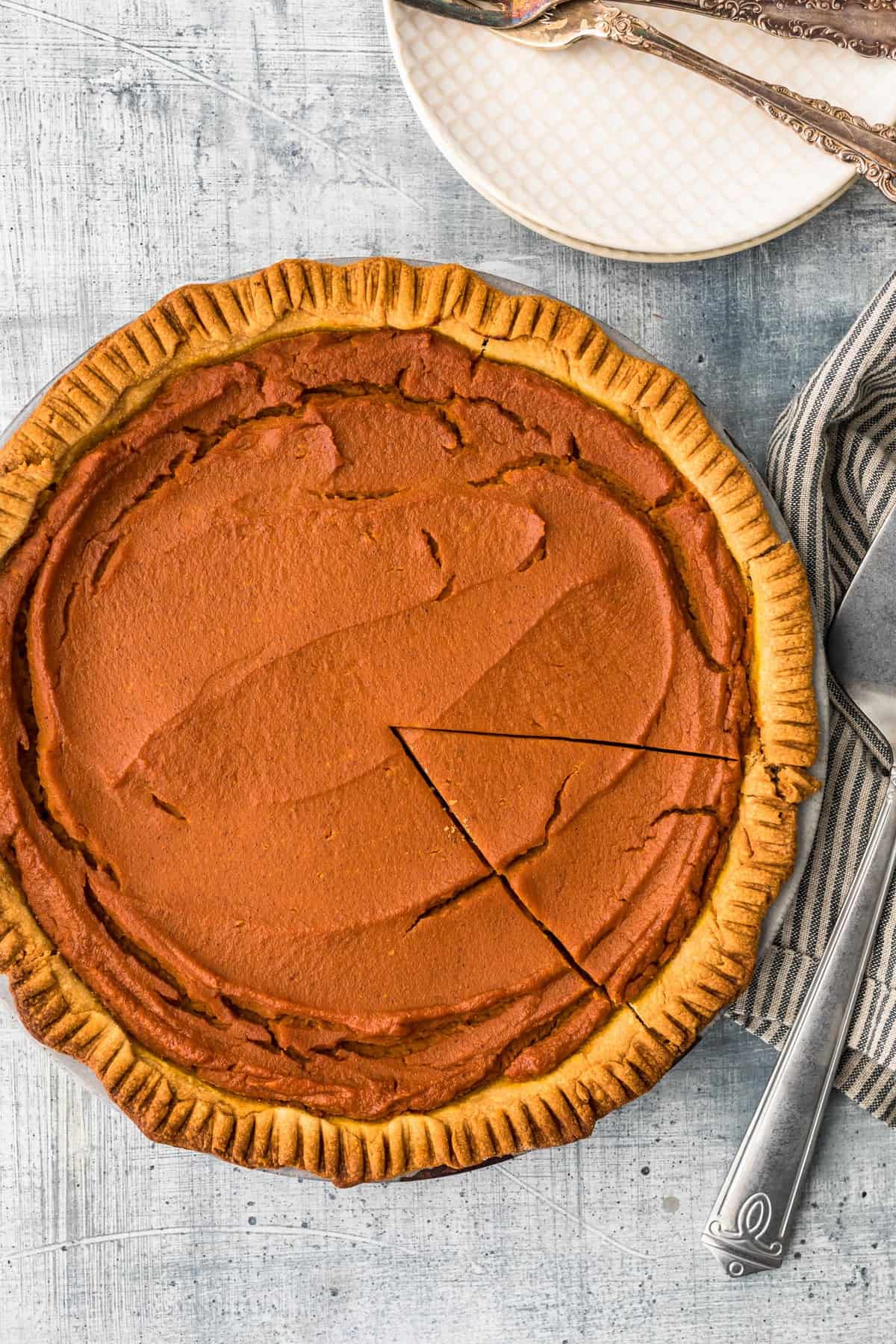 The Best Almondmilk for Dairy Free Pumpkin Pie
I have loved Almond Breeze for a long time. Henry CANNOT get enough of the taste of milk, but sometimes dairy hurts his belly. Almond Breeze is our non-dairy alternative of choice that allows for moms and families to live and lead a healthful, active and better-for-you lifestyle. I know as a mom I'm personally so grateful that I can trust their product as being THE BEST.
Using Almond Breeze Unsweetened Original Almondmilk in this Dairy Free Pumpkin Pie recipe makes sure all the guests at your Thanksgiving party can enjoy dessert even if they have an intolerance to lactose. Thank you Almond Breeze!
Almond Breeze uses only the highest quality Blue Diamond almonds to make their almondmilk products. Their almonds are grown right in California, you can read more about their co-op of growers, meet some actual families that grow your almonds, and hear why they're the absolute experts in almonds HERE.
Other health benefits of almond milk include:
Only 30 calories and has no added sugar.
Excellent source of calcium
Gluten-free, lactose-free, and has no saturated fat and no cholesterol.
A refreshing and delicious alternative to dairy that tastes great on its own, with a creamy smooth texture and hint-of-almond taste.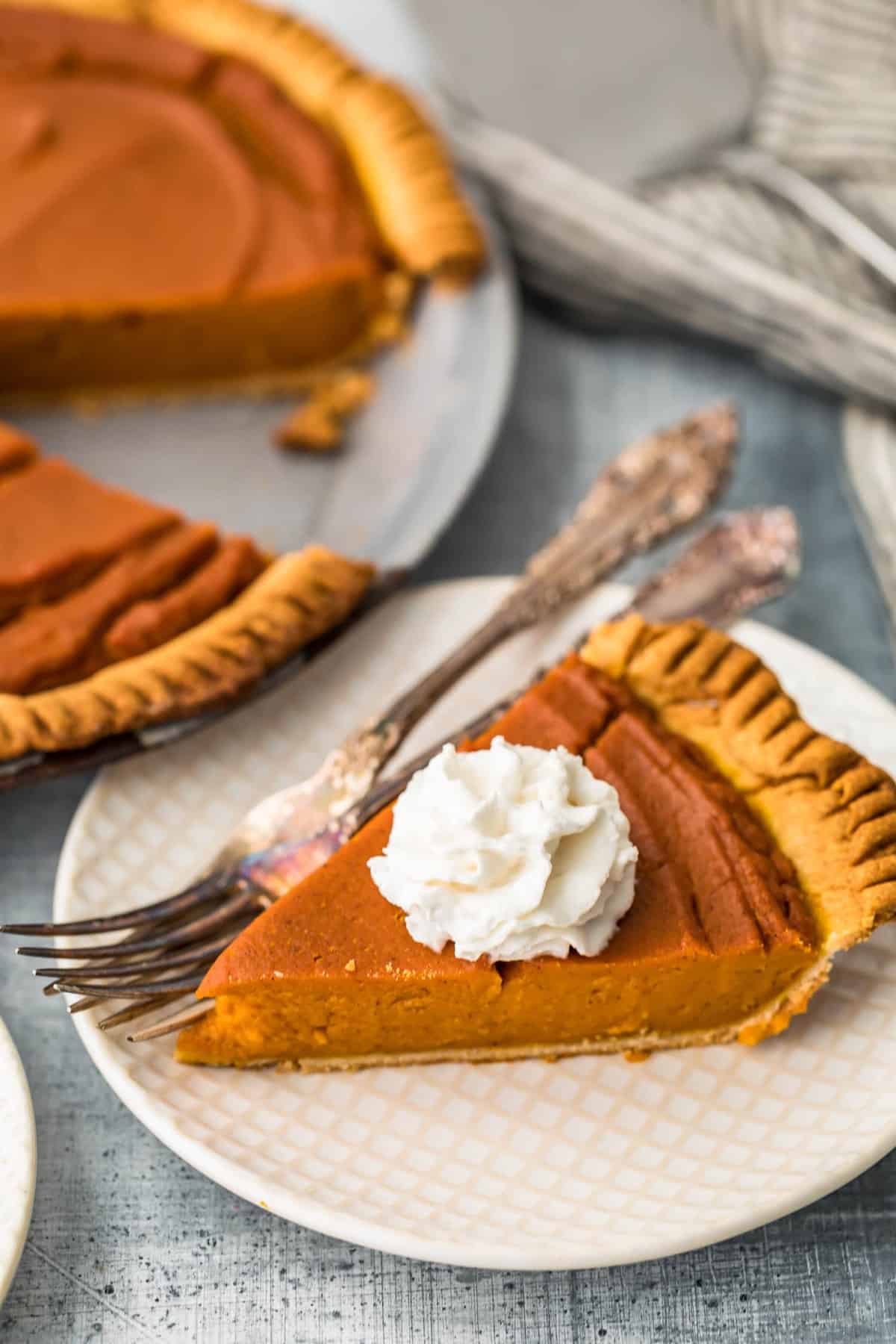 What is in a Dairy Free Pumpkin Pie?
A traditional pumpkin pie is made with eggs and condensed milk, but my vegan version of this holiday classic substitutes these ingredients for a plant based and dairy free dessert. Water is used to bind the crust together instead of eggs, and the condensed milk has been replaced with almond milk. Dairy free butter is used and maple syrup is the natural sweetener. It tastes exactly like a pumpkin pie should!
How far in advance can you make vegan pumpkin pie?
Pumpkin pie is a great dessert to make ahead of time, as it needs time to set. Make this a day before you want to serve it. The pie also freezes really well – once it has cooled to room temperature, wrap it tightly in plastic wrap and foil and freeze. The day before you serve it, simply defrost it the fridge. You can make the pie crust up to 2 days in advance.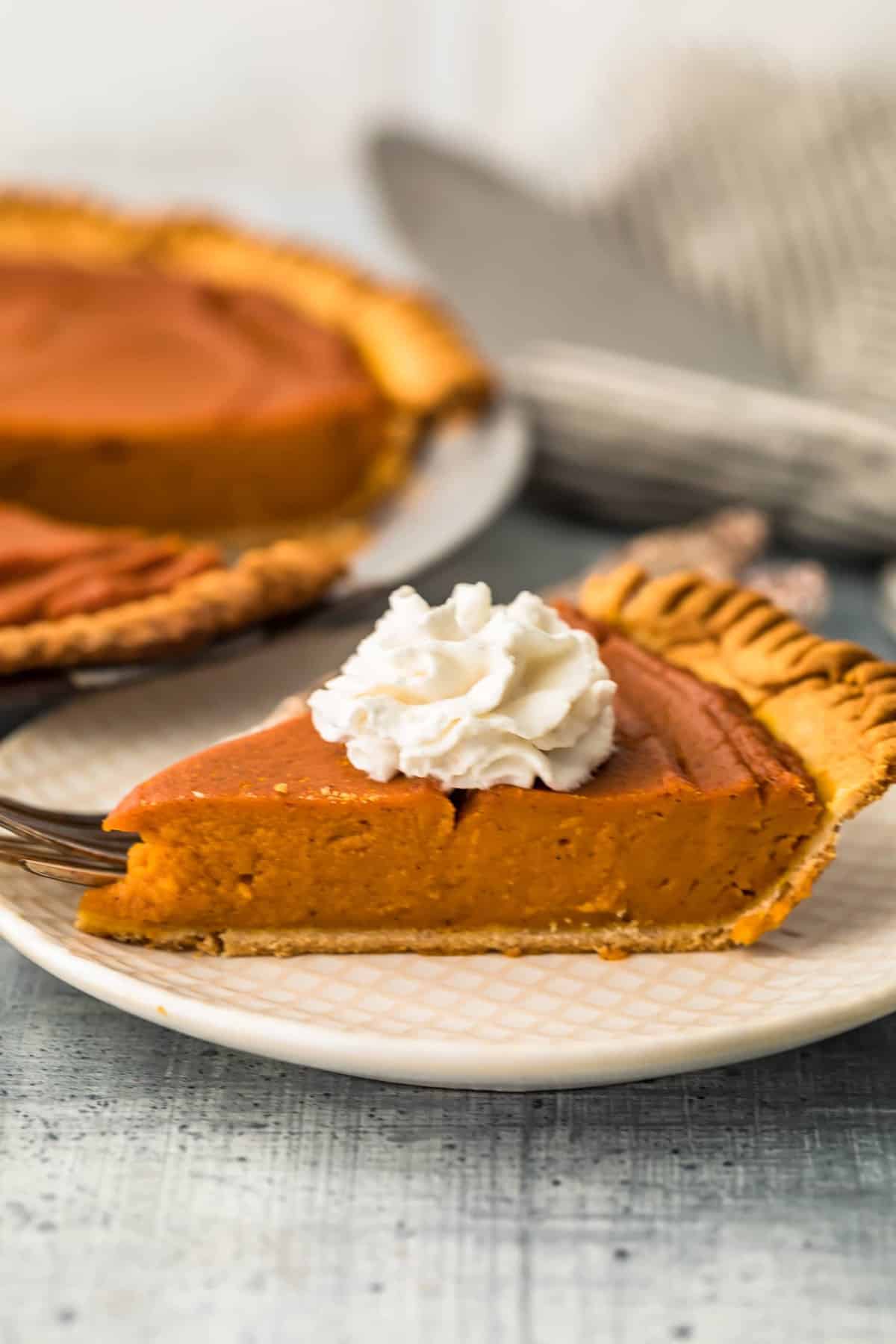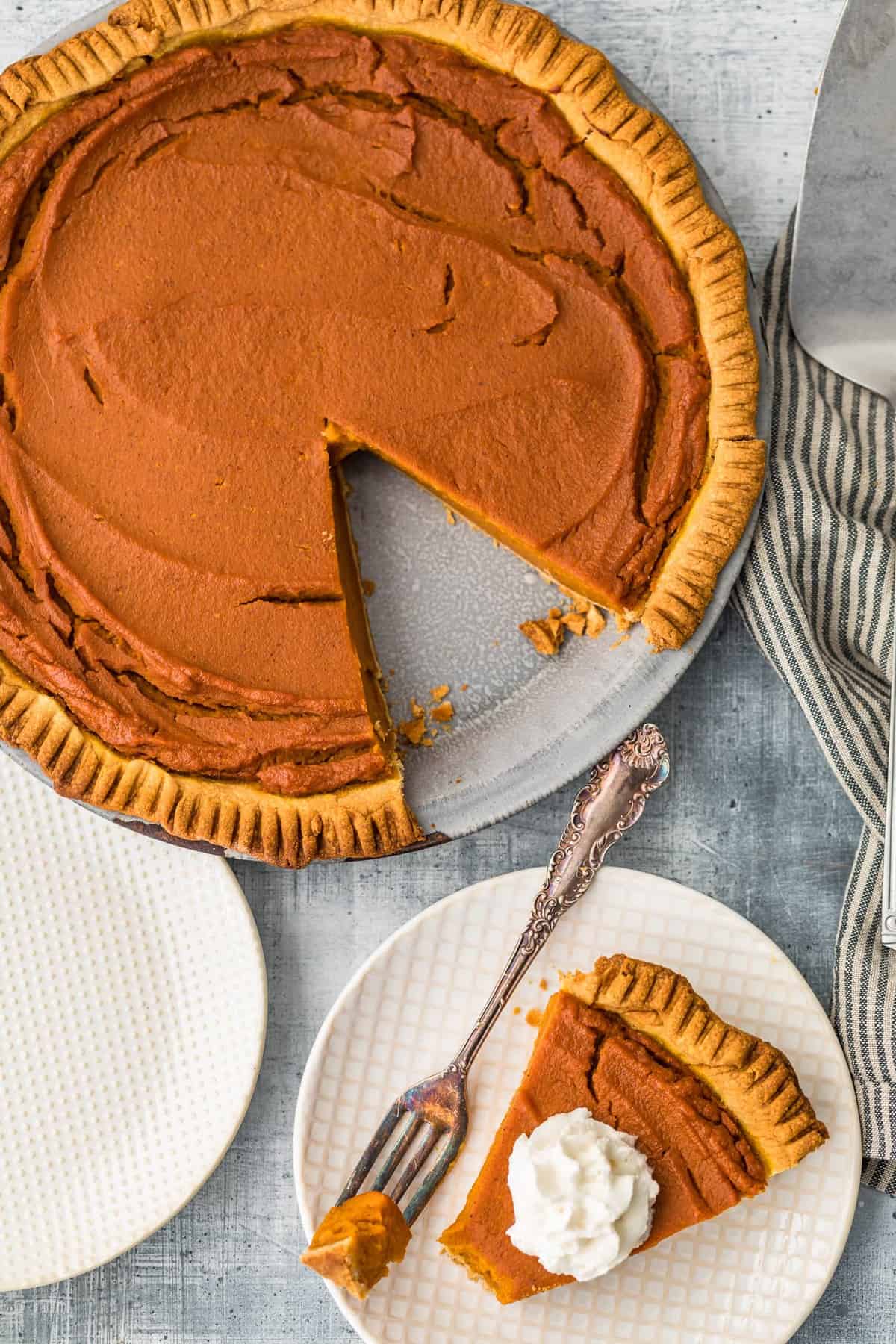 Vegan Pumpkin Pie Recipe From Scratch
It really takes no time at all to make a pumpkin pie from scratch, and it tastes so much better than store bought! The crust is a simple mix of flour, salt, vegan butter and water and it takes a matter of minutes for it all to come together. You can use any flour you want for the pie crust so you can easily make it gluten-free too.
Top Tips For Making This Dairy Free Pumpkin Pie Recipe
Add the water to the dough little by little so it doesn't become too wet.
Let the dough sit in the fridge for at least 30 minutes and let it come to room temperature before baking it.
Let the pie cool completely before transferring it to the fridge.
Make this pie ahead of time so that it has time to set.
Use 100% pure pumpkin, i.e. canned or homemade pumpkin puree.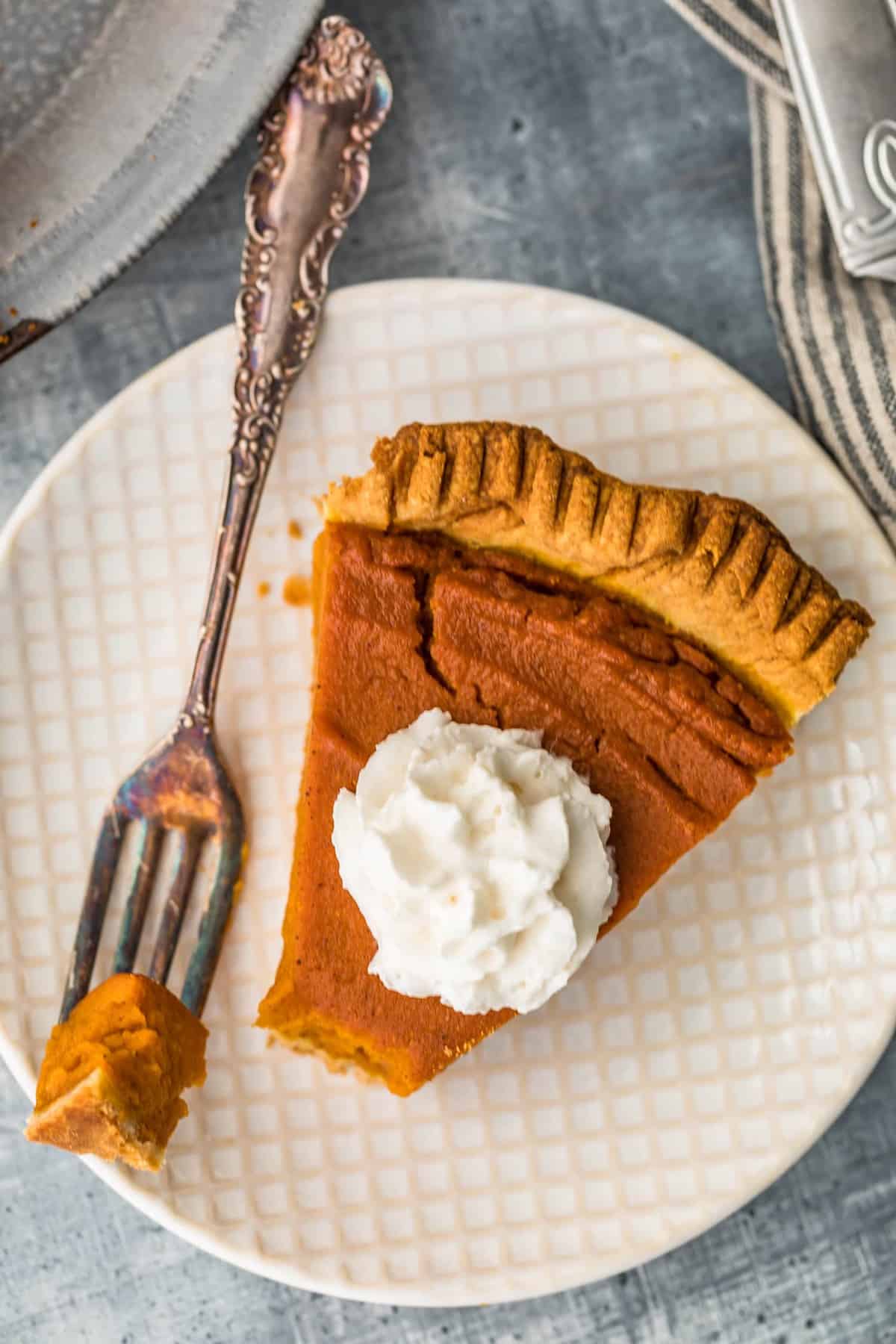 Be sure to check out these other Thanksgiving recipes!