This wild rice sausage stuffing is the perfect side dish for a large family meal, Thanksgiving or Christmas. Easy to make and baked in the oven, this hearty stuffing is perfect to serve with chicken, Cornish hens, turkey or ham.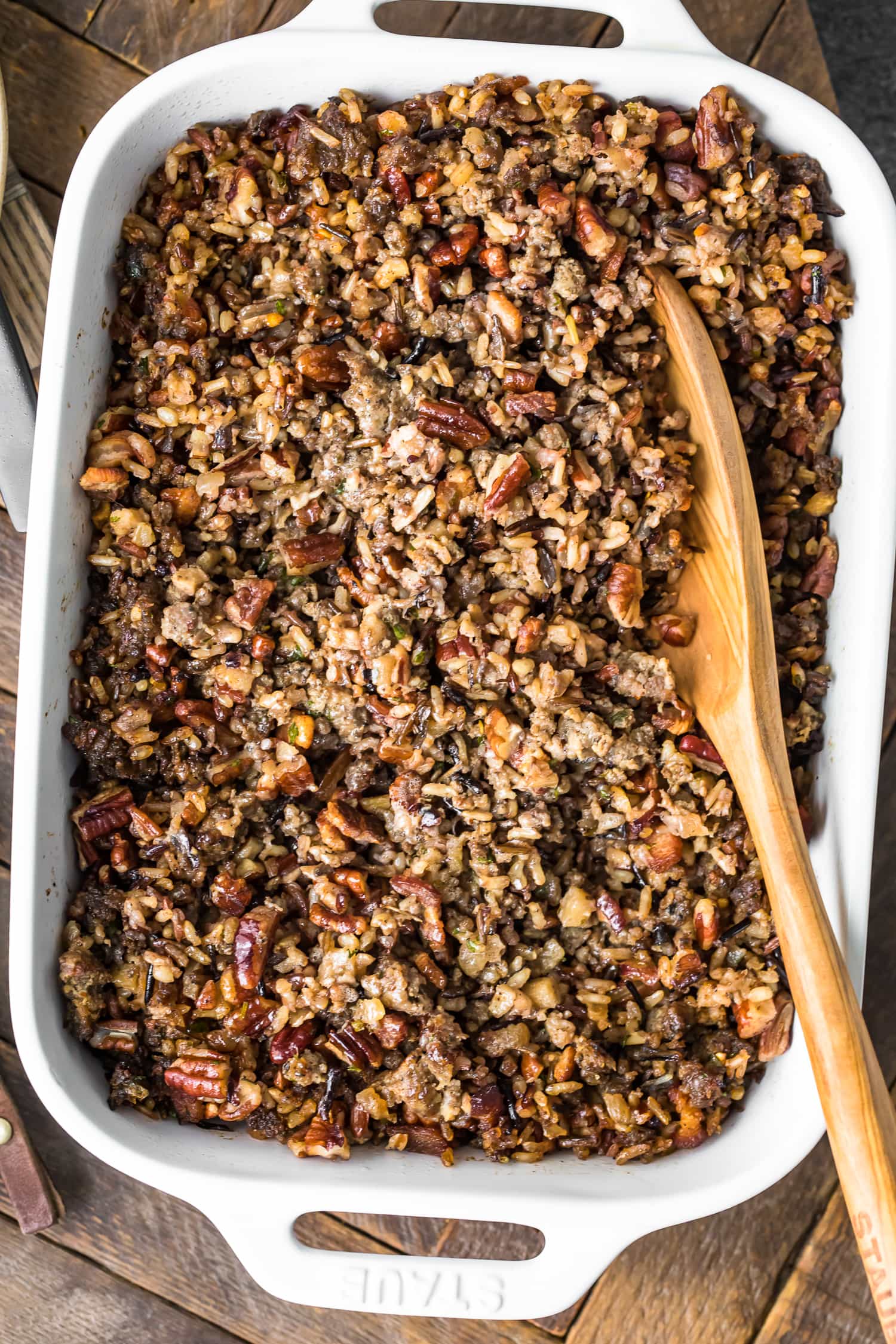 In my opinion, no large family or friends meal is complete without a tasty stuffing! This recipe is full of flavor and texture and makes a great side for any occasion!
How to Make Wild Rice Sausage Stuffing
Heat oven to 375°. Spray a 1.5-2 quart casserole dish with nonstick cooking spray.

Spread pecans on a rimmed baking sheet and cook 5-7 minutes or until fragrant and toasty brown. Watch closely so they don't burn. Set aside.

In a medium saucepan, add water (use amount per package directions for 1 cup dry rice), rice, kosher salt, black pepper and chicken bouillon. Cook the rice per package directions.

While the rice cooks, heat a large skillet over medium heat. Add oil, diced onion, diced apple and sausage. Cook, stirring often, until the onion and apple are tender and sausage is brown and crumbly. Add brown sugar, cook and stir about 2 minutes.

Stir in the chicken broth, liquor and Bouquet Garni; stir well and bring to a simmer – cook 3 minutes.

Add the cooked rice and toasted pecans. Stir well and pour into the prepared casserole dish.

Bake the rice at 375°F for 30-40 minutes or until hot throughout and golden brown on top.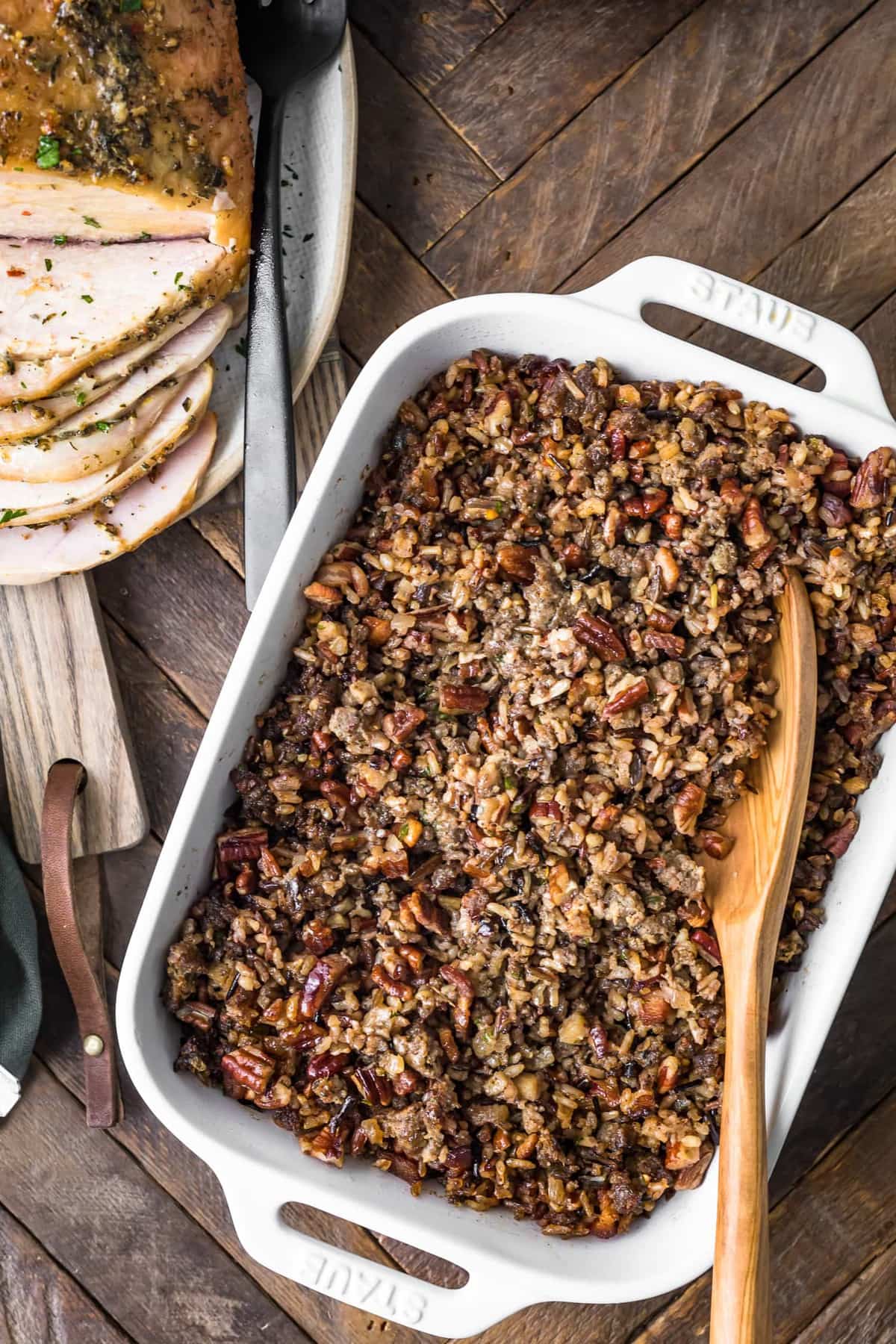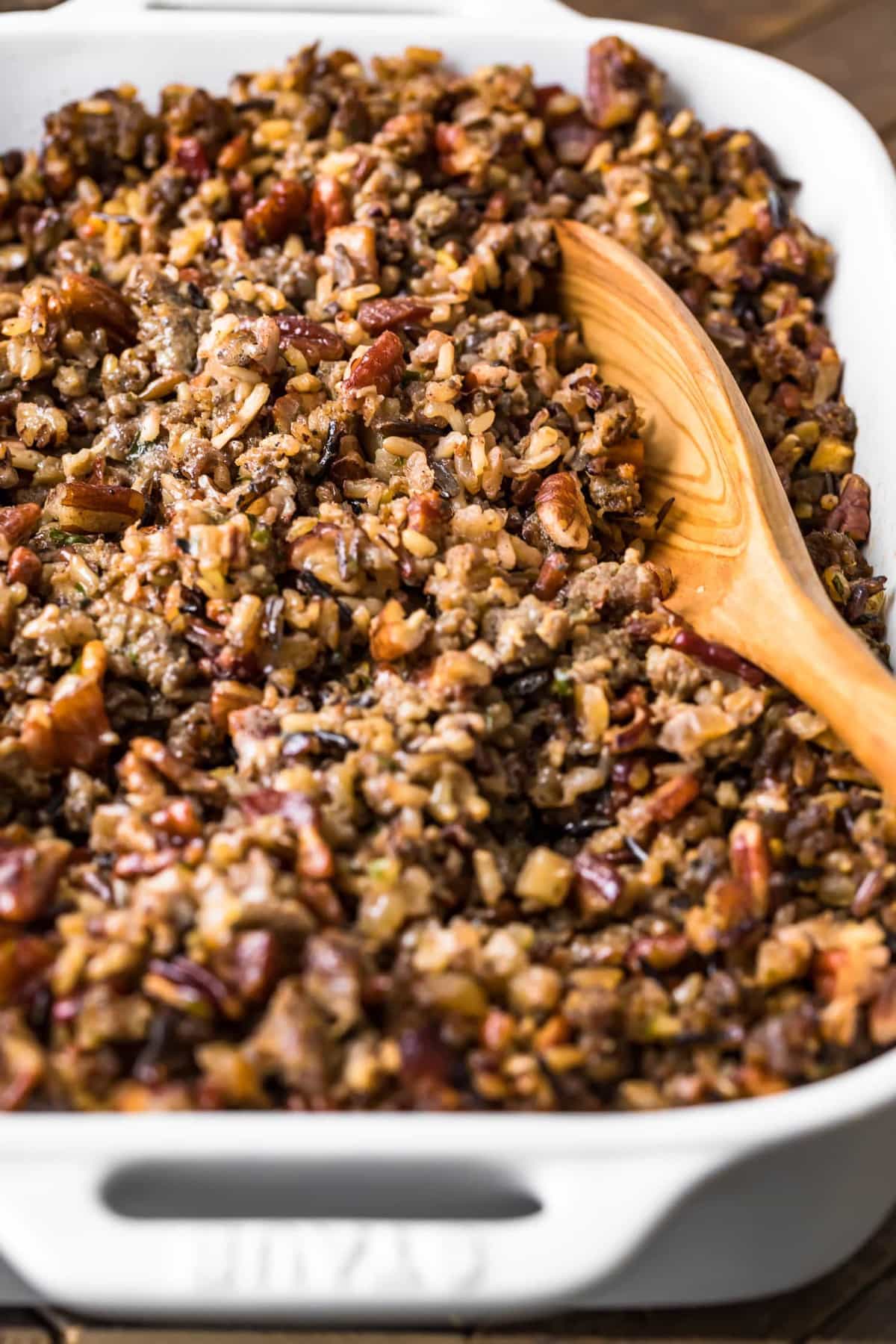 What is in this homemade wild rice sausage stuffing recipe?
This stuffing is a hearty and filling recipe and it's packed full of flavors and textures. It's crispy, meaty and quite honestly, moorish! The ingredients that make this the best stuffing recipe are:
pecans
wild rice
onion
pork sausage
apple
southern comfort
The combination of these ingredients makes for one hell of a tasty stuffing!
Can you make stuffing ahead of time?
If you are planning a large dinner, this wild rice sausage stuffing is a great option as it can be made ahead of time. Bake the stuffing as per the recipe, and leave it to cool to room temperature. Cove it with plastic wrap and keep it in the fridge for up to 2 days. Simply heat it through in the oven before serving it. You can also freeze the stuffing for up to 3 months.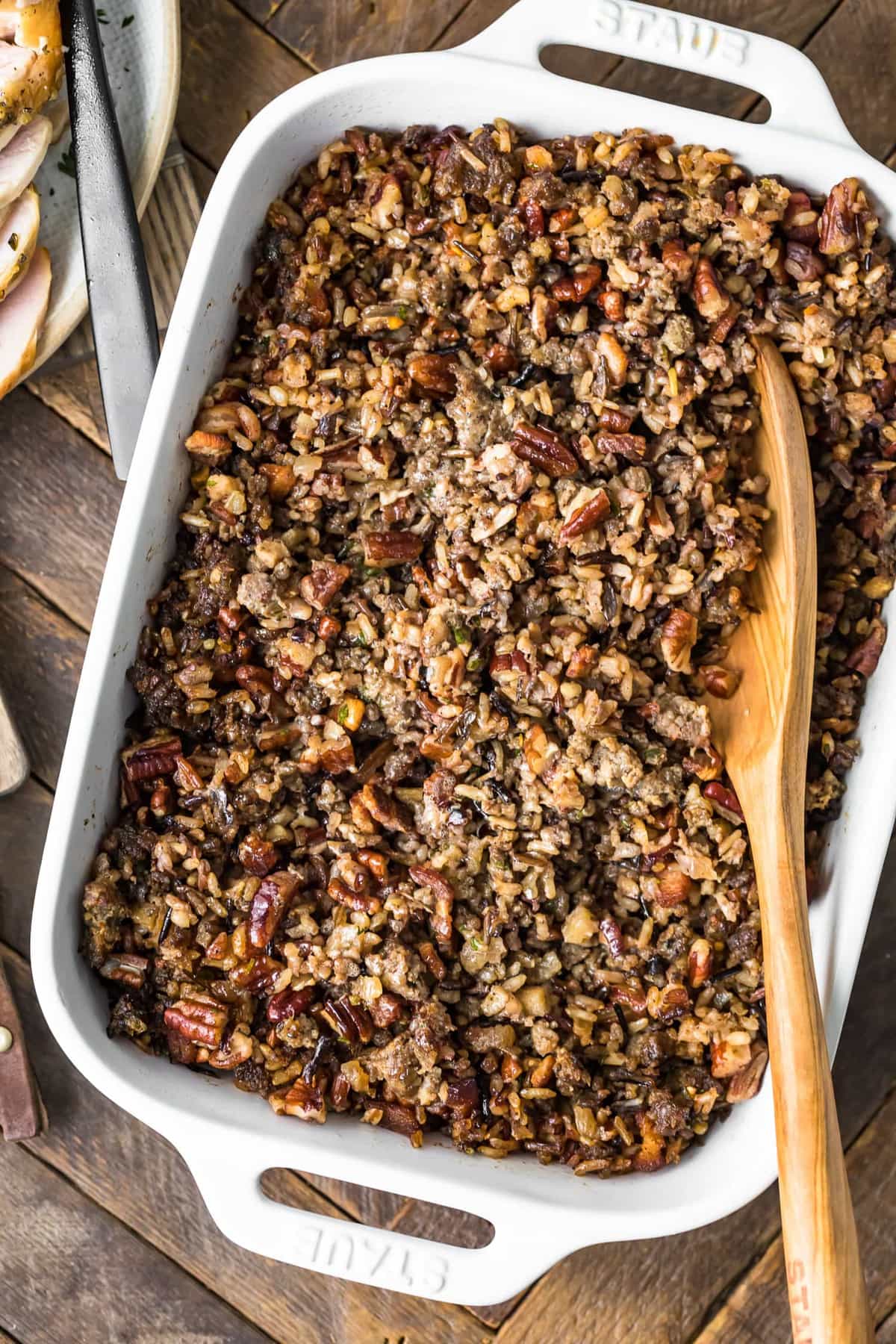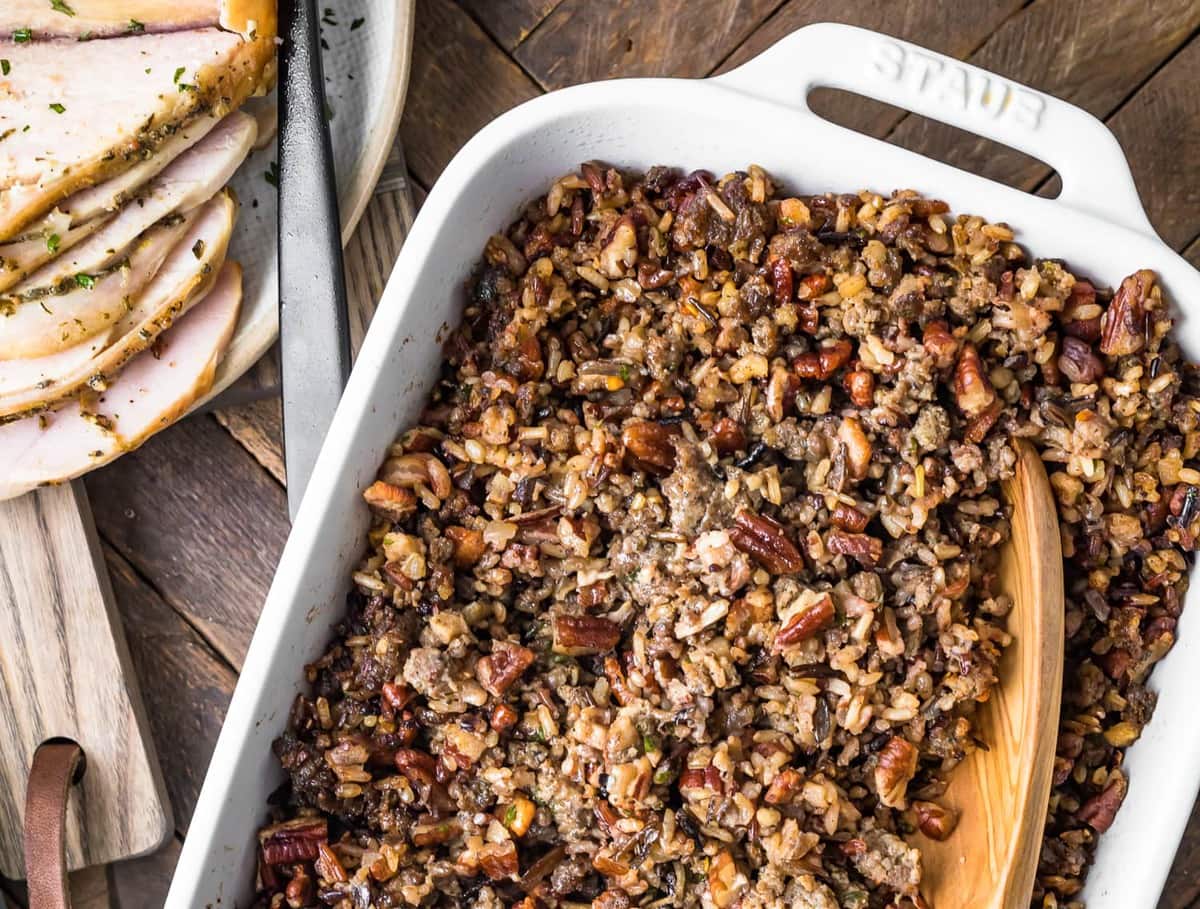 What do you serve with stuffing?
Stuffing is a classic accompaniment to white meat, such as roast chicken, Cornish hens and turkey. I like to serve it alongside all of the usual trimmings you would find on a Thanksgiving table. Try serving it alongside:
Best Herb Roasted Potatoes (Simple Seasoned Potatoes)
Brussels Sprouts Gratin with Bacon
Make Ahead Turkey Gravy Recipe (EASY Gravy Recipe)
(See our favorite Thanksgiving Side Dish Recipes!)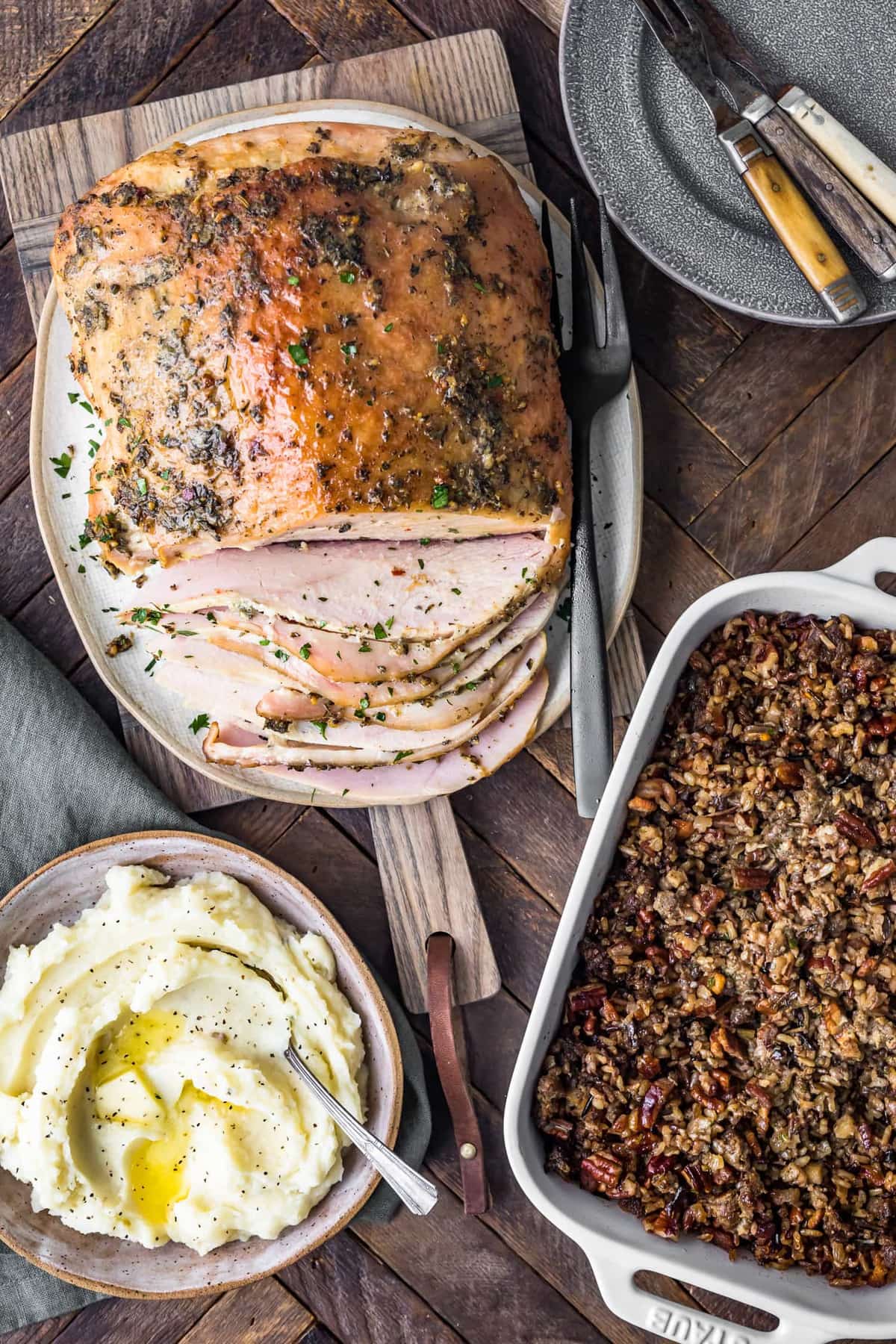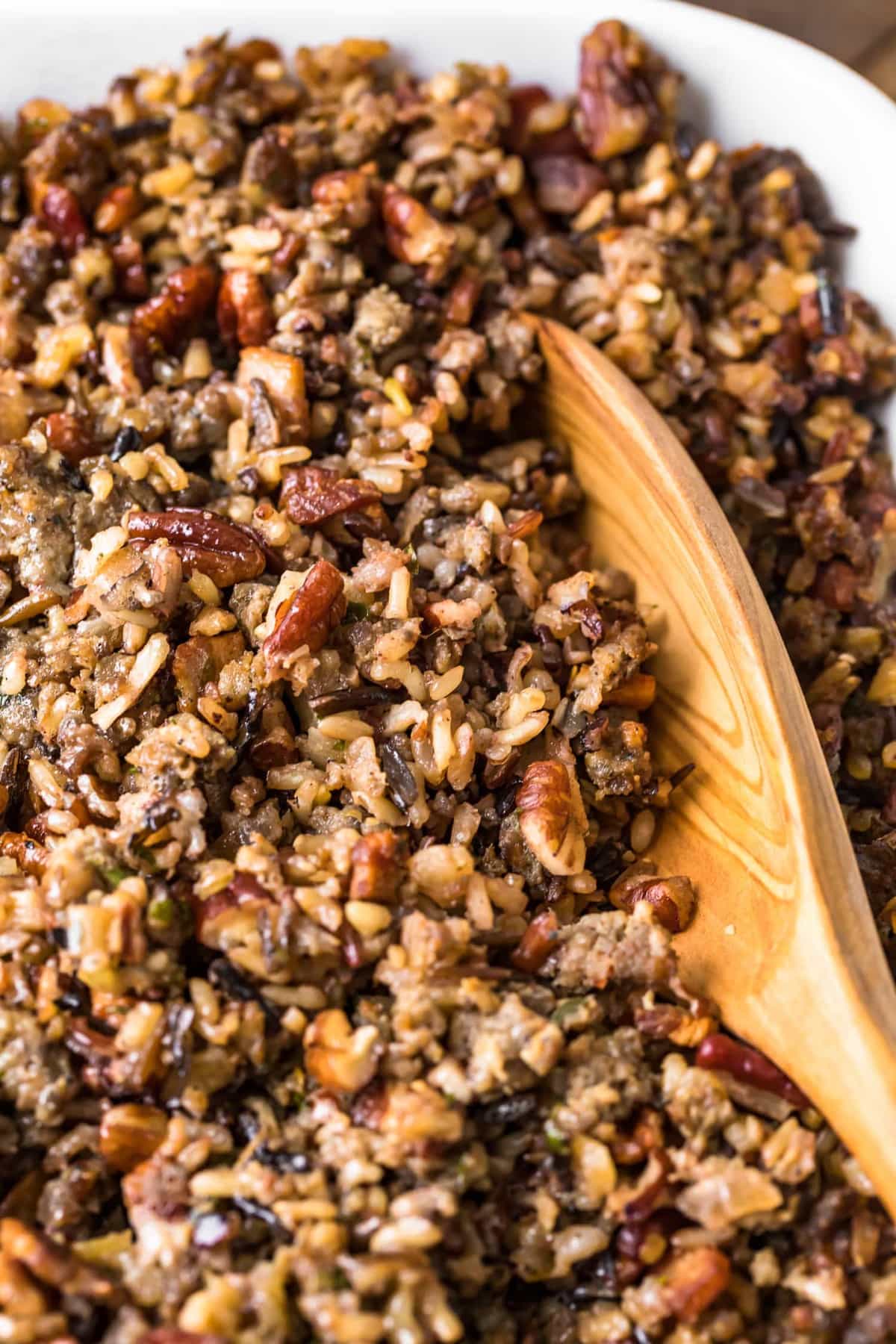 Top Tips for Making Wild Rice Sausage Stuffing Recipe
Spray the casserole dish with non stick cooking spray so the stuffing is removed easily.
Cook the stuffing in a pre heated oven for best results.
Use wild rice or brown rice rather than white for texture.
The liquor is optional but really adds to the flavor!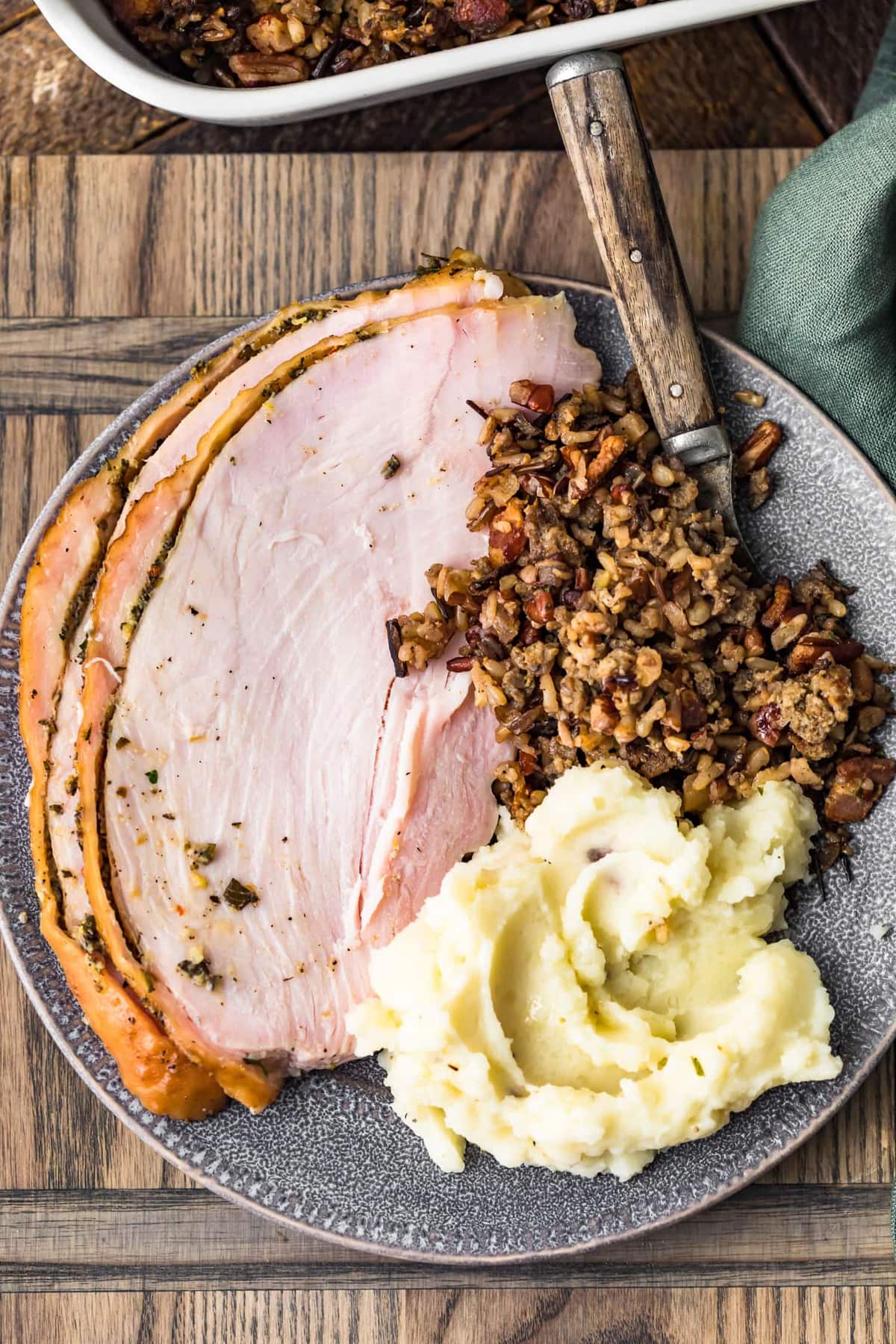 Be sure to check out these other recipes