Instant Pot Turkey Breast is a great and easy way to cook your Thanksgiving Turkey! You can cook this turkey in an instant pot in under an hour and be ready for the holidays! Cooking Turkey Breast in a pressure cooker takes off all the pressure of making the Thanksgiving or Christmas Turkey so you can just enjoy your holiday. Pressure Cooker Turkey Breast is quick, easy, and always juicy!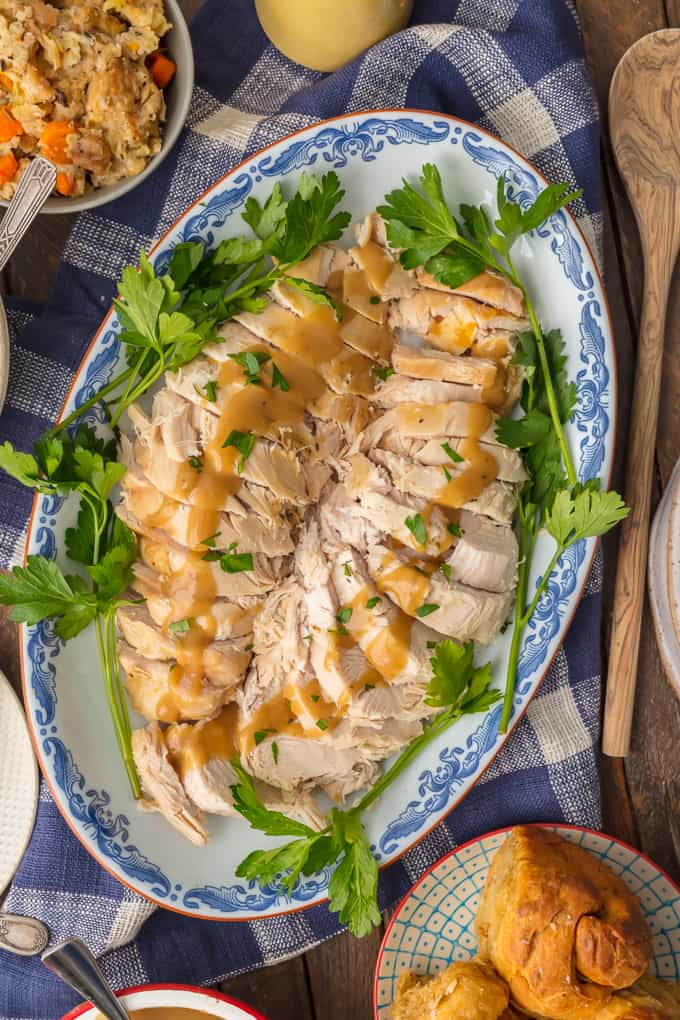 Instant Pot Turkey Breast
Turkey Breast in Instant Pot is my favorite way to cook a holiday Turkey! This Pressure Cooker Turkey Breast recipe makes cooking turkey breast easy.
This Instant Pot Turkey Breast Recipe is about to change how you do Thanksgiving. I am so obsessed with my new Instant Pot. Like…so obsessed. It's so easy to use, unbelievably quick (some might say…instant lol), and affordable. It just might be my new favorite kitchen appliance.
I've been practicing lots of recipes and how to adapt them into Instant Pot favorites, and learning how to cook turkey breast in a pressure cooker is just the tip of the iceberg. This recipe is a real game changer. It's the best way to cook turkey breast with ease!
I never thought I'd be using a pressure cooker to make my holiday turkey (let's be honest, I never thought I'd be using anything in the kitchen) but, I'm hooked. Have you tried it?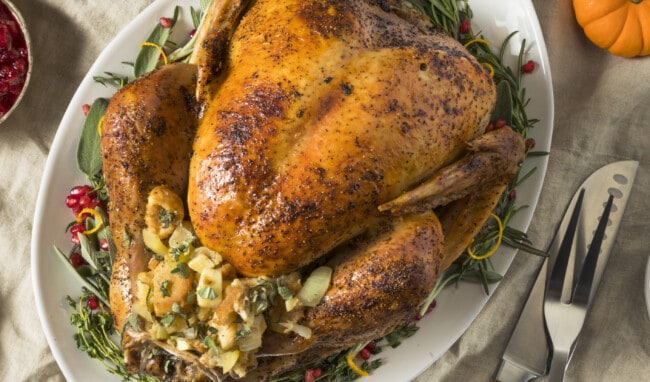 All the Tips and Tricks
How to Cook Thanksgiving Turkey!
Everything you need to know for Thanksgiving entertaining.
See Turkey Guide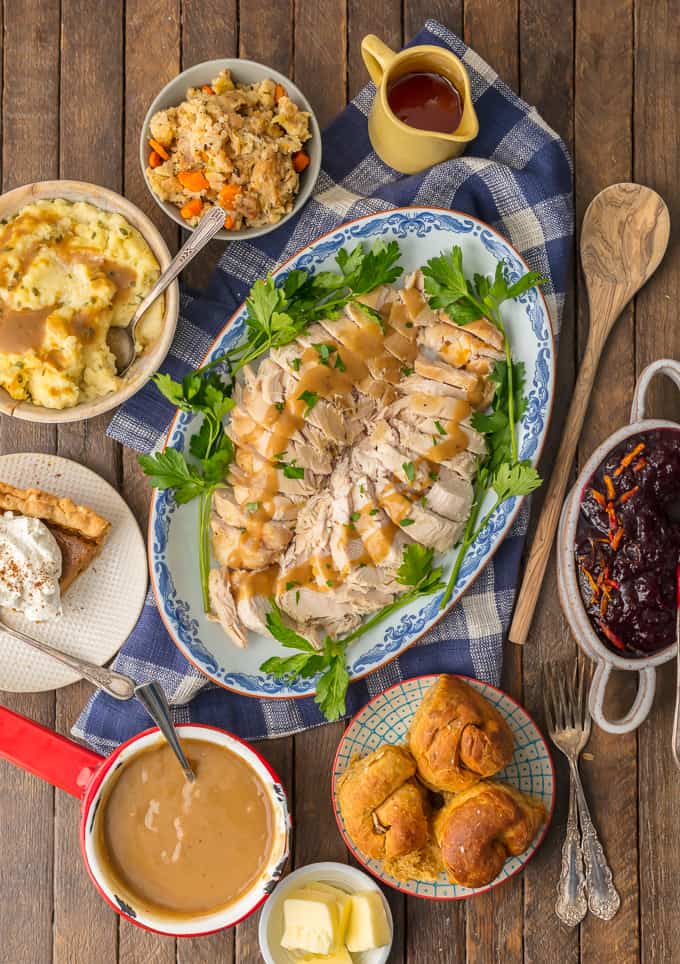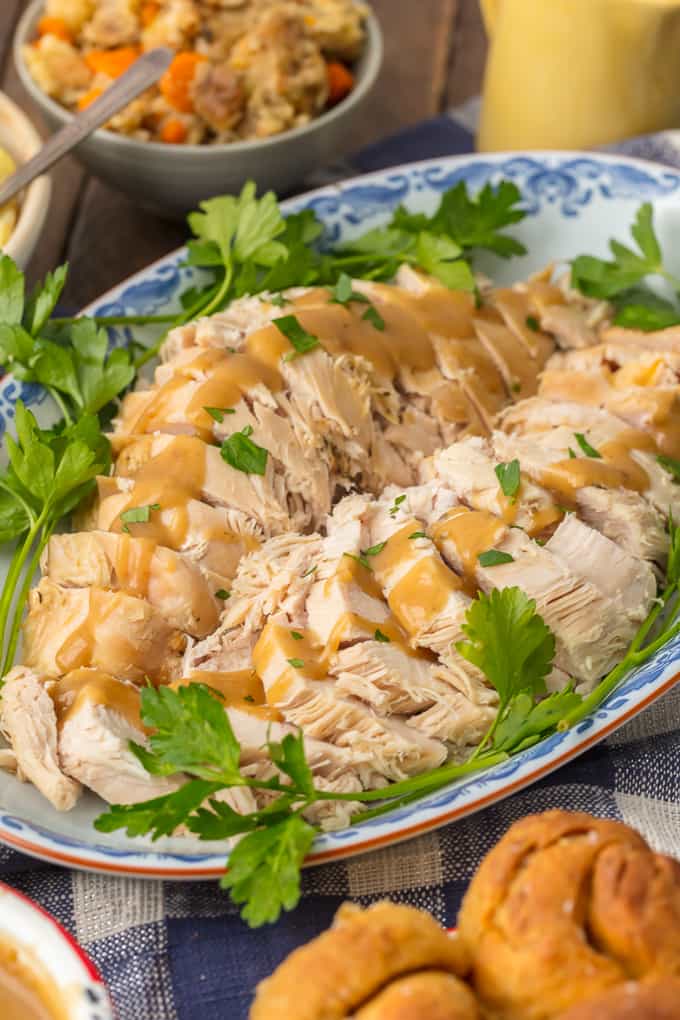 How to Cook Turkey in a Pressure Cooker
I'm the girl that always buys a turkey. In years past, we have tried turkeys here and there and they always ended up being more trouble than they were worth.
We would cook them too long and accidentally make them dry. Or we wouldn't cook them long enough and I was so paranoid about poisoning my loved ones.
The time and effort was just overwhelming, and we would opt to head down to our local Honey Baked Ham instead.
Well now I have a new easy recipe for Turkey Day thanks to this pressure cooker turkey breast recipe. I don't have to stress out over how long to cook a turkey breast, because it's super simple now.
This Pressure Cooker Turkey Breast Recipe is virtually fool proof and in about an hour we had super tender, juicy, amazing turkey. You can choose to add stuffing or not, buy bone in or not…the options are all up to you. This recipe will be our go-to from now on!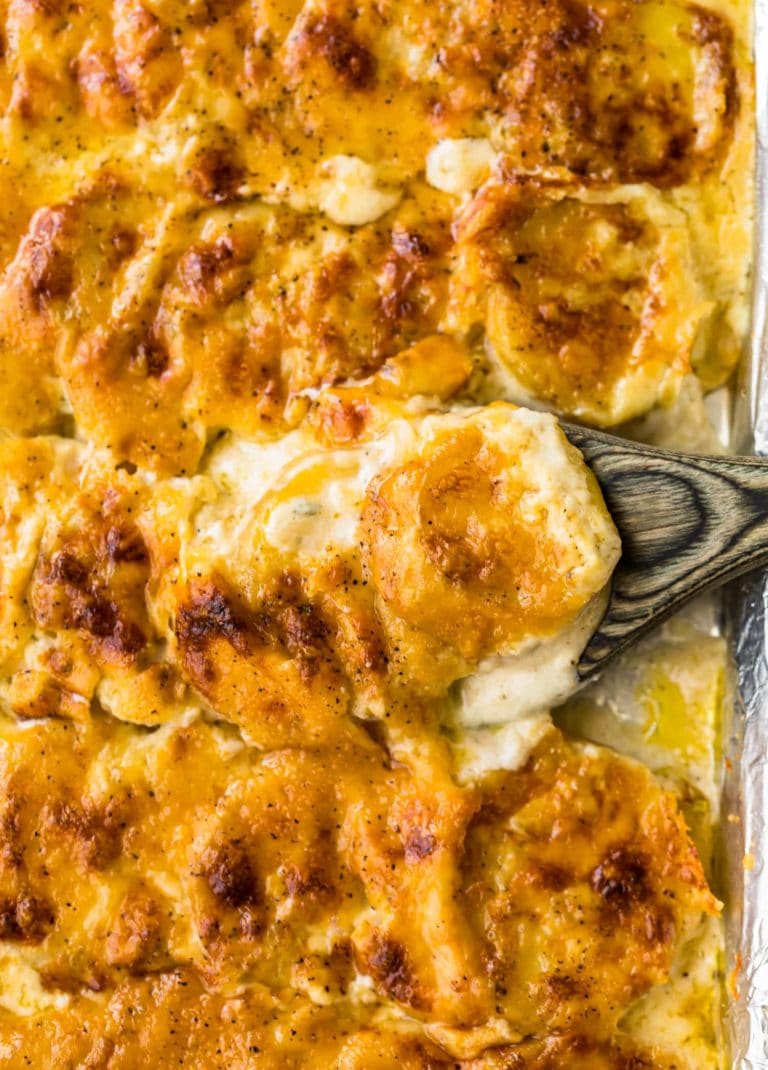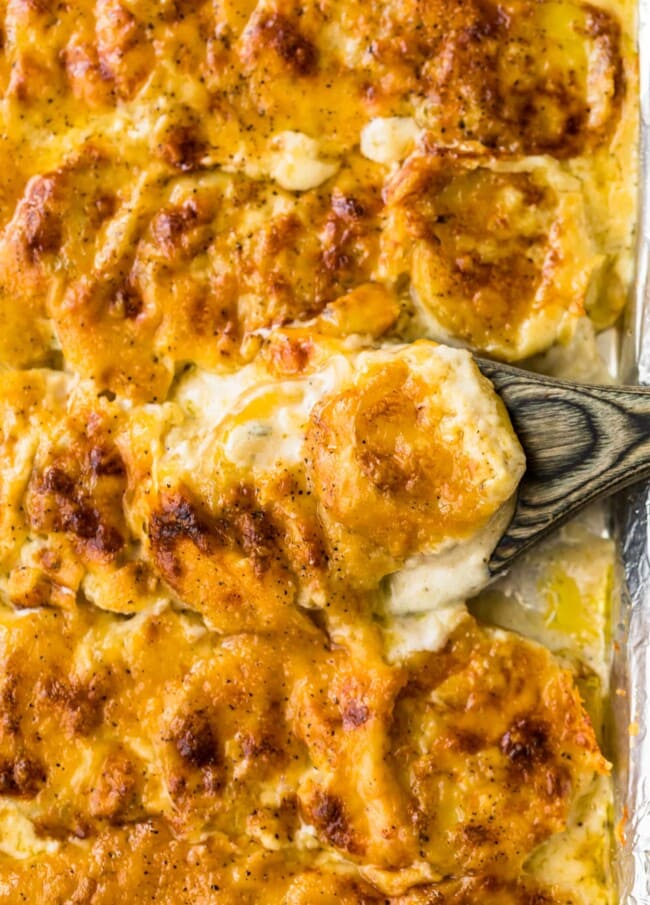 Try ALL the Sides
60+ Holiday Side Dishes
This Thanksgiving we hope you enjoy as many sides as possible with this Roast Turkey Breast!
See Sides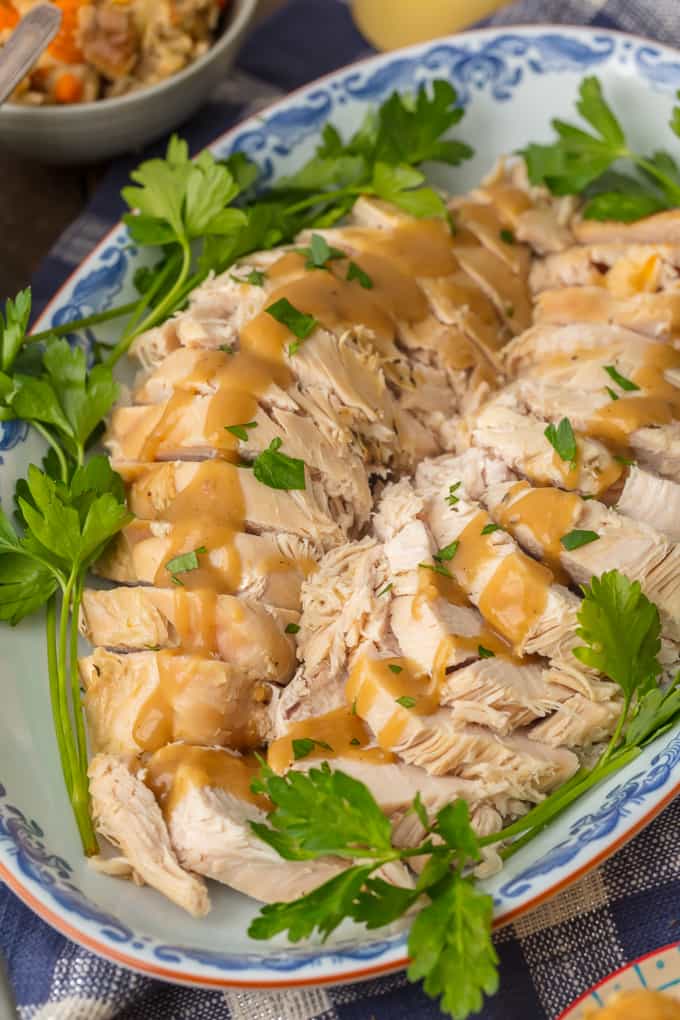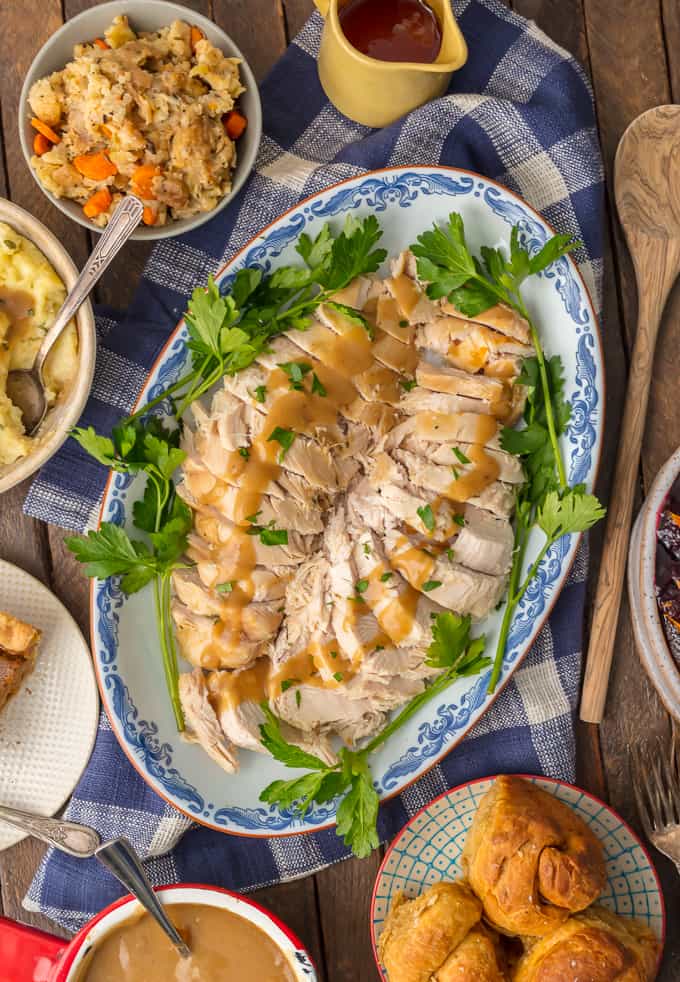 Best Herbs and Seasoning for Turkey Breast
Cooking turkey breast is all about the seasoning. No matter how moist you make it, Thanksgiving Turkey is nothing without the flavors added in by all of the herbs.
Here's what we're adding into our pressure cooker turkey breast recipe:
Sage
Thyme
Rosemary
Parsley
Salt & Pepper
Onions
Carrots
Celery
Butter
How to Cook a Turkey Breast in an Instant Pot
Pressure Cooker Turkey Breast comes out in about an hour, is super tender and juicy, and will be a definite hit on your holiday table. Don't mess with deep friers, ovens, or giant turkeys. Just make it easier for yourself by cooking turkey breast in an instant pot this year!
Here's a quick overview of the recipe (see the recipe card for full details):
Prepare your instant pot, and pat the turkey breast dry.
Mix together all of the herbs and seasonings, then rub the mixture over the turkey breast.
Place the turkey breast (cavity side up) into the instant pot, then pour the chicken broth inside and around it, and scatter the vegetables around they turkey.
Put the lid on, seal it in place, and close the vent.
Cook the turkey breast on high for 1 hour.
When it's done, remove the turkey from the pressure cooker and place it in a large bowl to cool.
Once it has cooled enough for handling, slice up the turkey breast.
You can either use our Make Ahead Turkey Gravy, or you can make gravy according the instructions in the recipe card.
How long does it take to cook turkey breast?
How long to cook turkey breast is an important question. Turkey can be quite fickle, so you want to cook it long enough to be safe for eating, but you don't want to overcook it–that will dry it out!
You need the perfect time to make it moist and delicious. Cooking turkey breast in an instant pot will take about 1 hour (set to high). Add on another 15 minutes for prep.
Can you cook a turkey breast frozen?
It's always best to let your turkey thaw completely before cooking. It takes about 24 hours per 5 lbs. of turkey to thaw in the fridge. It's so important to keep thawing times in mind when prepping for the holidays!
Side dishes to Serve
We have so many holiday side dishes we love to serve alongside this Turkey Breast Recipe. Here are some favorites.
How to use Leftover Turkey?
Is there anything better than holiday leftovers? We love to turn our leftover turkey breast into meals such as Thanksgiving Leftovers Quesadillas, Turkey Noodle Soup, Turkey Wild Rice Soup, or Cozy Turkey Rice Casserole.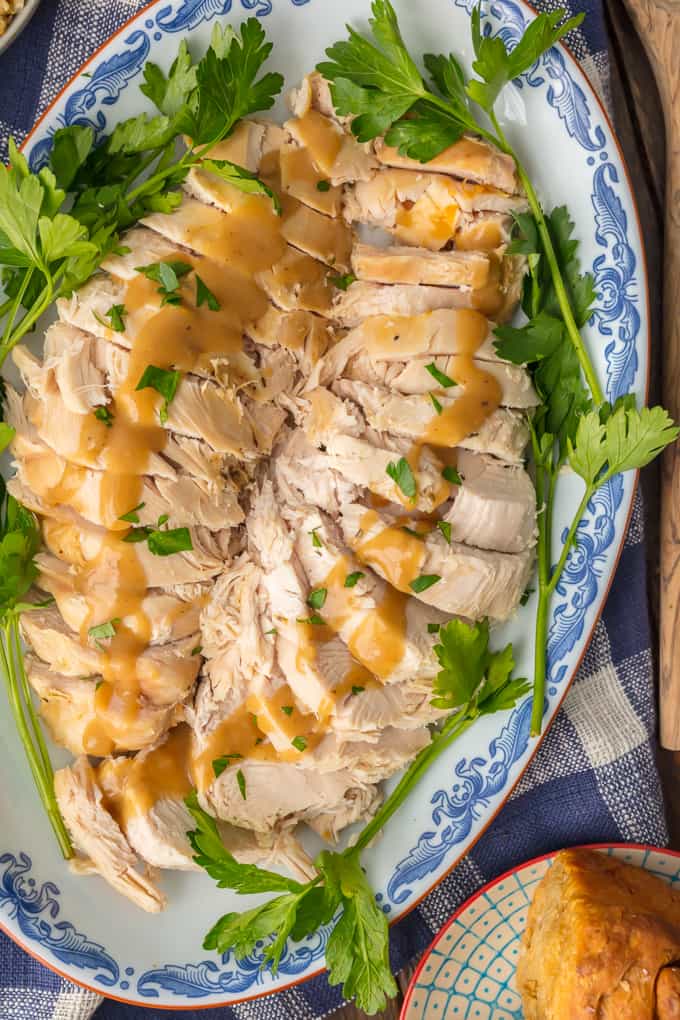 Simple Thanksgiving Dinner
This recipe for Instant Pot Turkey Breast is part of our super simple holiday dinner. Complete the meal with the rest of the classic recipes you'll need.
If you want a huge list of all the best things to eat with turkey, check out our guide to EASY Thanksgiving Side Dishes.
If you make this recipe be sure to upload a photo in the comment section below or leave a rating. Enjoy! You can also jump to recipe.