Learn how to make pumpkin puree from scratch for pies, fall desserts, and all of your favorite pumpkin recipes! It's easy to make at home, and there are so many delicious things you can make with it.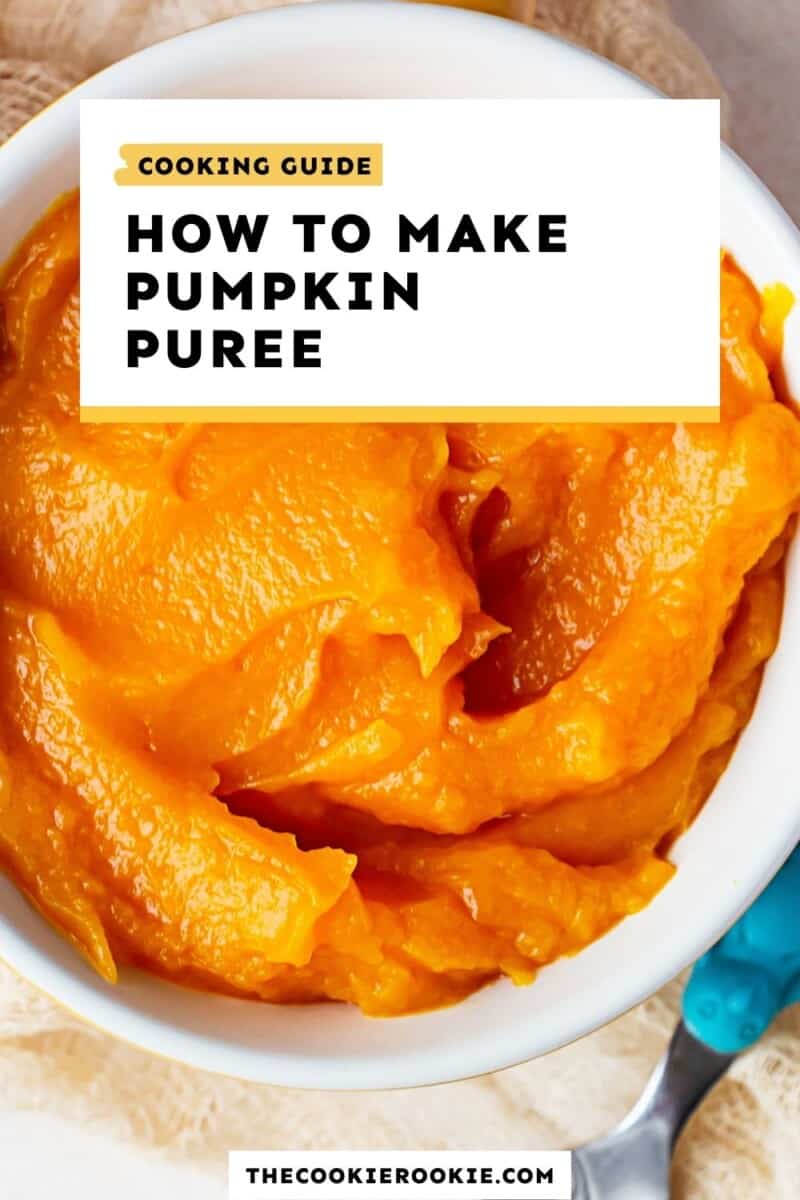 Homemade Pumpkin Puree
Almost any pumpkin recipe you make is going to call for pumpkin puree, so this homemade recipe is a must to take those recipes up a notch. This will really come in handy for all your fall baking, especially leading up to Thanksgiving!
You'll notice in a lot of my pumpkin recipes, I specify using pure pumpkin puree and not pumpkin pie filling (the latter already has spices added in). This homemade puree is all pumpkin, and it stands in perfectly for canned versions.
While you don't need to make homemade pumpkin puree for every recipe, I definitely recommend it for the best flavor. It will certainly shine through when you make those pumpkin pies!
Why You'll Love this Pumpkin Puree Recipe:
EASY: You only need one ingredient for this recipe: pumpkin! Just a few steps and you'll have creamy puree ready to go.
VERSATILE: This will come in handy in so many different recipes. Make baked goods, sweet desserts, breakfasts, and even some savory dishes with this puree.
FESTIVE: Nothing says fall like pumpkins! This ingredient will help you indulge in all the fun of the season.
Keep reading for the how-to recipe and lots of ideas on what to make with pumpkin puree.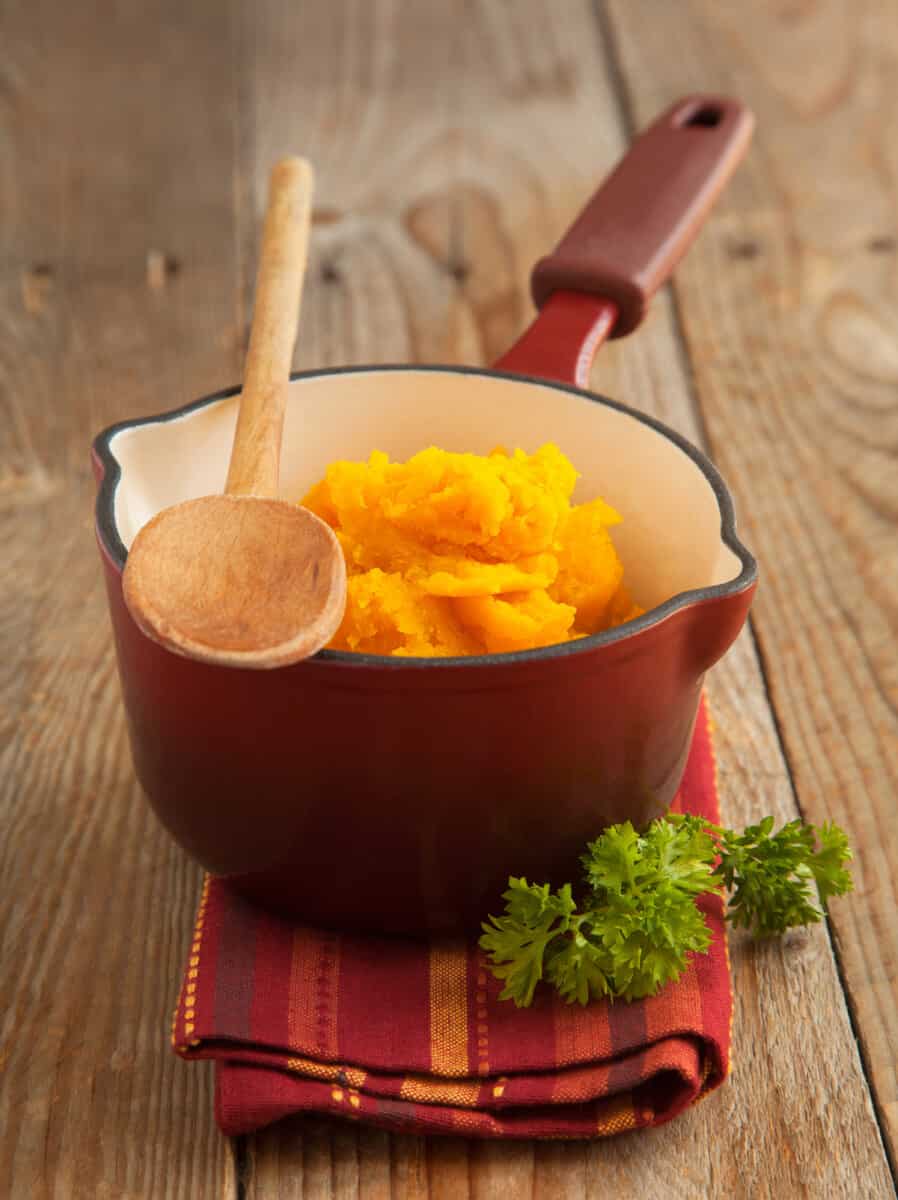 What you'll need
This homemade pumpkin puree recipe is simple, so you won't need much in the way of ingredients (in fact, only one ingredient) or kitchen tools. Here's what you will need, though.
What kind of pumpkin should I use for making puree?
The best pumpkins to use for this recipe are small, sweet pumpkins. While shopping, they might be called "baking pumpkins", "sugar pumpkins", or "pie pumpkins". The large pumpkins you get at the pumpkin patch are not ideal for this, flavor-wise.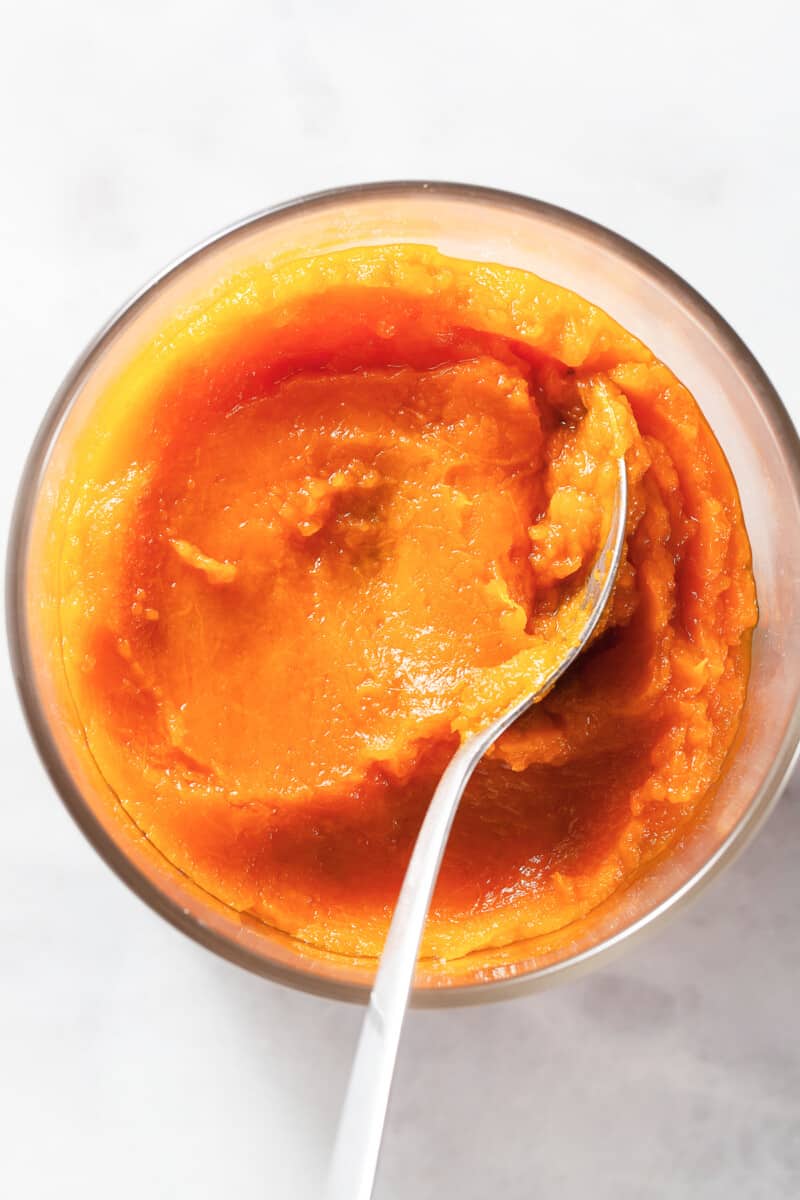 How to Make Pumpkin Puree from Scratch
You can jump to the recipe card for full ingredients & instructions!
Preheat oven and line a baking sheet with parchment paper.
Prep the pumpkin by removing the stem and cutting it in half. Then remove the seeds (and save them to roast if you like!).
Sprinkle the pumpkin with salt, then lay each half on the baking tray.
Roast pumpkin at 400°F for 30-45 minutes, until fork-tender. Then remove from the oven and let it cool for 1 hour.
Scoop pumpkin flesh out of the skin, and place it in a food processor. Puree to a fully smooth consistency.
What's the difference between canned pumpkin, pumpkin puree, and pumpkin pie filling?
It's easy to confuse these three ingredients when reading a recipe, but the differences are simple:
Pumpkin puree, as you'll see in this recipe, is exactly what it sounds like. It's pumpkin that has been cooked and pureed.
Canned pumpkin is also pureed pumpkin, so it's interchangeable with a homemade version (like what we're making here). It's often labeled as Pure Pumpkin to indicate that there are no spices or seasonings added in, and that it's made solely from pumpkin.
Pumpkin pie filling is similar, but it already has sugar and spices added to it. This means it's ready to use to make pumpkin pie and other desserts. It's sweetened and has things like cinnamon, allspice, and more in it.
Pay attention to which one you're picking up at the grocery store because it can make a big difference in your recipe. A quick check of the ingredients will make it clear what you're getting.
Generally, this homemade pumpkin puree recipe can be used anytime a recipe calls for canned pumpkin. If needed, you can easily add in spices to turn it into a pumpkin pie filling.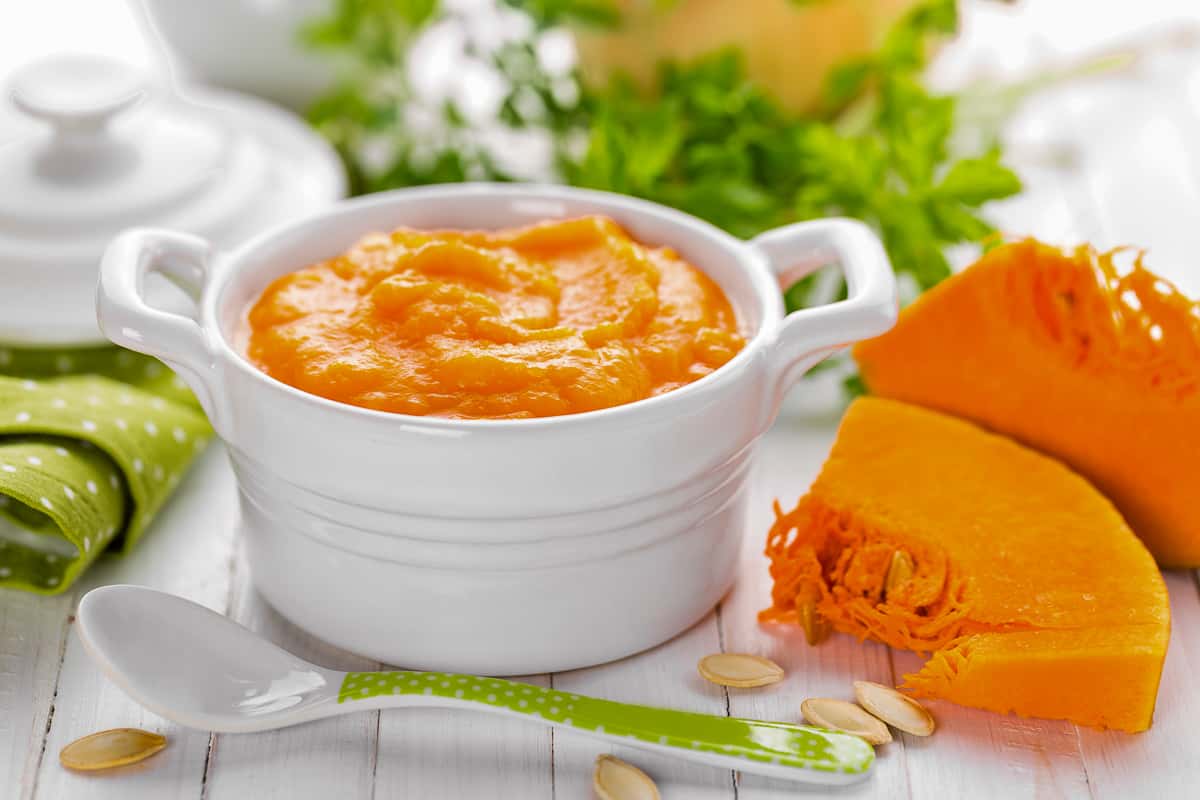 How to Store it
How long does it last in the fridge? Store in an airtight container in the refrigerator for up to one week.
Can you freeze it? Store it in freezer-safe containers, or resealable freezer bags (great for storing flat). It will keep in the freezer for up to 3 months.
What is pumpkin puree?
Pumpkin puree is just cooked pumpkin that has been blended into a smooth, liquid consistency (pureed). Canned, store-bought versions sometimes have other winter squashes mixed in. But this homemade recipe is allll pumpkin.
How do you cook pumpkins for puree?
You could use any cooking method, as long as the flesh is cooked and softened enough to blend. I recommend roasting pumpkin to make a puree. Details on roasting are in the recipe below.
How do you thicken homemade pumpkin puree?
If the consistency is too thin and liquidy, run it through a fine mesh sieve. For best results, line the sieve with cheesecloth and gently apply pressure to remove excess liquid.
What can you use to substitute pumpkin puree in a recipe?
If you don't want to make this homemade pumpkin puree for a recipe, you can certainly use a canned version. Pureed butternut squash (or another winter squash) also works well in place of pumpkin, and the flavor difference usually won't be too noticeable. The right spices will create a similar effect.
Can you freeze pumpkin puree?
Yes! It freezes well, up to 3 months, so if you want to make a bunch in the fall, you can have some ready for a while. See above for freezing instructions.
Can dogs eat pumpkin puree?
Yes! Plain pumpkin (cooked or uncooked) is safe for dogs to consume and can be helpful for digestive issues (lots of fiber). But avoid feeding them pumpkin pie filling, or any pumpkin with added sugar and spices.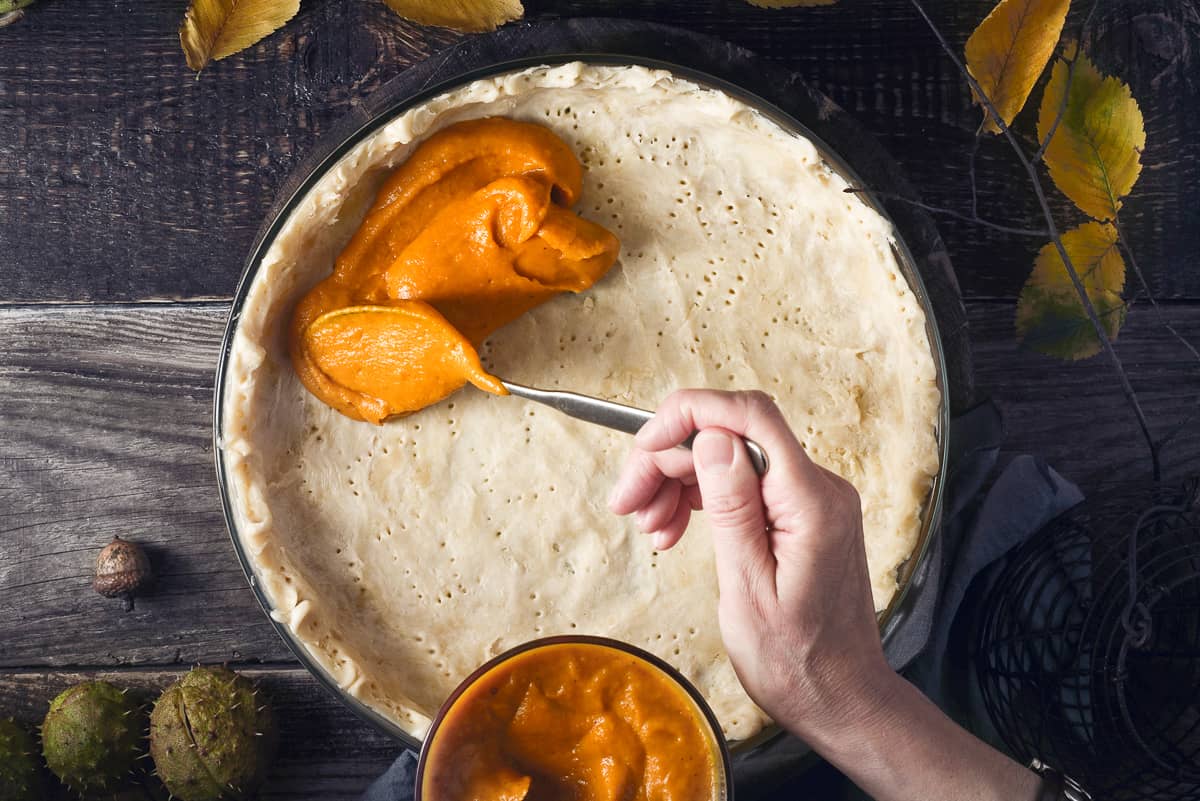 What to Make with Pumpkin Puree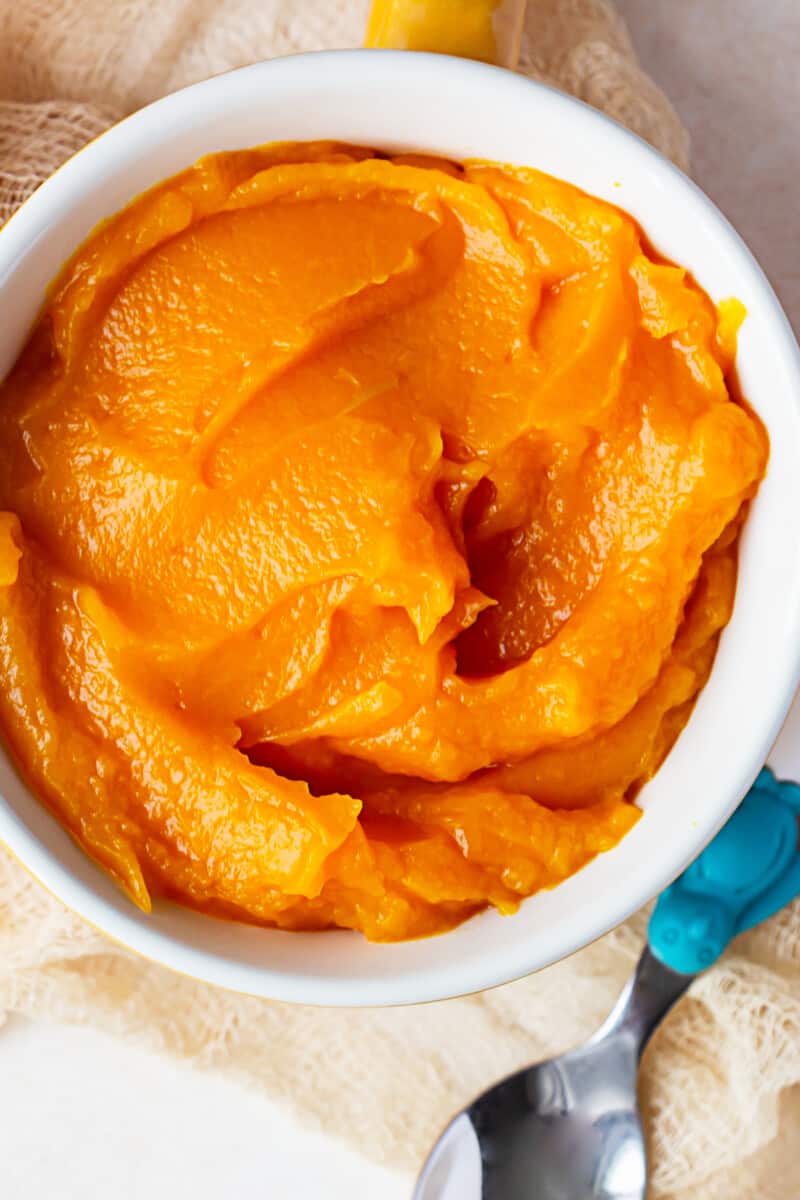 Now that you know how to make pumpkin puree at home, you can use it to make all of your favorite pumpkin recipes. It's such a fun thing to make at home, and it's easier than you think. Happy fall!
If you make this recipe be sure to upload a photo in the comment section below or leave a rating. Enjoy!